In our opinion, the best honeymoon places should offer a good mix of at least three things: You should be able to spend uninterrupted quality time with your partner, it should offer something for both to enjoy, and it should be relatively affordable (you still need money after the honeymoon for the rest of your marriage after all). 
While we were researching honeymoon ideas years ago we played through many honeymoon scenarios in our heads. We thought about spending all our money on a European tour, but we were told by many (more experienced couples) that planning a wedding and a trip across Europe was tiring, not to mention the actual trip would be more tiring than relaxing.
Then we thought about spending it all locally at a lavish all-expenses-paid hotel, but we found that though it would be relaxing, it would also feel like a waste of a good holiday. 
After much consulting, most couples we spoke to had visited Bali for their honeymoon, and having experienced it firsthand, we can say with some confidence that most people will find something to love there too.
Why Bali Always Ranks as One of the Best Honeymoon Places in Asia
Bali is affordable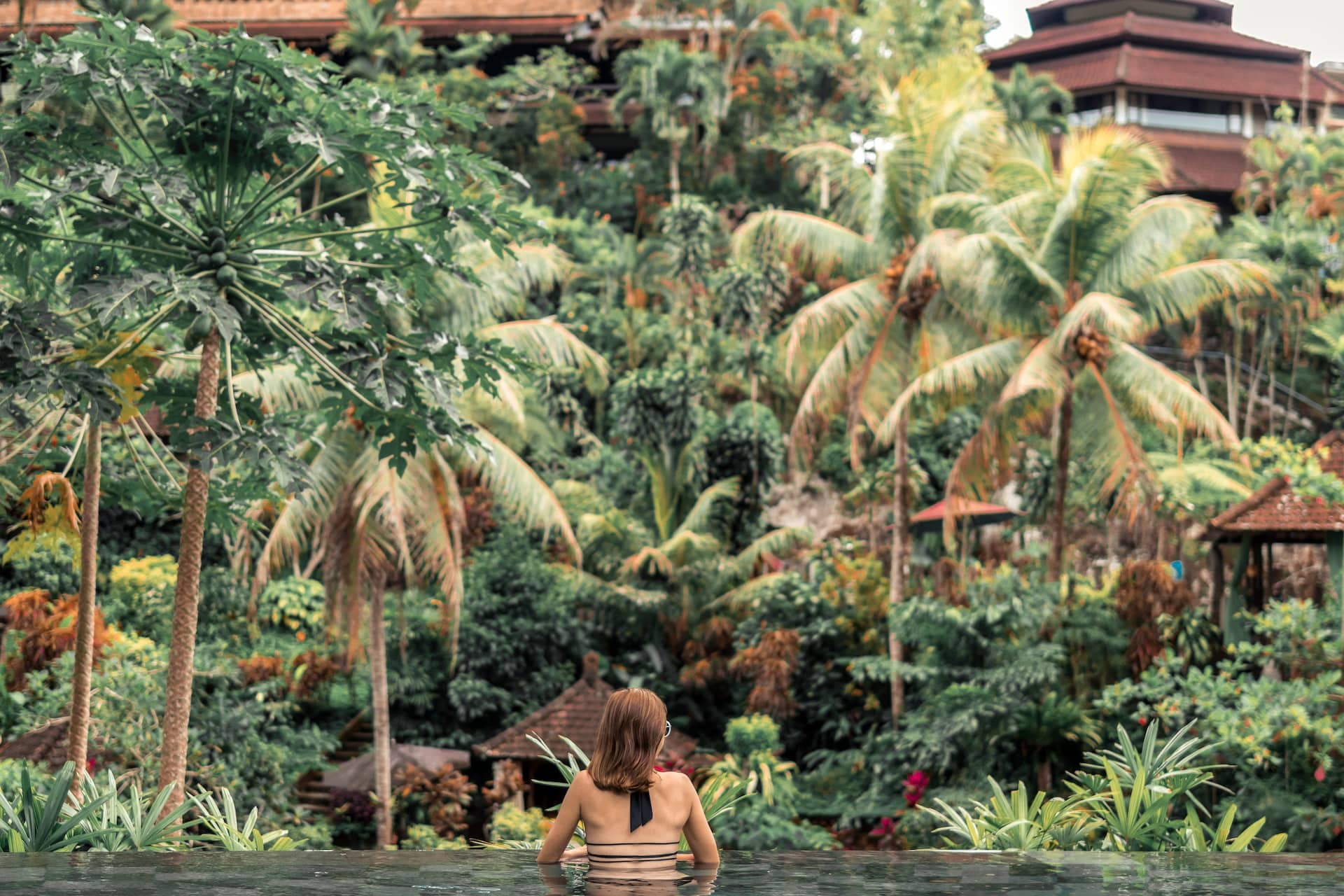 When deciding where to go for a honeymoon, a good honeymoon package and a honeymoon villa are one of the top considerations. As we mentioned, affordability and exclusivity should rank highly on any list. 
When it comes to these two factors, Bali has had a lot of experience catering to this specific type of traveller. Some 60% of Bali's GDP is attributed to tourism so they know how important it is and they know they need good word of mouth and repeat customers.
This leads to a lot of competition for honeymooners to choose from on the island which means comfy villas are not too expensive to get. 
Add to that, the amount of flights that go in and out of Bali makes airfare more affordable and many airlines fly direct into Ngurah Rai International Airport.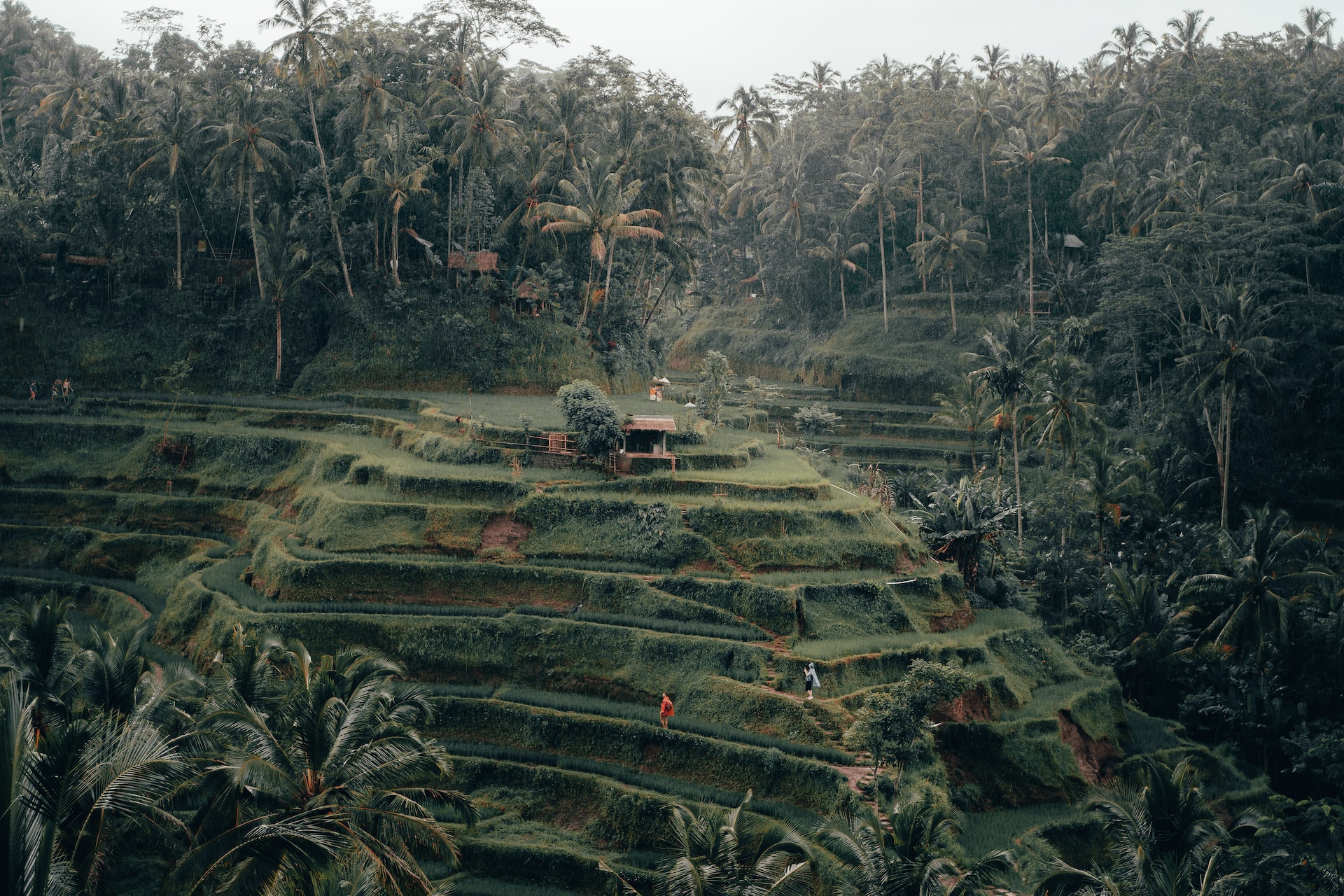 When we went to Bali, we managed to find suites in the town of Ubud at a decent rate which was also within walking distance to the nearby attractions, namely the Monkey Forest and the Ubud Traditional Art Market.
We also received a free room upgrade when we mentioned we were on our honeymoon. This was also something that we'd often hear from other travellers to Bali. Couples travelling to Bali inevitably get their rooms upgraded for one reason or another and we think it's just because competition is fierce and they need all the good press they can get.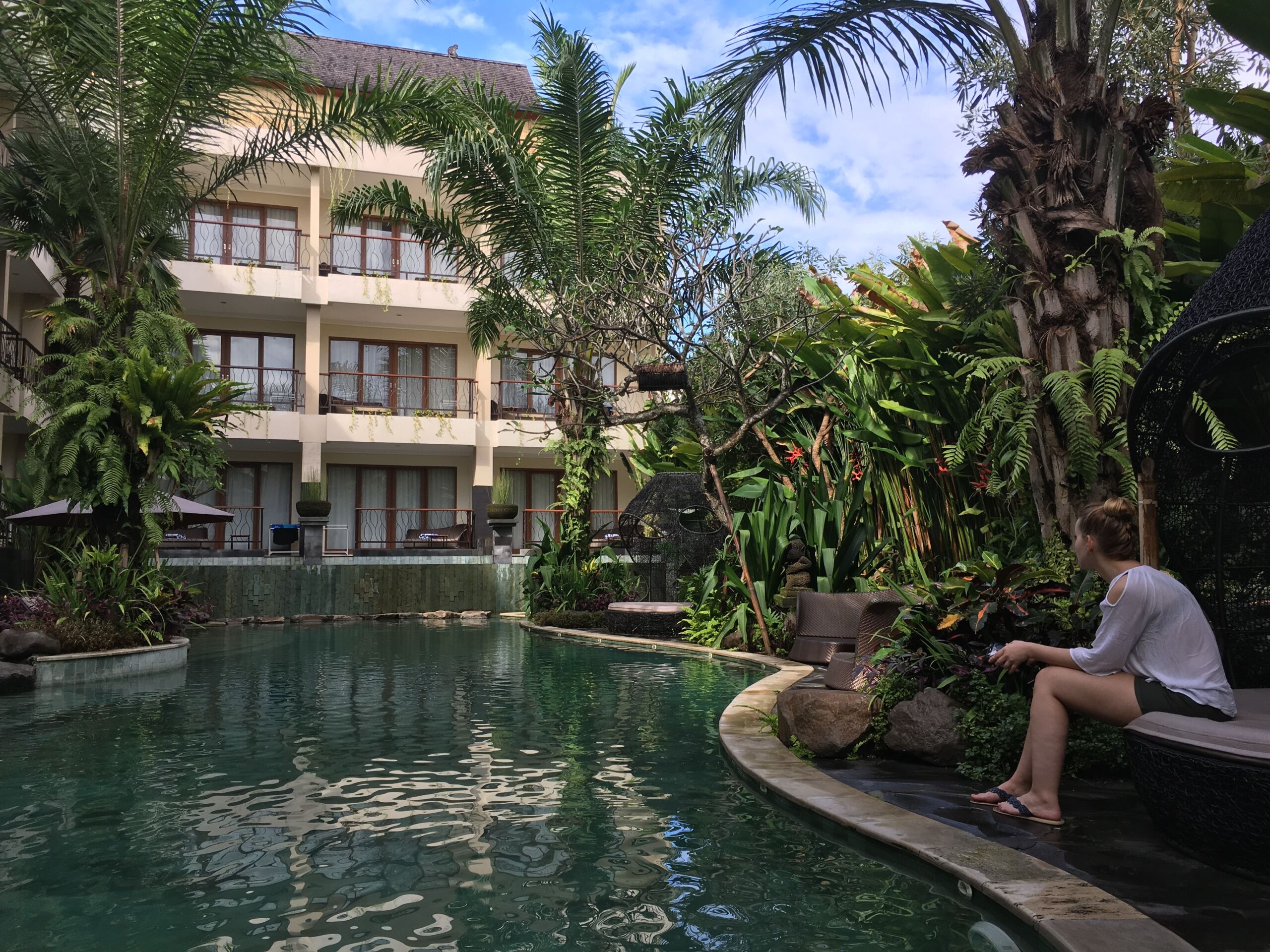 Transportation on the island by taxi is affordable if you catch the Bluebird-branded taxis. Insist on a metre or agree on a fare before taking your trip though. From the airport, you can usually book transfers directly to your accommodation and more often than not, you can book transportation directly from your hotel who will be able to assist you. 
Part of our honeymoon plans was to laze around at the beach so we booked a few nights at Kuta as well, the main party beach and on the morning of our checkout, the concierge made a note asking us if we had transportation to our next destination. 
They checked the price and confirmed to us that it was affordable before ushering us onto the next leg of our journey. Safe to say that the people of Bali have had a lot of practice hosting travellers and the practice of nickel-and-diming tourists is not something they've adopted.
Bali has something for everyone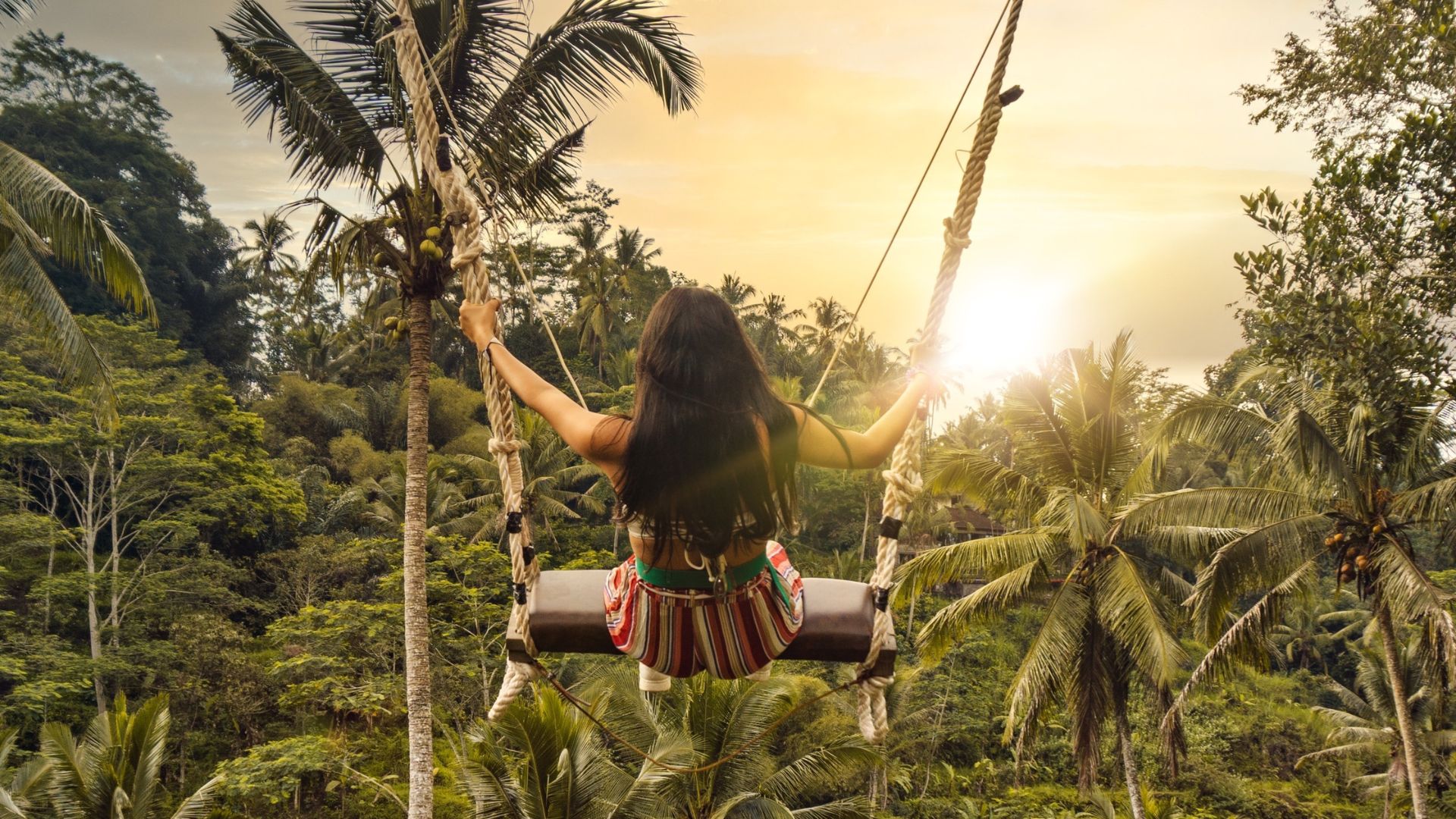 One of the main reasons why we chose Bali for our honeymoon was because it offered us space to explore history and culture as well as provide a healthy dose of the sun, sea, and sand. 
We mentioned that a good honeymoon experience provides something for everyone and on our trip, we split the experience into two: one in the city of Ubud and one at the beach at Kuta. 
My partner loves to explore new cities and Ubud provided just that. From the Sacred Monkey Forest Sanctuary to the various temples and museums, the ancient city was awash with things to experience. 
Though the roads in Ubud are only two-way and pedestrian walkways were cramped, to say the least, there was always plenty to discover around every nook and cranny.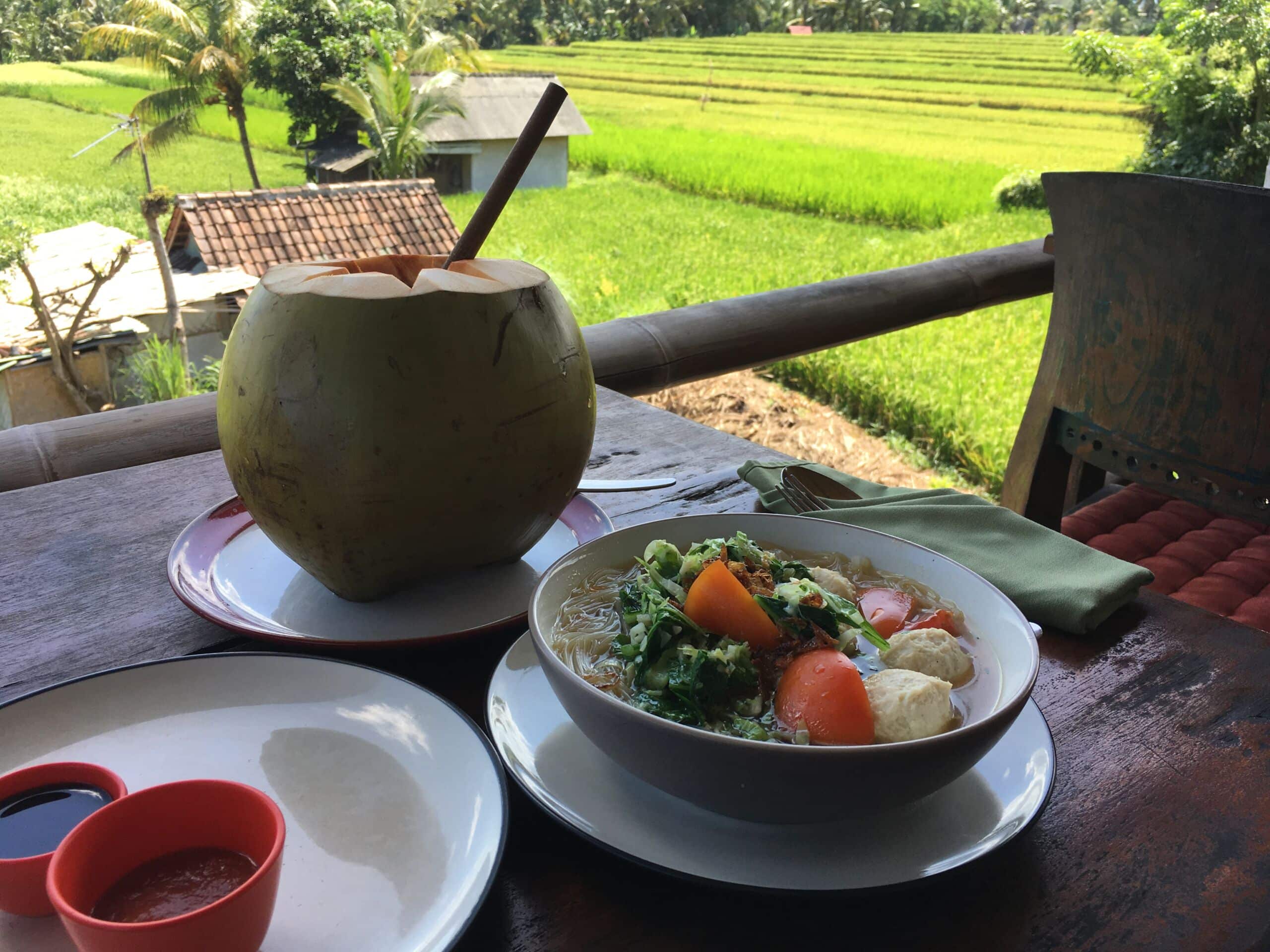 Walk a little from town and you'll find paddy fields with hidden restaurants and even within the town, you can find establishments like 'Bebek Tepi Sawah' where you can enjoy deep-fried duck next to a paddy field. 
Since there are many foreigners and business owners from Australia, New Zealand and other western countries, there are also many cafes and restaurants that cater to that crowd. Acai bowls mingle with third-wave coffee cafes and Babi Guling (roast pig) here resulting in a melting pot of cultures and choices. 
Alchemy Cafe is legendary here for being one of the best raw and vegan foods on the island. You can get vegan cheesecake and even chocolates here.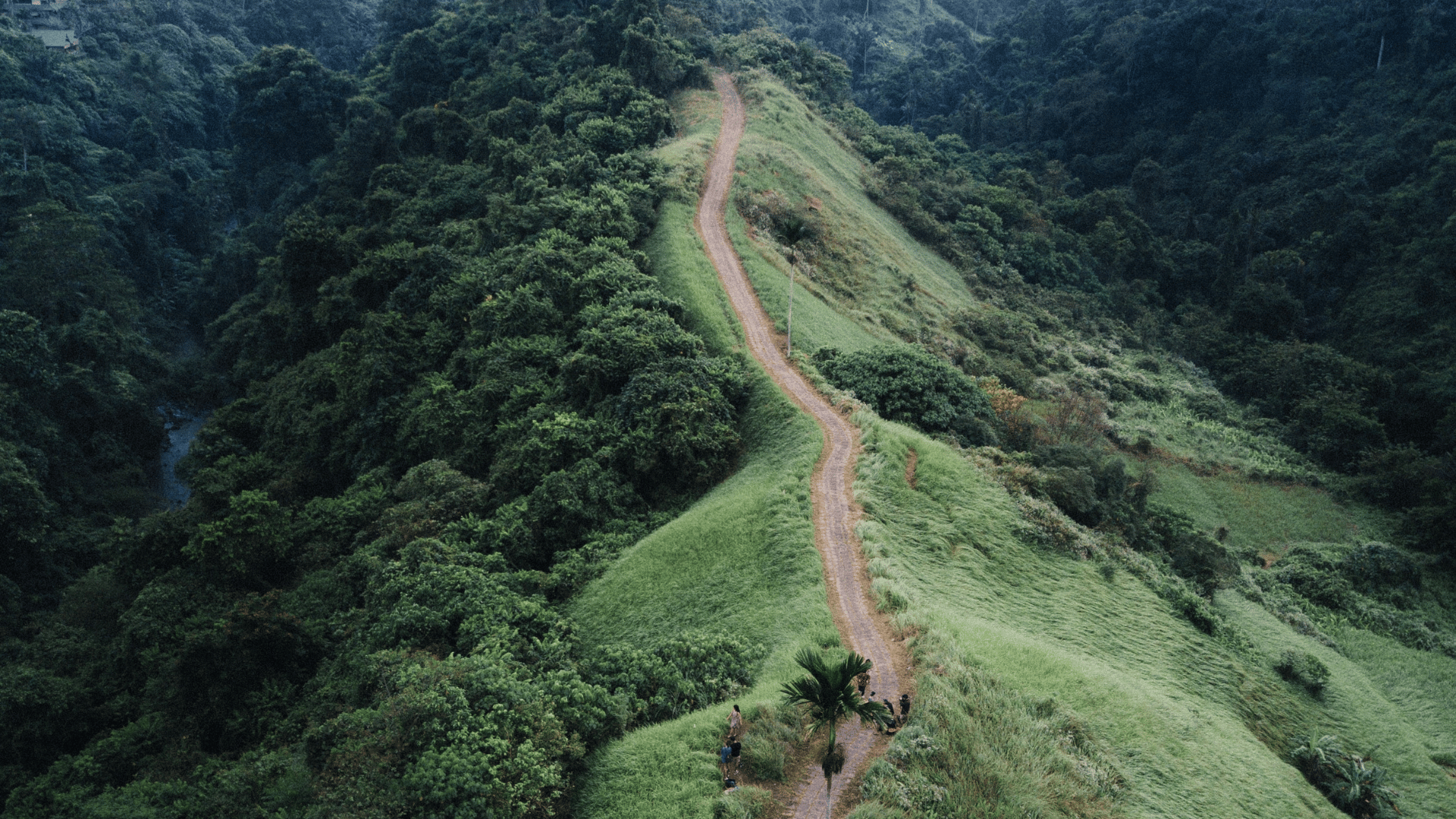 Head out of town a little and enjoy the greenery all around you at the Campuhan Ridge Walk. Start at Gunung Lebah Temple and follow the dedicated path around hills and valleys. It's quite a walk (about 1.7km) and it doesn't loop around.
Come early in the morning, put on your sunscreen and mosquito repellent and be ready for exercise. There's plenty of photo-taking here so put on your best (and most breathable) outfits. 
The nearby Yellow Flower Cafe is good for a breather and to fill your tummy. They've got refreshing drinks with signature smoothies and their food offerings are a mishmash of western favourites like sourdough toast and local flare like nasi goreng.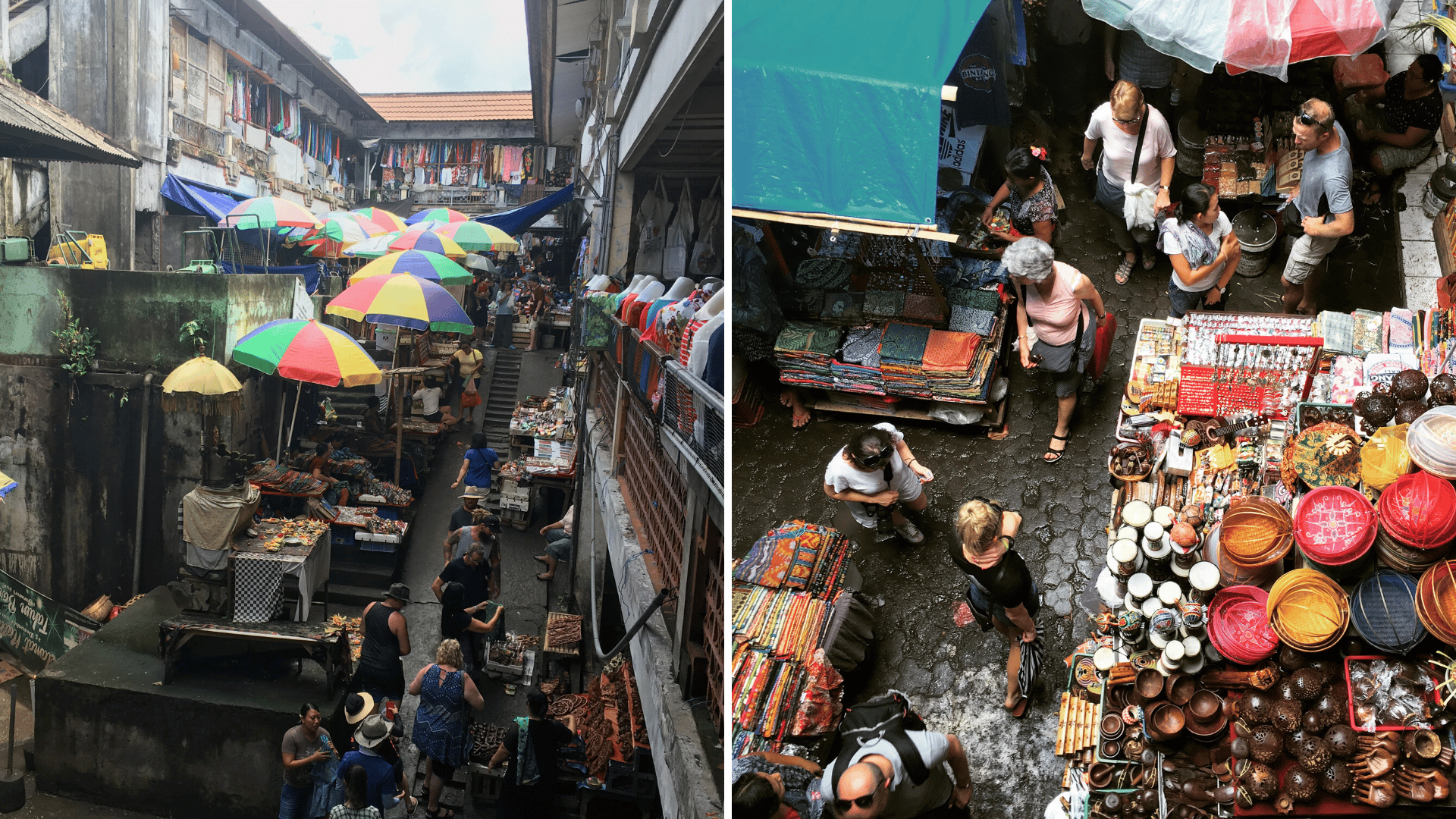 For more sights, visit the Art Market near the Ubud Royal Palace. Though we don't recommend you buy anything here, come to people-watch and see how the locals shop at the wet market here. 
We enjoyed walking around the old building and seeing life unfold here more than the actual items on offer—which if we're honest was overpriced and don't amount to more than novelty items. 
With a camera full of sights and a head full of culture it's time to unwind by the beach for this writer to enjoy his portion of the honeymoon. 
Down by Kuta you'll find more traditional honeymoon villas with private pools and full-service by the beach. Though considered a party beach, the options for private villas here for honeymooners are abundant.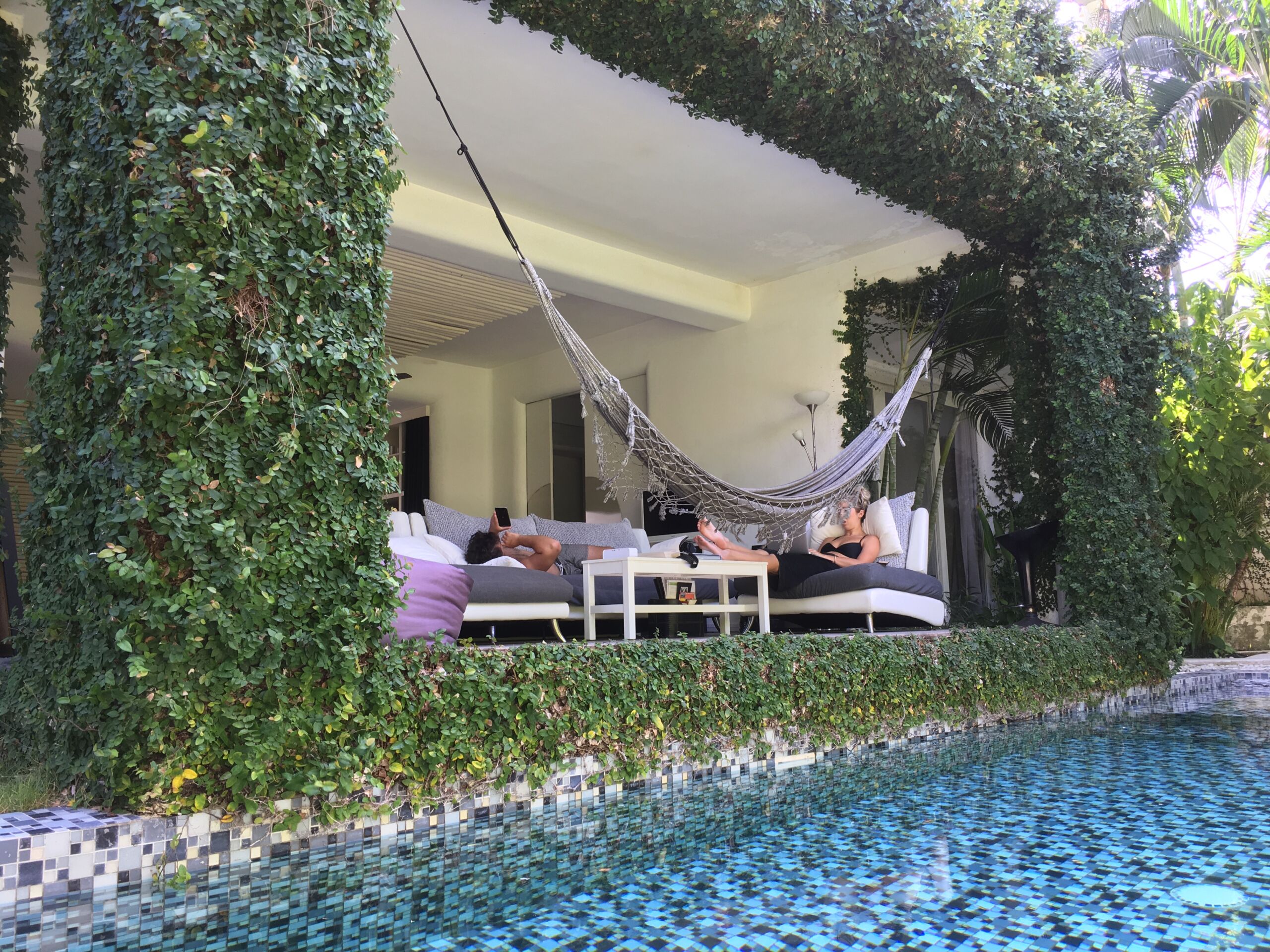 A look on Airbnb resulted in many affordable bungalows that were within walking distance of the water and even more hotels. 
We opted for an Airbnb when we went last and we can firmly discourage any from choosing this option. The bungalow we lived in was owned by a friendly Italian woman and though the pool and grounds were gorgeous it didn't provide a lot by way of privacy. 
The bungalow had 4 rooms so common facilities were shared with other guests. Meanwhile, many honeymooners we spoke to after we returned from our honeymoon managed to find private villas for the same price per night (about US$100). 
Not to mention, the same room upgrade was provided to them here in Kuta as well. Unless your Airbnb explicitly mentions you will have the villa to yourself, book with caution. 
Though some have overhyped its crowdedness, even pre-pandemic, Kuta's beach was wide and big enough—and clean enough for us. 
We chose to make Kuta our last stop on the honeymoon because of its proximity to the airport (no rushing to leave in the wee hours to avoid jams) and the beach stretches as far as you can walk. 
From South Kuta to Potato Head Beach Club, there's a lot of sand for you to rest your head at. Sure you'll find clubs literally every few steps on the beach, but that just means more stops for you to get a fresh coconut and a place to sit—and that's precisely what we did.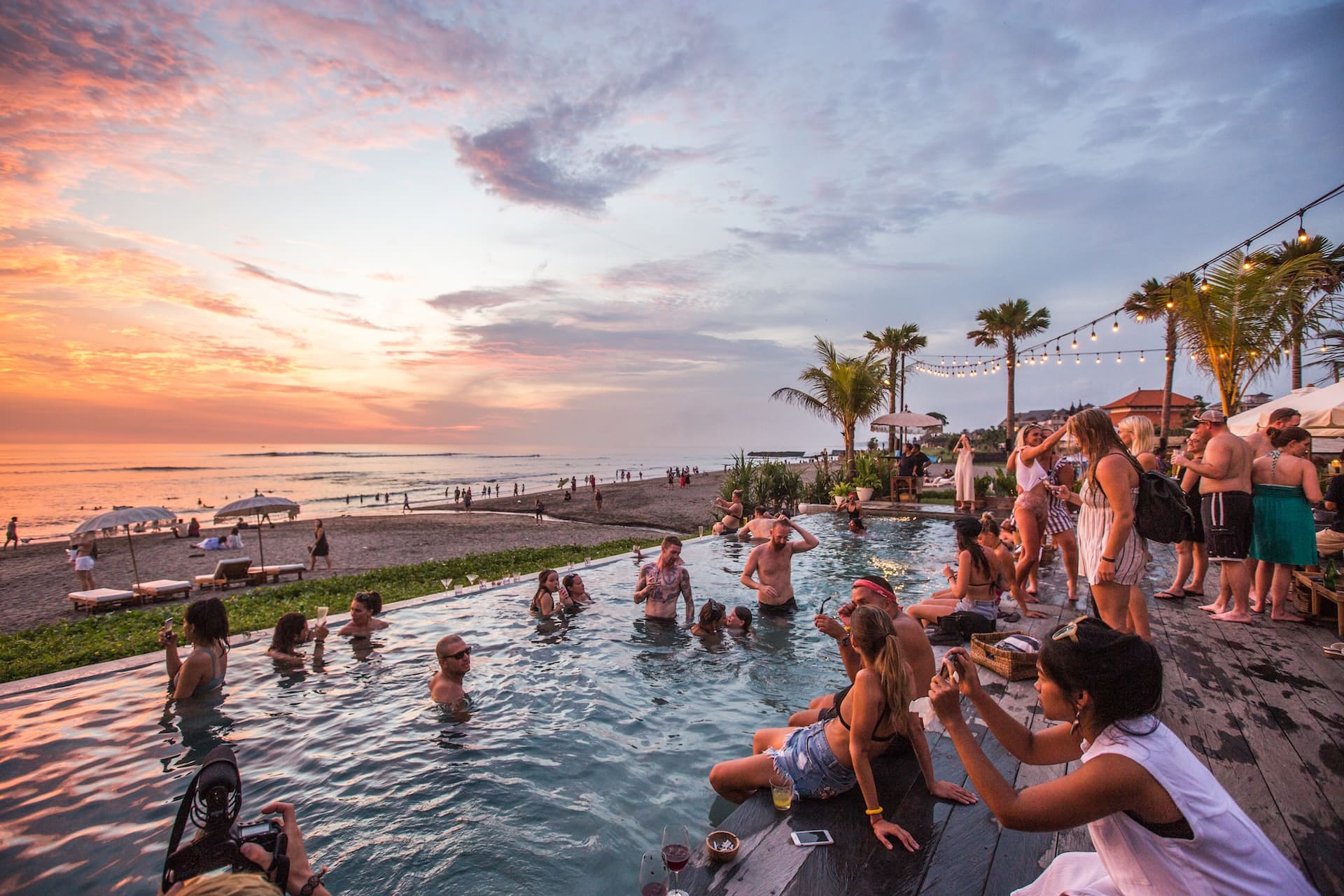 Clubs by the beach usually feature a pool that you can dip in so guests usually get a drink to secure a seat and dive in to cool down. Clubs usually have lockers to store your clothes in. It's common to see groups hop from one club to the next by the beach. 
We opted to see what the fuss was all about at Potato Head Beach Club and was greeted with the signature Balinese hospitality once again. 
Our server greeted us and asked us the occasion for coming to the restaurant. They promptly seated us at a quiet corner of the restaurant overlooking the ocean and even though we ordered on a budget, they still served us a surprise complimentary cake at the end in celebration of our nuptials.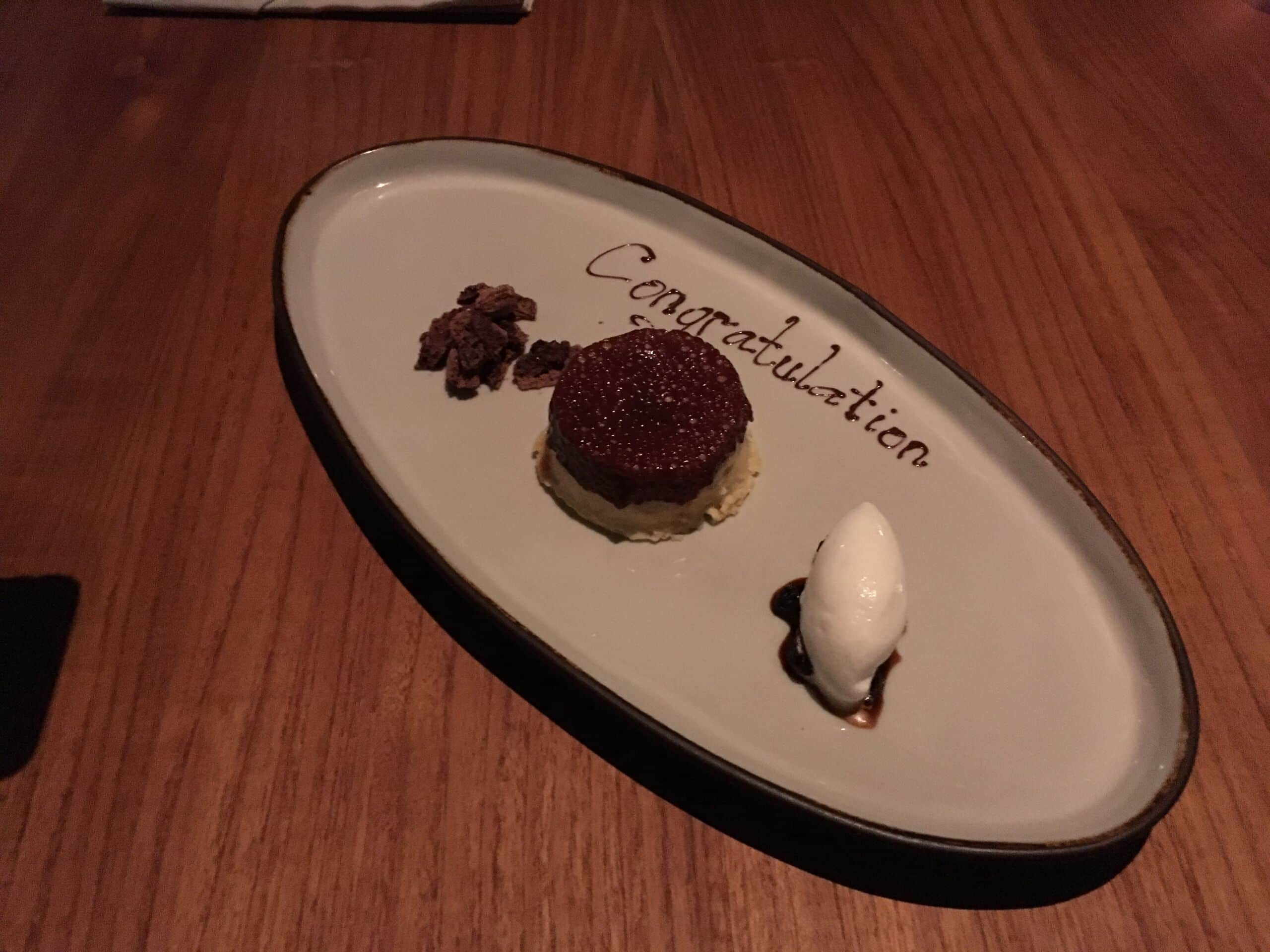 That said, Kuta is not a cheap town to visit. The Airbnb we lived in was in Seminyak near a shopping district where the famous Australian-inspired Sisterfields is located. Not only could we not get a seat there during peak hours, but the price of coffee was also almost double the price of other cafes in the area.
The hidden Revolver Espresso nearby was also similarly pricey, but less crowded. Aussie cafe culture is alive and well in this particular area which also sports a shopping mall, Seminyak Village. 
Similar to Ubud, the proliferation of travellers from the West has led to gentrification in many of the areas around Kuta for better or for worse. There's not much else to see here, but there was plenty to eat and discover. 
Bali isn't your typical getaway with landmarks to check off a box. Cities like Kuta and Ubud come alive as you explore on your own, making memories with your significant other.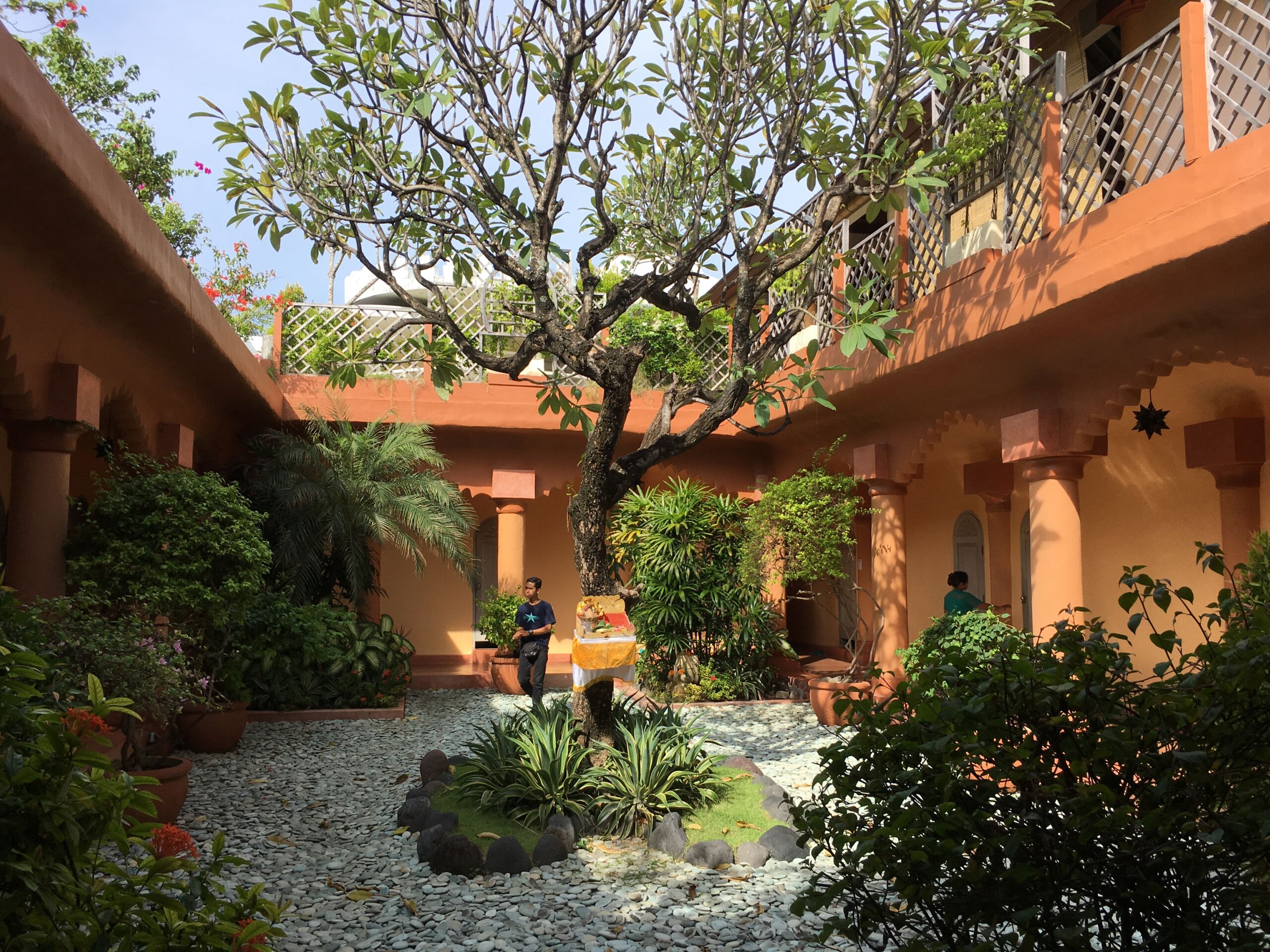 We ended our trip by Googling nearby spas and found a Turkish massage within walking distance. The couples massage was affordable (by Kuta standards) and we fortuitously found a place that served a three-course meal with steak on the opposite side. 
Other honeymoon ideas in the area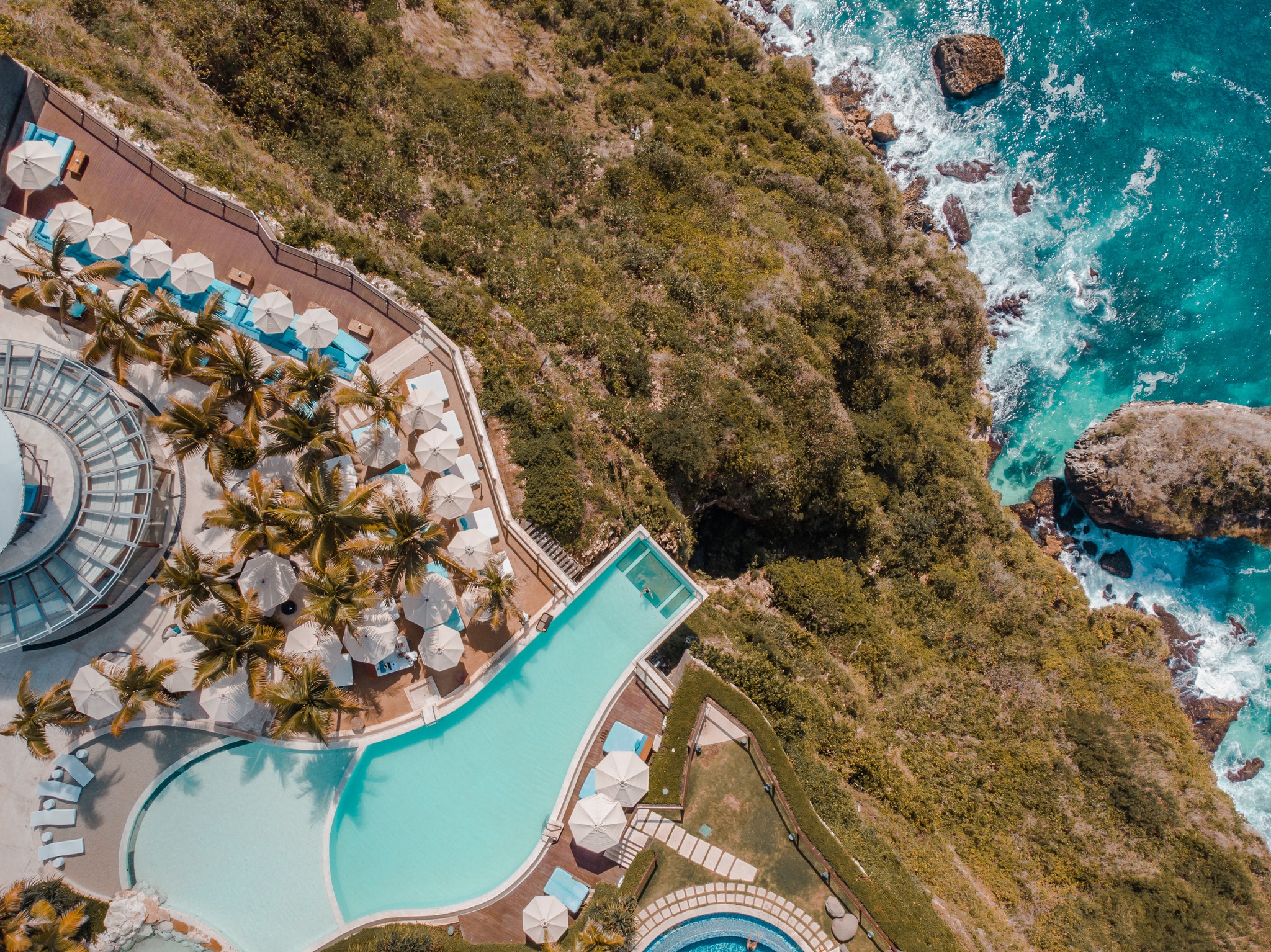 Though we ended up staying north of the airport in Seminyak, Uluwatu down south is where many honeymooners go for a quiet getaway. 
The area is home to many iconic cliffs and the famous Uluwatu Temple by the cliffside can be found here. The Edge can also be found here with its signature pool suspended above a cliffside overlooking the ocean. 
For a more isolated experience by the sea, take another plane to the neighbouring island Lombok. From there take a boat to the Gili islands: Gili Trawangan, Gili Meno, and Gili Air. The island offers clear blue waters, soft white sand, and diving activities you won't find easily on the main Bali island. 
Speaking of islands, closer to Bali is Nusa Penida, an unspoiled island with stunning cliffside views. You can get there by speed boat for a day trip but its proximity away from crowds makes it a perfect getaway. Find your perfect stay here or in neighbouring Ceningan Island and Nusa Lembongan. 
Finally, we would be remiss if we didn't mention the location on every Bali postcard, the sea temple, Pura Tanah Lot.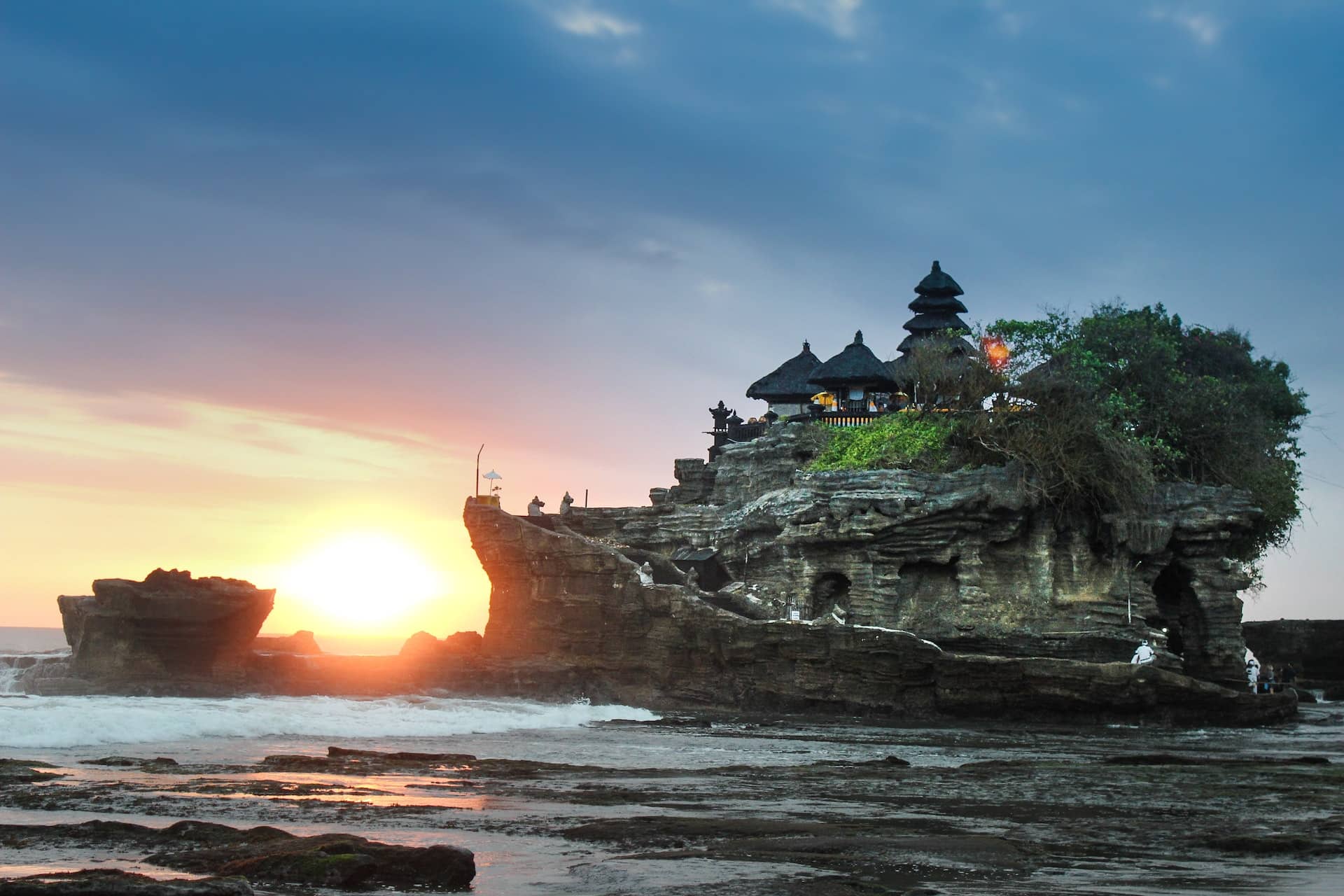 Located in the Beraban Village of the Tabanan Regency, the iconic temple on the ocean is best visited during sunset. If you're planning on going in there is a fee of about US$2 per adult but be sure to check the tides. If there is a high tide the main Tanah Lot temple is not accessible. There are another two nearby that serve as proxies, however.
Other Best honeymoon places In the World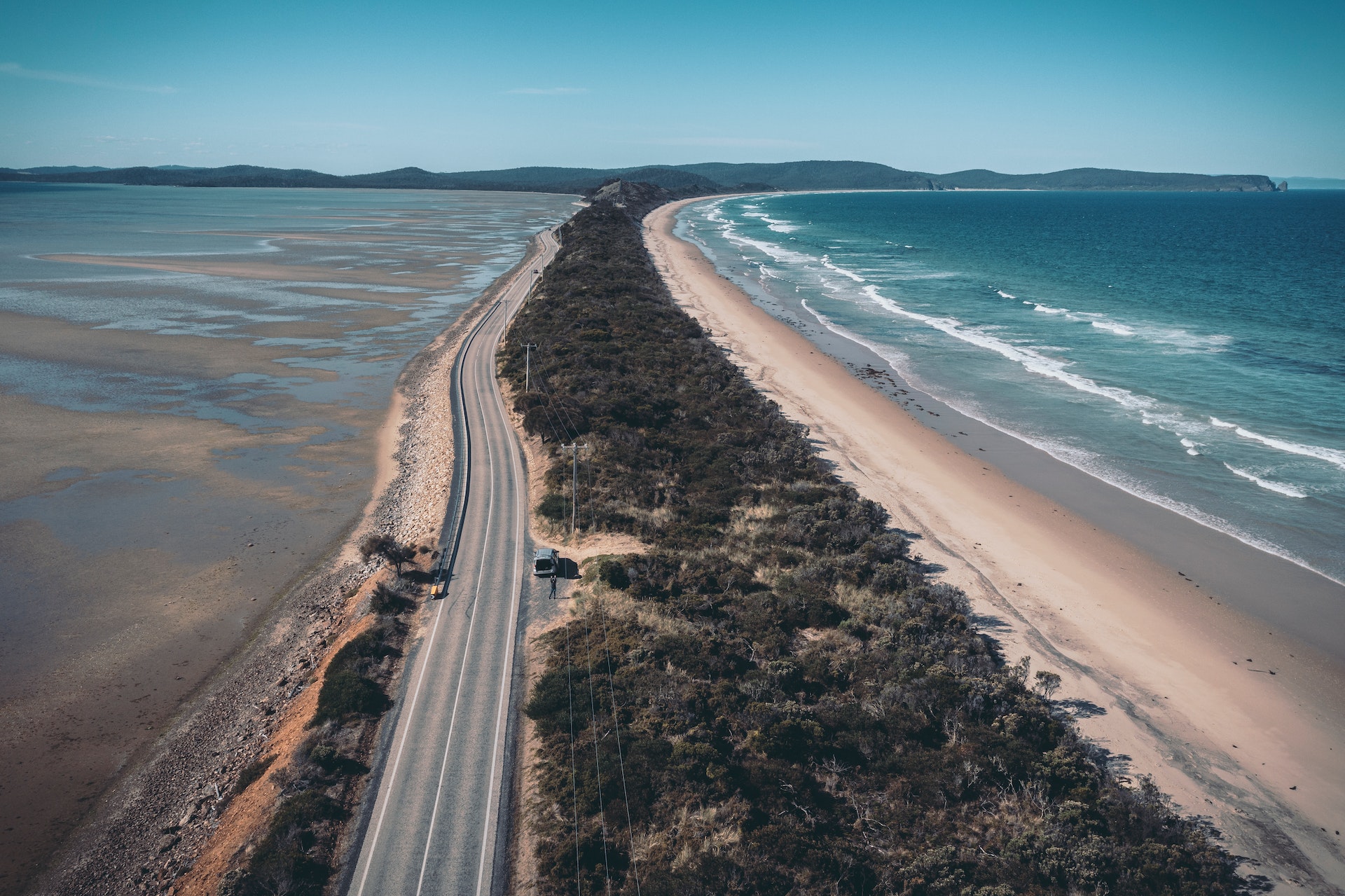 While Bali tops our list for honeymoon destination, there are so many other places that can offer two if not three of the criteria we mentioned earlier.
Australia
The largest island in the world boasts many kinds of experiences around the country but for our recommendation, we think you'd get the most out of your honeymoon with a relaxing drive around the coast. There are many road trip itineraries along the coast of Australia and whether you're a foodie, wine lover, or an outback enthusiast, Australia's got it all.
The Maldives
During the pandemic, Maldives was one of the first countries to open their borders with strict rules against close contact. Being a nation of many isolated islands, Maldives is geographically suited to giving couples alone time. Though they offer exclusivity and luxury on a holiday, it is not an affordable place to honeymoon so we're placing it in the honourable mentions category.
Thailand 
Similar to Bali, there are many honeymoon packages in the nation of Thailand with so many different islands to choose from. From the party in Pattaya to the archipelagos of Krabi, honeymooners can find many honeymooning ideas here. History lovers can take in the city of Chiang Mai, nature lovers can seek Kanchanaburi, and for urban shoppers, there is, of course, Bangkok. It is relatively affordable to travel there and accessible from Kuala Lumpur, making it an ideal destination for a honeymoon.
Greece
Picture perfect Santorini beckons all who lay eyes on it and Covid lockdowns were particularly harsh on the island with its economy receiving 90% of income from tourism. Most of Santorini's suites have private entrances and sunlit balconies with a dedicated pool or jacuzzi that is cleansed and chlorinated daily with room service dining instead of halls. This privacy is why most couples choose Santorini as their destination for a honeymoon. However, getting to the secluded island is always an issue and prices have not plateaued since recovery.
2023 is going to be a banner year for tourism as people begin to find their sea (and air) legs again. For people who have put off their honeymoon while waiting for restrictions to ease, there's no better time than now to look for the perfect honeymoon package.
need honeymoon ideas? 
TRAVEL WITH US For THE BEST DEALS!
You may also be interested in: