Dive into an endless turquoise playground
Club Med Kani, an all-inclusive resort in the Maldives, is simply paradise. A two-kilometre stretch of private beach offers you endless chances to unwind and fully experience what the island has to offer, from diving with marine life to thrill seeking water sports. Then sit down to enjoy a magical dinner on the beach as the sun sets over the island.
Your resort offers 27 included activities in your stay.
You can also discover 51 on-demand activities.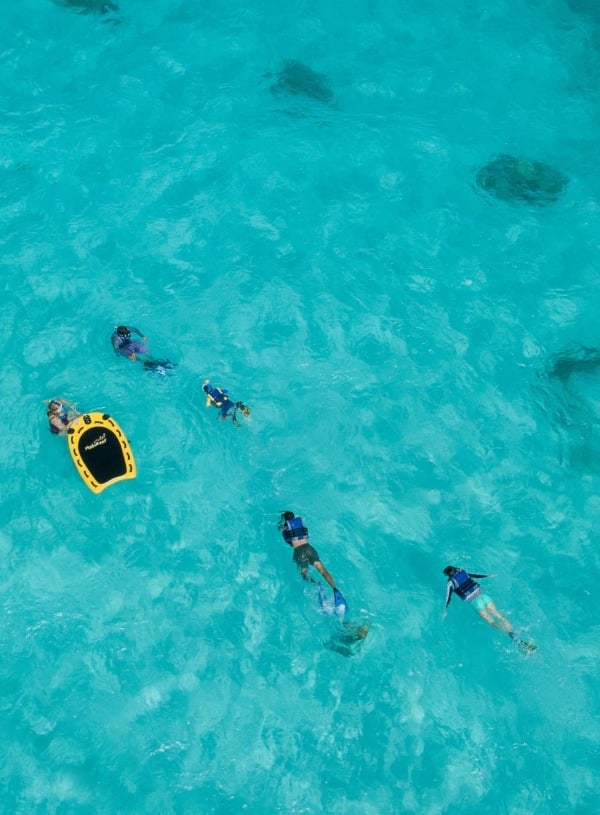 MobiReef underwater trail
Follow a marine biologist on an exciting snorkeling tour, learn about Kani's diverse flora and fauna, and visit reefs brimming with life. Created in partnership SM² Solutions Marines, this edutainment underwater trail is unlike any other. Suitable for children ages 8 and above. Check for schedule.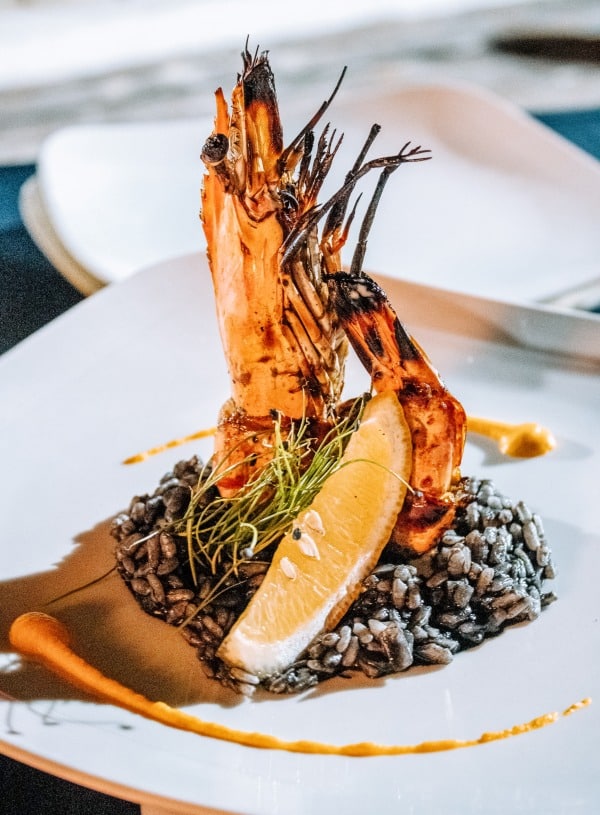 Discover the magic of the Maldives alongside the lapping waves. Dress all in white for a beach dinner, where tables and chairs are wrapped in white linens. Savour fresh seafood barbecue; Japanese, Chinese, Italian, and Indian specialties; and a dinner prepared with a French touch for your enjoyment.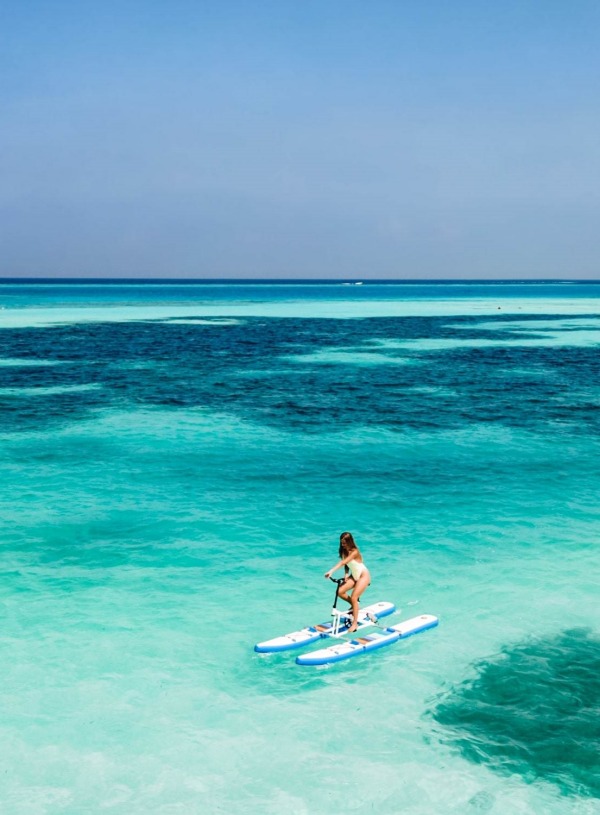 Experience the turquoise waters of Maldives through water bikes, which are quick and easy to pick up. Cruise through beautiful waters and meet a friendly marine friend or two. It's a new environment-friendly activity, perfect for friends and family, available all year round! Incurs extra cost.
Travelling period: 15 July 2023 – 31 March 2024
Package

Choice of Room Type

Price for 2 adults
in Ringgit Malaysia from
5D4N KANI MADIVES
Superior Room – Garden Side
10,400
Superior Room – Beachfront
10,836
Deluxe Room – Beachfront, Terrace
13,666
Overwater Suite
16,952
** Price includes of Green tax & Return boat transfer
Prices shown are for 2 persons per package in Ringgit Malaysia and are correct at the time of printing.
Prices are subject to change without prior notice.
Offer is limited to an allocated number of rooms on a daily basis. Confirmation of bookings are subject to availability.
Any unutilized services included in the package are non-refundable.
Prices are STRICTLY not valid during any fair, event or peak periods. Surcharge will be advised upon booking confirmation.
Holiday Tours and suppliers standard terms and conditions apply.
Frequently Asked Questions
What is the average rate per pax?
The average rates starts from RM5,140* per adult for a 5D4N stay.
Do note that the rates are subject to change* depending on availability. Please feel free to reach out to our friendly travel consultants for more information as teenagers & children have a special rate!
What is maximum occupancy in 1 room?
Maximum occupancy is up to 4 persons* in a room (Superior Beachfront)
*Subject to the type of room selected.
What is the minimum age requirement for stay?
8 years & above for Overwater Villas
What is included in my package?
The package is all-inclusive of room, meals and activities for all guests throughout your stay! Here's a full list of what's included:
• Premium accommodation based on your preferred length of stay
• Full-board gourmet cuisine, open bar and all day snacks
• Land sports, water sports and activities
• Day and night entertainment
• Wifi Access
Is the package inclusive of alcohol?
Yes! All-inclusive packages include all-day bar (with alcoholic/non-alcoholic drinks) & snacks
What time is check-in and check-out?
Check-ins are from 3pm onwards – anytime between 4pm and 8pm as rooms are only available in the afternoon.
Rooms needs to be vacated by 10am on day of departure. Feel free to hang around the resort until 3pm on the same day (breakfast and lunch included)!
Cancellation fees
• 60 days or more before scheduled departure – deposit will be forfeited.
• 31 – 59 days before scheduled departure – 50% of cost
• 15 to 30 days before scheduled departure – 70% of cost
• 0 to 14 days before scheduled departure – 100% of cost
• No show at resort on arrival date – 100% of cost
Notes:
• The date of receipt of the cancellation notice will be the day the cancellation fees will be applied.
• If booked an "Air-inclusive" package, airline's cancellation terms will apply separately.
How do I get to the resort?
The nearest arrival point is Male Airport (30 minutes via speedboat transfer) and the transfer is included in your package.
You are welcome to send your enquiry via the form below.
The Holiday Tours

Travel Safety Promise
Holiday Tours unifies a wide spectrum of travel safety services to ensure the wellbeing of our travellers. Travelling with Holiday Tours means having a reliable partner you can count on to take care of things that are truly important from planning to returning.
Whether you are a travel manager or a traveller yourself, we promise we will be there for you every step of the way so you can travel with confidence.