There is no denying that we love to travel and eat. Since the top of the list of must-eats is usually local desserts, we decided to write about pencuci mulut (mouth washers aka dessert) to hunt down when you cuti cuti Malaysia (go on a holiday). The word kuih refers to many types of delicacies ranging from sweets to savoury treats or snacks. If we go back to the history of kuih, we will find that these sweet delicacies have been influenced by the migration of Chinese, Indians, and other explorers or visitors in the olden days.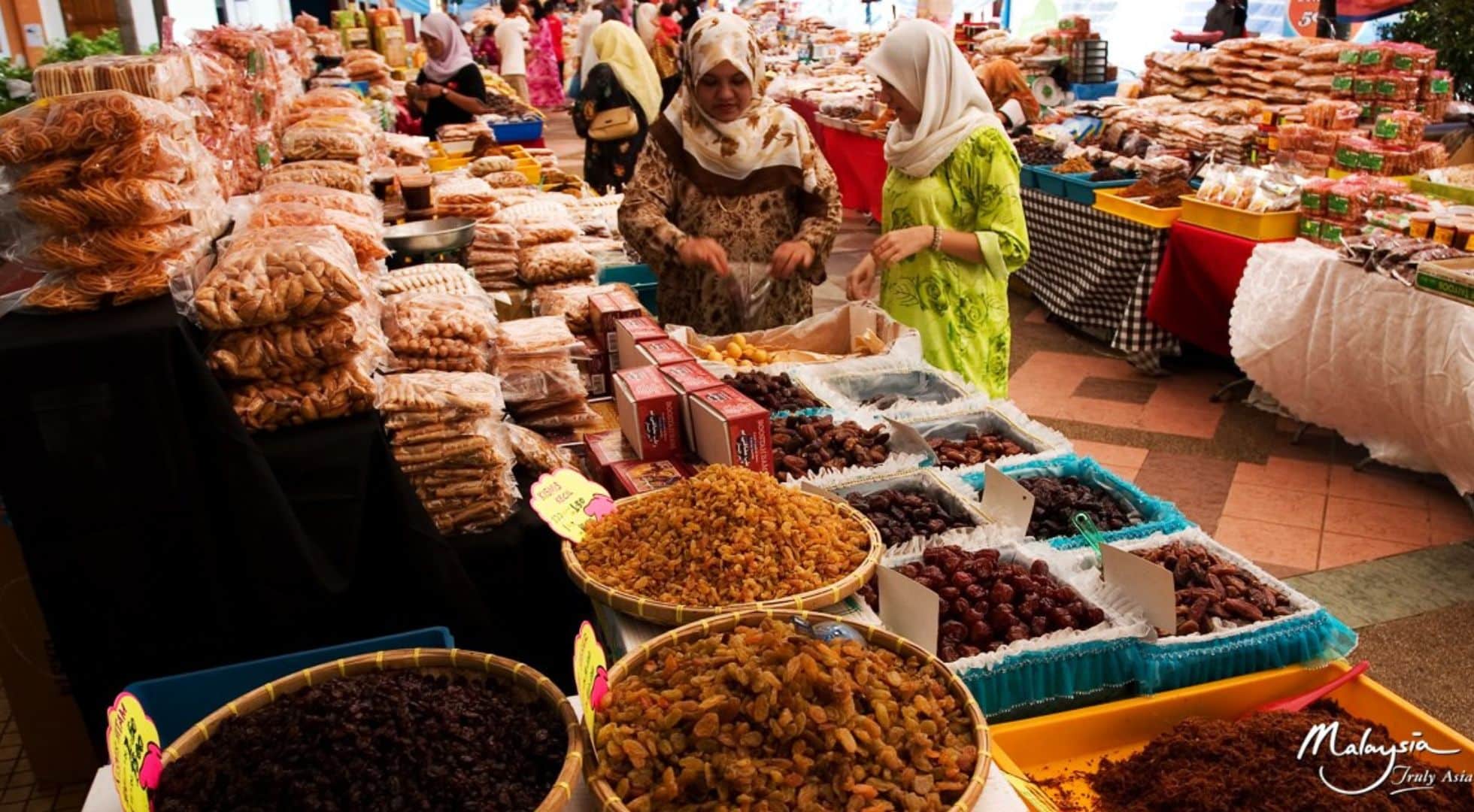 Note that most of the deserts that we have listed under a specific state can easily be found across the country. This means that you can try popular kuih almost anywhere and look for the local nuances. This is when you turn into a kuih connoisseur.
This list of local desserts, to try as you travel across Malaysia, starts in Penang, a haven for local street food. The open secret here is that if you need a good place to eat, just follow the crowds. The bigger the crowd or the longer the queue, the better the taste!
Sweet Destinations: Malaysia Dessert Tour
Penang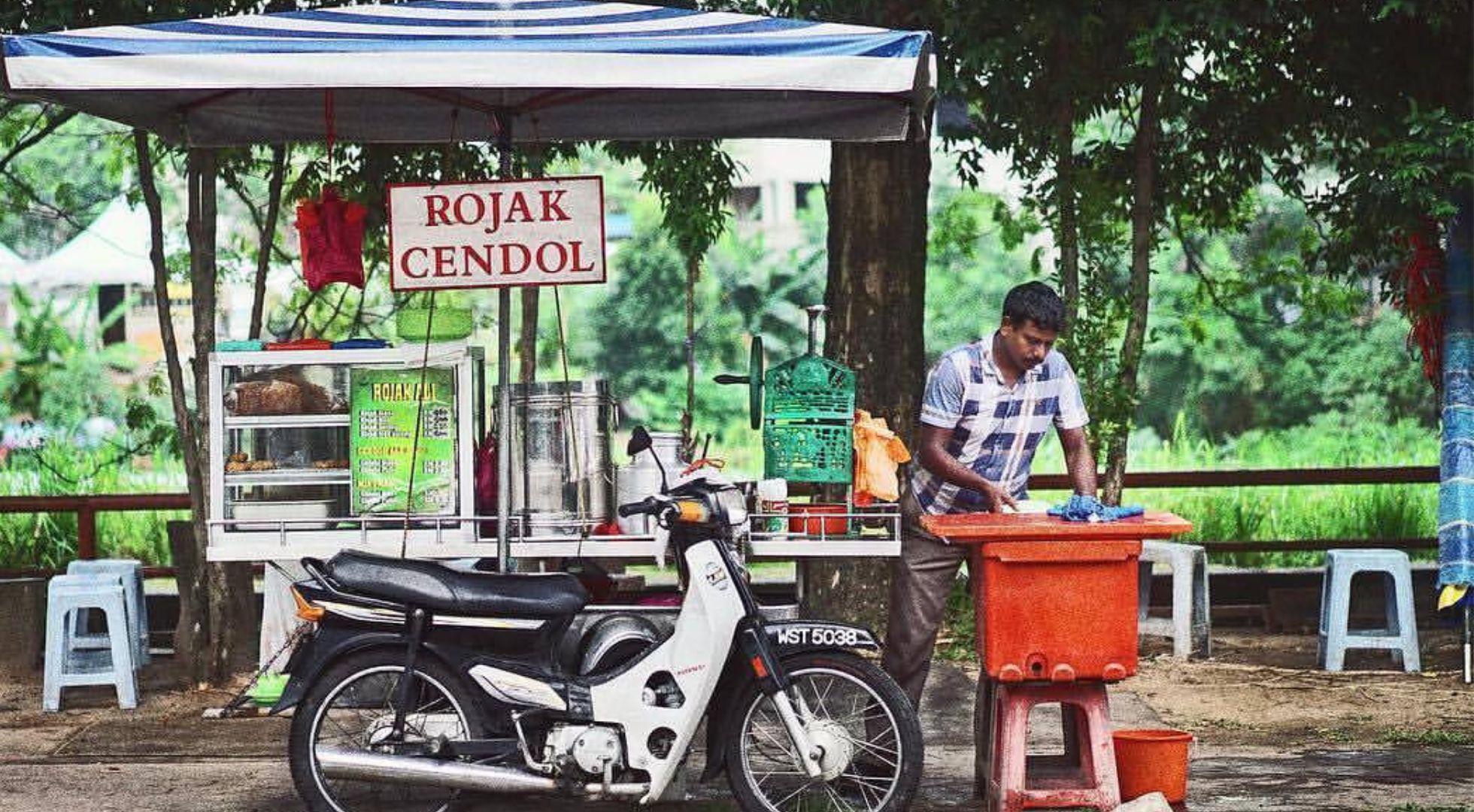 Penang is a food lover's paradise with some of the best street food in the country. Even tourists have heard about the famous Hokkien mee, char koay teow, assam laksa and curry mee. Though much has been said, written and filmed about Penang's amazing street food, most people are unaware of the different local desserts to be discovered in Penang. Other than the famous cendol, here are a variety of sweet desserts for you to try when visiting.
Cendol
Penang's most iconic dessert – most people will travel for hours just to try this authentic dessert. Made from shaved ice, coconut milk, gula melaka (palm sugar) and stripes of green jelly, this sweet dessert is a must-have sweet treat for locals and visitors alike. Those in the know will make a trip to Lebuh Keng Kwee, as that stretch of road is home to two street cendol stalls with over 60 years of history and are often touted as the best cendol to be had in Penang.
Penang Road Famous Teochew Chendul aka Penang Chendul is another popular stall. The first stall started on Penang Road in 1936. Now, you can find Penang Chendul franchise stalls in malls and shopping lots. Yes, we know – nothing comes close to the original.  So go early to Penang Road and be prepared to queue.
APOM BALIK
A warm, crunchy and childhood treat sold at popular roadside stalls and night markets, apom balik is a fluffy pancake made from flour, sugar, eggs, butter and often topped with tasty toppings such as peanut butter, (halal) ham and corn. This pancake is usually made to order and best eaten fresh. It is the warm crunchy and soft combination that brings a smile to those chewing on an apom balik pancake. Note that in Penang, ban chan kueh refers to a slightly thicker version of apom balik.
Aki Pancake in Super Tanker, Taman Lip Sin is the place to go for extraordinary apom balik. Toppings range from raisins, tuna, cheese, chocolate, and coconut besides the usual peanut and corn. Fans say you can't stop after one slice.
NYONYA Kuih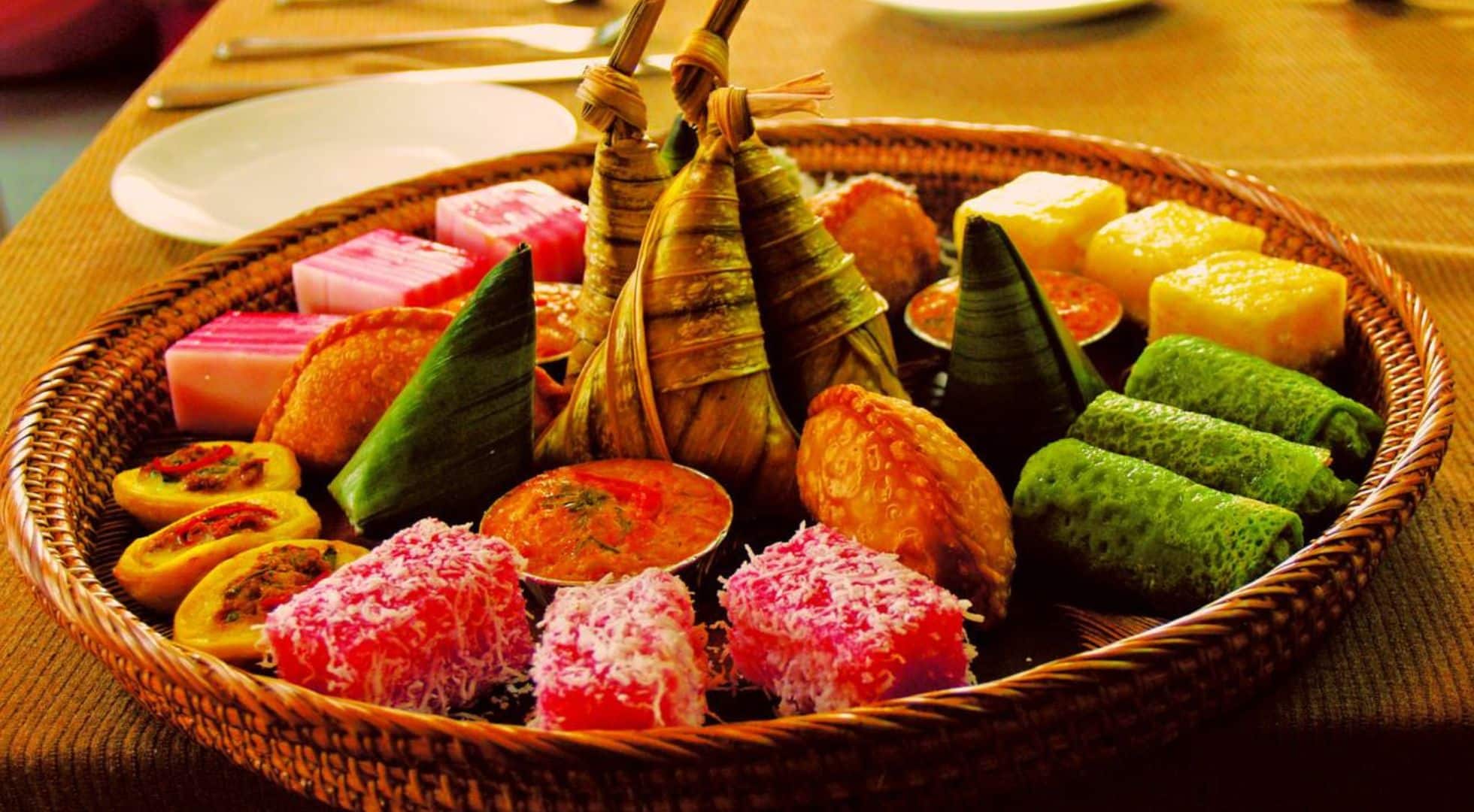 Nyonya kuih is said to have originated from Peranakan or Nyonya settlers that came to the country during the reign of old Malay Sultanates. The word kuih (kueh) has Chinese roots but the taste is distinctively Malay and Indonesian. Bite-size and colourful, these appealing desserts come in a variety of flavours and colours.
Nyonya kuih is available in a myriad of shapes, sizes and types, filled with adventurous and unique flavours and fillings. Crowd favourites include kuih talam, kuih bingka-ubi, pulut tai-tai, rempah udang (glutinous rice dumplings with shrimp filling) and abuk abuk (made of sago pearls, gula melaka and grated coconut). Moh Teng Peow is a nyonya kueh factory that is around 89 years old. Located on Jalan Masjid, off Chulia Street, this kueh makers operate a canteen and a huge kitchen where you can watch the labour-intensive kueh-making process.
PUTU MAYONG (commonly Known As Putu Mayam)
Putu Mayong is a delectable dessert, an Indian-style rice vermicelli cake. Pipped on woven rattan baskets, Putu Mayong is steamed before/served with brown or white sugar and grated coconut. You may know this heavenly snack by its other names: putu mayam, idiyappam, string hoppers, chomai etc. When in Penang, look for Indian hawkers making putu mayong in morning markets. The hawkers in Jelutong market and Pulau Tikus market are popular with locals.
Kedah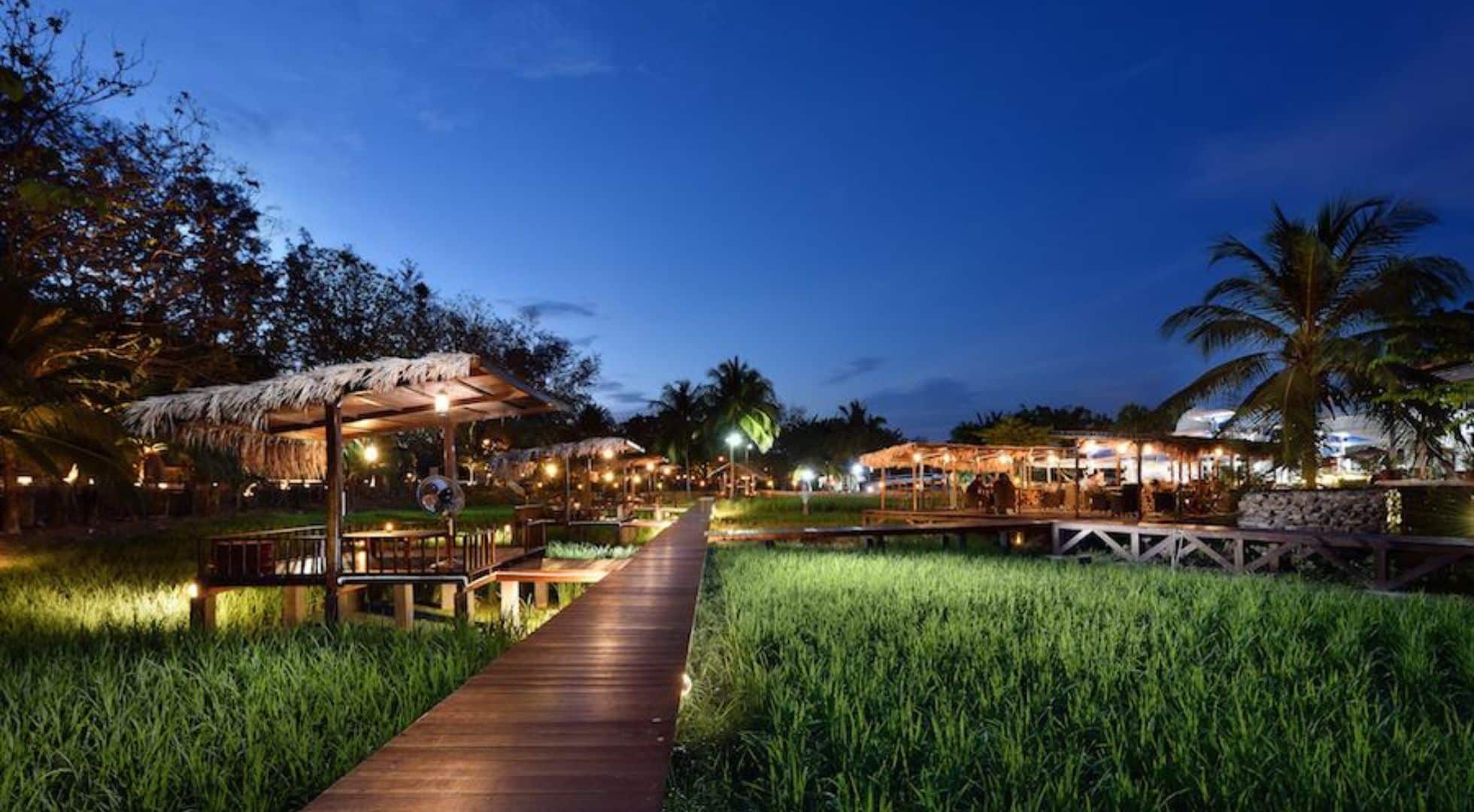 Kedah,  the "Rice Bowl of Malaysia" supplies most of the rice in the country.  This state is also known for local dishes such as laksa kedah, gulai temenung (fish curry), perkasam (fermented fish) and a plethora of unique mouth-watering desserts
Bahulu and Dodol
Bahulu, often called Malaysian madeleines, and dodol dessert are sweet cakes made from flour, coconut, and sugar. Bahulu is sweet and eggy while dodol is chewy and sticky. According to a research paper on traditional Malay kuih, dodol falls into the category of endangered heritage food in the country as only a small number of youths are learning the skills of traditional delicacies.  Make sure to try bahulu and dodol in food stalls across Kedah.
Kuih Karas
Kuih karas, also known as kuih jala, is a well-loved dessert in Kedah. This delicacy is made from rice flour with the texture of a cracker or fried vermicelli. It is crispy and sweet. Kuih karas are sold in stalls and markets in Kedah.
Kuih Peneram (or Coq Meneram)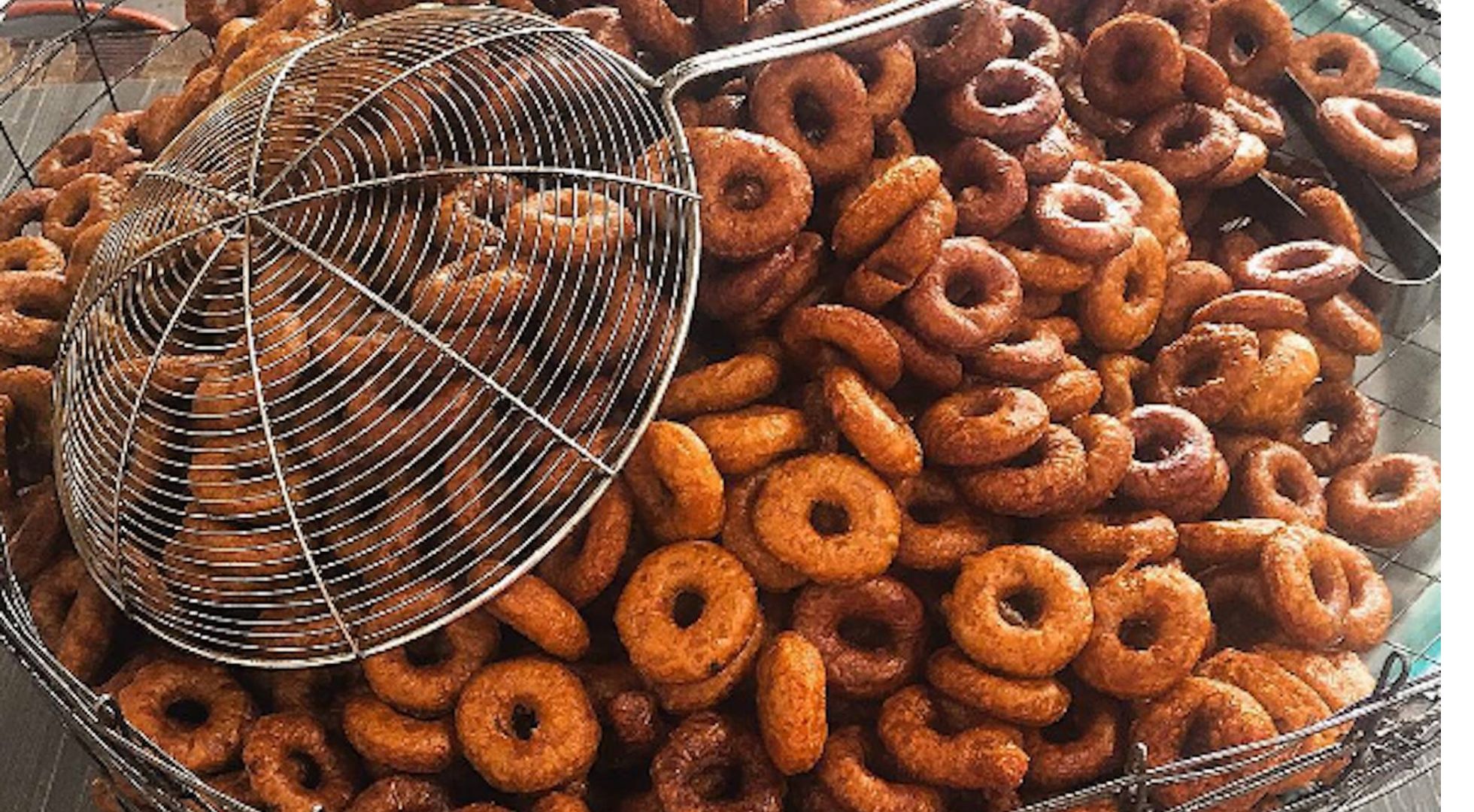 Kuih peneram looks like the classic American doughnut but much smaller. Make no mistake, this is not a doughnut. It is a South Indian dessert made with rice flour, brown sugar and cooked with Pandan leaves. This kuih is also called coq meneram in Kedah. You can easily find Penaram sellers making this to order. It is indeed best eaten fresh from a hot wok.
Kuih Keria
Kuih Keria looks like kuih peneram but is made with sweet mashed potato and rice or wheat flour. The sweet potato dough is rolled into a doughnut and deep-fried. Best enjoyed with simple syrup or sprinkled with powdered sugar. This sweet treat is also known as Kuih gelang because the dough is shaped like a bracelet (gelang).
Terengganu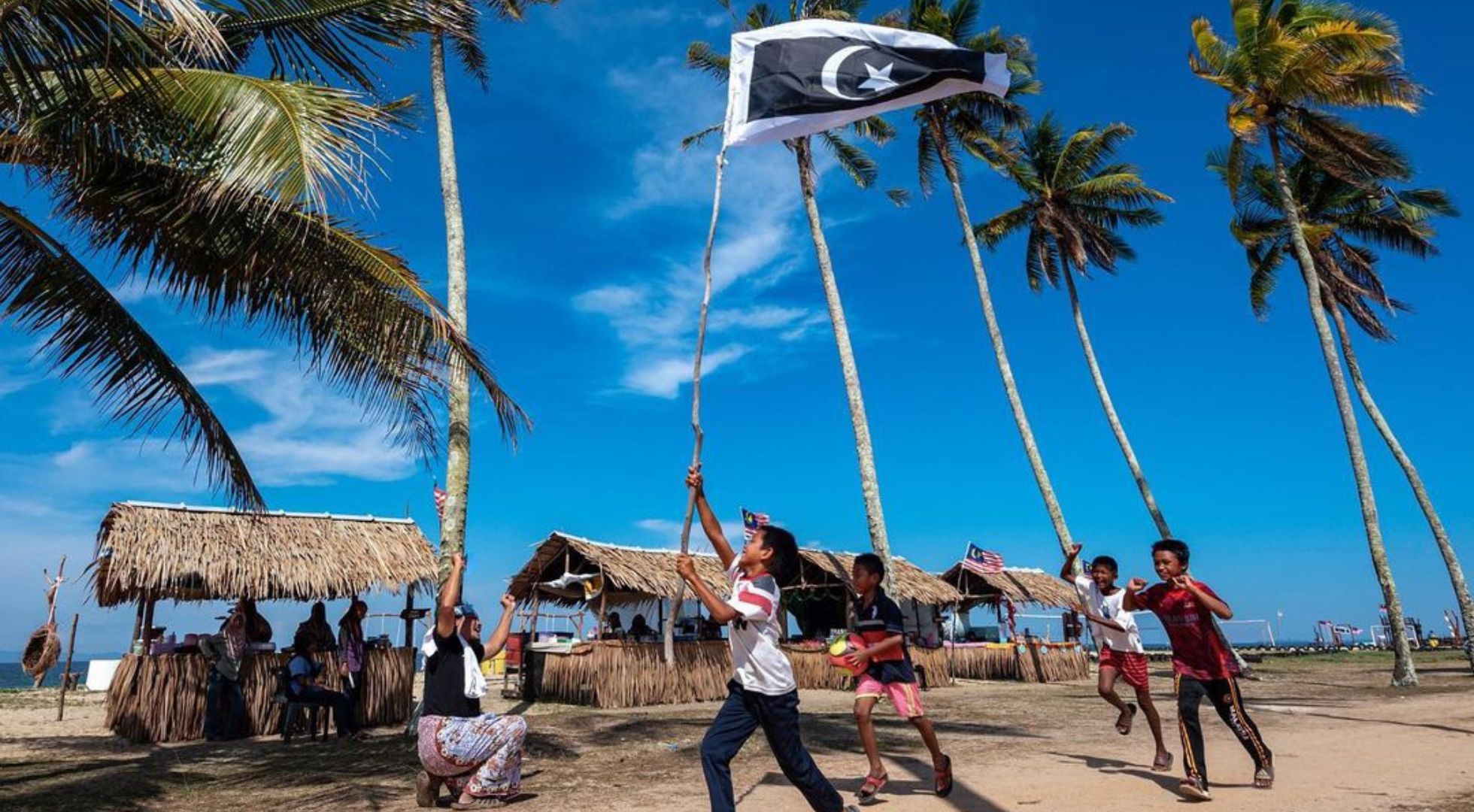 Because of its proximity to Thailand, Terengganu's food and desserts have Thai taste and culinary influence. Here are some of the more localised desserts that you should try while in Terengganu.
Onde Onde
Onde onde (or ondeh ondeh) is a real treat. Who doesn't love this kuih that is known for its burst of flavour? Onde onde is said to have originated from Indonesia, where it is known as klepon. We like onde onde with a generous topping of freshly grated coconut. Look for these absolutely heavenly green balls at food stalls.
Nekbat
Nekbat is a traditional east coast kuih that is very popular during the month of Ramadhan. This is a light dessert made of rice, flour, and egg and baked. Yellow and puffy nekbat is served with pandan leaf-infused sugar water. The vendor will skip this step if you want to keep the nekbat for a few days.
Ipoh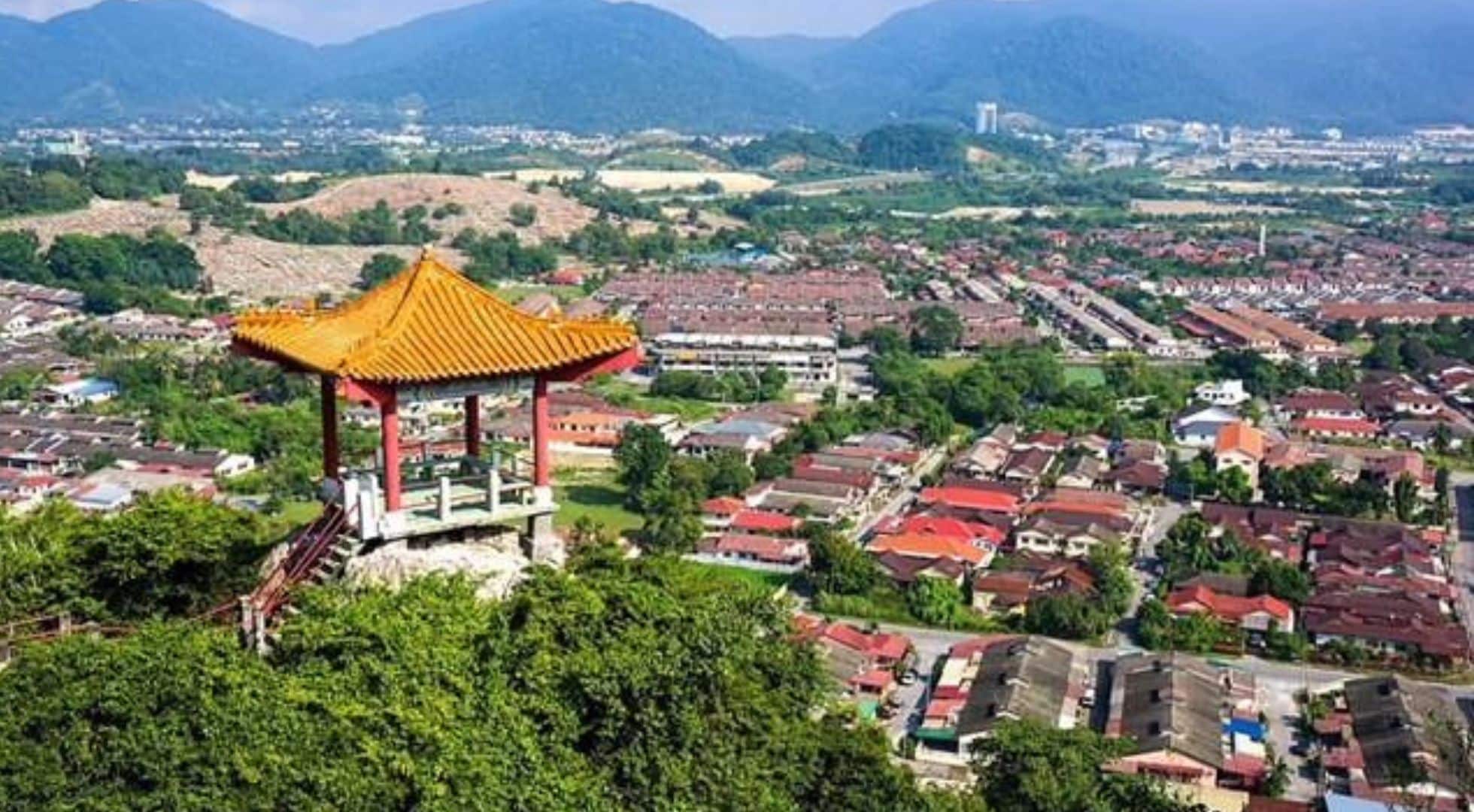 An easy two-hour drive north of Kuala Lumpur, Ipoh is a foodie's paradise for old-fashioned comfort food and traditional desserts. In recent years, a wave of new hip cafés and restaurants have opened in this town so you can find modern visually appealing sweet treats as well.
Caramel custard 
One of the must-try desserts in Ipoh, caramel custard pudding is also known as flan or crème caramel. This is an eggy pudding-like delicacy that is smooth, not too sweet and melts in the mouth. The famous, and often crowded, place to go is Restaurant Thean Chun, a coffee shop in Ipoh's old town.
Tau fu fa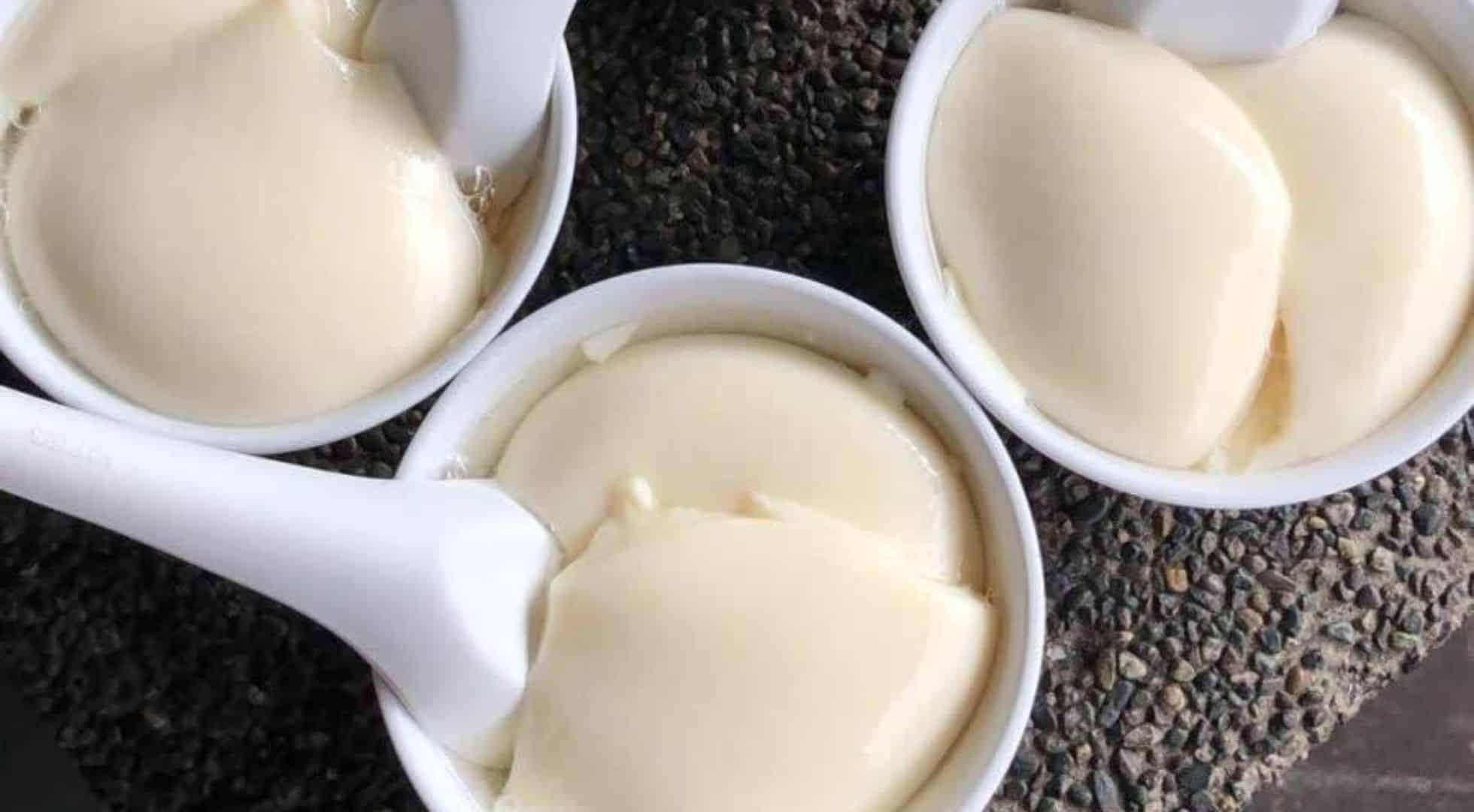 Tau Foo Fah or douhua (in Mandarin) is a Chinese dessert. This is a soft, silky beancurd dessert that is eaten with a clear sweet syrup infused with ginger, brown sugar or palm sugar (gula melaka). You can also have black sugar tau fu fa with black sesame. There are many places that sell tau foo fah in Ipoh but the traditionally famous ones are Funny Mountain (Psst..try ordering their signature Michael Jackson – a mixture of soya bean and grass jelly) and the original Woong Kee (Bercham). Some newer shops like Big Mum Beancurd and Ipoh Bean Bar offer a variety of toppings such as red beans, barley, ginkgo nuts and crushed peanuts.
Pahang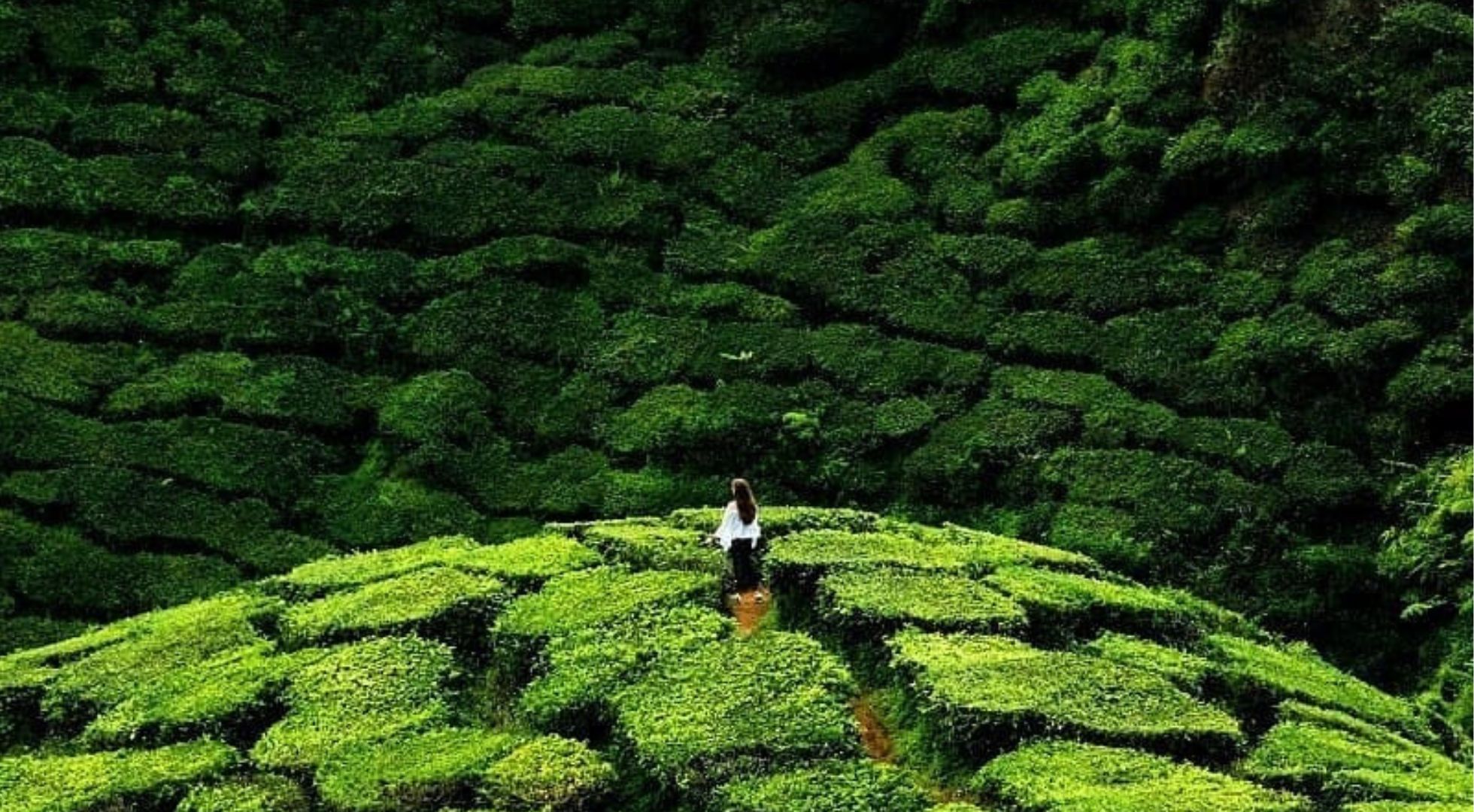 There are several traditional Pahang sweets such as kuih badak kumbang, kuih jeneral mahbob, kuih apam baghad. Unfortunately, these sweets are not easy to find. If you see some usual-looking kuih in Pahang, do try them.
Puding Raja
Puding Raja is a special dessert. It was created for the royal family of Pahang and made with banana puree, prunes, and cashew nuts. This pudding is dressed in Jala mas (golden threads), made from egg yolks, and served with a chilled custard sauce.
Negeri Sembilan
Whether it is looking for spicy Minangkabau-style dishes or flavourful desserts, it's no surprise that many have often extolled the joys of hunting for food and local desserts in Negeri Sembilan.
Wajik
A traditional Indonesian kuih, wajik is made with steamed glutinous rice cooked in palm sugar, coconut milk, and pandan leaves. The sticky rice cake comes in the shape of a diamond or rhombus.
Kuih Sopang/ Sepang
Kuih Sopang also known as kuih sepang originated from Negeri Sembilan. This oval treat is made from banana, brown sugar, and glutinous rice flour holds grated coconut. It's commonly served with coconut milk.
Apam Johol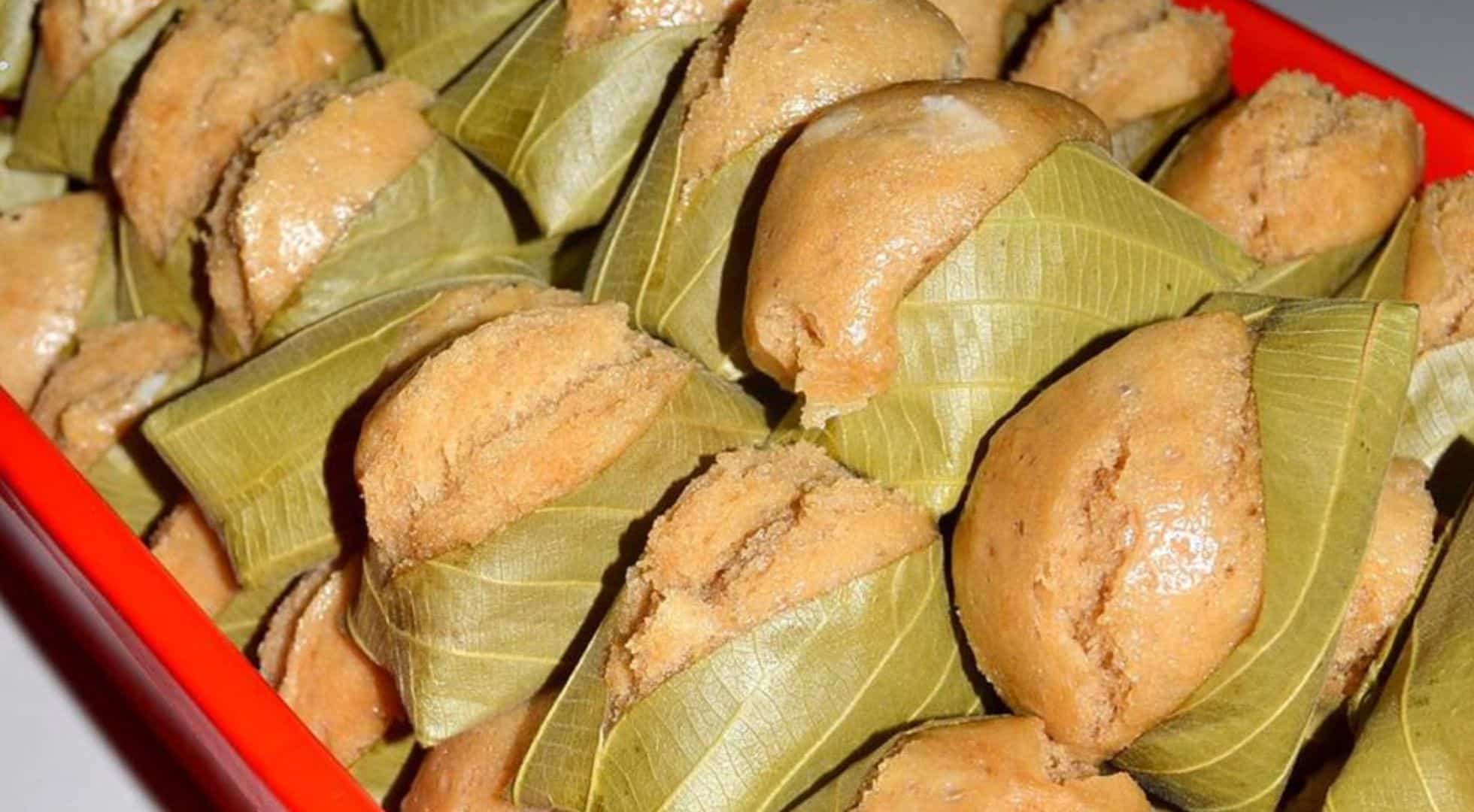 Apam Johol is a fluffy cake made with rice flour, yeast, santan (coconut milk), and brown sugar. It is steamed in sheets of rambai leaves, which gives it a fragrant aroma. The sweet snack is served with sambal tumis, grated coconut, rendang or curry. We think it is best eaten with sambal tumis. You can find it at Kak Tijah Apam Johol, a coffee shop in Johol, Negeri Sembilan.
Malacca
Exploring the historical city of Malacca is an exhausting and sweaty affair. The best way to cool down is with some of the state's best desserts.
Nyonya Kuih 
Much like in Penang, Nyonya kuih is a staple that can be found in every corner of Malacca shops and kopitiams. Malacca kuih is similar to Penang's Nyonya kuih (see above). These kuih are delightful and colourful, and a must-have for anyone visiting Malacca. Baba Charlie Nyonya Cake is a popular shop for this traditional kuih. Make sure to be hungry!
Cendol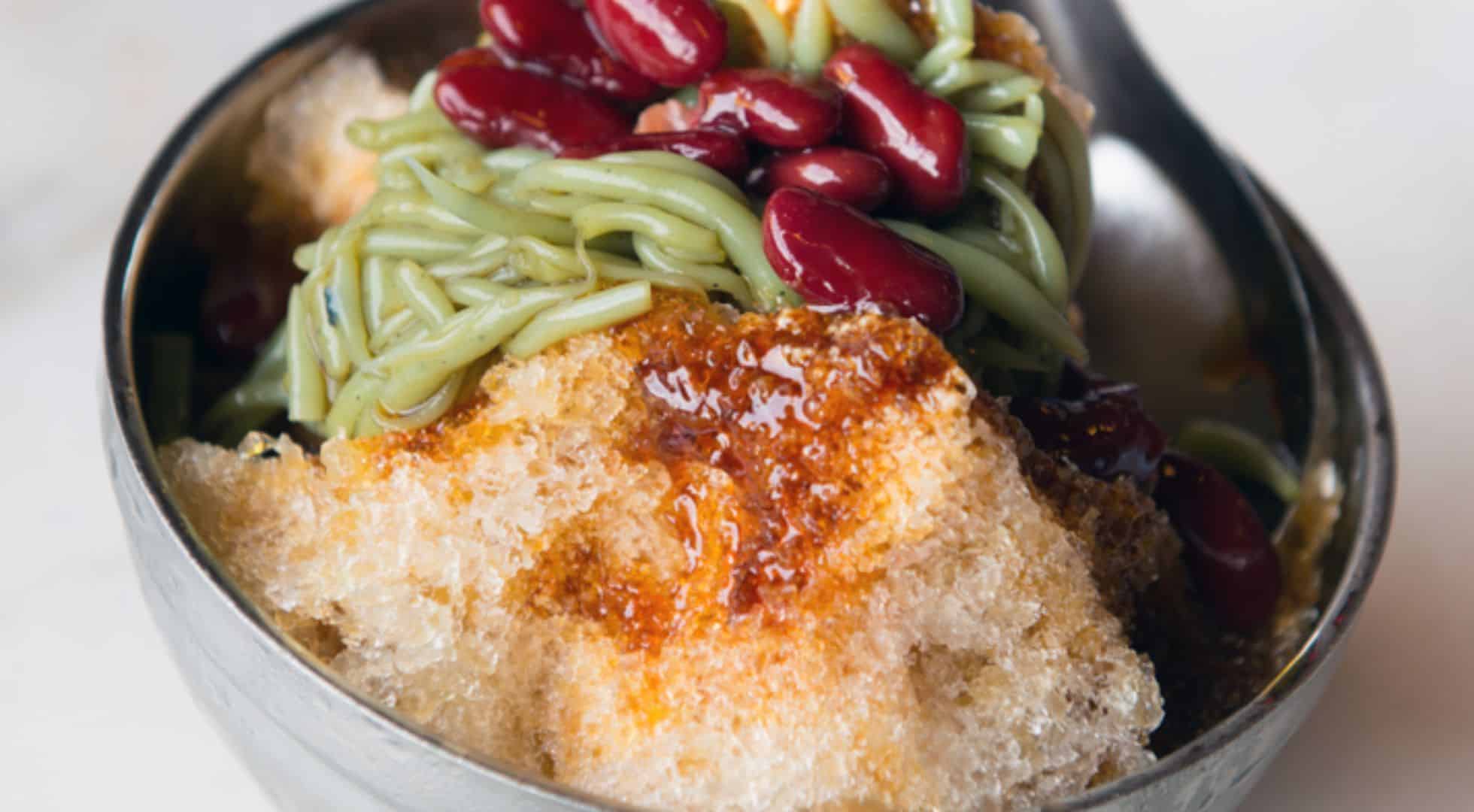 Is cendol from Malacca different from Penang cendol? Let us know! Like Penang, Malacca has its own famous version of cendol, a shaved iced sweet dessert of green rice flour jelly, coconut milk and palm sugar syrup. Wander around the streets of Malacca and you find quaint kopitiams will their own unique take on cendol.
Coconut milkshake 
You can't go wrong with a coconut milkshake. This is a cooling and welcoming drink made from fresh grated coconut and milk and topped with dollops of vanilla ice cream. This is the best dessert drink to beat the heat in Malacca.
Johor Bahru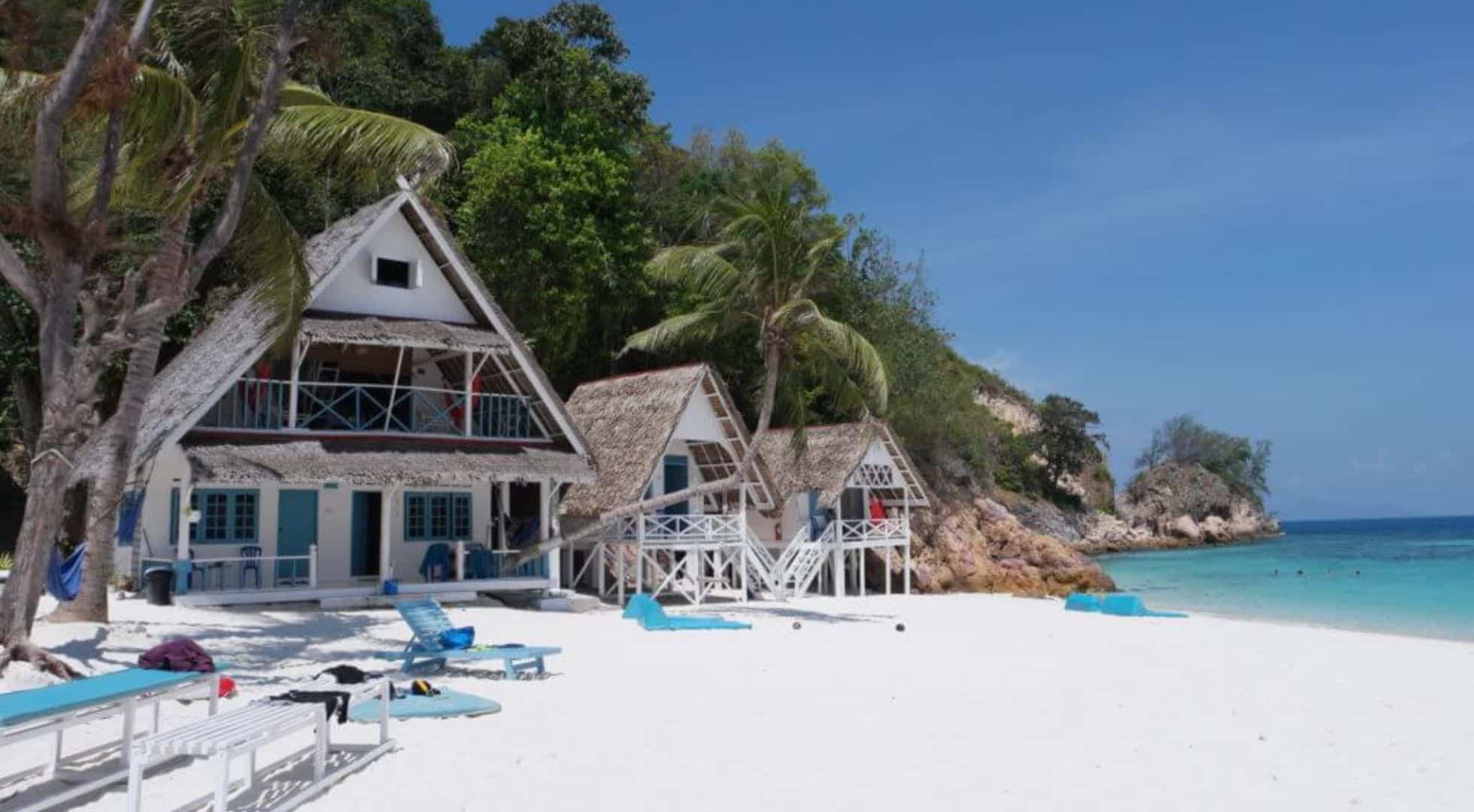 Deep fried durians
The name says it all. Deep-fried durians have a deep-fried batter that encases gooey durian. This treat is a must-have for anyone visiting Johor and word is, even Singaporeans flock to Johor Bahru for this.
3-in-1 fried nian kaw 年糕 with sweet potato and yam.
These crispy fried rice cake fritters are sandwiched with yam, sweet potato and, of course, nian gao (rice cake). Sesame seeds are added for extra crunch and texture.
Sarawak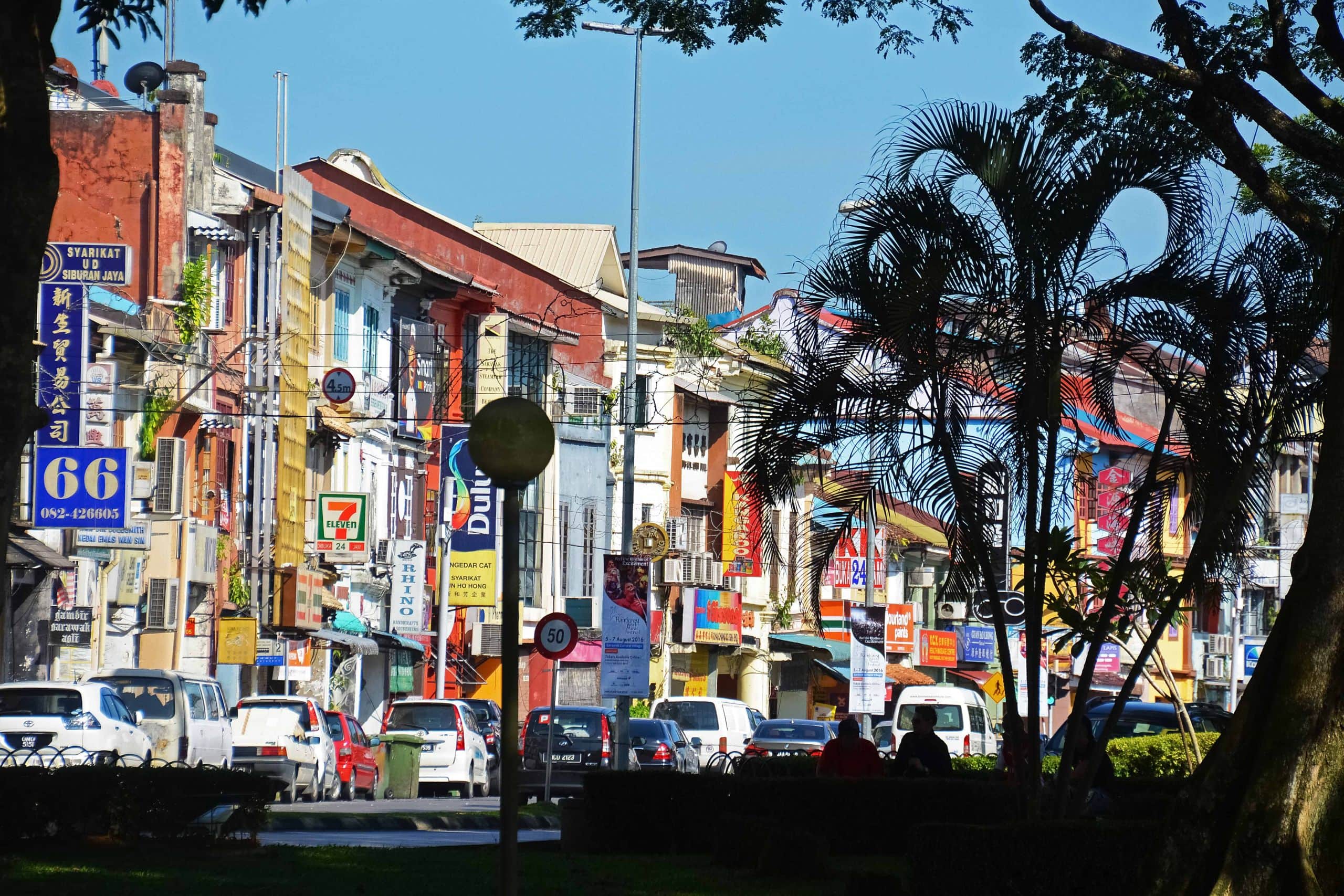 Sarawak offers access to Borneo's natural wonders and cultural riches. From Kuching, the island's most dynamic city, you can visit pristine rainforests and look for orangutans, proboscis monkeys, crocodiles and the world's largest flower, the rafflesia. Come back in the evening for dinner and some unique Sarawakian desserts.
Kek Lapis Sarawak
The Sarawak layer cake, known as kek lapis Sarawak or kek lapis moden Sarawak in Malay, is a layered cake from this state. This cake can be found almost everywhere and is usually served on special occasions.
Sibu gong pia (or kompia)
Made and shaped like mini bagels, Sibu gong pia is a baked treat from the Foochow community. It looks a little like a bagel with sesame seeds. If you want it sweeter, look for the flatter version of gong pia as its dough is slightly sweet, soft, and fluffy. They make great gifts if you are looking for souvenirs.
There is no denying that Malaysia is indeed a foodie paradise serving savoury, sweet and fried local dishes that tantalise all taste buds. And the local desserts, unique to the state they originated from, are exceptional. It may take you an hour, or two or more to hunt for that one-of-a-kind dessert, but rest assured that once you do find it, it will be the highlight of your trip. Happy travels to sweet destinations!
Ready to travel for kuih?
You may also be interested in: