Long Weekends 2023 Are Coming Up! Here Are 4 Fabulous Getaway Ideas Near Malaysia
Sometimes we take where we live for granted and forget some of the greatest things about living in Malaysia.
Our location in central Southeast Asia means that our neighbouring countries which include some of the best holiday destinations in the world are just a short flight away. Our Malaysian international airports have direct flights to Thailand, Indonesia, Cambodia, Vietnam, Singapore and many other captivating countries. It would not be a stretch to say that we could, for example, be sipping cocktails overlooking the Mekong River in Phnom Penh, Cambodia's capital within two and a half hours of travel.
So here are four long weekends 2023 getaway ideas; we've got suggestions such as exploring a tiny slice of paradise within the paradise of Bali, seeing one of the undisputed Wonders of the Worlds via bicycle, enjoying the many offerings that Sentosa Island in Lion City has and experiencing Thai island living.
Happy Holidays! Let's make the most of our country's public holidays in 2023, by having a well-deserved unforgettable break whilst experiencing new adventures and making lifetime memories.
Click here to see the list of Malaysia public holidays 2023.
1. Tadau Kaamatan – Sabah Malaysia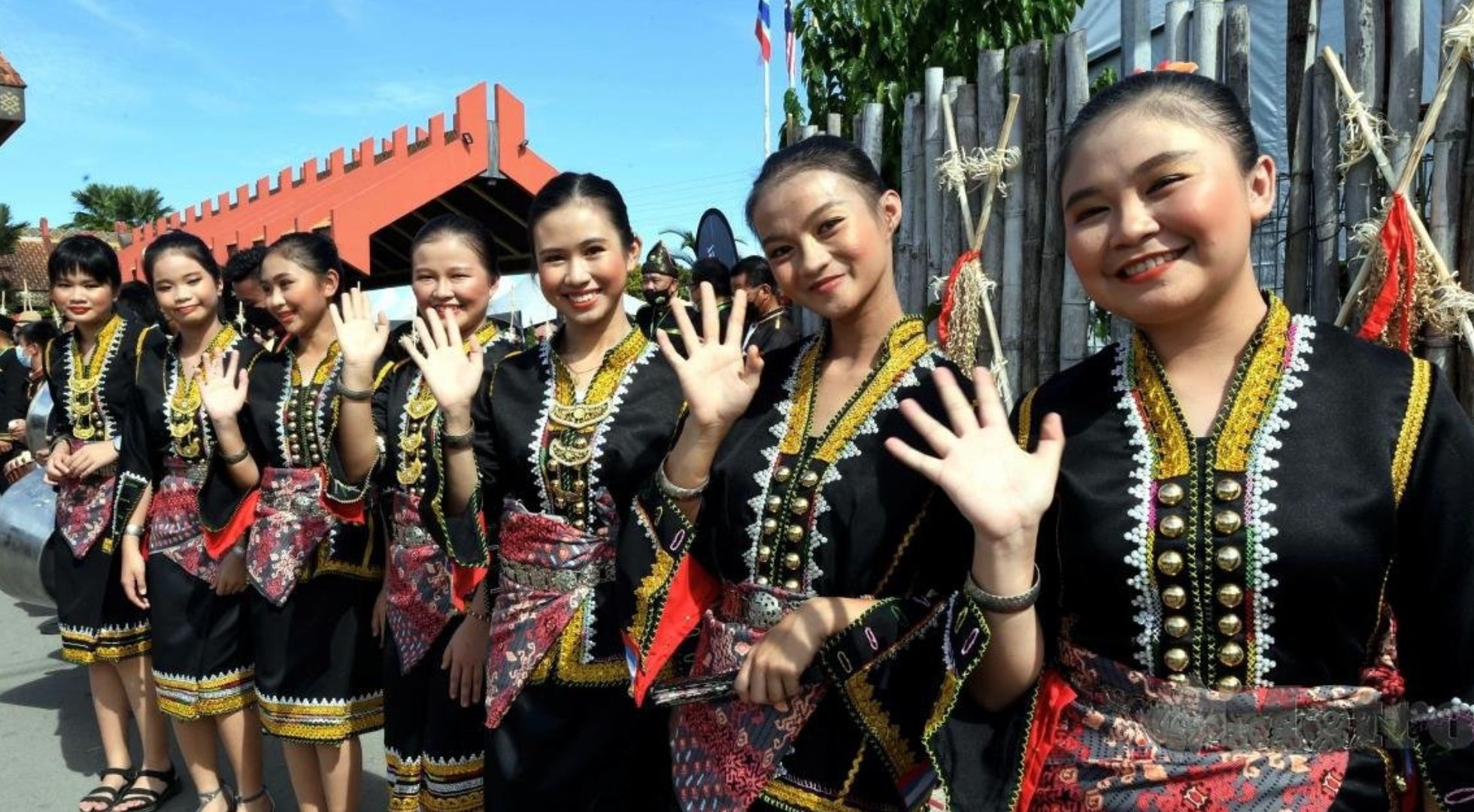 Have you ever visited a harvest festival in Malaysia? A harvest festival is a traditional cultural event and a celebration that marks the end of a harvest season. These festivals are vibrant and bustling with good fun and plenty of rice wine.
Tadau Kaamatan, is a harvest festival celebrated by the Kadazan-Dusun tribe in Sabah. The Kadazan-Dusun are the largest indigenous group in Sabah. 'Kaamatan' is derived from the word omot, which means 'harvest' in Kadazan-Dusun.
This is a month-long celebration that ends with a 2-day public holiday. Tuaran will host the Tadau Kaamatan celebration on May 30 and 31, 2023. According to the organising committee of the Kaamatan Festival, the Sabah harvest festival is hosted in one of the 27 districts in Sabah every year.
Tadau Kaamatan is a great experience that features the state's rich cultural heritage. It is also a great fun time for visitors. Activities at the 2023 harvest festival include:
Sumazau (a traditional folk dance)
Magunatip (a bamboo dance that gets progressively faster and faster. Agility and skills are needed)
Mipulous (knuckle wresting. There is also the more commonly known arm-wrestling competition)
Rampanau (bamboo stilt walking)
Migayat Lukug (Tug of War)
Sugandoi (a singing competition grouped into different ages: children, teenagers, adults, and veterans)
Unduk Ngadau (a beauty pageant)
Unduk Ngadau is a famous beauty pageant and an acclaimed recognisable cultural event unique to Sabah. It is participated by contestants from different districts and subdistricts. Contestants must be able to speak their local dialect, and aspiring young women must compete at a district level before entering as one of the 46 contestants in the finals.
2. A Slice Of Paradise Within Paradise – Nusa Penida, Bali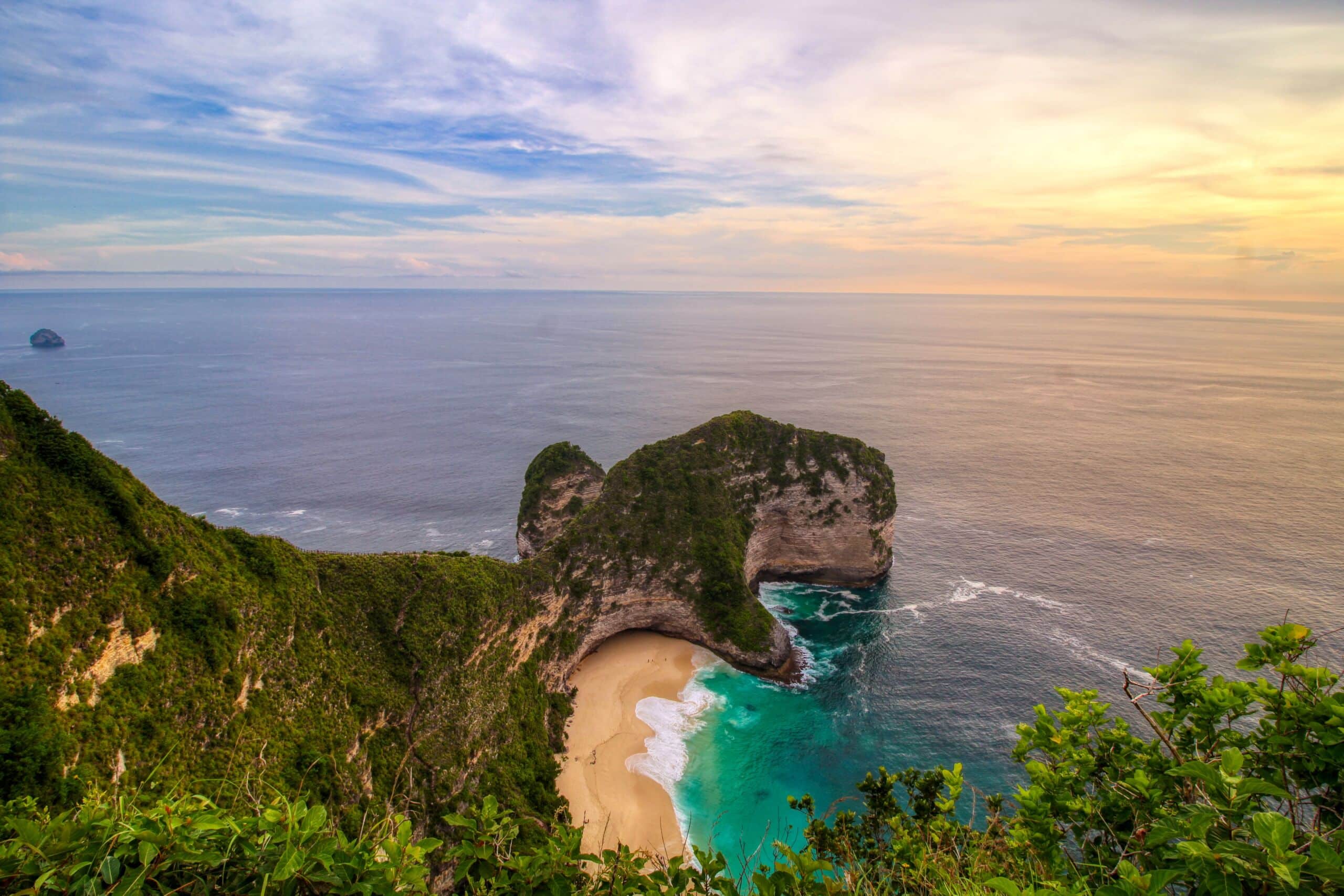 Nusa Penida is a tiny slice of paradise, 1 hour by boat off the coast of Bali. Once known as a black magic island to the Balinese, nature lovers will fall in love with this little island as it is packed to the brim with spectacular scenery. There are crystal clear seas in shades of the most vibrant of blues, gorgeous rock formations and drool-worthy beaches. Just about every corner of the island is an Instagrammer's dream.
My friend, Joanne Ho, 47, who spent a 3-day 2-night getaway with her girlfriends there recommends this for long weekends 2023 – doing a full-day land tour and following that up the next day with a half-day snorkelling trip with a private charter boat. If you still have an extra day, you can venture back to Bali for endless shopping and a fun night out in Seminyak to end your getaway on a high note.
Nusa Penida's Land Tour
The first stop of the land tour was Angel's Billabong and Broken Beach, which are just 5 minutes from each other.
Angel's Billabong is a gorgeous natural rock pool that opens straights out to the ocean – though you have to heed the safety warnings as the waves can be massive and dangerous.
Broken Beach is famed as the viewpoint for the arched tunnel in the cliffs, which allows the ocean to flow into Angel's Billabong.
Then there's Nusa Penida's most photographed spot – Kelingking beach with the famous T-Rex-shaped rock. Getting down to the beach requires a 30-minute challenging and rocky climb plus 1 hour to get back up so it may not be for everyone.
Joanne adds  "A highlight of the tour for me would be swimming in the Tembeling natural pool. You can only get there via motorbike, so be prepared for what can be a hair-raising 3km ride on a narrow bumpy path. I really enjoyed soaking in the pool after a morning of adventures in the sun. The beach is gorgeous but you do have to watch to see if the waves are too strong."
The day's last stop was crossing Nusa Penida from West to East ( which takes 1.5 hours ) to Diamond Beach. This was another highlight as the beach was breathtaking with its rock formations and super-soft powdery sand. Getting down to the beach is a 20-minute walk down rocky steps with ropes to assist you at some parts. Once again, it's good to get your fitness game on!
Nusa Penida's Snorkelling Tour
The second day on Nusa Penida entailed a snorkelling trip to Manta Bay and Coral Garden. To get there, it can be a choppy 45-minute boat ride if the seas are rough, so it's best to be prepared with travel sickness pills.
Says Joanne "Whilst snorkelling, we spotted 3 huge manta rays which was an otherworldly amazing experience. They were such gentle peaceful creatures just floating in the depths of the sea."
The second snorkelling spot was the aptly named Coral Garden where you can see an abundance of fishes and colourful corals.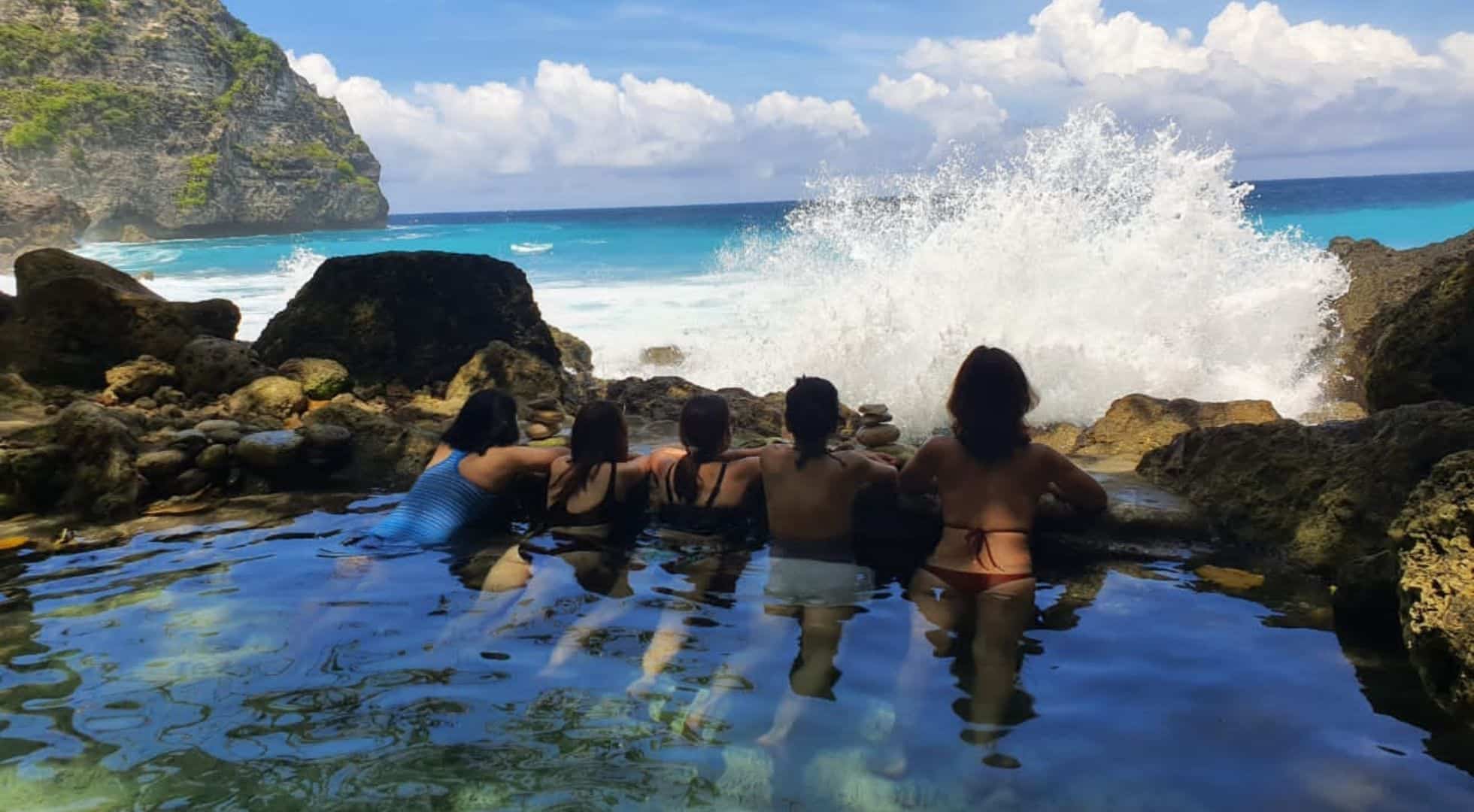 3. Explore One Of The Wonders Of The World Via Bicycle – Cycle Around Angkor Wat
With more and more people making health a priority these days, keeping fit whilst on holiday seems to be a trend that is here to stay.
With that in mind, if you've not yet visited the largest temple complex in the world, Angkor Wat in Siem Reap, Cambodia, why not consider exploring this famous UNESCO World Heritage Site via a cycling tour?
Depending on your fitness level and how you want to spend your getaway, you can choose the number of days you wish to be on a bicycle. Longer tours will take you around charming Siem Reap, to visit the floating villages and meander around the Cambodian countryside.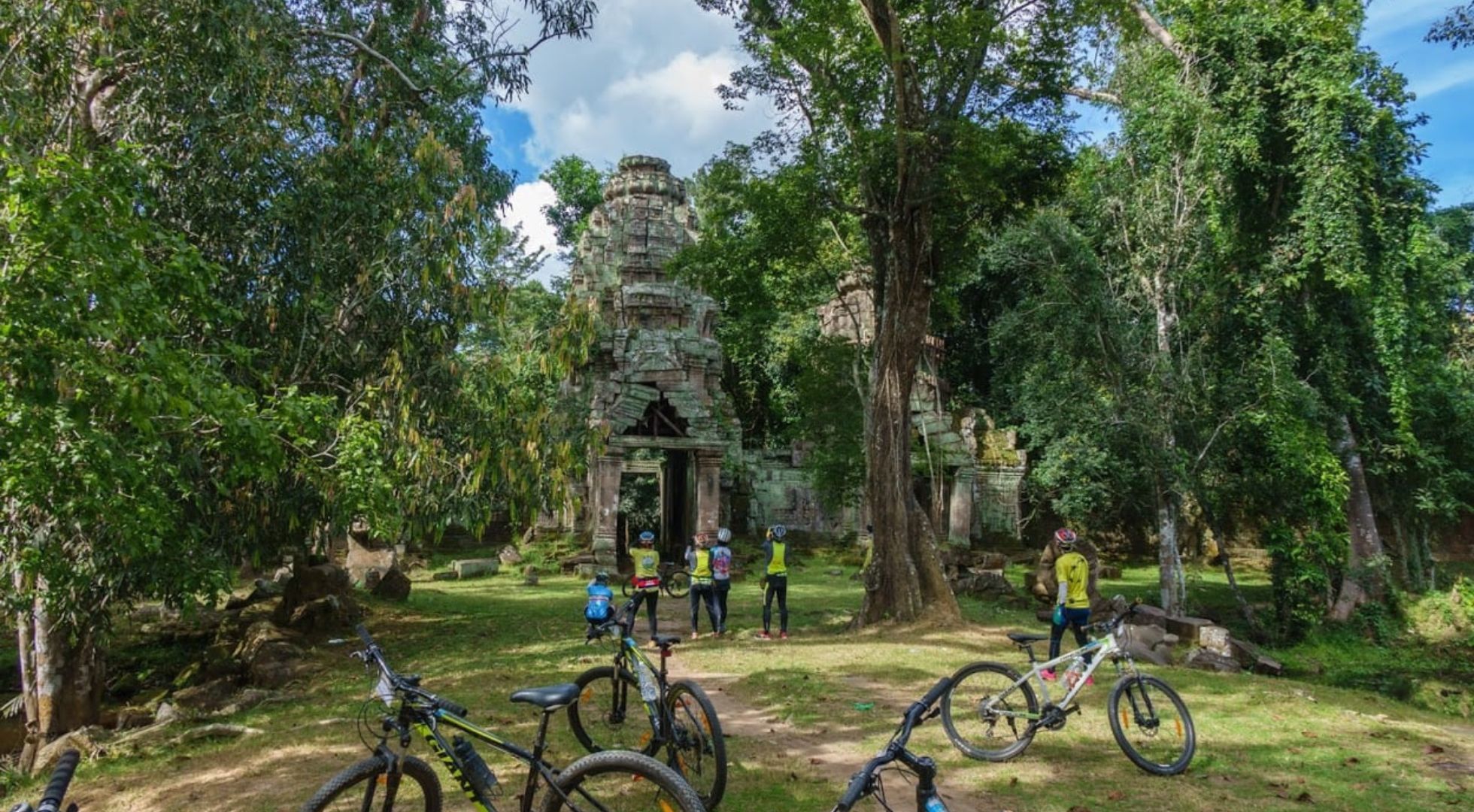 Angkor Wat One-Day Cycling Tour
Your day starts early with a bike ride out to the ancient city of Angkor Thom, entering the city via a monumental stone gate carved with elephants and four giant faces. You continue on to Bayon Temple, located in the centre of the city and famous as the enigmatic faces represent the 54 provinces of the Great Khmer Empire.
Ta Prohm is next, the temple made famous by the Tomb Raider Angelina Jolie movie. Ta Prohm is unique in that it has been left largely as it was found; overgrown by jungle trees and vines with many parts of the temple crumbling to the ground. All this adds to the temple's charm as one of the most memorable and picturesque temples in the Angkor complex.
In the afternoon, you bike to the gem of the Angkor complex, Angkor Wat. This is planned on purpose as the best lighting conditions for photos are after 2 pm. Angkor Wat will utterly mesmerize you with its rich history and symbolism. And profoundly astound you as you realise these temples were built in the 12th century under Khmer Kings' rule, took over 30 years and were done without technology or machinery.
Siem Reap's Other Wonders
Whilst in Siem Reap, ensure your long weekend 2023 sojourn include an expedition to Tonle Sap Lake – the largest freshwater lake in Southeast Asia and one of the most diverse and productive ecosystems in the world.
There are more than 170 floating villages with a population of 80,000 locals living in houses built on tall, wooden stilts. Their means of transportation is via boats and the villages are complete with hospitals, schools, and supermarkets – all on water. See how the locals live via a boat cruise that takes you around the floating village, lotus fields and floating crocodile farm.
Complete your Siem Reap long weekend 2023 adventures by catching a performance at Phare, Cambodia's own version of the Cirque du Soleil. Not only do you enjoy a highly energetic charismatic show helmed by immensely talented local youths, but you are also contributing to a worthwhile cause. The performers are from the Phare School and their mission is to provide gainful employment to Cambodian youth from difficult social or economic backgrounds.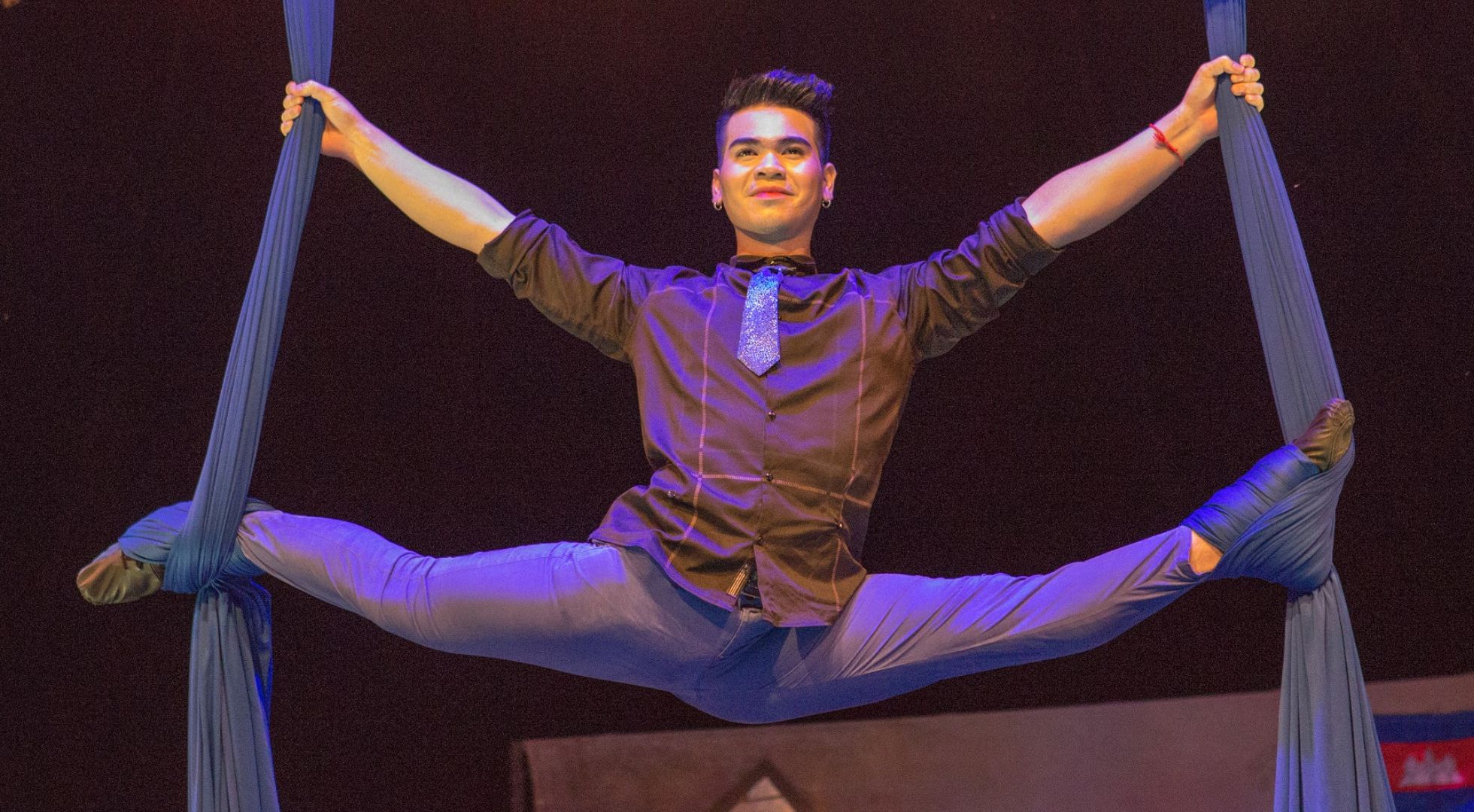 4. have non-stop fun at Singapore's State Of Fun – Sentosa Island
If you're bringing the kids and if it's fun that you're looking for, then we recommend that you spend one of Malaysia's public holidays 2023 at Singapore's proclaimed State of Fun – Sentosa Island.
Located off Singapore's southern coast, there are countless attractions set amidst tropical beaches, accommodations options to suit all budgets and no shortage of cafes and eateries offering up all sorts of mouth-watering cuisine.
Sentosa's Beaches
Palawan Beach is ideal for swimming and water sports with its calm waves and powdery sand. There are family-friendly parks, playgrounds and lagoons plus a watchtower you can climb to watch passing ships go by.
Siloso Beach is home to the coolest bars, restaurants and fun attractions. Besides bar hopping, you can surf a man-made wave, chill out at a whirlpool beach bath, or try kayaking, cycling or rollerblading.
Tanjong Beach is perfect if you're after a more tranquil getaway, especially with a loved one, with the twinkling lights of nearby ships by night providing a dreamy backdrop.
Sentosa's Attractions For The Thrill-Seekers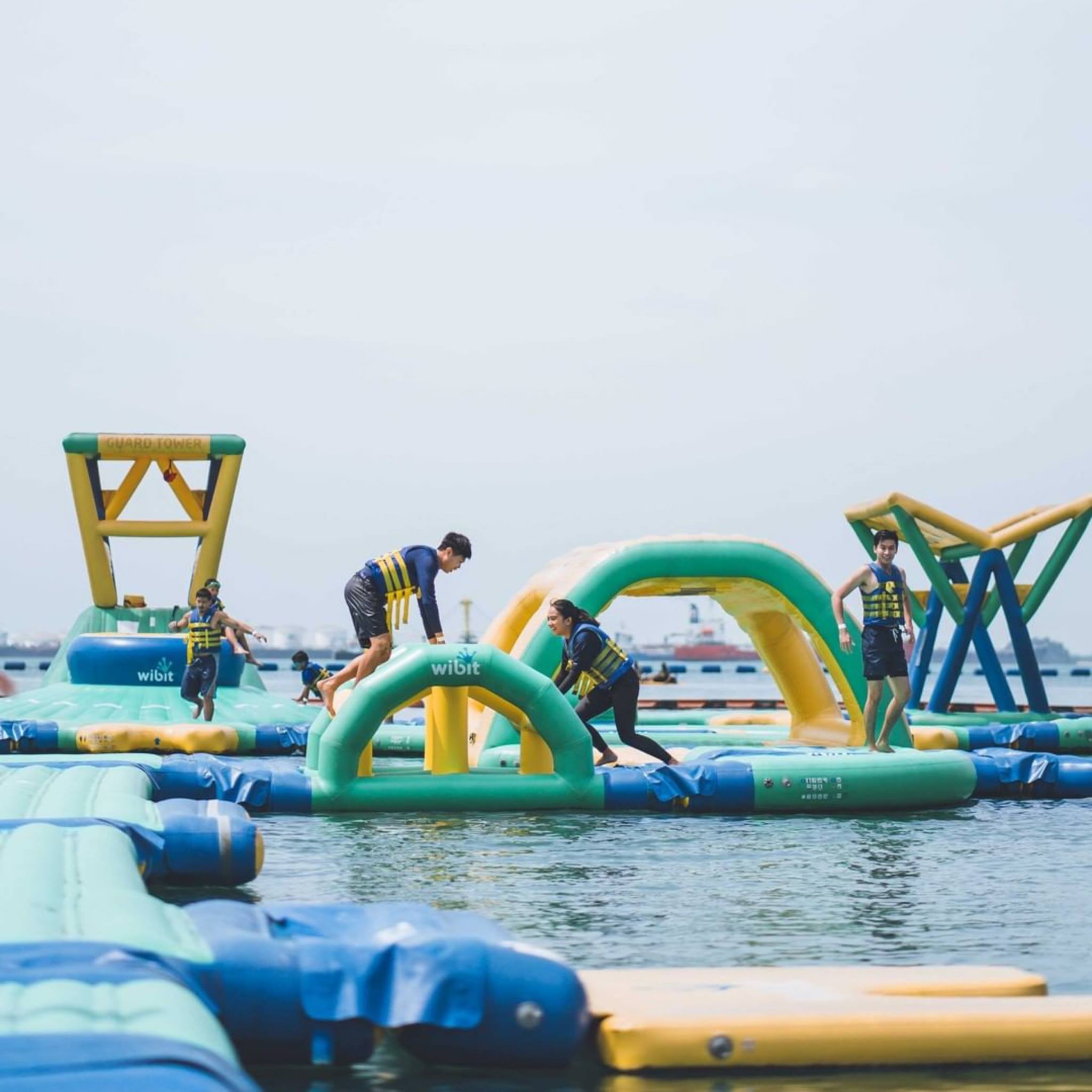 At popular Universal Studios, thrill-seekers should start from the right with the sci-fi zone with adrenaline-pumping rides like the 3D Transformers Ride and Battlestar Galactica: Humans vs Cyclones. Families with young ones should start from the left for kid-friendly zones like Far Far Away and Madagascar.
Up the adrenaline factor at HydroDash – a floating obstacle course in the sea just off Palawan Beach. Fun for kids of all ages prepared to get really wet as you climb, slide, leap and bounce on floating platforms.
At iFly Singapore, the world's largest wind tunnel for indoor skydiving, you'll take in views of Siloso Beach and the South China Sea from the 18-foot tall acrylic glass wall as you free fall. Don't worry, as trained instructors are on hand at all times to guide you.
Fans of zip-lining and more thrills should visit the Mega Adventure Park, with its 450m long zip line, bungee-assisted trampoline, parachute simulator and 36-obstacle treetop ropes.
There's also the Skyline Luge, the first ever luge in South East Asia, tandem bungy jumping and a watersports centre at Ola Beach Club where you can paddle-board, kayak or try the water-propelled jet packs.
Sentosa's Attractions For The Nature Lovers
Marine lovers will want to visit the S.E.A. Aquarium, one of the world's largest oceanariums with more than 100,000 marine creatures of over 1,000 species – a great place for marine life entertainment and education.
Whilst lovers of flora and fauna should head to the Sentosa Nature Discovery, a zoology museum that is home to flora and fauna native to Singapore and Southeast Asia. More into scents? Visit Scentopia, where you can create your own scent based on your personality.
Kids will love Dolphin Discovery where they can meet these gentle creatures in shallow water. There's also Adventure Cove Waterpark where you can swim with 20,000 friendly fishes as you snorkel in a lagoon and then try out their water rides.
Sentosa's Other Note-Worthy Attractions
Mingle with your favourite Hollywood, Bollywood and K-pop/drama stars at Madame Tussauds. You can also go behind the scenes and see how wax artists bring these celebrities to life.
For a mix of scenery and history, there's the Fort Siloso Skywalk. At 11 storeys high, it is a 181m long skywalk offering panoramic views of Singapore city. At the end of the Skywalk, explore the historic Fort Siloso with its mini-museum where you can learn about Singapore's war history.
Cap off your getaway with an unforgettable bird's eye view of Singapore with a cable car ride from Mount Faber Station and soak in the views of the lush rainforest of Sentosa Island 100 metres above sea level.
5. chill out thai island style – getaway to koh lipe
Planning for your long weekends 2023 to include a tropical getaway to one of Thailand's many islands? You may want to consider hopping over to Koh Lipe, a true slice of Thai paradise that comes with the pre-requisite powdery-white beaches, turquoise rolling waves, irresistible Thai food and beach vibe.
Koh Lipe is a tiny island that is actually closer to Langkawi than Thailand and you can get there via a 90-minute ferry ride from Langkawi.
My cousin, Danial Ariff, 35, visited Koh Lipe a few years back with his family and loves it so much that he's planning another getaway there during a Malaysia public holiday 2023. Here's what he has to say.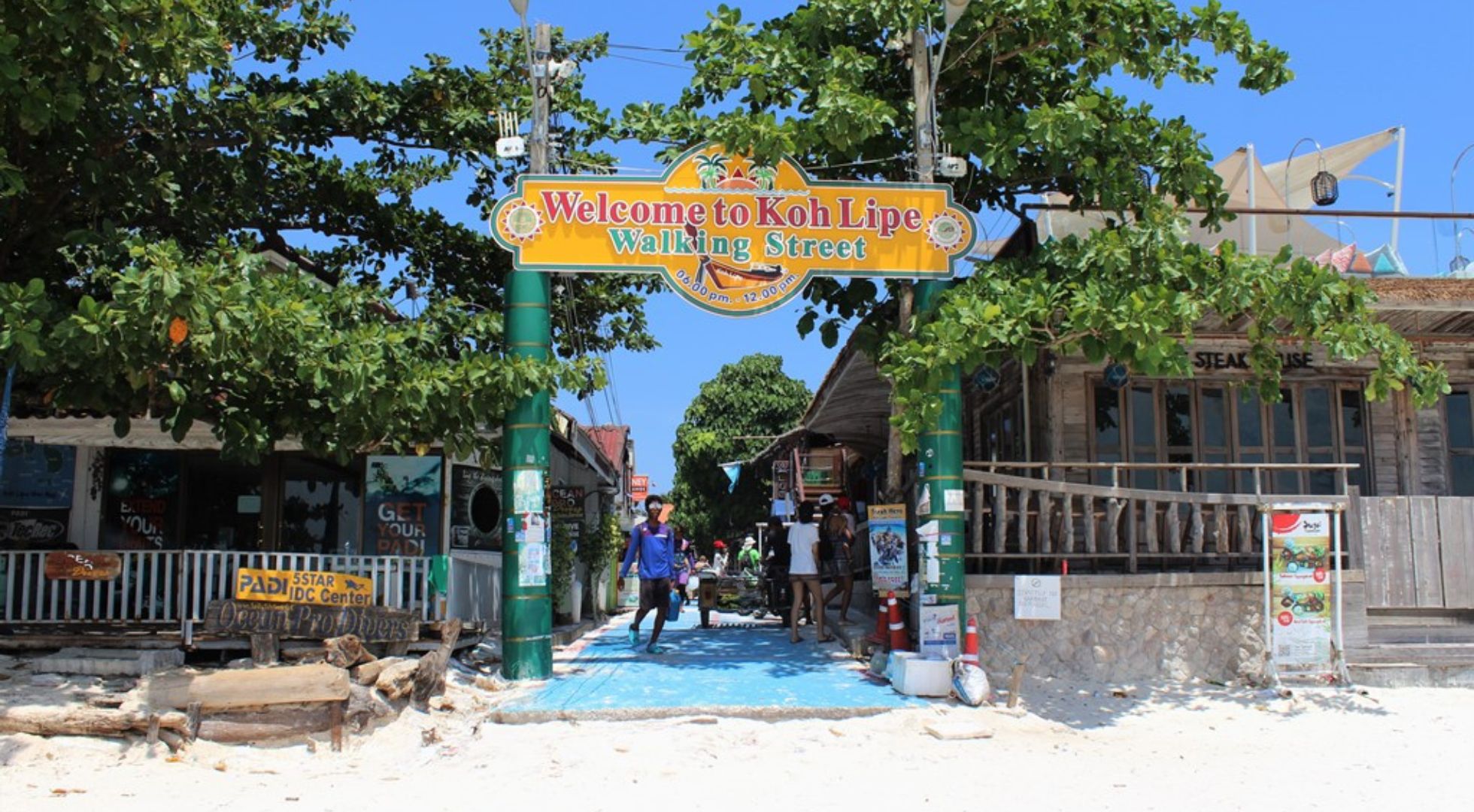 Koh Lipe has 3 beaches and Pattaya Beach is known as the liveliest beach of all. It's also the immigration checkpoint and where the ferry drops you off.
If you're looking for nightlife – though do note that the nightlife is pretty tame compared to Bangkok or other islands, there are a number of late-night bars and restaurants lining the beach as well as the daily fire show.
As for Sunrise Beach, Danial tells us "This is the place to stay if you're the type who will wake up to watch the sunrise every morning. "
This is where most of the hotels are located as it is known as the prettiest beach, with also great snorkelling opportunities. This is because it is located on the eastern side of the island, with just a small amount of boat traffic hence the unpolluted, clear and colourful underwater world. On a clear day when you pop your head above the water, you may even see Langkawi in the distance.
Danial says "For a bit of romance, my wife and I went to Sunset Beach,  the smallest and most secluded beach on Koh Lipe to catch the sunset. The sunset was truly dramatic and we both enjoyed the beach's peaceful nature and simplicity."
Koh Lipe is small enough so you can walk around the island, or catch a tuk-tuk or motorbike – there are no cars or vans.
There's also Tarutao National Park to explore, but as Danial tells us "We had no particular itinerary, took each day as it came and just really enjoyed what the island had to offer. Koh Lipe was a much more relaxing affair than our usual island escapes and I can't wait to return. Sometimes, all we need on our travels is to do nothing."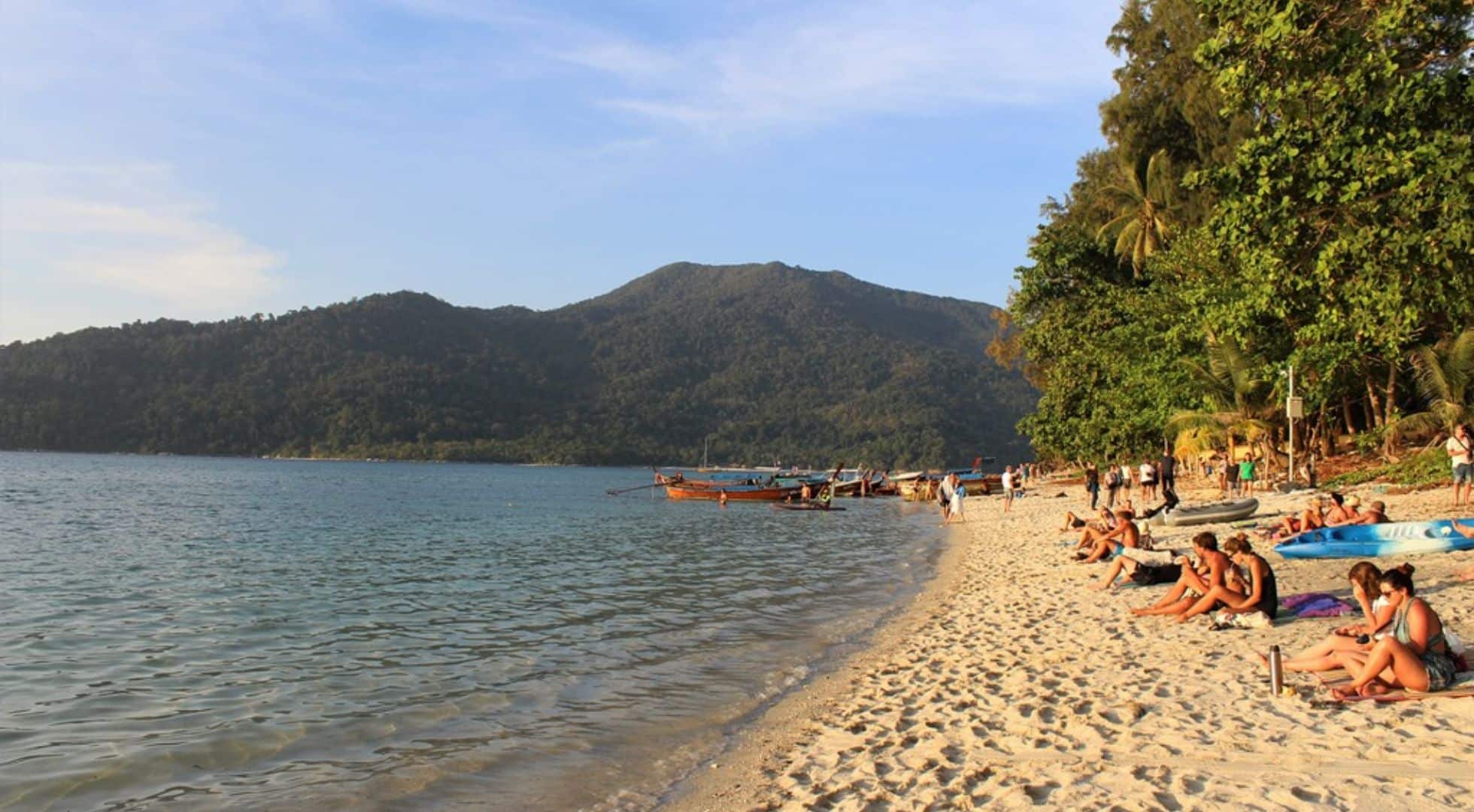 ready to start Planning your long weekends 2023? Let us help!
You may also be interested in: