Europe is a dream travel destination for anyone passionate about history, architecture, scenic landscapes, or culinary adventures. According to the World Tourism Organization's yearly report, Europe was the most visited continent in the world in 2019, and the numbers continue to grow yearly. 
Read on for Italy travel tips and things to see and do at the best yet underestimated cities around Europe to add to your travel list! 
Italy Travel Itinerary
1. Naples
Natural wonders and scenic landscape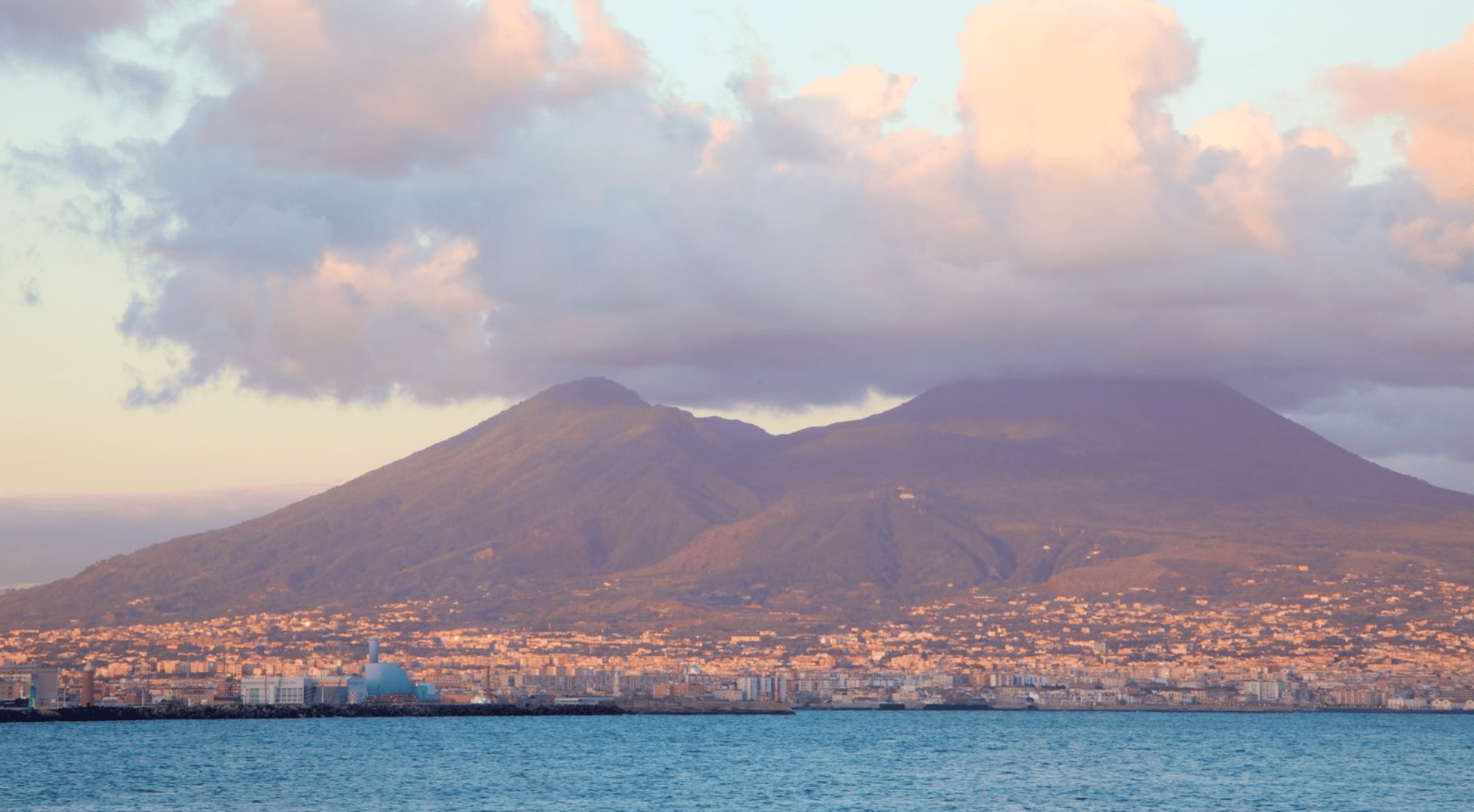 Although the third largest city in Italy, Naples is often overshadowed by more famous counterparts like Rome or Milan. Among the top Italy travel tips for sightseeing in Naples is climbing Mount Vesuvius, the legendary volcano and famous landmark of Naples that erupted and destroyed the historical sites Pompeii and Herculaneum. Although not too challenging, the climb is worth the effort as you peer into craters and enjoy the panoramic view of the beautiful city of Naples from the summit. Island lovers can go on an island-hopping tour from Naples to the scenic island, Amalfi Coast with luminous Mediterranean waters and postcard-perfect hilltop chalets.
Historical sites, art and culture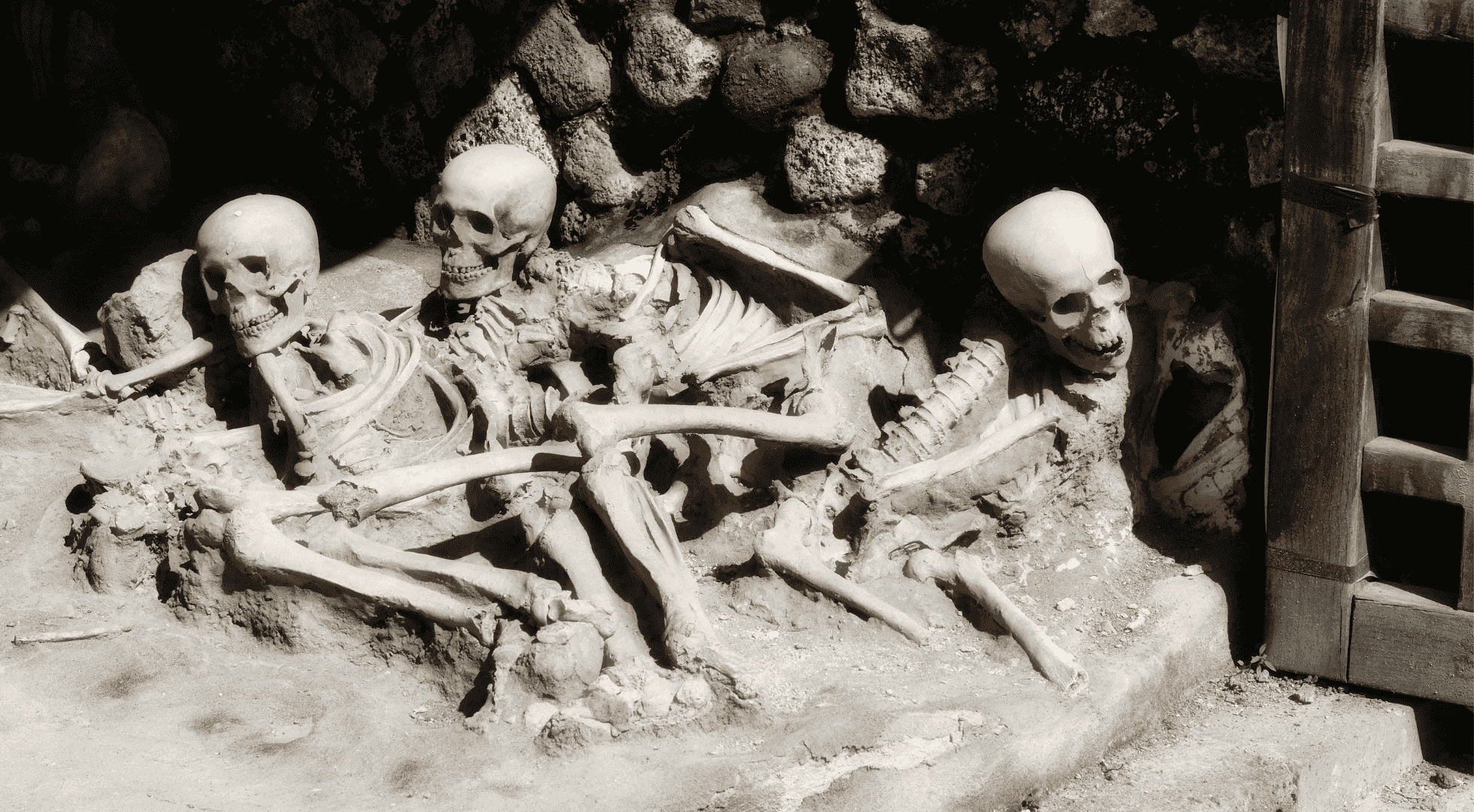 A visit to the ancient ruins of Pompeii and Herculaneum will take you back in history. Walk around Pompeii's extensive ruins with exciting sights, including the Amphitheatre and the Temple of Apollo. At Herculaneum, beautiful wall paintings still adorn the remains, which are in better condition than in Pompeii. Fans of gothic history may enjoy a walk through the secret underground passages of the San Gennaro Catacombs filled with graves embedded along the stone walls. The entire site has two levels—the lower-level alone houses over 3000 burial sites with dim lighting that creates an eerie effect.
Explore the streets of Santa Lucia, stroll alleyways, and bump into locals and children on their daily routines. Clothes hanging out on washing lines often fill the back lane of the narrow-cobbled streets. Santa Lucia is also known for cafes and restaurants where you can unwind with a cappuccino and soak in the sea view at the end of the street.
Local cuisine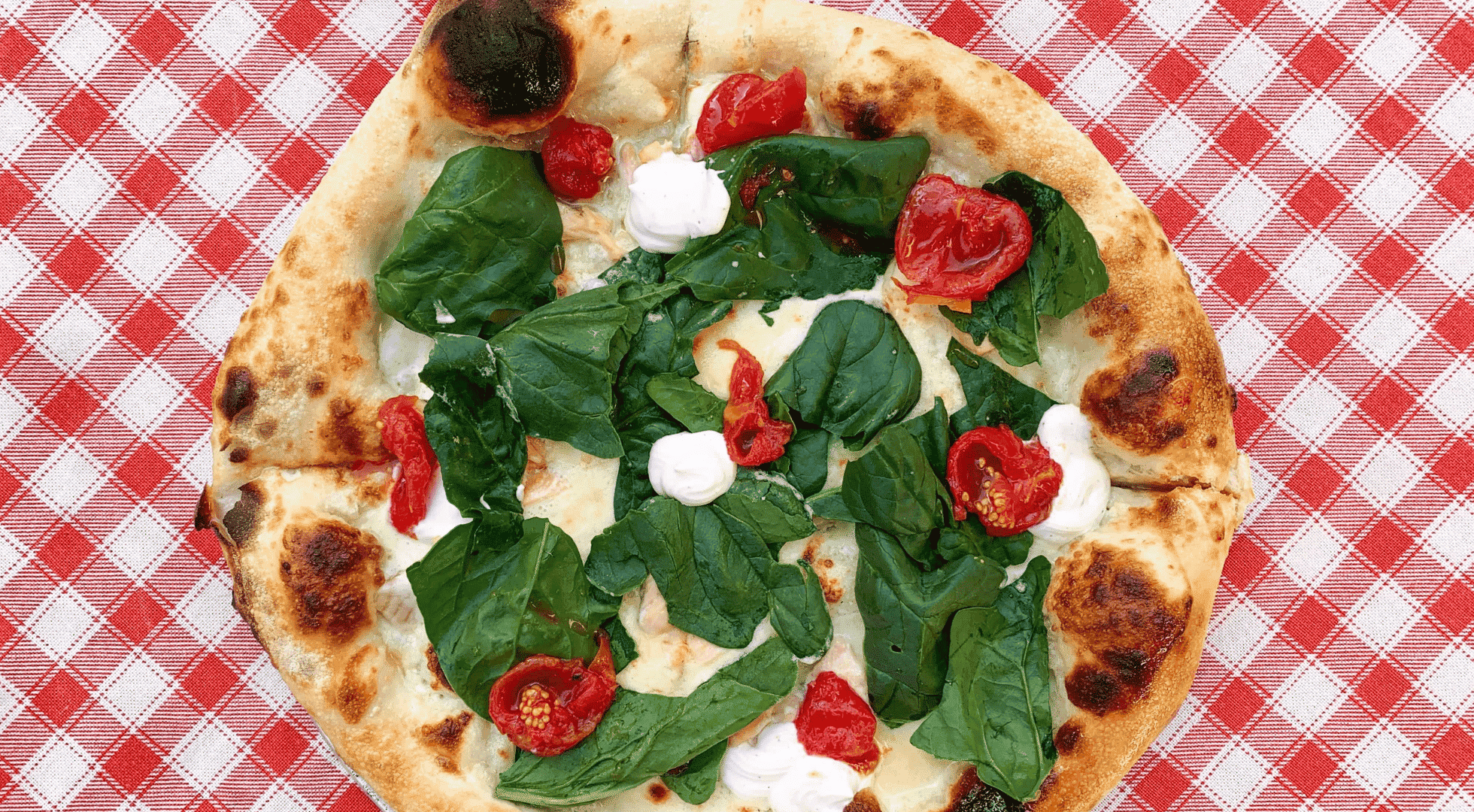 Naples is the famous birthplace of pizza, the world's most iconic comfort food. Pizza is serious business here. Every pizzaiolo (pizza maker) must comply with the strict requirements of the governing body, the Associazione Vera Pizza Napoletana. These requirements include certified mozzarella di bufala cheese, a specific type of tomato, and dough stretched not more than 0.4 cm in thickness cooked only in a wood-fired oven. An essential highlight of any Italy travel itinerary, the classic three-ingredient, Neapolitan pizza truly rules supreme in this part of Italy. Besides, you can't go to Italy and not have the most authentic pizza experience, so good it will make you say "Bueno"! (good!).
2. Sardinia
Historical sites, art and culture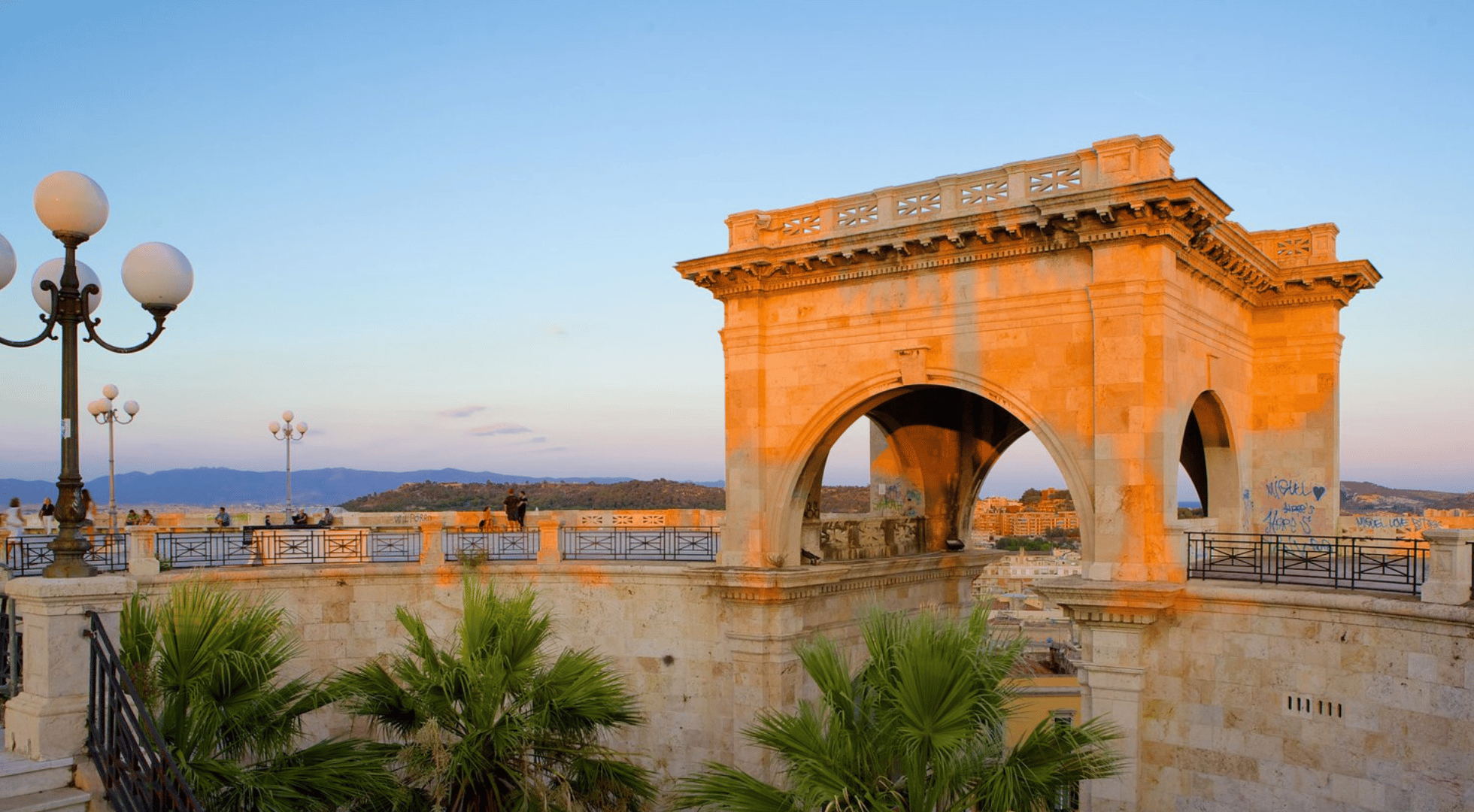 Experience the medieval charm of Sardinia's capital, Cagliari with a visit to the Bastion of Saint Remy in the Castello district. This majestic ancient monument built in the 1800s features two circular ramps leading to the famous Umberto I Terrace overlooking a spectacular Sardinian seaview. History buffs would not want to miss a glimpse of the archaeological site of Su Nuraxi di Barumini, the circular defensive towers and UNESCO World heritage site that date back to the Bronze Age.
Natural wonders and scenic landscape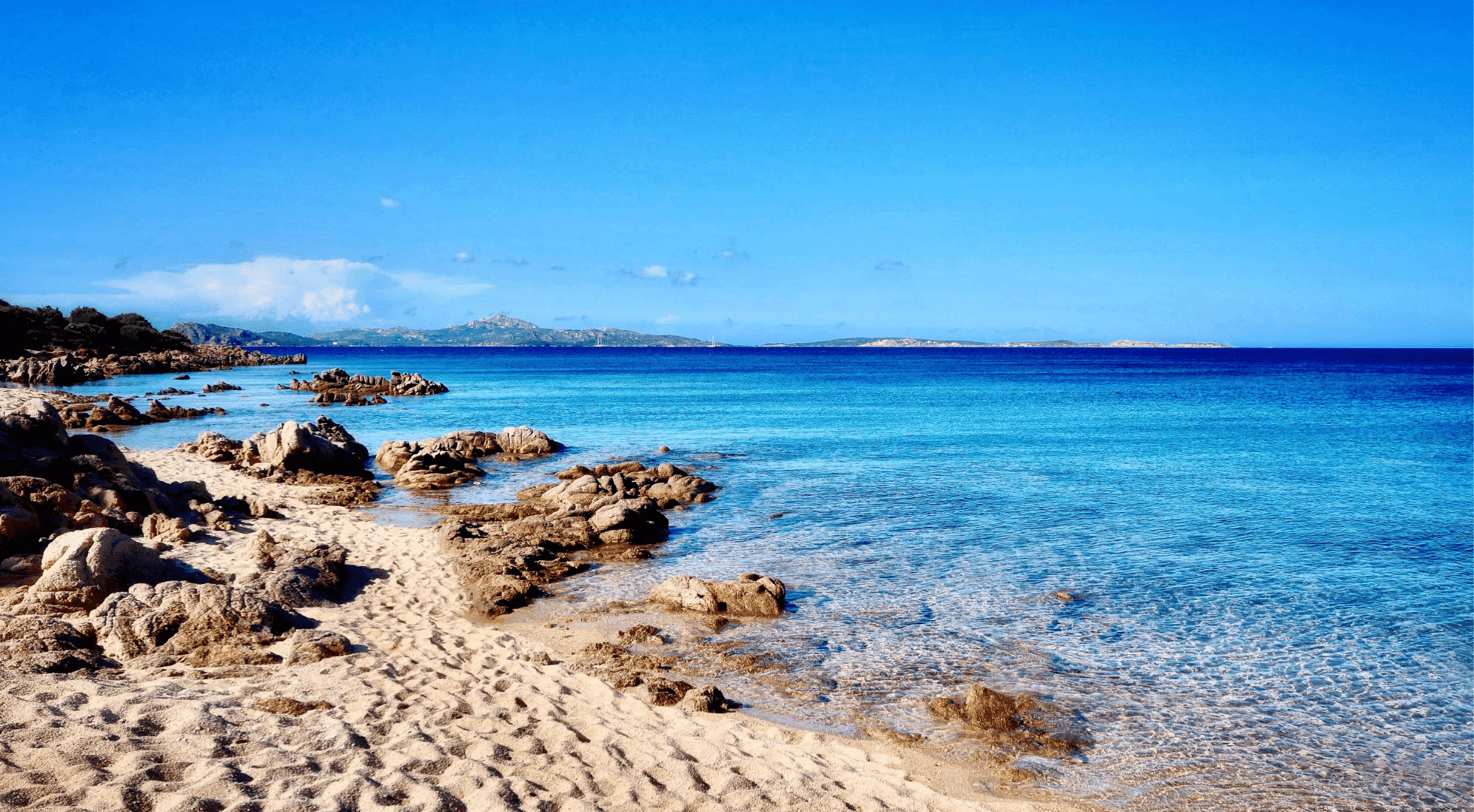 A trip to Sardinia would not be complete without soaking in the Mediterranean island atmosphere and the azure waters of Costa Smeralda along the beach of Spiaggia Le Piscine. The tranquil beach spot offers a relaxing experience away from the bustling tourist crowd where you can go snorkelling. The scenic village of Porto Cervo is definitely worth a visit, packed with resorts, yachts, and boutiques where the rich and famous wine and dine!
Local flavours
Culinary adventures top the Italy travel itinerary of every traveller to this beautiful city, from sampling traditional Sardinian cuisine like pizzetta sfoglia (pastry stuffed with tomato sauce, anchovies and capers and a hint of tomatoes) to Fregola (Sardinian pasta similar to couscous) and a selection of the finest cheeses in Italy like Pecorino Sardo. A Sardinian aperitivo is a great way to feast on various kinds of cheese, cold cuts of meat, and traditional Sardinian bread. Wine enthusiasts will appreciate a winery tour and sampling Cannonau, the signature red wine of Sardinia.
Switzerland Travel Itinerary
1. Bern
Medieval architecture and historical buildings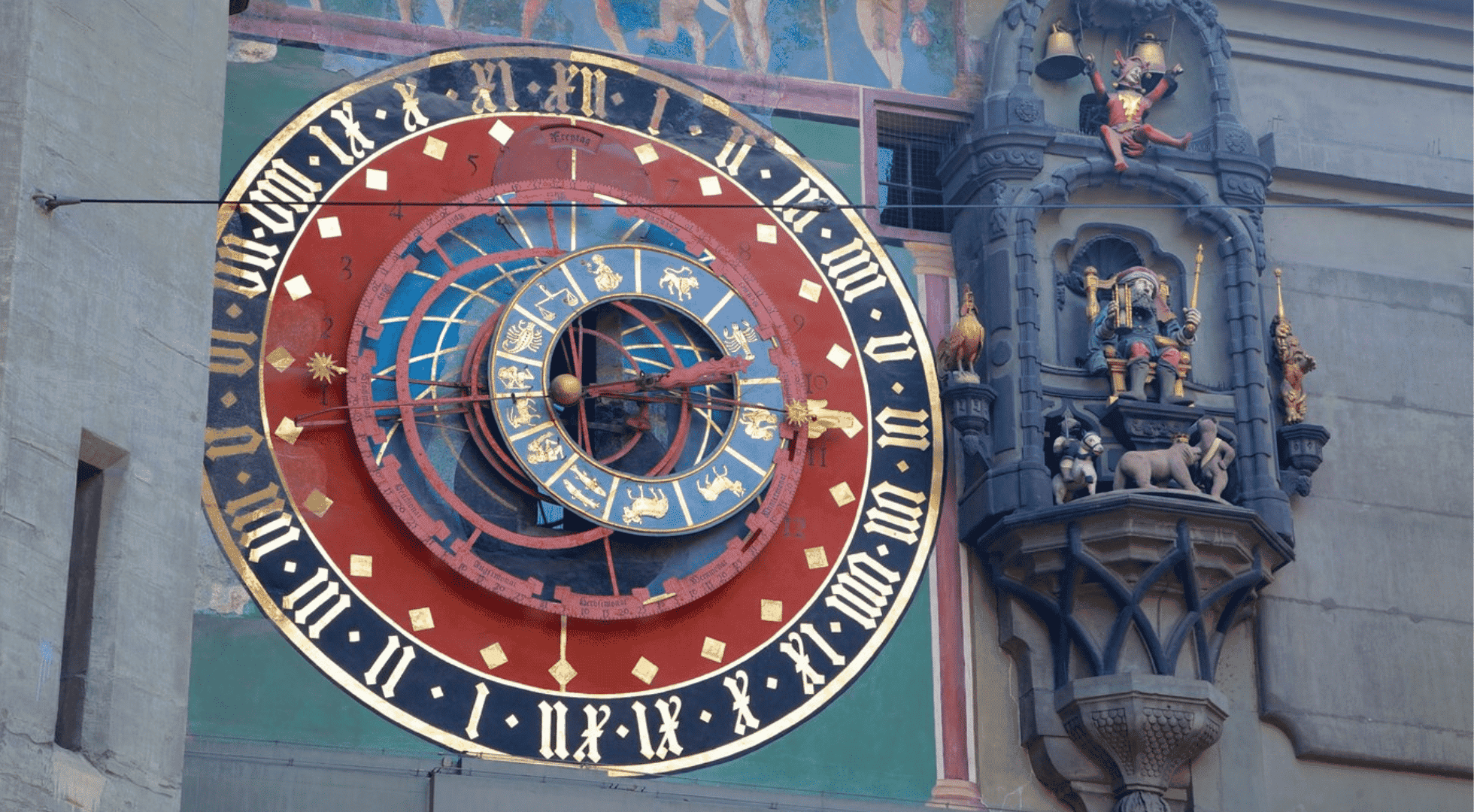 As the capital city of Switzerland, Bern doesn't get much credit despite its fantastic travel experiences. On your Switzerland travel itinerary, start by wandering around the Old Town of Bern, a UNESCO World Heritage Site filled with enchanting historical buildings and structures with medieval architecture.
Visit the Zytglogge, the most famous clock tower in Bern originally built in the 1200s that served as a potential guard post against German and Italian invaders for over a century. Although once a prison for thieves and adulterers, the clock tower was eventually rebuilt after a mysterious fire broke out in 1405. Despite many changes to its exterior, the striking feature of the clock tower remains its magnificent and complex red and gold astronomical clock that is visible across the town.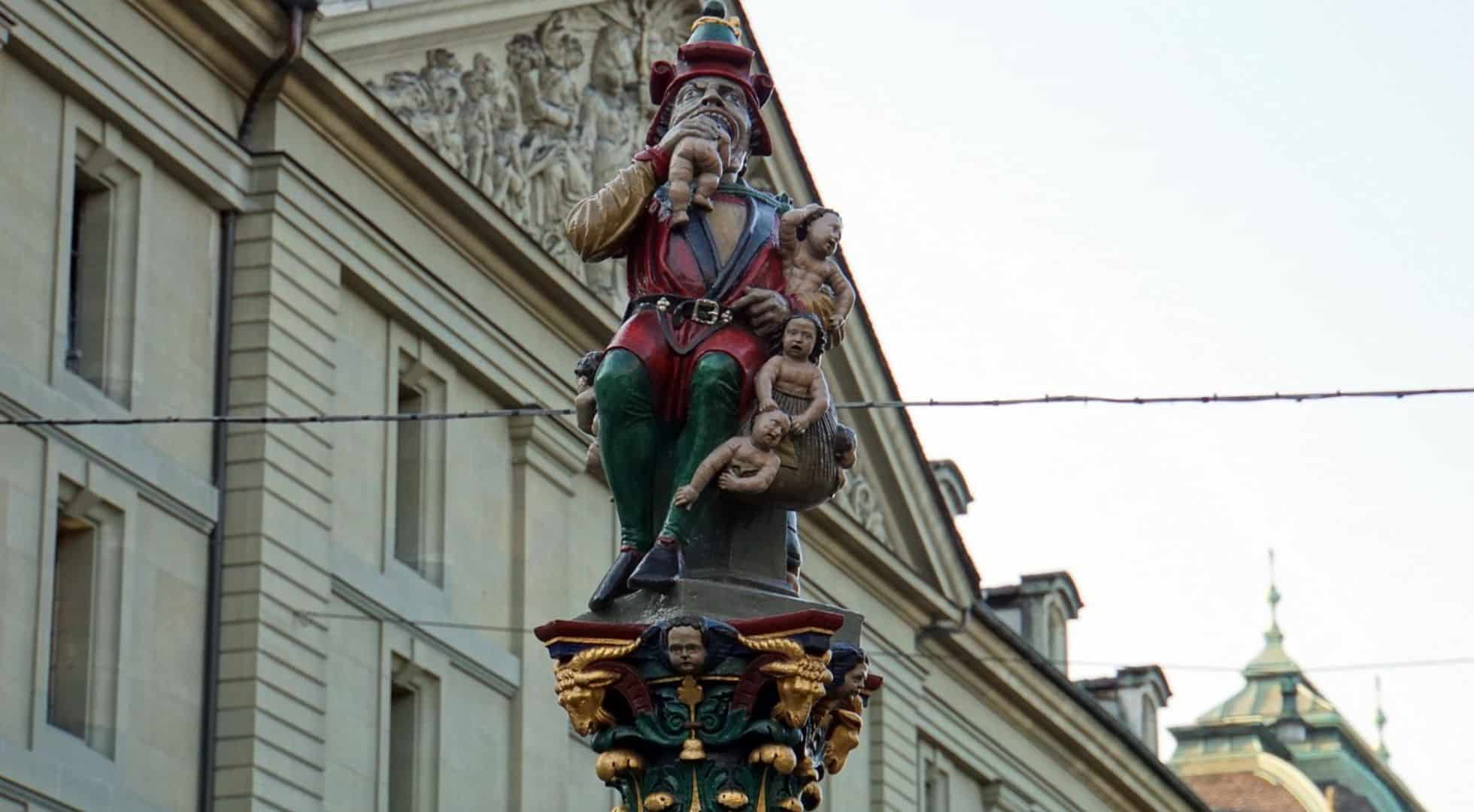 Another item on your Switzerland travel itinerary to Bern is the Kindlifresser or the Fountain of the Child Eater of Bern, located in the city centre that dates back to the 1500s. The creepy sculpture features an ogre with half a child in its mouth and a sack of other babies to snack on. Many theories have emerged about the significance of this mysterious statue, one of which was an anti-semitic warning.
As for museums, the Einstein Haus is a must-visit for every traveller to Bern. The famous physicist Albert Einstein lived in Bern, where he developed the Theory of Relativity. Take a step back in time and into the home of Einstein with classic furnishing and learn more about his life, which led to the most significant scientific discovery of all time.
Wildlife
Bern is named after the brown bear population found in nearby forests, so visiting Bern Bear Park is only fitting. Here you can see bears roaming freely in the 6,000 square meter sanctuary among bushes and forests along the Aare River.
Alpine landscape
Take a train trip from Bern to the nearest scenic Alpine resort town, Grindelwald. Along the train journey, marvel at the serene surroundings of quaint small towns such as Thun and Interlaken and picturesque snow-capped mountains.
2. Bellinzona
Historical monuments
Known as the city with not one but three castles declared as UNESCO World Heritage Sites certainly has a unique appeal. Once serving as a defensive wall against foreign invasions, wandering around these castles should be the top activity in your southern Switzerland travel itinerary.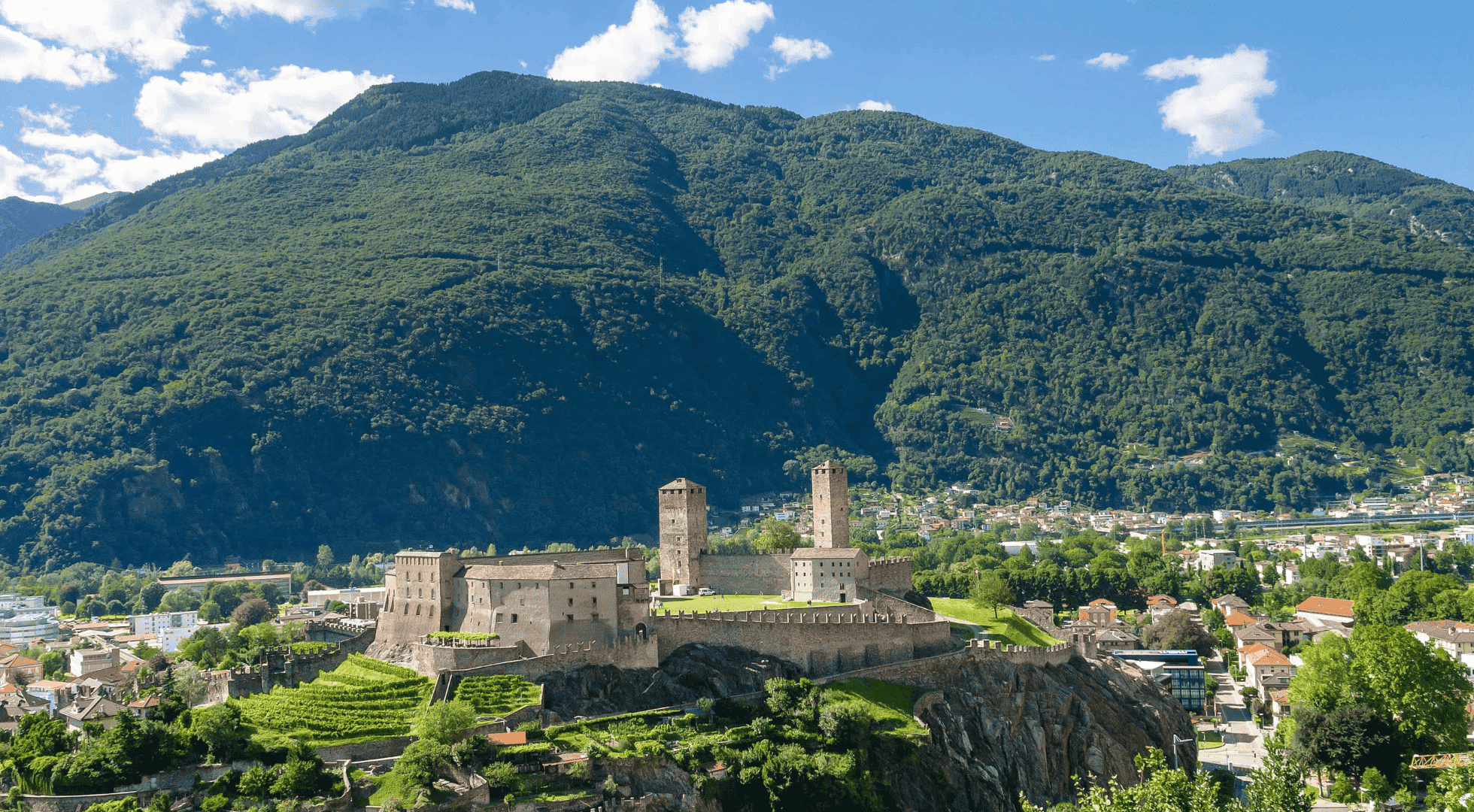 Start by touring Castelgrande built in the 14th century, which features two tall clock towers – the White Tower and Black Tower. The latter stands at 92 feet and is taller than the former. Revel in the skyline view of the city's beautiful surroundings at the top of the castle. You can also make your way by foot to the hilltop castle, Montebello, which has a museum dedicated to the origin and history of the city. Finally, complete your castle tour by visiting Sasso Corbaro, the smallest castle along the Ticino river.
Street culture
Experience Southern Swiss street culture by visiting the famous Saturday market in the Old Town. Dozens of locals, farmers and artisan traders flock to the need to sell fresh produce, fruits and flowers. You will be spoilt for choice wandering around the market selling antiques, ornaments, handmade jewellery and more! Savour freshly made cannolis while watching live cultural performances or a puppet show!
Local flavours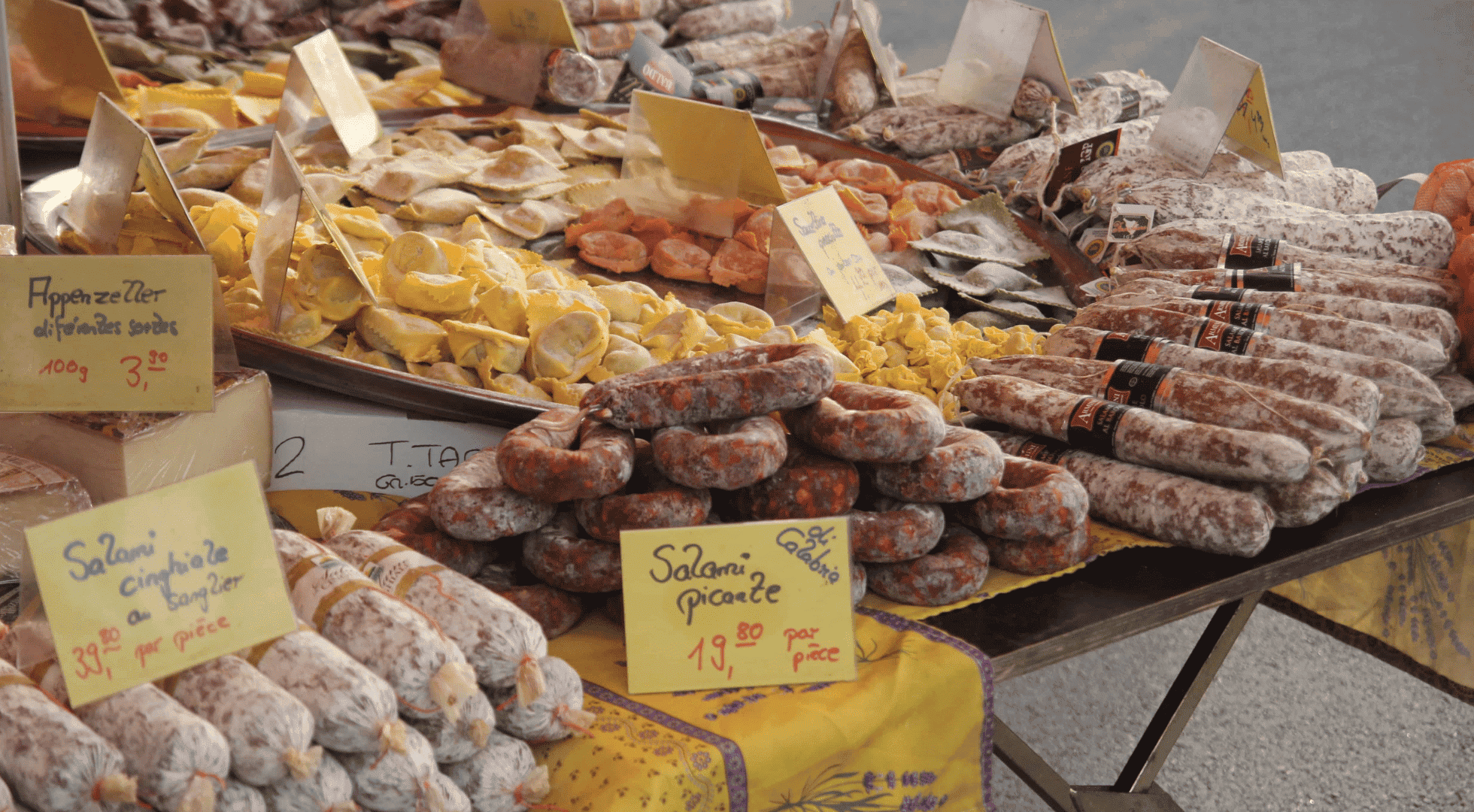 This part of Switzerland has heavy Italian cultural influences evident in their local flavours. Go on a culinary adventure by electric bicycle and sample mountain food culture from preserved meats like salami, polenta and creamy risotto. You can also take a guided winery tour to nearby vineyards for a wine-tasting session of Merlot.
Norway Travel Itinerary
1. Stavanger
History, art and culture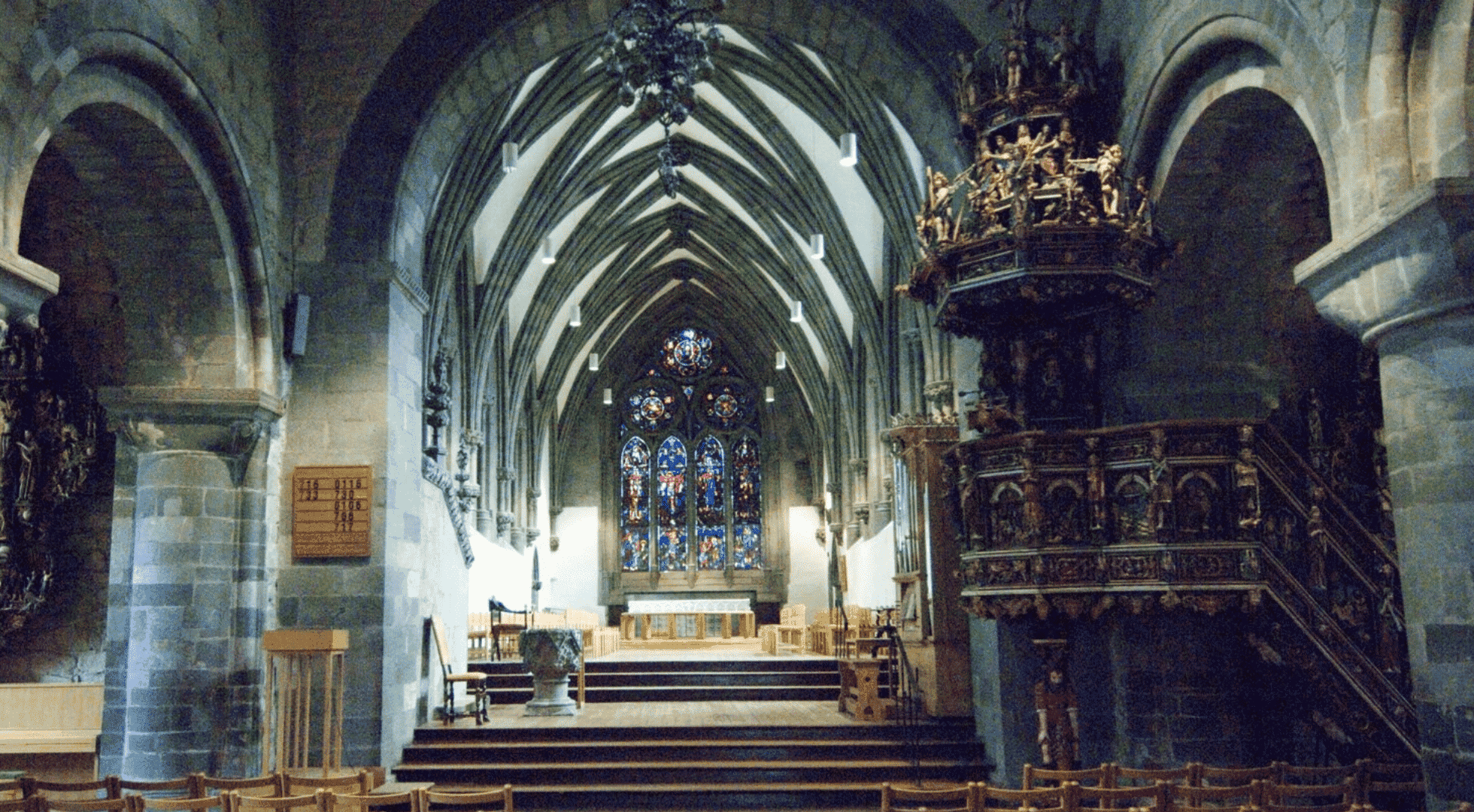 Despite being the third largest city in Norway, many parts of Stavanger remain unchartered by international tourists. The town reflects a unique blend of Norwegian traditions and contemporary lifestyles. To experience a taste of ancient Norwegian architecture, be sure to include the Stavanger Cathedral in your Norway travel itinerary. The oldest Cathedral in Norway is well-known for its medieval Nordic architecture consisting of an intricate Baroque-carved pulpit and beautiful coloured glass windows depicting the biblical New Testament period. The pillars inside the Cathedral depict figures from the Scandinavian mythology, Ragnarok and the roof is inspired by hulls of Viking ships that keep water out.
Norway is well-known for sardines, and a trip to the Norwegian Canning Museum is another highlight on every traveller's Stavanger, Norway travel itinerary. At the museum, you can learn about the various stages of sardine production, creative labels on fish cans from different eras, and types of equipment used to pack sardines. The best part is getting to thread sardines, pack them in cans, and even sample smoked sardines!
Natural Wonders and Landscape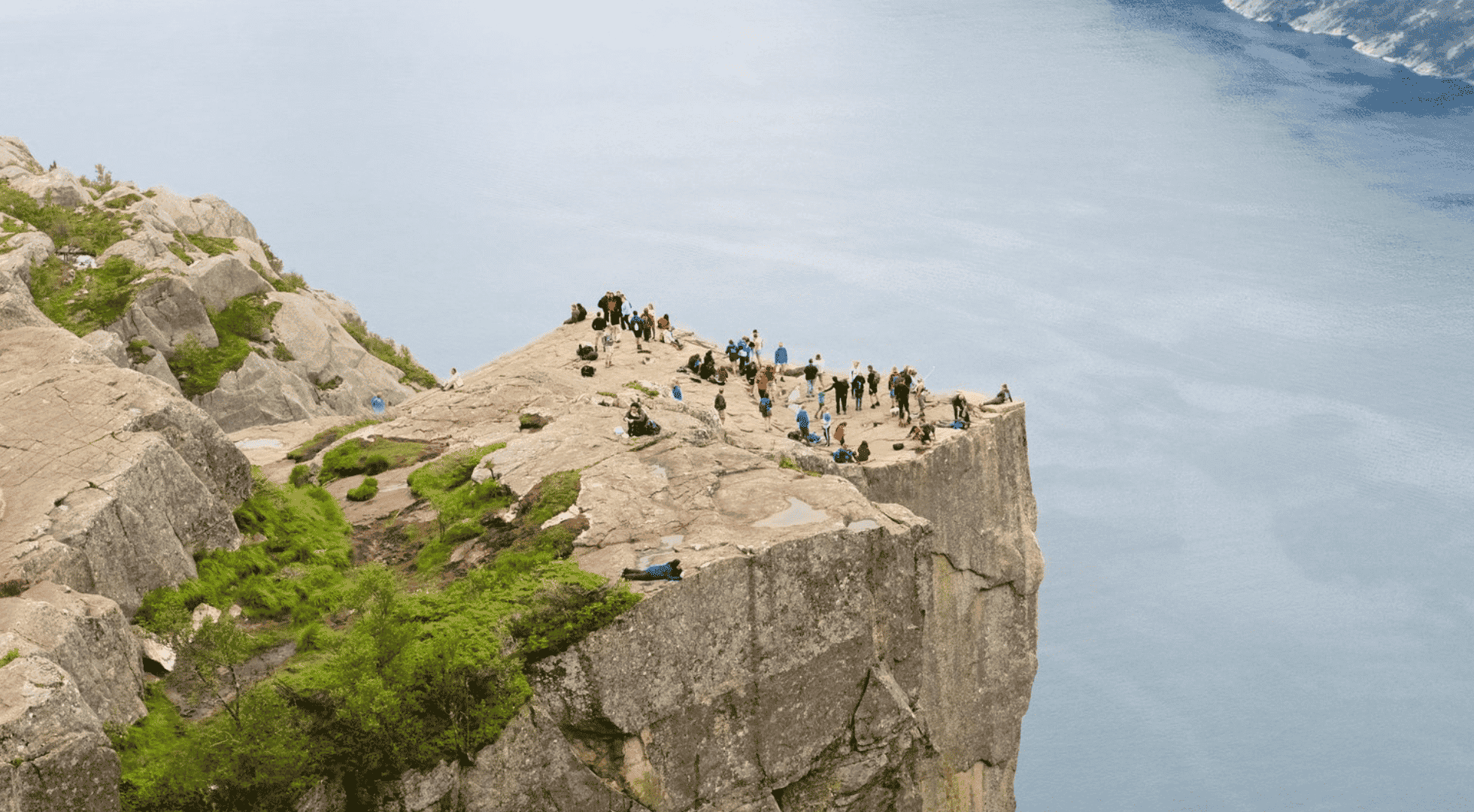 A popular hike near Stavanger is the hike up to Pulpit Rock or Preikestolen. The solid rock formation stands at 604-metres above the gorgeous Lysefjord, surrounded by mountain peaks. Thrill seekers would also enjoy a hike up the Kjerag trail to the famous rock formation, Kjeragbolten, wedged in a mountain crevasse at a hair-raising 3,200 feet. You can also climb the world's longest wooden staircase, Flørli, in the Lysefjord region, which features 4,444 wooden steps from the fjord level to the mountain top.
Local food scene
In recent times, Stavanger has earned a reputation as the culinary region of Norway. Apart from famous Michelin Star restaurants like RE-NAA and Sabi Omakase, the Fisketorget fish market and food festivals are top tourist attractions.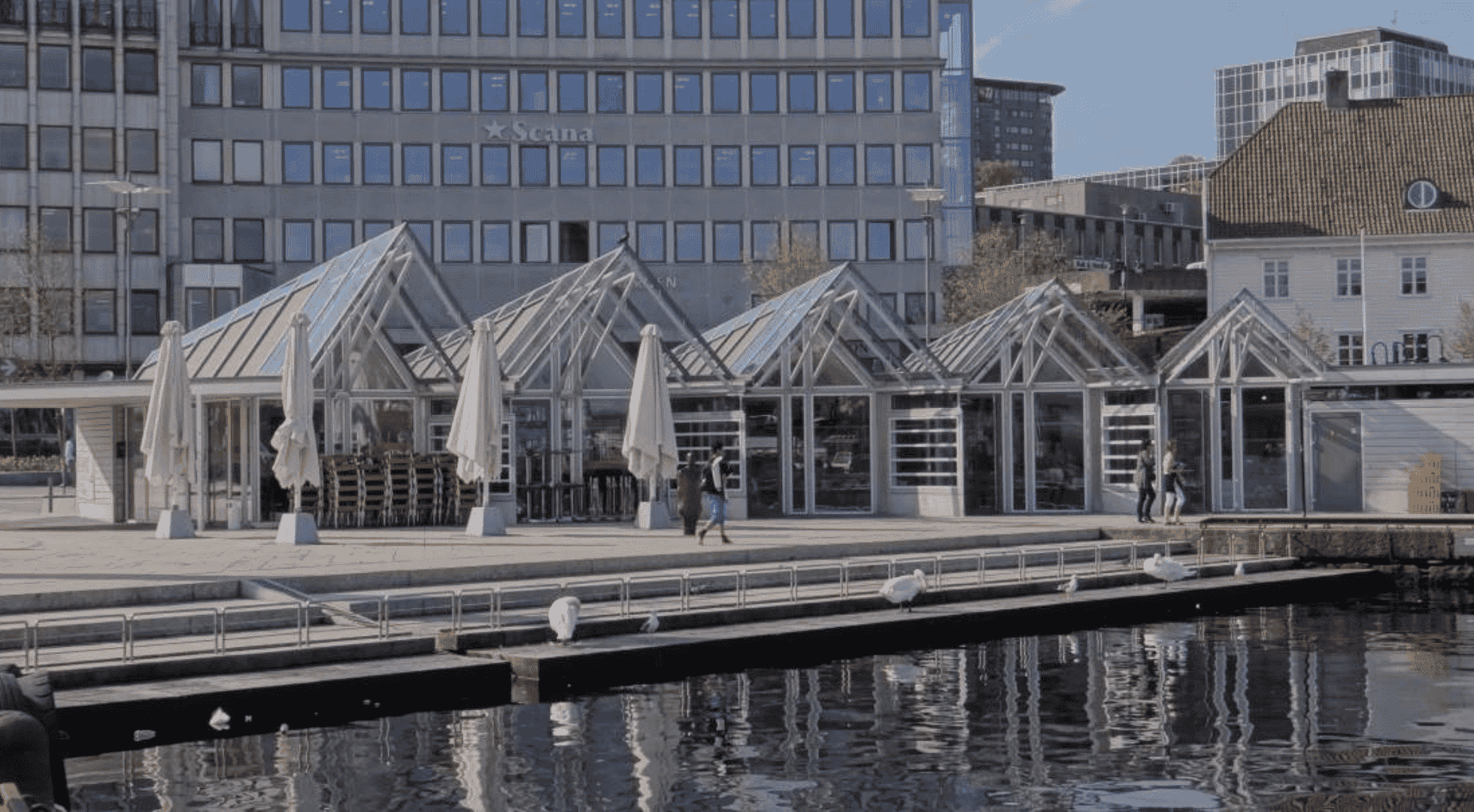 Located in the harbour area, the Fisketorget fish market is one of Norway's most exclusive fish markets. Besides traditional fresh seafood such as shrimps and crabs, the market also offers high-end seafood such as scallops, oysters, sushi, lobster, and homemade herring dishes. Dine at the adjoining restaurant for Fisketorget's speciality, fish soup and shrimp sandwiches.
The largest food festival in Norway,  Gladmat, takes place over four days as the restaurant industry and foodies gather for various culinary activities from culinary courses, sausage-eating competitions, watching chefs compete against each other, visiting kitchen gardens, rounding up sheep, and attending fantastic lunch and dinners. This is an excellent opportunity to try Norway's national dish, fårikål, a simple and fragrant concoction of lamb and cabbage.
Smaller food festivals include the Bryne Potato Festival, where tourists get to cook and taste komle, classic Norwegian potato dumplings made from peeled potatoes, either grated or ground and blended with flour, usually barley or wheat.
2. Trondheim
History, art and culture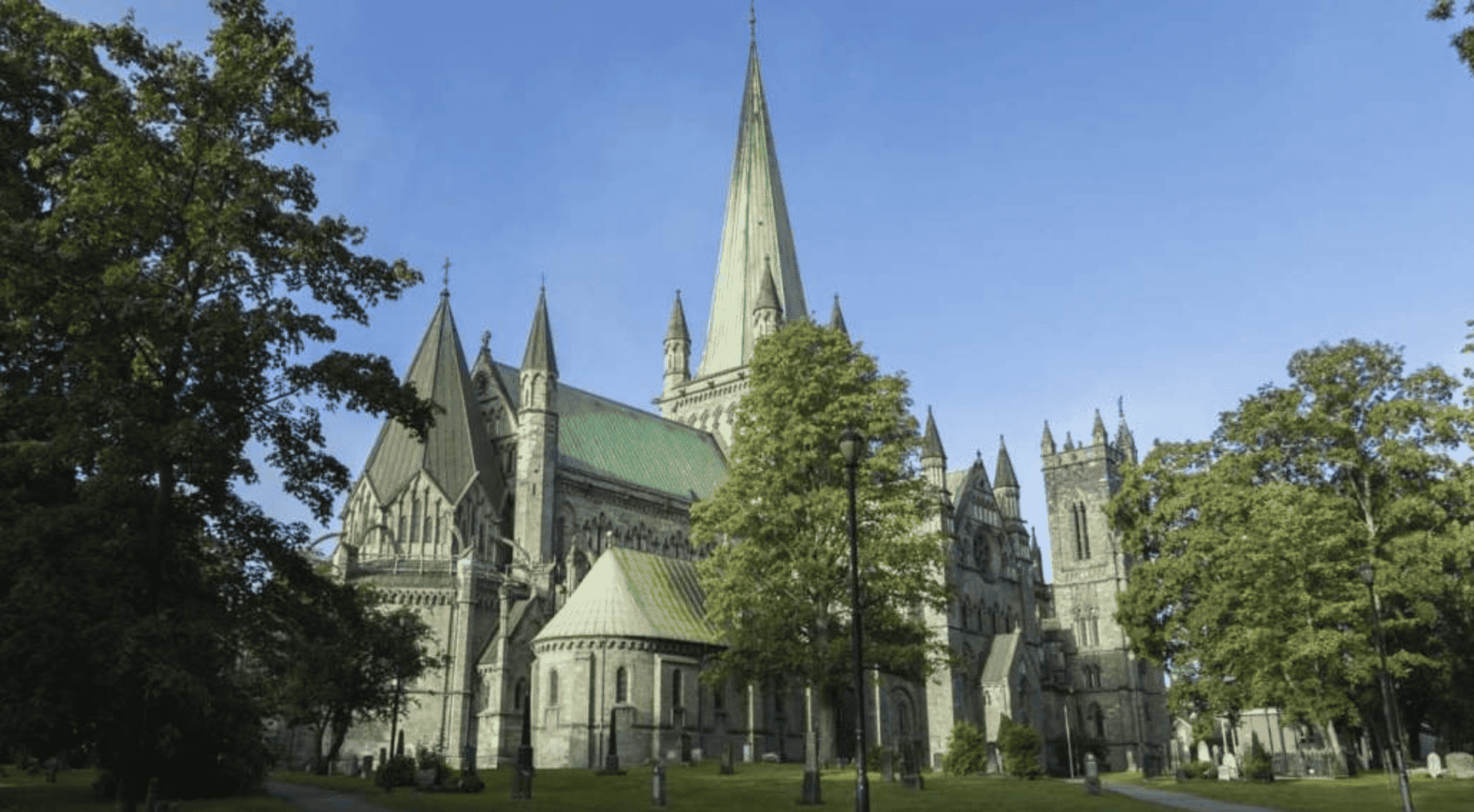 A magnificent sight to behold, the Nidaros Cathedral in the city centre is an exciting starting point on your Norway travel itinerary in the charming and colourful city of Trondheim. Founded in 1070, the Cathedral's altar was built over Olav's grave. The Viking king introduced Catholicism, and the Cathedral continues to be an important pilgrimage site. The church is also well-known as the consecration church for the coronation of Norway's kings. Soak in the fascinating medieval architecture with ornate embellishments, striking stained glass windows, and giant statues of biblical characters.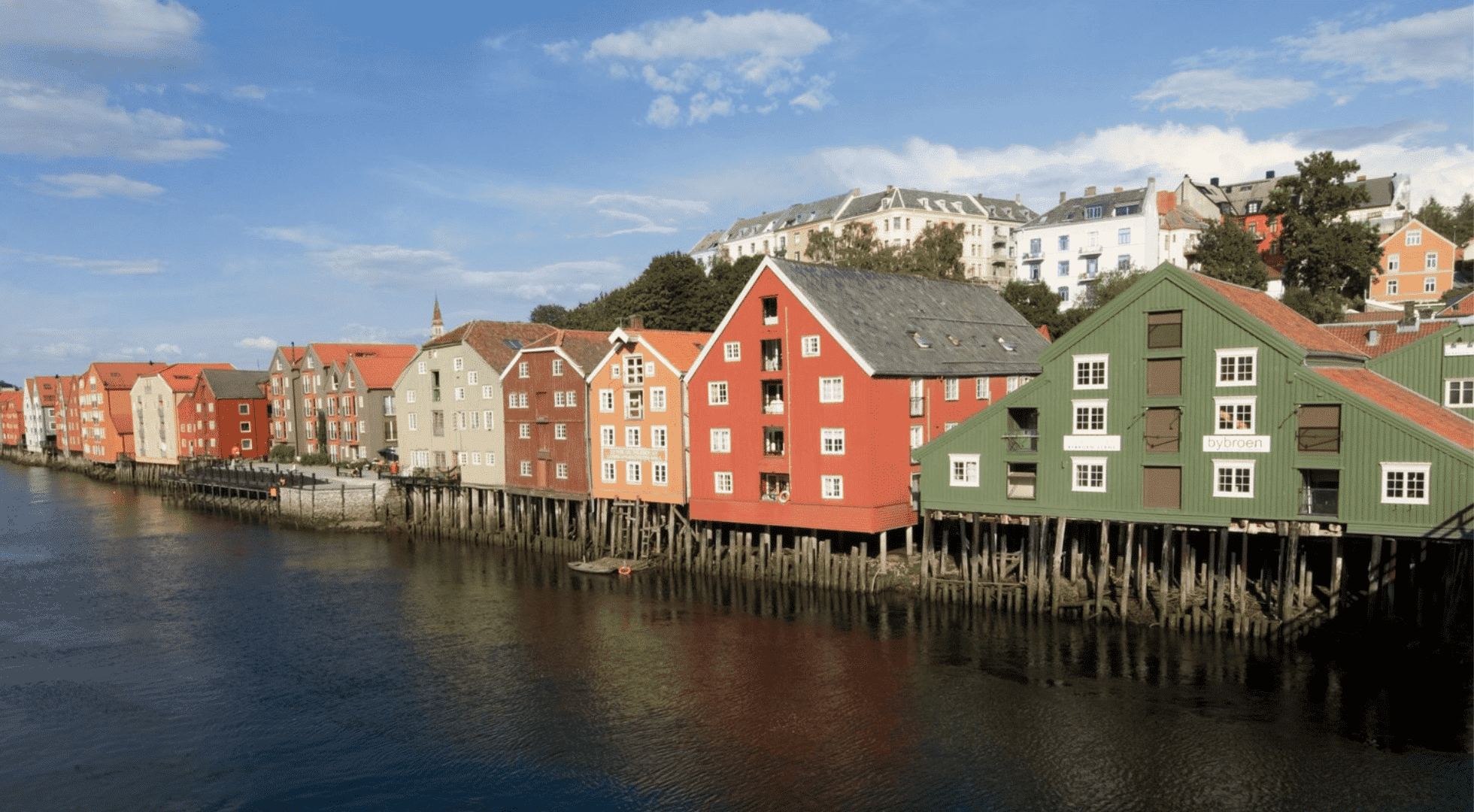 After touring the Cathedral, walk towards the Nidelva River, the city's old port area, to view the colourful timber houses once inhabited by the working class. Stroll around the cobblestone streets, visit local handicraft shops, unwind at a café in the friendly Bakklandet neighbourhood, and watch the locals go about their daily routine against the scenic landscape.
Local Cuisine
Trondheim ssodd (Trondheim soup) is a traditional Norwegian sweet soup made from water, sugar, salt, flour, cinnamon, whipping cream, raisins, and rice. This sweet and savoury dish is comforting and makes for an unforgettable culinary experience on your Norway travel itinerary. Norwegian cinnamon buns are also a staple throughout Norway. If you are up for the challenge, try some cardamom buns. Another interesting local flavour is Karsk, which means vigorous in Old Norse, an aromatic Norwegian cocktail made with coffee, vodka, or moonshine.
Other best places to visit in the EU
Mariager in Denmark or the "City of Roses" was originally a fishing village and a ferry stop. The charming small town is known for cobblestone streets, old-timber houses, and thousands of roses thriving around the city.
Visit Rosenhaven, a 2000-square metre garden filled with over 400 species of colourful roses from around the world. The Rosa X Sancta, which adorns some of the garden's many rose arches, is the oldest cultivated rose species that were found in Egyptian burials dating back to 170 BC. These "holy roses" are often planted near churches and monasteries in Denmark. A more modern species of roses named "Our Last Summer" by Danish actress Ghita Nørby is another top attraction of the garden, having won international prizes and popularity in Italy.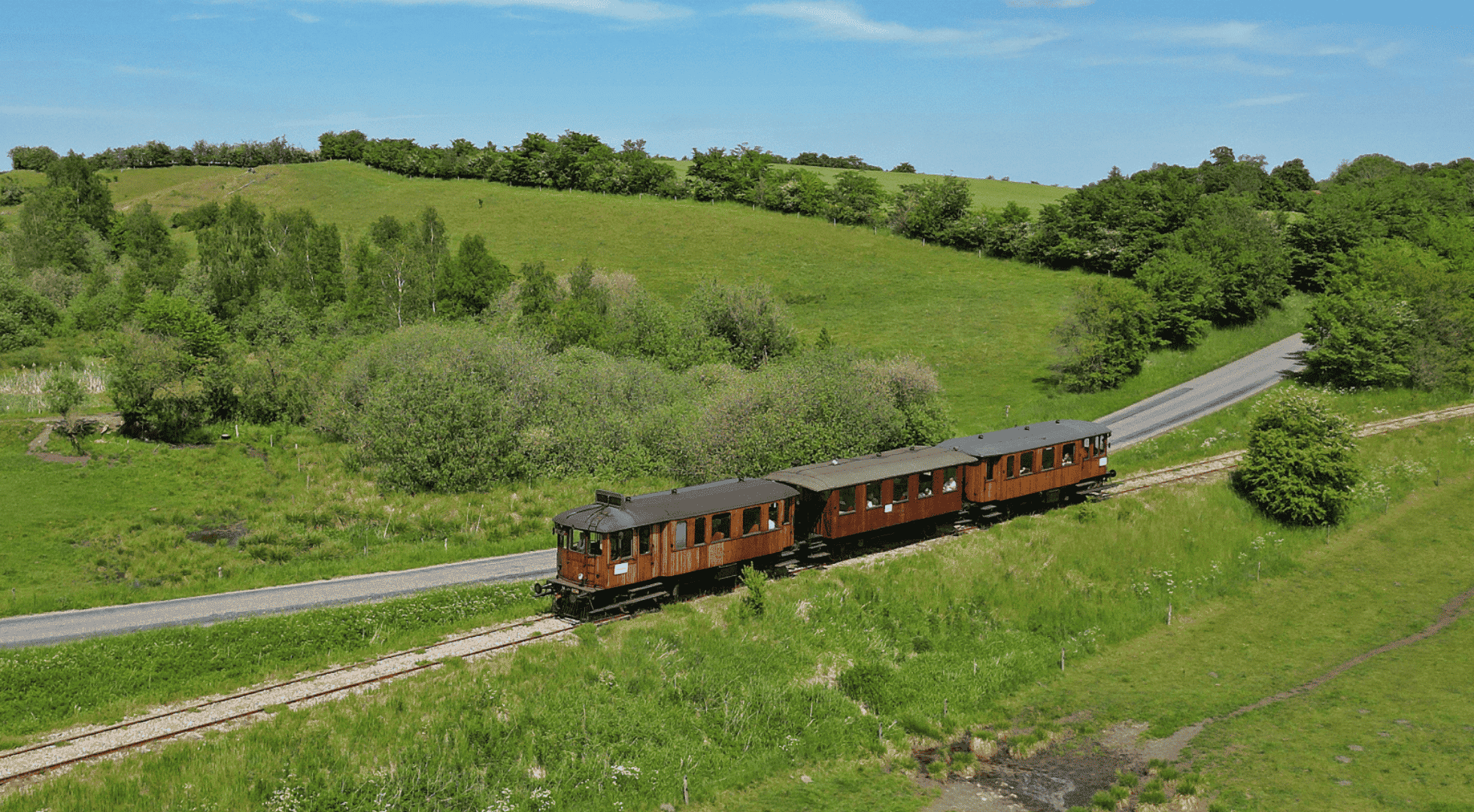 Don't miss a chance to board Mariager-Handest, the century-old Vintage Railway Train that takes passengers through the most scenic landscapes around Denmark, fjords, old towns, and rivers. The view and coal smoke of the train travelling at 30 km per hour create a nostalgic and memorable experience.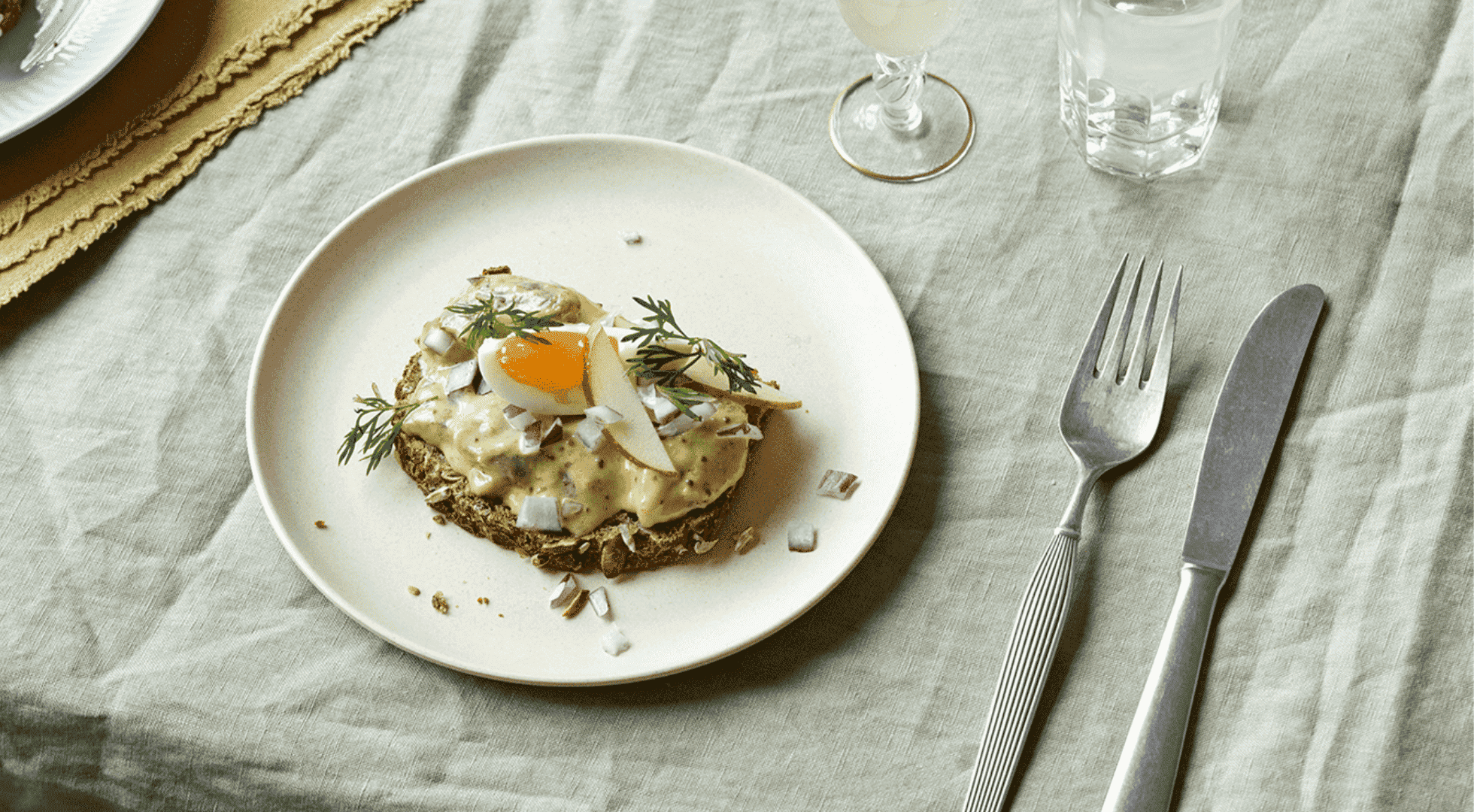 Sample Denmark's national dish, smørrebrød or Danish open-faced sandwiches with Rye bread layered with butter or goose fat and a variety of local ingredients such as pickled herring, cold cuts, shrimp, hard-boiled eggs, fruit, herbs, and microgreens. The most common type of smørrebrød is Stjerneskud or the "shooting star" made with buttered rye bread topped with a fried fish fillet, shrimp, caviar, asparagus, dill, and lemon.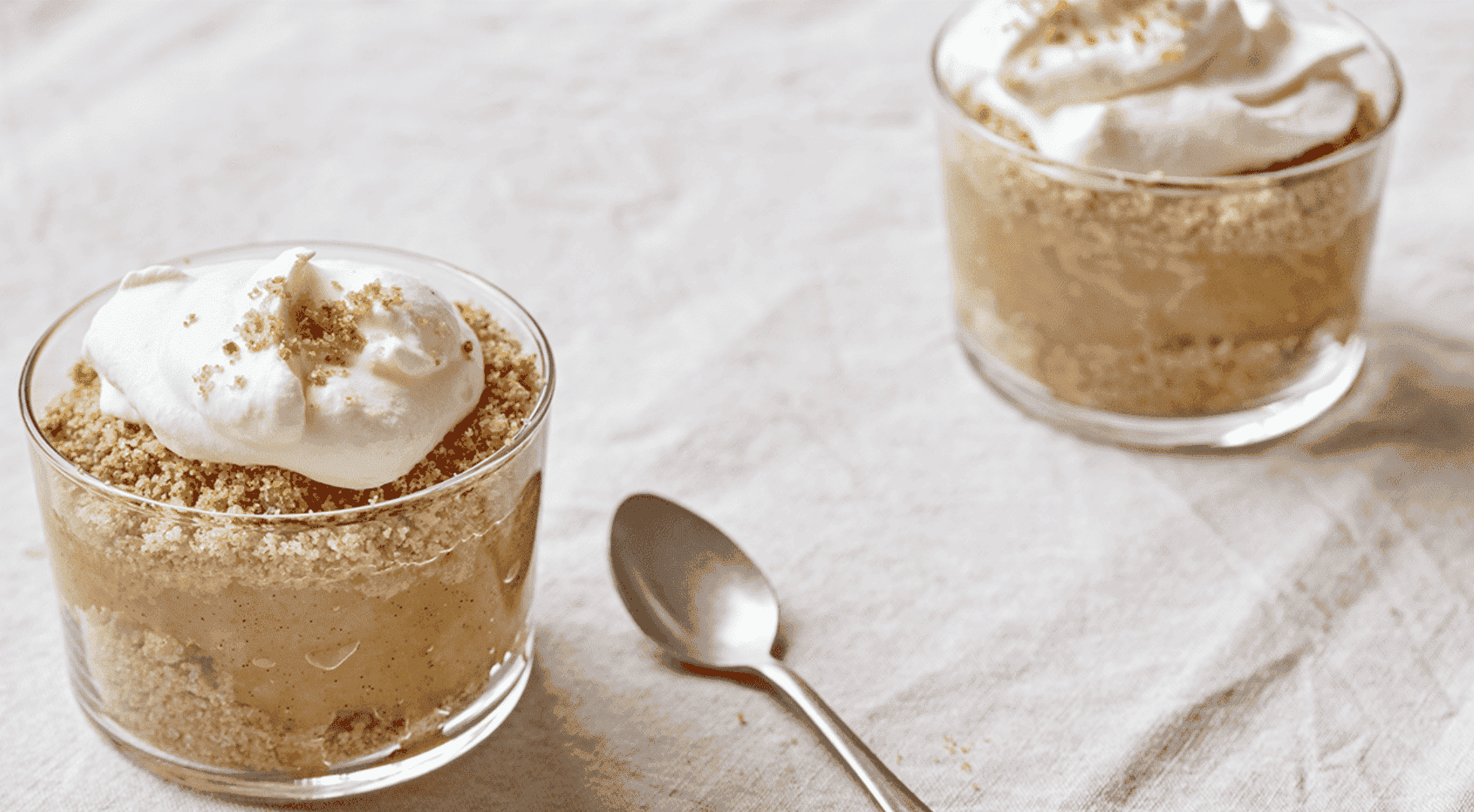 Danish meatballs or Frikadeller is another Danish staple made with minced veal, pork, or beef mixed with onions, eggs, milk, bread crumbs, salt, and pepper. This dish is either served as a main or side dish with boiled white potatoes and cooked red cabbage. If you love desserts, try Æblekage, which means apple cake in Danish. In appearance, this traditional Danish dessert resembles a trifle served in a glass or transparent bowl made with layers of apple puree, apple cake crumble, Danish macaroons, and whipped cream.
Discover the best deals for an amazing Europe trip off the beaten path.
You may also be interested in: