What makes for a truly unforgettable trip to Japan? We think a visit to one of the best onsen in Japan is definitely on this list. We have to say it is one of the best onsens because all hot spring towns in Japan are spectacular. This is a short guide to the best onsen destinations in Japan and a few tips for a truly exceptional holiday.
You may be asking: What makes a hot spring an onsen? The Hot Springs Act in Japan defines an onsen as water, water vapour or other gases that emerge out of the earth at least 25 degrees Celsius or with a minimum concentration of certain minerals. Technology has enabled the creation of onsens everywhere, even in cities without a source of natural spring water, but for a truly authentic awe-inspiring experience, we recommend staying in a ryokan in a historic Japanese hot-spring town where visitors and residents have enjoyed naturally heated water for centuries.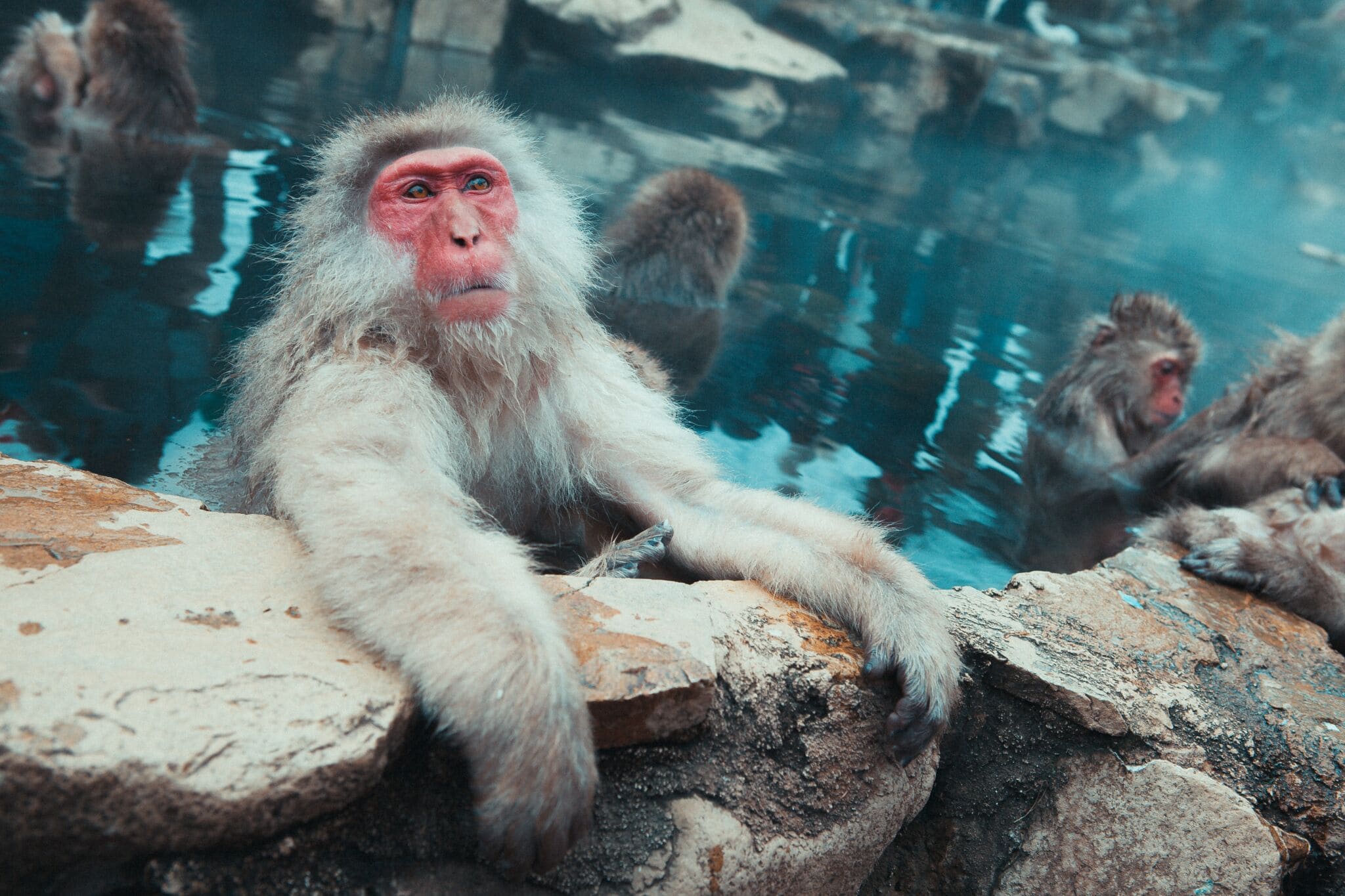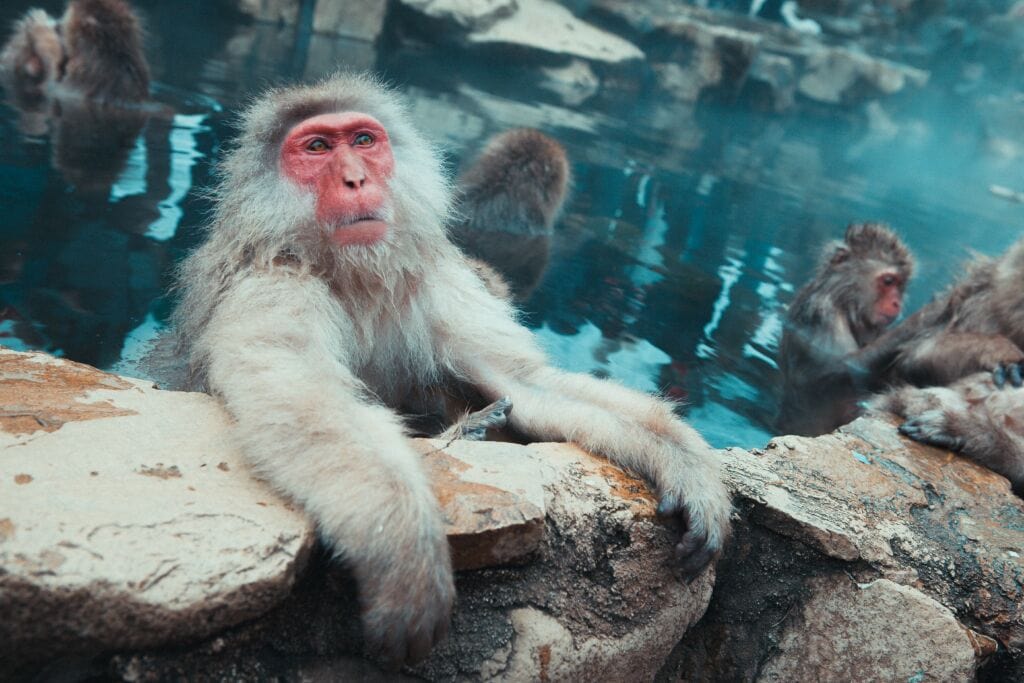 The Best Way to Enjoy Hot Springs in Japan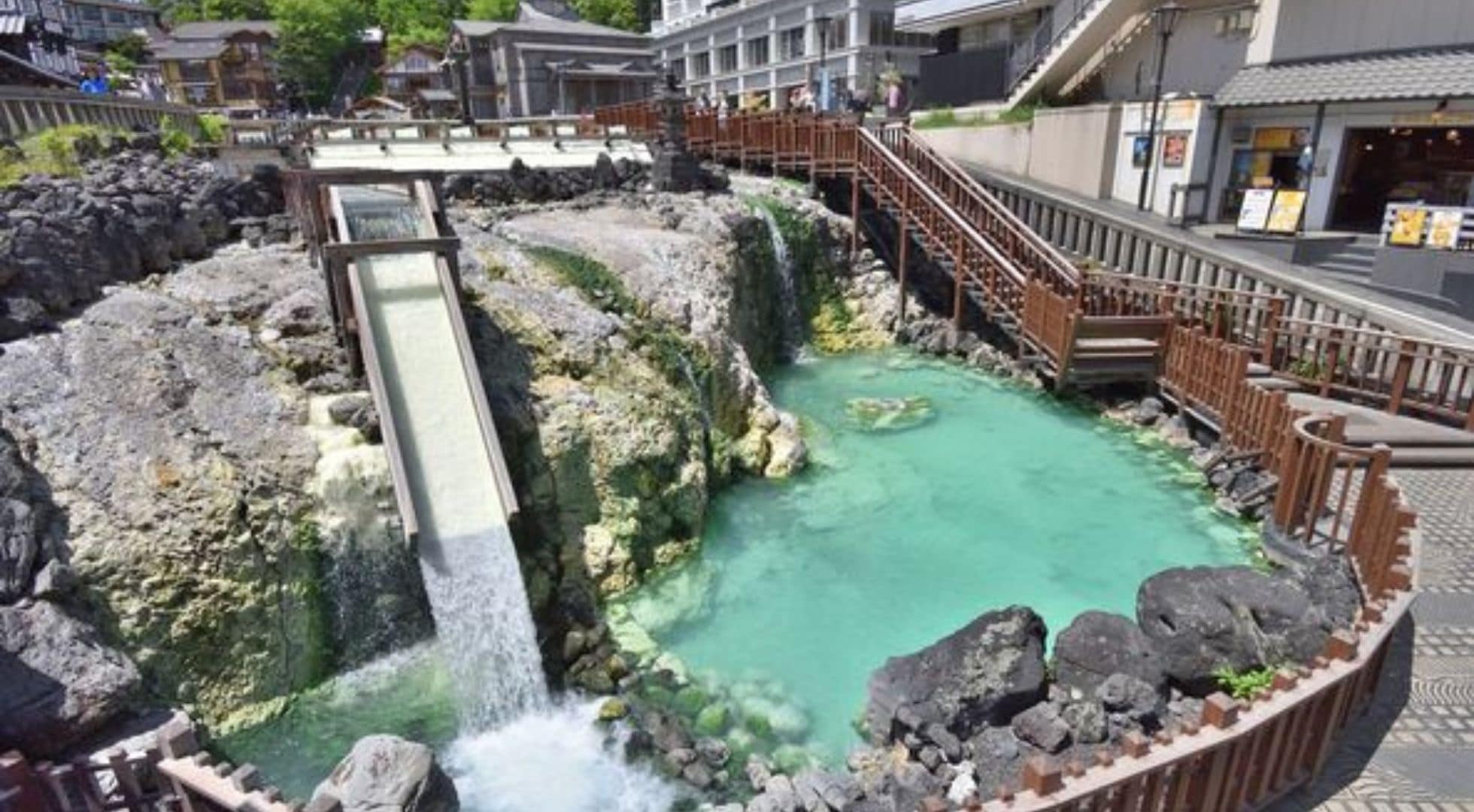 A wonderful onsen experience depends on your preference.  It may be mingling with the locals in a public bath, visiting a konyoku (mixed-gender) onsen, or bundling the onsen experience with winter sports (daily itinerary: wakeup, onsen, ski, lunch, ski, onsen and so on).  An experience that is highly-recommended by locals and frequent visitors to Japan is an overnight onsen experience at a ryokan (Japanese-style inn with hot spring baths).
There are many different onsens but the most popular types are outdoor baths and indoor baths. Consider an open-air outdoor bath especially if you are in Japan during the colder months. Watching snowflakes fall as you relax in steaming hot water is a truly wonderful experience. If you are staying at an onsen ryokan, do note that guests usually take an onsen bath before dinner and, perhaps, another before sleeping and before breakfast the next morning.
The use of an onsen is steeped in tradition and calls for proper etiquette. Here are the basics: wash your feet and body thoroughly, don't bring clothes or towels into the water and don't linger by the entrance as people need to go in and out. You can relax in the water for as long as you like.
Naturally heated water in an onsen is said to kill bacteria and fungi while its minerals offer health numerous benefits. Different minerals have different benefits. Hot springs in age-old towns like Kusatsu (see below) are said to "cure any ailment except heartache." As you can expect, soaking in hot springs also soothes tight aching muscles and relaxes the body and the mind.
The best Onsen in Japan
Looking for the best onsen in Japan? Start with these 3 extremely popular and highly recommended onsens. Each onsen has its own not-to-be missed places and/or activities to make the most of your time in beautiful Japan.
Misasa Onsen
  Misasa Onsen received the Japan Heritage status in 2015.
  The Kawara bath located next to the river is the ultimate in onsen experience. This mixed-gender bath is outdoors and in full view of visitors.
  Is a 'healing spring', with water that is therapeutic and beneficial for all kinds of ailments.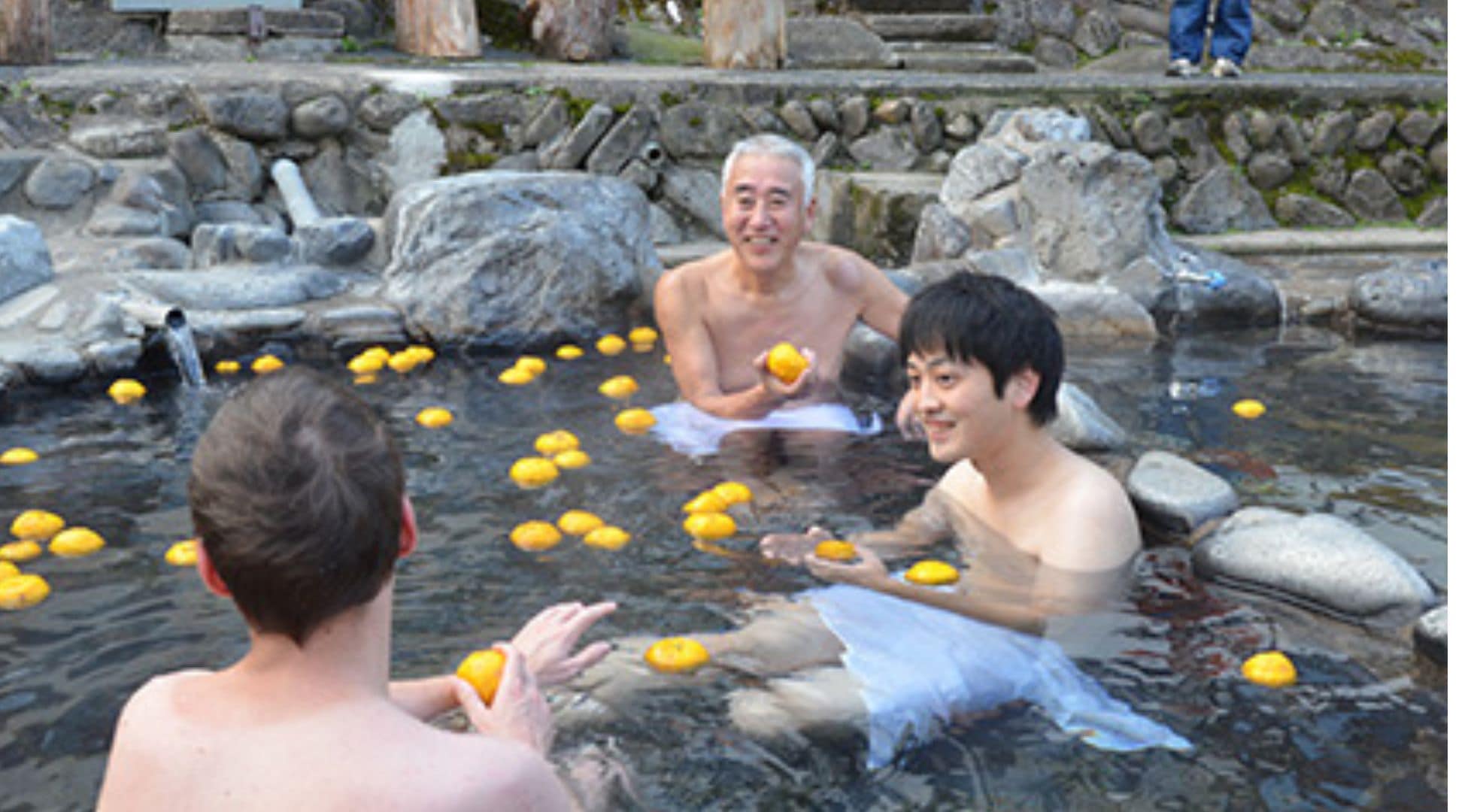 Misasa Onsen in Tottori has the highest amount of radon among all the hot springs in the world. Radon is a naturally-occurring radioactive gas and usually avoided. Here, locals point to the theory of hormesis, where small doses of radiation (or other harmful substances) can be beneficial to health. The belief in Misasa is that your health will improve if you bathe in the water for three consecutive days. This is why locals can be found staying in this town for months at a time.
In Misasa, look for the source of the onsen, which is at the root of an old camphor tree. Then, head to the adjacent public bath known as Kabu-yu. An option for the brave is to soak in Kawaraburo. This is an outdoor bath in full view of the shoppers passing by.
Other Things To Do In Misasa
After a dip in one of the best onsen in Japan, you may want to refresh your spirit by walking out in the woods. Walking in the woods is called forest bathing. Studies in Japan have found that this activity reduces stress and brings about a sense of well-being and happiness. Single travellers and those looking for a romantic partner should head to Koitani Bridge, where a resident frog (ceramic statue) is said to be able to help you find love.
Kusatsu Onsen
      Eat an onsen tamago—eggs boiled in the hot spring water.
      Satisfying your sweet tooth with traditional onsen manju.
      Admire yubatake hot water fields in the centre of town and buy 'bath salts'.
Kusatsu Onsen is on every article featuring hot springs in Japan. This town has the largest amount of naturally occurring hot spring water in the country. Some estimates say the volume of mineral-rich water produced can fill 230,000 barrels a day. With so much heated water, the town uses this natural resource to melt snow during winter. The surplus amount of water means it is possible for all inns, hotels and spas in this town to provide a sensational luxurious experience for guests.
A trip to Kusatsu must include a visit to the Yubatake hot water fields in the centre of town. This is a symbol and heart of Kusatsu and its distinct aroma of sulphur will guide you there.  Here, connected wooden chutes expose spring water to the air and this process forms mineral salts or 'bath salts'. These salts, packaged in cone-shaped containers, make great souvenirs.
Other Things To Do In Kusatsu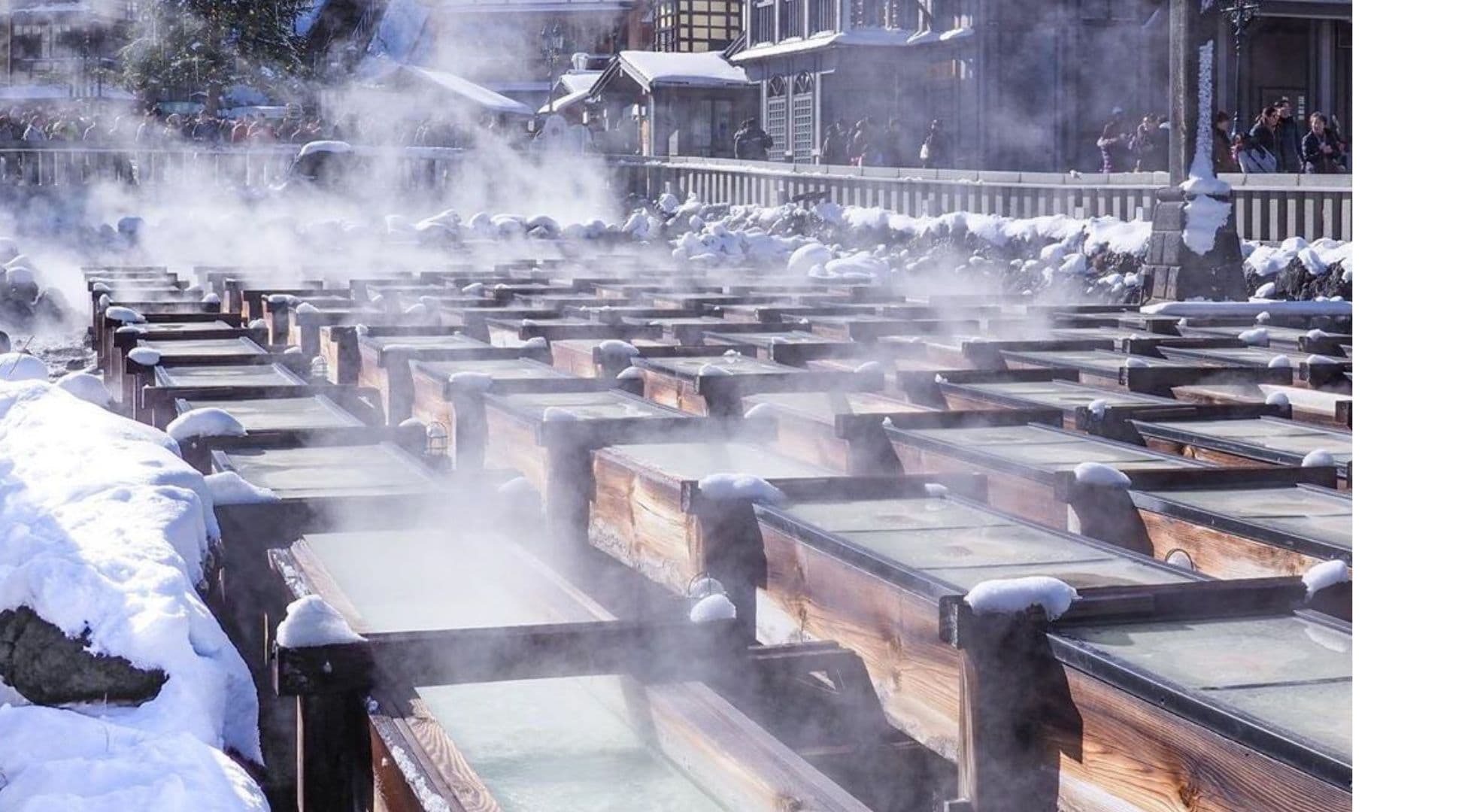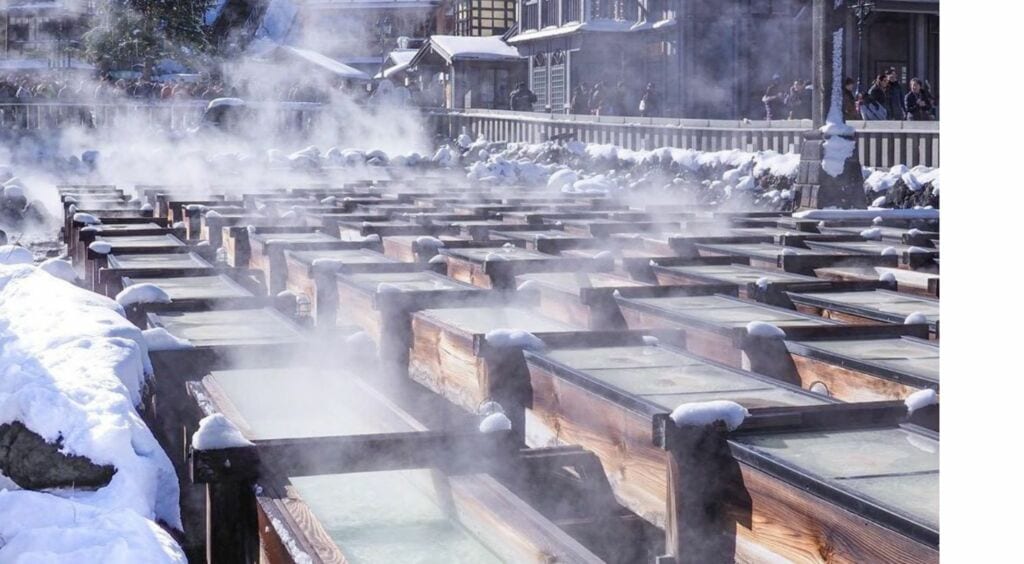 Kusatsu Onsen is a good starting point to explore Central Japan. You can wander around Joshinetsu Kogen National Park, visit two active volcanoes (one is the source of all the hot spring water in Kusatsu), ski and look for unique alpine flora and fauna. This region is beautiful in autumn with some of the country's most beautiful 'koyo' (autumn leaves). Don't leave without trying the onsen manju (steamed sweet buns). Look out for wooden boxes in stores around Kusatsu. These small, brown steamed buns are filled with sweet bean paste. You should also try onsen tamago (eggs boiled in the hot springs).
Kinosaki Onsen
Kinosaki Onsen is very accessible. The town is only a 2.5 hour train drive from Kyoto and Osaka.
Take beautiful pictures with a backdrop of canals and weeping willows or cherry blossoms in summer.
Walk to different onsens in a yukata and geta (wooden clogs).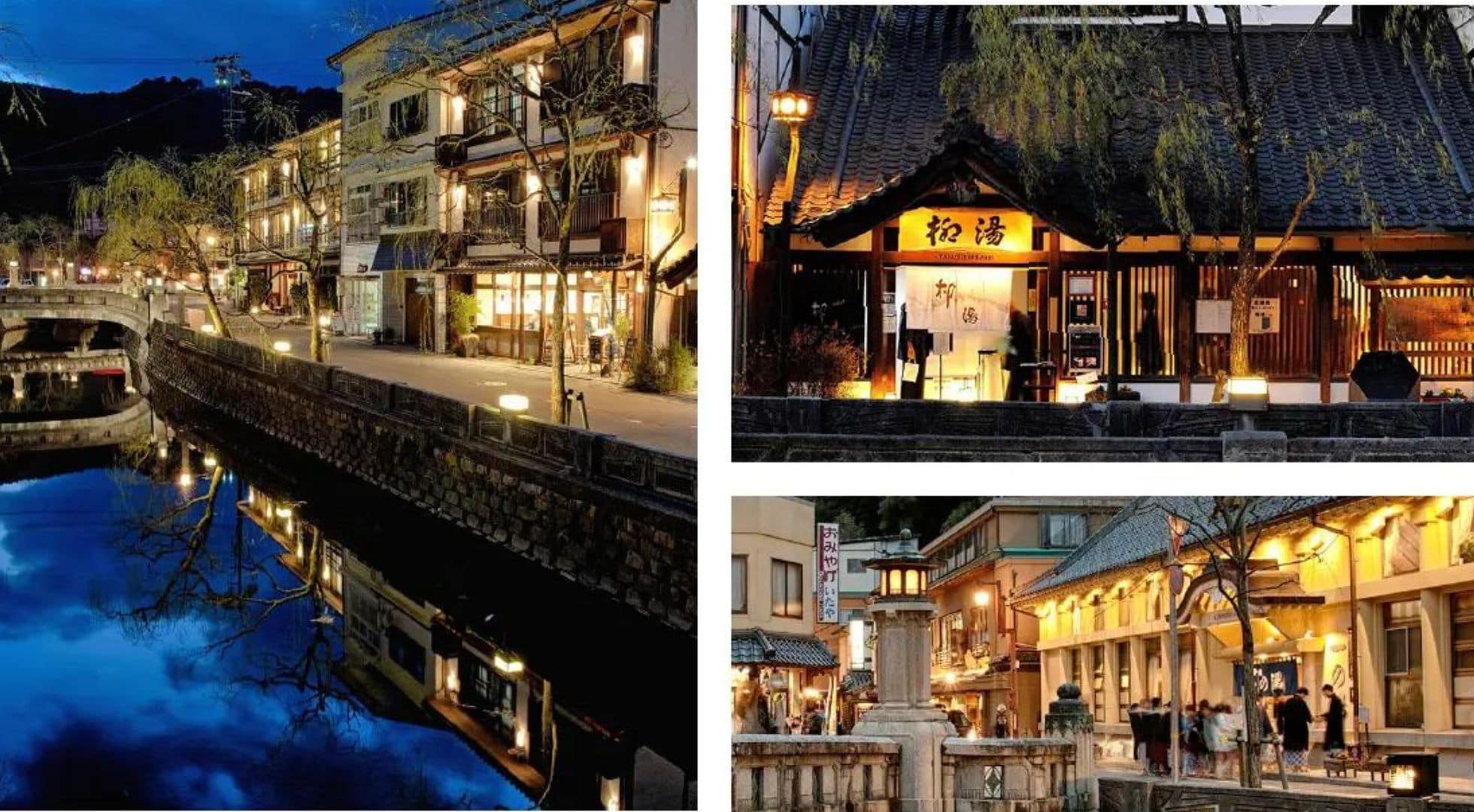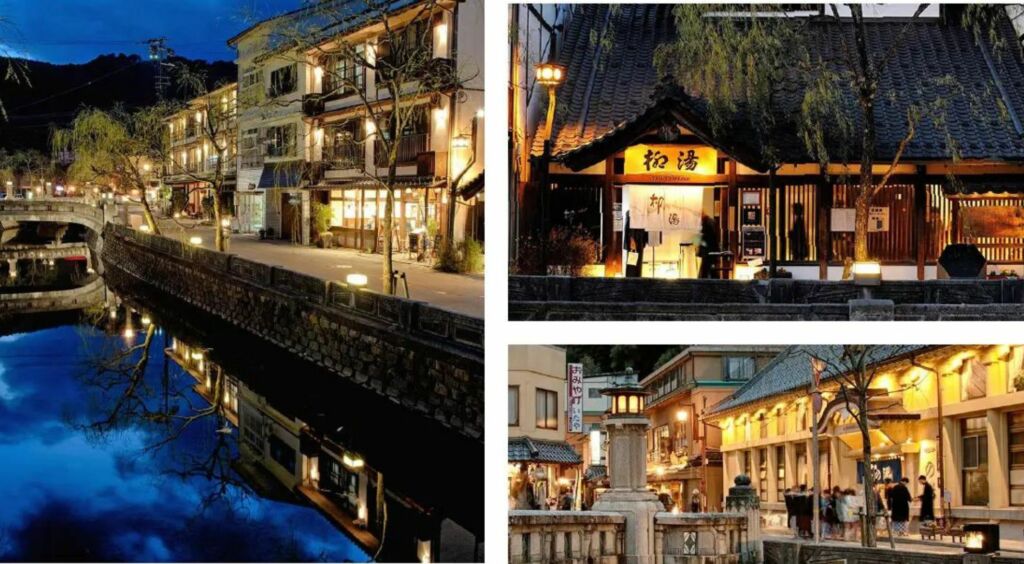 Kinosaki Onsen is a cosy and charming hot spring town with seven natural hot springs. It is charmingly old -fashion and guests at local ryokan can be seen walking around in yukata (light cotton kimonos) and geta (wooden clogs). This quaint town is recognised by the Lonely Planet as one of the best onsen destinations in Japan. It is possible to walk to all seven public onsens and at the right time of year, you will be able to admire wonderful sakura (cherry blossoms) flowers along your way.
Traditionally, visitors with tattoos aren't allowed in onsens because of tattoos' age-old association with organised crime in Japan. However, all seven of Kinosaki's onsens are tattoo-friendly, no matter the size of the tattoo. Since Kinosaki is a small town, you can try 'onsen hopping', which maybe the best onsen in Japan experience.
Other Things To Do In Kinosaki
Sample the local cuisine such as tajima beef from Kobe cattle and fresh snow crab (November to March). You can find this in local restaurants or for a treat, eat in the comfort of your ryokan.  There are usually fireworks displays in the evenings in Kinosaki from July to September.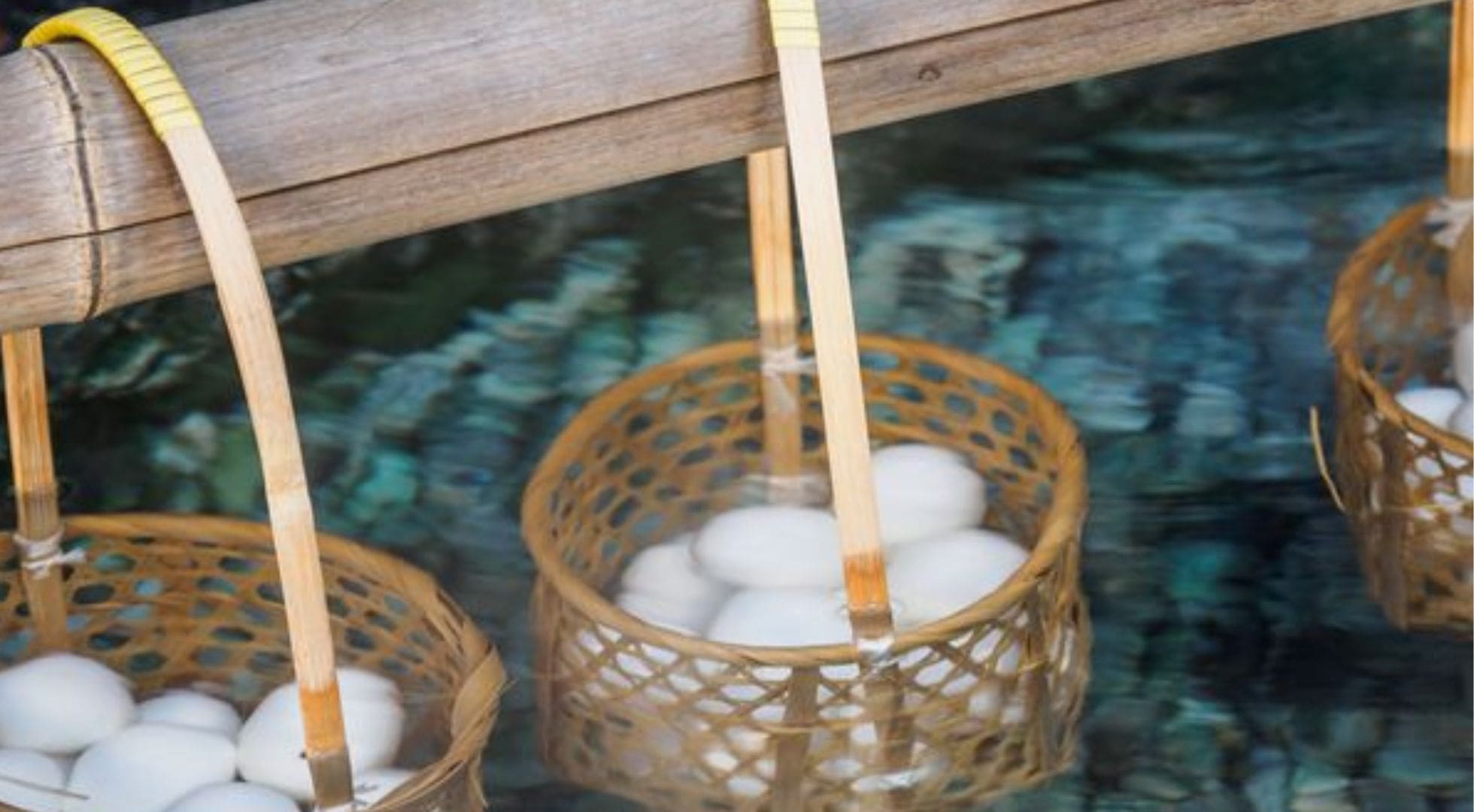 Looking for the best onsen in Japan?
You may also be interested in:

[/vc_column][/vc_row]