Our bucket lists are filled with places to visit in the USA. Whether we've been dreaming about living the beach life in San Francisco, shopping in New York, flying across the Grand Canyon or showing off your latest swimsuit on Miami beaches. However, the USA is more than just pretty malls and phenomenal beaches; these national parks in the US deserve a spot on your list too.
You must be wondering – why do you want to fly across the globe, for about 20 hours, just to see national parks in the United States? Well, we have 10 reasons why these best US national parks, out of 63 across the USA, are worth your time and effort.
#1: Grand Teton National Park, Wyoming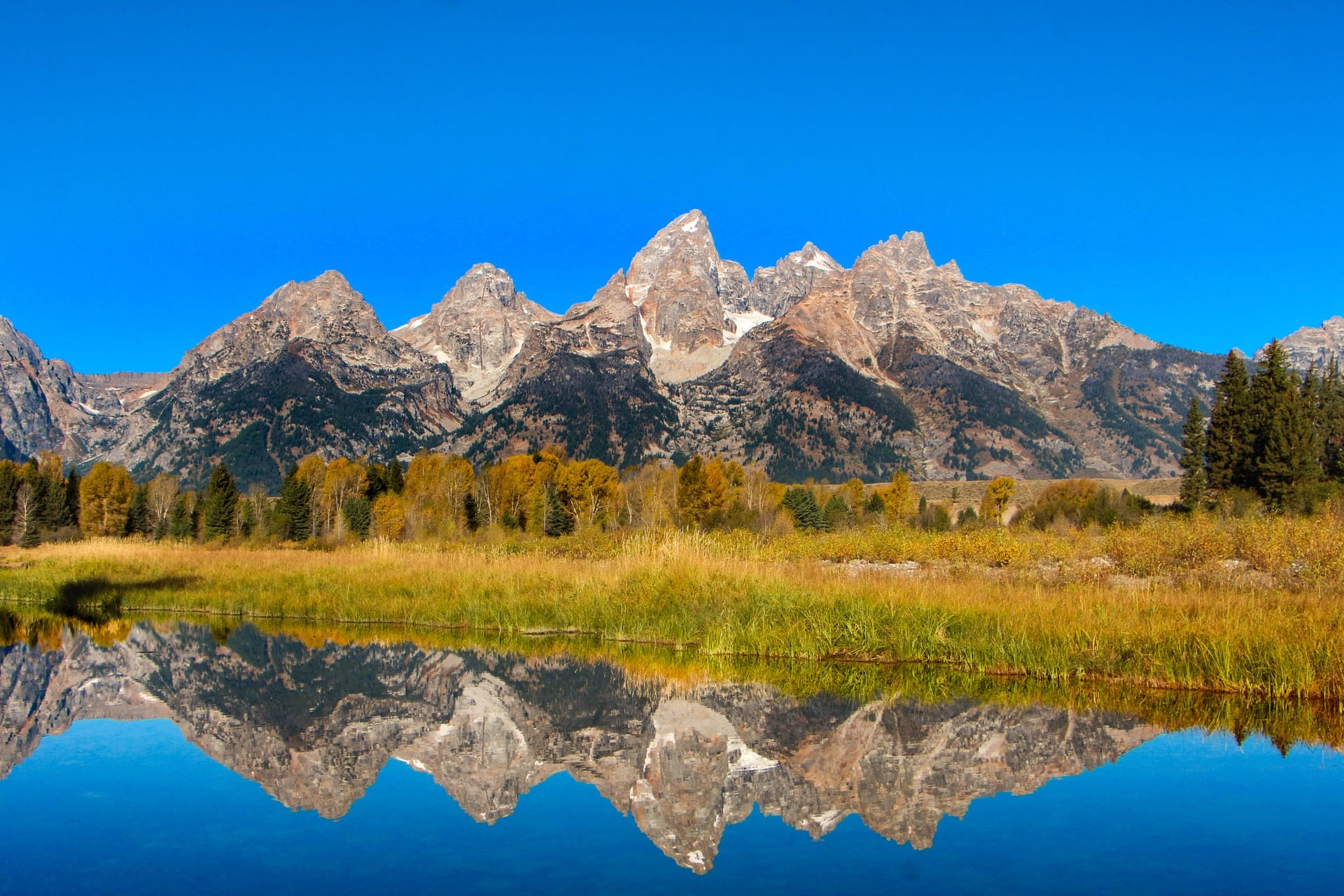 If you are the adventurous kind, then you must visit Grand Teton. Located in Wyoming, Grand Teton consists of the Jenny and Jackson lakes, the Jackson Hole Valley and its 13,770-foot mountains that are always covered in snow. The breathtaking views from every corner will make photography very breezy.
During summer, hikers, and mountaineers alike from all over the country would pay Grand Teton a visit. Also, hidden waterfalls, lakes and phenomenal mountain views would call out to photographers during this warm season.
The Snake River – also a hidden gem in Grand Teton – is an attraction to water rafters and kayakers, as well as those who simply love clean and clear waters for a summer dip. Don't worry, the Snake River doesn't have snakes in it! However, don't be fooled by the calm waters. Accidents have happened due to the tangle of channels and logjams so be cautious if you decide to float in the river.
Rivers and mountains aside, Menors Ferry and Mormon Row are also located in the historical district inside Grand Teton. So those who are interested in 19th-century history could be seen wandering the nearly 1300-square-kilometre national park as well.
A park this enormous would contain numerous species of wildlife as well. You can spot antelopes, mooses, bison, American black and grizzly bears, to name a few.
#2: Arches National Park, Utah
It might seem like you've entered a different dimension, as Arches National Park is made up of red rocks, natural sandstone arches, and unique landforms. Besides, the natural skylight seems to be changing lights now and then.
Photographers of all kinds live to see the shadows run around the arches throughout the day, giving them different dimensions to their images. Besides its breathtaking views, the park is a second home to hikers as well. The Balanced Rock and Double Arch routes are the easier ones for those who want to relax and soak in the fresh air. Fiery Furnace and Delicate Arch – as the names suggest – are for hardcore hikers as the treks are pretty challenging.
When night falls, look up into the clear, dark sky, as there is a high chance you'll be able to see through the phenomenal Milky Way and its stars in all its glory.
#3: Bryce Canyon National Park, Southwestern Utah
Don't mistake this park for the Grand Canyon although they have similar characteristics. You'll see numerous amphitheatres and limestone rocks in this park that are formed by rain and erosion. If you're the adventurous kind, then you should check out the narrow slots between the canyons and thin spires – also called Hoodoos – which can also be a great addition to your Instagram feed. 
Bryce Canyon National Park has Hoodoos with elevations that can go all the way to 9,115 feet. Additionally, they are sheltered from light pollution, making stargazing possible when night falls.
#4: Rocky Mountain National Park, Colorado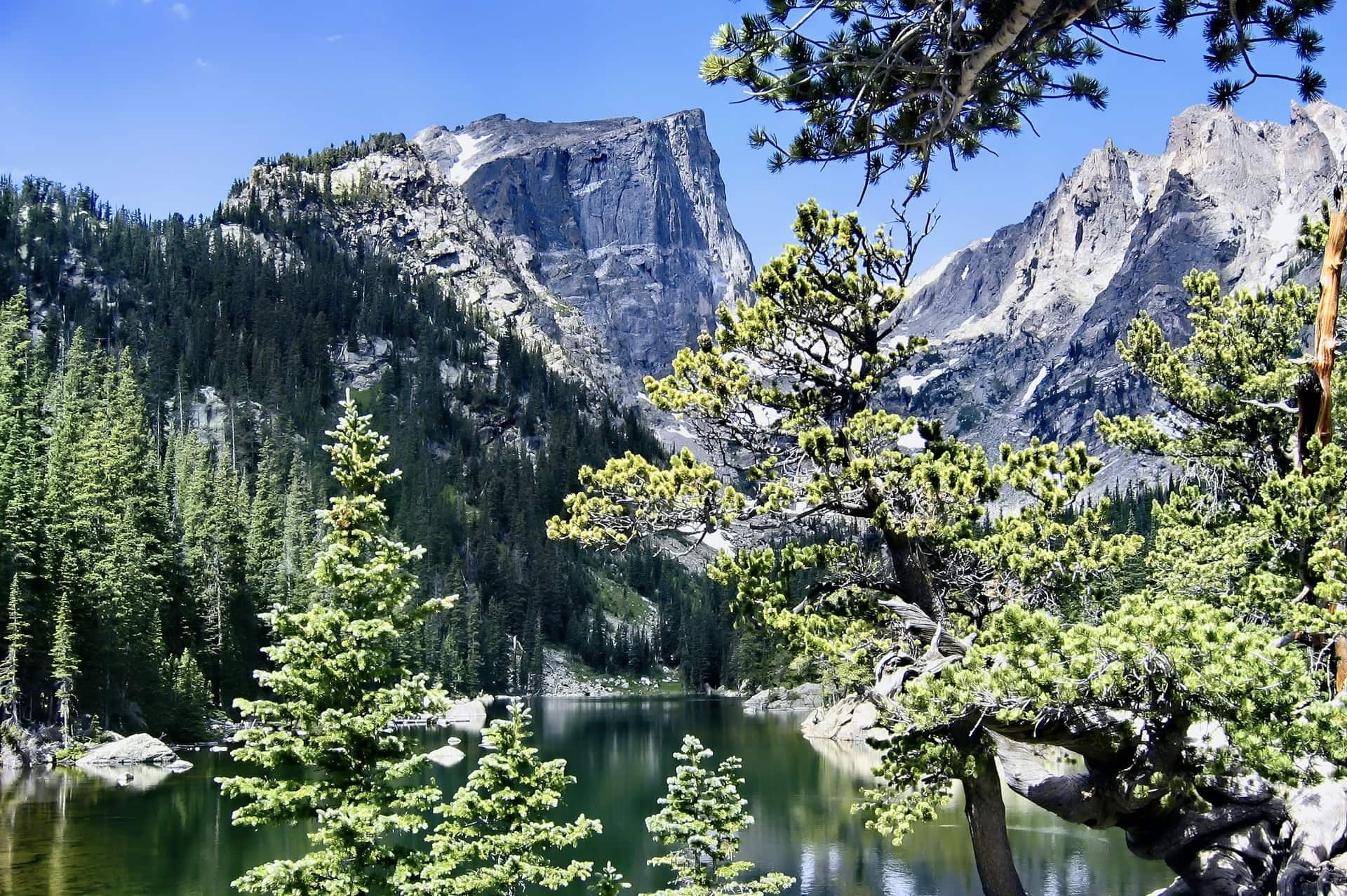 Rocky Mountain National Park looks like something taken out of Riverdale or any other mystery movie you'll see on Netflix. Spanning about 265,000 acres, hikers love to visit the park's 350-mile trails that are surrounded by pines, alpine lakes, wildflowers as well as some tame animals like bighorn sheep and elks. The best time to visit Rocky Mountain National Park is said to be from June to September when the snow is mostly melted which makes hiking a more pleasant experience.
You can also opt for a tour to the infamous, spooky Stanley Hotel, visit the beautiful, vintage Estes Park or get some ice cream along the way. There are plenty of other food and snack stores on the way down from the highlands. 
#5: Glacier National Park, Montana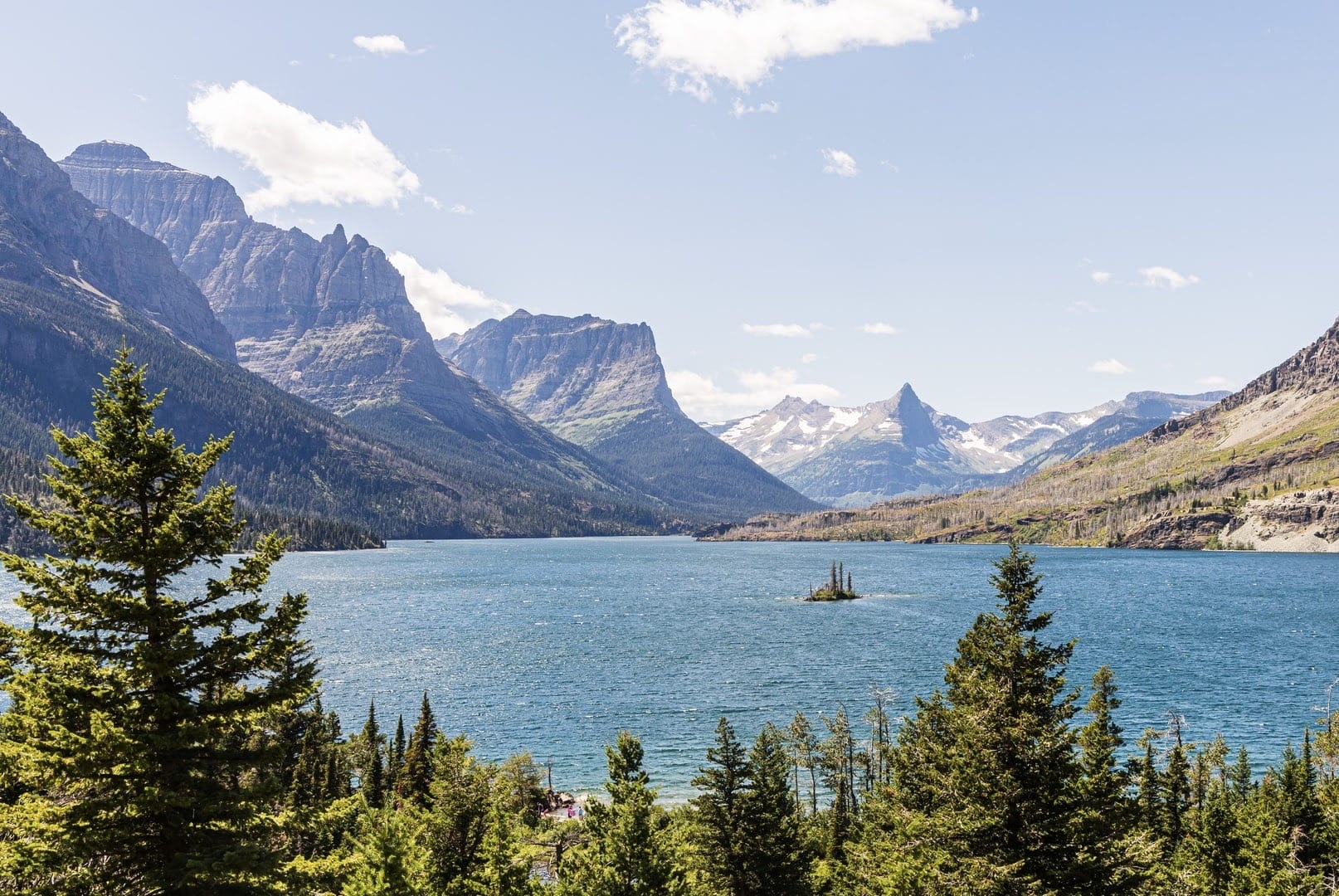 Glacier National Park, located at northwestern Montana takes its name from the many glaciers and glacial forces that shaped its rugged terrain over two million years. Together with Waterton Lakes National Park, they are both named the 'Crown of the Continent' because of its postcard-like beauty, Glacier National Park is located right at the border of Montana and Canada. 
During the warmer seasons, you'll spot travel and scenic photographers snapping away, filling up their stock photo libraries. Besides that, hikers of all skill levels love to visit this park, as it comes with numerous trails like Trail of the Cedars, the super challenging Grinnell Glacier as well as over 700 clear blue lakes, waterfalls, two major mountains and plenty of wildlife.
A little bit of history: The park's 50-mile scenic road – also nicknamed 'Going to the Sun Road' – is a mark as a National Historic Landmark with phenomenal views that you only see in movies.
Planning for a getaway is possible too as you'll find plenty of early 20th century lodges, chalets and hotels – ones that are marked as UNESCO World Heritage sites. Before visiting, check out the website for ticketing information.
#6: Yosemite National Park, California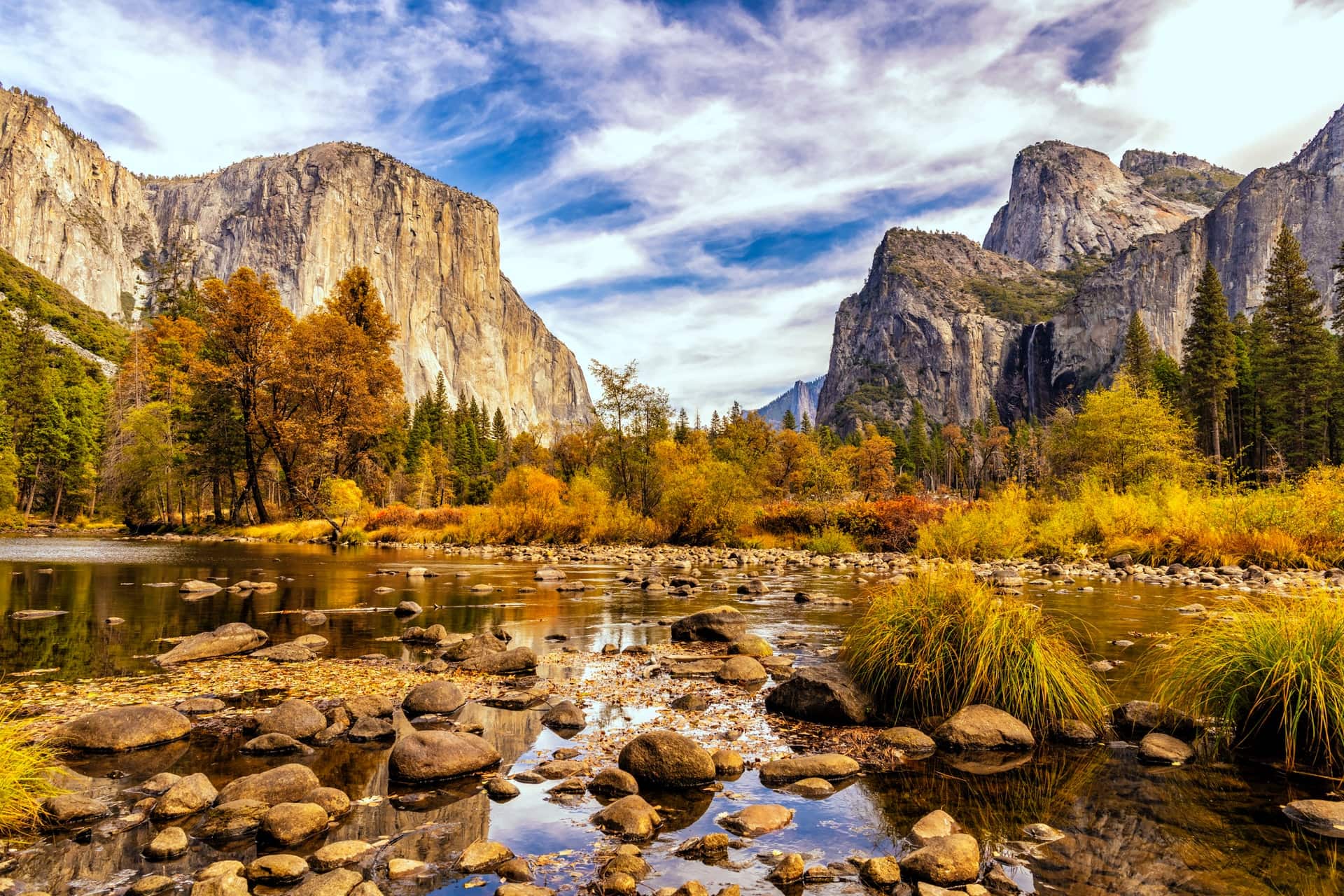 Yosemite National Park is one of the most famous parks globally that's surrounded by natural landscapes, lush greeneries, and clear blue skies. It covers about 1,200 square miles with tall waterfalls, thousand-year-old trees, unique rock formations and even intimidating cliffs.
For non-adventurous visitors, you will be taken to a safe, 8-square-mile area called the Yosemite Valley where you can enjoy the breathtaking view of the famous Half Dome and El Capitan, both favourite routes of climbers.
If you are the adventurous kind, then numerous hiking trails will take you to Yosemite's highlands. You can opt for tours, climbing lessons from the park's professionals or be on your own as well if you're a risk-taker.
#7: Yellowstone National Park, parts of Wyoming, Montana and Idaho
Another popular national park that's globally known, Yellowstone is right next to Grand Teton, making these two parks so huge it's almost impossible to fully explore them. Yellowstone consists of high mountain peaks with low temperatures, breathtaking lakes and the best part, the multicoloured pools swirl around hot springs. Take the risk, be wild and take a dip in the pool as its steam charges towards the clear blue sky. 
There aren't many visitors to Yellowstone National Park, despite its fame, so you can imagine the unpolluted beauty you can see and the fresh air you can take in. The 3000 square miles of waterfalls, lakes, mountains and canyons are also home to elks, buffaloes, and wild grizzly bears, so be cautious and never wander around alone.
#8: Isle Royale National Park, Michigan
Not many people know about Isle Royale National Park or at least, it's not easily accessible, making this park almost untouched and uncontaminated. However, it's getting more exposure in the world. This less-visited park is an island, right in the ginormous Lake Superior. A boat is about the only transportation to the park, and no, do not even attempt to swim there. Jokes aside, Isle Royale National Park is also popular among professional scuba divers and kayakers, as well as expert campers, mountaineers, hikers and backpackers.
If you are new to the park, it's advisable to hire a tour guide to take you around the area, as well as professional campers who can guide you and keep you safe throughout this journey.
#9: Zion National Park, Southwestern Utah
Since its popularity rose a few years back, Zion National Park is no longer the peaceful sanctuary we once knew. Gaining over four million visitors annually, the park now offers its lakes and mountains to all adventurers alike. The park's Virgin River and Angels Landing are two of the most visited. After a tiring day of boating and hiking, you can opt to camp in the area, where you can observe stars shining bright in the clear, dark sky.
#10: Everglades National Park, Florida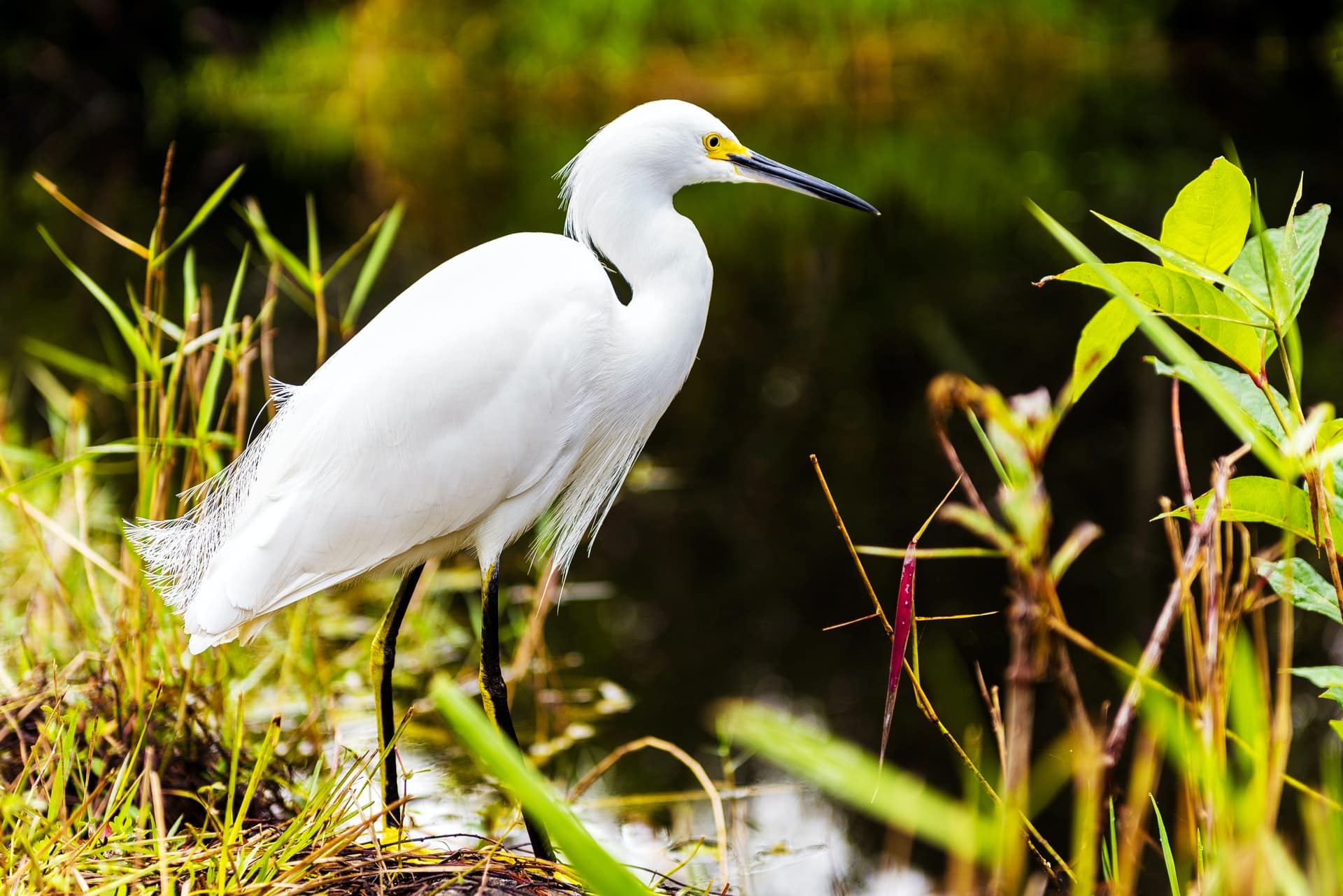 Located in the south of Florida, Everglades National Park covers a whopping 1.5 million acres of wetland. It's almost impossible to visit the entire park in even a week, so thorough planning is required. Overall, there are three main entrances to the park and none of them is connected nor are they close to each other.
When you are in the park, there are plenty of activities you can participate in. The Anhinga Trail is one, where you can take a breezy walk and spot various flora and fauna in the area. Beware as there are alligators, wild tortoises and herons, but your tour guides will know what to do to keep you safe. No special skills are required.
If you are a little more adventurous, then you should consider climbing Shark Valley and the 65-foot observation tower, where you can catch a bird's eye view of the Everglades. Also, get on a boat ride through Florida Bay, and you might even get the chance to see dolphins, manatees and crocodiles going through their days.
When you make plans to visit the popular tourist spots in the USA, you must also include some, if not all, of these parks. They are worth your time and the pictures will gain you extra followers on social media.
DISCOVER These National Parks In the US WITH THE BEST DEALS!
You may also be interested in: