Adventure tours Australia are not for the faint-hearted. The land down under is home to many unique experiences that range from luxurious retreats to rugged outback adventures. Let's explore Australia off the beaten path and go on hikes, road trips, and camping escapades that will give you great stories to share.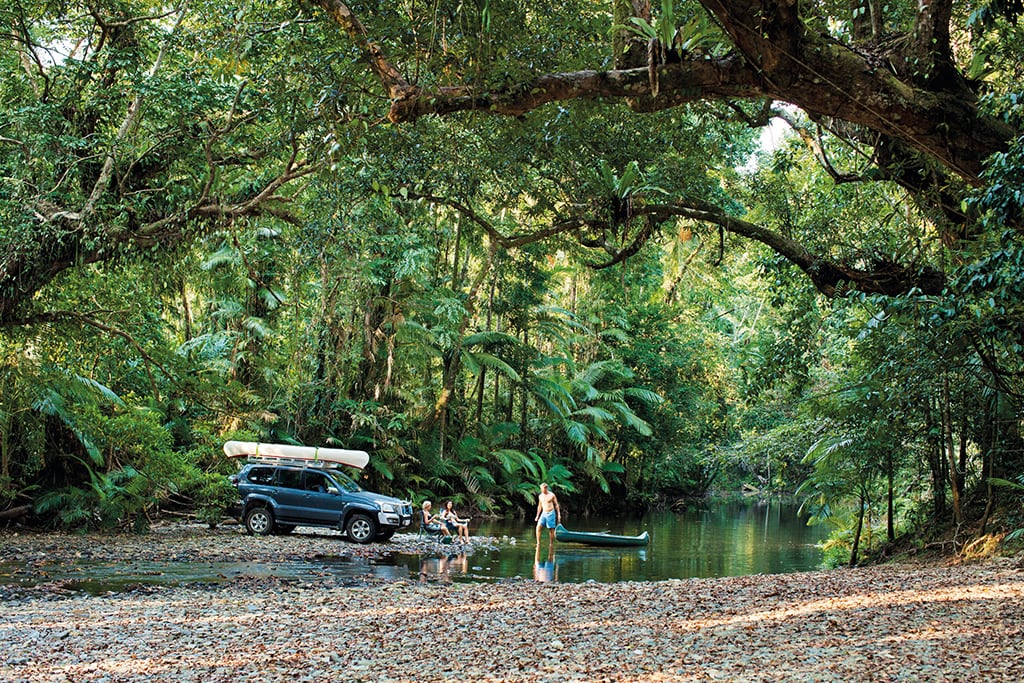 Adventure tours in Australia bring you closer and personal with the people, lands, and history. They're best catered for thrill-seeking travellers that are happy to rough it out. These experiences are also suitable for beginners and offer sights that aren't easily found worldwide.
Pack your sunscreen and comfortable clothing because our first experience is in the countryside of Mudgee.
Australia Camping: Sierra Escape, Mudgee, Queensland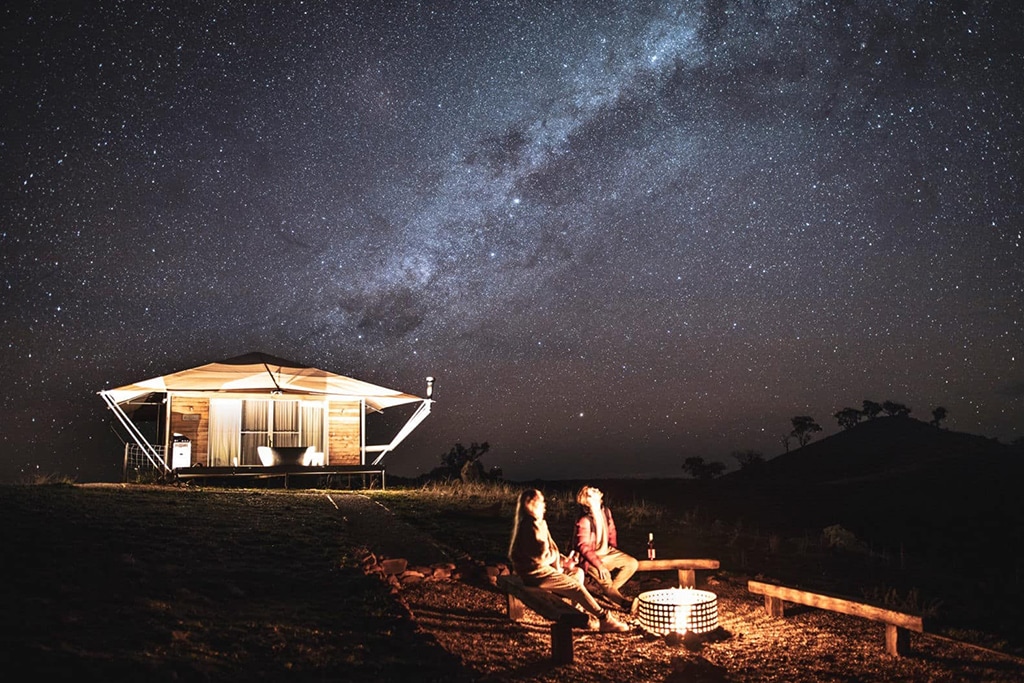 The Mudgee region is nestled in the hills just 268 km (166 miles) northwest of Sydney. Country charm meets township conveniences in this area boasting boutique shopping options and exquisite dining.
Just 20 minutes away from Mudgee town, Sierra Escape offers a luxury glamping experience. Surrounded by beautiful rolling hills and breathtaking views, Sierra provides an opportunity to escape from the busy city life and immerse yourself in the New South Wales countryside.
Situated over 113 hectares (280 acres), the land is home to many kangaroos, deer, native birds, and other local wildlife. Sierra Escape has 5 different glamping tents to choose from. Inside, you can admire nature through large screened windows and sliding doors that provide a 360° view of your surroundings.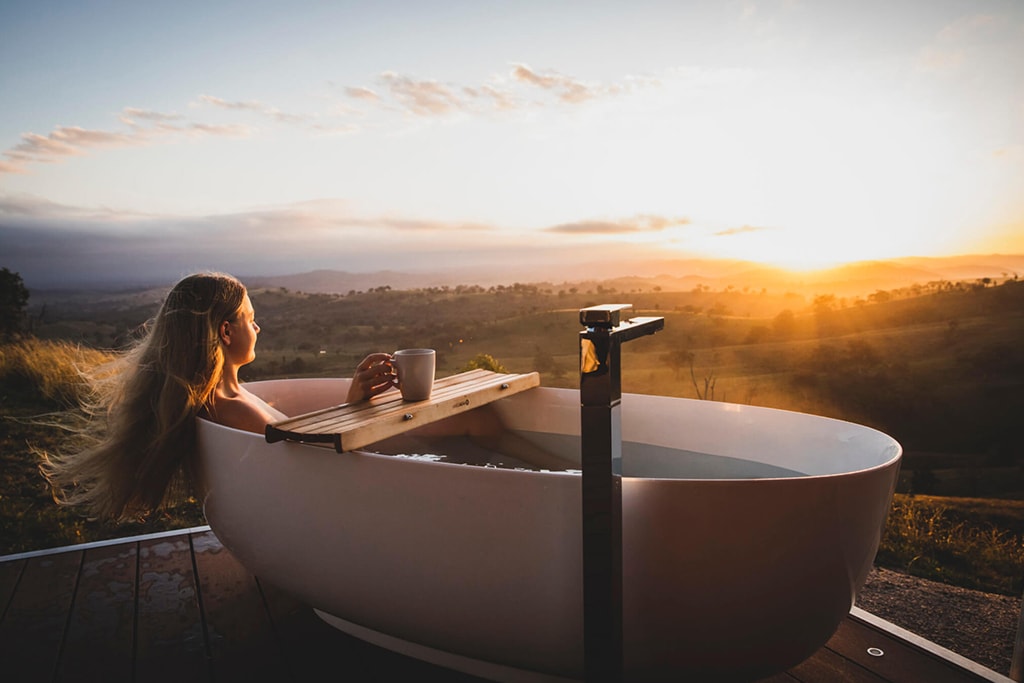 Each tent has a kitchen, freestanding bathtubs, a wood fireplace, and plenty of privacy. Eat by the fire and soak in the tub under the crisp air of the outback. Here, you will enjoy an incredible view and the sounds of nature.
There are various adventure experiences in the area, like kayaking in the Dunns Swamp, going on a helicopter over wineries, and horseback riding. Bookings can be made directly through Sierra Escape.
Australia Road Trip: Great Barrier Reef Drive, Queensland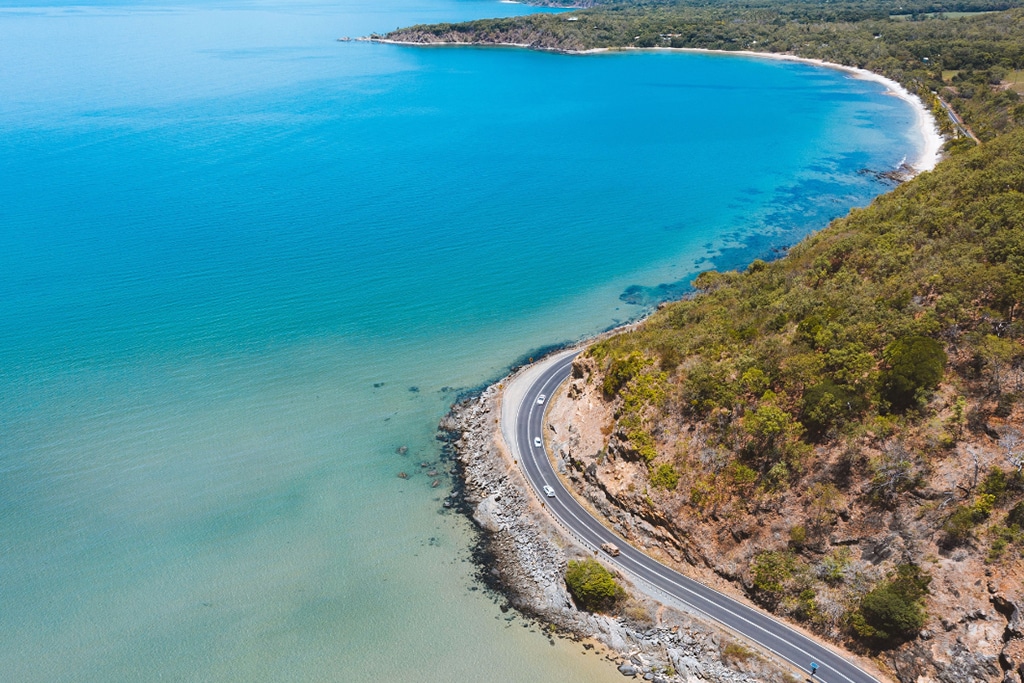 There are many amazing Australian road trips. The Great Ocean Road (Victoria) snakes along the picturesque southern coast. The Grand Pacific Drive (New South Wales) takes you on the Sea Cliff Bridge, an engineering marvel. The Red Centre Way (Northern Territory) cuts through the outback to the magnificent Uluru.
In Queensland, the Great Barrier Reef Drive is a short but sweet 140-km (87-mile) straight road from Cairns to Cape Tribulation. It is a top favourite among travellers looking for a great Australian adventure.
This drive provides breathtaking ocean views on one side, and in only 2.5 hours, you leave the city for the jungle. Stop in the middle of your trip at Port Douglas and take a boat out to the Great Barrier Reef for a dive. A high-speed cruise can bring you to the Outer Reef in just 40 minutes, and you'll be able to see a whole new world under the sea.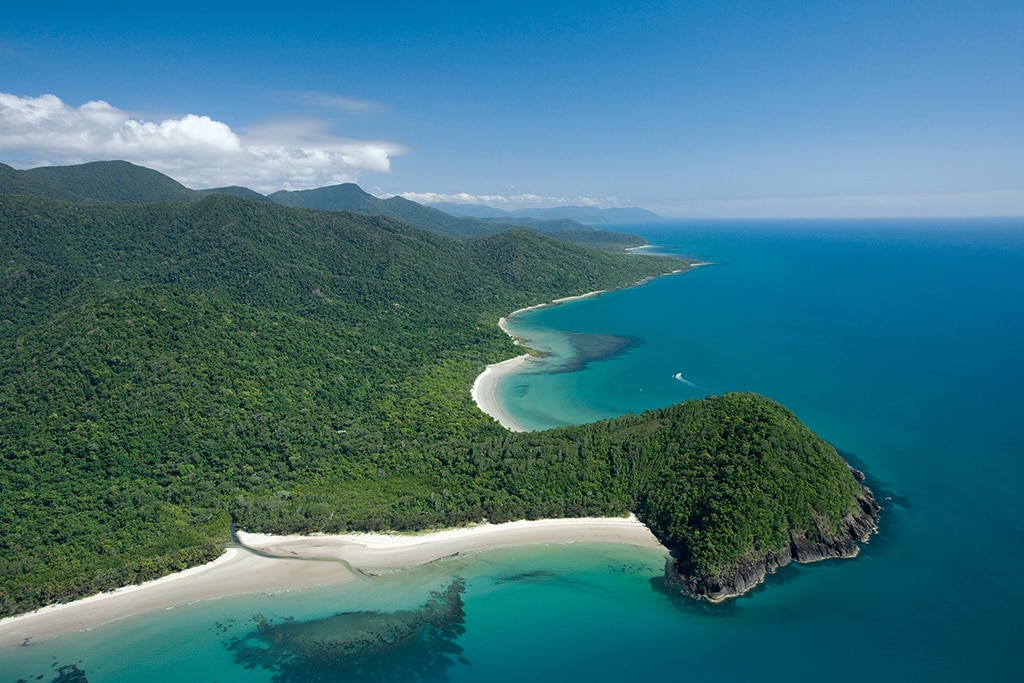 Another 20-minute drive takes you to Mossman Gorge, where there are indigenous guides who will lead you on a walking tour of the Daintree Rainforest. This fascinating 135 million-year-old forest is one of the most complex ecosystems on the planet.
Though Mossman Gorge offers a good preview of what the Daintree Rainforest has to offer, the final stop at Cape Tribulation provides travellers with an unforgettable and otherworldly rainforest vista.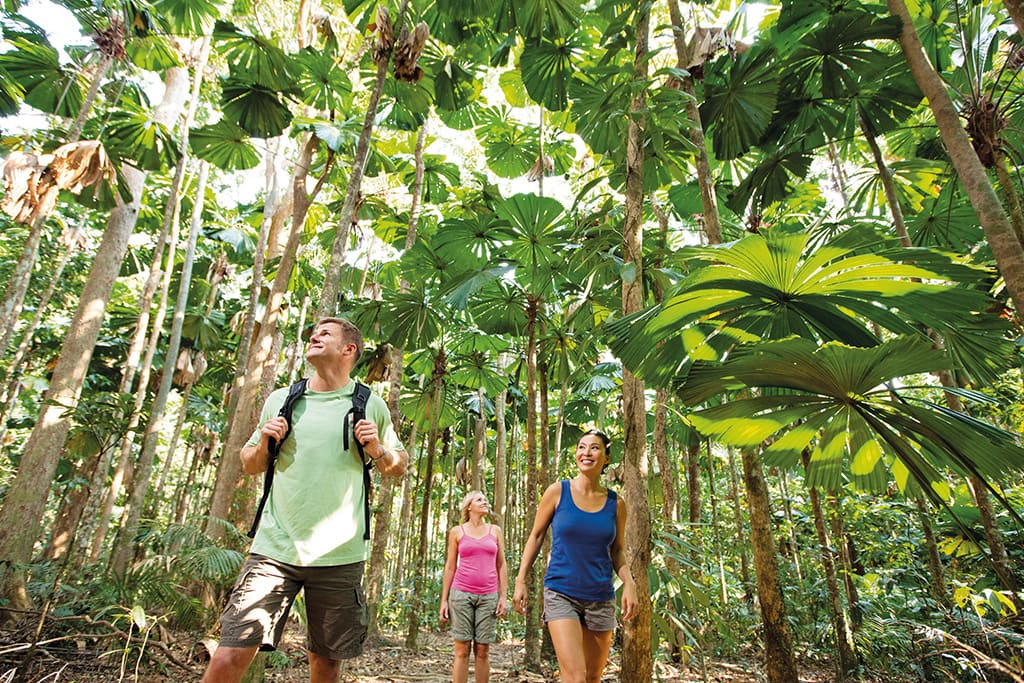 Book a tour with Cooper Creek Wilderness to see Grand Fan Palm trees in the heart of the world's oldest rainforest. These towering palms will give the impression that you are in a surreal film set instead of a rainforest in the modern day.
Australia Sights: Horse Head Rock, Bermagui, New South Wales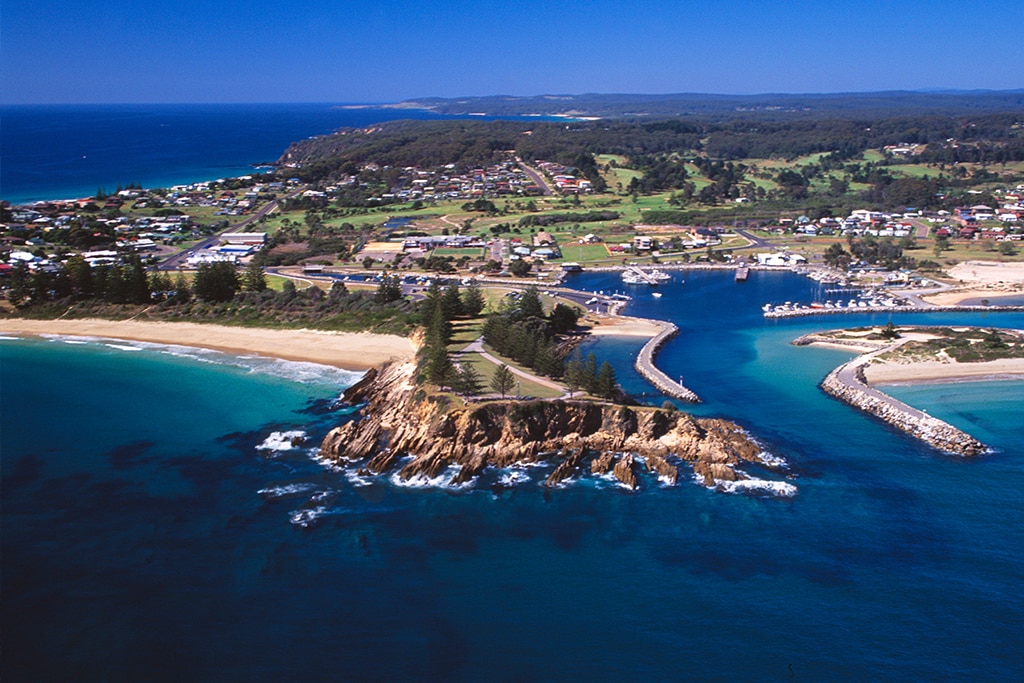 Bermagui is located on the Sapphire Coast of New South Wales, a small and vibrant seaside town known for its breathtaking scenery and diverse attractions. Visitors can also enjoy a unique mix of artistic and musical events here.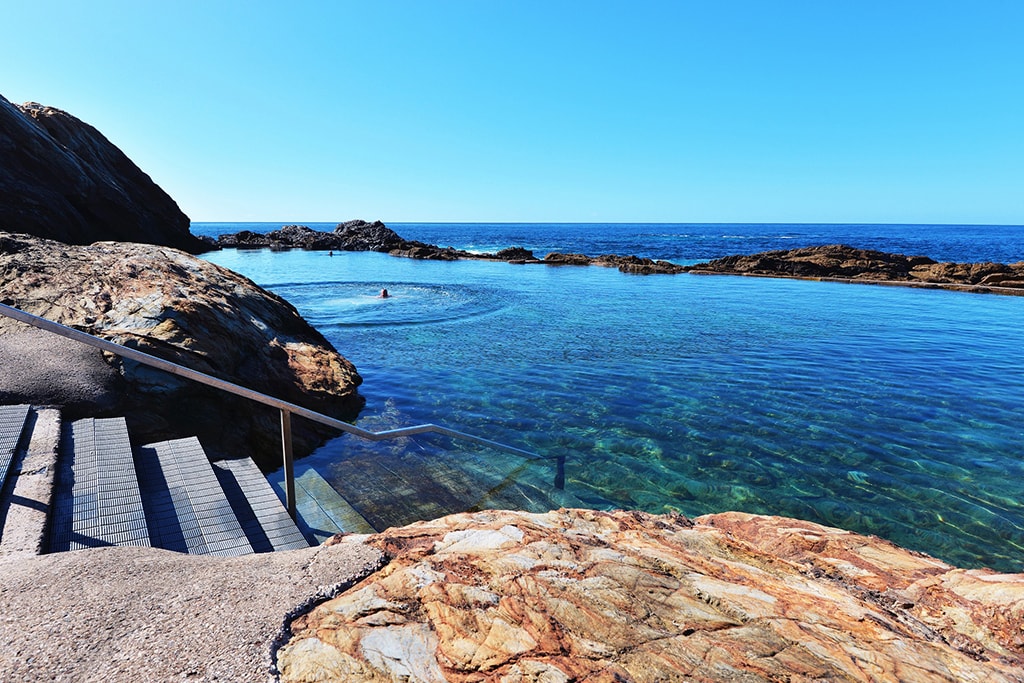 Families and shutterbugs head to the Bermagui Blue Pool to admire the clear waters that transform according to the colour of the skies. The sea appears blue and green on a clear day while taking on a pink and mauve hue at sunrise.
This ocean rock pool was created in the 1930s for training and competitive swimming and is rated 6 out of the world's top 8 ocean rock pools.
Other natural attractions in this area include Camel Rock, a rock formation in the form of a camel; Mount Gulaga, which provides a challenging Australian hike; and Horse Head Rock, a majestic rock with an unmistakably distinctive outline.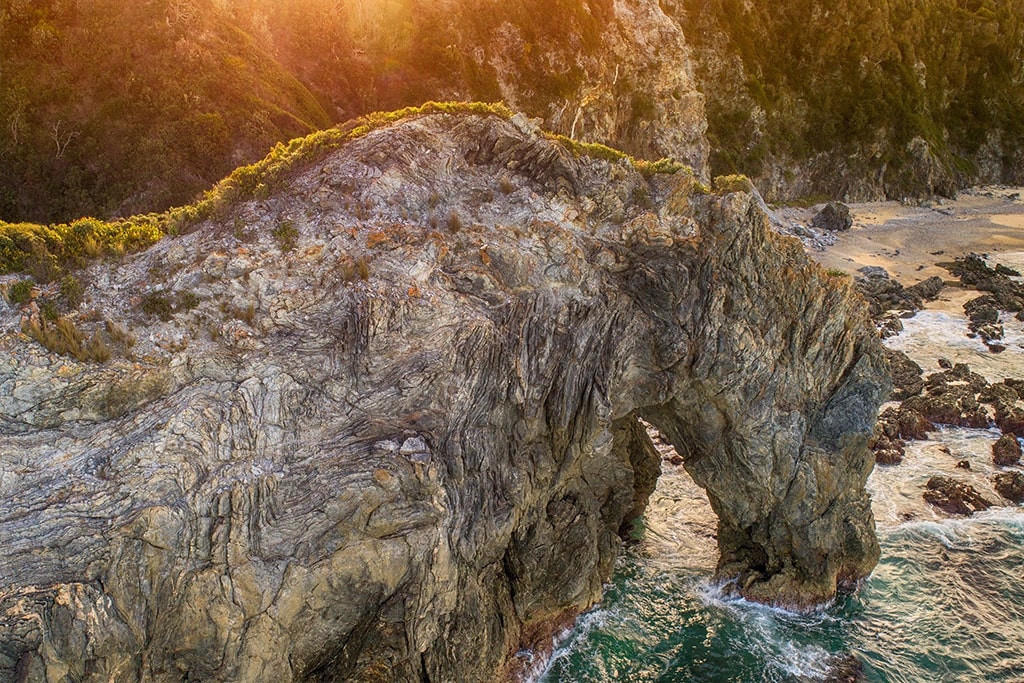 The Horse Head Rock formation is approximately 500 million years old, among the oldest in New South Wales, and is a mecca for photographers and nature lovers.
Its sheer size and unspoilt location make it a rare sight for international travellers. Horse Head Rock's distinctive shape is best seen from the viewing platform, accessed along the 1.5-km (0.93-mile) one-way elevated walking track between Camel Rock and Murunna Point.
Australia Hikes: Royal National Park, New South Wales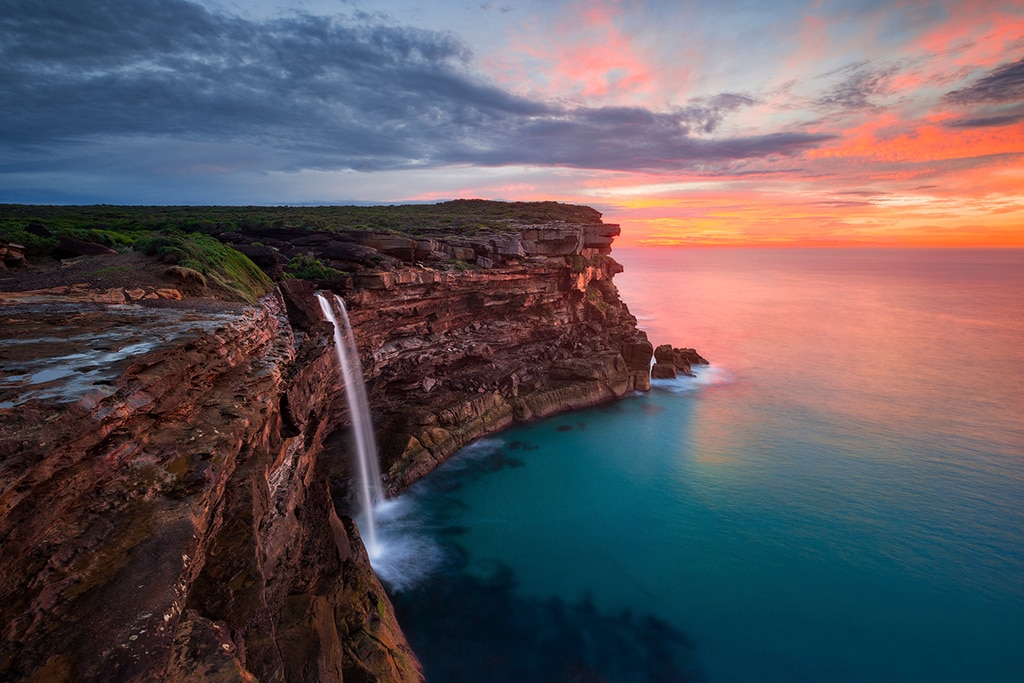 The Royal National Park is a treasure trove of adventures. Its many walks range from the coast's edge to hidden swimming holes inland. There are over 19 hikes to be attempted here but we're going to recommend the one that gives the grandest view in the park. This is the view at Curracurrong Falls. From Wattamolla Beach, the track to and from the iconic natural formation of Eagle Rock is 8.8 km (5.4 miles) and will take about 2 to 3 hours so be prepared for a workout.
The walk starts at a trail marked Providential Point and is mostly a boardwalk with some natural rock on your way to your destination. Plan your trip so that you arrive just before sunset to see the cliffs bathed in golden rays while the two cascades of the Curracurrong Falls pour into the ocean.
Don't forget to take a picture of yourself atop Eagle Rock. Just be careful at the edge as there aren't any railings (which admittedly does provide a better backdrop for photos).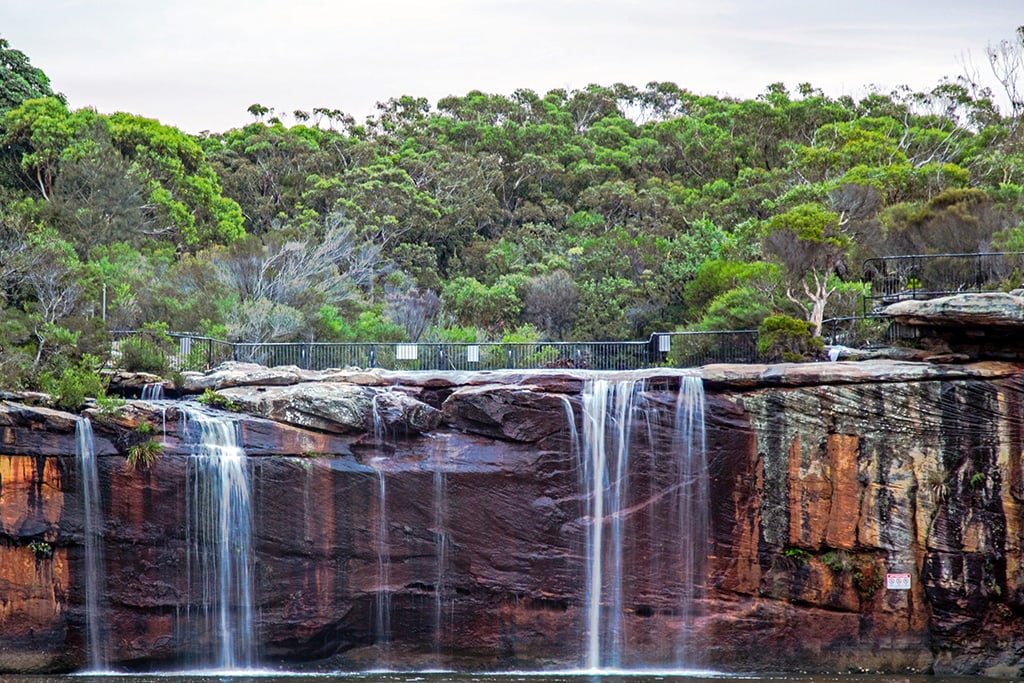 The easiest possible waterfall to visit is the Wattamolla Falls, located a minute from the car park. The lagoon is large and suitable for swimming. Though visitors dive into the water from the top of the falls, we recommend that you check the depth of the water as it changes throughout the year.
Australia Adventure: Neptune Islands, South Australia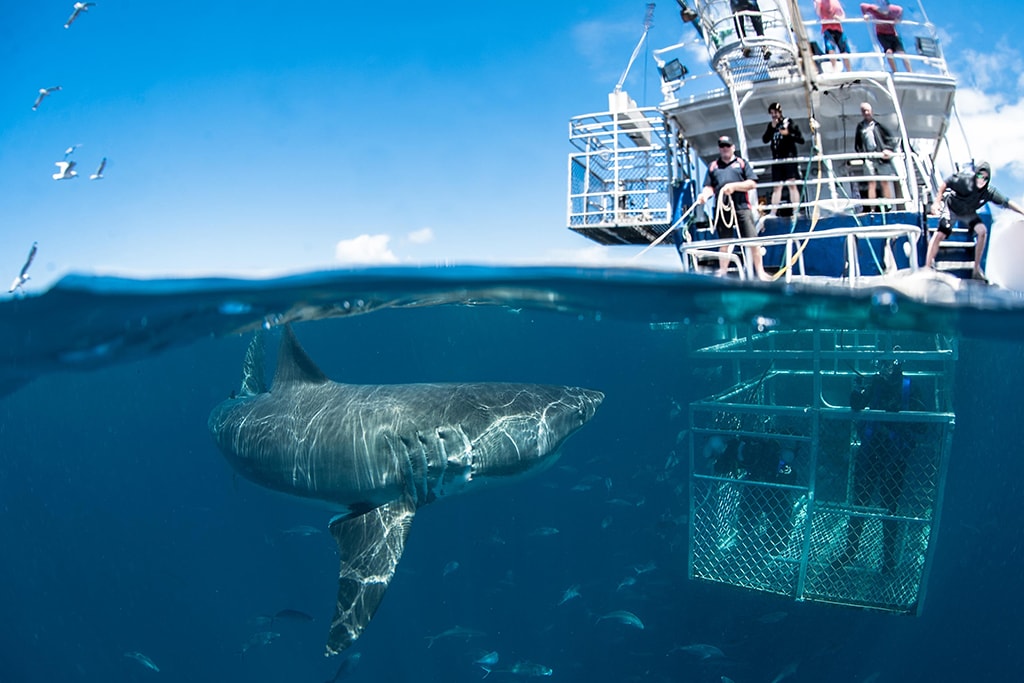 The Neptune Islands consist of two groups of islands close to Spencer Gulf's entrance. These islands are the only location for cage diving with great white sharks. To access the islands, you can take a boat from the city of Port Lincoln located about 70 km (43 miles) north of Neptune Islands. This port is accessible via a flight from Adelaide airport or an approximately 7.5-hour drive from Adelaide.
There are several operators that offer shark diving expeditions, such as Rodney Fox Shark Expeditions. Make sure your chosen operator is licensed. The Neptune Islands Marine Park prohibits landing on the islands. There are no facilities when you're out at sea so prepare your own food and water.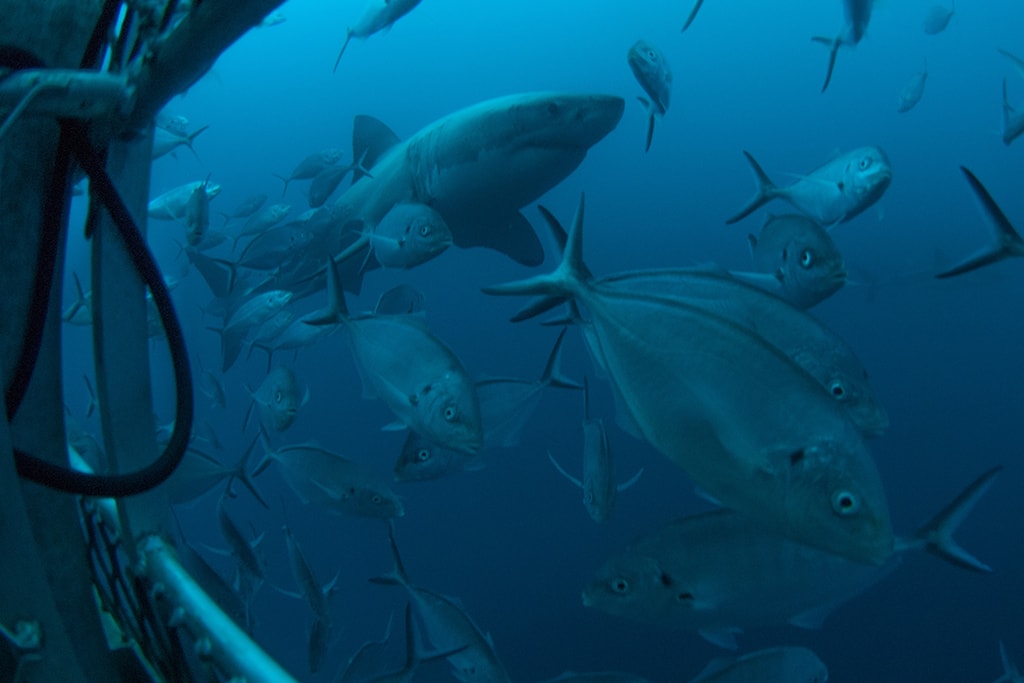 Male great whites that grow up to 5 metres inhabit the waters of the islands all year round. Long-nosed fur seal pups are born in summer (December to January) but don't start entering the ocean until winter (April to August). This is when the giant female great whites, measuring up to 6 metres, visit Neptune's.
Plan your trip accordingly and steel yourself to come face to face with these majestic creatures. If getting in the cage to see great white sharks sounds a bit much, you could consider another popular activity here—fishing around the southern Neptune Islands.
If you're looking for thrills without the frills, leave the planning of your Australian adventure to the travel pros. Let a tour manager cater to your needs and develop an itinerary that fulfils your wanderlust.
INSPIRED TO VISIT AUSTRALIA?

 You may also be interested in these articles: