Bhutan is unlike any other country on earth. This is already a compelling reason to visit but the cost of its sustainable development fee (SDF) of US$200 a day, levied on visitors when the country reopens on September 23, 2022, is undoubtedly expensive.  Visitors no longer have to join an organised tour but now, this landlocked Himalayan kingdom is among the most expensive travel destinations in the world.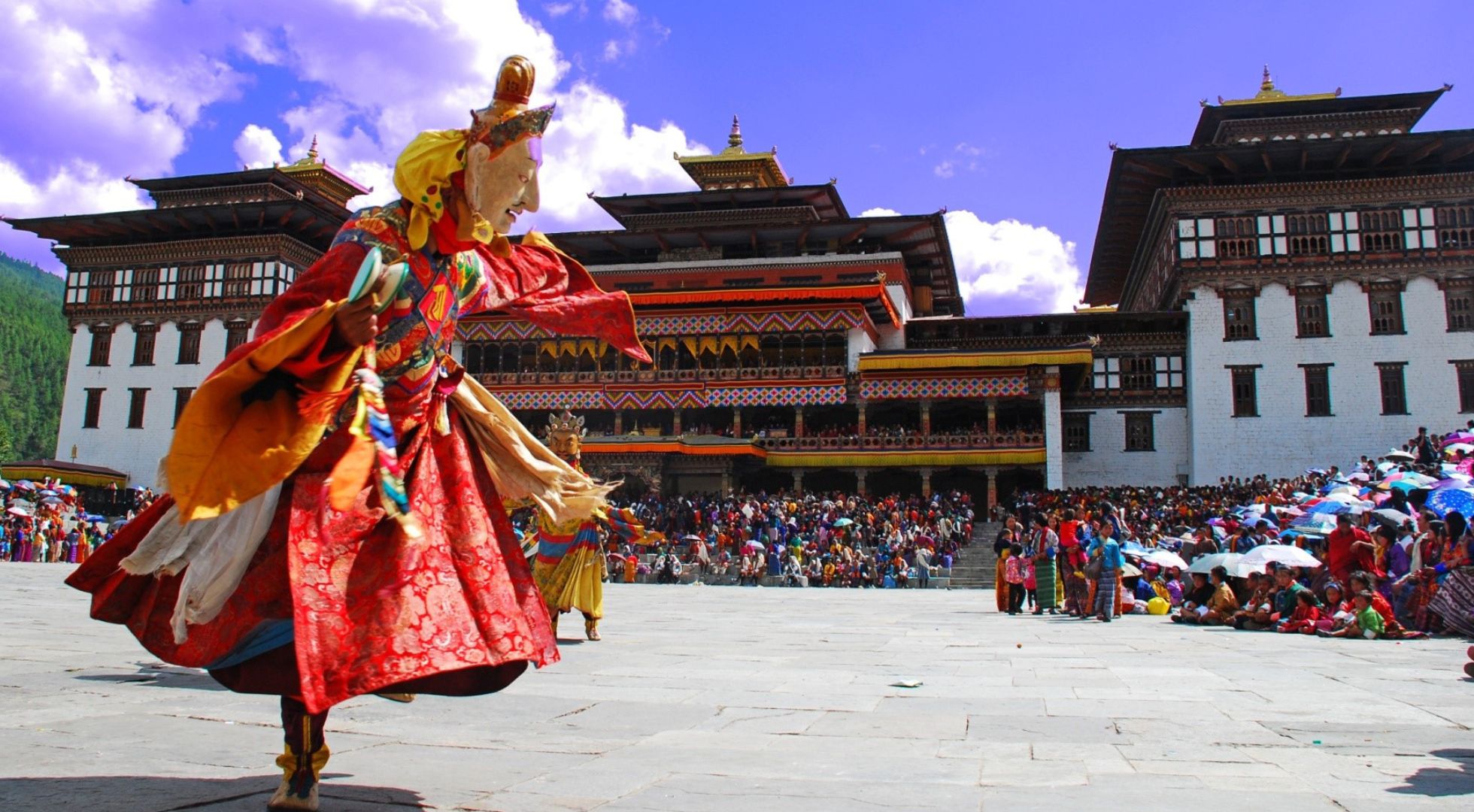 Is Bhutan travel cost worth it? 
Travel books say this immaculate green kingdom, in the Himalayas, is the closest place on earth to Shangri-La. Bhutan is all about living naturally with nature while adhering to traditional Buddhist culture. The SDF looks to preserve this way of living.
Unlike other countries, Bhutan has always been cautious about developing its tourism industry since its opening in 1974. Authorities aim to promote tourism in a sustainable manner which will protect their people and natural resources. As a result, this small country has become a leading green and sustainable destination in the world.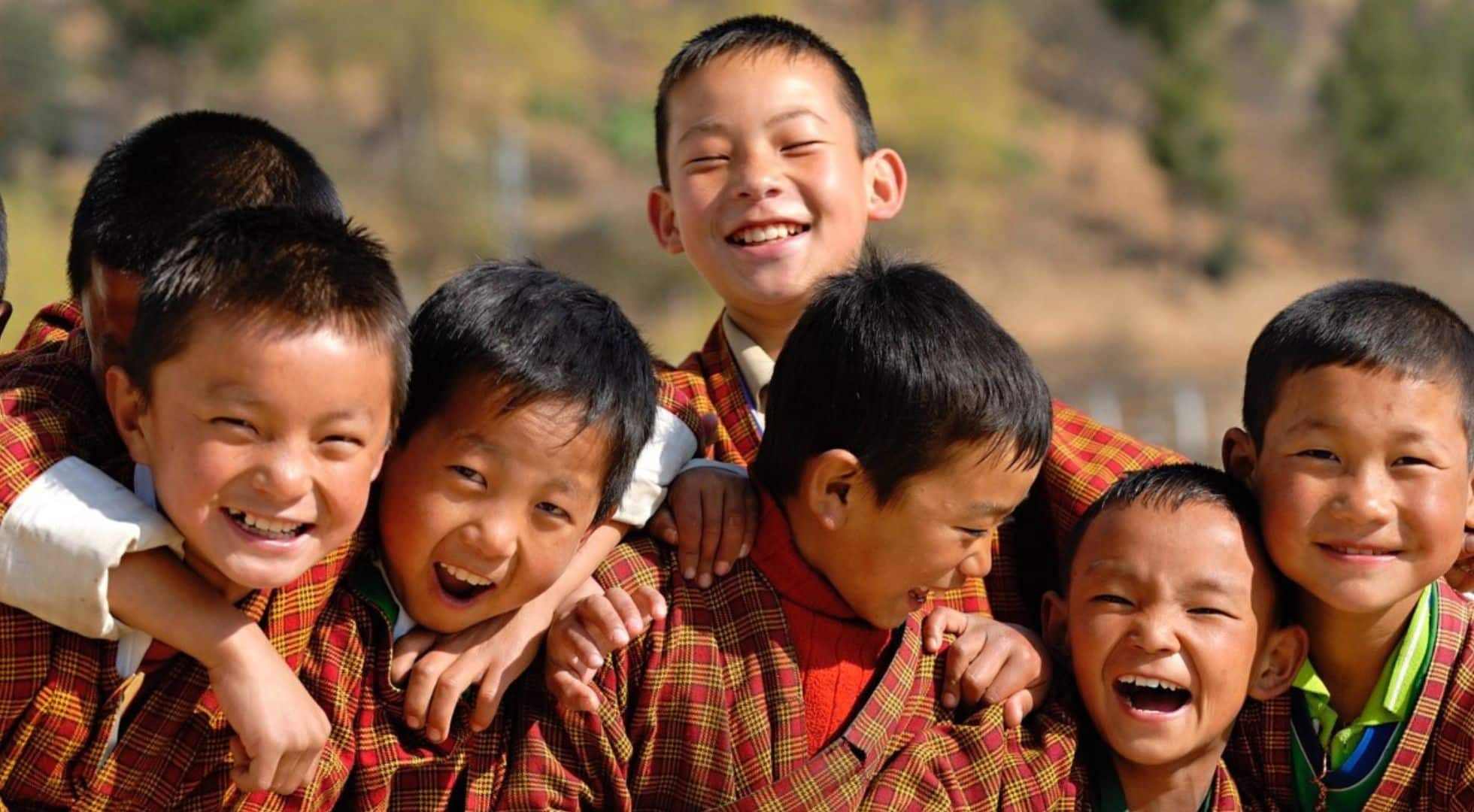 Tourism is guided by the principles of 'high value, low volume'. By managing the number of visitors, everyone receives  'great (high) value' for the fee they pay and their own space for happiness. Rest assured, you will not be spending time in traffic jams and queues.
Revenue collected for the SDF goes to the Bhutanese government. In the past, they used this to fund projects in environmental conservation and protection including investing in carbon-neutral infrastructure. As a visitor, you get a wonderful experience in an exceptional country. All visitors are accompanied by a professional, knowledgeable and reliable guide at all times. Guides keep visitors safe and ensure that everyone truly enjoys their trip,
Unlike any other country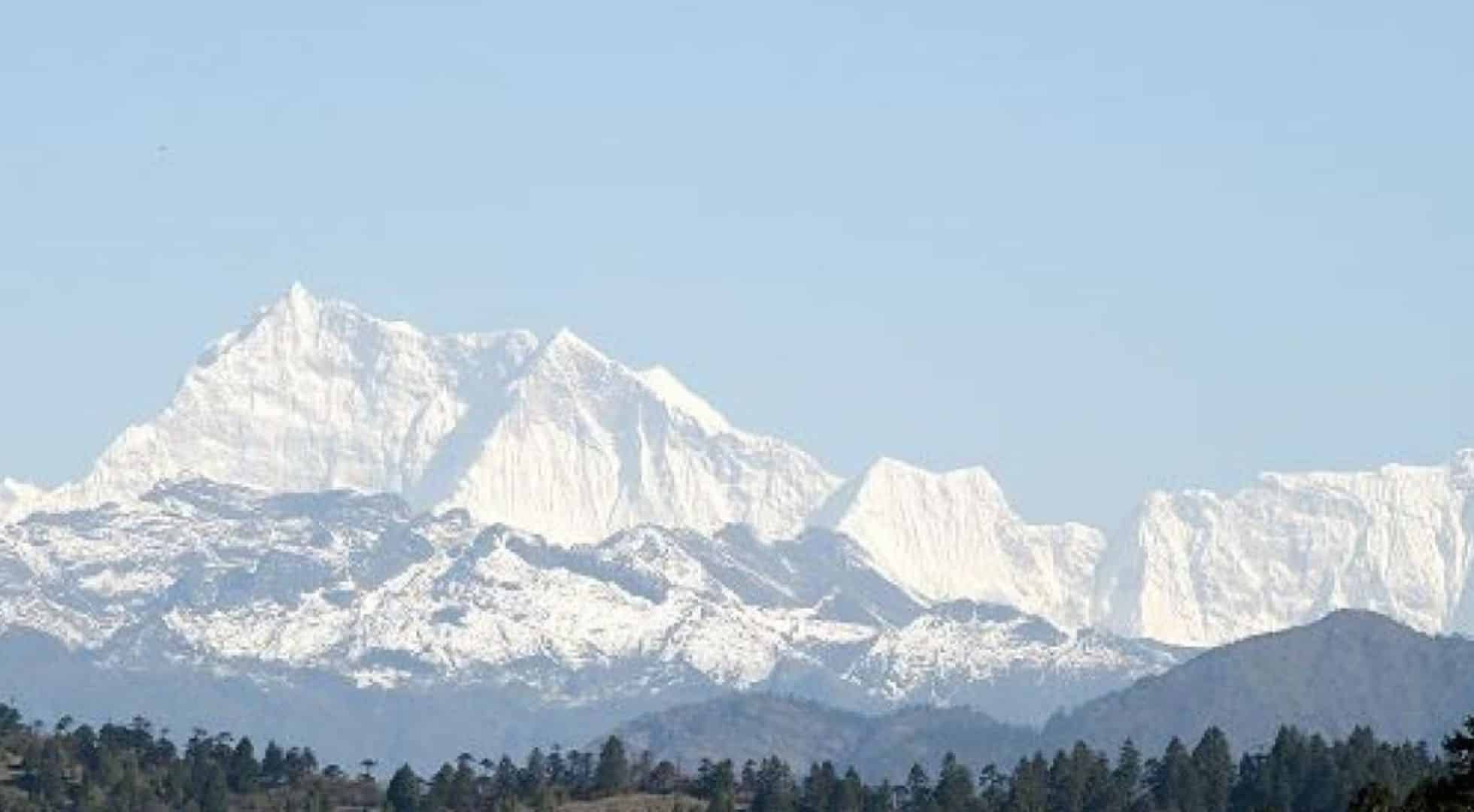 Here are a few reasons why Bhutan is unlike any other country:
Believed to be the only carbon-negative country in the world. The country's constitution mandates a 60% forest coverage. At present, 72.4% of Bhutan's land mass is forested, a rare home for flora and fauna to thrive.
There are no traffic lights. Traffic policemen direct traffic.
Living the pursuit of Gross National Happiness (GNH). This is a holistic and sustainable approach to development, which considers material and non-material values.
Pristine untouched mountains. Mountains are protected and preserved as abodes of Gods and mountaineering beyond 6000 metres is not allowed.
Home to Mount Gangkar Phuesum, 7570 metres above sea level, and the world's highest unclimbed mountain.
Spiritualism is a way of life for the Bhutanese and this is one of the most peaceful and safe countries in the world to visit.
Travel Requirements 
Visitors to Bhutan must produce a negative Covid-19 PCR test upon arrival. This test should be from a certified laboratory and completed within 72 hours before departing from the first country of your journey. Unvaccinated travellers need to produce a negative test result or a certificate of recovery from the coronavirus. Malaysians need a visa to enter Bhutan.
Bhutan Travel Guide: Recommended places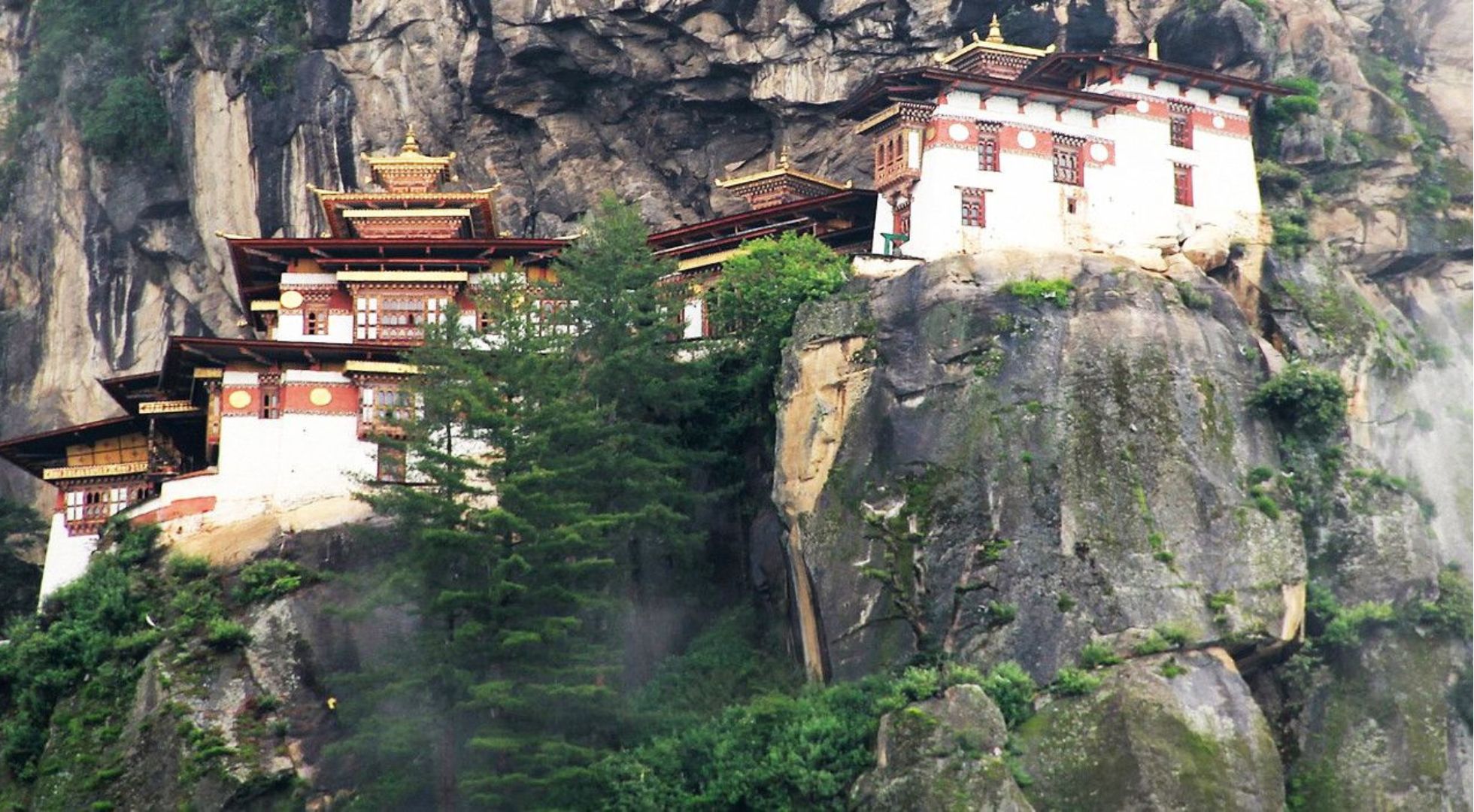 Recommended Visit: The Tiger's Nest
The remarkable Taktsang Lhakhang i.e., "The Tiger's Nest is a must-visit site. This is Bhutan's most iconic landmark and religious site. You are likely to see pictures of this temple in Bhutan's tourism brochures.
Taktsang Lhakhang sits in a cave and clings to a sheer cliff face about 900 meters above Paro Valley. According to legend, Guru Rimpoche flew to the site on the back of a tigress and meditated for 3 years, 3 months, 3 days and 3 hours to subdue evil demons residing in the cave. Now, the demons are gone and you can trek through beautiful, shady pine forests to get to the Tiger's Nest.  This trek takes between 2 to 3 hours depending on your fitness level.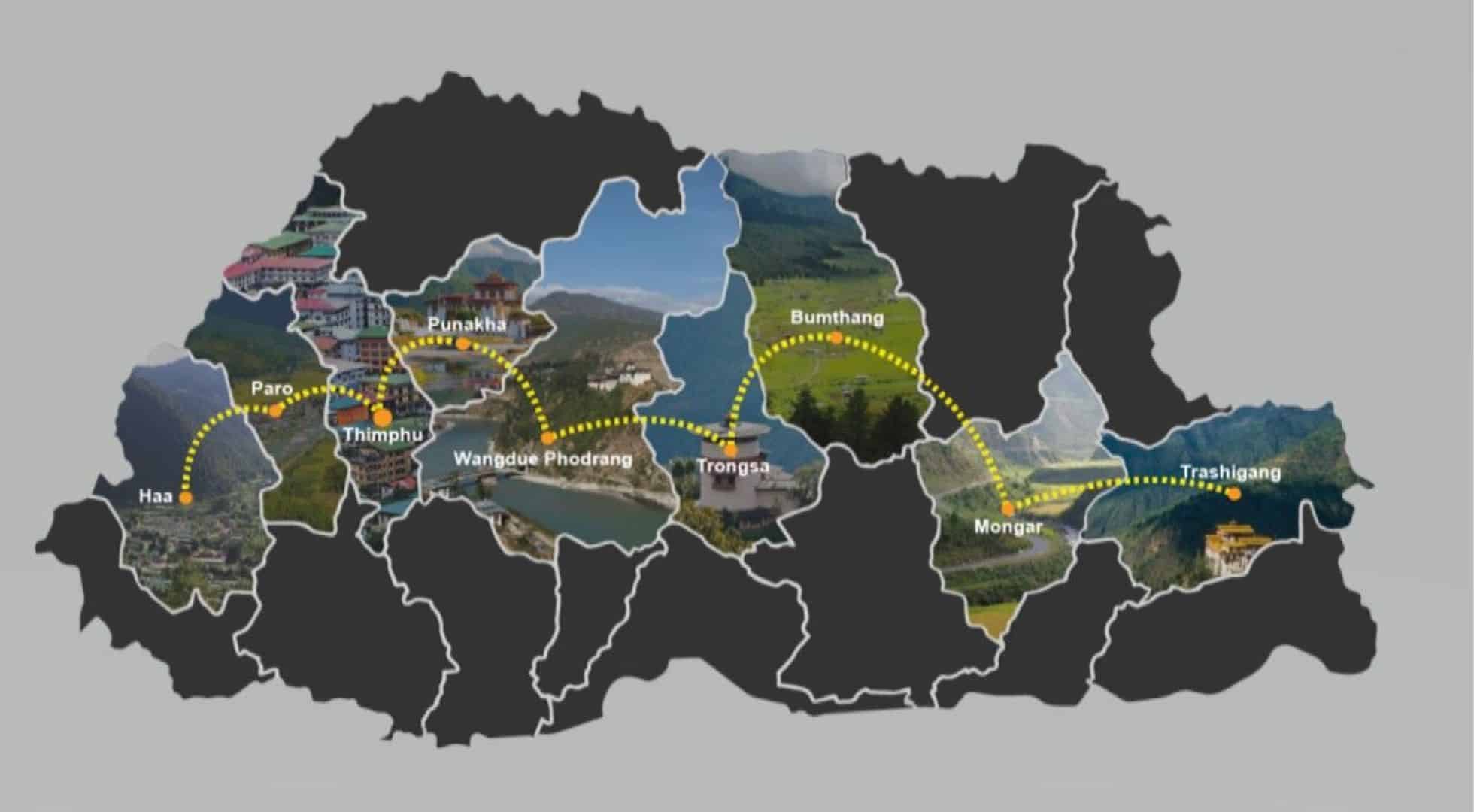 We highly recommended visiting the Trans Bhutan Trail, recently reopened by the Bhutanese authorities in early 2022. This 28-day trail goes from Haa (in the west) to Trashigang (in the east) and covers about 403 km (see picture above).  Bear in mind that this trail is not new. You are walking down history lane as the trail was an important route for trade and pilgrims for decades. During the health pandemic, this trail was restored with new pathways, bridges and signs.
Walk this trail or use a bicycle. Here, you can visit one national park and about 400 historic and cultural sites. Guides are compulsory but you can participate in activities such as biking, rafting, fly-fishing and yoga. You can also enquire about special programmes for bikers, marathoners, bird watchers, spiritual travellers, photographers and more.
Recommended stop for pictures: Dochula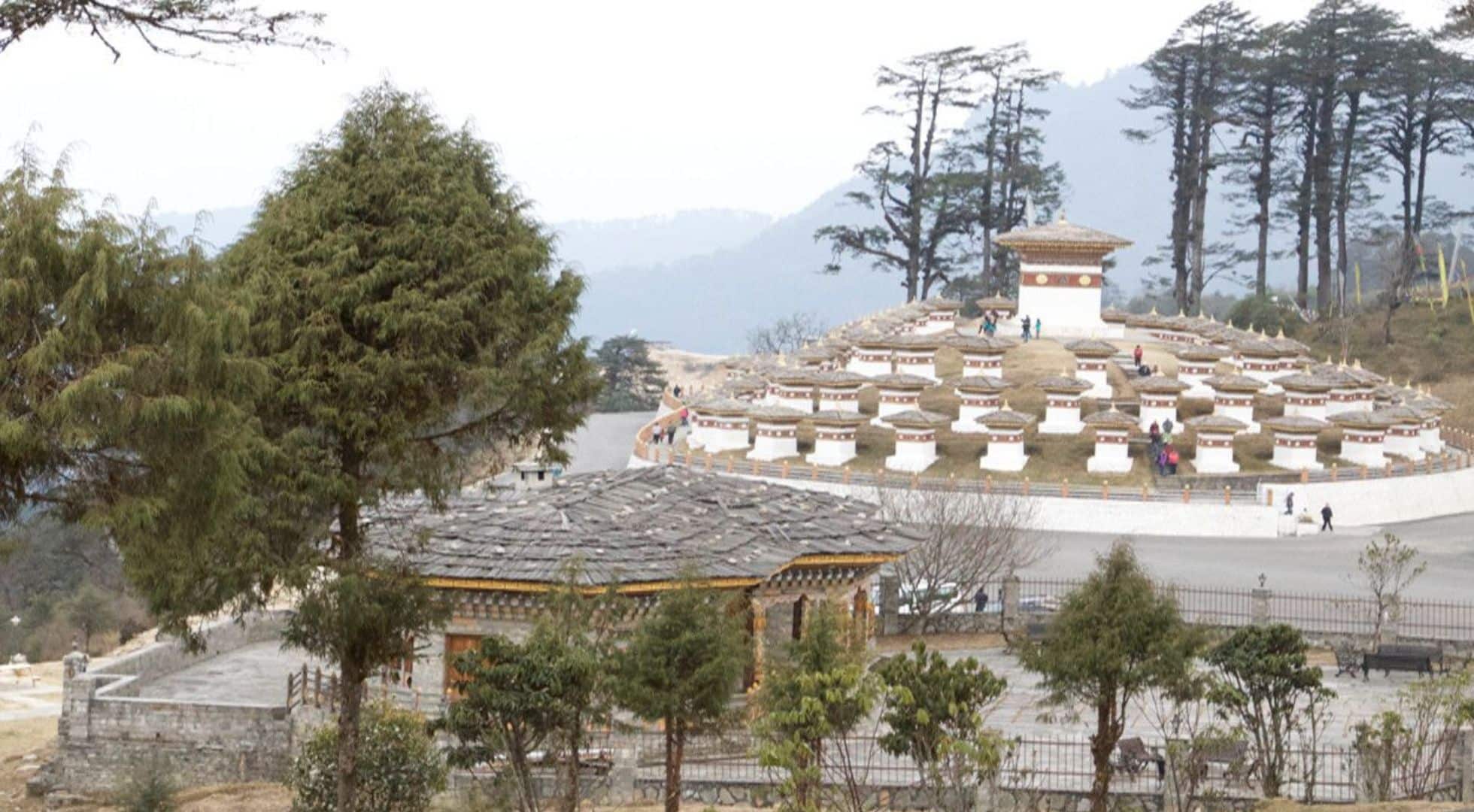 Dochula pass is a mountain pass and a popular location with a stunning 360-degree panoramic view of the Himalayan mountain range. It is one of the most beautiful mountain passes in the world.
Dochula has 108 stupas ( a war memorial built in honour of 108 Bhutanese soldiers who died during a military operation in 2003) against a backdrop of snow-capped mountains. You can find Bhutanese families picnicking here on weekends and during school holidays. For the best view of the Himalayas, look to visit this mountain pass between September and February.
Recommended village: Laya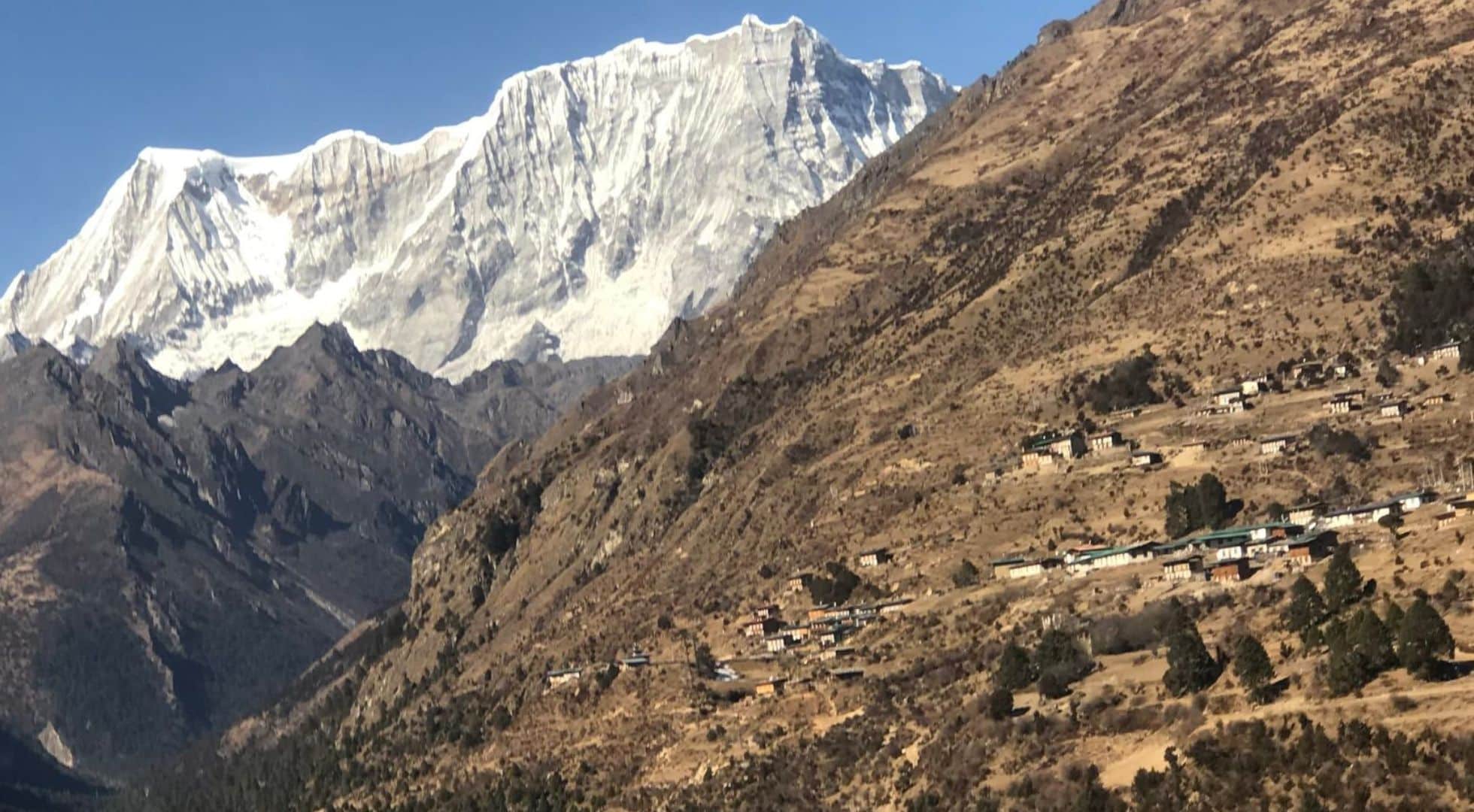 Those with an adventurous spirit should go on an offbeat trek to Laya, a tiny village that is also the highest settlement in this country. Laya has a collection of about 110 houses and you will be amazed at how a small pocket of people can survive in such a remote part of the country. The culture here is not found anywhere else in the world. The only way to access this village is via a two-day trek from the nearest town, called Gasa, which is around 28 km away from Laya. You can enjoy a beautiful view of Bhutan on this not-so-difficult trek of muddy paths.
Recommended Food: Everything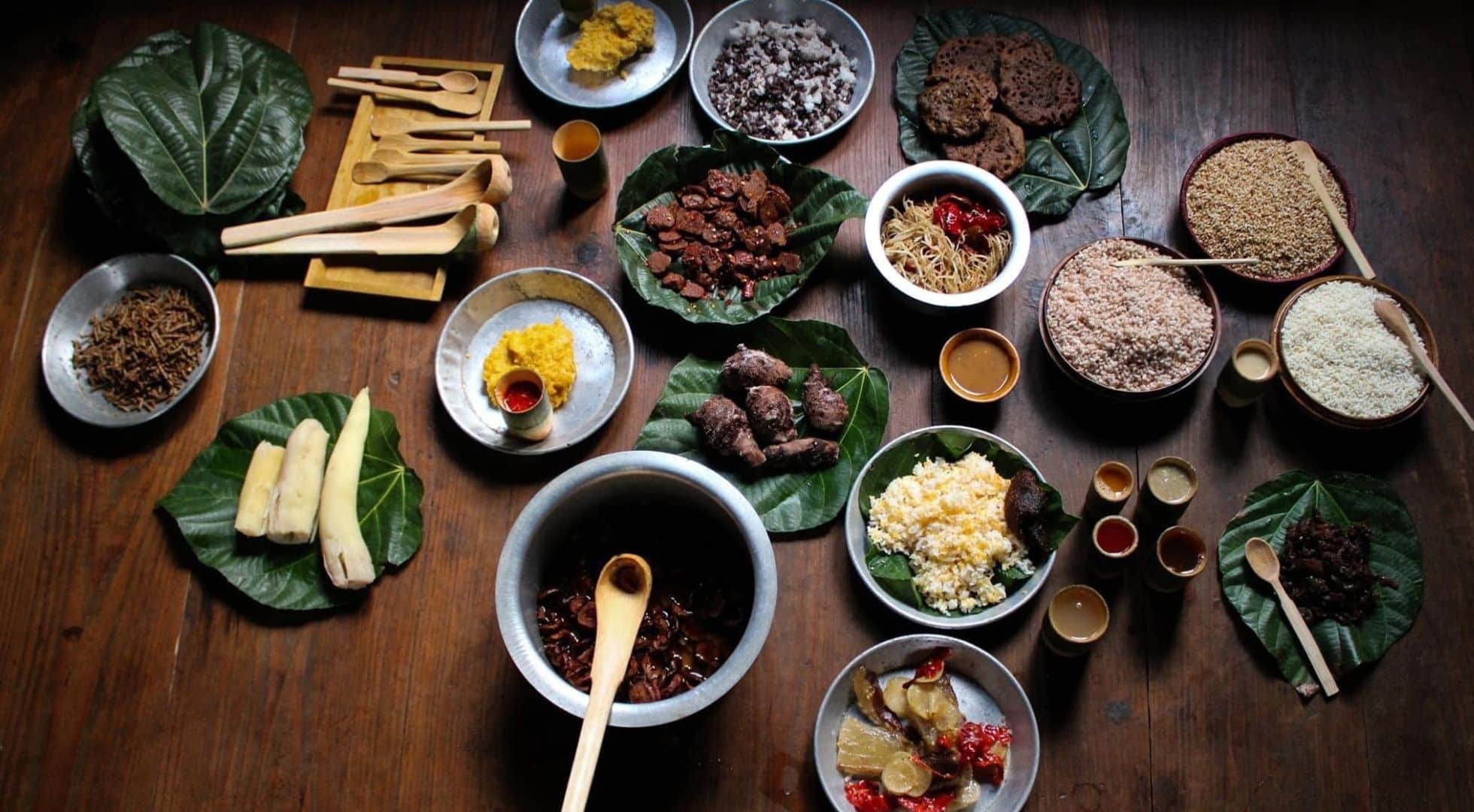 Bhutanese cuisine is largely locally-sourced and organic. Rest assured, you will be eating well. Note that Bhutanese love chilli and every dish seems to have large amounts of this spice. You can find chillies in different colours, shapes and sizes in every local market.
Ema in Bhutanese is chilli and the national dish is Ema datshi. This is a simple stew made of a variety of chillies and a special cheese, yak cheese, called datshi. Variations include potatoes (kewa datshi), beef, beans (semchung datshi) or mushrooms (shamu datshi). Ema datshi is served with red rice and take note that the chillies in this dish are usually really spicy. The most popular snack is momos (Tibetan-styled dumplings ) while popular beverages include butter tea, ngaja (milk tea), and black tea. You can also find locally brewed rice wine, ingenious craft beers and ara (a traditional alcoholic beverage).
READY TO visit Bhutan?
You may also be interested in: