The Kingdom of Cambodia, located in the southern portion of the Indochinese Peninsula in Southeast Asia, is often referred to by travellers as a hidden gem.
Your Cambodia travel will definitely be an unforgettable experience as you explore its beautiful tropical settings surrounded by mountain tops along the Tonle Sap and Mekong River, learn about the country's rich history, and meet with the locals – described as some of the warmest, friendliest people on the planet.
Let us start off with Phnom Penh, the buzzing and charming capital which is home to over 2 million people and also the country's political, economic and cultural hub.
4 Top Places To Visit In Phnom Penh
1. The Royal Palace
Phnom Penh became Cambodia's capital in 1866, beginning with the King moving to the city and ordering the construction of the Royal Palace near the riverfront. Today, gleaming in gold and a sight to behold, the majestic structure is one of the city's most splendid architectural achievements.
It is the official residence of the present King, and as such, not all of the Palace is open to the public. You can still visit the Throne Hall and its 59m high tower inspired by Angkor Wat's Bayon ( depicted below ) where coronations and official ceremonies take place; the open-air Dancing Pavilion which is occasionally used for classical Khmer dance performances, the glistening Silver Pagoda and a French-style building that was a gift from Napoleon III.
Gain insight into the captivating history of Cambodia's royal family from either the local guides or the palace's informational plaques. Do note that visitors must dress modestly, otherwise they will be required to buy a sarong covering at the entrance.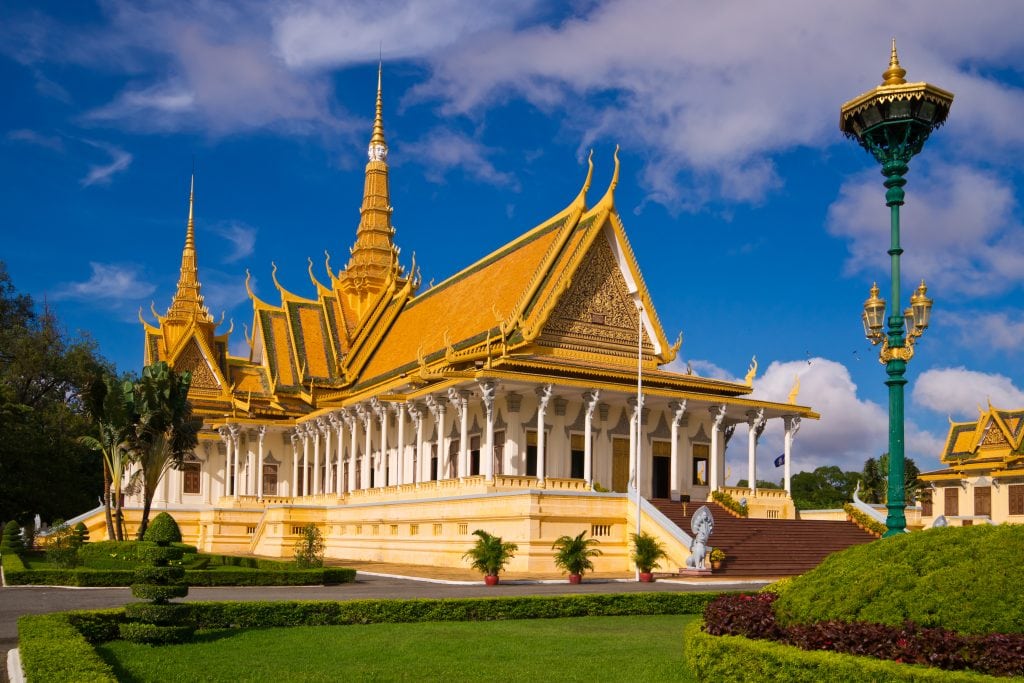 2. The Silver Pagoda
Located in the southern portion of the Royal Palace complex, you will find the Silver Pagoda, a glistening monument to the nearly 95% Buddhist population of Cambodia which houses thousands of Buddhas in various sizes, poses and materials.
The floor of the temple, which visitors are not allowed to walk on, is covered in over 5000 glittering silver tiles, weighing 1 kg each, symbolizing a gift to Buddha. Going up the grand staircase of the pagoda, you will come across the Emerald Buddha, sparkling with 2086 diamonds and a small glass cabinet that contains what the Buddhists believe are the ashes of the Buddha.
Note that photography is not allowed inside. However, visitors are free to relax and take in the beautiful scenery or sit for a while on the carpeted floor and meditate in the uber-zen surroundings.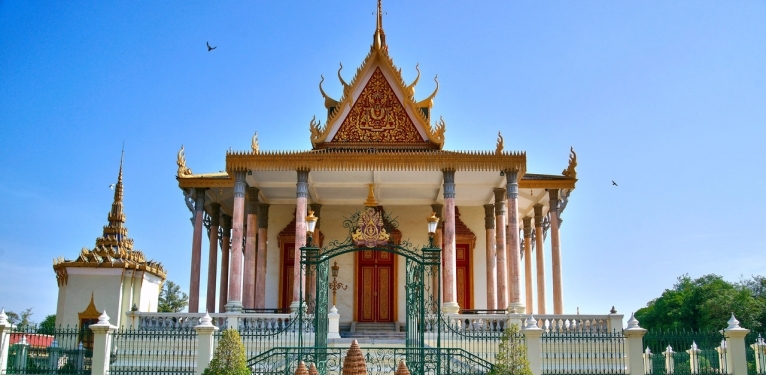 3. The Russian Market
The Russian Market in the heart of Phnom Penh got its unique name from the 1980s when most of its visitors were Russian expatriates who lived in the area.
Described as truly a local's market with just about everything under one roof, get your Cambodia travel souvenirs here. Choose from elephant pants, Khmer scarves, woven silk, ceramics and woodworks just to name a few. Munch on Cambodian snacks like grilled banana, or fried crickets and silkworms for the more adventurous. Try Prahok – a national dish that is fermented fish paste mixed with herbs and lemongrass with a side of jasmine rice.
Wash it all down with one of Mr Bounnareth's famous iced coffees, the undisputed 'Best Iced Coffee in Phnom Penh', the sole reason why many people will make a trip to the Russian Market. Having been around for over 30 years, Mr Bounnareth has truly mastered the sweet rich notes of classic Khmer iced coffee, but sugar alert – Cambodians are notoriously sweet-toothed so start with tiny sips !
Stay on till the evening, when the parking area of the Russian Market is transformed into an eating haven with all kinds of seafood stalls serving up Cambodian specialties.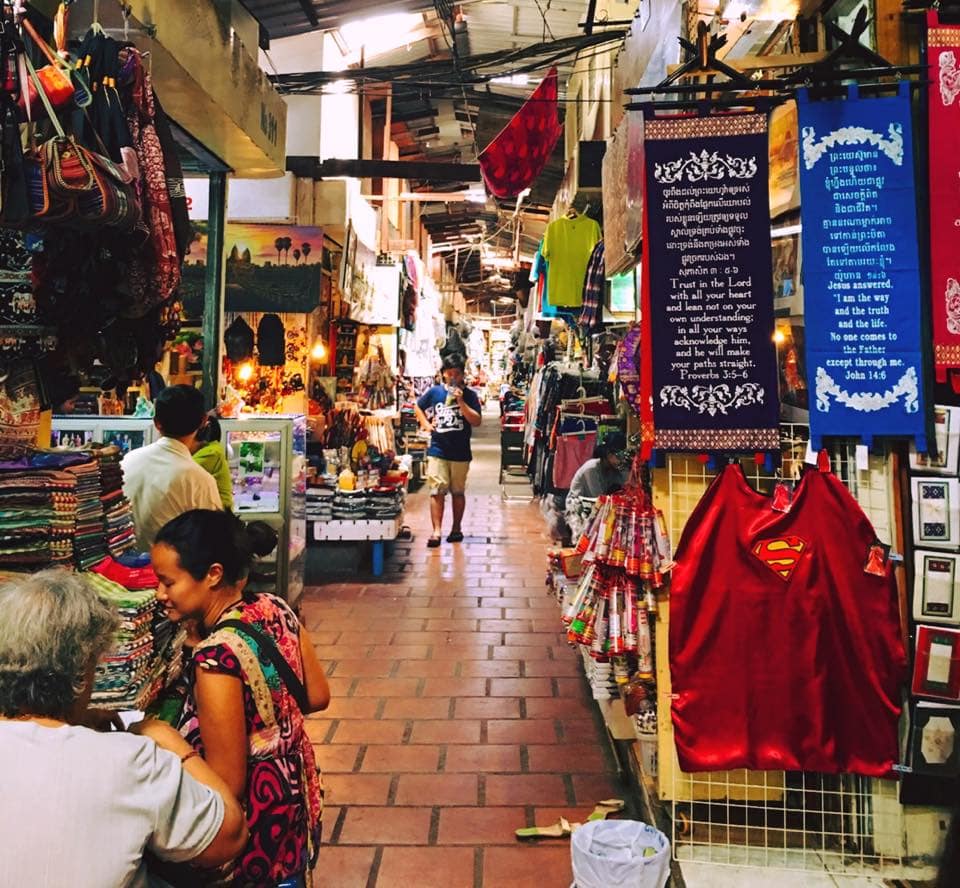 Bring back mementos galore as keepsakes of your Cambodia travel from the Russian Market | Credit : Russian Market
4. Phnom Tamao Wildlife Rescue Centre ( PTWRC )
In 2007, a baby elephant was found wandering alone in the forest in Northeast Cambodia. He had lost his foot to a poacher's snare and was also gravely ill and severely malnourished.
Today, Chhouk (meaning lotus in Khmer) has a state-of-the-art prosthetic foot and lives happily with his adoptive mother Lucky the Elephant at the PTWRC, around 40km south of Phnom Penh.
At PTWRC, no animal in need is ever turned away. The centre currently houses over 1,200 rescued animals from 102 species including endangered Asian elephants, tigers, Malayan sun bears, Pileated gibbons, Siamese crocodiles and many more. These animals have been rescued from the illegal wildlife trade, and receive specialized care before being released back into the wild once they are deemed ready.
Visit PTWRC and support their worthy cause as you do so. Tour packages are available which  combine round-trip transport with admission fees, and also feature perks such as seeing how the centre's carers use gentle reward-based positive reinforcement when changing Chhouk's prosthetic foot.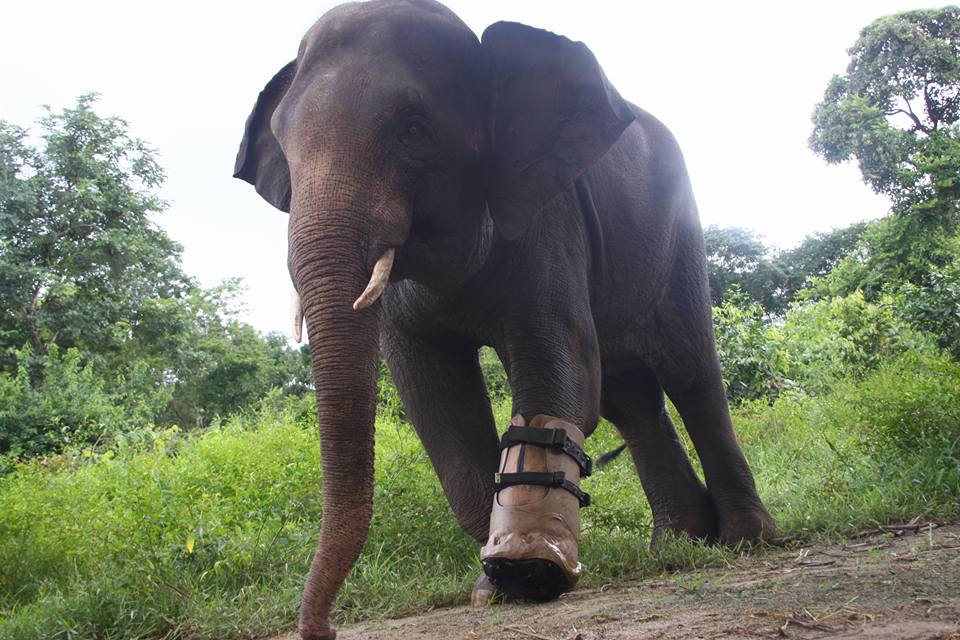 One of Phnom Tamao Wildlife Rescue Centre's stars, Chhouk with his prosthetic foot | Credit : Wildlife Alliance
3 top places to visit In Siem Reap
1. Angkor Wat
No Cambodia travel is complete without making a trip to Siem Reap – the country's second largest city and home to one of the greatest ancient wonders of the world – Angkor Wat.
The largest temple complex in the world is a UNESCO World Heritage Site and even features on Cambodia's flag (the only flag in the world which features a building).
Angkor Wat was built in the 12th century by Khmer Kings – an amazing feat as it was done without technology and much machinery, and over the span of more than 30 years. Made up of over 1,000 complexes and ruins, it takes days to explore and to immerse in its wonder.
The most famous temples are Bayon – covered with smiling faces, and Ta Phrom – made famous by Angelina Jolie's Tomb Raider movie.
To visit Angkor Wat, join an organised trip or opt for a self-tour. There's also options for the more adventurous like touring via motorbikes or cycling around the temple complexes.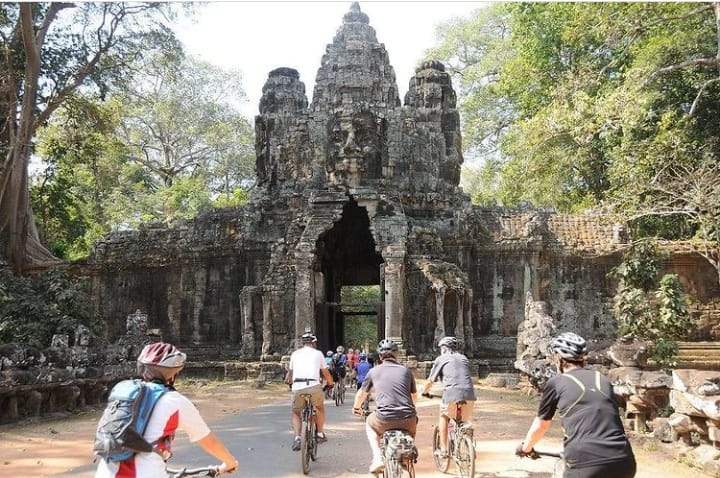 Pro Tip : The best lighting conditions for photos are after 2pm. Also, bring along lots of water, wear a hat and sunscreen.
2. Tonle Sap Lake Floating Village
Experience the unique local way of life on Tonle Sap Lake – the 10,000 square km lake is the largest freshwater lake in Southeast Asia and one of most diverse and productive ecosystems in the world.
Here, there are more than 170 floating villages with a population of 80,000 locals who live in houses built on tall, wooden stilts with their means of transportation via boats. The villages are complete – they have their own schools, grocery stores, hospitals, police stations and even a church – all on water.
Enjoy a small boat cruise around a floating village, lotus fields and floating crocodile farm. Then climb aboard the magnificent Queen Tara, the biggest boat on the lake cum floating restaurant, where you can watch the Cambodian sunset over unlimited cocktails and a sumptuous buffet dinner.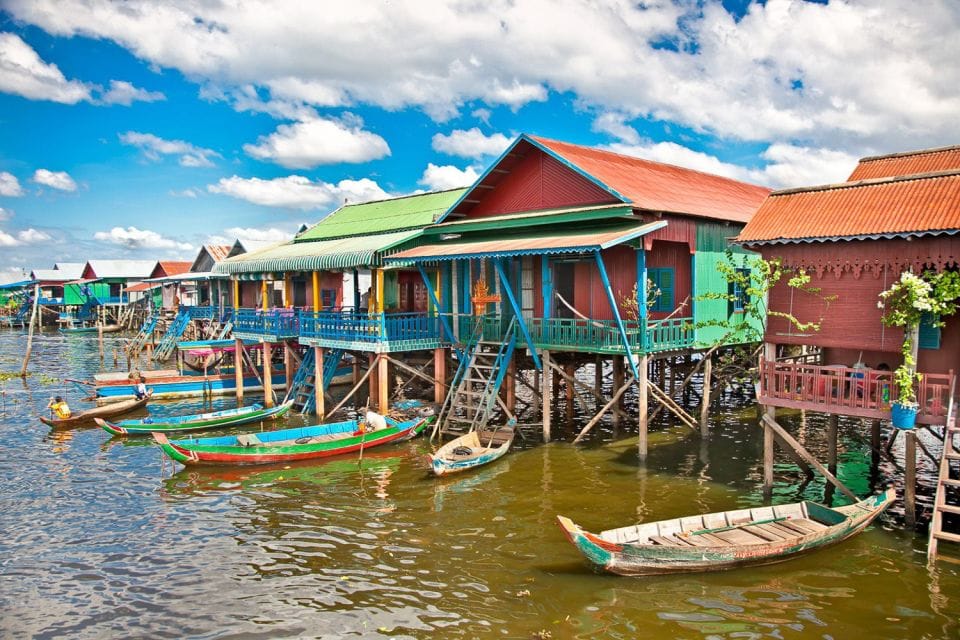 3. Phare : The Cambodian Circus
Phare, Cambodia's very own version of the Cirque du Soleil is a must-see experience as part of your Cambodia travel.
Located behind the Angkor National Museum, the high-energy captivating performances are helmed by immensely talented Cambodian youths and are a mixture of Cambodian folklore storytelling , circus acts, acrobatics, dancing and acting.
Going to the show also means supporting the Phare School, a charitable organization set up to teach thousands of Cambodian youth circus skills that will lead to them gaining employment.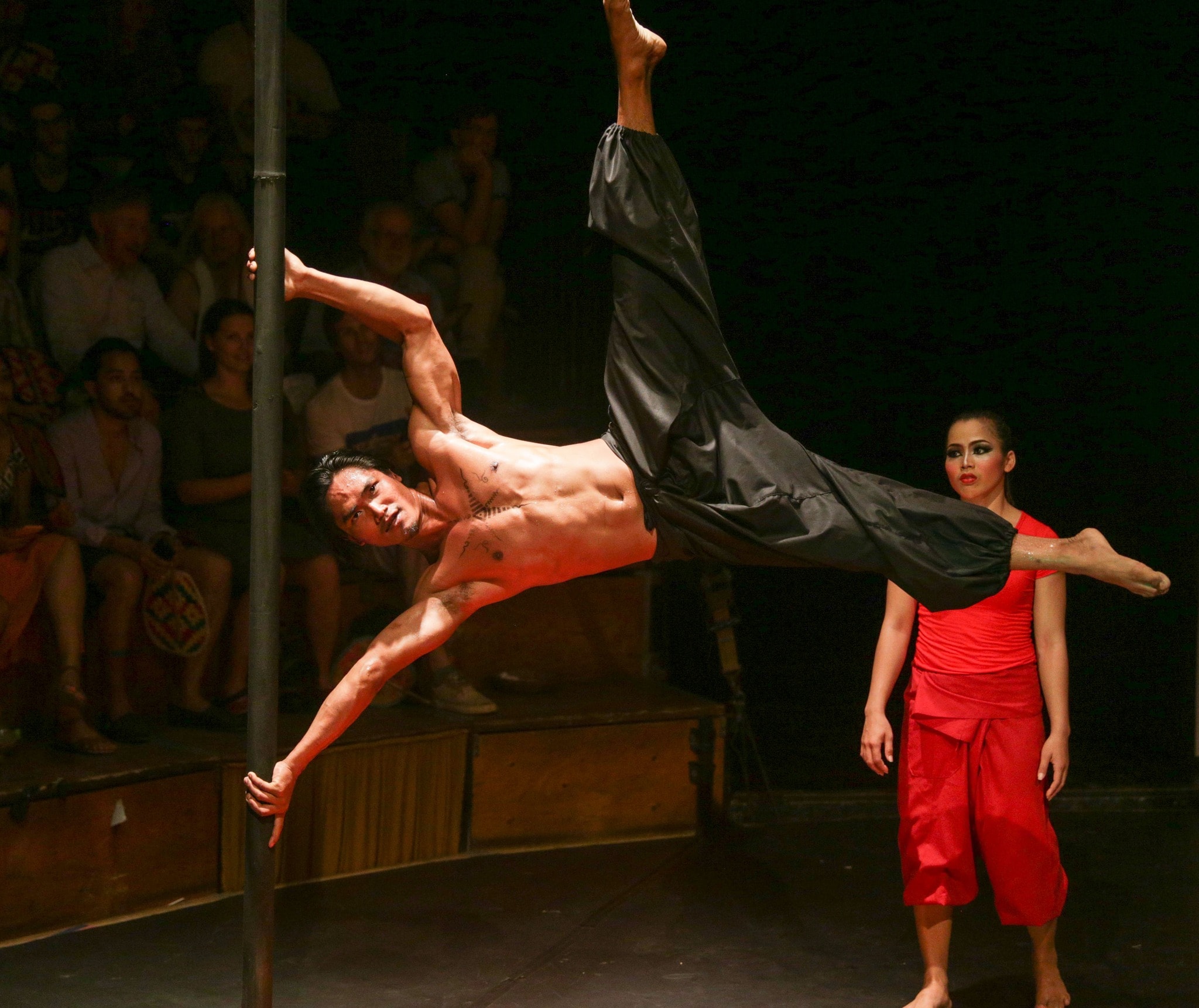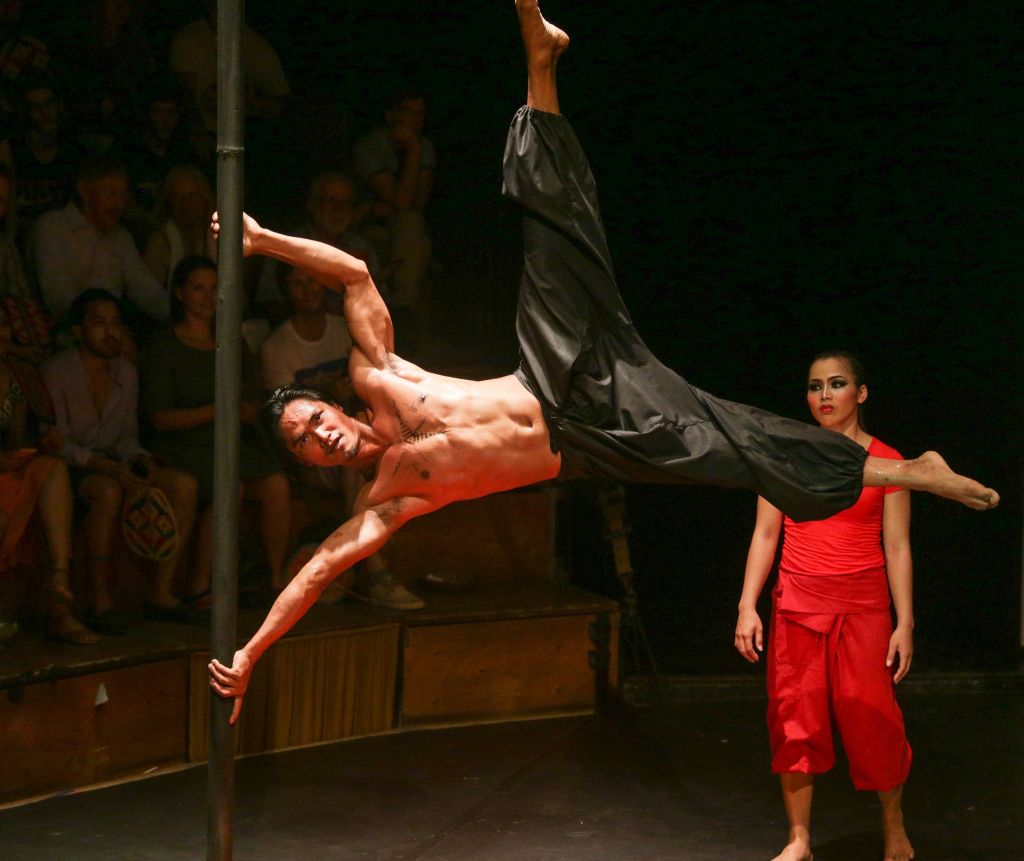 ARE YOU READY FOR CAMBODIA travel?
You may also be interested in: