In Vietnam, Ho Chi Minh City in the south and Hanoi, the capital in the north, are the country's two most famous destinations. They boast a whirlwind of sights, tastes and sounds—and after taking in the hustle and bustle, try a change of pace in the outskirts of the cities. From the verdant countryside, national parks and floating villages to historical experiences, pagodas and beaches, there's always more to see.
This Vietnam travel guide will explore the best day trips to cover what this wonderful country offers. Rest assured, you'll be glad you made an effort.
Best Day Trips From Ho Chi Minh City
1. Cu Chi Tunnels
A must-do day trip for Vietnam travellers is to visit the Cu Chi Tunnels. Located on the northwestern fringes of greater Ho Chi Minh City, the Cu Chi Tunnels network is over 250 km long and was used by the Viet Cong to evade American and South Vietnamese forces during the Vietnam war. There are two entrances, Ben Dinh and Ben Duoc, 35 km and 70 km away from Ho Chi Minh City, respectively. At 100 hectares, the Cu Chi Ben Duoc Tunnels are five times bigger than the Ben Dinh tunnels at 17 hectares but are less touristy.
When you get there, a guide will take you through the war's history and the traps and techniques used by the Viet Cong. Climb these tunnels for a hands-on experience and to envision the Vietnamese soldiers' harsh living conditions during the war. Note that though they have been widened for tourists, it is still not a recommended activity if you are claustrophobic, have high blood pressure or experience breathing problems. There are also re-enactment zones, historical landmarks and a shooting range where you can handle weapons used during the war under supervision.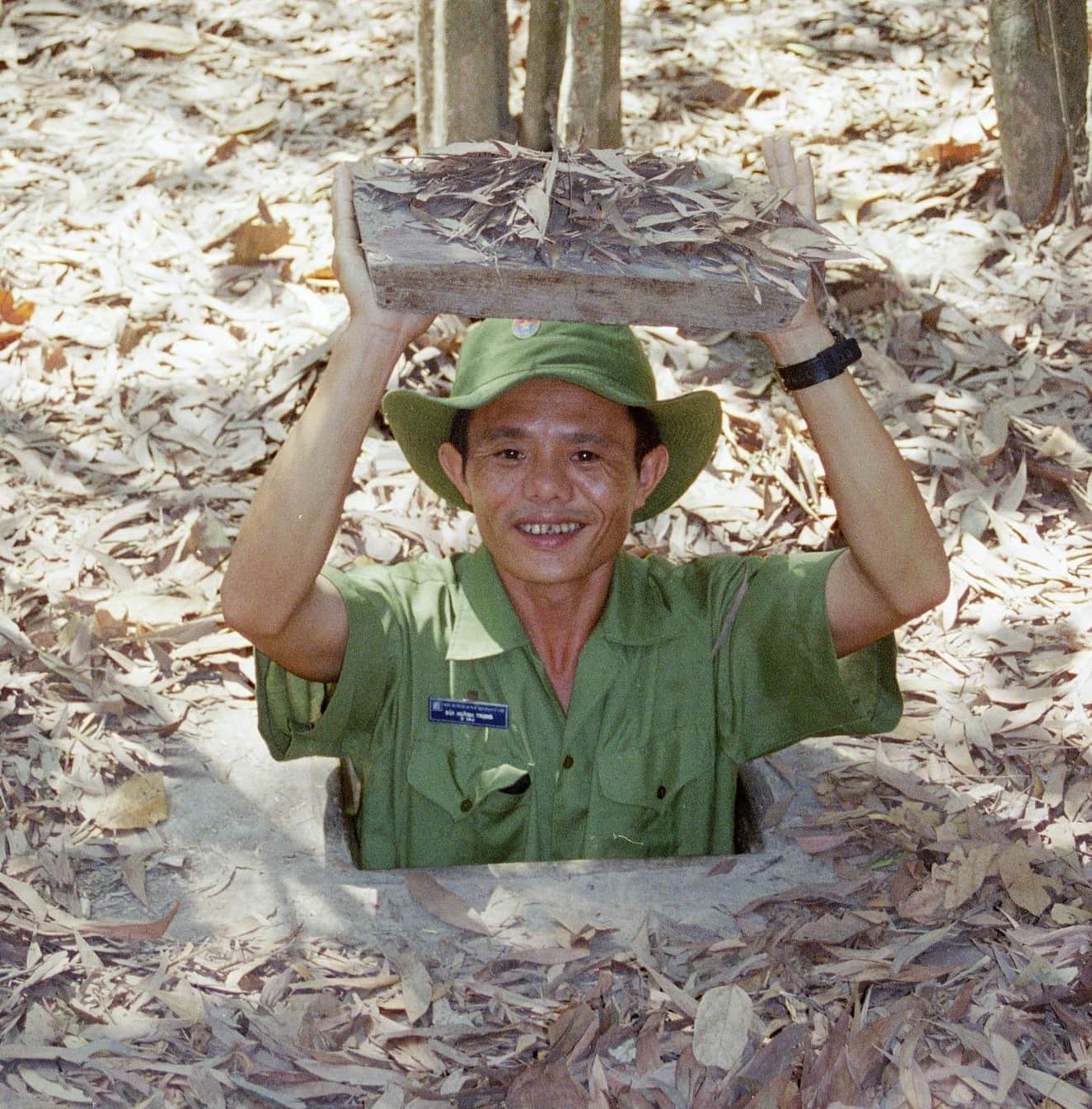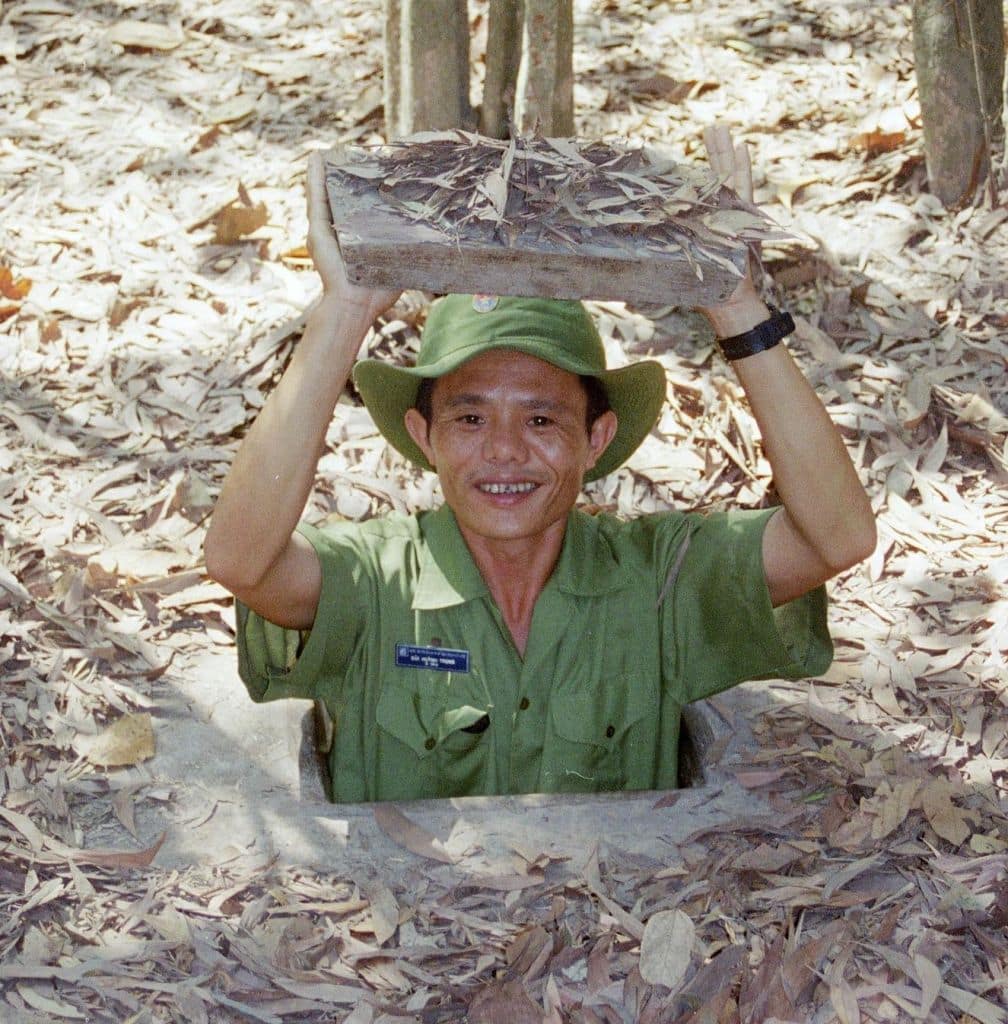 Did you know? The Cu Chi Tunnels are listed among:
Top 7 Must-Visit Epic & Adventurous Places in Southeast Asia (The Travel)
Top 12 Most Spectacular Underground Works in the World (CNN)
One of the World's Coolest Places (The New York Times)
2. Tan Lap Floating Village
For peaceful green surroundings away from the bustle of Ho Chi Minh City, take a trip to Tan Lap Floating Village. Hailed as "Bali near Ho Chi Minh" and nominated as one of the top 10 most popular eco-tourism areas in Vietnam, Tan Lap Floating Village is located in the province of Long An 15 km south of the Cambodian border and takes around two hours' drive from Ho Chi Minh City.
Though named a floating village, Tan Lap covers an area of more than 135 hectares of the pristine natural landscape. One of the major attractions is its large cajuput forest, with a narrow 5 km path running through the trees. It is more interesting to come during the wet season as the waters come right up close to the platform, but be sure to call and check beforehand as the path may be submerged in water.
Walk around or rent a bike to explore the beautiful surroundings at your own pace. There are a variety of tours too, such as a cable boat trip to go along the cajuput forest or a visit to a watchtower for panoramic views of the vast wetlands. There's also a pretty sunset bird-watching tour and fishing tours where you can try specific equipment the locals use.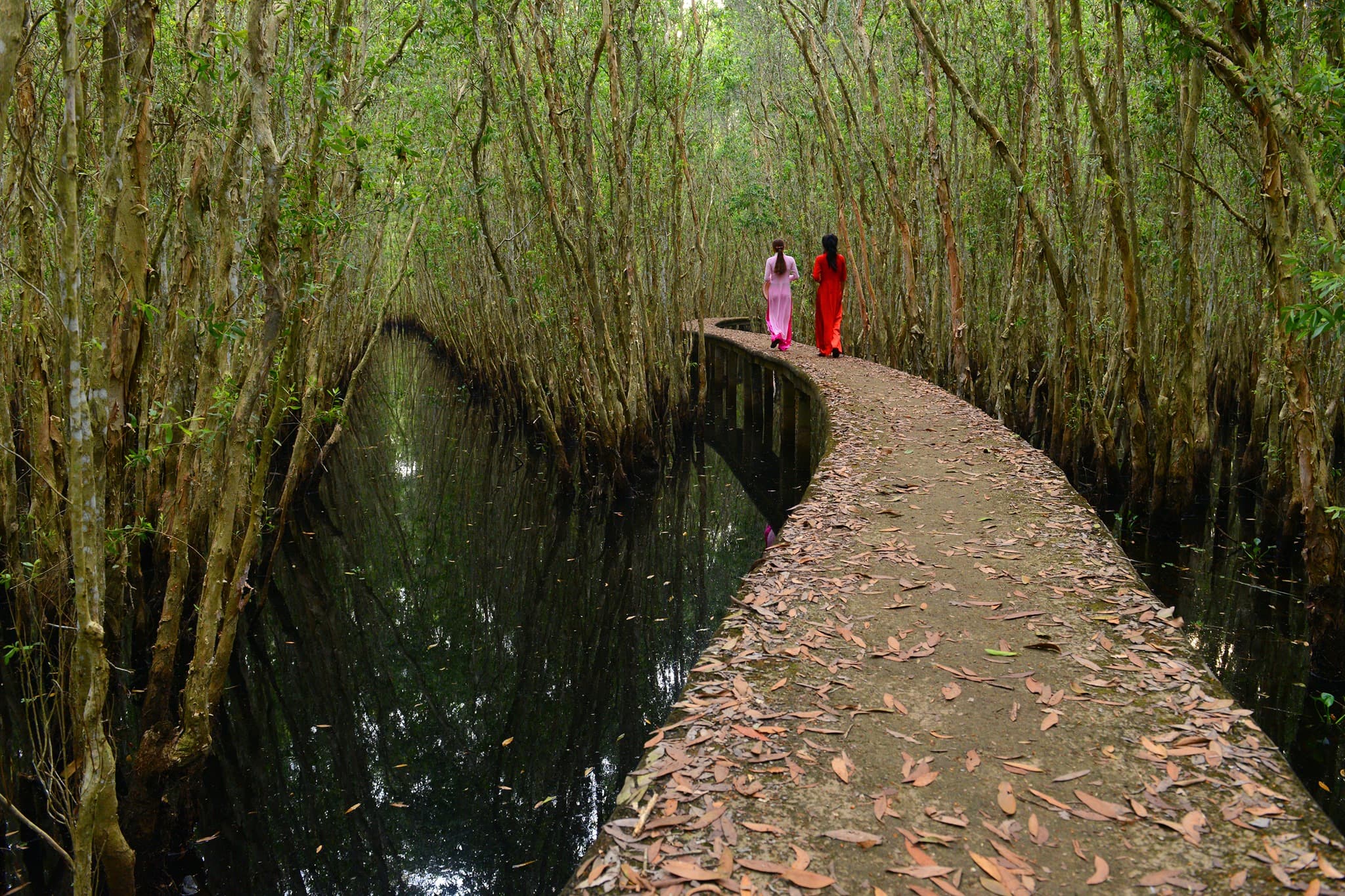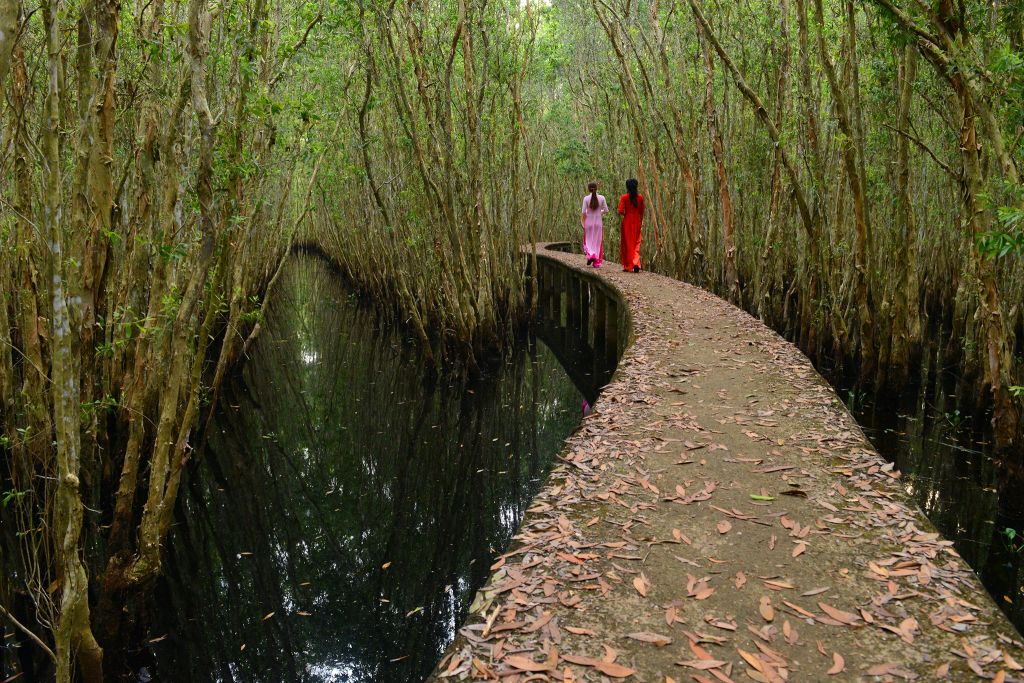 3. Cat Tien National Park
For nature lovers, one of the popular destinations among Vietnam's national parks in the Cat Tien National Park. Located northeast of Ho Chi Minh City, the park can be reached in 3-4 hours by car. Booking in advance is a must, as the number of visitors is limited to protect the area. Accommodations there range from simple bamboo huts to luxe lodges and are set amidst the forest, giving visitors many opportunities to see the park's many wild inhabitants.
The park's wildlife includes gibbons, langurs, elephants, clouded leopards and sun bears. There are majestic waterfalls and over an incredible 1,600 botanical species. Adventure lovers can indulge in boat trips, biking and off-the-beaten-path trekking, whilst culture lovers can learn about the local communities within the National Park, including the Chau Man and Stieng people.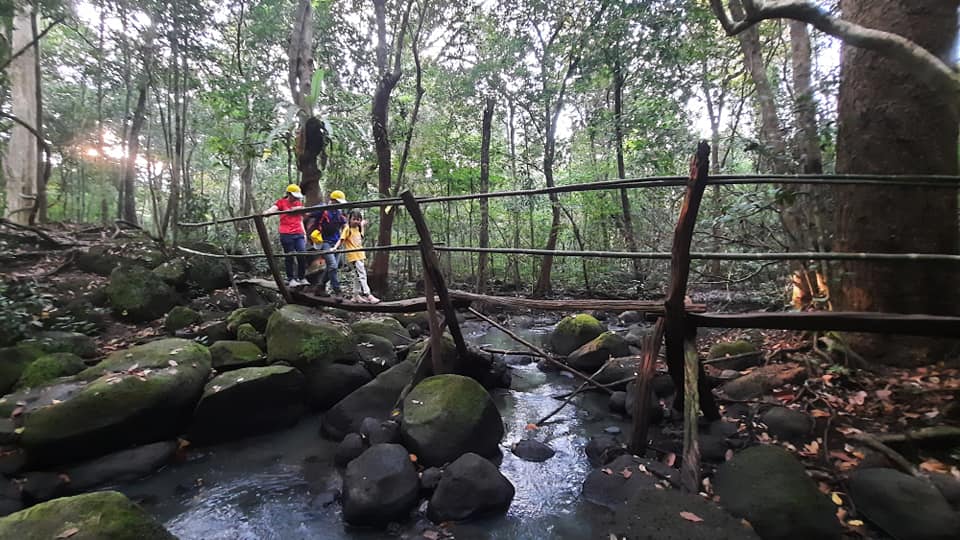 4. Vung Tau beach 
For the average Vietnam traveller, Nha Trang and Pho Quoc may be the more famous beaches. But the closest beach to Ho Chi Minh City is Vung Tau, just a two-hour drive southwest of the city. Alternatively, you can get there by boat. There are two main beaches, one on each side of the peninsula. Front Beach is best for sunbathing and swimming whilst Back Beach is great for sunset-watching and surfing.
Besides beach activities, you can rent a motorbike and cruise around Vung Tau. Hike up 133 steps to the largest statue of Christ in Vietnam (36 m), enjoy panoramic views of the city, and visit the lighthouse, one of the oldest buildings in the city. There's the Dinh Mountain (or Nui Dinh), where you can do some hiking and explore its waterfalls.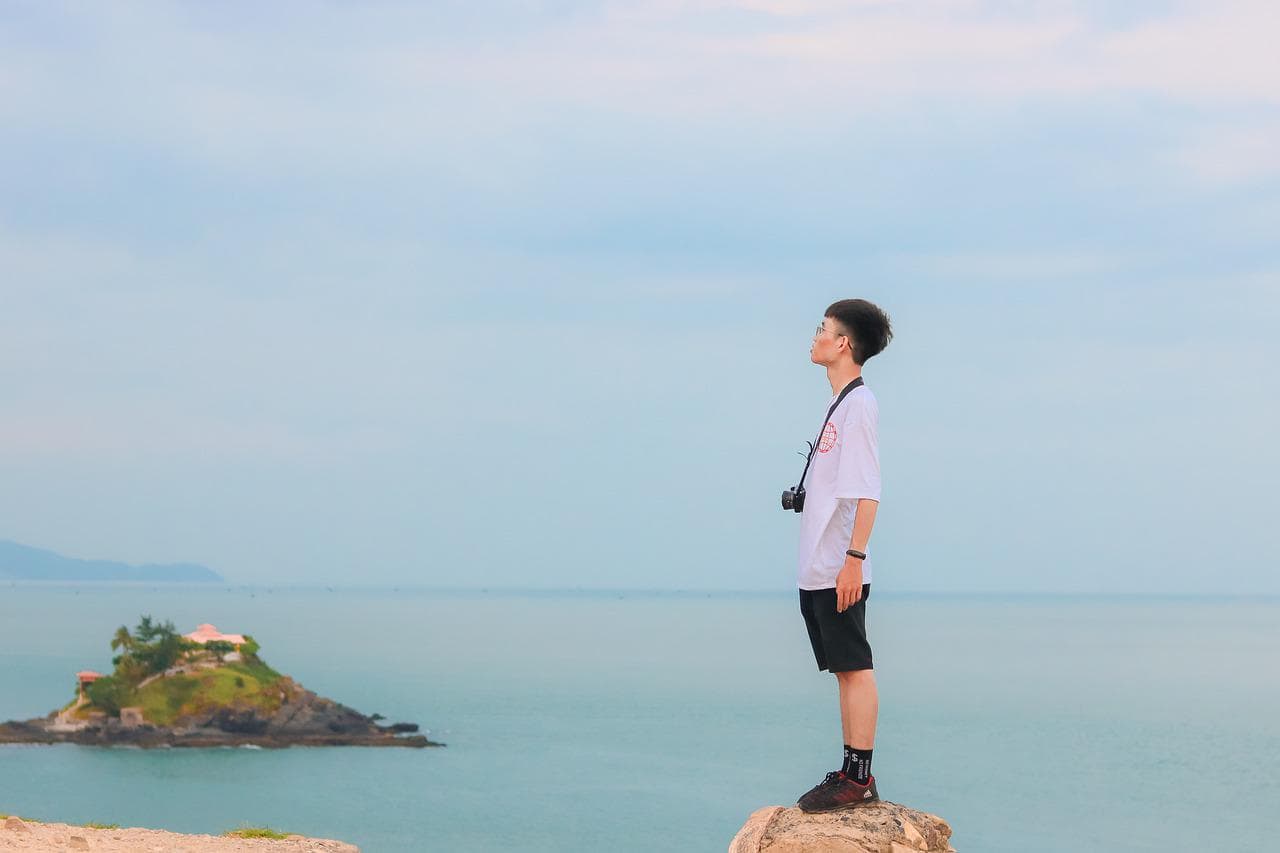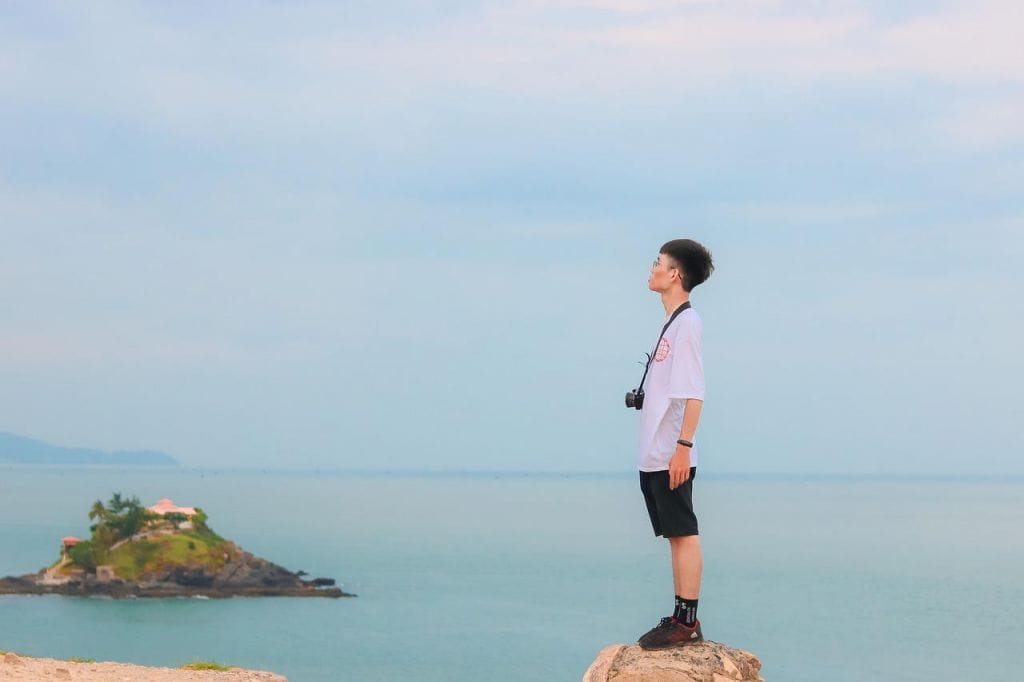 Best Day Trips From Hanoi
1. Halong Bay
Located over 160 km (100 miles) east of Hanoi is one of Vietnam's most famous locations and UNESCO World Heritage Site, Halong Bay. It is famed for being truly Insta-worthy, with picturesque wooden junk boats sailing on bright emerald waters and jagged limestone formations protruding from the ocean.
You can do day trips, overnight or longer trips to Halong Bay. And with lovely weather (October to December are the best months but also draw the most crowds) and great boat companions, you can genuinely enjoy cruising in the sunshine soaking up the majestic landscape, exploring historic caves, kayaking or getting in a game of beach volleyball on one of the islands.
For a similar but less touristy experience, consider checking out Cat Ba Island, the largest island in Halong Bay with its highlights Lan Ha Bay and Bai Tu Long Bay. Pro tip: Try Bhaya Cruises, a leader in sustainable cruising in Vietnam with their traditional junk boats and smiling staff.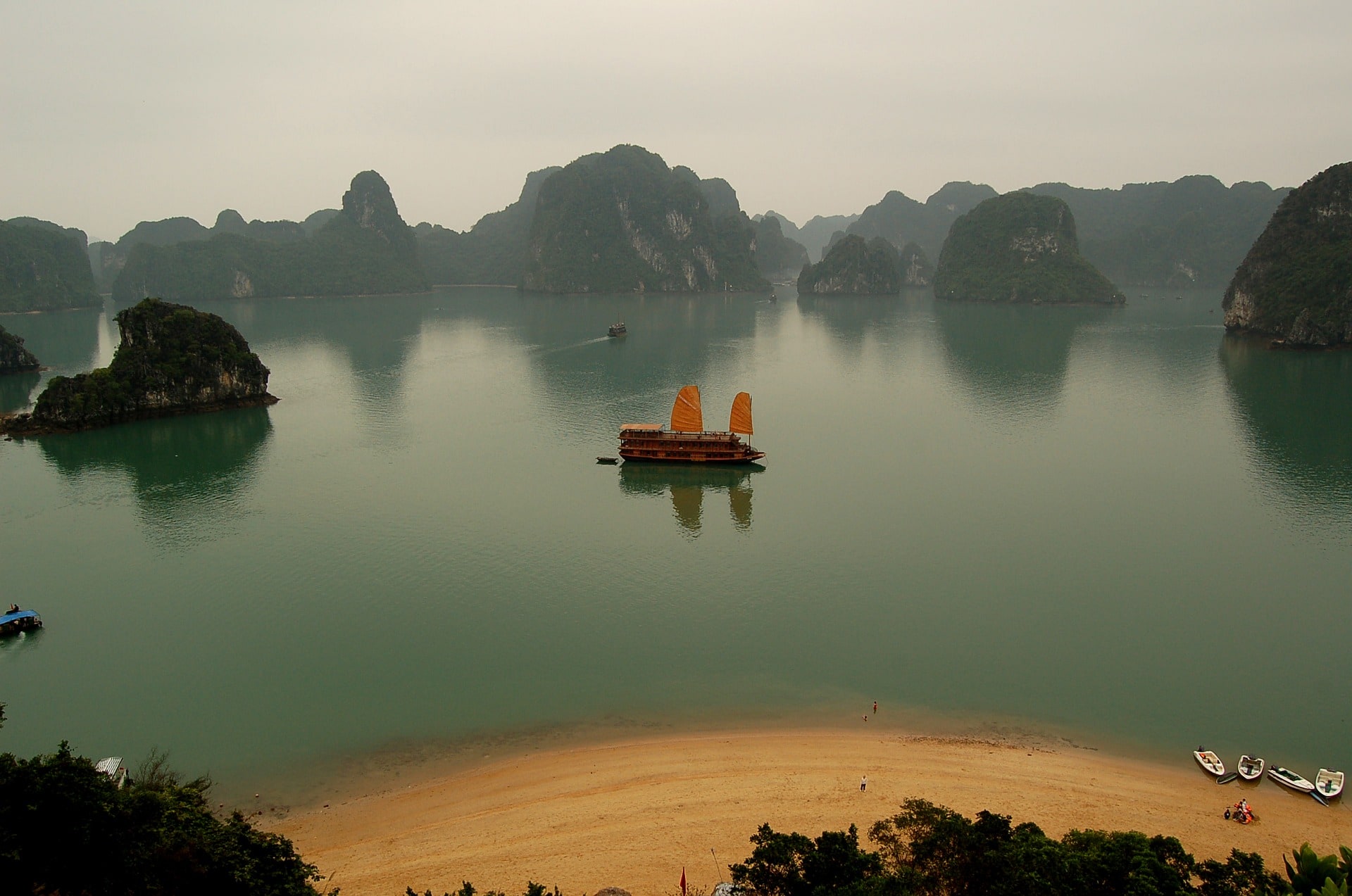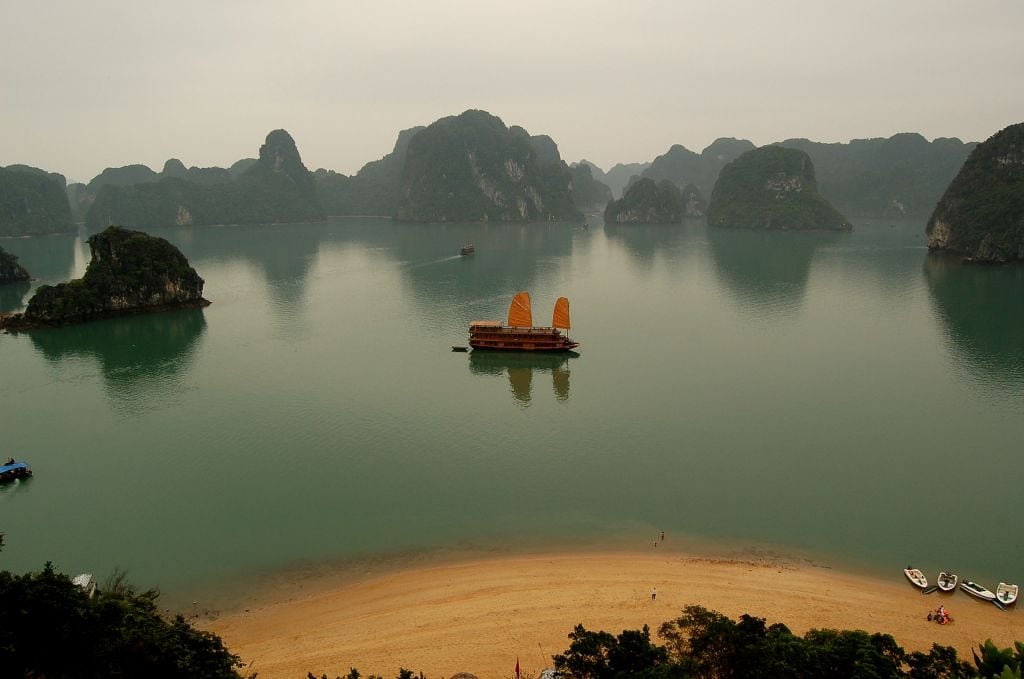 Did you know? Movies filmed at Halong Bay include Kong: Skull Island, Tomorrow Never Dies and Indochine.
2. Ninh Binh
A hidden gem of Vietnam travel is Ninh Bình, a charming province just two and a half hours' drive southwest of Hanoi. Here, in Tam Coc, you can experience "Halong Bay on Land", with giant limestone rocks protruding from the middle of emerald rice paddies and rivers. Float down a maze of waterways with majestic karsts surrounding you in Trang An before taking a hike up to an epic viewpoint at Hang Mua.
For a dose of history and culture, don't miss a visit to Hoa Lu, the ancient capital of Vietnam with its impressive and culturally significant temples, and see the still-standing stunning archways to the city. Pro tip: SensAsia offers one-day and multi-day tours with the expertise of a local guide and the comfort of a private transfer. If you combine several destinations in the north, look into their bespoke multi-day tours from Hanoi to Hạlong Bay, Ninh Bình and Mai Châu.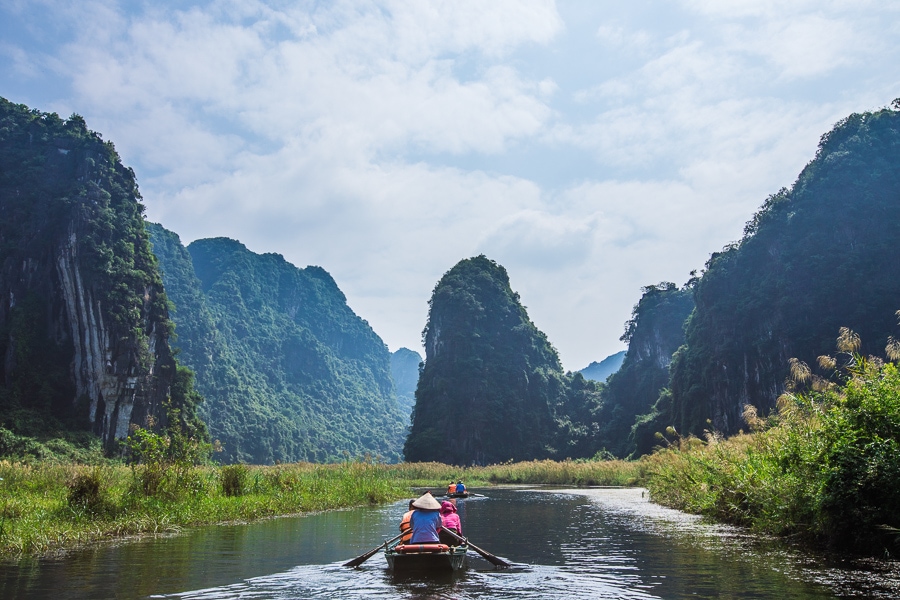 3. Perfume Pagoda
In Vietnam and other countries, the most beautiful areas are often chosen as sites for Buddhist shrines, tombs and palaces. Discover Perfume Pagoda, an incredible series of pagodas and shrines built into the limestone mountains located 70 km southwest of Hanoi. Its name makes sense when you learn that the place is known as Huong Tich Mountain, translated as Mountain of Fragrant Traces.
The beauty of this destination starts in the picturesque journey to get there. Starting with a car or bus ride, you take a boat ride and then climb the steps to the cave entrance with its impressive stalagmites. Alternatively, there's a cable car ride with glorious views, specially built so Buddhist pilgrims could avoid the long jungle walk. Once there, Thien Chu, or The Pagoda Leading To Heaven, is one of the most famous sites worth exploring on your visit.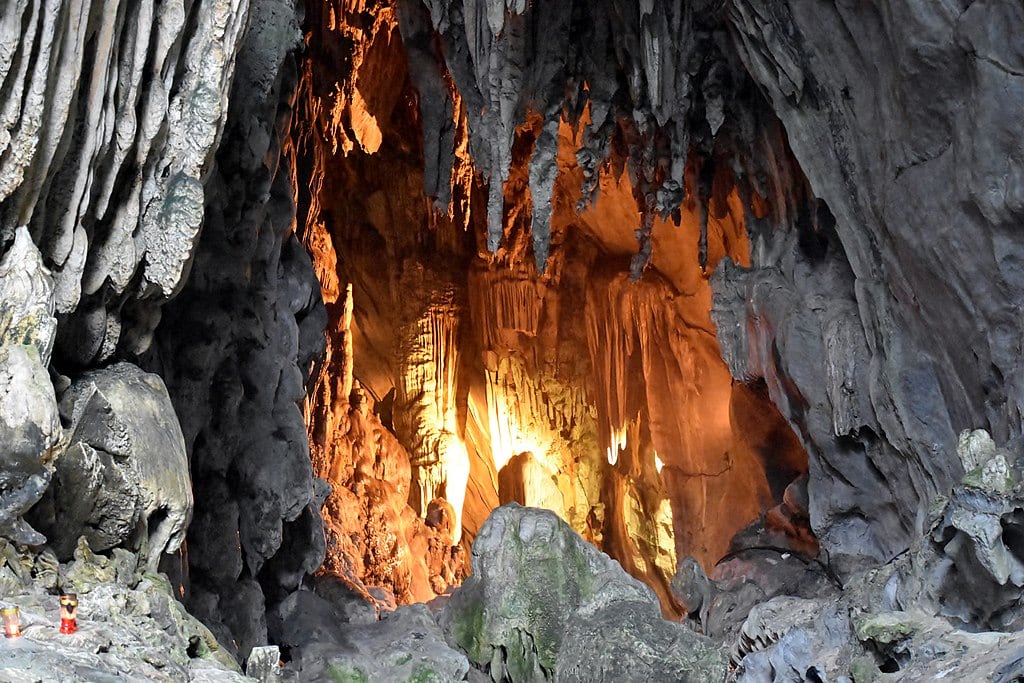 4. Mai Chau
A three-and-a-half hours' drive from Hanoi close to the Laos border is the beautiful mountain village of Mai Chau.
Enjoy simple pleasures like staying at a charming wooden stilt house that overlooks emerald paddy fields. In the morning, savour a ca phe phin (Vietnamese coffee) over a sunrise-lit rice field, then explore the surrounding countryside and remote villages via bicycle with a guide. Learn about authentic cultural experiences like loom-weaving, which you can try for yourself! Then catch a piece of live folk music and dance performance before indulging in Vietnamese home-cooked meals. Adventurous diners can try ve sau chien, a local delicacy of stuffed and fried cicadas.
In conclusion, don't limit yourself to urban comfort on your Vietnam travels. With such scenic nature and diverse culture, it is more rewarding for the Vietnam traveller who takes the time to explore the gems located farther beyond the cities. A quick day trip here and there, and you're sure to chalk up valuable memories, precious photos, and unique stories to tell when you return.
Rediscover Vietnam travel!
You may also be interested in: