Bali sets a different tone compared to other parts of Indonesia in terms of culture and lifestyle. The Balinese made their mark on the map with their signature dishes, phenomenal beaches, clear blue waters, wedding destinations and trendy nightclubs—all on one island. It's a tourist hotspot particularly during holidays, and this Bali Indonesia travel guide will help you navigate this wondrous destination.
It's a vision of paradise, and while you may have heard Bali being called the Island of the Gods, it's due to the various religions that Balinese practise. Although Islam is the principal religion in Indonesia, with its population of 240 million, it is Hinduism which reigns on this particular island. Fun fact: Bali is the only island in the world outside of India where Hinduism is dominant.
There's no doubt that Bali is a deeply spiritual place—which you can now visit quarantine-free—and a holiday here promises to be a rich experience complete with the sensory pleasures of frangipani flowers, kretek cigarettes and incense.
ALL YOU NEED TO KNOW ABOUT BALI INDONESIA TRAVEL
1. Be careful at Ngurah Rai International Airport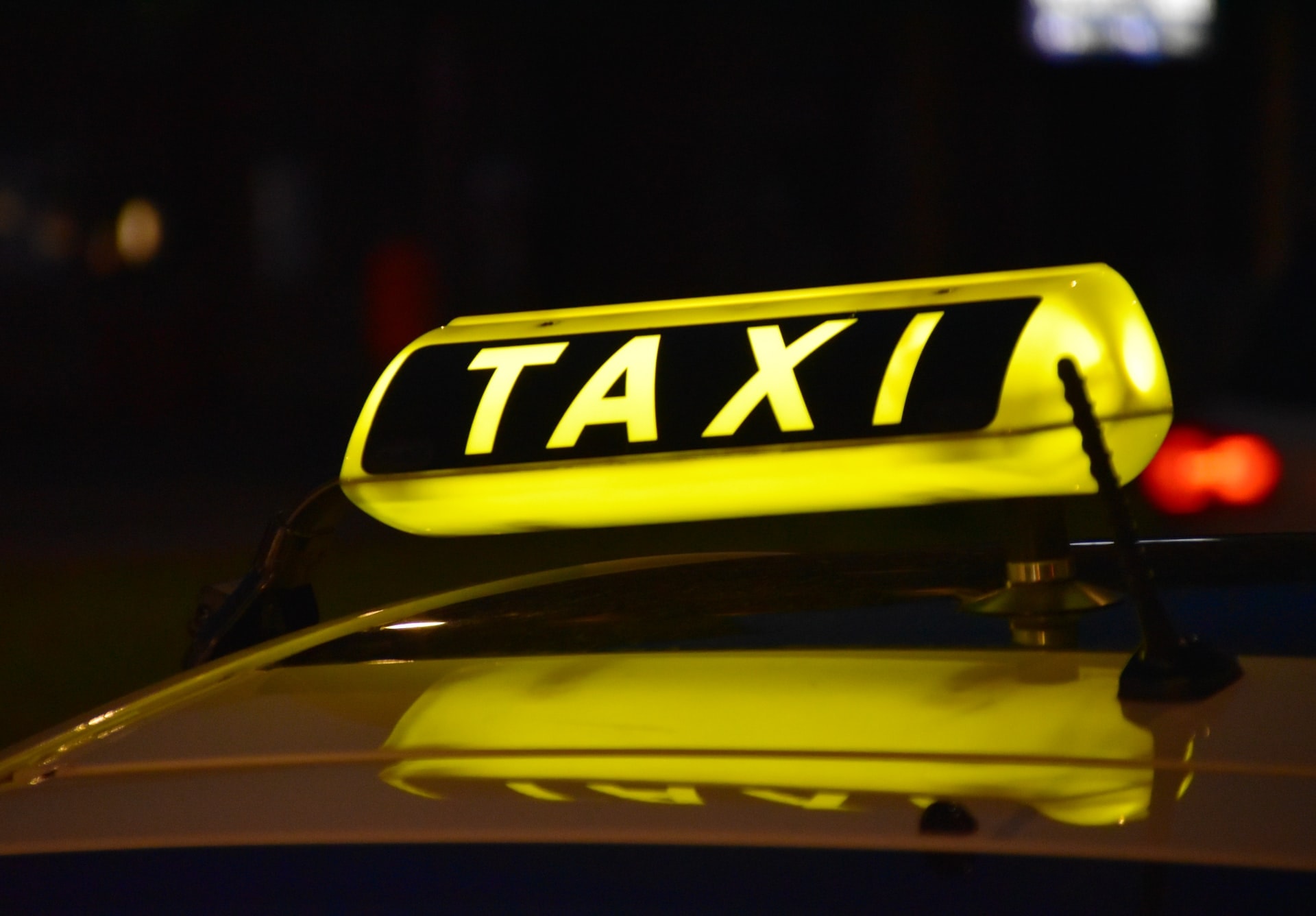 First off, as any Bali travel guide will tell you, beware the taxi drivers. Before you immerse yourself in the sweet-smelling air, you'll have fend off taxi drivers who can be overly aggressive towards a Bali tourist, more so if it's your first time there. They would walk up to you with a friendly smile, grab your bag and quickly head to their car, expecting you to follow them and agree to their expensive rates.
To avoid that, download the Grab or Gojek app and get an official car from there. The drivers will usually give you strict instructions on where to meet. So you can avoid eye contact with the regular taxi drivers, and head straight to the meeting point where your driver is waiting.
2. Eat your Fill of scrumptious food
Babi guling
Now that you're safe and sound, it's time to explore the cuisine, one of the cornerstones of Bali Indonesia travel. Food served on the island has distinct flavours you cannot find in other parts of Indonesia. The spices and ingredients used are unique, hence the signature dishes like babi guling. Also known as suckling pig, you're very unlikely to find this dish outside of Bali. The reason is that pork is forbidden in Islam and Indonesia is a Muslim-majority country. However, relatively few Muslims reside on Bali, which explains the popularity of babi guling.
One of the best places to visit in Bali for babi guling is Ibu Oka, located in Ubud. Popularised by chef Anthony Bourdain on his TV show, this warung is a definitive pit stop while you're here.
Balinese sate
One of the most popular street foods, the Balinese sate are unlike the ones you find in Malaysia. These ones feature huge chunks of meat on a skewer with the distinctive Balinese taste. They usually have a good balance of sweet, salty and a bit of sour-ish freshness on the outside, guarding the special Balinese spices underneath. You can find vendors selling Balinese sate everywhere, with different meats like beef, chicken, mutton, and even rabbit. When in Kuta, you'll need to visit Gourmet Sate House, as they serve one of the best sates on the island at affordable prices.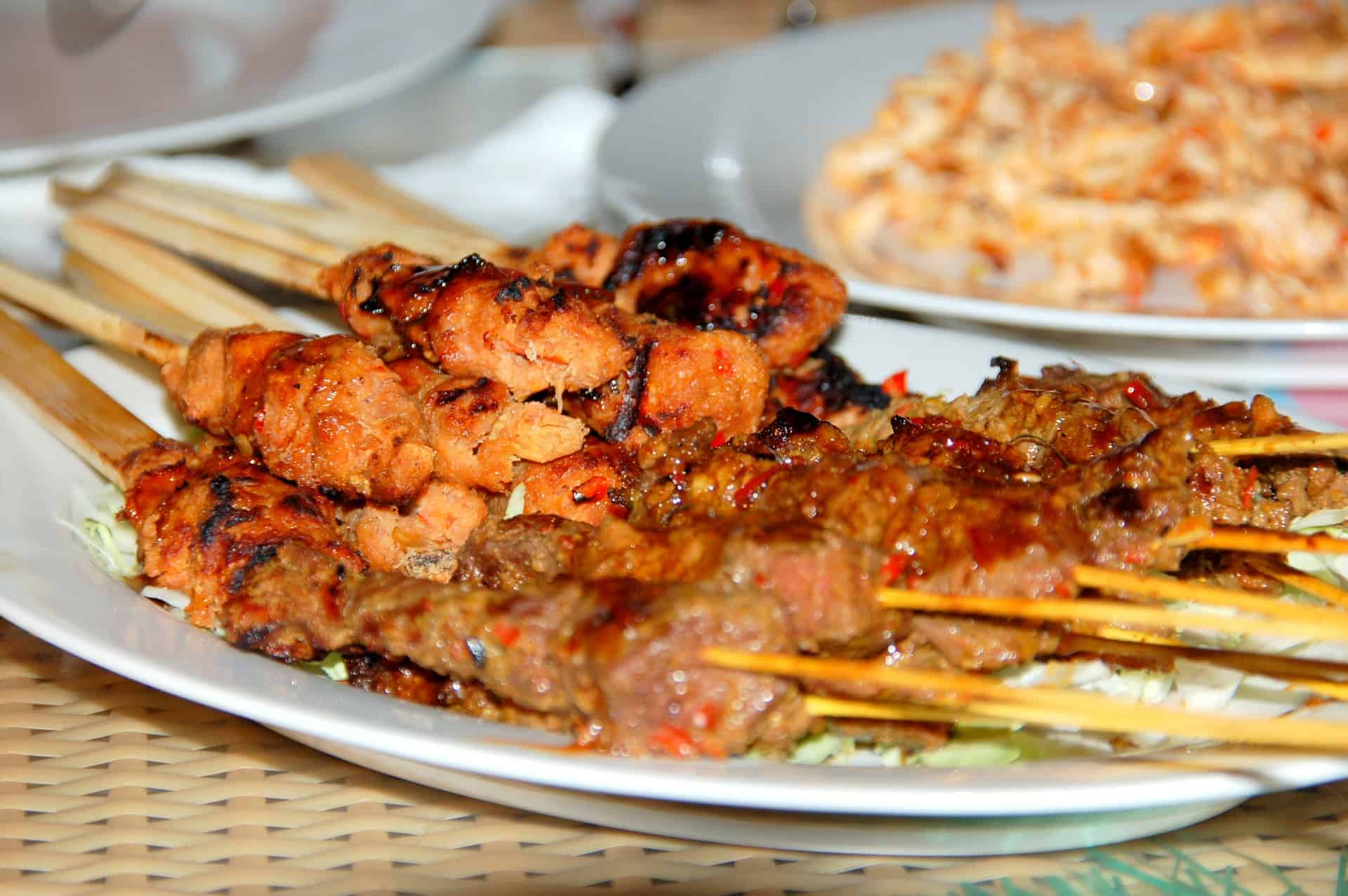 Gado gado
If you're not a meat eater, then go for gado gado, a Balinese salad comprising tofu, tempeh, kidney beans, hard-boiled eggs, cucumbers and bean sprouts, all tossed in a special peanut sauce dressing. It has a sweet and savoury flavour with a hint of spice. A relatively healthy option, gado gado is a common dish acceptable by many Bali tourists and easily found at many restaurants or roadside vendors.
Bubur Sumsum
If dessert is your kryptonite, then the bubur sumsum is for you. A traditional dessert that Balinese usually eat for breakfast or simply as an afternoon snack, it's brought together with coconut milk, rice flour, and palm sugar syrup. Think tau foo fah, but not really. Some vendors will throw in some sweet potato dumplings which go very well with the palm sugar syrup.
3. Experience the beaches and waterfalls
Nusa Dua Beach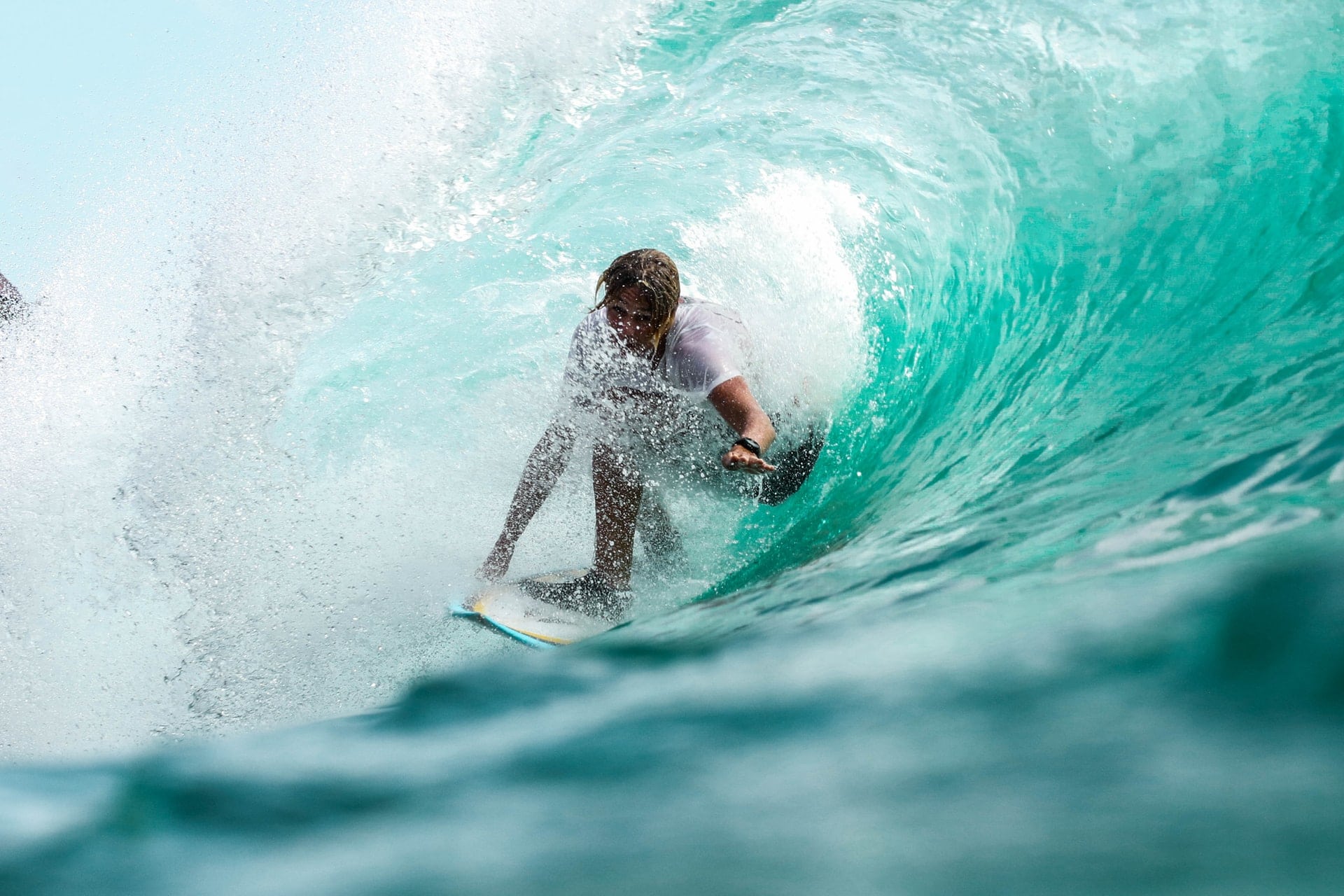 Among the hottest places to visit in Bali is the beach of Nusa Dua, where you'll see pearl-white soft sand lining the coast, with a wash of turquoise waters. The beach is also near to various five-star hotels with manicured lawns and towering palm trees for the full Bali vibe. Suntanning and swimming aside, there are plenty of family-friendly water sports along the beach. You'll also find plenty of beach restaurants and even a shopping mall in the area with a Bali travel guide.
Jimbaran Bay
If you prefer something a little more quiet, then the long, white sandy beach of Jimbaran Bay is for you. Stretching out for a full 3 km, Jimbaran Bay is where local fishermen sell their early morning catches at a lower price before they hit the wet markets. More than just a pretty beach, Jimbaran Bay is also Bali's official seafood hub, which is why you'll find plenty of barbeque and seafood restaurants along the coastline during sunset. As you can imagine, Jimbaran Bay is the perfect place to go for a romantic dinner with your other half.
Thomas Beach
Earlier known as a secret beach of sorts, Thomas Beach is obviously no longer a secret, but luckily it has maintained itself to be one of the cleanest and quietest beaches on the Indonesian island. You'll also find plenty of restaurants at the entrance of this bay. Access to Thomas Beach is via a tiny lane and a steep flight of stone stairs, hence its reputation as a hidden gem among the places to visit in Bali. Once you see the aqua blue waters and soft white sands, you'll see why going through the trouble to get to the beach is worth it.
Bingin Beach
It may not be easy for most Bali tourists to find this beach, unless a local takes you there or if you ask for proper directions. You can also look out for signs made from recycled wood or look out for people carrying their surfboards. Wooden signs, surfboards—yes, it's a beach where all the bohemians and hippies go for a hideaway. Of course, all sorts of people are welcome to the beach. Also, you'll get to witness big waves and small sandy coves where you can go for a swim during low tide.
Sekumpul Waterfall in Singaraja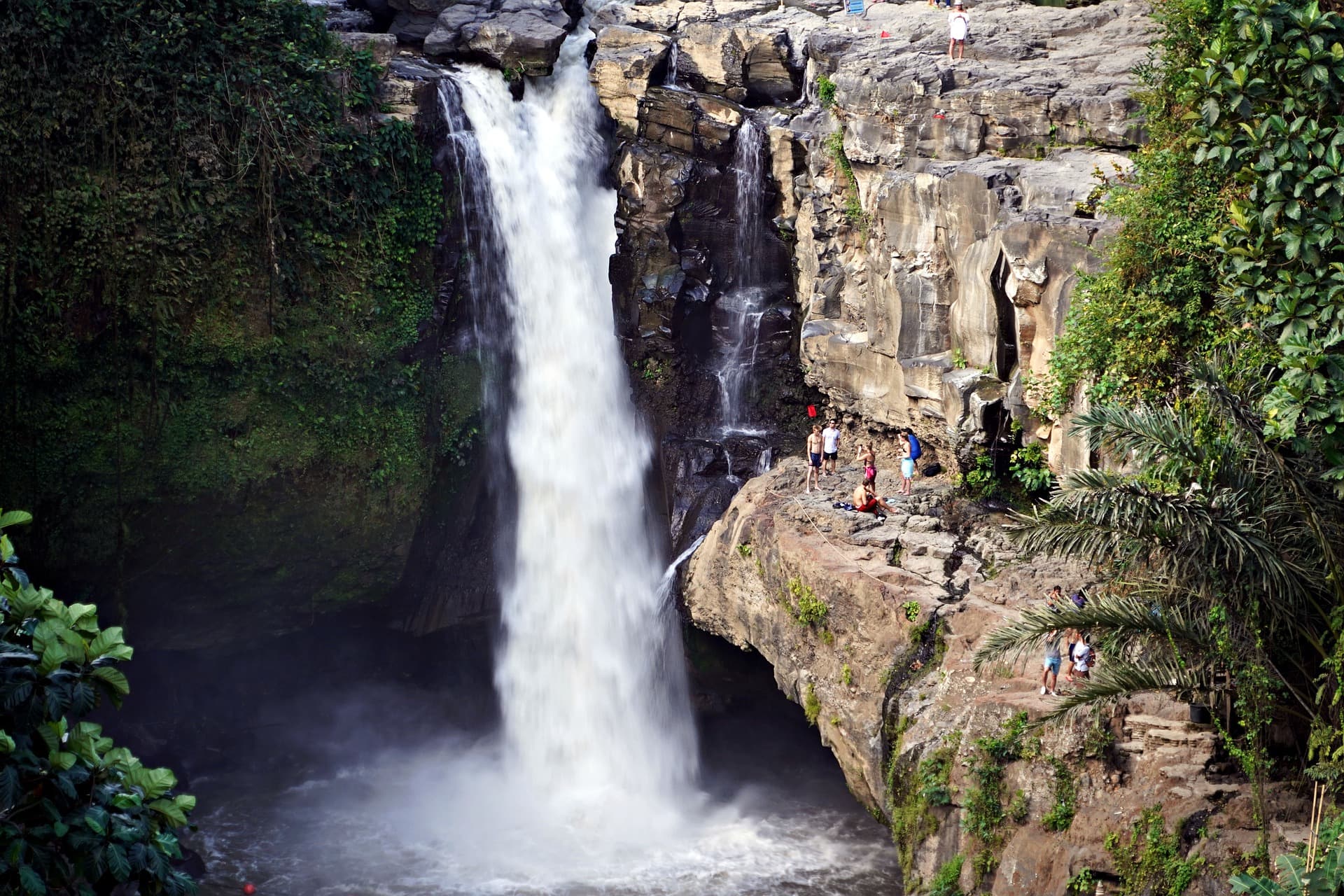 If you're looking for that one special highlight of your Bali Indonesia travel, let it be this enchanting waterfall in Sekumpul village. Getting there is an adventure, as you walk, climb and crawl through dirt roads, slippery steps, wet muddy grounds and swim across a clear, blue river. But once you're up close and personal with Sekumpul Waterfall, it's totally worth the trouble. It's made up of seven smaller waterfalls, each cascading from different heights, each with their own character, thus making you feel like you're in a fairytale. For convenience's sake, you can hire a local guide to take you there.
Pro tip: The hike to Sekumpul Waterfall can be extremely slippery during the wet season, so wear proper footwear with a good grip.
Nungnung Waterfall in Petang
If you're into scenic waterfalls like those you see among your computer's screensaver, then you should make time for NungNung Waterfall in Petang. The way to this waterfall is amazing, with trees, paddy plantations and more greenery along the way. Which proves that sometimes the best places to visit in Bali is more about the journey than the destination. Fun fact: this waterfall is located just 900 metres above sea level, inside a hidden village. Upon arrival, you'll have exactly 509 steps to descend before catching the first sight of it.
4. Don't miss These Famous Tourist Spots 
Potato Head Beach Club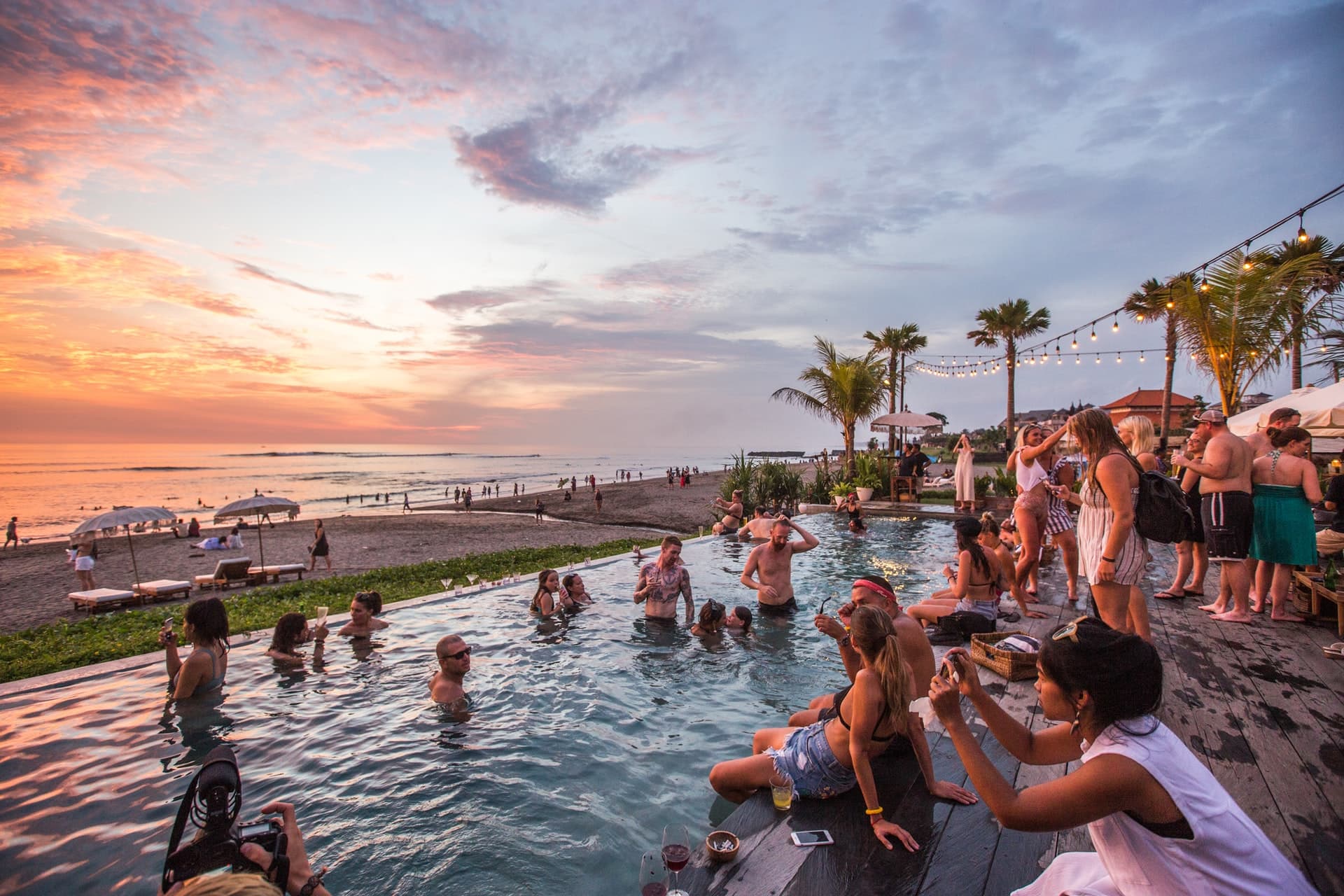 If you love a good, clear view of the sunset, then Potato Head Beach Club is one of the places to visit in Bali. It's always packed with locals and tourists, so it's best to secure a spot at the terrace with a cold beer before the sun says goodbye for the day. Sunset aside, Potato Head Beach Club also has two different restaurants for you to choose from. You can also sit at the terrace area, or by the swimming pool overlooking the horizon, or in the open space where people commonly picnic on the grass.
Kuta Beach
Popular with Bali tourists, Kuta Beach is always bustling with people eating, drinking, chilling and partying amid the seafood restaurants and beachside cafes. Kuta was once an unassuming fishing village until a 1970s makeover re-marketed it as a tourist destination. While here, visit Ground Zero Monument (a.k.a. Bali Bombing Memorial, built in memory of the terror attack that took place on October 12, 2002), experience 3D trick art at Dream Museum Zone, hop on the vintage rides and party vans, play at Circus Waterpark, go to Kuta Theatre and visit Kuta Sea Turtle Conservation.
Pura Besakih
Although there are plenty of tourists at Pura Besakih all the time, you'll still want to witness its beauty for yourself. Locals say that the 9 directional temples here were built to protect the island from dark forces. There are 28 structures on terraces which are surrounded by scenic paddy fields, lush forests and vegetation.
Nightlife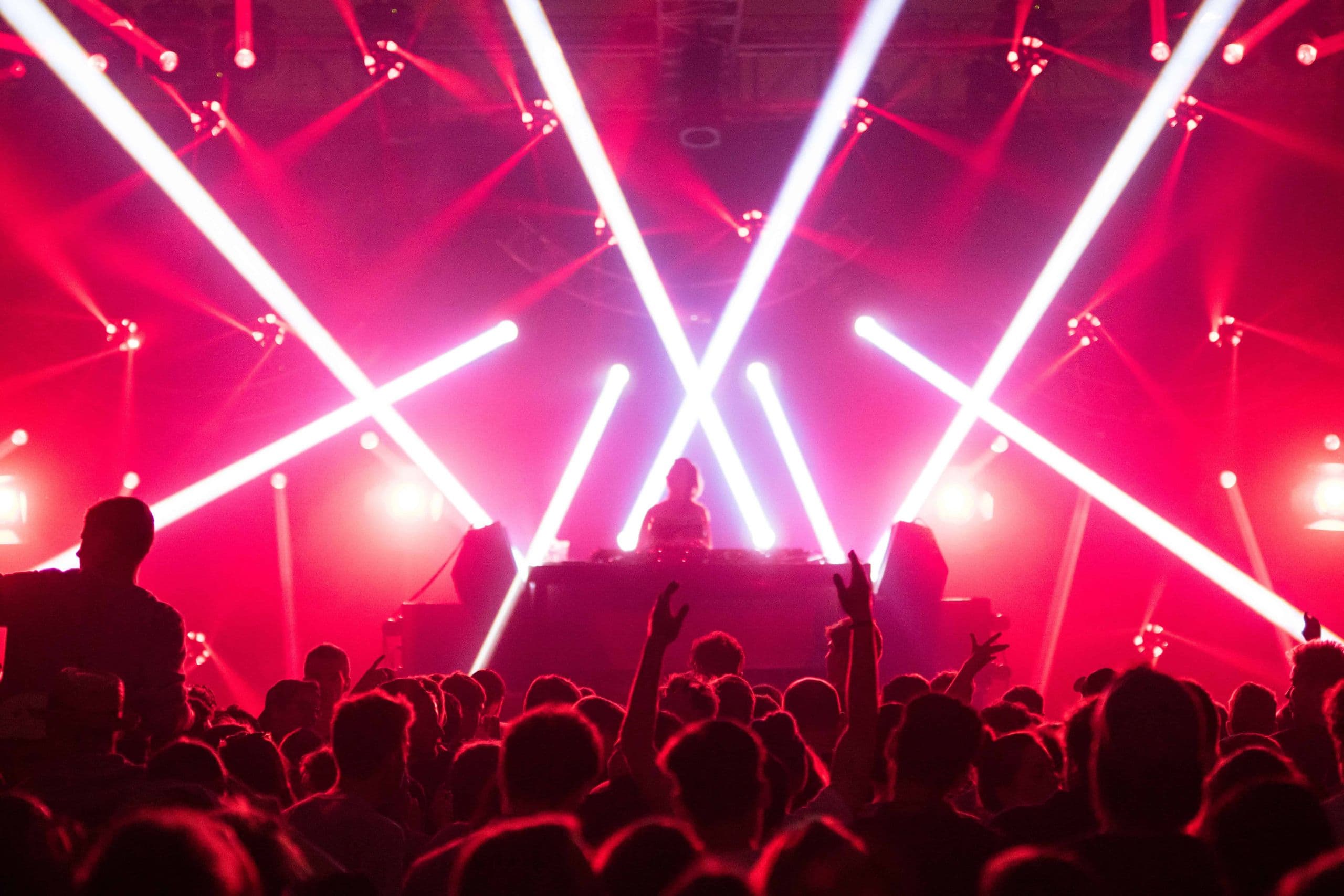 This Bali travel guide would not be complete without a mention of the nightlife. You've seen the quiet side of Bali with soft sandy beaches and romantic seafood restaurants, so now you can discover its wild side with the most popular nightclubs. First off, you'll need to visit Mixwell Bar to watch their nightly drag shows. Catch 'Beyonce', 'Rihanna', 'Mariah Carey' and 'Christina Aguilera' in action when they lip-sync to popular tunes. After that, you can bar-hop at Motel Mexicola, La Favela, Woo Bar, Rock Bar, and last but not least, Red Ruby.
All in all, this is a phenomenal island to visit, as there are numerous activities for the Bali tourist. However, you would want to be careful all the time and beware of pickpockets, snatch thieves and scammers. There are fake massages everywhere, where they will try to sell you illegal substances. When you hear massage promoters say "mushroom", run. However, they are mostly harmless, so fret not. Bali is generally safe overall, and armed with this Bali travel guide, you'll be having the best time of your life here.
COME TRAVEL WITH US AND GET THE BEST DEALS!
You may also be interested in: