Escaping a routine lifestyle to a tranquil island is on the travel bucket list for many of us. Island getaways offer a variety of activities that caters to every holiday need, from water sports to jungle trekking, or you could forget them all and just relax by the beach.
With Malaysia opening its international borders on April 1, there's no better time than now to plan for a relaxing tropical retreat in Malaysia! Check out our handy travel tips for Pulau Tioman and our top 4 Malaysia islands. These are world-class destinations CNN Travel has covered as the best islands for a truly Malaysian holiday!
a guide to Pulau Tioman and the top 4 Malaysia islands
1. Pulau Tioman – a tourist hotspot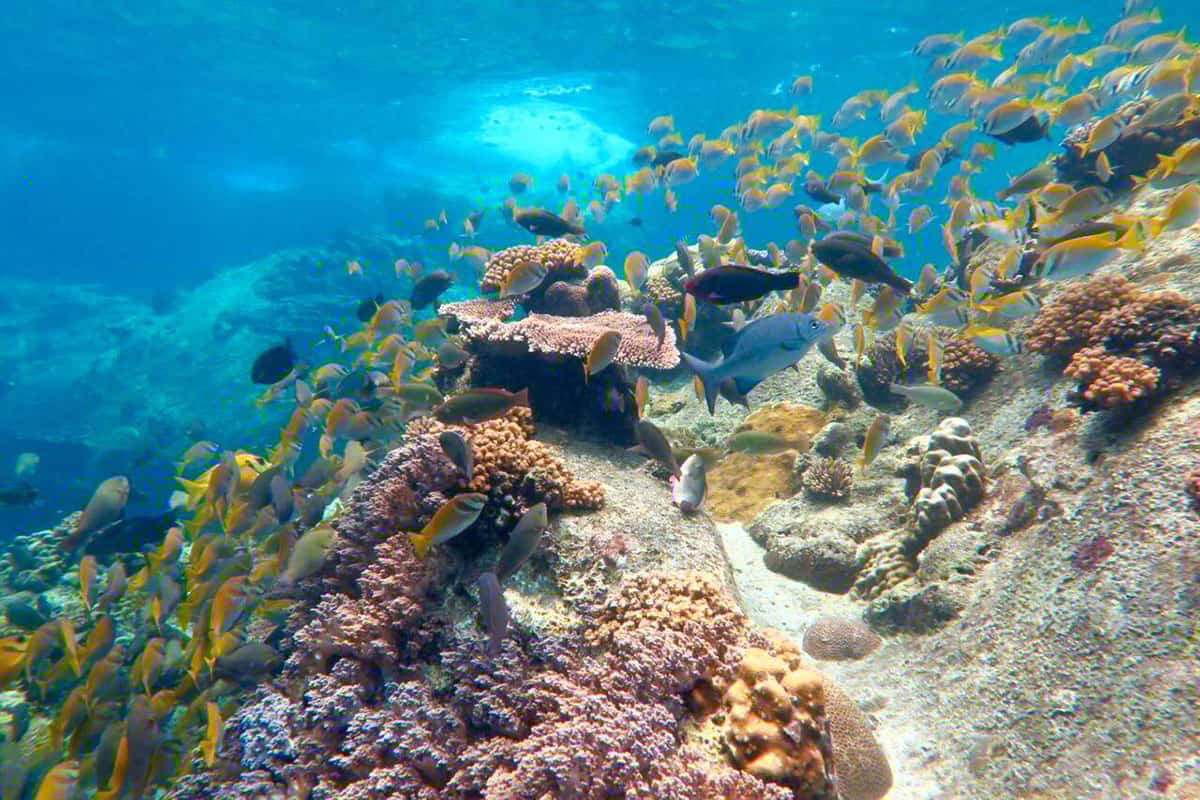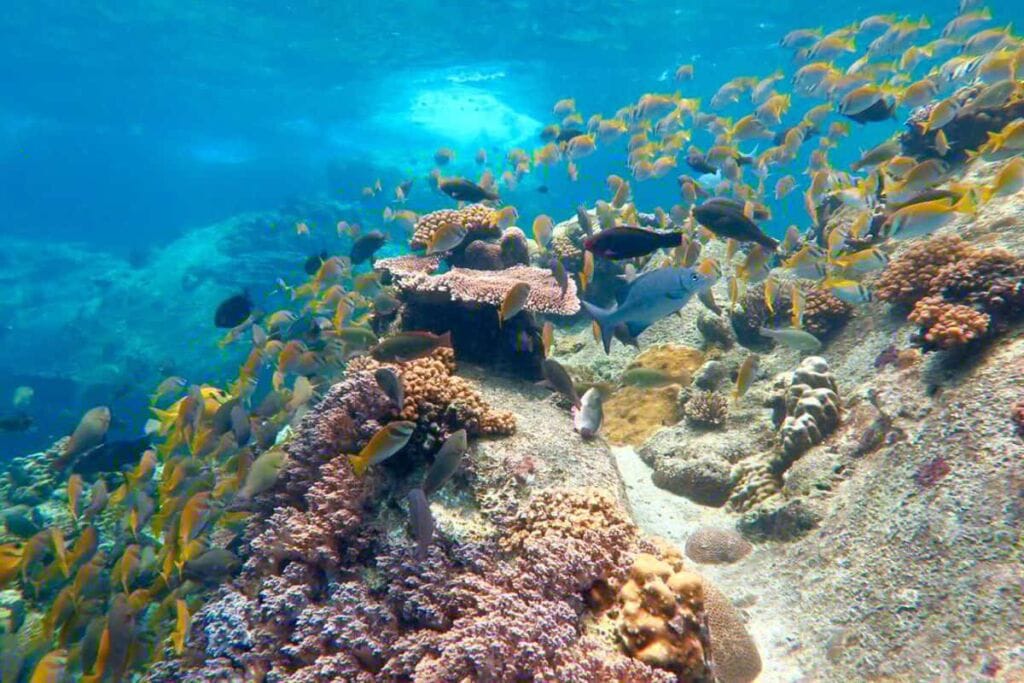 A tourist hotspot among international travellers, Pulau Tioman in Pahang beckons travellers with calm azure waters, sandy beaches overlooking the South China Sea, rich coral reefs, lush rainforests, and unique wildlife. There are four main villages –Tekek Village, Salang Village, Juara Village and Air Batang Village ('ABC Village') – popular among Tioman tourists. Meanwhile, the more remote villages – Genting Village, Nipah Village and Mukut Village – offer a rustic charm that would appeal to travellers looking for a more private and serene holiday atmosphere.
Ideal time to visit
Between May to September when there's lots of sunshine.
Getting there
Direct bus service from Kuala Lumpur to Mersing, followed by a ferry ride from Mersing Jetty or Tanjong Gemok Jetty to Pulau Tioman. You can visit nearby villages either by foot, bike or car.
Best places to stay
Luxury: Japamala Resort/Tunamaya Beach & Spa Resort
Mid-range: Berjaya Tioman Resort
Budget: Go Deeper Tioman/Panuba Inn Resort
To-do list
Snorkelling at the Marine Park Centre, Tioman. Discover beautiful marine life and more!
Scuba dive and spot black-tip baby sharks at Tiger Reef, Renggis, off the coast of Tekek.
Surf at Juara Beach, home to the famous Tioman Surf Festival held annually in January or February.
Go jungle trekking from Tekek to Juara along the challenging 7 km jungle trail. Stop by Ali's Waterfall for a quick dip.
Night turtle watching at Juara Turtle Project. See turtles hatching eggs or being released into the sea at night.
Duty-free shopping at Tekek's Vision Commerce Duty-Free Shop for premium alcohol, cigarettes and chocolates.
Enjoy the nightlife at Cabana Beach Bar, Tekek.
2. Pulau Pangkor – Favourite among locals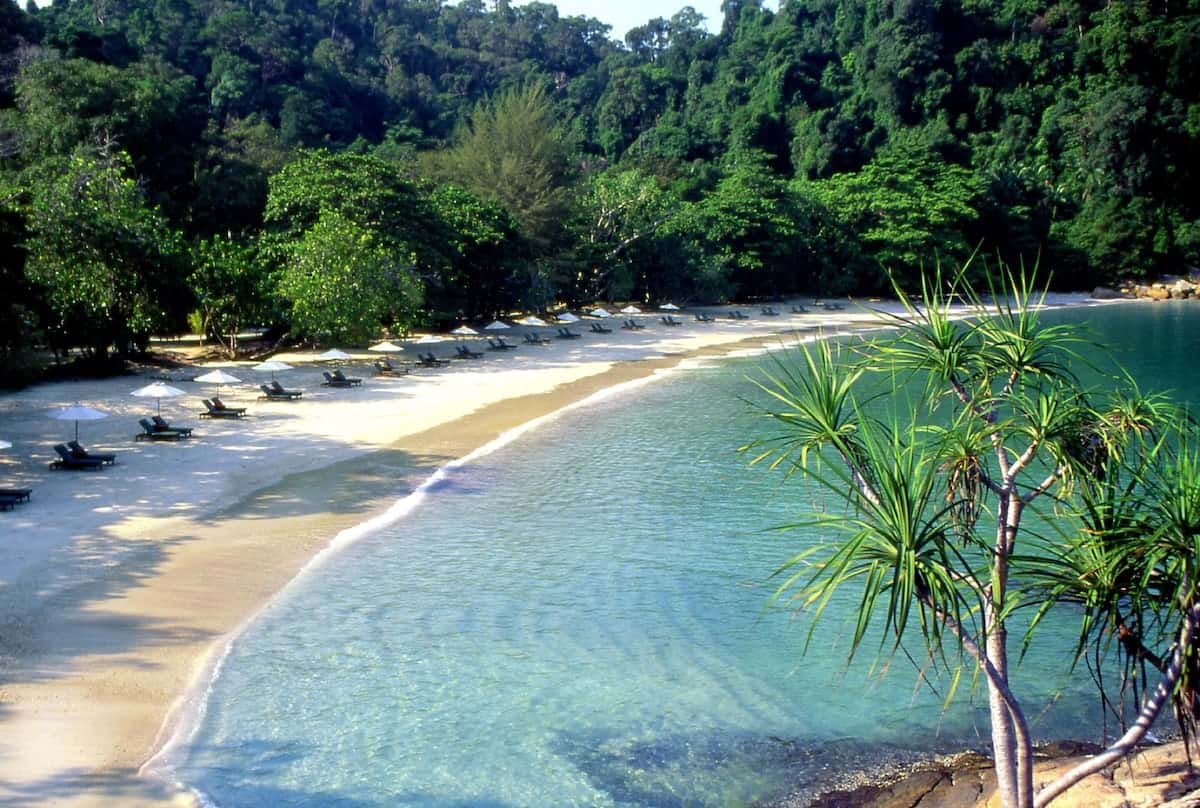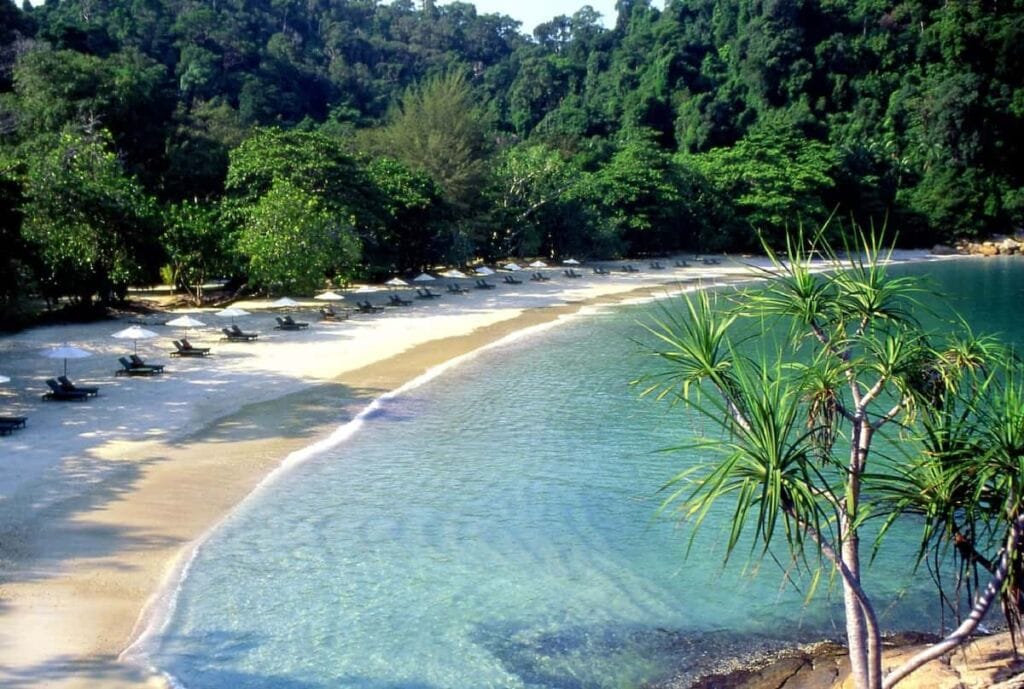 A favourite island destination among locals for a short weekend getaway, this tropical retreat is just two hours from Ipoh, the capital city of Perak. Apart from its white sandy beaches, cool sea breeze, and tantalising fresh seafood, Pulau Pangkor exudes a local charm and a friendly vibe, sure to capture the heart of any traveller.
Ideal time to visit
Unlike other island destinations in Malaysia affected by the monsoon season, Pulau Pangkor has a stable tropical climate all year round. Ideal for travel in February, March, June and July. Since Pangkor is a popular local getaway, it is best to avoid travelling during public holidays.
Getting there
Head over to Lumut Jetty by bus or car. Ferries depart every hour and take only 20 minutes to reach Pangkor.
Best places to stay
To-do list
Relax at Pangkor's beaches, from tourist favourite Teluk Nipah to the secluded Coral Bay.
Snorkelling and swimming are a must, even for children and non-swimmers, due to the calm and shallow waters.
Jet skiing and kayaking at Nipah Bay.
Get an up-close look at hornbills at Pangkor Laut Resort.
Island hopping to nearby islands, such as Pulau Mentagor or Pulau Sembilan, for scuba diving and appreciating the diverse marine life.
Explore Pangkor's rustic fishing villages by bicycle for a glimpse of laidback island life. Sample local snacks such as dried or frozen seafood, salted fish, satay fish and crackers.
Have a steamboat feast at Nipah Deli, with generous portions of fresh seafood and Malaysian-style dishes.
3. Pulau Perhentian – Surfers' Haven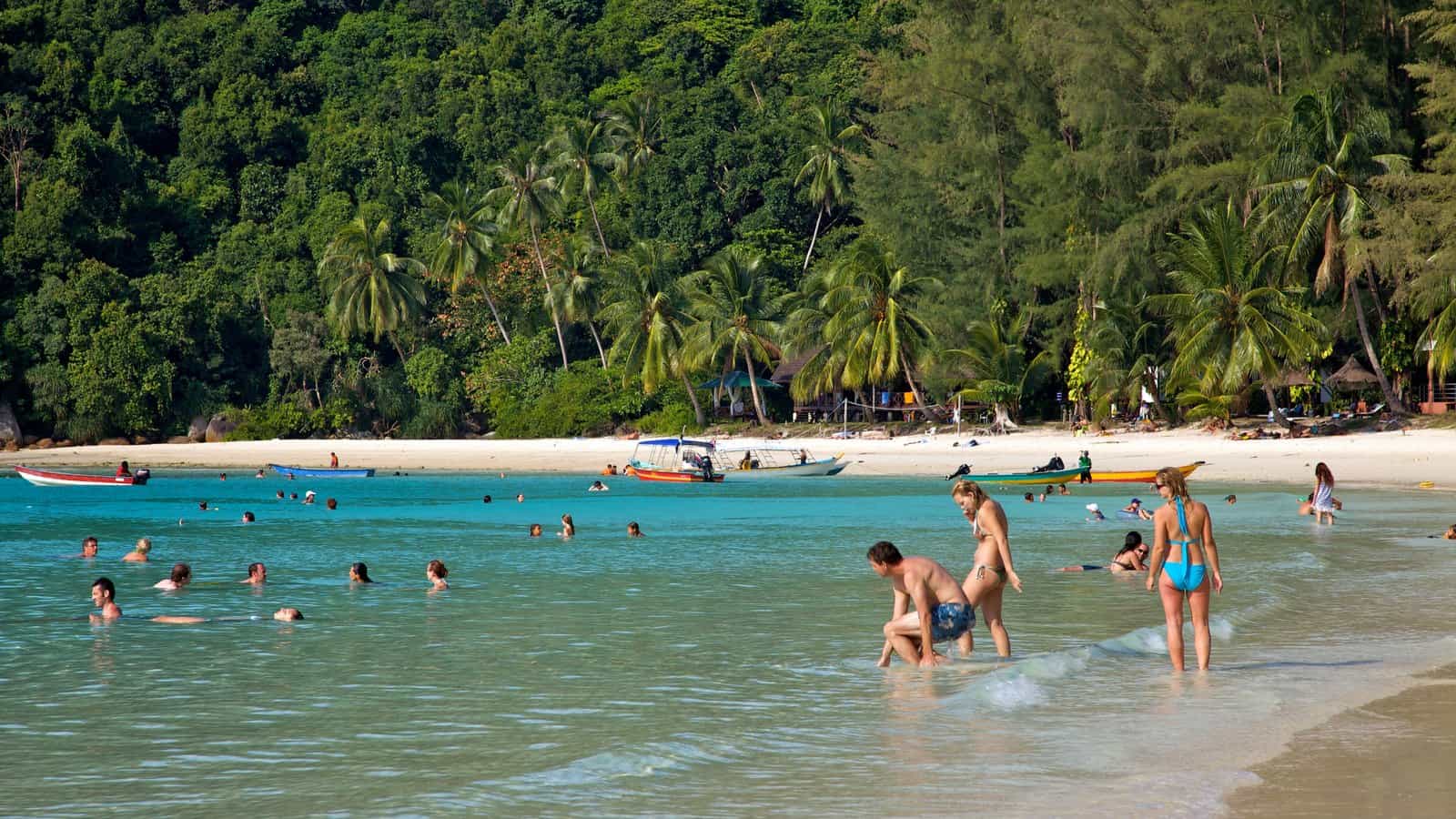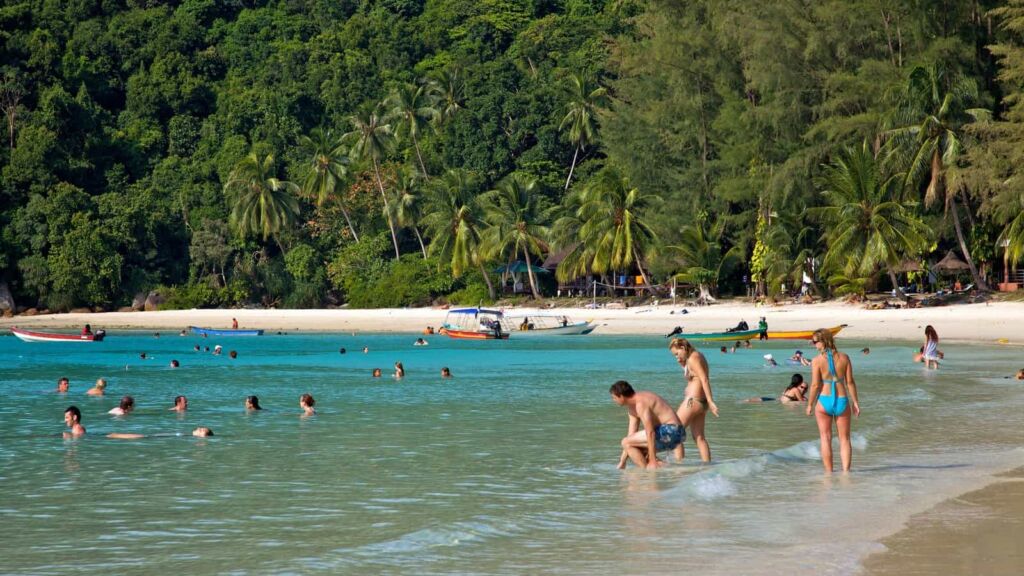 Pulau Perhentian in Terengganu is popularly known as a go-to island in Malaysia, especially among the international surfing and backpacking community. Meaning' stopping point' in the Malay language, it certainly lives up to its name. Stop by and experience all its underwater adventures amidst a low-key, rustic vibe. There are actually two main islands here: Perhentian Kecil for budget backpackers and young travellers; and Perhentian Besar, which attracts more leisure travellers.
Ideal time to visit
During the dry season from March to November. You are advised to make bookings in advance nearing the peak season in July.
Getting there
Bus service from Kuala Lumpur to Kuala Besut (approximately 9 hours), or flight from Kuala Lumpur to Kota Bharu plus a taxi to Kuala Besut. There are also bus services from Jerteh and Pasir Puteh to Kuala Besut. The speedboat transfer from Kuala Besut to Pulau Perhentian is at best, a thrilling experience, so hold on tight to your luggage!
Best places to stay
Luxury: Bubu Villas (Perhentian Kecil) / Perhentian Island Resort (Perhentian Besar)
Mid-range: Perhentian Guesthouse (Perhentian Kecil)
Budget: Aina Garden Long Beach (Perhentian Kecil)
To-do list
Scuba diving. Known internationally for amazing corals and marine life, especially clownfish (Nemo!), Green Turtles, and Hawksbill Turtles. Water visibility is typically 20 metres, which promises a great underwater adventure.
Snorkelling at Teluk Pauh, Shark Point, Tanjung Basi (Perhentian Besar).
Kayaking – either alone or as a group tour, to explore the beautiful island views.
Sunbathe on Adam & Eve Beach (Perhentian Kecil). An excellent choice for a quiet spot to relax.
Get PADI certified at Bubbles Dive Resort. One of the most popular places in Perhentian to get PADI certified with specialised diving courses such as muck diving, macro diving, and underwater photography.
Watch the sunset at Coral Bay (Perhentian Kecil).
Savour cheap and fresh seafood at Coral Bay overlooking a spectacular sea view.
Volunteer at the Perhentian Turtle Project, based in Kampung Pasir Hantu (Perhentian Kecil) and Pantai Tiga Ruang (Perhentian Besar).
Sip cocktails at JUJA Bar (Perhentian Kecil).
4. Pulau Redang – For a perfect summer soiree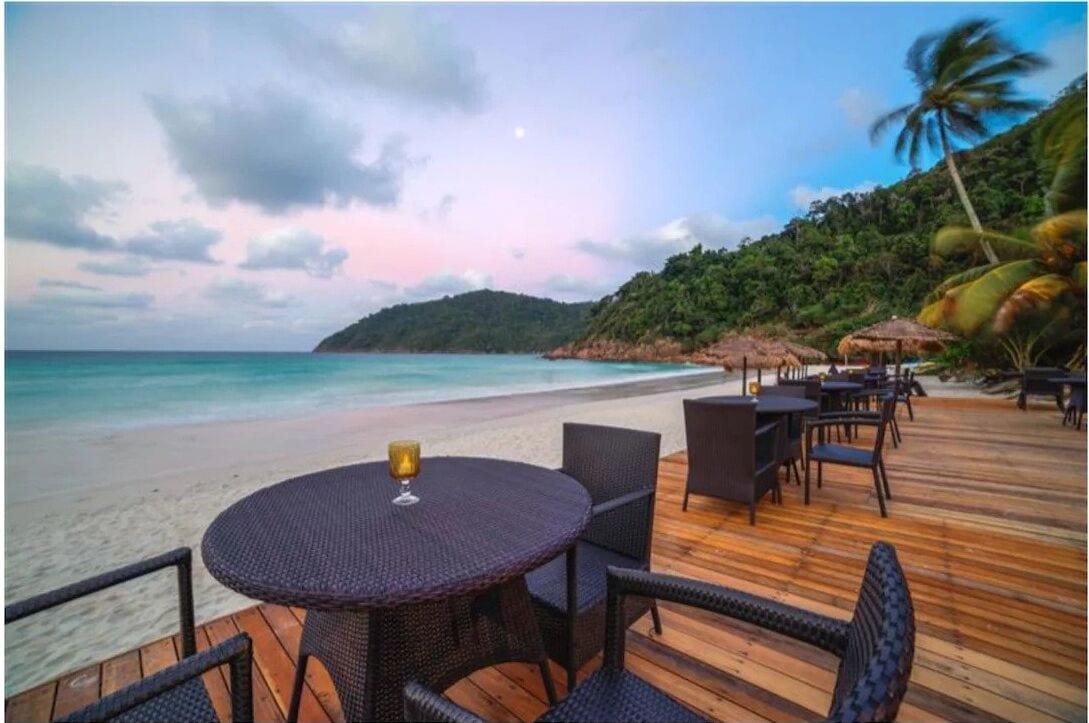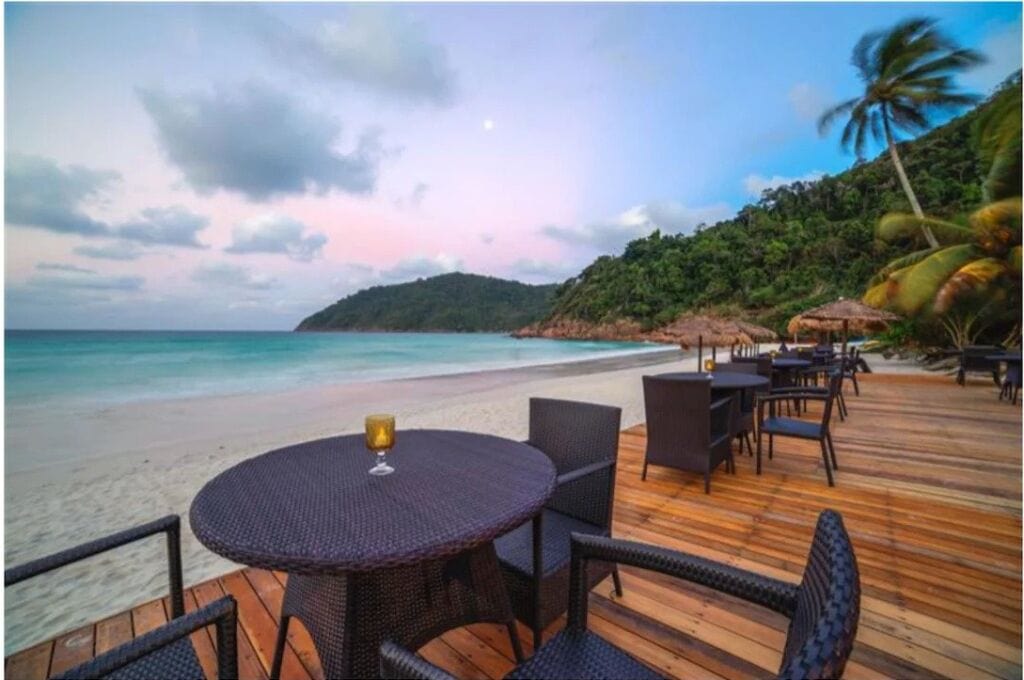 Another beautiful island paradise in Terengganu is Pulau Redang, filled with beachfront accommodations, fun activities and Instaworthy views. A stay here is the perfect way to rejuvenate your senses! Redang's popularity first exploded in 2000, being the setting for Hong Kong blockbuster 'Summer Holiday', starring pop star Sammi Cheng and Taiwanese heartthrob Richie Jen… and its holiday appeal continues to this day.
Ideal time to visit
Between June to August, for amazing tropical weather and ideal diving conditions. Most resorts are closed from October onwards due to the monsoon season.
Getting there
Flight from Kuala Lumpur to Kuala Terengganu (approximately 1 hour) or by car or bus (close to 6 hours). From Kuala Terengganu, head to Merang Jetty by car or taxi (30 minutes) and take a speedboat to Pulau Redang (40 minutes).
Best places to stay
Luxury: The Taaras Beach & Spa Resort
Mid-range: Redang Beach Resort
Budget: Redang Pelangi Resort
To-do list
Scuba diving at Tanjung Tokong or Tanjung Lang.
Snorkelling at Redang Marine Park.
Kayaking and beach volleyball.
Hiking at Pulau Redang's island trails.
Spa treatment at Taaras Spa.
5. Pulau Rawa – For a weekend getaway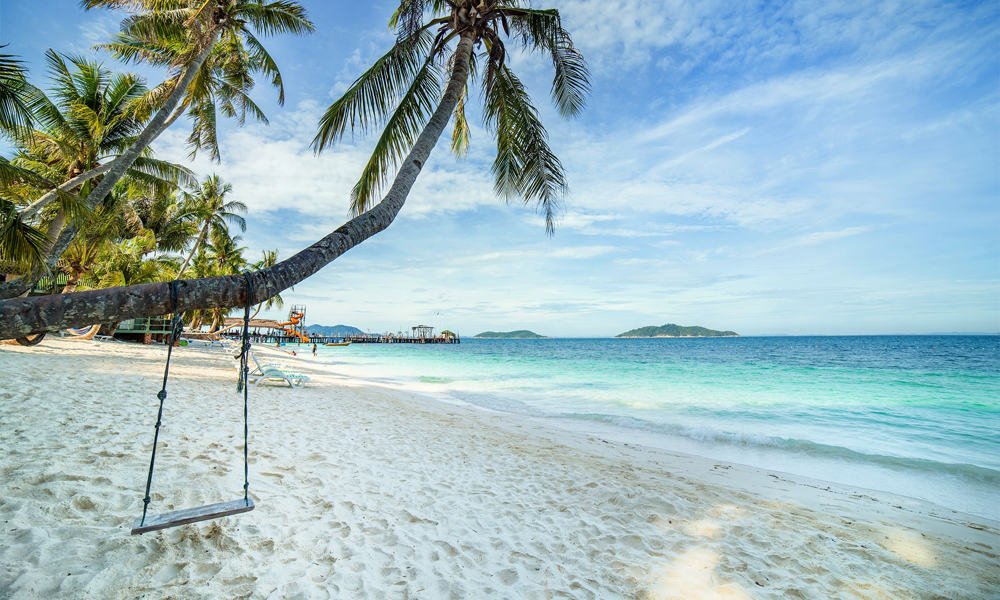 Nicknamed the Maldives of Malaysia, the remote and relatively small island of Pulau Rawa, Johor, features a unique landscape, with white sandy beaches on one end and rocky cliffs on the other. The island is known for its abundance of coral reefs and is home to a large population of white doves (known by their local name, Rawa).
Getting there
Catch a bus or drive from Kuala Lumpur to Mersing Jetty. Alternatively, take a flight from Kuala Lumpur to Senai International Airport (approximately 2 hours) and a bus directly to Mersing Jetty. Ferries to Pulau Rawa depart regularly from Mersing Jetty.
Best places to stay
Rawa Island Resort
Alang's Rawa Resort
To-do list
Explore the marine life while snorkelling and kayaking.
Island hopping to neighbouring islands Pulau Harimau or Pulau Mensirip.
Scuba diving in the crystal clear waters. Aspiring divers can take up PADI courses that cater to different diving levels.
Take an exhilarating ride down the giant water slide (estimated 40ft high) into the clear seawater.
Stroll by the beach, or just lounge in a hammock and relax.
Undoubtedly, a Malaysia island retreat is an experience not to be missed. Clear your schedule and round up family and friends for a memorable vacation. Endless sunshine, silky warm waters, lush scenery, fantastic accommodation options, and an array of fun activities await!
Let us help you plan a memorable Malaysia island getaway!
You may also be interested in: