My first exposure to Oktoberfest was at a mall in Malaysia. The event was organised by a German beer brand and just like its forebears in Munich, the beer festival was done outdoors with food, drinks, and merriment. 
In the conservative Muslim-majority country of Malaysia, the outward celebration of alcohol on the streets did take us by surprise. 
It was a weird and wonderful introduction to the world of bratwursts, schnitzels, and pretzels that we would otherwise never experience. 
Looking deeper into the celebration, we've obtained a much deeper appreciation of the celebration and have found the many ways in which people around the globe celebrate the over 2-week festival. 
Oktoberfest Explained: An Overview Of The Bavarian Festival That Has Swept The Globe
To understand Oktoberfest we need to start at the beginning, in the capital of Bavaria, Munich.
Oktoberfest Munich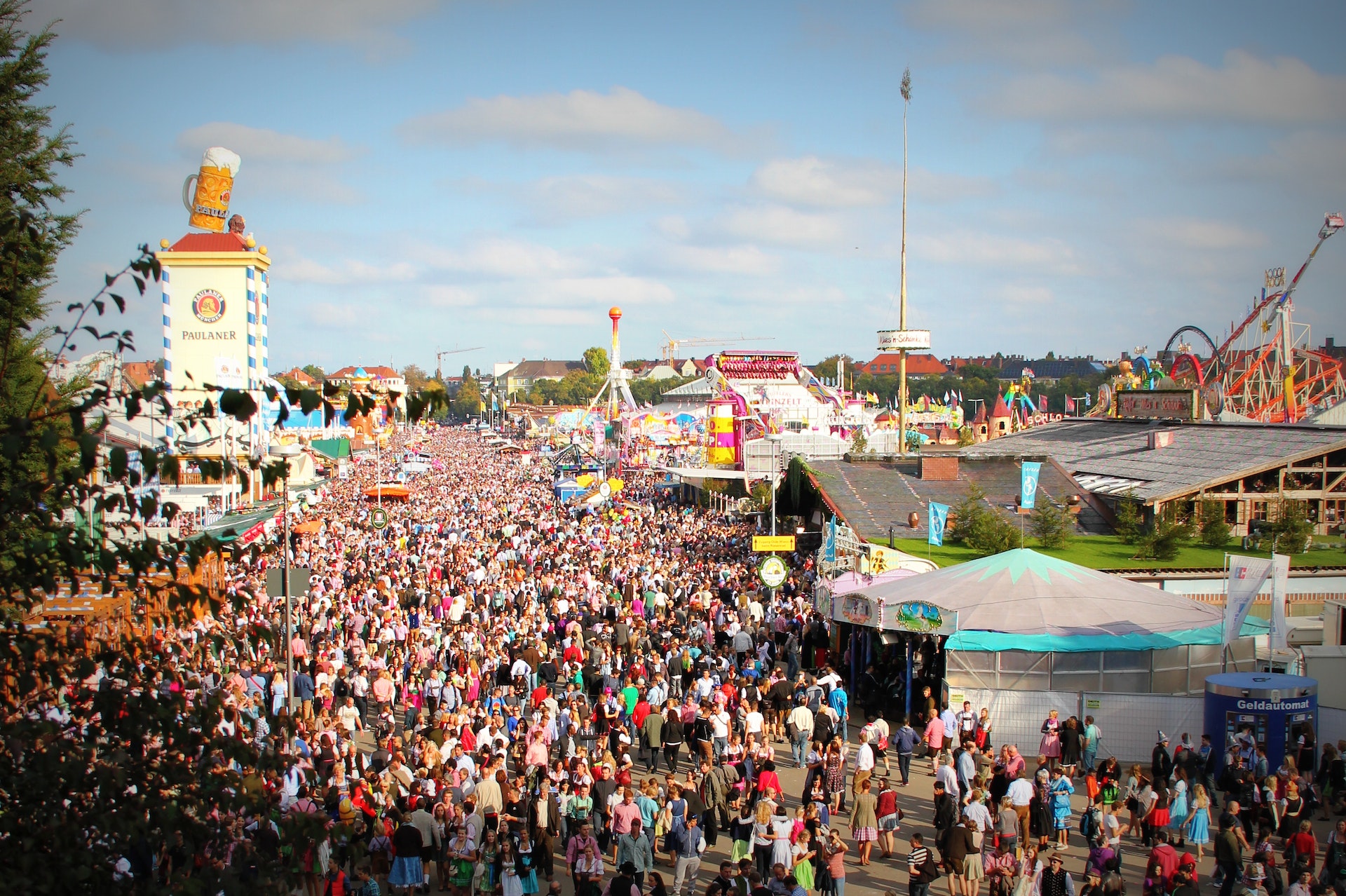 To appreciate this festival is to understand its origins. Oktoberfest is an annual festival, or Volkfest, an event in German-speaking countries that feature beer and a travelling fun fair. The festival originated in Munich, Germany on 12 October 1810 in celebration of the marriage of the crown prince of Bavaria who later became King Louis I. From then on it became an annual celebration but in 1818, the festival would morph into something closer to what we enjoy today with food and drink stalls.
By the late 20th century, instead of booths, the celebration developed into large beer halls and the mayor of Munich would tap the first keg to officially launch the festival.
The festival spans from the end of September to the first Sunday of October with at least three weekends in between so there's no fixed date for the festival. Just count backwards three weekends from the first Sunday of October of every year.
Since the beginning of the festival, Oktoberfest has been held at Theresienwiese, the original grounds for the birth of the festival. Theresienwiese is the biggest fairground in Munich and is located southwest of the city centre. Search "Theresienwiese", for the nearest subway station (U-Bahn) to the fairgrounds. Depending on where you come from you may also alight at "Goetheplatz" or "Schwanthalerhöhe" station. The nearest S-Bahn station (rail station) to the festival grounds is "Hackerbrücke". The rail station is a 1km walk away so keep that in mind if you're travelling with children.
Taxi companies are heavily regulated in Germany, so don't be afraid of rate hikes by individual taxi drivers during the festival. It may be a good option for families to ride comfortably to the location—or for you to go back to your hotel safely if you've imbibed a little too much.
The festival is usually packed with visitors and you will often find lines of visitors outside the fairgrounds waiting to get in during the first day of Oktoberfest. Seasoned festival goers arrive early to reserve a table at their favourite beer tents (more on this later). Speaking of tents, expect two main walkways at the grounds: one that leads to all the beer tents for your food and drinks, and one for rides and other attractions.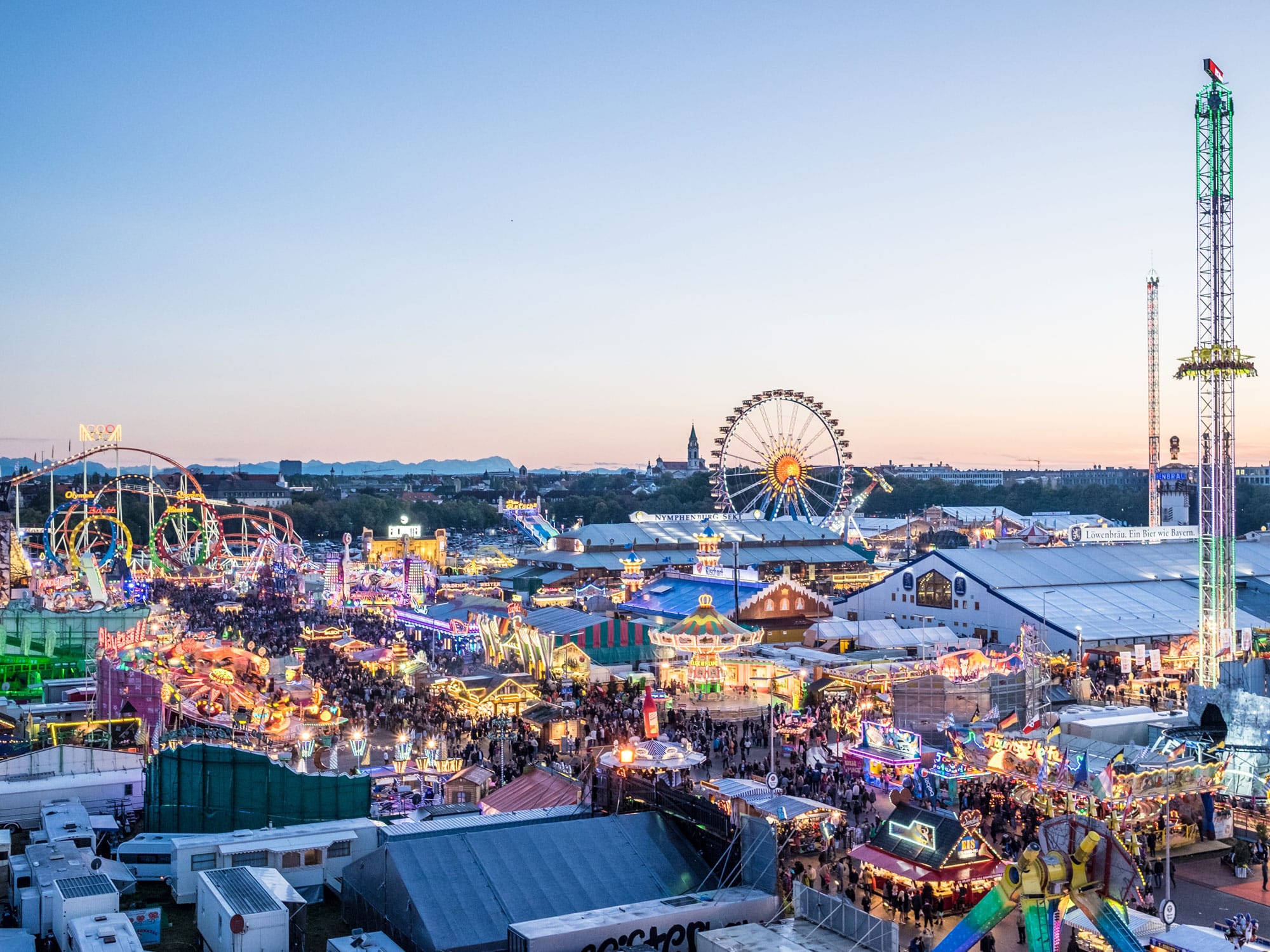 The rides include the death-defying five-loop roller coaster called the Olympia and Skyfall, the tallest mobile drop tower in the world at 75 metres.
We don't know how well beer and oily food fare with these rides but we suggest separating your trip into one for rides and another to enjoy the food. There are at least 25 signature rides during the festival and you'll probably find one that meets your adrenaline threshold.
Luxury lodges are aplenty in Kruger National Park and all of them cater to different needs. Some are built for families while others offer couples a private and relaxing time. Sabi Sabi Earth Lodge in Sabi Sand Private Game Reserve is recognised by Nat Geo's Unique Lodges of the World. 
Once you've filled up on adventure, head back to Cape Town for food and relaxation or head over to Johannesburg, South Africa's biggest city for shopping, culture, and yes, more food.
Oktoberfest Beer Tents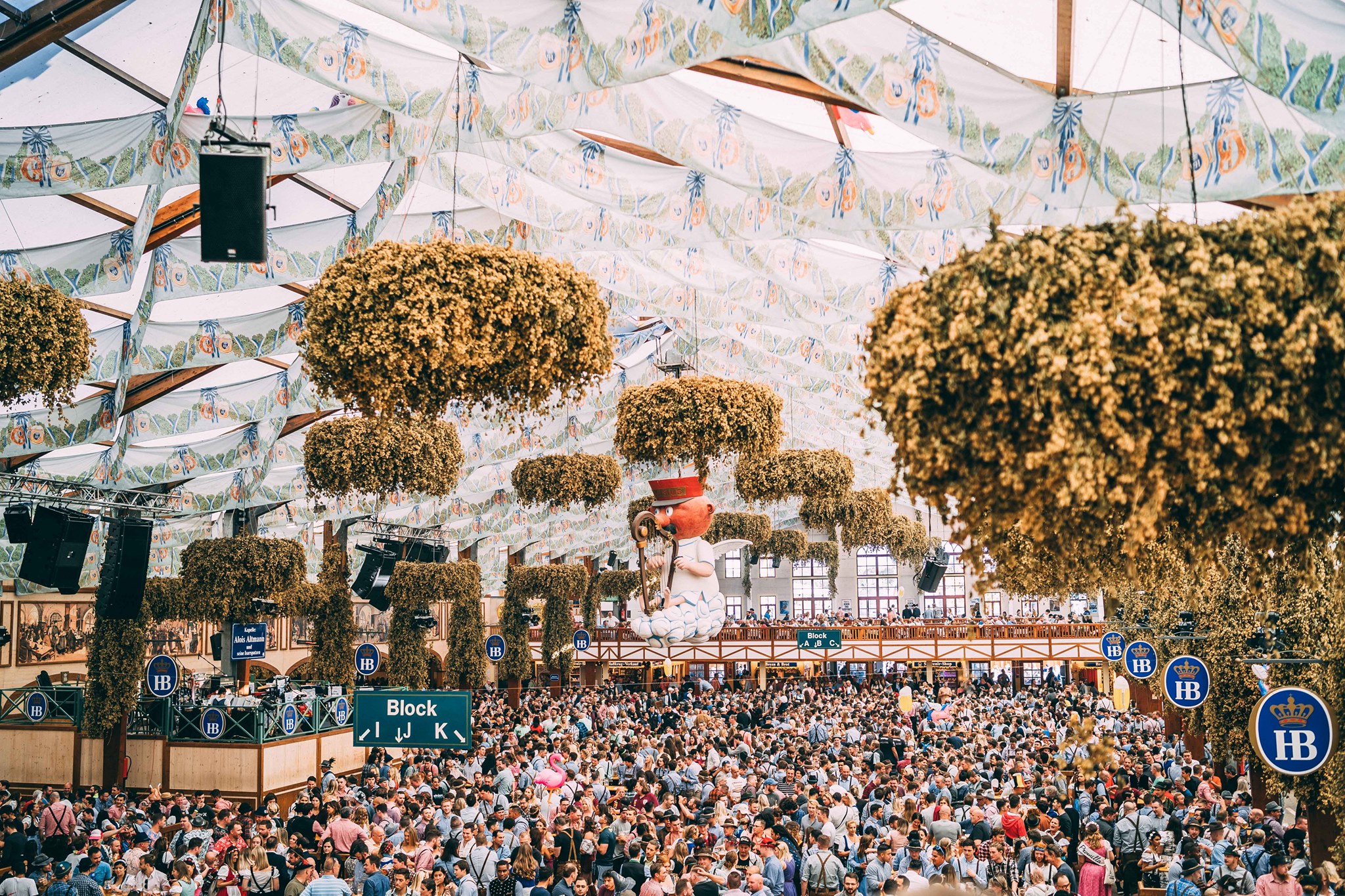 The beer tents are huge temporary structures that hold thousands of people and each tent is assigned to a particular brewery (hence people reserving seats at their favourite tents). There are 17 large tents and 21 small tents with their own vibe, decoration, and drink offerings. The Hofbräuhaus (Royal Brew House) is the tent that is most popular with international visitors—with good reason!
Hofbräuhaus is one of Germany's oldest beer producers and the tent has a party vibe to it that's not found in other tents. It is also the only tent with a standing area for up to 1,000 guests. In other tents, you need to be seated to receive service but this is the only tent that will still serve standing customers. 
All tents close their doors once they are filled so many people line up from 6 am to get a spot in their favourite tent. That said, it's possible to reserve a seat in your favourite tent and these go up for reservation 6 to 12 months ahead of time. Locals who make the annual trek to Oktoberfest usually take up these bookings pretty quickly but a portion of each tent is allocated to walk-ins. 
Plan to either come early or come during weekdays to try to find a place. Based on past experience, tables fill out at about noon time and usually don't empty till the event closes. Reservations are done on a per-tent basis, so head to the Oktoberfest website to find your tent of choice to make the reservation. 
Beer is only sold in 1-litre glasses so be ready for that. The beer comes from one of 6 breweries, i.e, Paulaner, Spaten, Hacker-Pschorr, Augustiner, Hofbräu, and Löwenbräu.
Each tent will have beer from the main brewery that sponsors the tent. Your ordering options will be limited mainly to Helles (Light Beer), Dunkel (Dark Beer), or Radler (Shandy) which is 50% Helles mixed with 50% Lemon Soda (Sprite). A few tents also carry Hefeweizen (Wheat Beer) and Russ which is just like Radler but with Wheat Beer instead of Light.
For non-alcoholic drinks, there is Alkoholfreies Bier which also comes in a 1-litre mug and costs the same as regular beer. Order Wasser for water, Tafelwasser for bottled water, and Hahnenwasser for tap. 
Most water you order in Germany is carbonated, so make sure you request still water if that's what you want. Water costs almost as much as beer here which is very steep.
Oktoberfest Food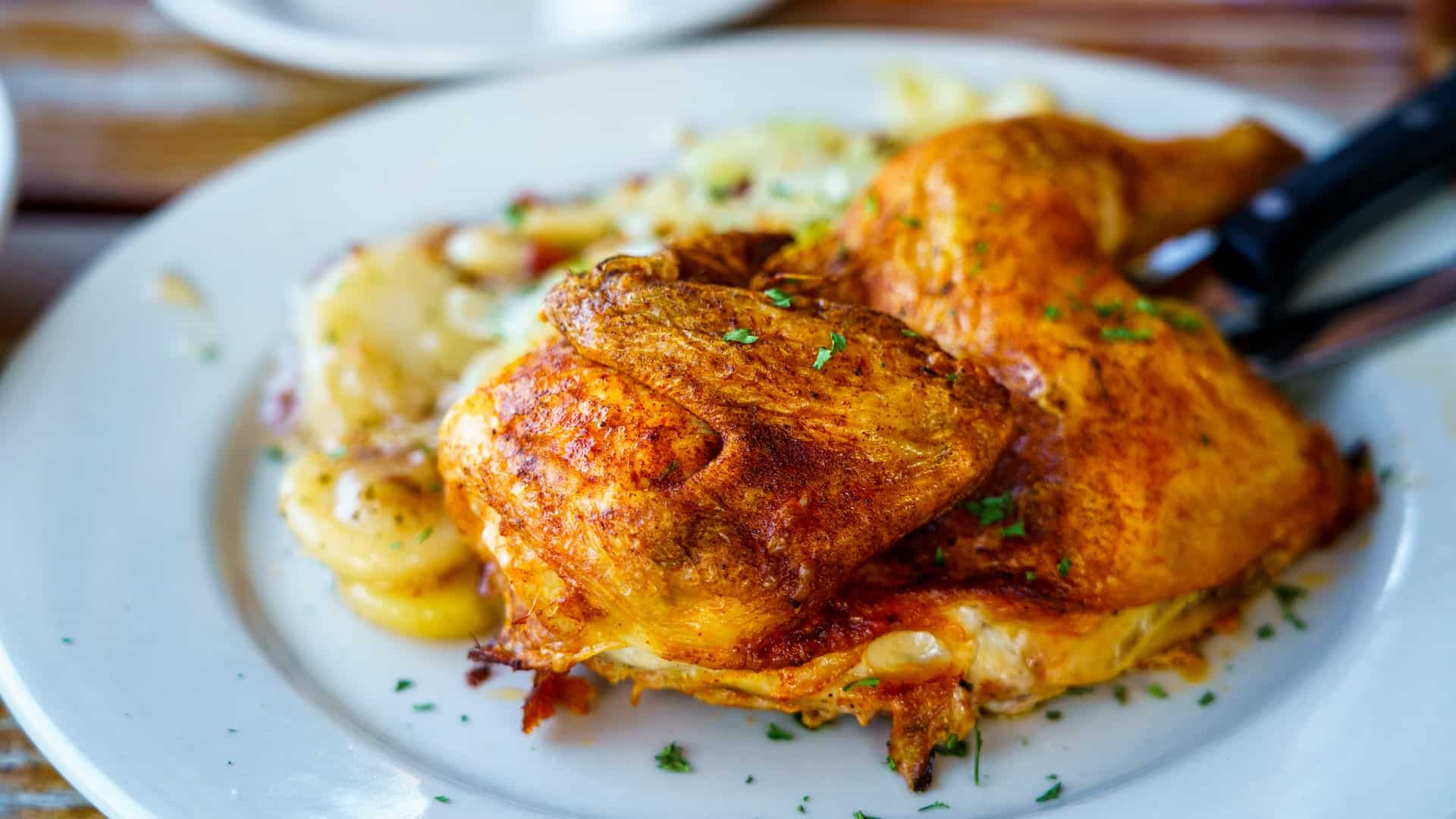 While the big tents are famous for beer as well as food, there are tents that specialise in food a little more. For example, starting in 2022 the newly renamed Café Theres (named after Queen Theresa) serves coffee and homemade cakes!
It is the only tent with its own bakery on the festival site. The tent is one of the rare tents that do not provide long beer tables but round tables and a quieter atmosphere. Come in the morning for fresh apple strudel, pretzels, and cheesecake, all of which are their specialities. In the evening, the tent transforms to serve sparkling wine and cocktails served with savoury snacks, sandwiches, and goulash soup.
Over at Ammer Hühner-und Entenbraterei—another small tent—you'll find the world's oldest roast chicken stall. As they say, you haven't lived till you've tasted Hendl (roast chicken). Since 1885, the poultry roaster has served roasted chicken and duck which are crispy on the outside and juicy on the inside. The tent is also famous for making a special effort to cater to children. There are child-sized portions and kid's menus that ensure families with kids will feel welcome.
For pancakes and free wedding cake daily, head to Café Kaiserschmarrn. Kaiserschmarrn is a fluffy shredded pancake that's rooted in Austria but is enjoyed by German-speaking countries.
The wedding cake in the tent is cut daily to commemorate the occasion of Oktoberfest which was the wedding of Ludwig von Bayern and Princess Therese von Sachsen-Hildburghausen. The cakes are available on a first-come,first-served basis of course.
Head outside the tents and you'll find many to-go options from your tent and on the fairgrounds itself.
On your feet, to-go options include the pizza-like snack, Flammkuchen, roasted fish Stecklerfish, sausages, and Bavarian mac and cheese, Käsespätzle. Most things you can get in the tents you can find outside as well – except a table.
Tips and tricks to survive Oktoberfest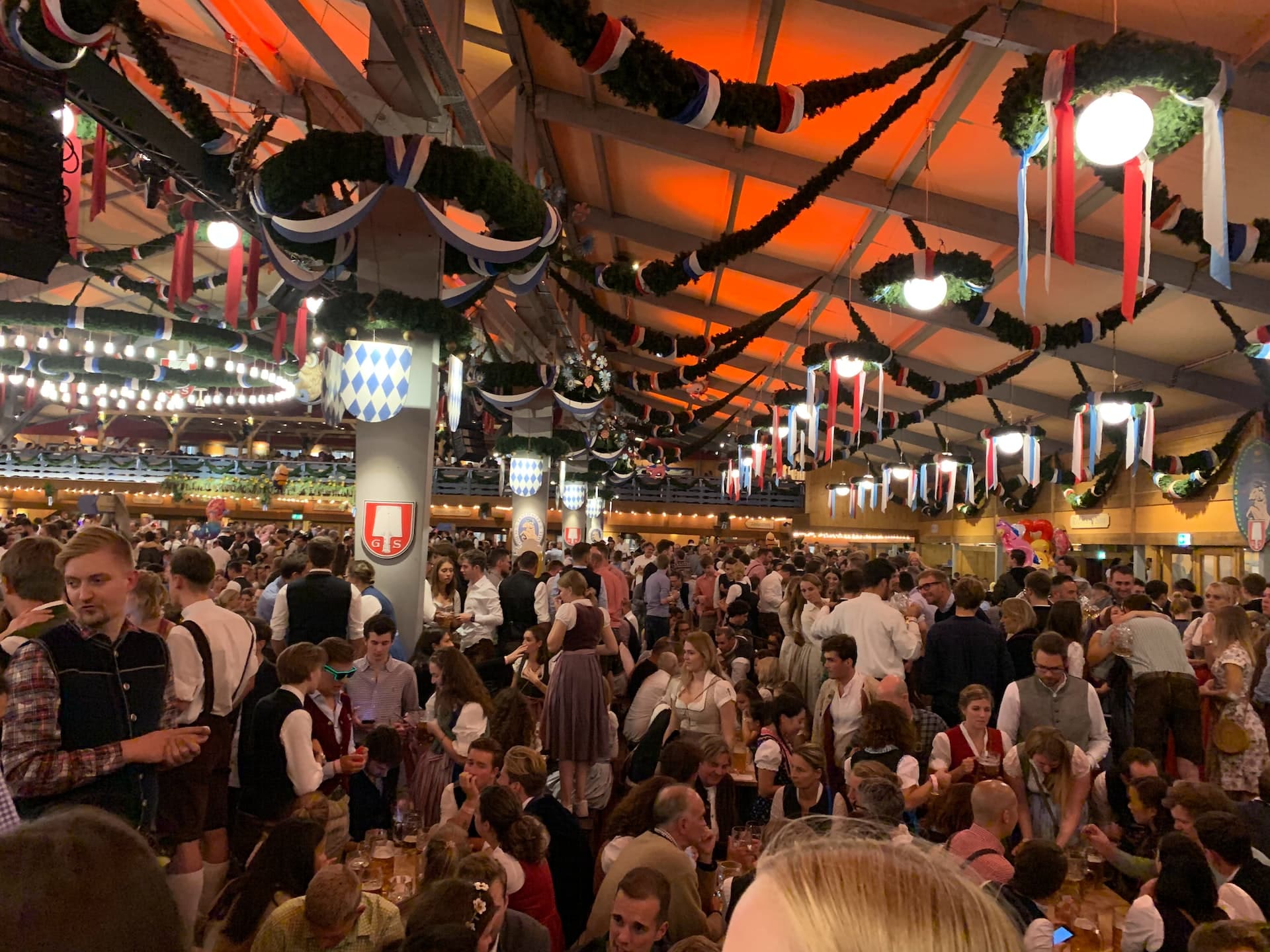 When it comes to the festival, be early for everything. Get your plane tickets early because prices get higher as the date comes closer. The same applies to hotel tickets. We don't have to tell you how precious seats in tents are at this point, so be early to book those as well.
You are not allowed to bring big bags or even purses to the festival so make sure you have everything ready on your person. Traditionally, the festival vendors only accept cash so be prepared with extra because one glass of beer usually costs €10 and rides cost anywhere between €5 and €10.
This loose change is also important because you need to tip your server in the tents. Since it is common practice for people to sit at the table all day, you will want to ingratiate yourself to your server in your section so that you get good service. A common practice is to tip generously when the first round of orders arrives and pay about €1 or €2 subsequently.
As a tourist, you may feel out of place in your jeans and jacket because the locals will all be wearing the traditional Bavarian outfits for celebration: Lederhosen for men and Dirndls for the ladies.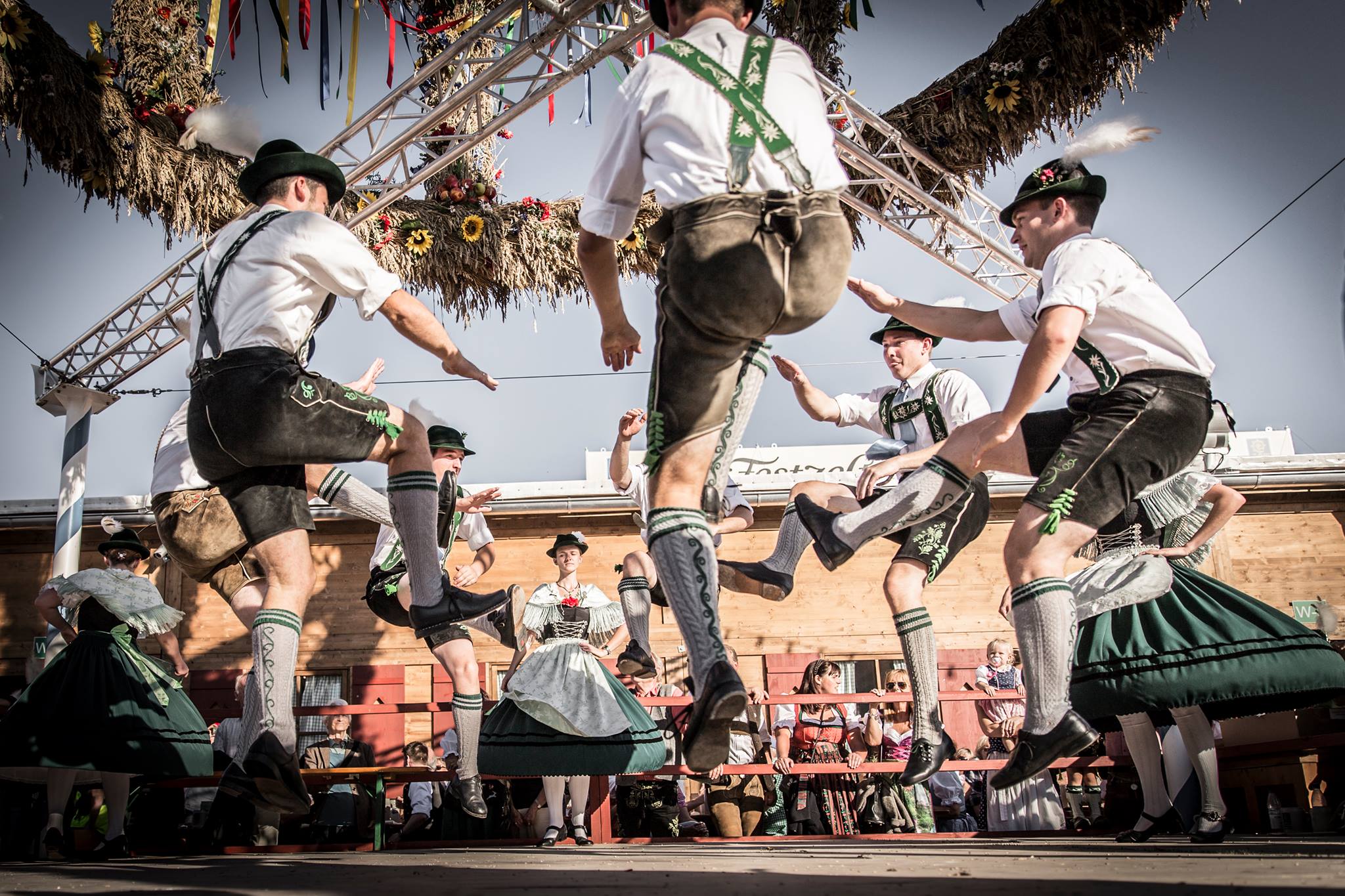 You may attempt to buy the outfits for yourself to blend in but authentic traditional costumes do not come cheap. If you try to rent your costume it may appear more like a Halloween costume without pockets.
Follow this guide and head to the Hofbräuhaus to feel a little less left out. While there are locals dressed for the occasion, the foreigners outweigh their numbers there. If you can, try to go in a small group which will make squeezing into the long tables easier. Unless you're ready to split up, large groups will have trouble finding a table without a reservation.
Finally, always say please (bitte) and thank you (danke), to your servers. The last thing you want is to offend the locals. Whether you're asking to sit at the edge of a long table or trying to get a mug of beer, it's always good to be polite.
Oktoberfest Beer Festivals Around the World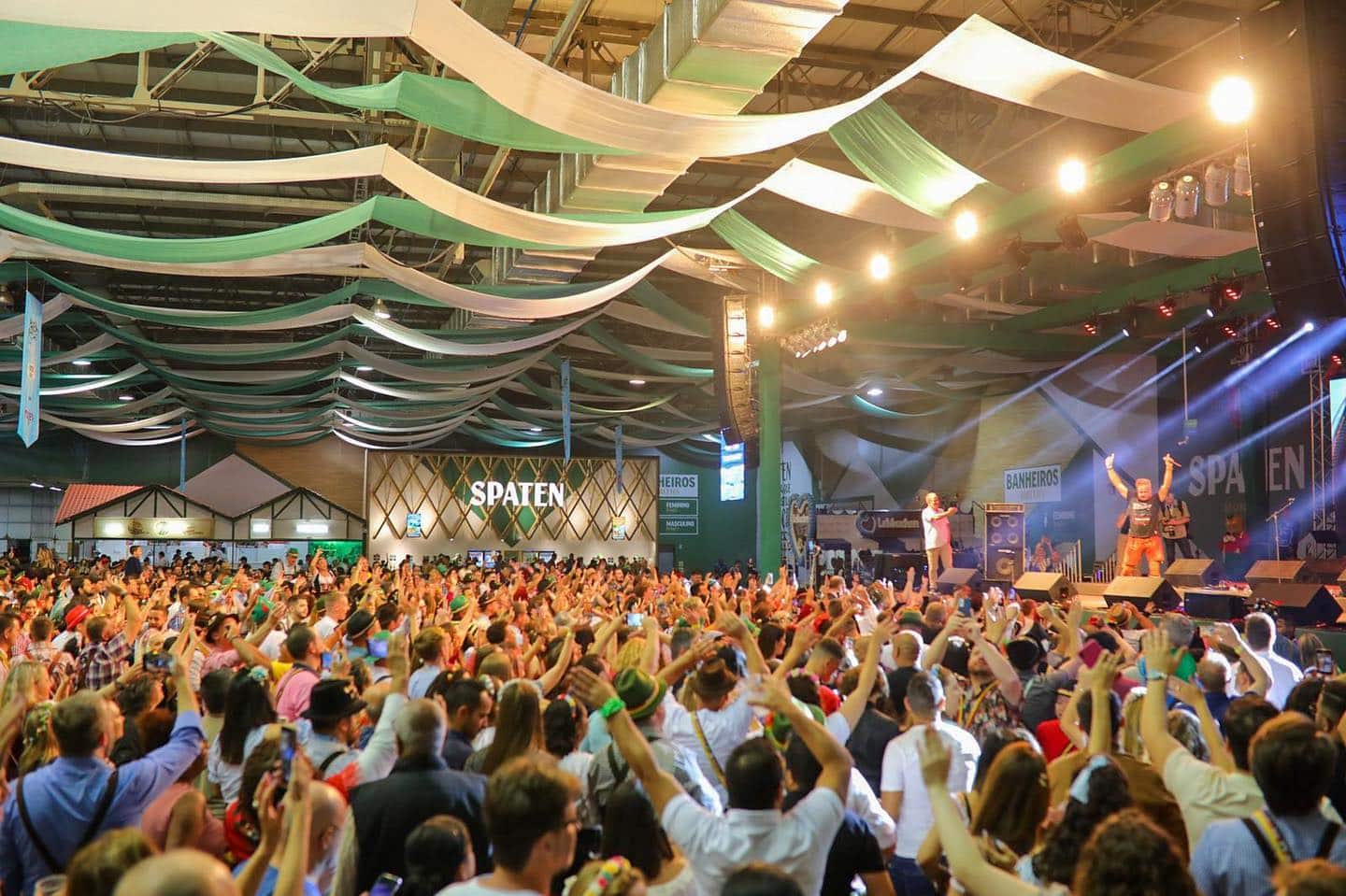 As we've mentioned before, Oktoberfest has transcended the fairgrounds and has made its way across the globe. Outside of Germany, many countries similarly celebrate the occasion with fervour.
The Malaysian leg of Oktoberfest that we experienced in the past continues to this day, however, it remains at a small scale. Our experience was presented by Guinness actually, which boasts Kilkenny and Paulaner as a part of their product offerings.
We remember enjoying Kilkenny for the first time and learning about different types of beer from around the world. While it was eye-opening, Malaysia's biggest Oktoberfest celebration actually runs in Penang by the Malaysian-German Society.
They've been celebrating the festival for 40 years and this year it will run on 21 and 22 October. The Bavarian band Die Frankenrauber is set to perform (a Bavarian band is brought in every year) and dancing, food, and games await all who attend. Get your tickets here.
Vienna's Wiener Wiesn Fest has been celebrated every year since 2009 and features live music and entertainment across 18 days. It is considered Vienna's equivalent to Oktoberfest with open-air areas, chalets, booths, and giant festival tents. The festival focuses on expressing Austrian culture and does so through two main aspects: live music and regional gastronomy.
Over down under, Brisbane takes a bite out of the Oktoberfest bratwurst with their own version called The Only Oktoberfest Brisbane. The Aussies introduce a bevvy of Bavarian-themed activities to partake in or enjoy during the two-week festival like the Bavarian Strongmen competition and the Miss Oktoberfest pageant.
Surprisingly, the world's second-largest Oktoberfest isn't celebrated in German-speaking countries at all, it's celebrated in Santa Catarina, Brazil.
Oktoberfest Blumenau is a 17-day affair that brings over 700,000 visitors every year. Like the other festivals, there's plenty of beer and sausages. Specific to Brazil is the metre beer chugging contest held every night.
Contestants compete every night and the person who chugs the fastest wins at the end of the competition. There's also the Queen of Oktoberfest competition with one winner being crowned queen with the other two earning the title of princess.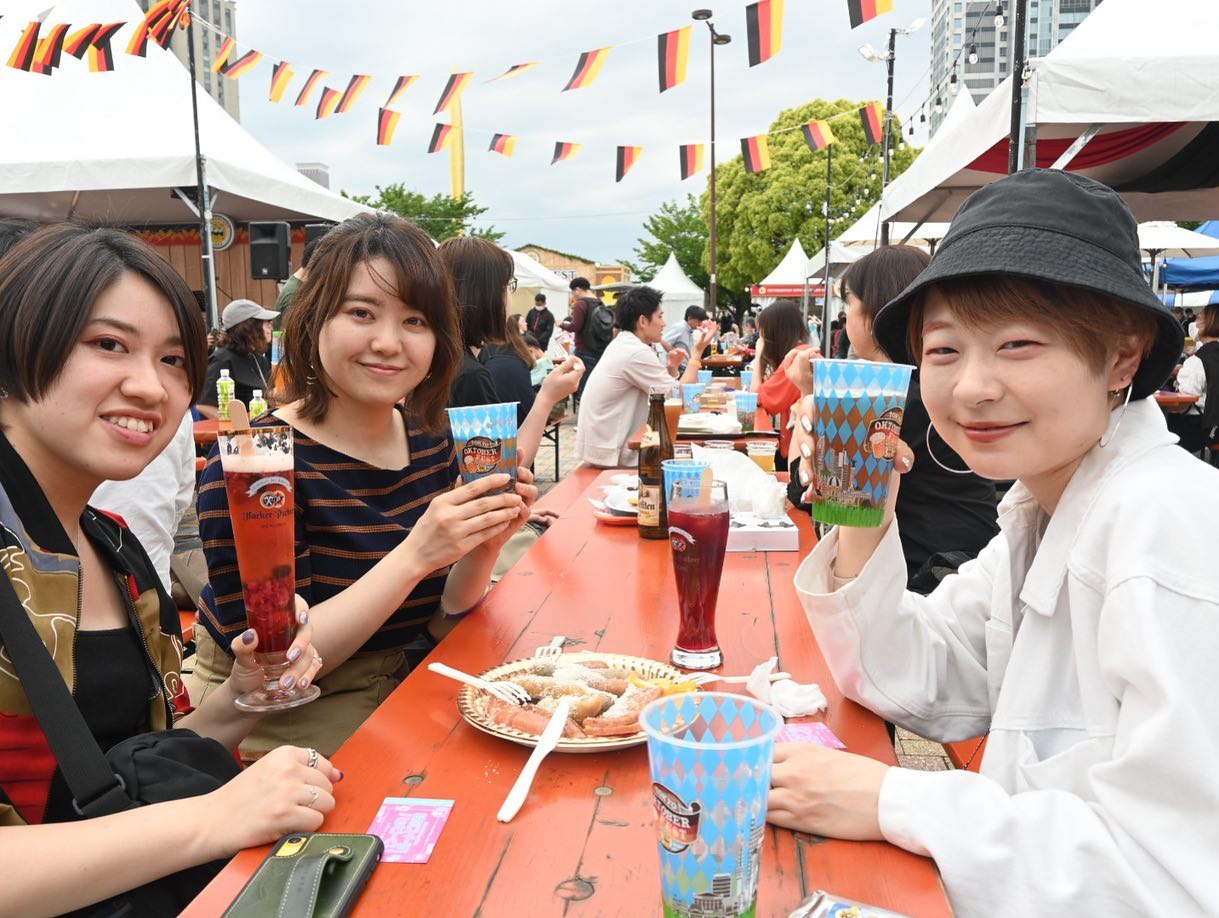 Also somewhat surprisingly, Japan has held yearly Oktoberfest celebrations since 1996! It is the longest-running Oktoberfest in Asia. There are two main Oktoberfest celebrations in Japan one is held at Hibiya Park since 2003 and the other is held at Toyosu's Lalaport. It is not confined to October like its namesake and rather it's celebrated in summer around July instead.
want to celebrate oktoberfest anywhere around the world? 
TRAVEL WITH US For THE BEST DEALS!
You may also be interested in: