In 2024, new Europe travel requirements will come into place. Then, Malaysians must obtain an online document known as ETIAS before entering any of the 30 European Union or Schengen member countries (see below). ETIAS stands for European Travel Information and Authorisation System.
Malaysia is among 63 countries that currently do not need a visa to enter most European nations.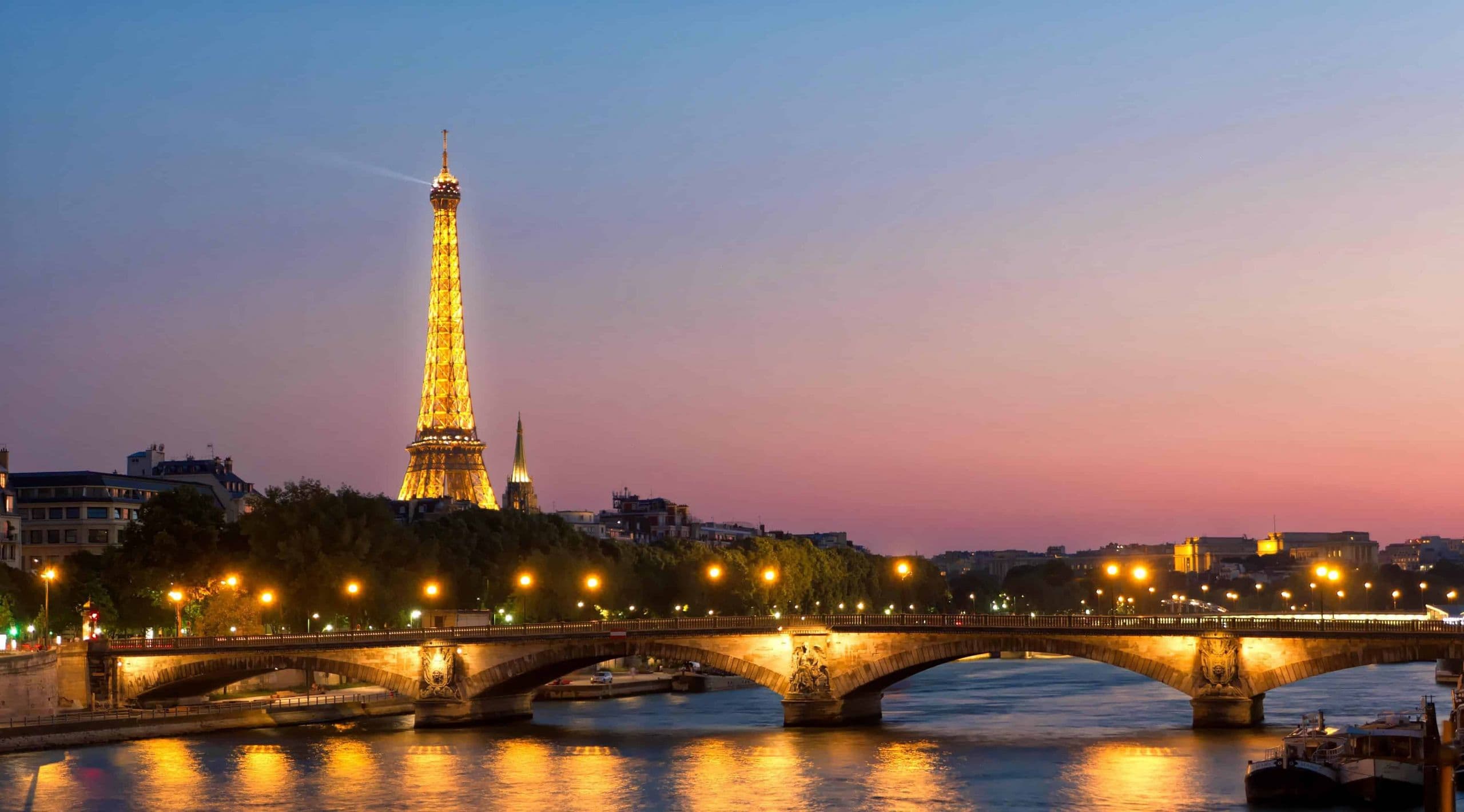 new Europe travel requirements: Countries that need the ETIAS
ETIAS travel authorisation will be required from 2024 to enter the following countries:
Austria
Belgium
Bulgaria
Croatia
Cyprus
Czech Republic
Denmark
Estonia
Finland
France
Germany
Greece
Hungary
Iceland
Italy
Latvia
Liechtenstein
Lithuania
Luxembourg
Malta
The Netherlands
Norway
Poland
Portugal
Romania
Slovakia
Slovenia
Spain
Sweden
Switzerland
ETIAS For Malaysians: what you need to know
Here are the details based on the EU's official ETIAS :
With an ETIAS, you can stay in Europe for a maximum of 90 days within 180 days.
It does not guarantee entry upon arrival. A border guard will check your passport and other documents and verify that you meet the entry conditions.
ETIAS authorisation will be valid for three years or until the passport's expiry. Upon the passport's expiry, travellers must obtain a new ETIAS travel authorisation.
Applications may be filled out on the EU's ETIAS website or the system's mobile app. Each application will cost €7.
Most applications will be processed and approved within minutes, but some may more days, and additional information or documentation may be required.
If you are invited to an interview, the processing process for an ETIAS travel authorisation can take up to 30 days.
An ETIAS application can be denied if there are reasonable and serious doubts about the authenticity of the information given and the supporting documents submitted by the person applying.
To use the ETIAS authorisation correctly, you must first pass through the first country you stated in your application. For example, if you were planning to go through Germany, Belgium, and Austria, and you stated in your application that the first country you will visit is Germany, you must go through it before you visit Belgium and Austria. After you enter your first country, you can visit any other country in the Schengen Zone for 90 days.
You must apply for a valid work visa if you plan on working in any country under the ETIAS system for any period. The only exceptions are travel for business conferences or meetings.
How to Apply for an ETIAS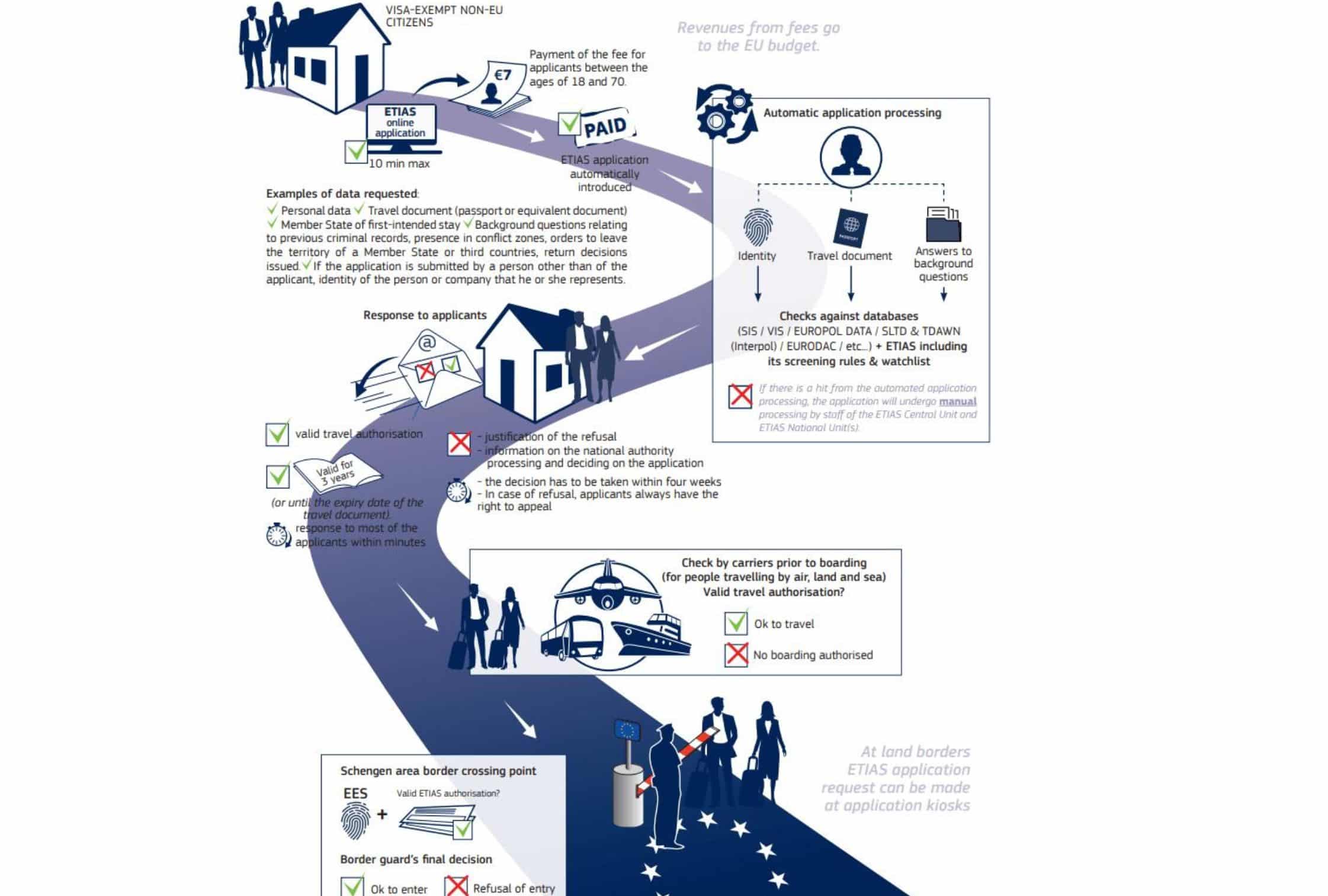 The ETIAS application is expected to take about 10 minutes to fill out. It will be online, so you will not have to go through paperwork.
Depending on your country of citizenship, it will present you with several fields to fill. You must give the following information:
Biometric information such as:

First name
Last name
Last name at birth
Date of birth
Place of birth

Information regarding your citizenship
Address
Email and phone number
Education and work experience
First EU country you intend to visit
Background and eligibility questions will include your medical condition, travel to war countries or places where you were deported or rejected, and criminal records.
For minors, the legal guardian must apply for ETIAS
For family members of EU citizens from other countries, you must submit proof of relationship, residence card, and other background information
Clearly, the new Europe travel requirements are not too onerous. Furthermore, the European Border and Coast Guard Agency (Frontex) says that once the ETIAS starts operating, a very low share of applicants will possibly have their applications rejected.
new Europe travel requirements: What is the ETIAS?
ETIAS travel authorisation is an entry requirement for visa-exempt nationals travelling to any of the 30 European countries. The European Commission developed ETIAs to address security concerns (terrorism and the migrant crisis have called for better management of who is entering EU borders) and to reduce procedures and wait times. ETIAS is a completely electronic system that allows and keeps track of visitors from countries who do not need a visa to enter the Schengen Zone.
We can help you with the new Europe travel requirements
You may also be interested in: