Visiting unique festivals can be an enriching and memorable experience. Festivals celebrate culture, tradition, and community, and attending them can give you a glimpse into the heart and soul of a particular place or group of people. In addition, by experiencing these festivals, you can better understand a culture and its values, beliefs, and way of life.
Going to unusual and unique festivals can be a way to step out of your comfort zone and challenge yourself. These events may be held in remote or unfamiliar locations, require trying new foods or activities, or expose you to different customs and beliefs. By pushing yourself to embrace new experiences, you can expand your horizons and better appreciate the world and its diversity.
Let's take a look at some unique and unusual international festivals worldwide.
International Festivals: Uniquely fun celebrations
Cooper's Hill Cheese Roll, Gloucester, UK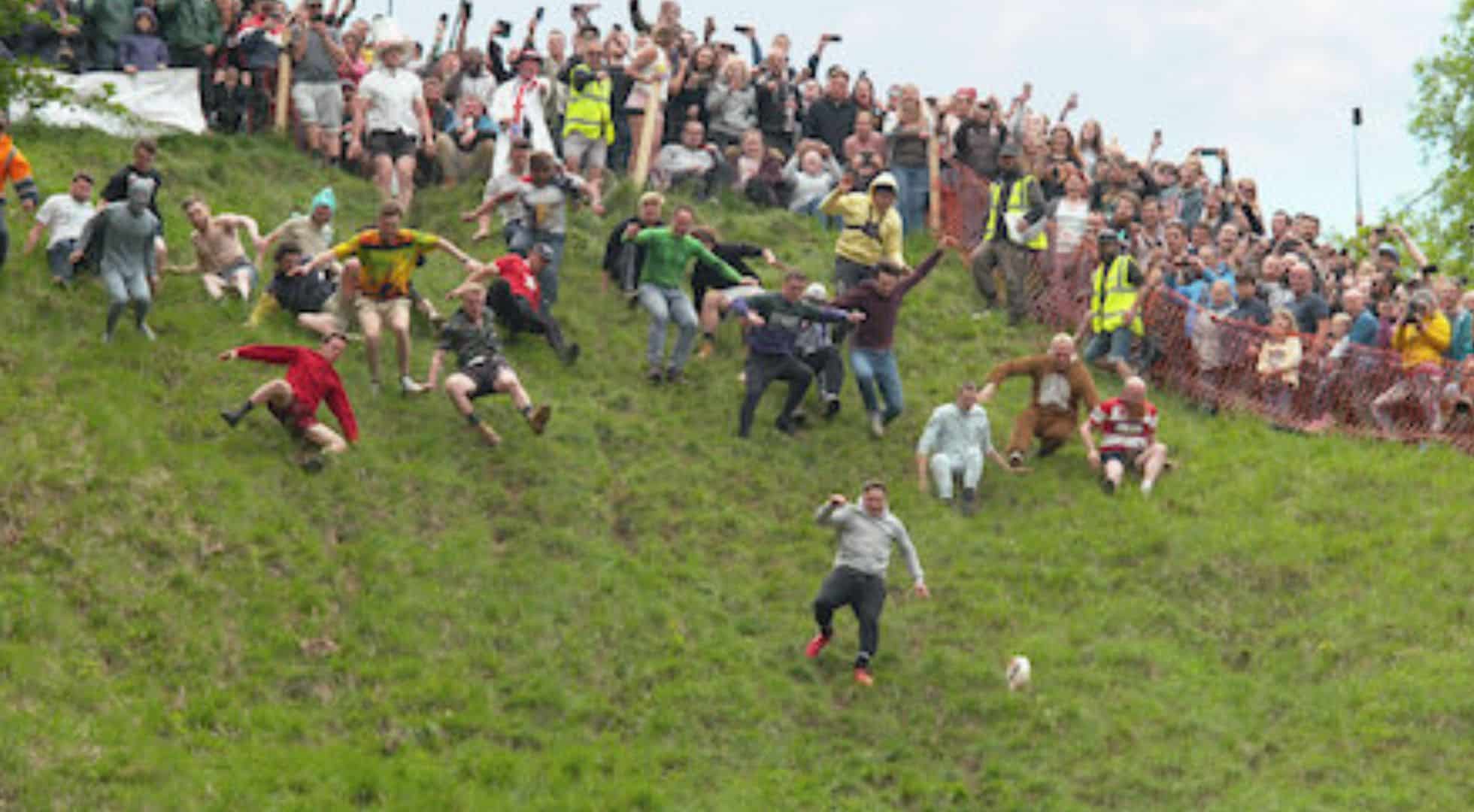 This could be a type of extreme sport. Cheese-rolling is an annual held in the nature reserve Coopers Hill near Birdlip in Gloucestershire region (southwest England). Known as the Cooper's Hill Cheese Roll, this event attracts thousands of local spectators and tourists. Many come to chase a Double Gloucester cheese down the 200-yard-long hill.
You may be asking: how fast can the cheese roll? The cheese is said to go as quickly as  70 miles (112 km) per hour. The winner of this race is the first person to reach the bottom of the hill, and the cheese is the price.
The Cooper's Hill Cheese Roll is an old tradition. Reports say the first written evidence of cheese rolling is in a message written to the Gloucester town crier in 1826. However, the origins of this event vary. It could be about claiming grazing rights on the common and land around Cooper's Hill, while others believe it started as a fertility ritual.
Now, the cheese used is 3–4-kilogram Double Gloucester, a hard cheese traditionally by a local cheese maker. The round cheese is protected by a wooden casing around the sides and is decorated with ribbons at the start of the race. You can watch an episode of this cheese-rolling event on the documentary; We Are The Champions on Netflix.
The Cheese Rolling event in Gloucester typically takes place on the Spring Bank Holiday, which falls on the last Monday in May. In 2023, the Coopers Hill Cheese Rolling takes place on May 29.
Kanamara Matsuri, Kawasaki, Japan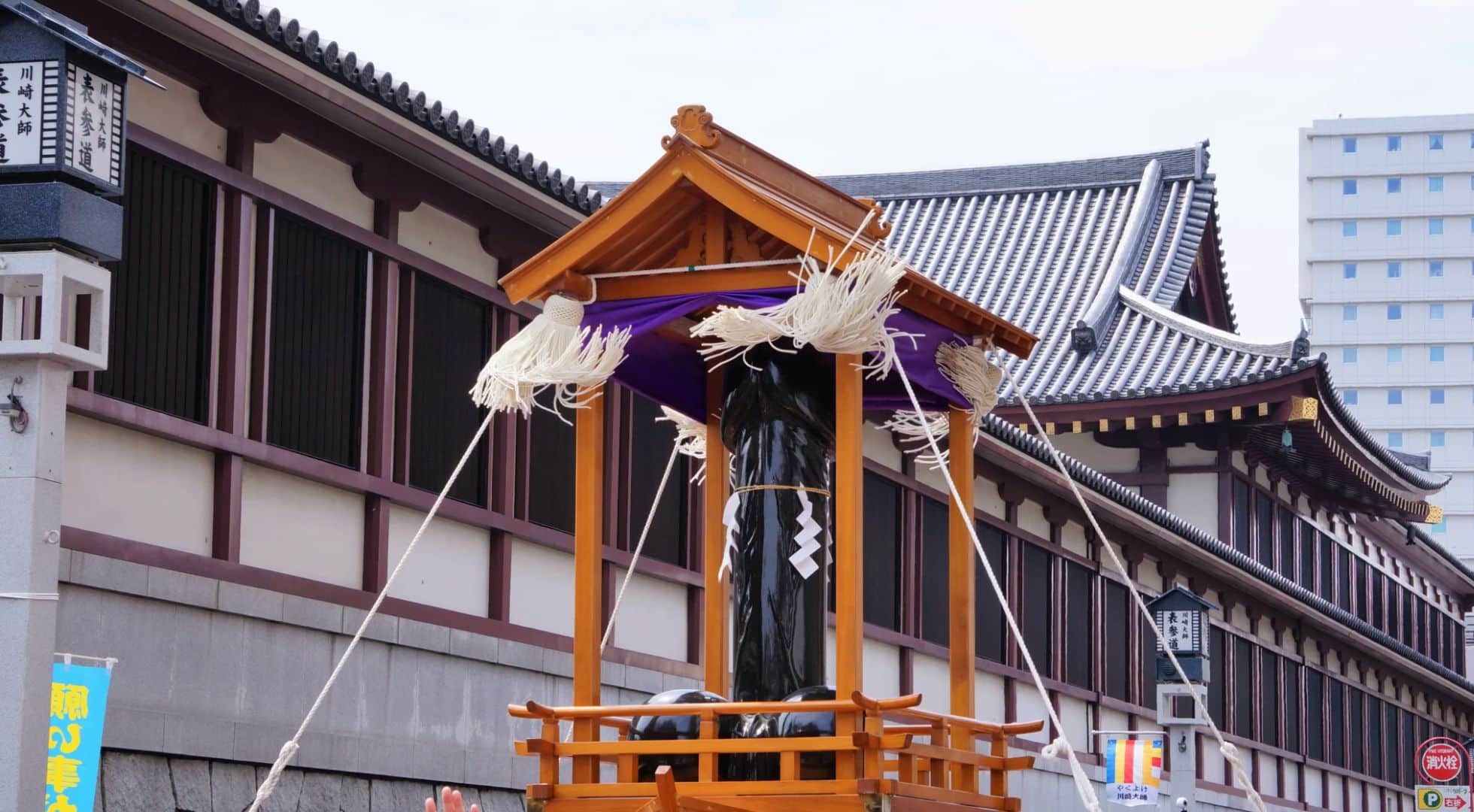 Japanese have a reputation for being mild-mannered, discreet and highly private. So you may not expect a raucous festival celebrating genitalia in Japan. But festivals are great opportunities to cut loose and have fun.
The Kanamara Matsuri, formerly the Festival of the Steel Phallus, is a joyful day of cross-dressing, penis-shaped lollipops and giant phalluses. Here, families will show up to celebrate sex, fertility and the creation of life itself. Fluid gender identities and sexualities across the spectrum have also blended into this festival, and you can easily spot groups of cross-dressing men and transwomen carrying portable shrines.
The main event is a procession of mikoshi (portable shrines). In this case, the shrines contain a variety of giant phalluses; many are pink, which you'll see bobbing over the heads of the crowds.
There is a funny story behind the origins of Kanamara Matsuri: apparently, a vicious demon loved a young woman and proceeded to hide inside her vagina. This demon was so jealous that it moved to bite off the penises of two young men on two separate wedding nights. The young woman sought help from a blacksmith to fashion an iron phallus to break the demon's teeth, which led to the item's enshrinement at Kanayama Shrine in Kawasaki.
This shrine is now a focal point for couples praying for fertility and good fortune in their marriage. Kanamara Matsuri is celebrated annually on the first Sunday in April at Kanayama Shrine in Kawasaki, just south of Tokyo.
International Festivals With a Historical Background
The Saidaiji Eyo Festival, Okayama, Japan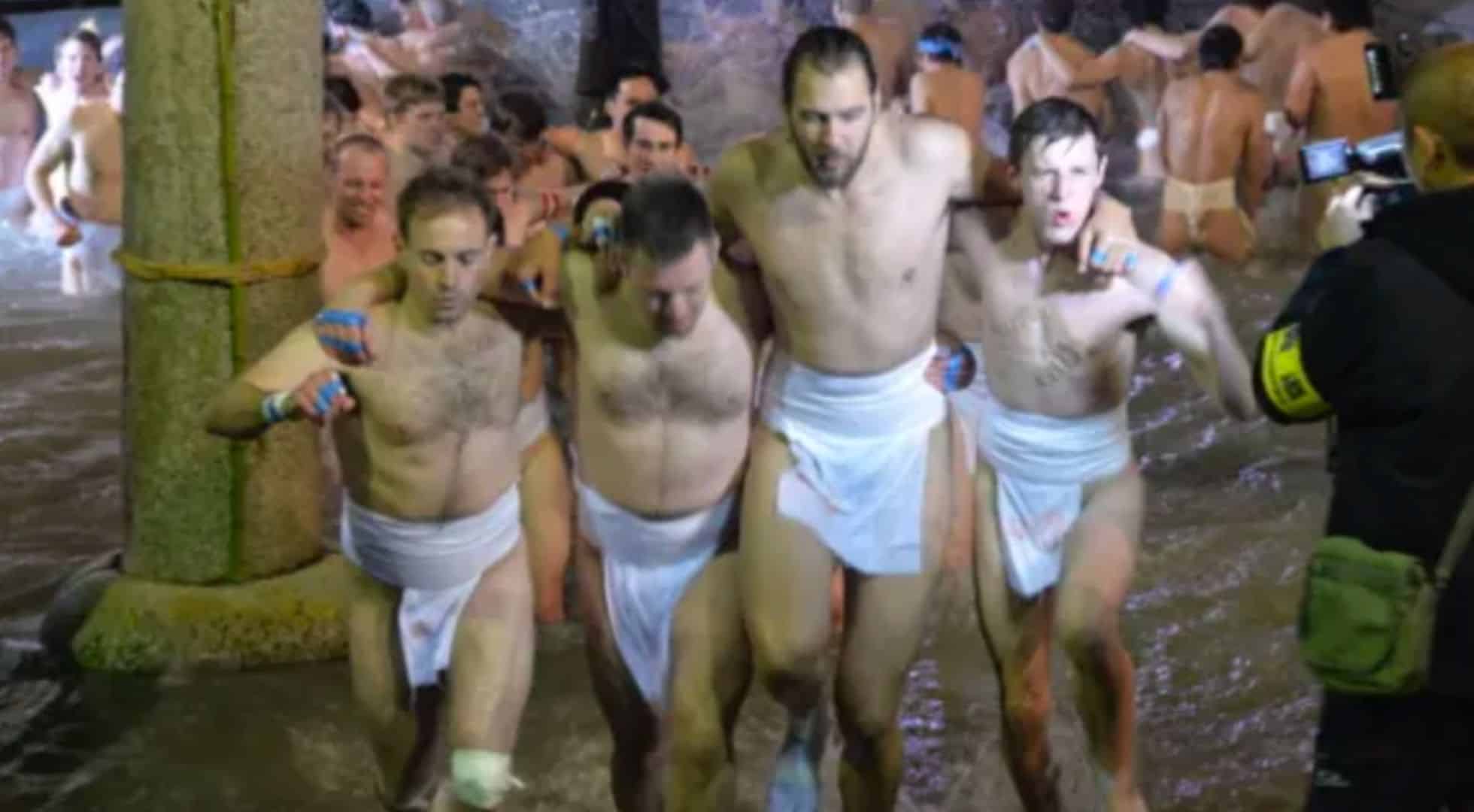 Japan has another unique festival that draws visitors from all over Japan and worldwide. This is the Saidaiji Eyo Festival, aka Hadaka Matsuri (or the Naked Festival). This is where you can watch a roiling mass of 10,000-odd near-naked men battle each other to grab sacred sticks known as shingi. Shingi is thrown into the crowd by the temple priests. The person who catches a shingi and brings it back to the temple's main altar is believed to receive good luck and prosperity for the year. Although the festival involves nudity, it is considered a traditional cultural event with religious and historical significance.
Hadaka Matsuri is a sacred one-day festival with roots that can be traced back to 1510. Then the temple's chief priest bestowed lucky charms on worshippers visiting the shrine. Reports of subsequent luck led to more and more people requesting lucky charms until it reached a point where the priest had no choice but to throw them out over the heads of the worshippers. This is how the scramble for lucky charms began. Over time, the paper charms became sticks, and the participants started stripping off to give themselves the freedom to move until, eventually, the festival took on its current shape.
Hadaka Matsuri takes place each year on the third Saturday of February. About 10,000 men gather in the Saidaiji Temple in Okayama City, Okayama Prefecture. These men are dressed in white fundoshi (loincloth) and white socks (people dressed like this are called hadaka, meaning naked). Those who manage to grab the sticks are named fuku-otoko, meaning "lucky man," for that year. There has been an increase in the number of participants in Hadaka Matsuri, many coming from overseas, and the number of men returning for another attempt at catching a shingi.
Kukeri, Bulgaria
Bulgaria has a traditional festival typically held in the winter months of January or February. This is a centuries-old tradition intended to chase evil spirits away. During this event, male performers, known as kukeri, dress in elaborate costumes that involve large, scary masks. Their garments consist of a nosiya, a traditional Bulgarian ensemble, and poturi, traditional shoes from the 18th century. In addition, many of the men wear oversized fuzzy costumes made of wool or fur with a set of bells, often handed down by generations, hanging from their belts. Others wear masks decorated with beads and embroideries or costumes of paper-mâché depending on their local traditions. The story behind this tradition is that the Kukeri monsters are so scary that any real monster would run away screaming.
In some regions of the country, the Kukeri actors act out mini-plays to make spectators laugh. Every group member is assigned a specific role in a story – the king, the granny, the horse, the bear, etc. Recently, women and young girls have also started participating in this tradition. In the past, female roles were always played by men.
The biggest Kukeri festival of the year, the Surva Festival, takes place in Pernik, 30 miles (50 km) from Sofia, the country's capital. The Surva Festival is also known as the International Festival of the Masquerade Games. It is the largest and most vibrant, attracting thousands of participants and visitors worldwide. Kukeri festivals are also held in other regions of Bulgaria.  Each area has its unique customs and traditions associated with the festival.
International Festivals With Spiritual Roots
Salto del Colacho, Castrillo de Murcia, Spain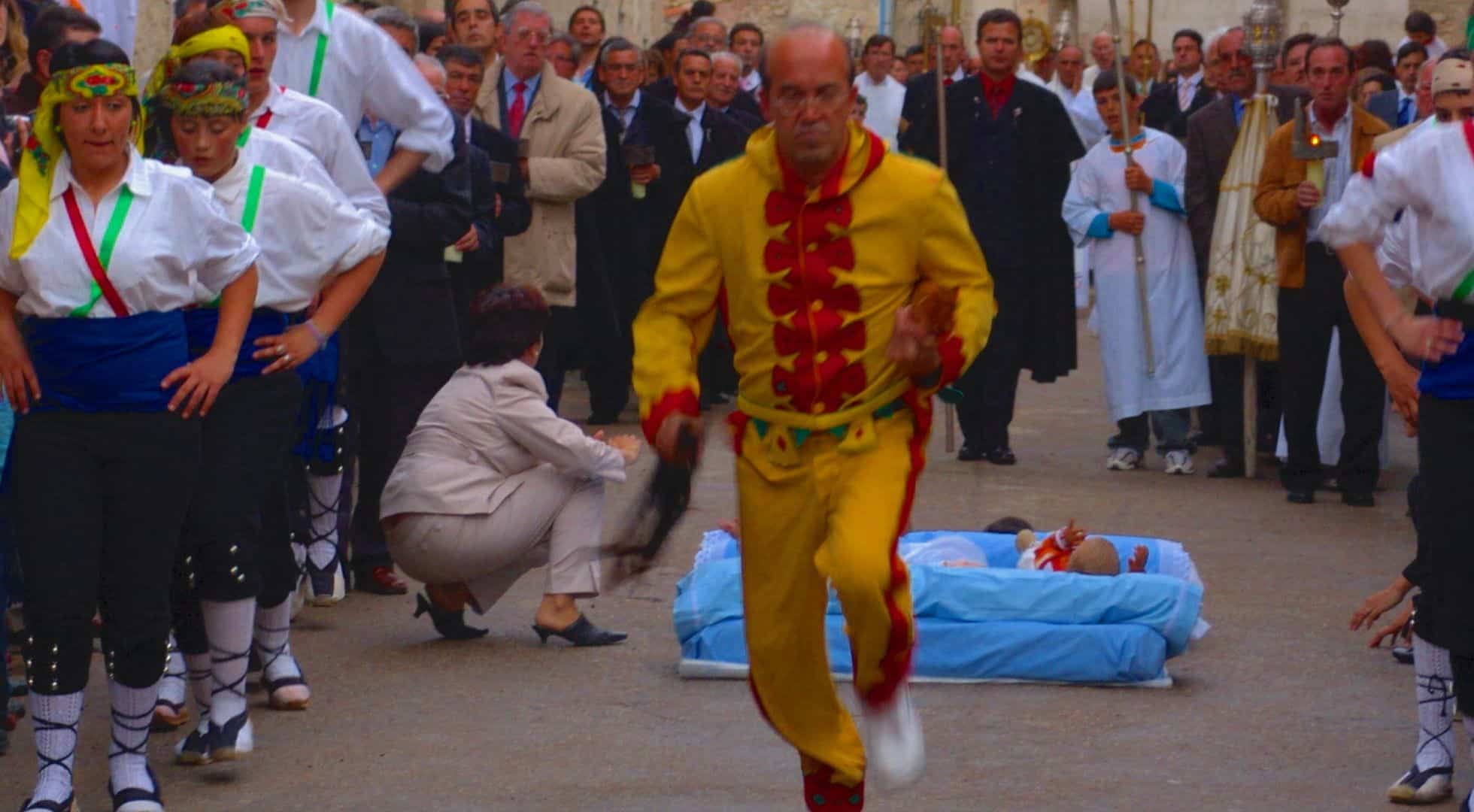 Spain is well known for its original festivals, such as the Tomatina, the tomato-throwing festival. The week-long festival of Salto del Colacho is another unusual, unique festival. This is celebrated in the Spanish village of Castrillo de Murcia every year.
This festival starts with red and yellow-masked "devils" running through the streets and whipping them with a horsetail attached to a stick. Then comes the black-clad pious men to drive out evil. Next is the highlight of El Colacho, an unusual baby jumping event. This is when babies born during the previous year are laid on mattresses in the street while a man dressed as a devil, i.e. Colacho, leaps over them. Reports say some babies are just a few weeks or even days old. The belief is that the devil absorbs the babies' sins and protects them from disease and misfortune.
Spectators can also berate the devil and ward off their back luck. Finally, after the jumps, babies are sprinkled with rose petals and promptly reclaimed by their parents. Do not that some members of the Catholic religious community see this event as unorthodox, but it is a tradition that has survived over four centuries.
Although there has yet to be a record of when the first Salto del Colacho was organised, local historians believe it has occurred yearly since at least the 1600s. Traditionally the festival only included babies from the local village. However, people worldwide have recently travelled to this town in northern Spain to participate in this important cultural festival.
The Day of the Dead, Mexico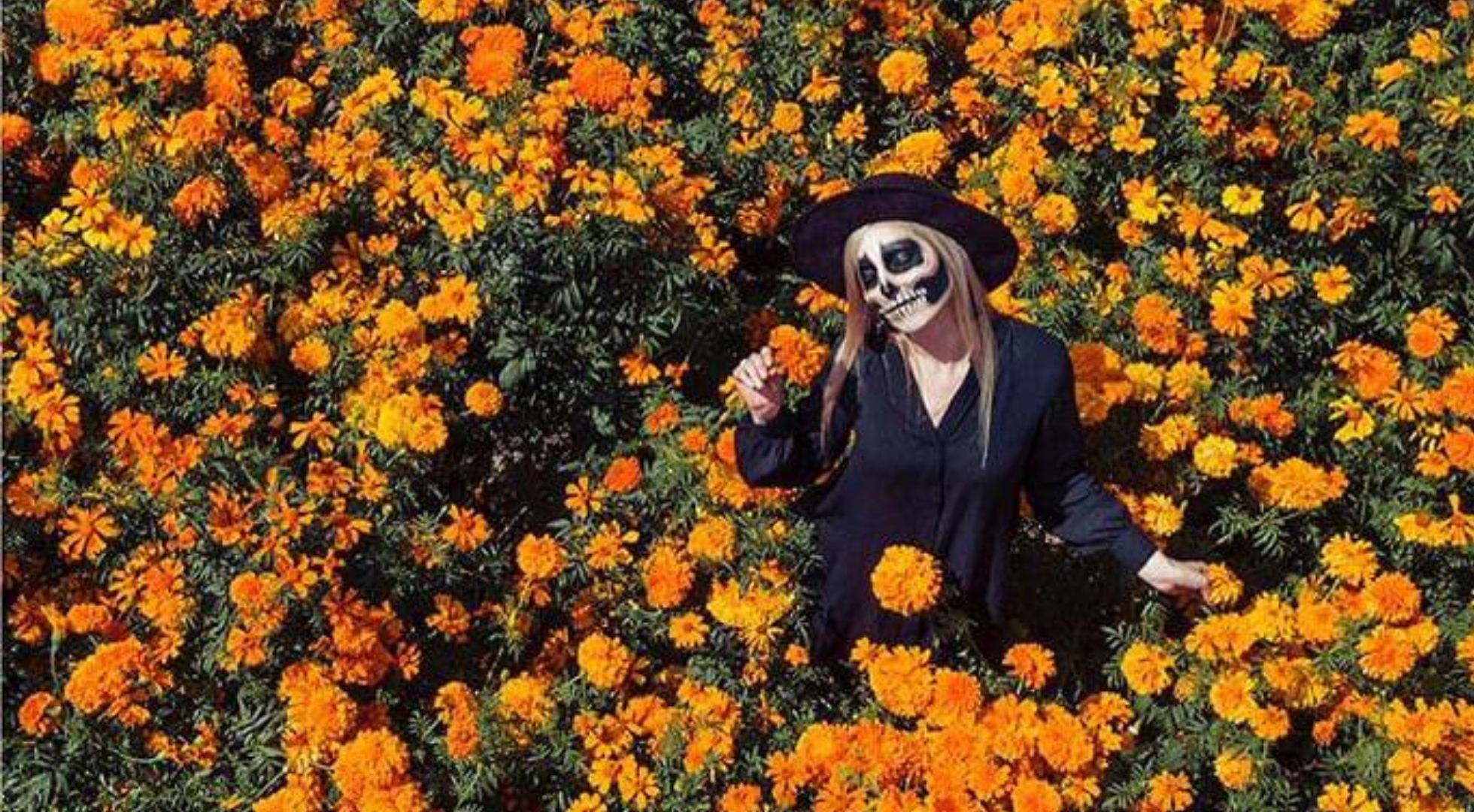 The Day of the Dead, or Dia de los Muertos in Spanish, is a Mexican holiday where families welcome back the souls of their deceased relatives for a brief reunion that includes food, drink and celebration. According to tradition, the gates of heaven are opened at midnight on October 31, and the spirits of children can rejoin their families for 24 hours. The spirits of adults can do the same on November 2.
During the festival, people create altars or ofrendas in their homes and cemeteries to honour the dead. The altars are decorated with marigold flowers, candles, incense, and the favourite foods and drinks of the deceased. People also wear colourful costumes and paint their faces to resemble skulls.
Some say this Mexican tradition falls in the same vein as the Chinese tradition of Qingming, where families visit the tombs of their ancestors to clean the gravesites, pray to their ancestors and make ritual offerings. The roots of the Day of the Dead go back 3,000 years to the rituals honouring the dead in pre-Columbian Mesoamerica. Then, the Aztecs and other people living in what is now central Mexico held a cyclical view of the universe, where death is an integral part of life.
There are many places where you can participate in these wonderful and weird celebrations. Some popular destinations include Mexico City, Oaxaca, and Michoacán. Remember that the Day of the Dead can be crowded, so planning your trip is essential.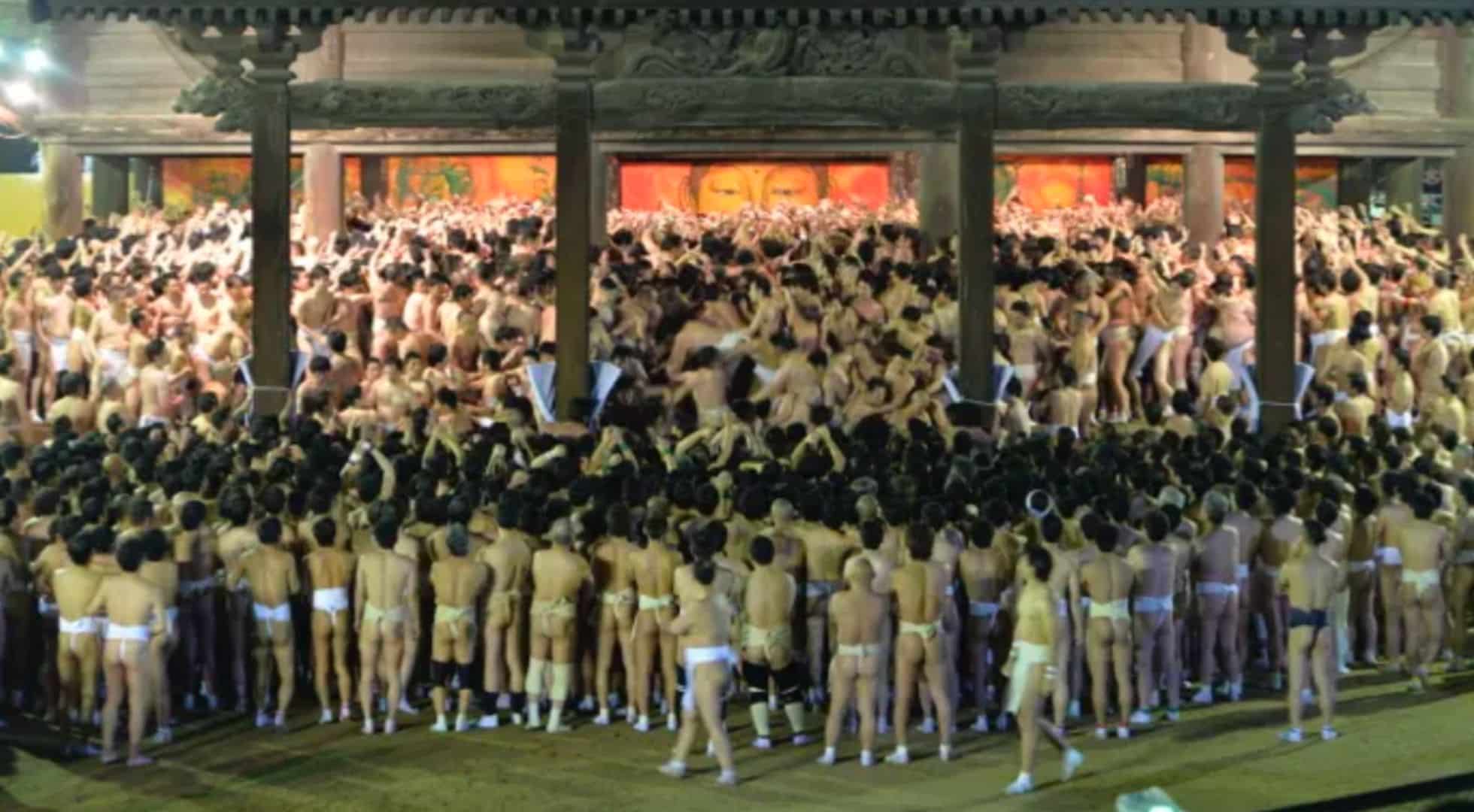 Going to unusual and unique festivals can be an enriching and transformative experience. By immersing yourself in different cultures and traditions, connecting with new people, and pushing your boundaries, you can create memories that will stay with you forever. So why not pack your bags, book a ticket, and embark on an adventure to discover the wonders of the world's most unusual and unique festivals?
PLANNING to go to international festivals? LET US HELP!
You may also be interested in: