This year, halal tourism is set to boom, with an estimated 140 million Muslim travellers exploring global destinations (Global Muslim Travel Index (GTMI) 2022) since the pandemic. The term 'halal' goes beyond merely dietary requirements and extends to aspects of life that adhere to Islamic customs and practices, such as prayers and modest dressing. For Muslim travellers seeking a unique travel experience, halal cruising onboard luxury cruises like Genting Dream Cruises, the highly-reputed halal and flagship cruise under the Resort World Cruises brand, is an opportunity of a lifetime not to be missed!
Before we get into specs of the world-class halal-friendly facilities and attractions onboard luxury cruises like Genting Dream, Royal Caribbean, and Uniworld, take a moment to consider why cruising should be next on your holiday itinerary.
Top Reasons For A Halal Cruise Seacation
1. Explore multiple holiday destinations in one vacation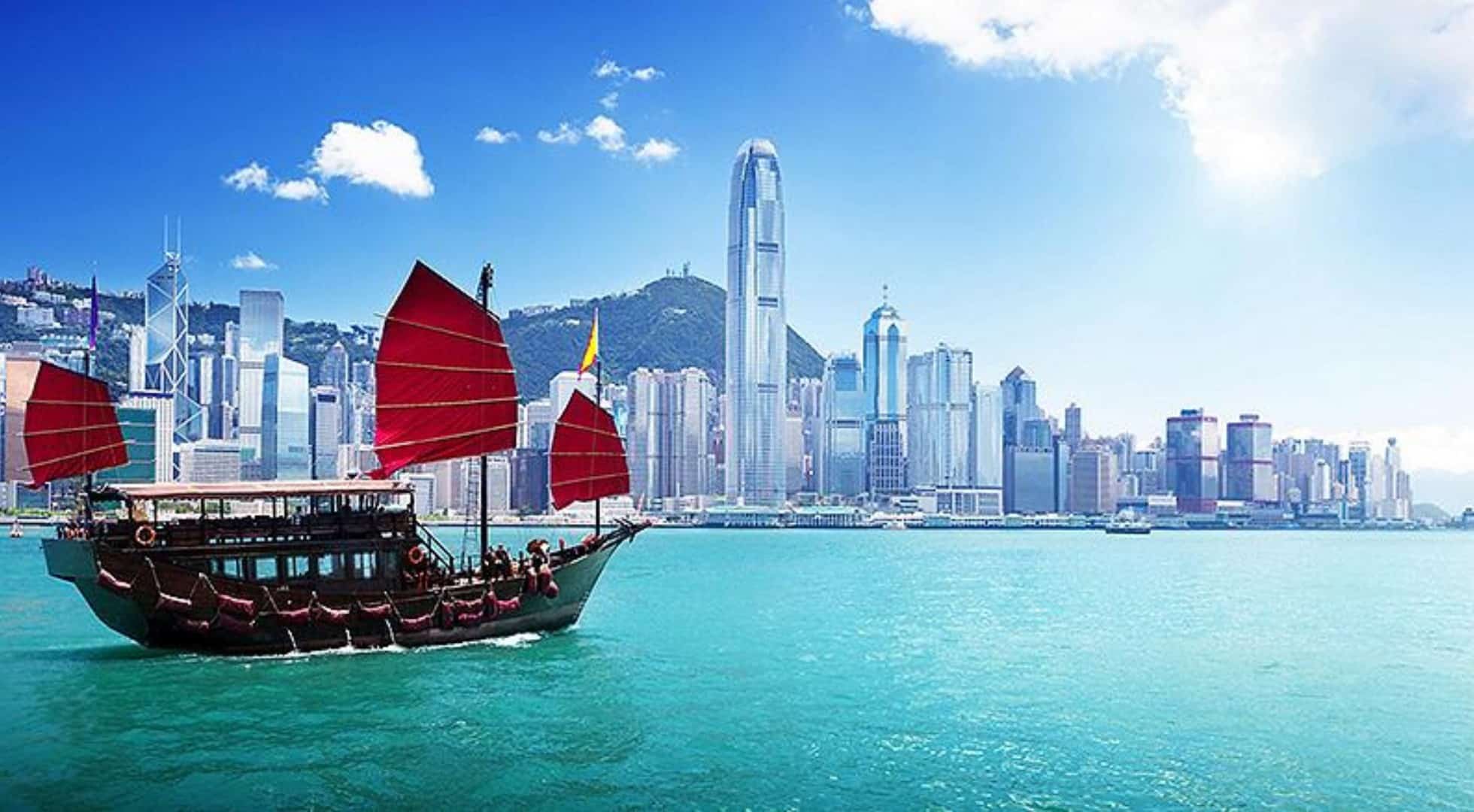 Cruising is an excellent option for Muslim travellers with less time off work or who simply prefer a short getaway to exciting destinations within Southeast Asia or around the globe. Truth be told, nothing beats the thrill of waking up at a different port of destination every morning.
Whether you prefer a long weekend getaway with your family or a quick trip during the week to blow off some steam due to work stress, the options are endless! With Luxe cruises like Genting Dream 2023 gives, Muslim travellers in Malaysia can choose either a 2 Nights Singapore Cruise during the week or the weekend that departs from Port Klang or a 3 Nights Singapore – Phuket weekend escapade.
Even if you don't live in Malaysia, you can board the cruise from Singapore for a 2 Nights Weekend Getaway Cruise of the High Seas or a 3 Nights Singapore – Kuala Lumpur – Penang weekend cruise and disembark in Kuala Lumpur or Penang for a street food tour of specialities like Nasi Kandar, Rojak Pasembur, Penang Road Famous Teochew Chendul, and unique spins on the classic staple of Malaysia, Nasi Lemak. In short, halal cruise packages cater to the different travel needs of each traveller.
2. Fuss-free travel with a single booking
Air travel often involves painstaking research and planning in advance for the best deals on flight tickets and accommodation at your holiday destination. If you are travelling to multiple locations, this becomes an even more uphill task. Booking a cruise alleviates the stress of travel planning. Simply choose the cruise package of your dream travel destination, make your booking, and get packing!
No fussing over what and where to eat or your shopping and entertainment options, as food, fun-filled activities, wellness and entertainment options are all-inclusive. All you have to do is board the cruise ship, get to your room, unpack, and head out to the sports deck or sun deck for beaming rays of sunlight, sea breeze and panoramic views.
3. Wide selection of food and entertainment options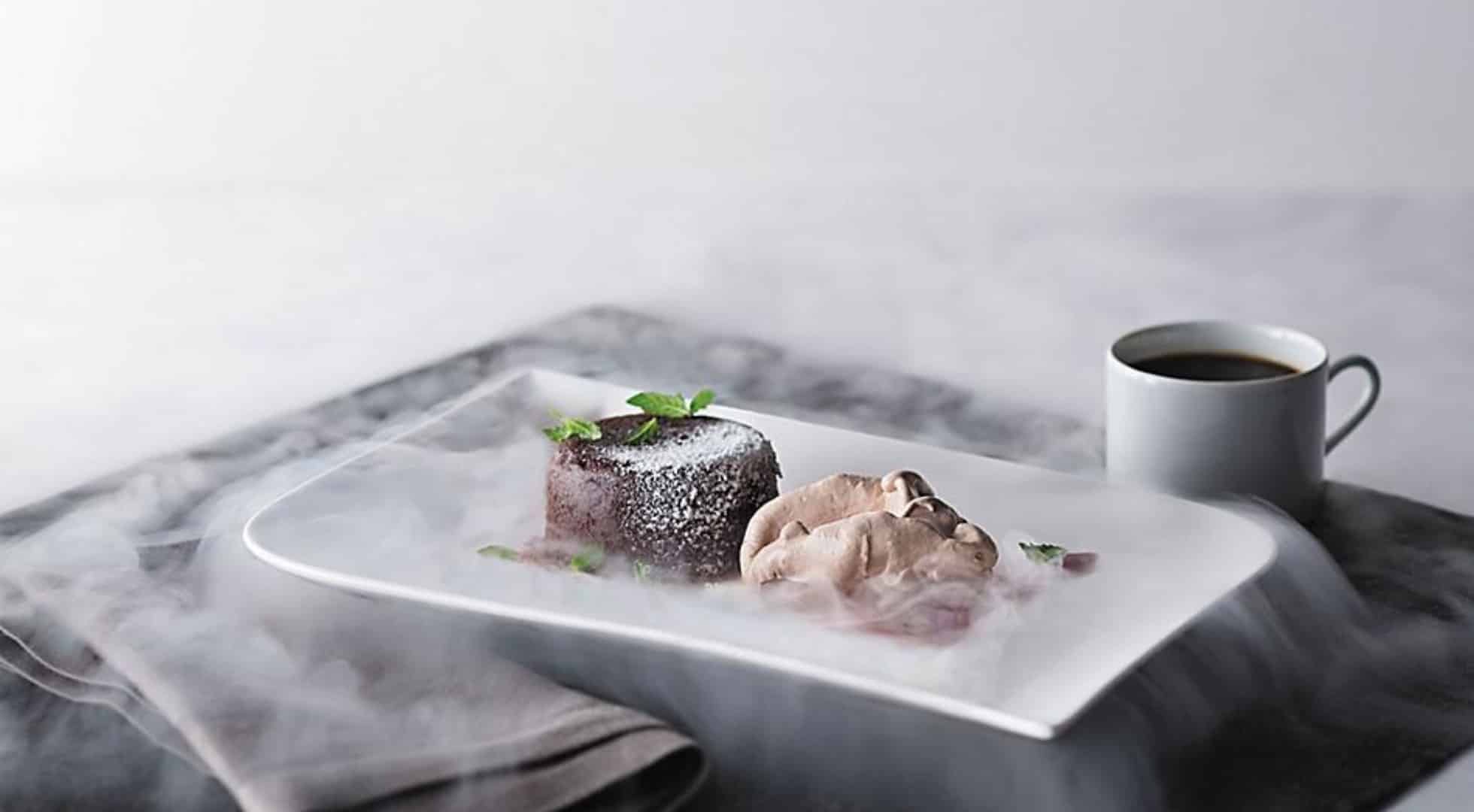 On a cruise, you will never go hungry or get bored easily with the extensive range of dining and entertainment options. Muslim travellers on Genting Dream cruises will be spoilt for choice with a delectable international and halal-certified buffet spread, including vegetarian and non-vegetarian options. Activities for all ages are abundant on cruise ships like Genting Dream and Royal Caribbean, from laser tag to giant water slides, a kids-only club, live theatre and musical performance to Asian or wellness spas and luxury shopping experiences. Dreaming of trying out halal versions of international cuisine or picking up a new skill like archery? A cruise ship is where you can do precisely that and more at your own pace!
4. World-class customer service
The Resorts World at Sea experience on Genting Dream cruises offers Muslim travellers resort-like and upscale butler services in luxury suites. Meanwhile, boutique-style cruises like Uniworld will make you feel right at home with warm and hospitable staff who greet you with a smile and try their level best to accommodate your personal needs. If you need help locating prayer facilities or feel more comfortable praying in the privacy of your room and need a digital compass to determine the Qibla direction, do not hesitate to ask for assistance from the cruise staff.
Now let's check out all the Muslim-friendly ways for you and your loved ones to enjoy a memorable holiday on remarkable halal-friendly cruises.
Genting Dream Cruises: Luxury Resorts World At Sea Voyage With The World's First Halal-Certified Kitchen
1. Book the popular choice of cabin or upgrade to a luxury suite fit for royalty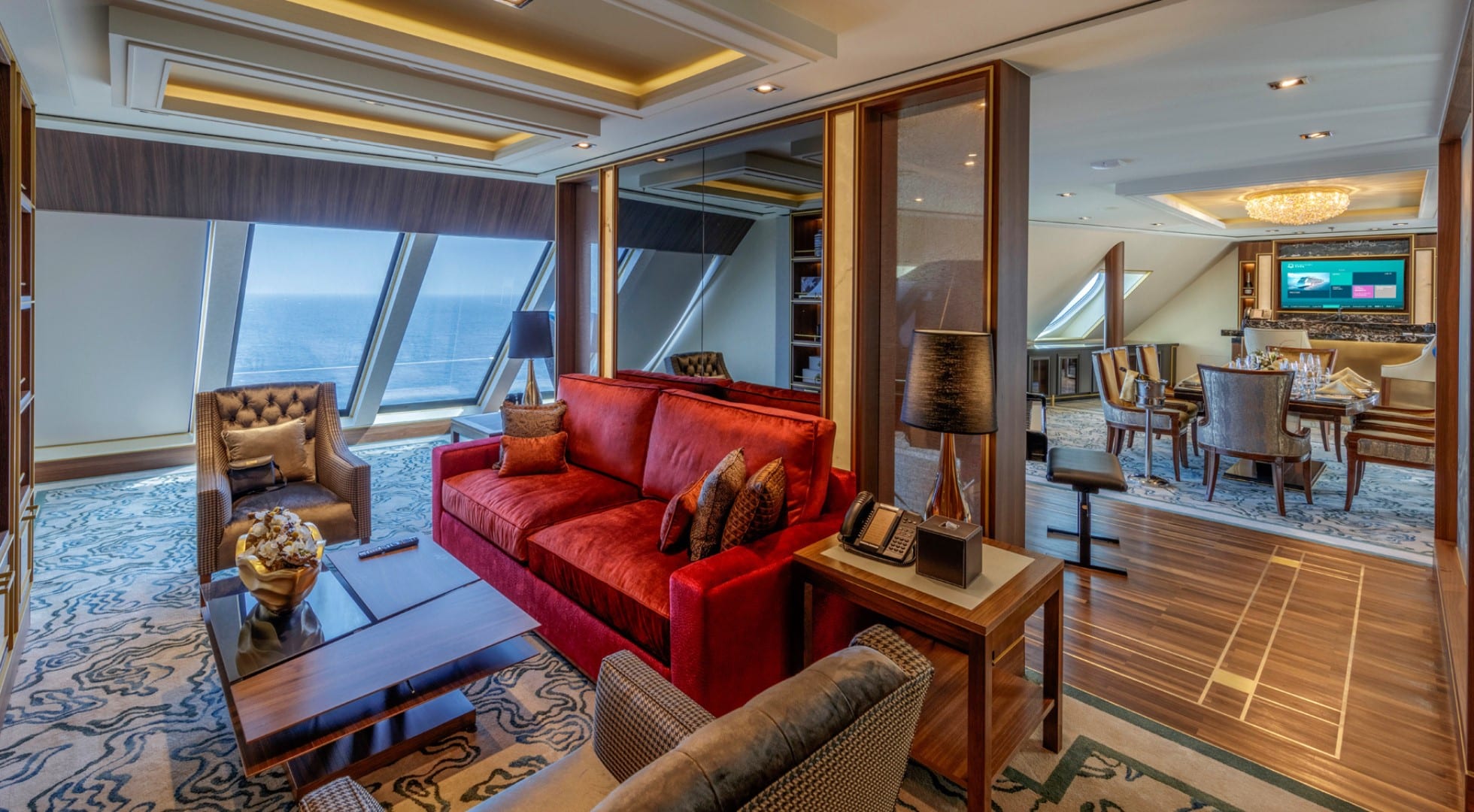 Before boarding your Genting Dream 2023 cruise, you will face the most crucial choice – accommodation. Choosing the right type of cabin sets the mood for your entire vacation. If you are keen on making the most of the facilities onboard Genting Dream cruises under the Resorts World At Sea brand, then most likely, you will be spending more time outside your room laying in the sun, swimming, dining, shopping or watching shows. In that case, the Interior Stateroom, the cheapest and most popular choice of accommodation, would be ideal for such needs.
If you have saved up for a boujee experience, upgrade to the Balcony Stateroom or one of the exclusive Palace suites equipped with outdoor balconies for spectacular ocean views. Both types of accommodation with a maximum occupancy of 3 to 4 persons have expansive space with loads of legroom suitable for Muslim travellers with families. There are many comfortable spots to perform daily prayers within the privacy of your room and ample space for kids and seniors to move about freely.
The Palace suites on higher levels of the ship are Genting Dream Cruises's premier accommodations with exclusive amenities such as the Palace restaurant and around-the-clock butler services. Palace suite guests also benefit from priority reservations for spas, dining, live shows, etc.
Enjoy the royal treatment as your butler take care of all your needs, including checking on reservations made or recommending exciting activities for the entire family. Top that off with cosy bedding (one queen-size bed, a double sofa bed), carefully-selected amenities like bathrooms with exquisite pampering kits and a bathtub, a personal lounge area, complimentary coffee and snacks corner, you would rather laze around in your room the whole day!
2. Dine to your heart's content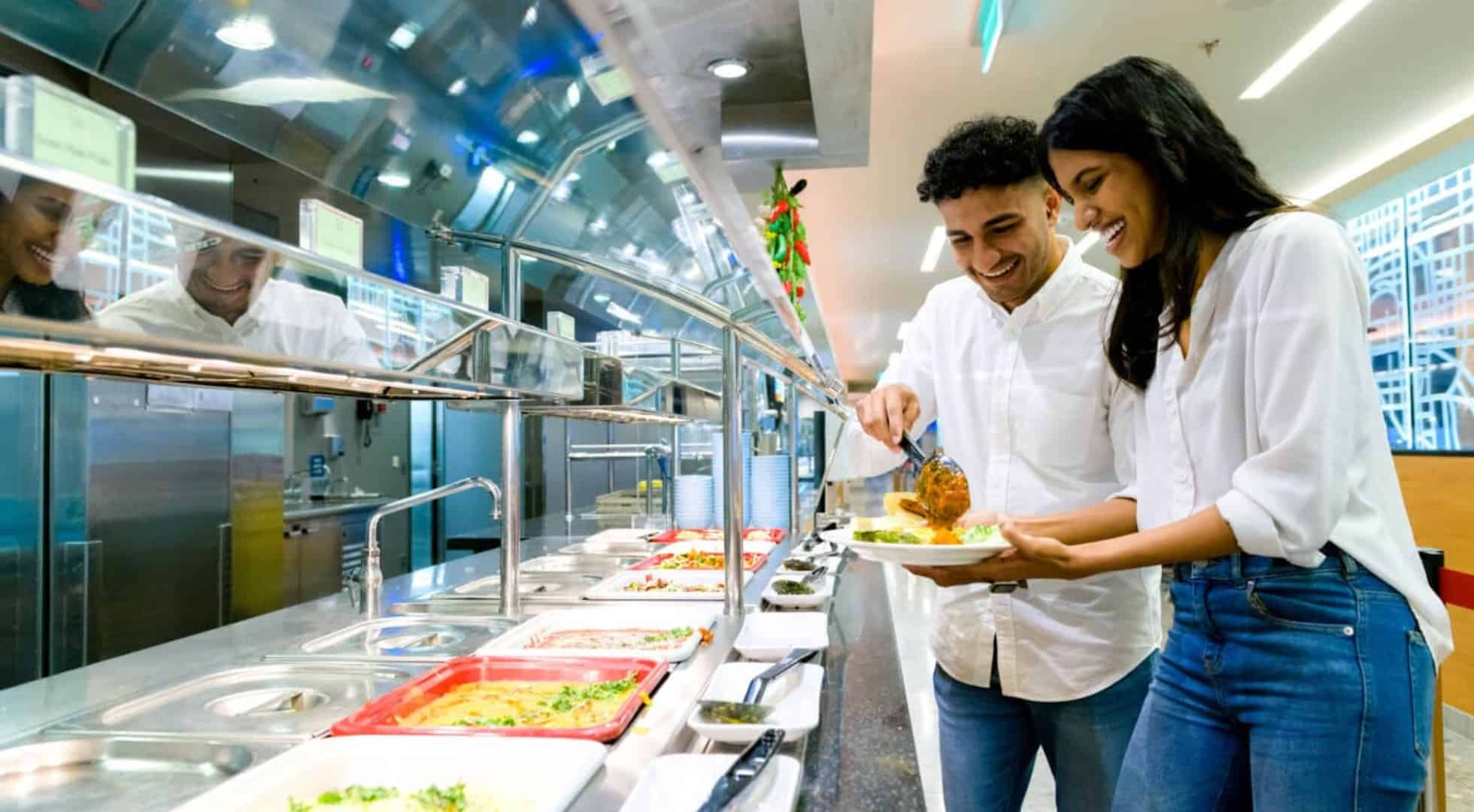 The best halal attraction on Genting Dream cruises is, without a doubt, halal food prepared in a halal-certified kitchen (i.e., certified by the Organisation of Islamic Cooperation (OIC) and the Standards and Metrology Institute for Islamic Countries (SMIIC)). The Lido Restaurant uses halal-sourced meat and ingredients for halal buffet-style food from traditional Chinese, Japanese, Indian, and Malaysian to international cuisine.
Muslim travellers who are health-conscious or vegetarians will not feel left out as there are ample halal Indian-style vegetarian dishes to choose from. Fuel up with delicious pasta, ice cream, and kuehs to your heart's delight as you dine with your loved ones. If you need an energy boost during the day, treat yourself and your kids to all-day snacks, tea, and coffee at the restaurant's outdoor area.
If you are a Palace guest and prefer to dine in a more private setting, request a Halal menu at the Palace restaurant for the restaurant staff to make arrangements for halal food from Lido Restaurant.
You can also check out Genting Dream Cruises's exclusive restaurants with halal-friendly options at additional charges, such as Gelateria (handmade gelato), Hot Pot (choice of meat, seafood or vegetarian hot pot and outdoor setting option), and Umi Uma (Japanese dishes, Teppanyaki and Korean BBQ). At any rate, restaurant staff will be ready to accommodate any queries on food compliance with Halal dietary laws and customs.
3. Observe daily prayers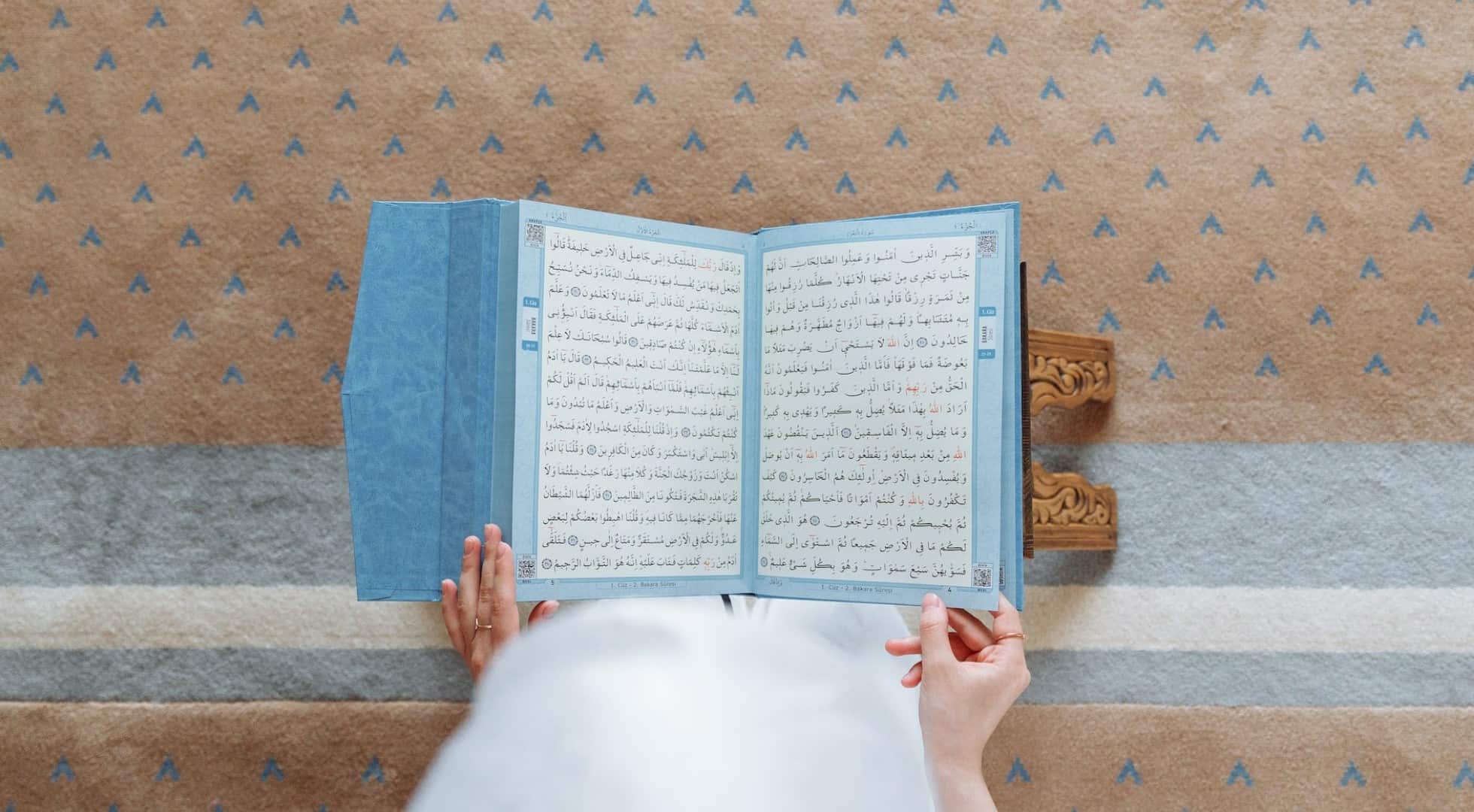 The best part of the all-inclusive Genting Dream 2023 cruise deal is that Muslim-friendly facilities are available at no additional costs. Make time for prayers daily at the clean and peaceful Prayer Room at Deck 5. You can also request prayer mats, Quran and a compass to perform prayers as a family in the privacy of your room with spacious cabins like the Balcony Stateroom or Palace suites. In short, Muslim travellers don't have to break the bank for a halal cruise.
4. Enjoy a fun day of thrills and spills at the Waterslide Park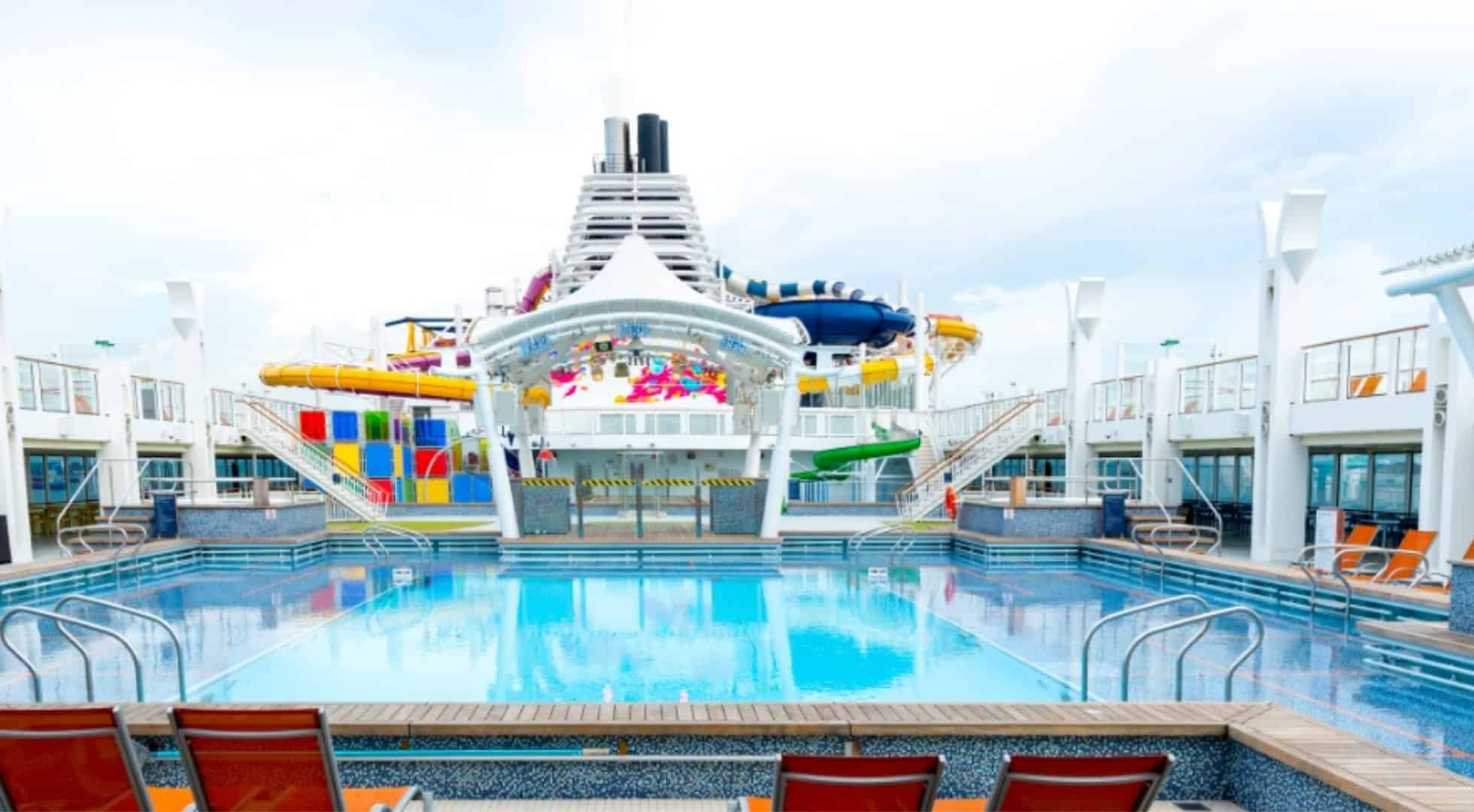 Make your way to the Waterslide Park at Deck 20, which features six different types of slides from the basic slopes suitable for everyone in the family to steep and long-winding inclines for an adrenaline rush. Take a refreshing dip at the Main Pool at Deck 16 overlooking the giant waterslides. Soak in the panoramic views of the sea and get a healthy dose of Vitamin D as you relax in the lounge chairs at Deck 17.
5. Get active and stay fit with the ocean as your inspiration
Burn off the excess calories at Crystal Life Fitness on Deck 15, the well-equipped gym on Genting Dream cruises. This is one of the Muslim-friendly places to break a sweat with state-of-the-art equipment amidst breathtaking sea views. Make a reservation in advance as the number of guests allowed at the gym may be limited, given health and safety measures.
A vacation is a great time to break away from your comfort zone and try more adventurous activities like rock climbing. Wear proper footwear and head to the Rock Climbing Wall at Deck 18 for a fabulous full-body workout. Listen to the safety briefing carefully, get familiar with the safety set-ups, and you will be scaling greater heights in no time! A team of experts are on-site to assist guests and ensure a wonderful rock-climbing experience, especially for first-timers.
End your day on a high by ziplining through the Rope Course at Deck 18. Fly high as you glide along the 35-metre zip line suspended 18 decks above the ocean. Pictures do not do it justice. You just have to experience the exhilarating speed yourself! A perfect activity to enjoy with a group of friends or bond as a family.
Royal Caribbean Cruises: Embark on A Far East Adventure With Spectacular Spectrums of The Seas
1. Choose from extensive cruise packages to major travel destinations across Asia
Popularly known as the "cruise to nowhere", a halal-friendly cruise experience on the Spectrum of The Seas focuses on guests having a fantastic journey en route to exciting Asian travel destinations from Thailand to Tokyo. Spanning sea travels from 3 or 4 days and other longer journeys like 9 Nights to Thailand and Vietnam or 12 Nights from Singapore to Tokyo, the high-tech facilities on board Royal Caribbean's massive 16-deck cruise ship will instantly transport you to a new world at sea.
The Spectrum of The Seas is packed with a range of halal-friendly activities and entertainment to suit the preferences of Muslim travellers. The interior of the ship is adorned with contemporary designs and futuristic technology, featuring state-of-the-art amenities and facilities.
2. Stay in awe-inspiring accommodation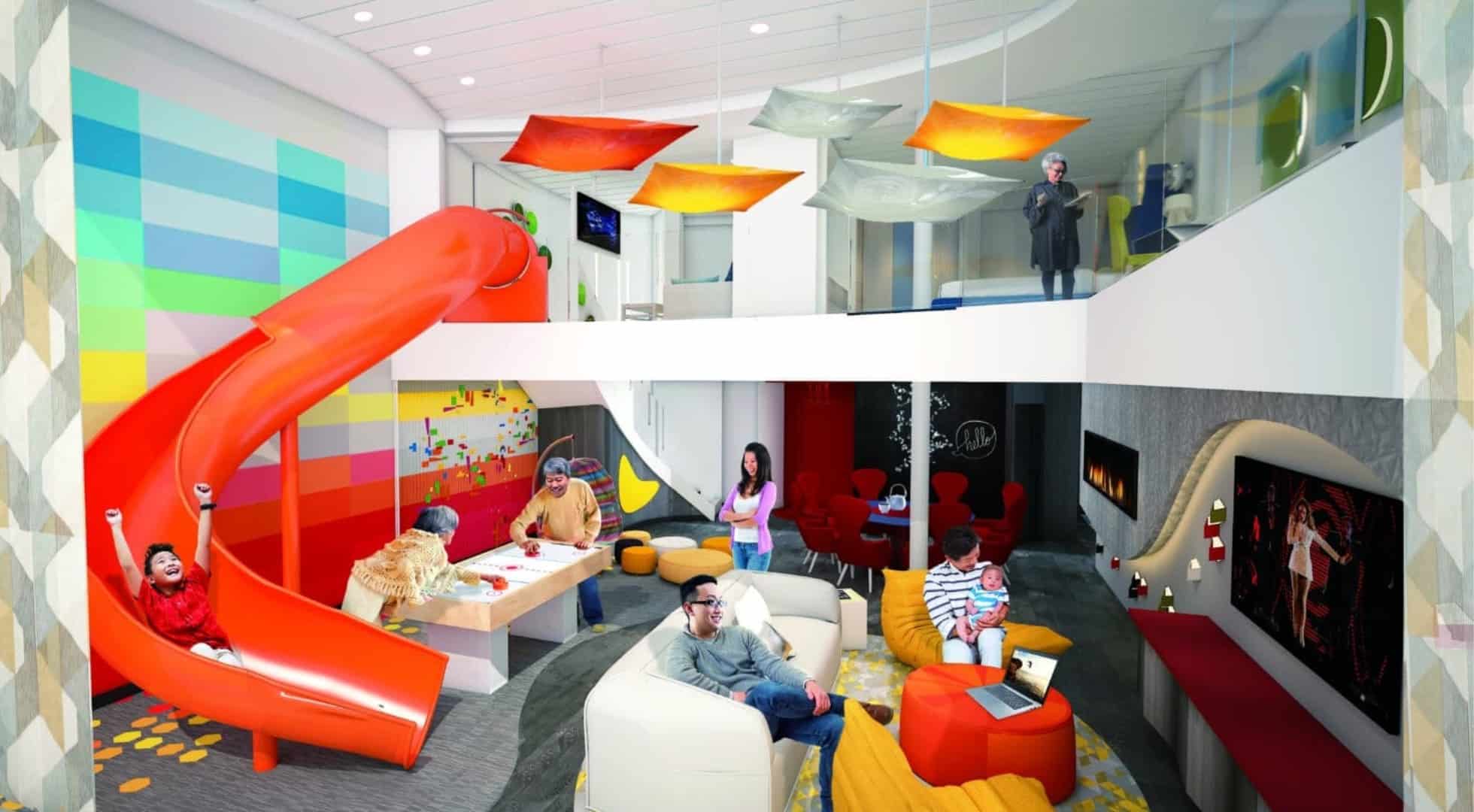 Designed with multiple needs of every traveller in mind, from family travellers to couples and large company outings, Royal Caribbean Cruises prides itself on providing guests with a home away from home experience with four different types of accommodation – Interior Staterooms, Balcony Staterooms, Ocean View Staterooms and Luxury Suites.
Book the Ultimate Family Suite to enjoy exclusive perks for the entire family. Kids will love sliding down the bright-coloured in-suite slide and a private game room to play video games. The private cinema is another exclusive facility that fosters togetherness among large family groups.
Meanwhile, parents can enjoy the privacy of their master suite, a private balcony to unwind amidst the ocean view in a private jacuzzi and other VIP treatment, including the fastest Internet at sea, VOOM, fine dining options, butler services and priority reservations for front row seats to live music and dance performances. The best part is you can perform family prayers with a view of the ocean in many wide and quiet spaces within the Ultimate Family Suite.
3. World-class Culinary Experience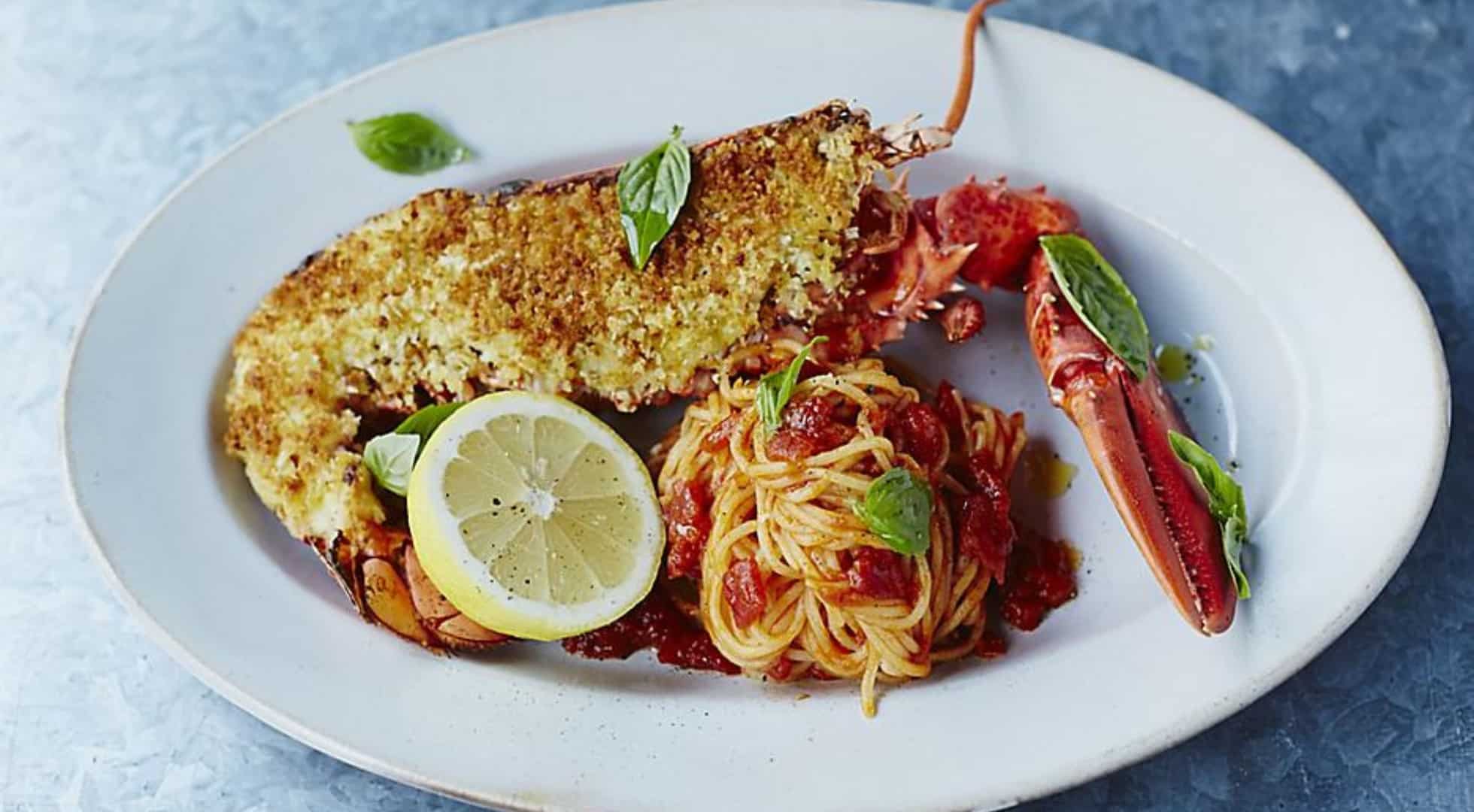 Halal-friendly options for Muslim travellers include seafood, poultry (chicken, beef (steak) and lamb), and vegetarian dishes. Generally, halal meat is served on Royal Caribbean cruises departing from Singapore and Dubai. Muslim travellers are encouraged to verify details on food compliance according to Islamic laws and customs and book meals 90 days in advance.
Check out speciality restaurants like Café Latte-tudes for speciality coffee and tantalising sweet treats, and the Samba Grill Brazilian Steakhouse for succulent slow-cooked Beef Tenderloin or Cordeiro (juicy grilled lamb chops). Jamie's Italian by Jamie Oliver provides a great dining experience for a romantic date night with your spouse. Savour classic Italian favourites, like handmade pasta tossed in mouthwatering sauces and an impressive array of regional Italian cheeses. Don't hesitate to consult the restaurant staff on your halal food requirements. The kitchen staff will try their best to accommodate specific dietary needs.
If you are dining with kids, head to Johnny Rockets for burgers shakes, and fries in a classic American diner atmosphere. Satisfy your late-night cravings at Sorrento's, Royal Caribbean's popular pizza joint featuring classics like cheese and Margherita, and speciality meat pies.
4. Experience state-of-the-art action and adventure activities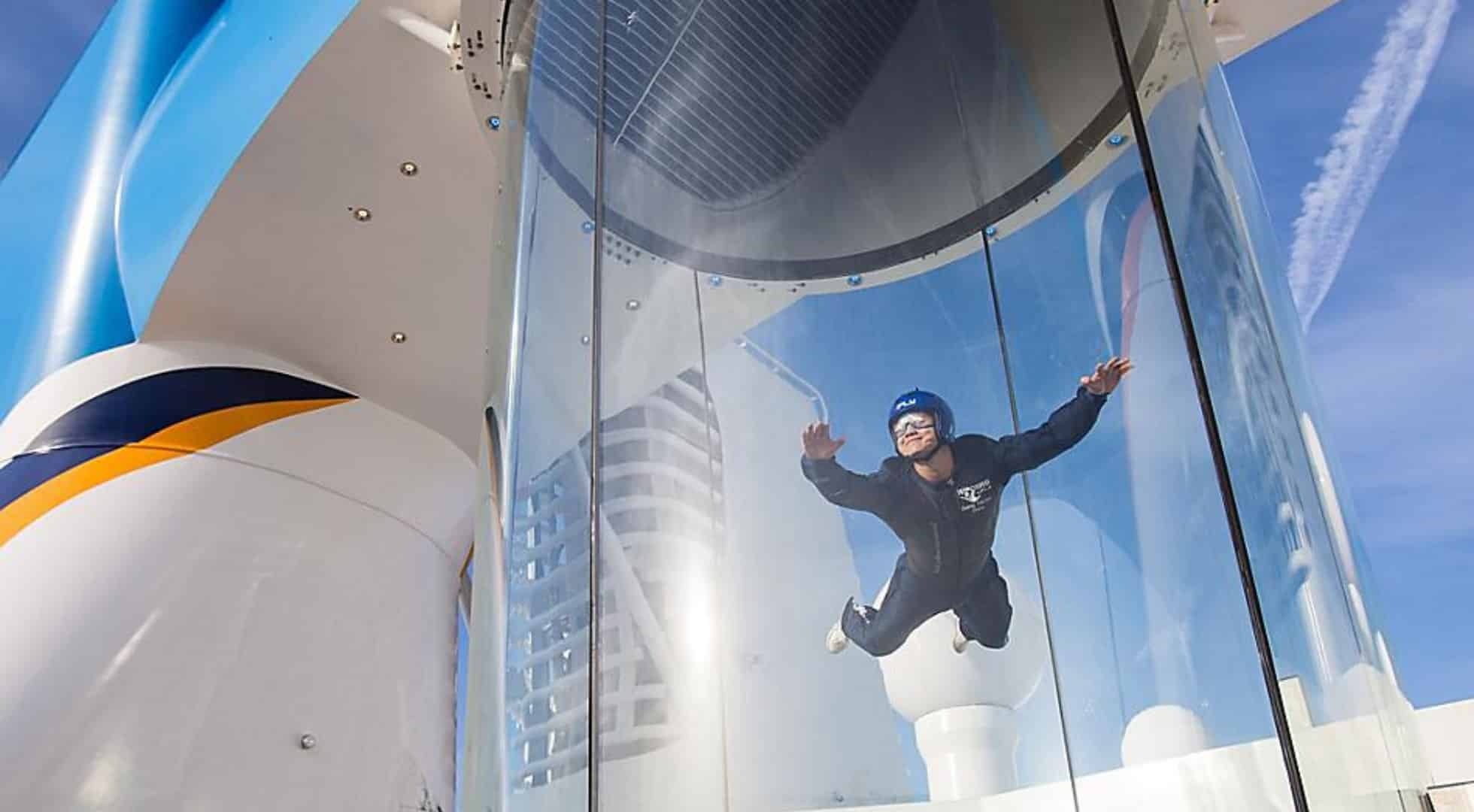 Muslim travellers with a penchant for all things adventure will find the high-tech adventure activities a breath of fresh air. If you have always dreamt of skydiving, check out RipCord by iFLY Skydiving Simulator without the need of jumping from a plane.
All you need to do is attend the safety briefing before suiting up. A flight instructor will always be present to guide you all the way through. Get your guide to take a picture of your exhilarating experience. If you wear a hijab, ask the flight instructor or cruise staff for a special skydiving scarf. At the very least, secure your hair with a headscarf or bandana and some hair clips to look fabulous while enjoying the freedom of a freefall!
A must-try family activity for Muslim travellers is the Glow-In-The-Dark Laser Tag. Prepare for an epic encounter once you are assigned into teams (either remnants of a robot civilisation or an alien scouting party). Be laser-focused to score points on the glow-in-dark battlefield and win the task for your team. Although the state-of-the-art laser tag facility is free for all cruise guests, remember to reserve your slot through the Cruise Planner app in advance to avoid disappointment.
Uniworld River Cruises: Boutique Cruises With Exceptional Personalised Services And Opulent Elegance 
1. Small group of passengers for a relaxing holiday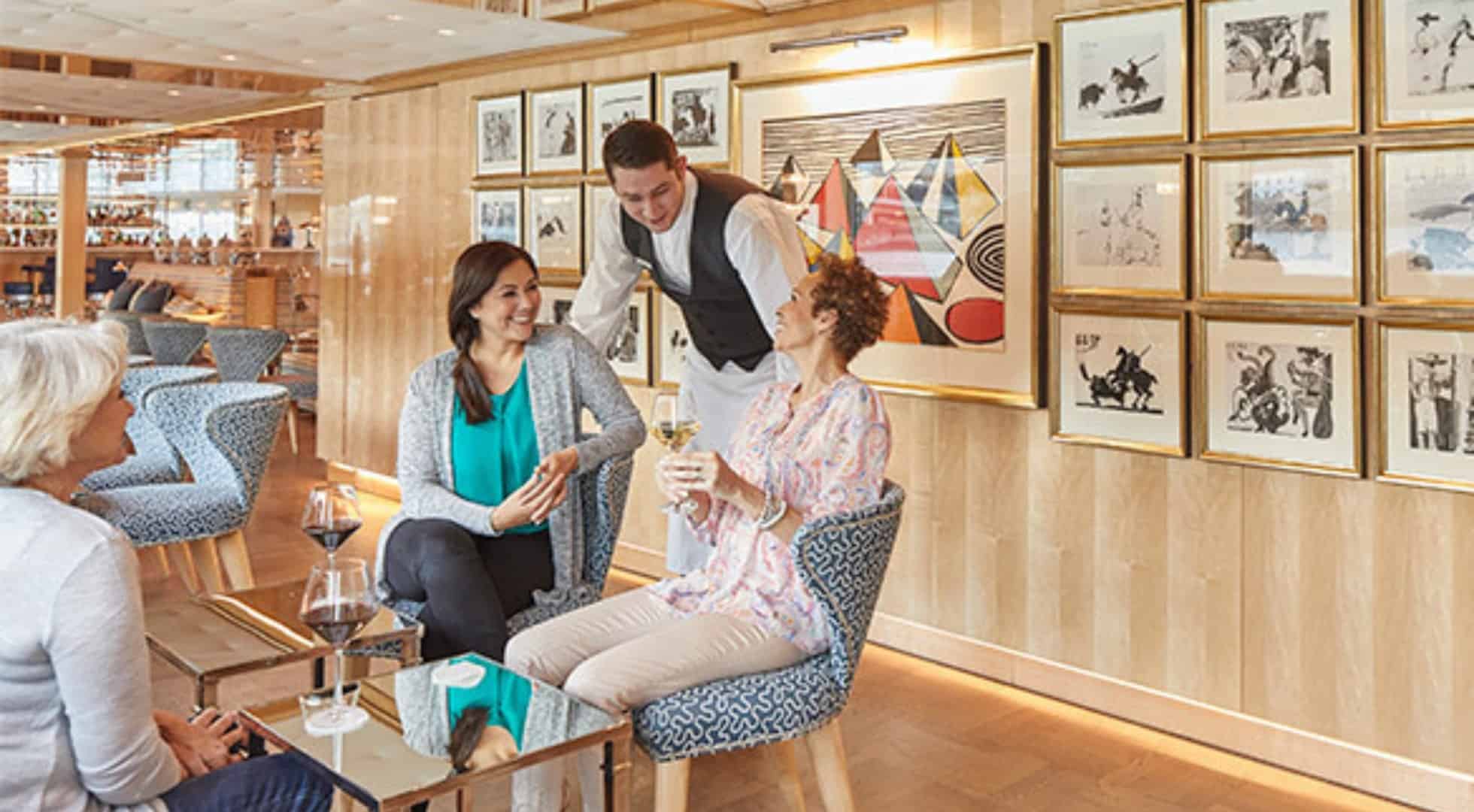 River cruises often involve smaller vessels compared to massive ocean cruise liners. A smaller ship means fewer crew and passengers, guaranteeing a more intimate and relaxed vacation. With an average of 130 passengers, guests stand to benefit from unrivalled personalised services on Uniworld River Cruises.
The highly-trained crew will take great care to accommodate the dietary needs of Muslim travellers, such as pork-free and alcohol-free meals and beverages. You will feel like a valued guest on board Uniworld River Cruises as skilled in-suite butlers go the extra mile to fulfil your needs with fantastic hospitability for an unforgettable vacation. 
The intimate atmosphere on river cruises like Uniworld gives Muslim travellers peace of mind away from large crowds on ocean cruises. You have the freedom of space to just sit back, read a book on deck and laze in the sun with the cool mist brushing gently against your face and crystal clear waters to keep you company. Otherwise, you can mingle and bond with the captain of the ship or like-minded travellers over a cup of tea and sweet delights.
An added bonus is that you don't have to worry about long lines nearing lunch or dinner time. You can have a pleasant meal anytime and optimise every minute of your vacation on board Uniworld River Cruises. In short, Uniworld River Cruises are all about tranquillity and restfulness in luxury. 
2. Immersive cultural experience in Muslim-friendly travel destinations 
As river cruises disembark in exotic Muslim-friendly destinations like Egypt, guests have the opportunity to book private excursions to Islamic landmarks in Cairo like the Mosque of Ibn Tulun (an ancient mosque and the largest in the capital of Egypt), Khan el-Khalili Bazaar (Cairo's famous 14th-century souk), and The City of the Dead (colossal graveyards in Egyptian history where the dead and living still co-exist). Coupled with excursions to wonders of the world, like the Temple of Abu Simbel, The Pyramids of Giza and the Great Sphinx, Uniworld's Splendors of Egypt & The Nile is an excellent way to discover mystical and remote locations in Muslim-friendly Egypt with scenic sailing along the Nile.
3. Breathtaking ocean views in exquisite accommodation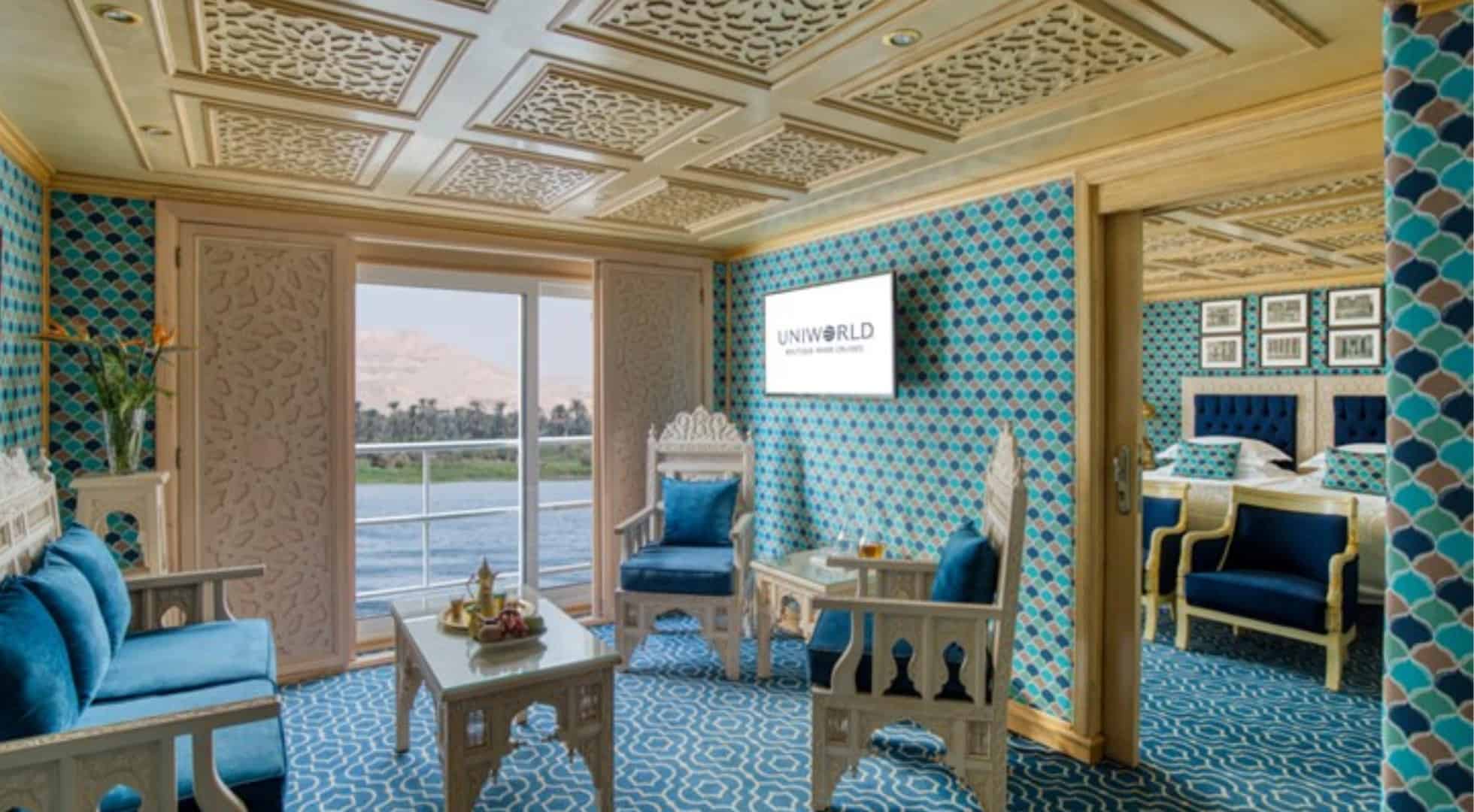 The Staterooms on River Tosca Uniworld Cruise are inspired by elegant Egyptian décor from the cosy Sun Deck with shaded cabanas and a swimming pool to the stylish lounge decorated with local wares and comfortable bedding with premier Egyptian cotton linens and breathtaking views of the calm waters of Egypt.
For an opulent experience, Muslim travellers can book one of the exclusive suites on the S.S Sphinx, which features two gourmet dining venues featuring the freshest Egyptian produce, a swimming pool and 42 uniquely-designed rooms with sustainable and handcrafted décor by local artisans such as marble and hand-carved blonde wood features and French balconies to capture the best ocean views Egypt has to offer. There are no two rooms alike on Uniworld River Cruises, staying true to its ethos of luxe travel, so travellers are in for a pleasant surprise!
4. Step off the cruise and travel the world your way 
Unlike ocean cruises that bank on multiple high-end facilities and activities on the cruise ship for every traveller under the sun, booking a cruise on Uniworld gives Muslim travellers the freedom to curate their vacation time upon disembarkation at unique locations because Muslim-friendly experiences at remarkable travel destinations matter more than how you get there. 
You can "go active" by signing up for hiking, cycling and kayaking activities, "do as the locals do", and get a taste of local life by riding the subway or taking a break at a popular local café for snacks and artisanal coffee or private tours to museums and famous historical sites with a guide away from bustling tourist crowds exclusively arranged by Uniworld for its guests. 
The good news for Muslim travellers is that whether you prefer a quiet and relaxing holiday or love to be on the go your entire vacation, there's always something for everyone on halal-friendly cruises. Take control of your vacation time and do what your heart desires whenever you feel like it!
The above halal-friendly cruises provide an excellent opportunity for Muslim travellers to explore the world in a comfortable and welcoming environment. From halal dining options and accommodations to immersive cultural experiences and adventure activities, these cruises cater to the needs and preferences of Muslim travellers.
Whether it's a river cruise down the Nile or an ocean voyage through Asia, the Middle East, or Europe, Muslim-friendly cruises offer a unique and unforgettable way to experience the beauty and diversity of the world. With their commitment to providing exceptional hospitality and service, Muslim-friendly cruises are a perfect choice for Muslim travellers seeking a memorable and stress-free vacation.
Are you ready for a halal-friendly cruise of a lifetime?
You may also be interested in: