There can be no experience as humbling and soul-draining as flying with a baby, especially if you are a first-time parent, and even more so if you are the only parent travelling. (The ratio should always be one baby to two or more adults – the more adults the better – and this applies in all situations, not just flying!)
Not only are you worried about your little one(s)'s safety and comfort, but there are countless bags to lug around (because of course you have packed the kitchen sink), baby's sudden cries which may invoke glares and stares galore from irritant passengers, and unexpected documents and items you have forgotten to bring or packed in the wrong bag.
Then there are flight delays or delays in disembarking which can make for a very disgruntled baby and a very stressed-out you.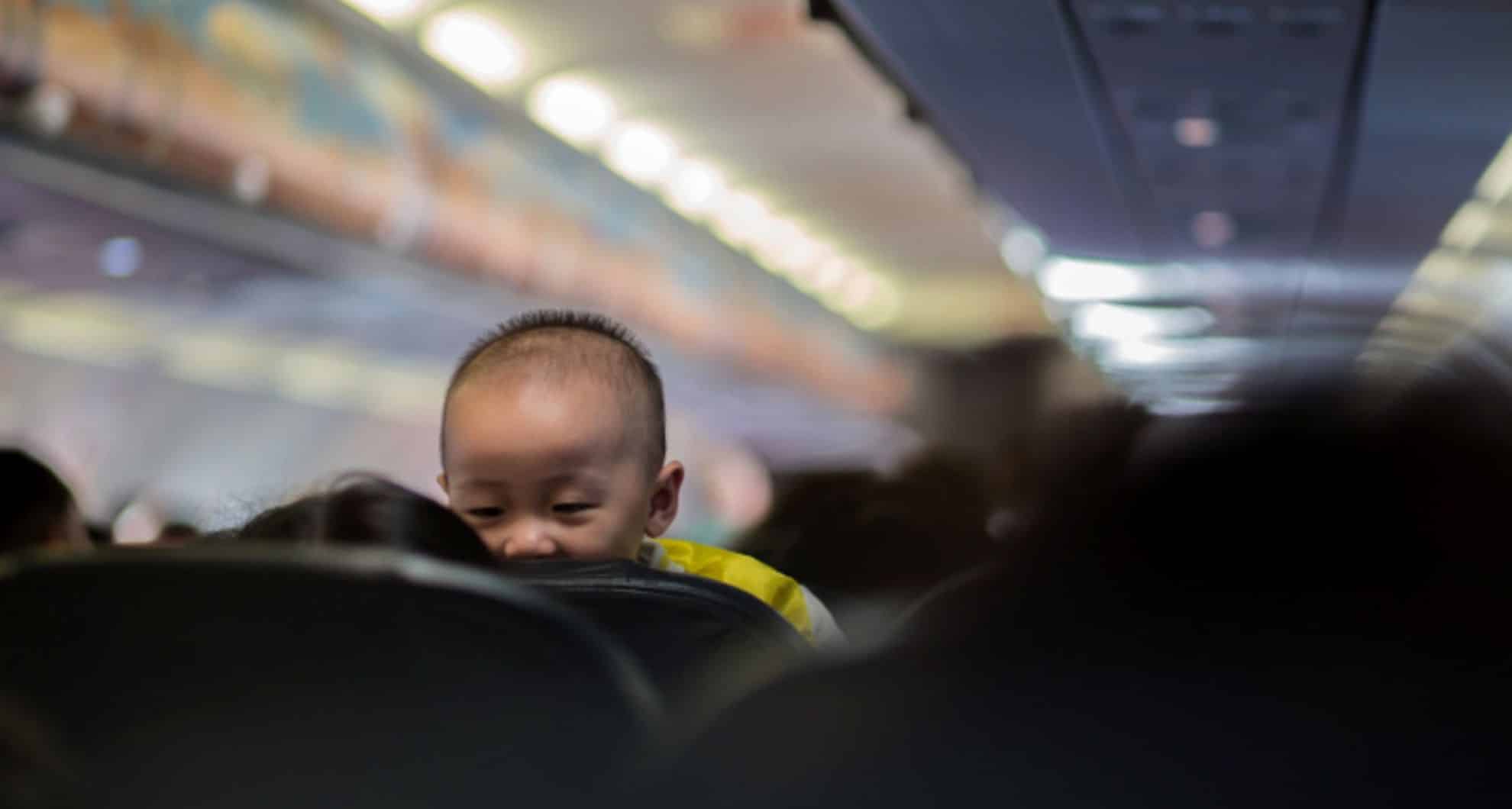 Ingrained in my memory for life is flying with my then toddler and a baby by myself.
Although the journey was only from Kuala Lumpur to Penang, the flight was delayed and I had to make my way over to the airline office to find out when the next flight would be. By then, my baby was already crying and my toddler was very grumpy.
Lugging them around the airport, I was soaked with sweat, and exhausted as we miraculously managed to wait out a few hours till the next available flight. When we reached Penang, another mishap – the airline forgot our luggage. I remember visiting Tesco at closing time to gather up diapers, formula, clothes etc. Thankfully, our luggage was delivered to my family's house the next day.
So, we have gathered a list of baby flight tips to make this experience as smooth as possible for both parents and babies. Read on so you know what to expect and are prepared for what's to come so you can fully enjoy the journey and upcoming getaway with your little one.
Parenting 101: How To Handle Flying With A Baby Like A Pro
1. Firstly, is flying with a baby safe?
Flying with a baby is safe when he or she is old enough and healthy enough to travel in an airplane. Planes can be a breeding ground for germs, and the recirculated air in the plane can be particularly harmful if another passenger is sick and sharing the same air as your baby. Young babies do not have fully developed immune systems, so are extra vulnerable. Read about travel insurance when flying with a baby here.
2. So, how soon can my baby fly?
Different airlines have different policies on baby travel so you should check this out before booking flights. There is no standard regulation but most airlines will insist that your baby is at least 2 weeks old before flying.
Ideally, the baby should be between 4 to 6 months old before flying. If you have no choice but to fly with a newborn baby, it is best to have a "fit to fly" letter of consent from your paediatrician.
3. Do I need to bring along my baby's birth certificate and passport?
Once again, you need to check with the airline that you are flying with to find out which documents you will need. Domestic flights are supposed to be exempt, but some airlines have been known to ask to see the baby's birth certificate.
As for passports, yes, everyone needs a passport to travel regardless of age. Passports for travellers under 16 years of age are valid for 5 years.
Find out more about travel documents for you and your baby on the Ministry of Home Affairs website here.
4. What is a letter of consent?
It may come as a surprise, but if you are travelling solo with your baby, you will require a letter of consent which is a written statement from the other parent that permits you to travel out of the country. The letter of consent is a simple way for authorities to make sure you aren't illegally trying to avoid some custody order, parentage or guardianship issue, or worse.
There are special circumstances where these may be required :
A court order granting the flying parents full parental responsibilities or legal guardianship of the child
An adoption certificate
A death certificate of the other parent
Read more about letters of consent when it comes to children's travel here.
5. Baby travel: What can you take on the plane?
If you are flying with a baby, you are usually allowed extra luggage. Check with your airline for details.
For example, Malaysian Airlines allows special infant baggage allowance. The following infant personal items are allowed as hand baggage:-
An infant amenities bag (containing infant food for consumption on board and nappies during flight), not more than 5 kg OR
Small infant carry cot OR
Cabin size fully collapsible lightweight baby stroller ( subject to space availability )
The weight of the allowed items for the infant may not exceed 10 kg in total.
Baby flight essentials such as chilled breastmilk, baby formula and baby food are allowed on aeroplanes and are exempt from the liquids rule.
Essential medicine for your baby should be packed in your carry-on, and it is best to have a doctor's note just in case.
As all these still need to go through security, it is best to pack them all in separate Ziploc bags, place them at the top of your luggage, and declare it as you pass through security screening.
Baby travel safety tip: Instead of using water on the plane, you may want to purchase bottled water once you get through security.
6. Does your diaper bag count as a carry-on?
As stated above, diaper bags do not count toward your carry-on. That being said, try to pack reasonably as possible so that it can still fit under the seat in front of you.
7. Can I bring a stroller/booster seat on the plane?
As stated above in No. 5, you are allowed to bring strollers, booster seats and other types of baby travel restraints with you as long as they meet the requirements set out by the airline. For example, these are Malaysian Airlines' requirements.
These items should not incur additional cost and they will have to go through the airport's security screening process and will need to be checked in at the ticket counter or the gate.
Some airlines have restrictions when it comes to the weight of the stroller, so do your research with the airline that you will be flying with.
Booster seats are only allowed on the plane if you have booked an extra seat and if they are airline approved – once again, do your homework ahead of time!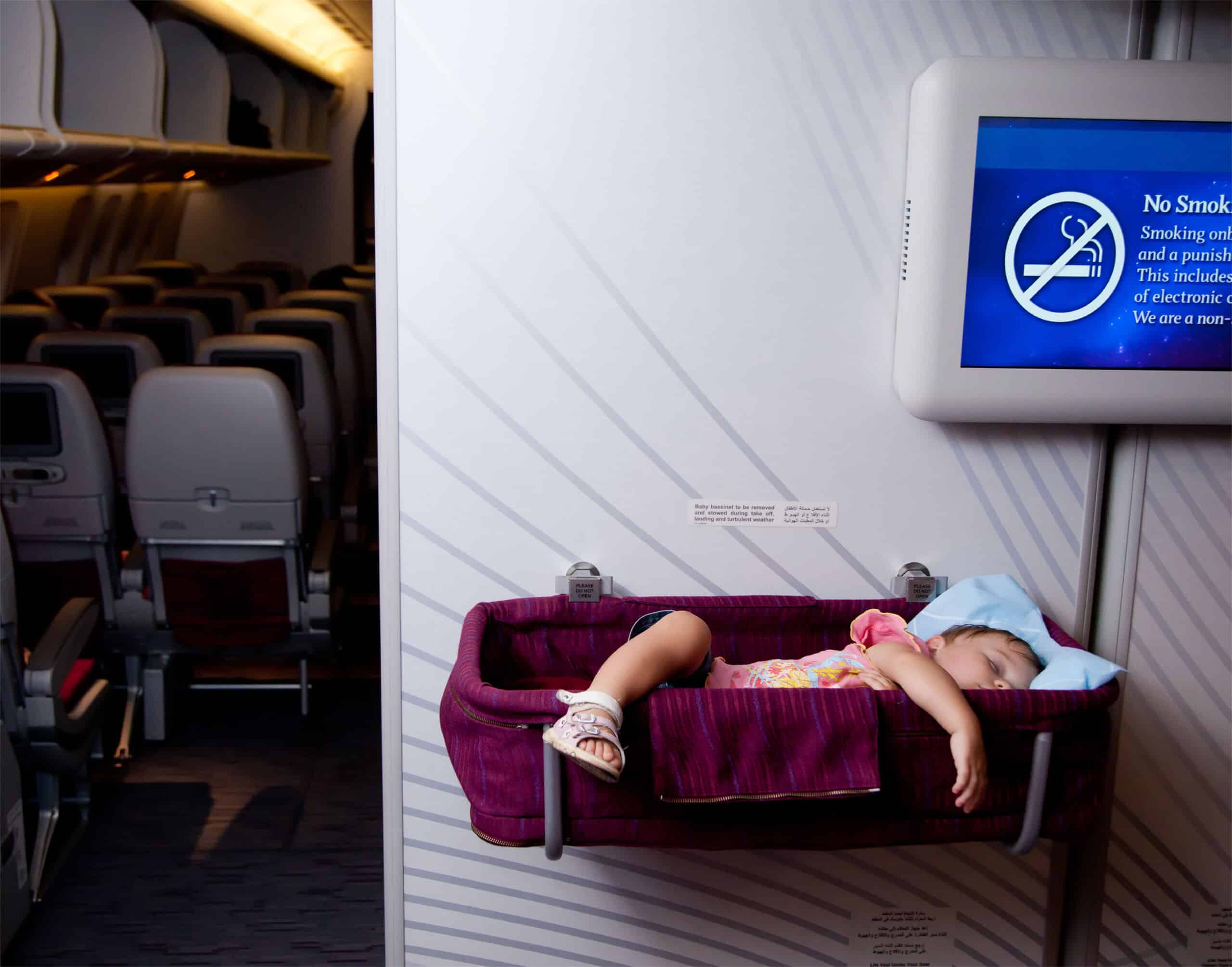 8. If I'm flying with a baby, do I have to buy a seat?
Does my baby travel for free?
Children up to two years old (24 months) are not required to have their own seat. You must, however, inform the airlines that you will be travelling with an infant on your lap. And yes, there is a charge of 10% of the adult fare plus taxes, even if the infant will be on your lap for the duration of the flight.
Only one lap child is allowed per adult. If one adult is travelling with more than one infant under two years of age, a seat will have to be purchased for each additional infant.
If your baby turns 2 during your trip; you will have to purchase a ticket for the return flight.
Note that some airlines do allow for your baby to fly free of charge if they sit on your lap, especially for domestic flights, so once again do your research.
Many airlines prefer for babies to be secured for safety reasons, and booking an extra seat can be worth every cent if you are travelling long haul, for your sanity and back health.
Baby travel tip: On planes, the middle seats usually get chosen last. Book your flights early on and book a window and an aisle seat if you are travelling with your partner. Keep your fingers crossed that the flight is not full so you may just find yourself with an empty seat for your baby. If a person does show up, you can ask them if they would like to switch to the window seat. Most people would take you up on the offer! 
9. Can I nurse my baby on the plane?
Depending on the airline, some have policies that support nursing on flights. Other airlines do not have any written policy but have said that they respect the rights of nursing mothers. Some may recommend that breastfeeding mothers cover up on flights to appease passengers with religious considerations and avoid the wrath of passengers who may not be so understanding. As this would vary from airline to airline, it is best to contact them ahead to be sure what their policy is with breastfeeding.
Baby travel tip: The best seat is the window seat if you are nursing, as it offers the most privacy.
Some airlines offer baby meals, typically pureed jars of baby food which you can request ahead of time but not all airlines offer them so it is best to bring your own food.
10. What will help my baby's ears during flights?
Babies do not know how to swallow or yawn to relieve inner ear pressure. What you can do is let them suck on their pacifier or feed them during take-off and landing. The sucking helps to relieve inner ear pressure and prevent ear pain. You can also try gently rubbing their ears.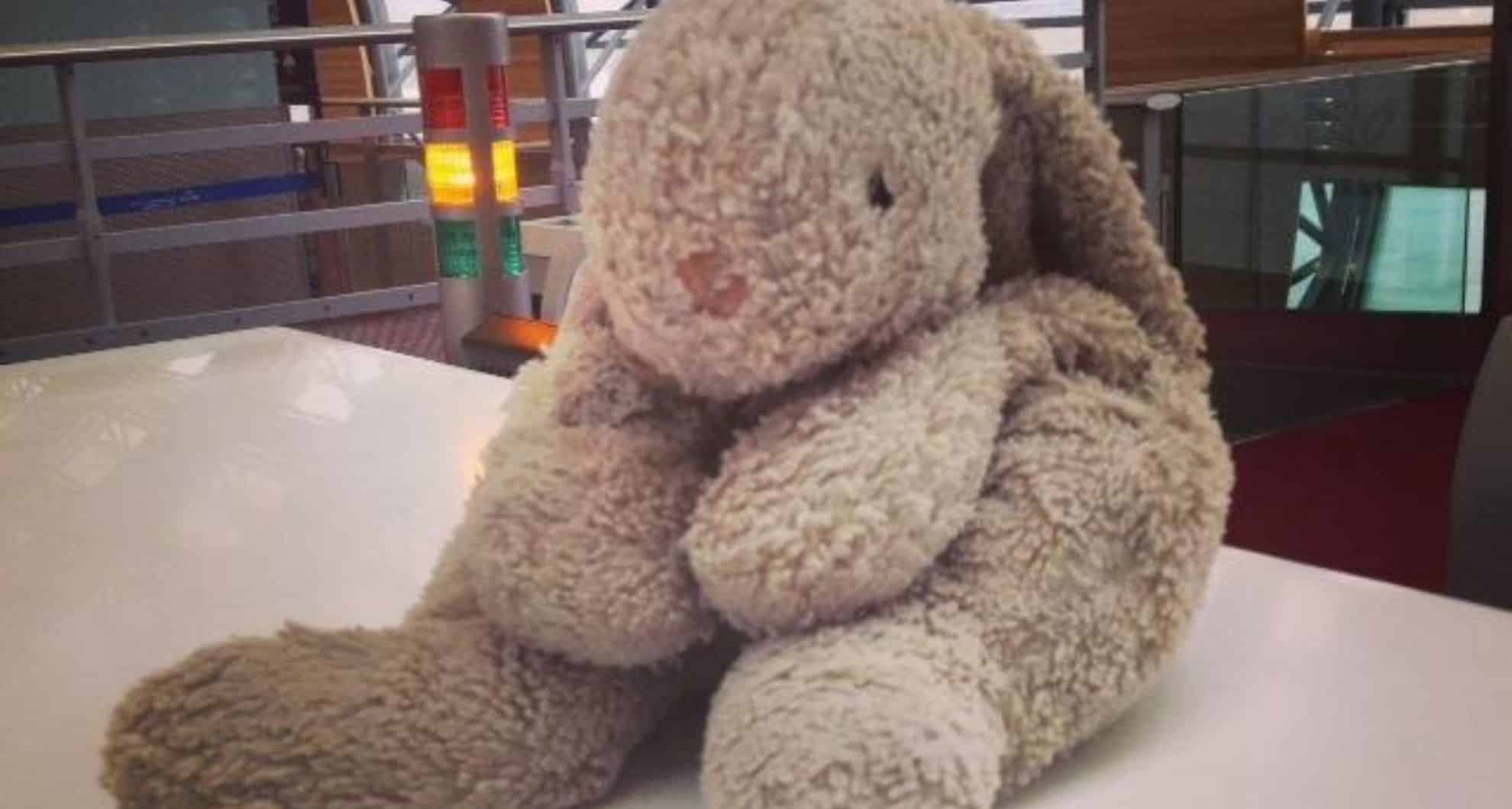 More Baby Travel Tips
Here are more useful tips if you are flying with a baby :
If you can, book a direct flight. Transits and layovers are already tiring and can be more stressful if your baby is crabby and crying.
Fly during your baby's sleeping time. What you want is that magical flight where the baby is asleep most of the time on the plane. You get to relax and happily anticipate the holiday ahead.
Find out if the airline has bassinets, and if they do then choose the bulkhead seat – that's the seat that is directly behind the dividing wall between cabins. Baby gets a bassinet, and you get precious leg space, especially for long-haul flights!
Flying first thing in the morning means fewer chances of delays and airport chaos. Midday midweek flights are also a great choice as they tend to be the emptiest so you have more chance of scoring an empty seat for your baby.
It may be worth it to pay more for priority boarding so you can settle your baby down, and also ensure that you get enough space in the overhead compartments.
A baby carrier can be a great asset when flying with a baby as you then have both hands free to navigate the airport, security, boarding and everything else that comes with flying.
Make sure to bring along your baby's favourite soft toy or dummy – it may be the magic cure to get your baby to stop crying on the flight.
To avoid the extra queues, check-in online. Then you can go straight to baggage drop.
Change your baby's diaper as close to boarding as possible. You want to do your best to avoid disruptive baby poo explosions when you're in a small compartment thousands of feet up in the air.
Having said that, do pack an extra change of clothes both for yourself and your baby in case of puke/poo accidents. Don't forget plastic bags that will come in handy to store soiled clothing.
If your partner is travelling with you, let him or her board first with all the carry-ons. You can then board last with your baby. This can help prevent your baby from getting cranky or over-excited whilst waiting for everyone to board.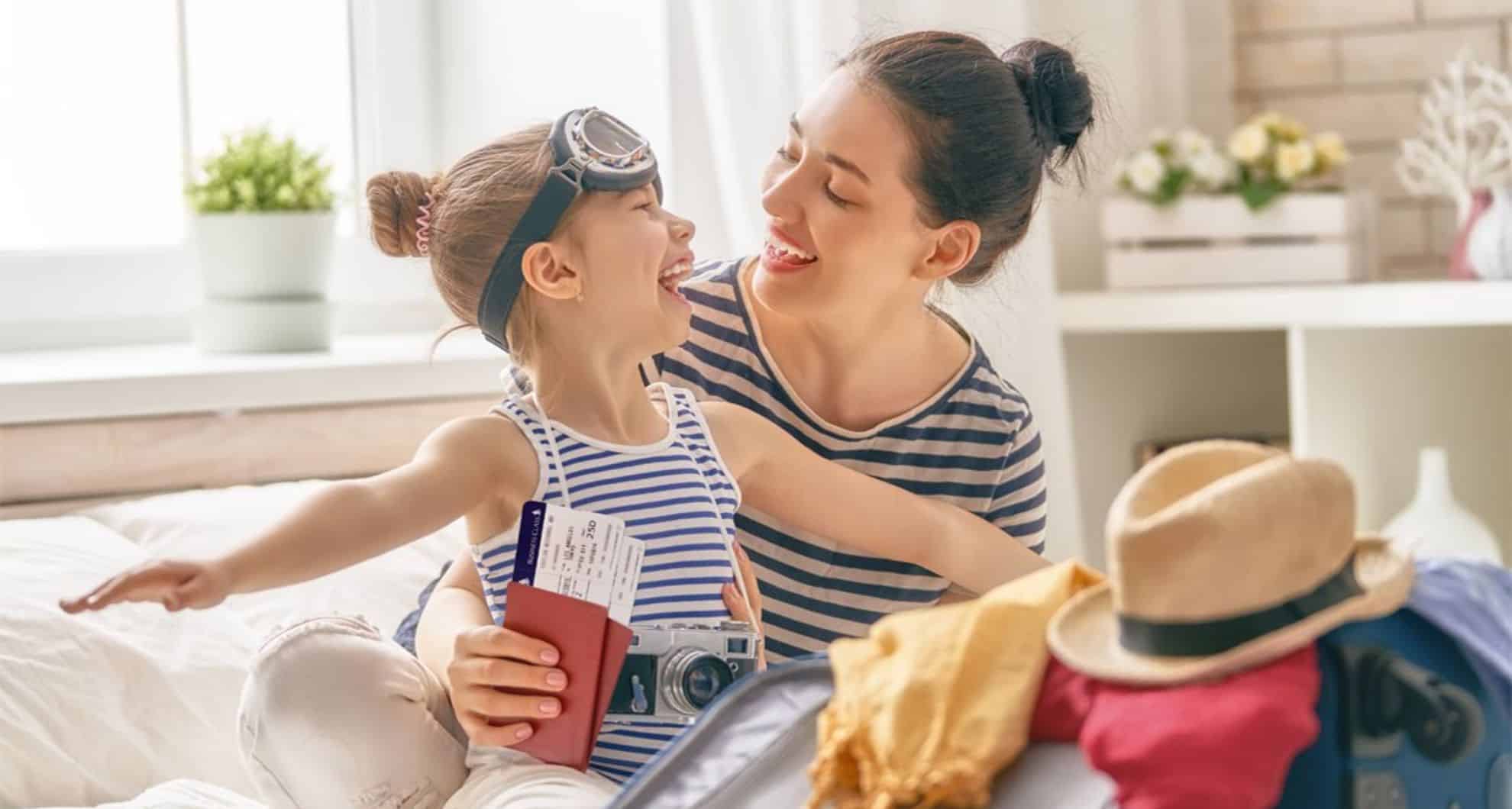 Baby travel with your precious little tot can make for the most beautiful memories. So, just take the time to get your research done, find out about airline policies and airport regulations and do your packing mindfully. Get to the airport with lots of time to spare, try not to stress and let the adventure begin!
Get READY for a memorable family vacation with your PRECIOUS LITTLE One(s) in tow!
You may also be interested in: