School's out, and fun family trips are in session!
As a child, school holidays were exciting times for a surprise family vacation away from the city. Likewise, nowadays, parents working around the clock also look forward to the school holidays to spend quality time with their children away from the daily grind.
While planning a family holiday, parents' main concern is travel and flight time – the lesser flight hours, the better. Holiday destinations with cheap and efficient public transportation are also preferred since family trips usually involve travelling with several pieces of baggage to many family-friendly attractions. That's why family holiday destinations under 4 hours of flight time and good public transportation are ideal.
Since the school holidays will last for a few weeks, it's never too late to start planning for a quick and fun family holiday. If you are looking for family trip destinations for the 2023 school holidays, you've got them all right here!
Best Destinations In Southeast Asia For Exciting Family Travel 2023
1. Singapore: One of the World's Cleanest and Safest Countries To Travel With Kids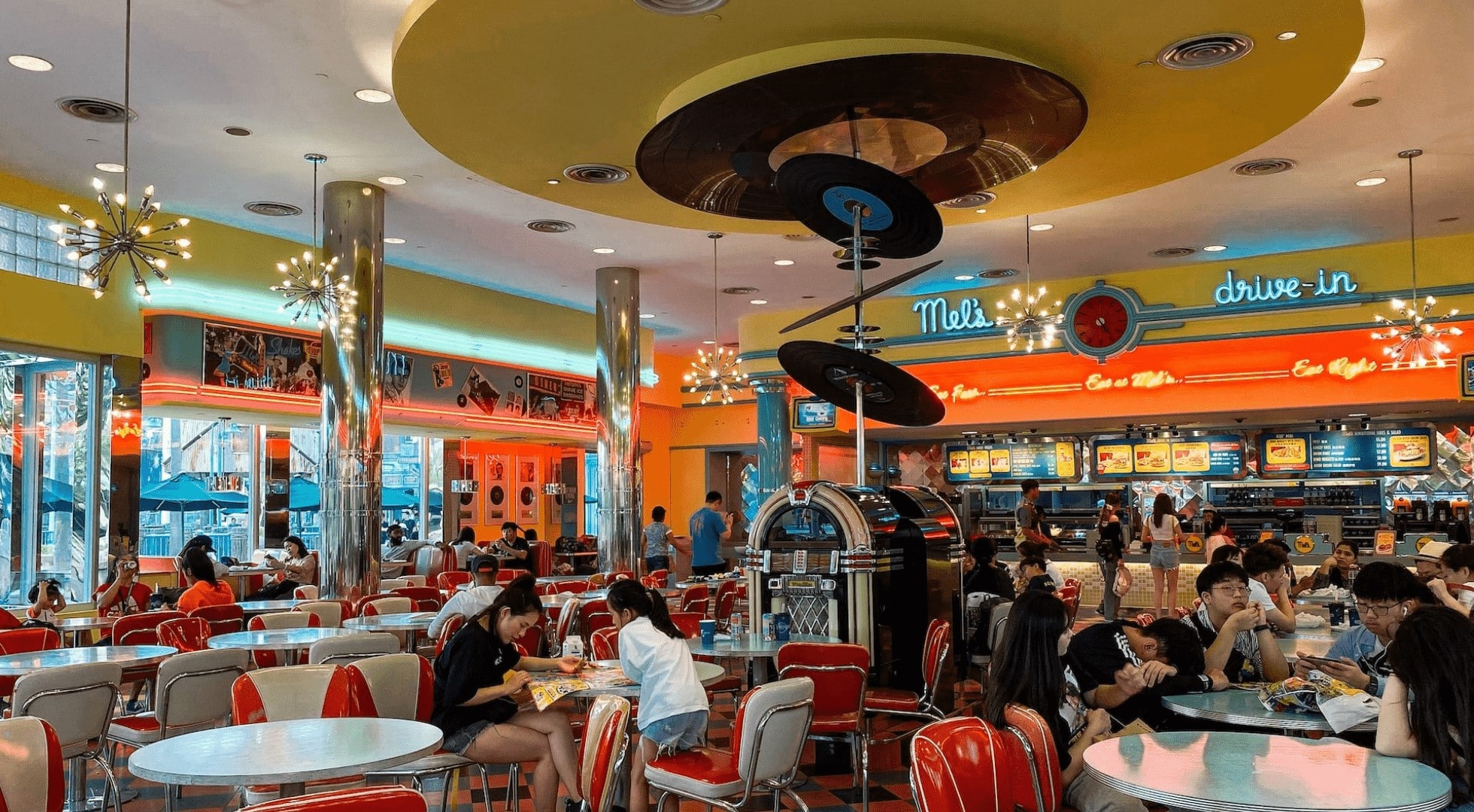 Singapore's hallmarks of efficient public transportation, modern facilities, safety, cleanliness, and a melting pot of cultures make the sophisticated island nation a favourite destination for multi-generational family travel. Families with young children will enjoy visiting Sentosa Island for top family vacation attractions like the Adventure Cove, an impressive waterpark with Riptide Rocket, Asia's first hydro-magnetic coaster, and Rainbow Reef, a cold water snorkelling pool filled with hundreds of fish.
Universal Studios Singapore is a must-visit for shows and movie-themed rides. Parents travelling with babies or toddlers will be at ease as the theme park offers convenient, family-friendly services like nursing rooms and baby changing facilities. Explore the underwater world at the S.E.A Aquarium, and marvel at over 100,000 exotic and fascinating marine creatures. Experience Southeast Asia's first underwater dining experience at the Ocean Restaurant as you indulge in fine dining European cuisine surrounded by manta rays and majestic marine life.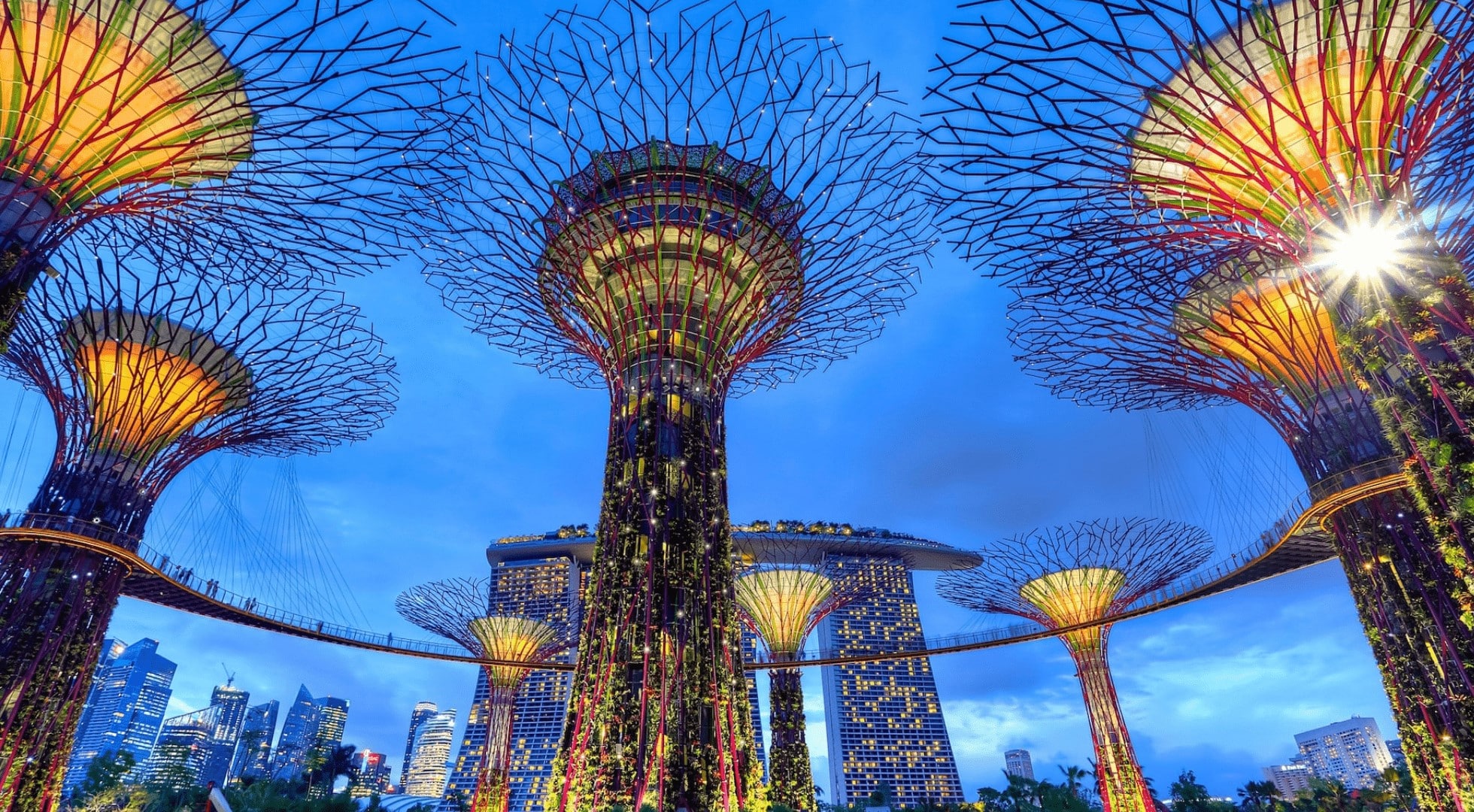 Get close to wildlife with a Night Safari ride at the Singapore Zoo or visit the National Museum of Singapore for a lesson on Singapore's history and culture. Various interactive exhibitions and activities for children are held all year round at the museum. Spend a restful evening with your loved ones strolling through magnificent flower gardens and cloud forests at Gardens by the Bay and end the day at Chinatown with scrumptious Chinese hawker food from wanton noodles to roasted duck rice and carrot cake, or head to the colourful and buzzing streets of Little India for the best Indian food Singapore has to offer from biryani, thali meals, to an array of sweet delights like gulab jamun and burfi.
Flight time: Around 1 hour and 8 minutes on average from Kuala Lumpur to Changi, Singapore.
2. Sabah, MalaysiA: A Perfect Family Getaway For Thrilling Nature And Wildlife Adventures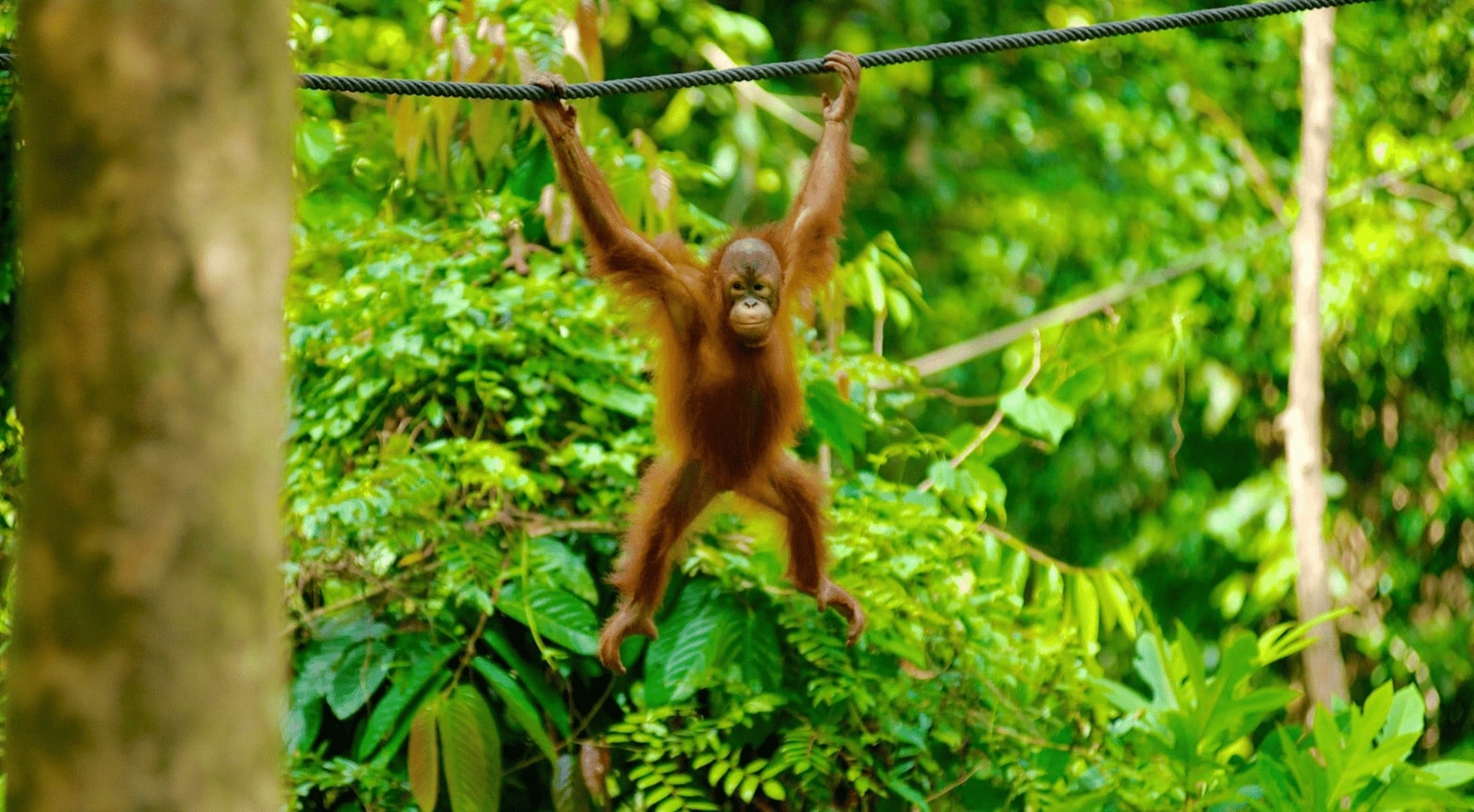 Abundant wildlife, stunning nature, breathtaking mountain views, and friendly locals are the top reasons for adding the land beneath the wind to your travel list for memorable family trips.
Head to Sepilok Nature Resort and visit the Orangutan Rehabilitation Centre for an exciting time watching adorable baby orangutans playing and tumbling around in the outdoor nursery or feeding sessions. Another must-visit wildlife spot here is the Bornean Sun Bear Conservation Centre. Known as the smallest bears on earth and protected wildlife in Malaysia, these Paddington-sized black bears rescued from captivity often show off their antics by climbing trees and searching for food. Visitors to the centre can watch these tiny bears roaming around the forest from elevated viewing platforms.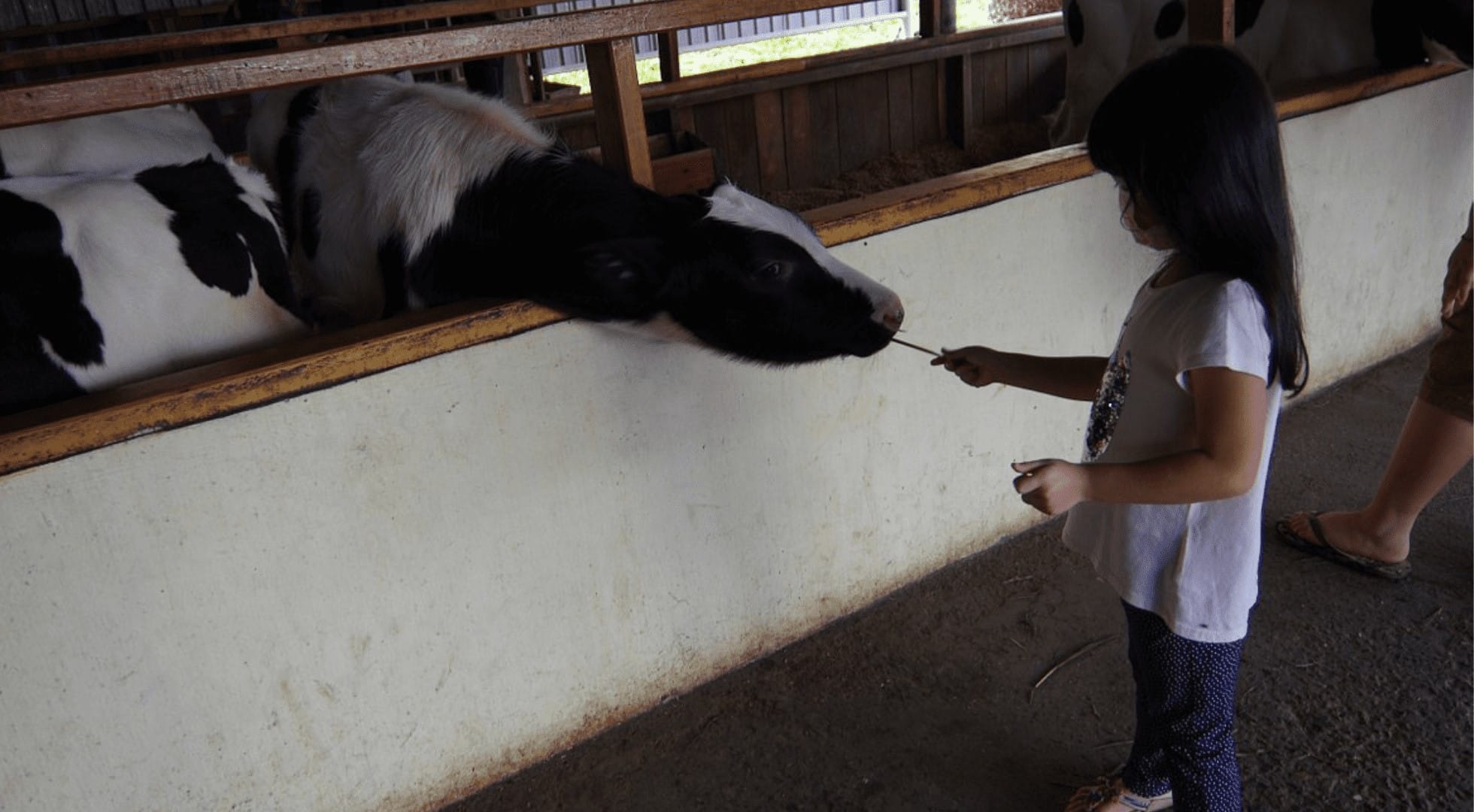 Explore the Desa Dairy Farm at Kundasang and watch your children enjoy feeding baby farm animals like cows and goats with bottled milk and grass amidst the breathtaking views of Mount Kinabalu and the cool breeze. Better still, savour some freshly-made milk and ice cream during your family travel to the farm. Other adventurous and exciting family activities at Kundasang include ATV rides, short hikes along popular trails, cool encounters, and photo sessions with fluffy Alpacas.
Before leaving Sabah, walk from the city centre or take a bus ride to Gaya Street Sunday Market. This local bazaar is a great place to experience local hospitality as you go on a bargaining spree for unique souvenirs and handmade jewellery for everyone in the family. Be entertained by live music from street performers and indulge in fresh grilled seafood, local snacks, and even freshly brewed Sabarica coffee (Sabah's Arabica coffee).
Flight time: Around 2 hours and 30 minutes on average from Kuala Lumpur to Kota Kinabalu, Sabah.
3. Thailand: Asia's Popular Kid-friendly Islands for Water Sports, Best Asian Street Food Culture, And More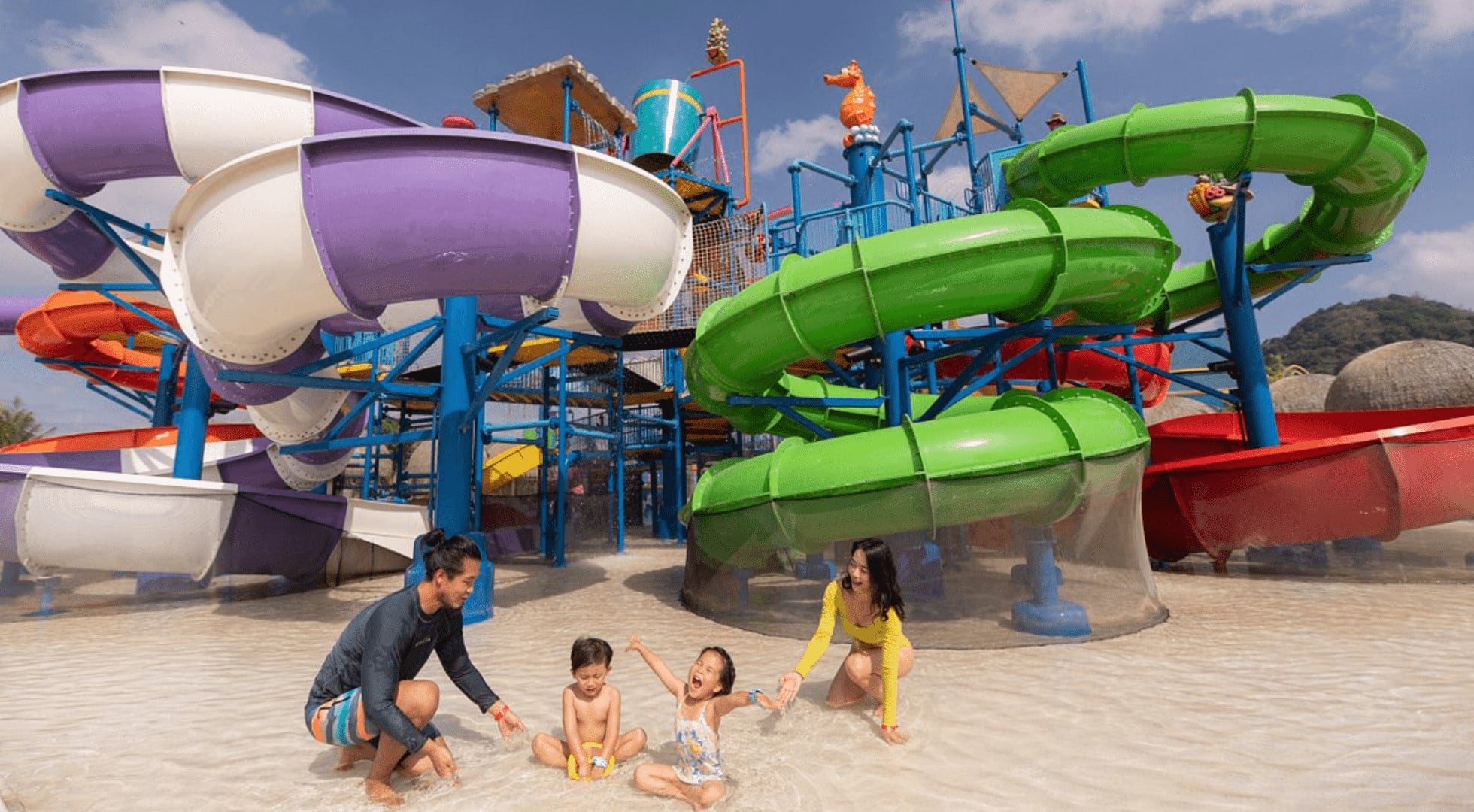 A family holiday to Thailand isn't complete without a trip to famous islands like Phuket. Well-known as a surfer's paradise and vibrant nightlife, Phuket is gaining a name among international travellers for family-friendly activities. One of the top family holiday attractions is a visit to the Elephant Sanctuary through a unique 6-metre-tall canopy walkway over a 30-acre sanctuary.
Adventurous parents and children can try kayaking, ziplining or white water rafting or have some light-hearted fun in the water at the Andamanda Water Park, Phuket's largest theme park with spectacular slides and massive wave pools. There are ample family-friendly accommodations in Phuket, from budget-friendly homestays to luxury family resorts like JW Marriott Phuket Resort & Spa.
For a dose of culture and history, don't forget to visit Wat Pho Temple in Bangkok, one of Thailand's largest and oldest Buddhist temples famous for the Reclining Buddha statue. Cruise along the Taling Chan Floating Market in Bangkok for an authentic Thai experience by sampling some of the best Thai street food like fresh seafood, boat noodles, Khanom Khrok (Thai pancake with coconut milk), and traditional Thai mango salad or purchase handmade souvenirs and soak in the vibrant sights and sounds of traders selling their goods in oncoming boats.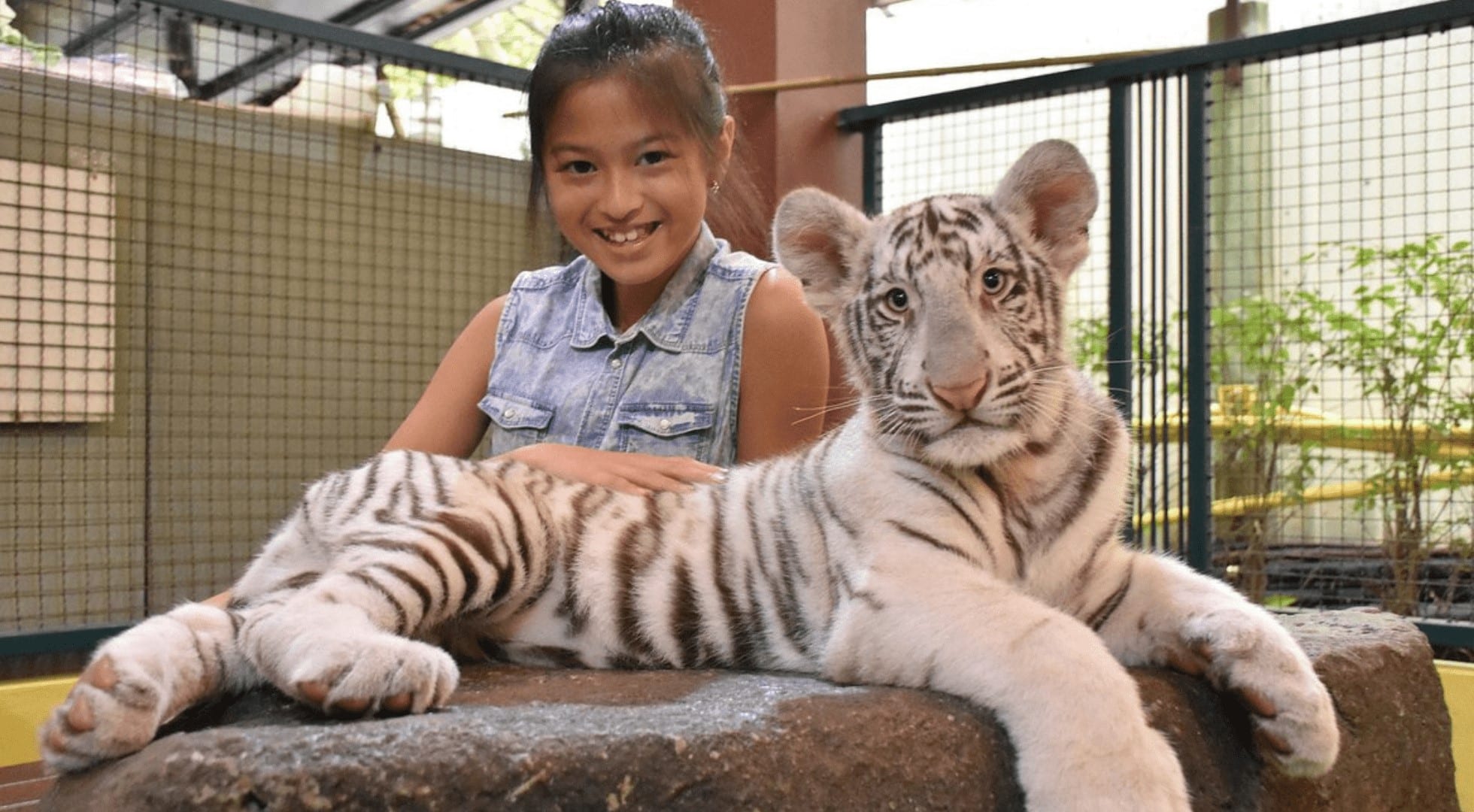 An unforgettable wildlife experience welcomes families with children to the Tiger Kingdom in Chiang Mai. Join an educational experience like 'Keeper for a Day' and work with caretakers to clean cages, assist in feeding sessions for a day, and learn more about conservation efforts to protect the tigers of Thailand.
Don't miss the once-in-a-lifetime chance to interact with cuddly tiger cubs under the close supervision of trained animal keepers and pose for Instagram-worthy pics with the entire family and an adult white tiger in a caged enclosure!
Flight time: On average, a direct flight from Kuala Lumpur to Phuket is around 1 hour and 30 minutes. Meanwhile, a flight from Kuala Lumpur to Bangkok is about 2 hours and 20 minutes.
4. Indonesia: Family trips Steeped In Ancient History, Culture, and Heritage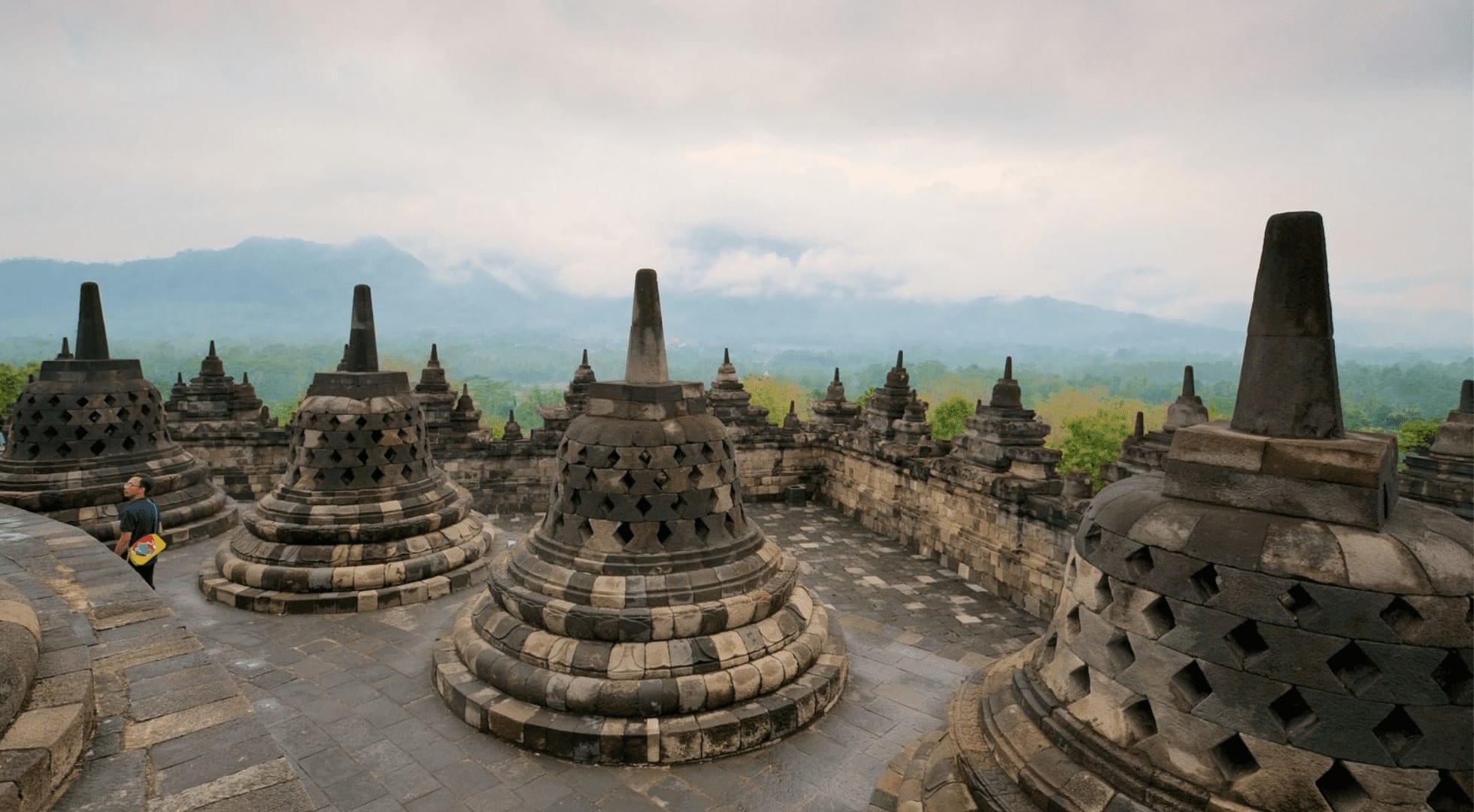 Take your loved ones on an educational tour around Yogyakarta's ancient Buddhist temples of Borobodur, perched majestically on a hilltop surrounded by lush green fields and scenic views. Children of all ages will enjoy exploring various tiers of monumental stupas of this ancient relic that depicts the perfect Universe in Buddhism, listed as a UNESCO World Heritage Site and the largest Buddhist monument in the world.
The architecture of Borobudur's massive structure stands out like a giant block of intricate Lego pieces held together perfectly. After visiting the temple, take a guided jeep tour around Parangkusomo sand dunes for an exhilarating ride and desert adventure.
Bali is another top family holiday destination for immersive cultural experiences. Catch the Holy Bath at Tirta Empul, a sacred site revered by the Balinese-Hindhu community for divine properties. Join the massive crowds of tourists for a quick dip in the holy springs believed to heal diseases and cast away impurities.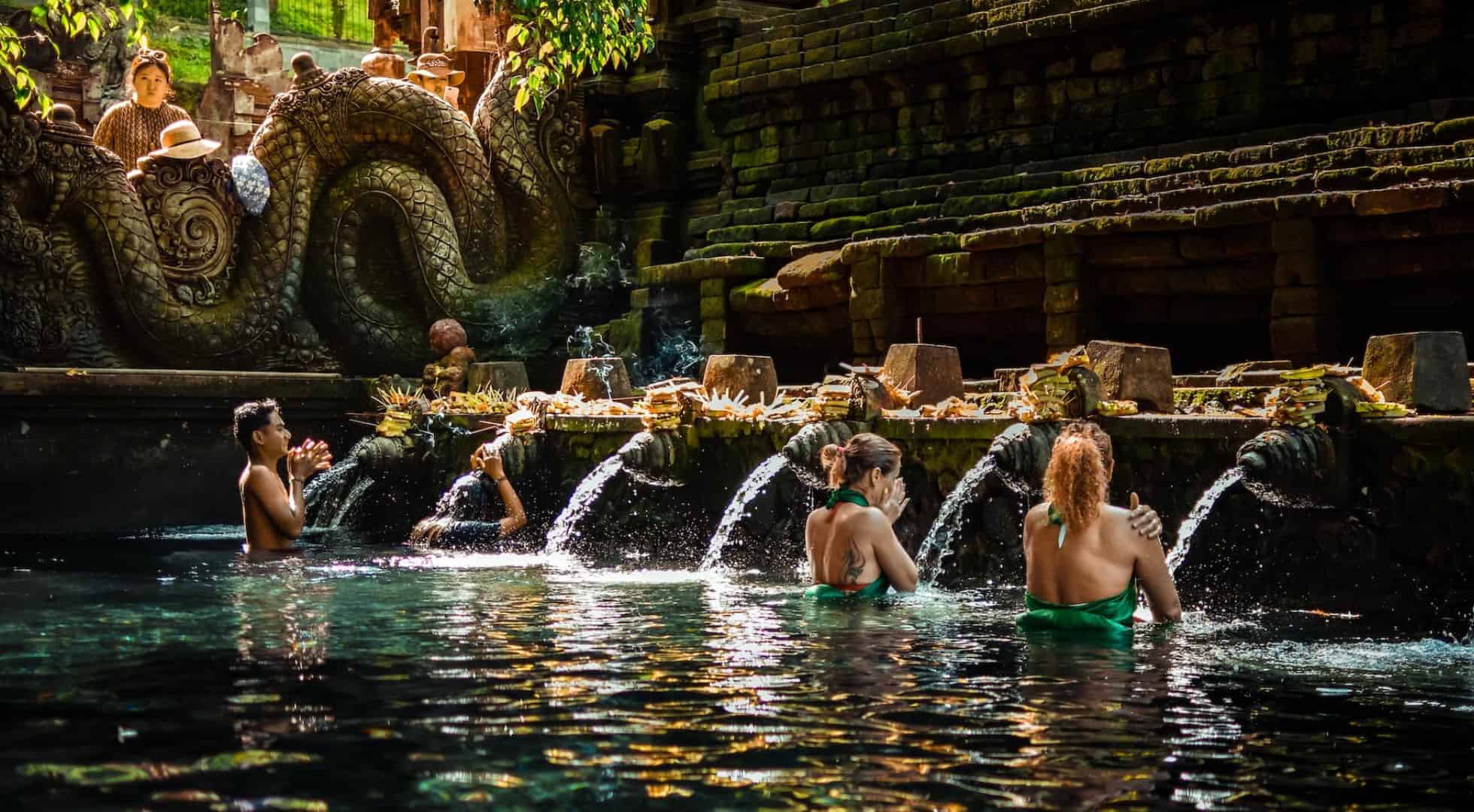 History buffs in the family would also enjoy exploring Ubud Palace for its magnificent Balinese architecture and the perfect backdrop for impressive Balinese cultural photos. The Tanah Lot Temple is another must-visit sightseeing spot for its famous Hindu sea temple on a unique rock formation overlooking the coastal line. Watching the sunset at Tanah Lot Temple is a great way to complete your family vacation in Bali.
Flight time: On average, a direct flight from Kuala Lumpur to Yogyakarta takes around 2 hours and 30 minutes. Meanwhile, a flight from Kuala Lumpur to Bali is about 3 hours and 5 minutes.
5. Vietnam: Land of the Blue Dragon With Timeless Charm And Endless Family Activities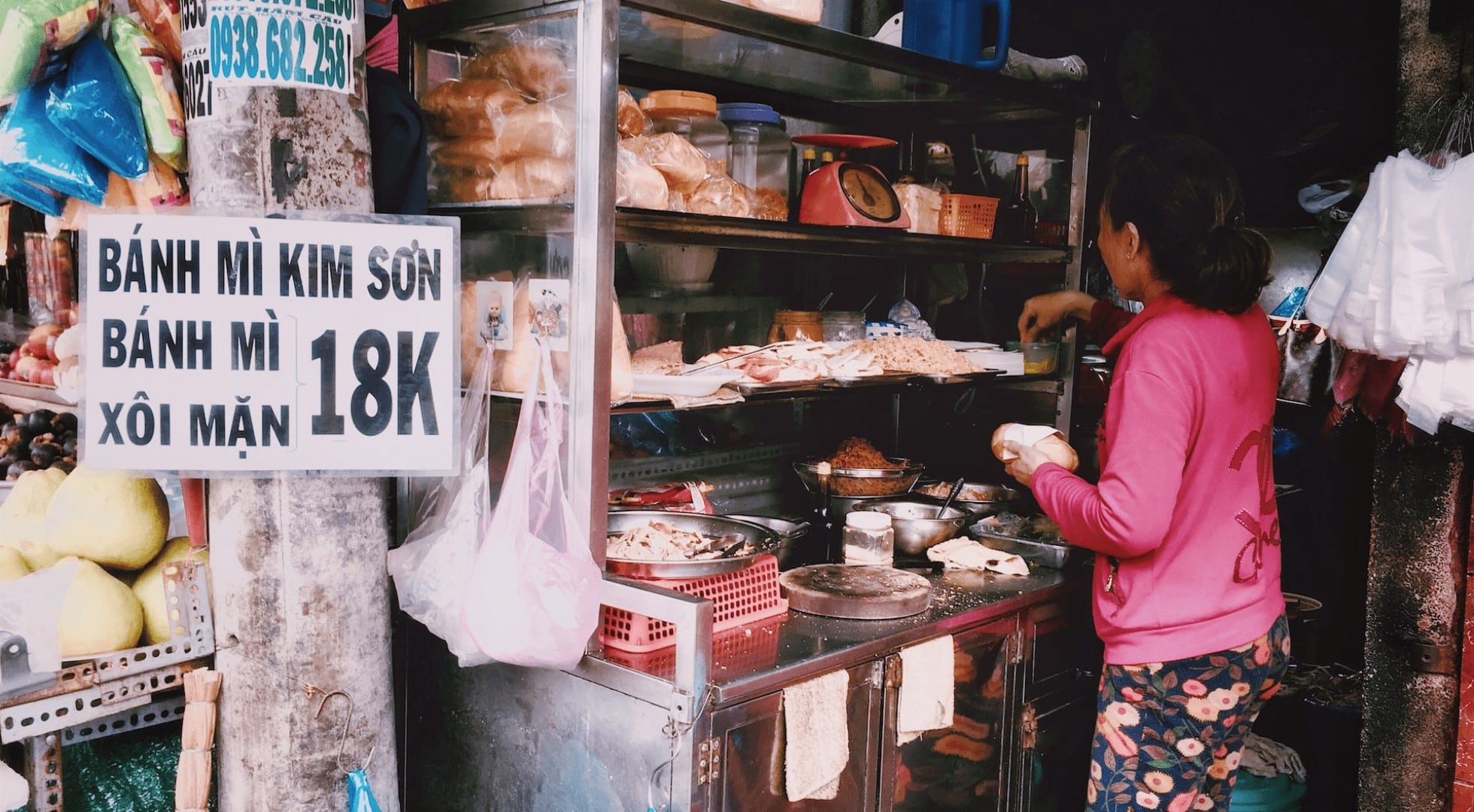 The buzzing capital of Vietnam, Ho Chi Minh City, is a great starting point for any Vietnam family holiday itinerary. The top colonial landmarks include the Notre Dame Cathedral of Saigon and the Reunification Palace.
Delve deeper into the history of the war period in Vietnam by travelling to the Cu Chi Tunnels located on the outskirts of Ho Chi Minh City. Explore the tunnels once used by Viet Cong soldiers during the Vietnam War as hiding spots and living quarters. Although there is no age restriction to explore the tunnels, young children may find it challenging as the tunnels are narrow and quite dark. Young children or adults who are claustrophobic can still view fascinating images of the tunnels at the Cu Chi War History Museum nearby and learn more about life during the Vietnam war.
Embark on a family street food tour around the city to sample the best of Vietnam's signature dishes, like fresh and crispy banh mi rolls, a comforting bowl of Phở, or freshly brewed Vietnamese coffee.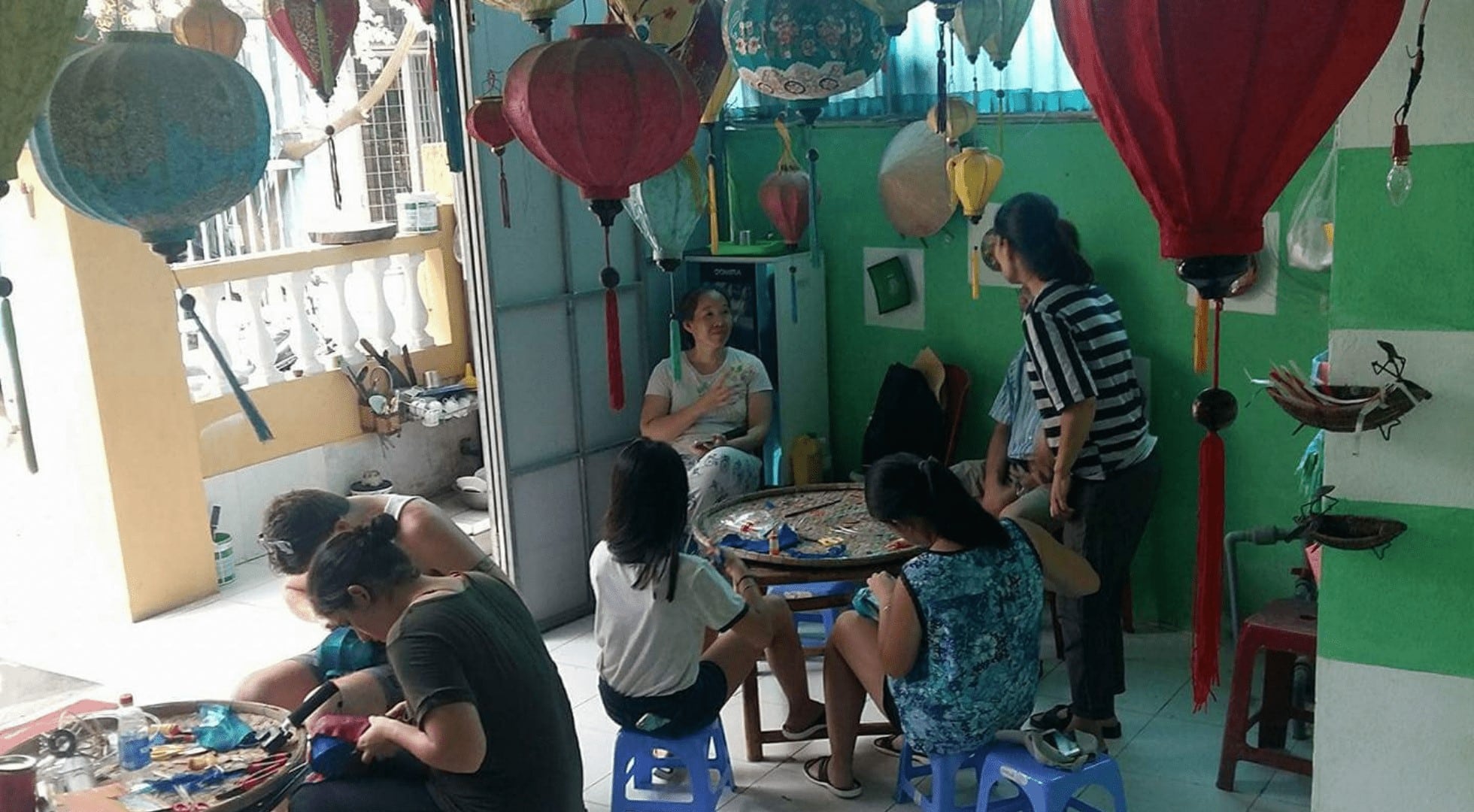 Head to Hoi An for lantern-making lessons with your kids, or sign them up for cooking classes. Most cooking classes in Hoi An are open to children aged 5 and above and start with a trip to the local market to learn about fresh produce. After purchasing some local ingredients, the participants return to the kitchen and get down to business slicing vegetables, grinding spices, and making sauces. Some cooking schools allow participants to choose from a vast menu of traditional Vietnamese dishes. Simple dishes like making rice paper rolls are suitable for young children as it does not require much cooking. There are also cooking schools in Hoi An that provide additional activities for children, like a farm tour.
The seaside city of Da Nang is home to various family holiday attractions, from pristine beaches and theme parks to ancient temples. Take your children for a relaxing swim at My Khe Beach, selected by Forbes Magazine as one of the best beaches in Vietnam. Next, travel to My Son Sanctuary to learn more about the origins of Hinduism in Vietnam as you explore the impressive remains of Hindu tower temples.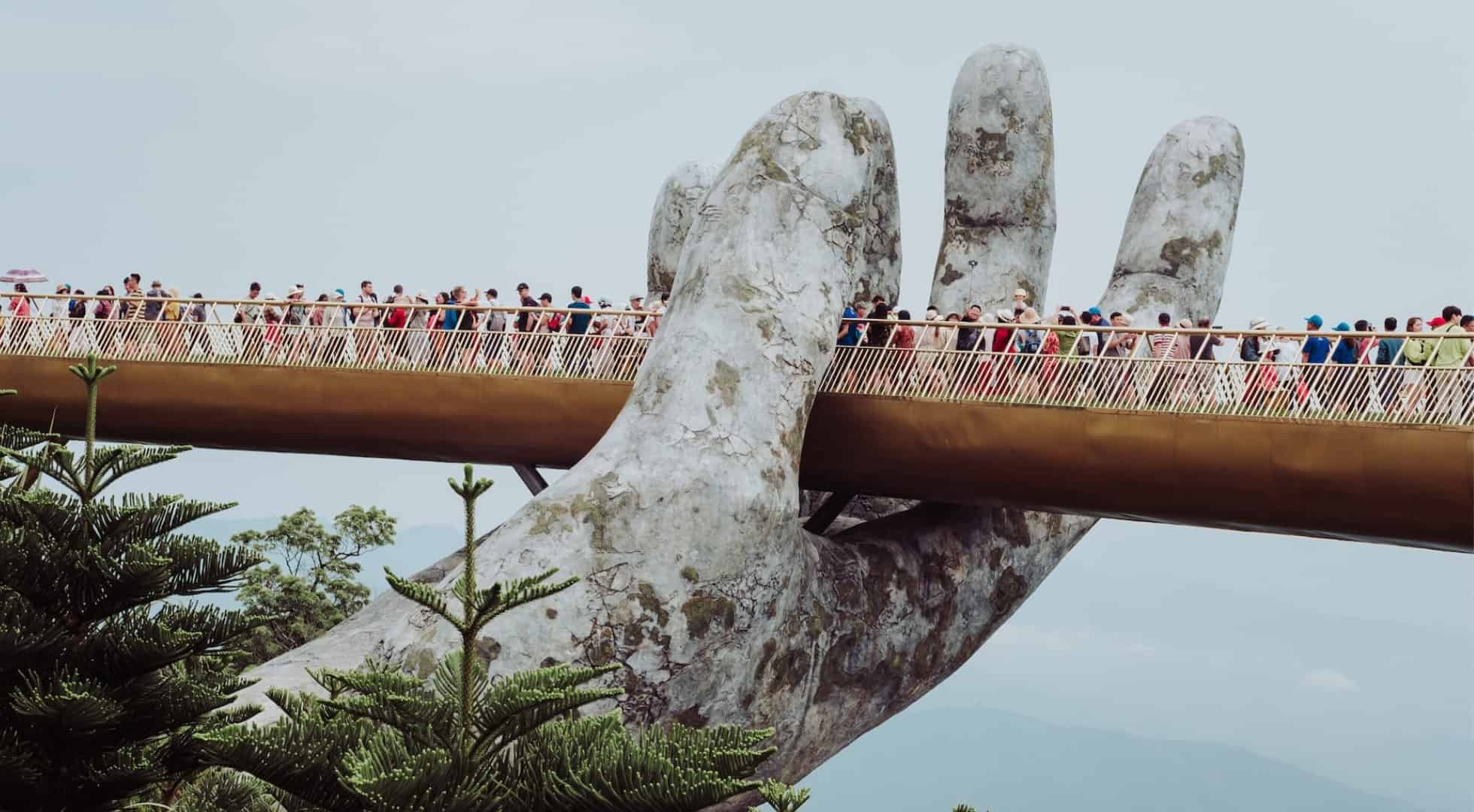 A must-visit on your family trip itinerary is the famous Sun World Ba Na Hills, the mountaintop theme park for adrenaline-pumping kid-friendly activities like cable car rides, interactive games, and rock wall climbing. Don't miss the chance for a great photo-op at Vietnam's most famous architectural wonder, the Golden Bridge, a massive bridge held by two giant hands protruding from a mountain in the magical theme park.
Flight time: On average, a flight from Kuala Lumpur to Ho Chi Minh City takes about 2 hours and 5 minutes. A flight from Kuala Lumpur to Da Nang takes 2 hours and 40 minutes.
Planning family trips can be stressful. However, you don't need to spend more than a week for a good time with your family. With these destinations less than 4 hours flight from Kuala Lumpur, you can get away from work for a weekend or 3-day trip and a much-needed breather with your kids.
At best, you may discover that your favourite family holiday destination is nearby and more affordable than you imagined! 
Explore the best family travel deals for a family holiday your kids will never forget!
You may also be interested in: