The MICHELIN star is the most prestigious accolade in the culinary world, much like the Oscars. The coveted award is bestowed on restaurants showcasing gastronomic excellence and mesmerising food enthusiasts worldwide.
According to the MICHELIN Guide, one MICHELIN star is awarded to restaurants featuring top-quality ingredients and distinct flavours prepared at consistently high standards. Two MICHELIN stars highlight a chef's personality and unique culinary expertise that translates into refined and specially crafted dishes. The ultimate recognition in the F&B industry is three MICHELIN stars that symbolise innovative and exceptional cuisine destined to become classics in the culinary world and worth a remarkable journey for foodies.
As one of Asia's popular travel destinations, Bangkok's thriving fine dining scene is home to amazing world-class Michelin starred restaurants. Check out our Bangkok MICHELIN food guide that dishes out the inspo you need to pack your bags and embark on a culinary adventure to exciting and affordable MICHELIN star restaurants in Bangkok. Indulge in the world's finest gourmet cuisine that promises nothing but the best without breaking the bank!
BANGKOK MICHELIN FOOD GUIDE FOR YOUR ULTIMATE FOOD BUCKET LIST  
1. Le Normandie by Alain Roux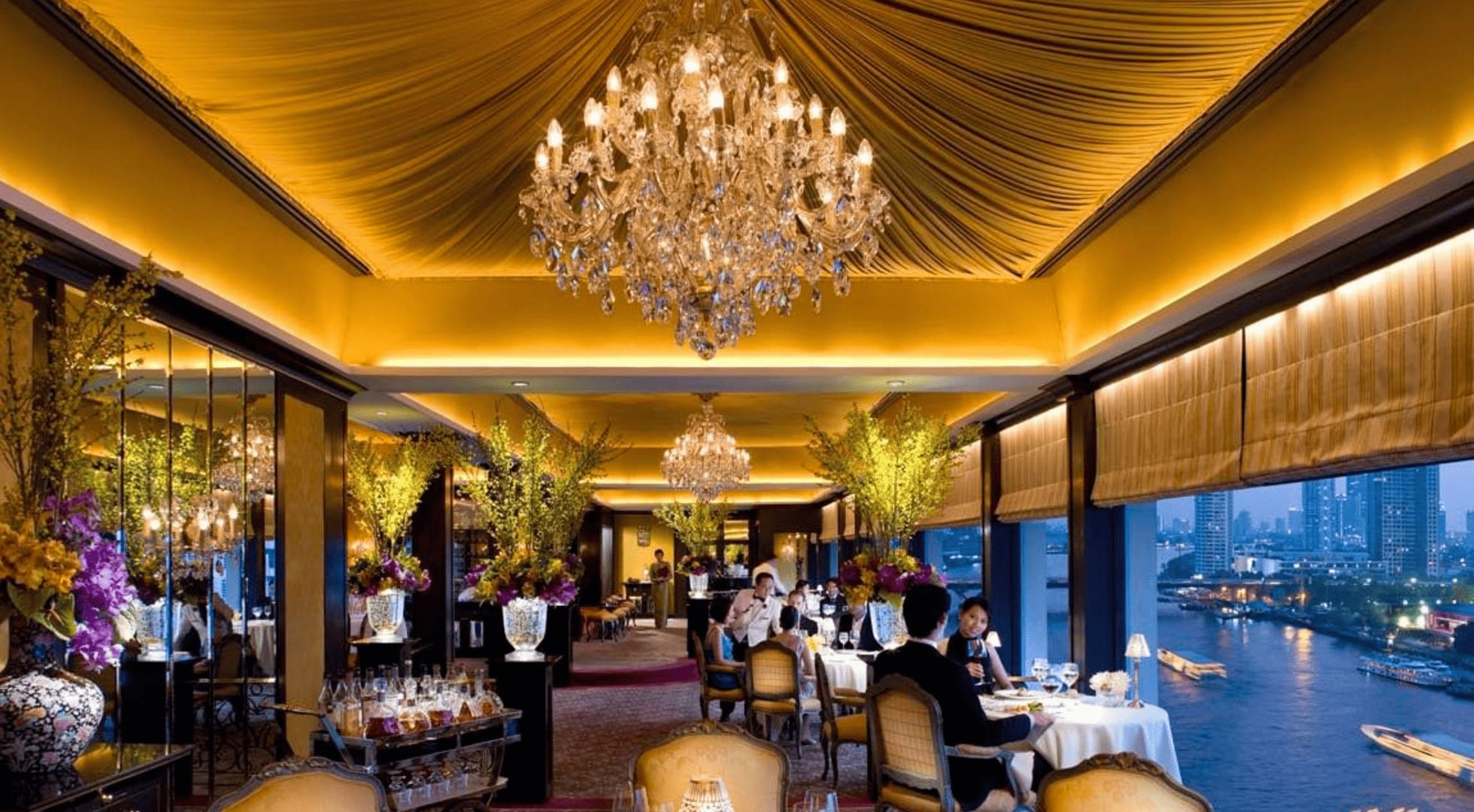 Rating: 2 MICHELIN stars
Type of Cuisine: French
Vibe: Elegant and sophisticated ambience featuring panoramic views of the Chao Phraya River. Ideal for a memorable couples' dining experience
Price: THB 3, 500++ (MYR 460++) (3-course lunch menu)/THB 5,000–8,000 (MYR 660–1050) (dinner set menu). The menu is subject to change depending on the availability of imported produce
Operating Hours: Tuesday – Sunday/ Lunch (12.00 noon – 3.30 pm)/Dinner (6.30 pm – 11.30 pm)
Address: 5F, Mandarin Oriental Hotel, 48 Soi Charoen Krung 40, Charoen Krung Road, Bang Rak, Bangkok, 10500, Thailand
A culinary gem in the prestigious Mandarin Oriental, Bangkok, Le Normandie, led by renowned chef Alain Roux, is one of Bangkok's premier and least expensive MICHELIN-starred restaurants. This upscale establishment offers a dining experience that combines classic French cuisine with innovative techniques.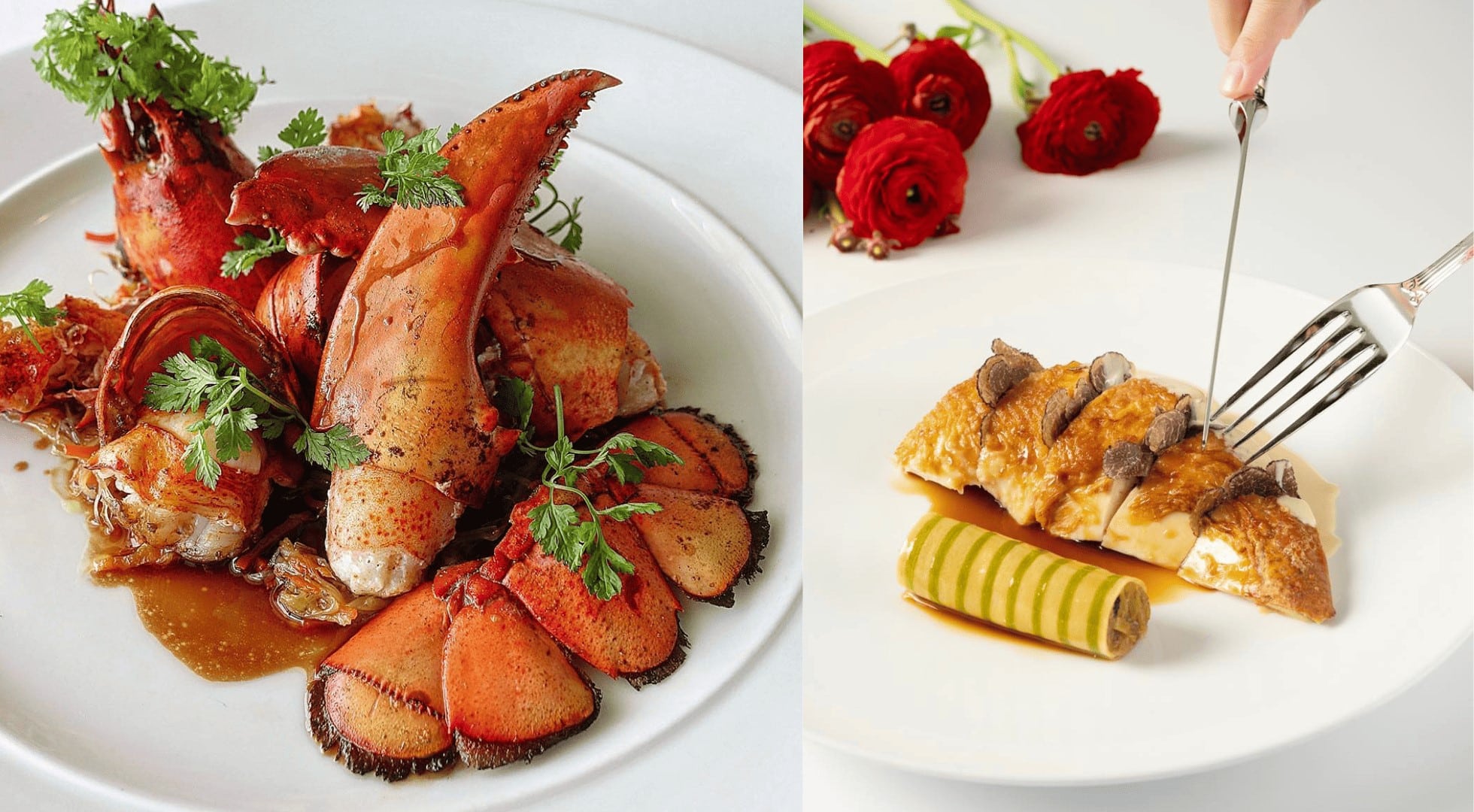 Le Normandie's menu showcases a range of exquisitely crafted dishes using the finest seasonal ingredients, emphasising flavours, textures, and presentation. Signature dishes include the succulent Pan-Fried Brittany Blue Lobster Medallion with Ginger Flavoured Vegetable Julienne and White Port Sauce and Terrine of Foie Gras, the famous delicacy of French cuisine is served with figs and brioche toast, offering a harmonious balance of tastes and textures.
This fine dining establishment encourages patrons, including children 7 years and above, to wear elegant attire and closed footwear to preserve its sophisticated atmosphere. A jacket is compulsory for men during dinner and may be provided upon request.
2. Le Du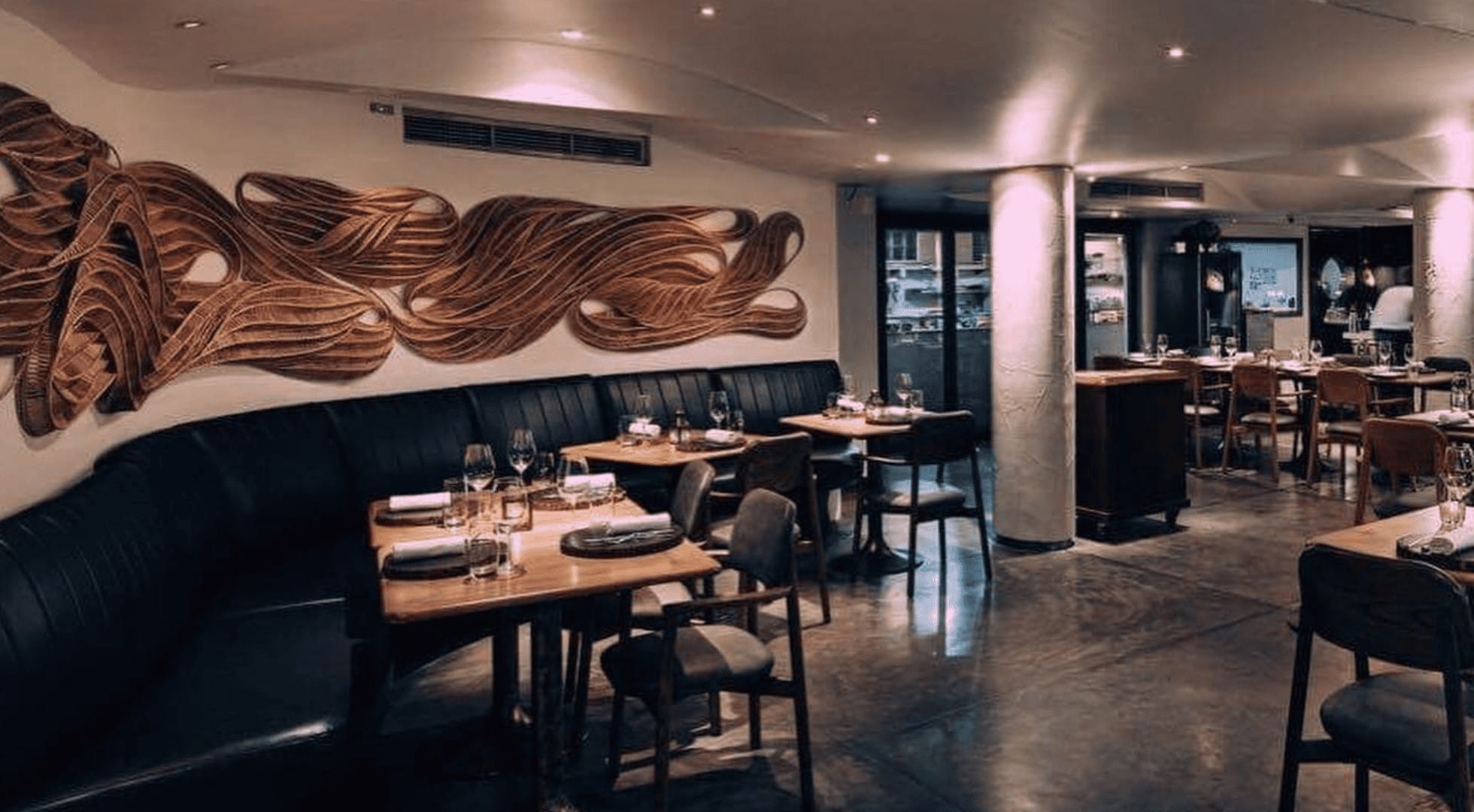 Rating: 1 MICHELIN star
Type of Cuisine: Thai Contemporary
Vibe: Aesthetically designed dining atmosphere with a captivating large art installation made from bamboo and gnarled hemp rope complemented by white pillars with branch-like etchings throughout the restaurant, showcasing a harmonious earthy interior. Ideal for solo foodies or families
Price: THB 3,900/MYR 500++ (4-course menu)/THB4,500/MY600++ (6-course menu)
Operating hours: Monday – Saturday/6.00 pm – 11.00 pm
Address: 399/3 Soi Si Lom 7, Si Lom, Bang Rak, Bangkok, 10500, Thailand
Launched in 2013, Le Du, synonymous with the word "season" in Thai, features modern Thai cuisine prepared with French techniques. Bagging the No. 1 spot in Asia's 50 Best Restaurants 2023 list, this modern eatery is headed by Chef Ton Thitid Tassanakajoh, a popular figure in Bangkok's fine dining scene for elevating high-quality local Thai produce from the sea and land, cooked in Thai spices and condiments that enhance umami additions in curries and other signature dishes.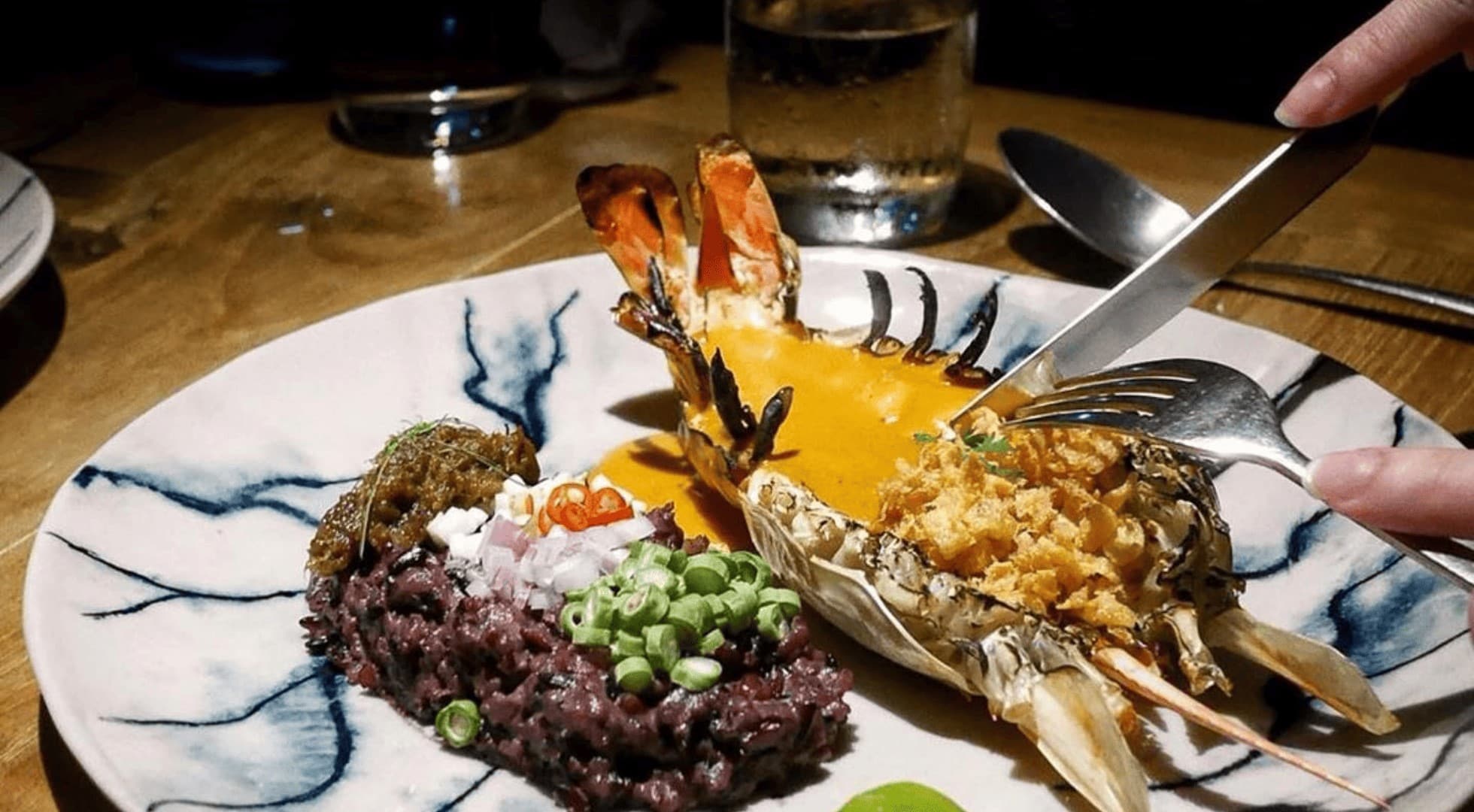 The River Prawn with Mountain Rice and Shrimp Paste (Khao Chae or Khao Khluk Kapi) is Chef Ton's signature dish and comes highly recommended. To fully appreciate the restaurant's innovative cuisine, try the 6-course tasting menu with wine pairing options, which include amuse bouches, which change almost every week or month. Chef Ton's vision of celebrating local Thai ingredients comes through in the first course itself, with flaky and tasty sea bass, fresh and crunchy greens and tomatoes sourced from a farm in Chiang Mai cooked in a flavourful spice mix coming from the north of Thailand.
The Banana Prawn dish with roots in southwest Thailand is prepared by poaching the prawn in Thai herbs and garnished with sea grapes, dill and Thai basil, and a tangy beetroot sorbet, a testament to Chef' Ton's creative talent in mixing unique flavours. Meanwhile, the Wagyu Sirloin, sourced from Sakon Nakhon province in Thailand, is light and served with beef liver pate, fried noodles and a chilli puree, making it a hearty dish and a fitting end to an exquisite meal.
Le Du has strict cancellation and child policies. Any change in reservation must be made at least 3 days before the dine-in date. If you are dining as a family with young kids, indicate the number of children and dietary preferences when making your reservation, as the restaurant only welcomes children aged 5 and above and does not provide any children's facilities. Children aged 10 years and above will be served with a full adult menu.
3. Saneh Jaan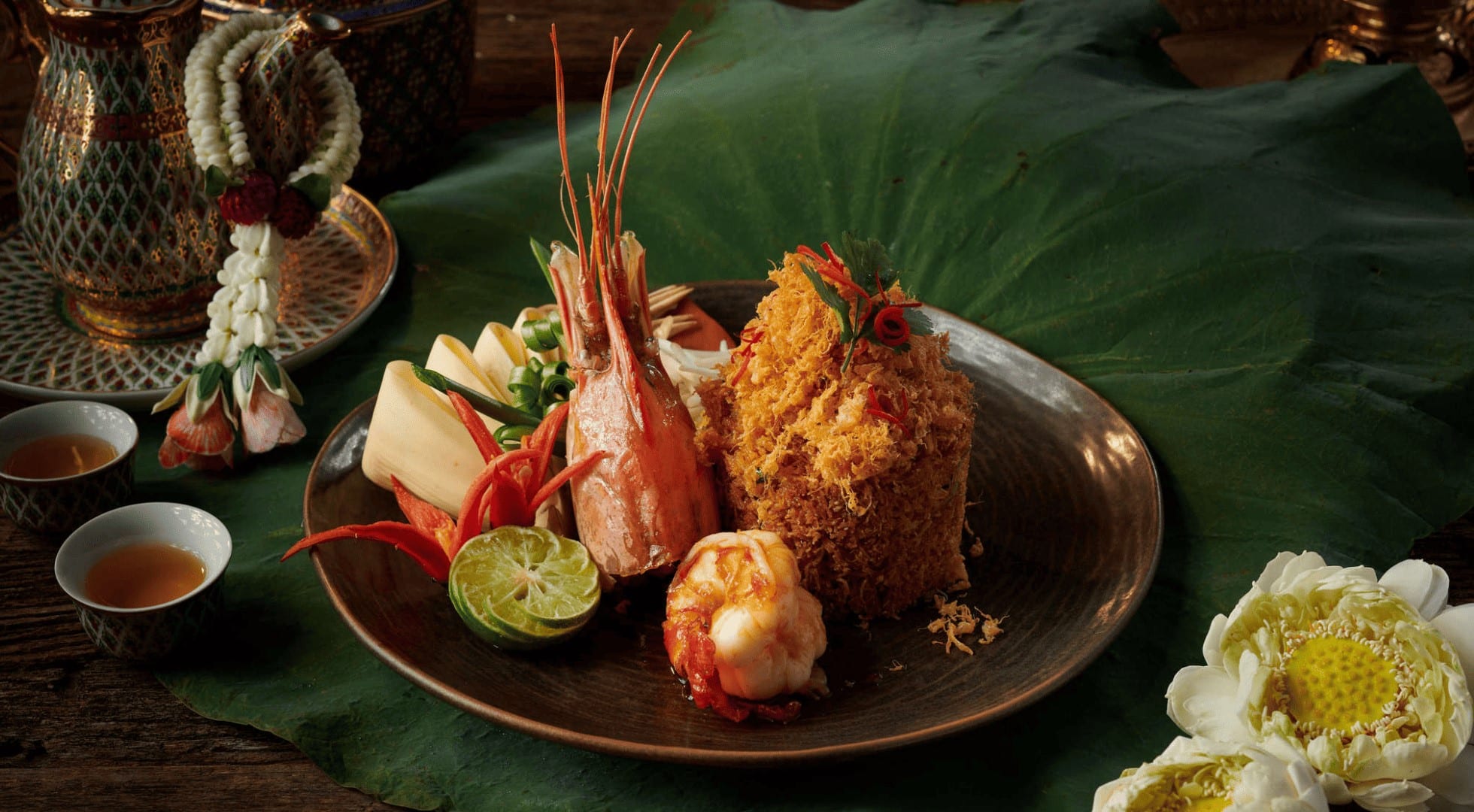 Rating: 1 MICHELIN star
Type of Cuisine: Thai
Vibe: Huge dark wooden doors welcome guests into a spacious and stylish dining area adorned with a collection of poems about Thai food composed by Naowarat Pongpaiboon, the national artist of poetry literature. Intricate artistic objects add a theatrical effect to the modern and relaxing atmosphere.
Price: THB 850–2,650++ /MYR110–300++ (Lunch and dinner set menus)
Operating Hours: Monday – Sunday/ Lunch (11.30 noon – 2.00 pm)/Dinner (6.00 pm – 10.00 pm)
Address: Sindhorn Tower, 130-132 Witthayu Road, Lumphini, Pathum Wan, 10330 Bangkok
Retaining its MICHELIN star three times, Saneh Jaan is the pinnacle of reinvented Thai classics that once earned the favour of Thai royals. Literally translated as "charm of the moon" and named after an ancient Thai dessert served during auspicious occasions, Saneh Jaan is a popular upscale dining outlet among international tourists and expatriates.
Start your culinary adventure at the impressive lounge and bar, Jaan Jarung, next to the main dining area. Try Thailand's local whisky, ya dong, like Naree Ram Peung (Wailing Women), served along with aromatic pandan-infused water, tamarind, pickled olives, and salt that help improve blood circulation or check out their signature cocktails made from Thai liqueurs and herbs.
Paying homage to traditional Thai dishes, Saneh Jaan's signature dishes include starters like the spicy salad Yum Som-O Goong Sieb comprising fresh pomelo, fresh shrimp, crispy shrimps, minced pork, with tamarind sauce and Thai roasted chilli paste featuring a harmonious blend of flavours with a distinctive fruity note. If you are a curry fan, don't miss the addictively punchy curry, Kaeng Kua Poo Bai Cha Ploo, a show stealer with delicate crabmeat chunks and scented wild betel leaf bush cooked to perfection in a spicy blend of curry paste, fresh spices and coconut milk. Seafood and meat lovers will enjoy the sweet and sour crispy rice noodles with river prawns and boldly-flavoured Massaman Curry with slow-cooked Kamphaeng Saen beef.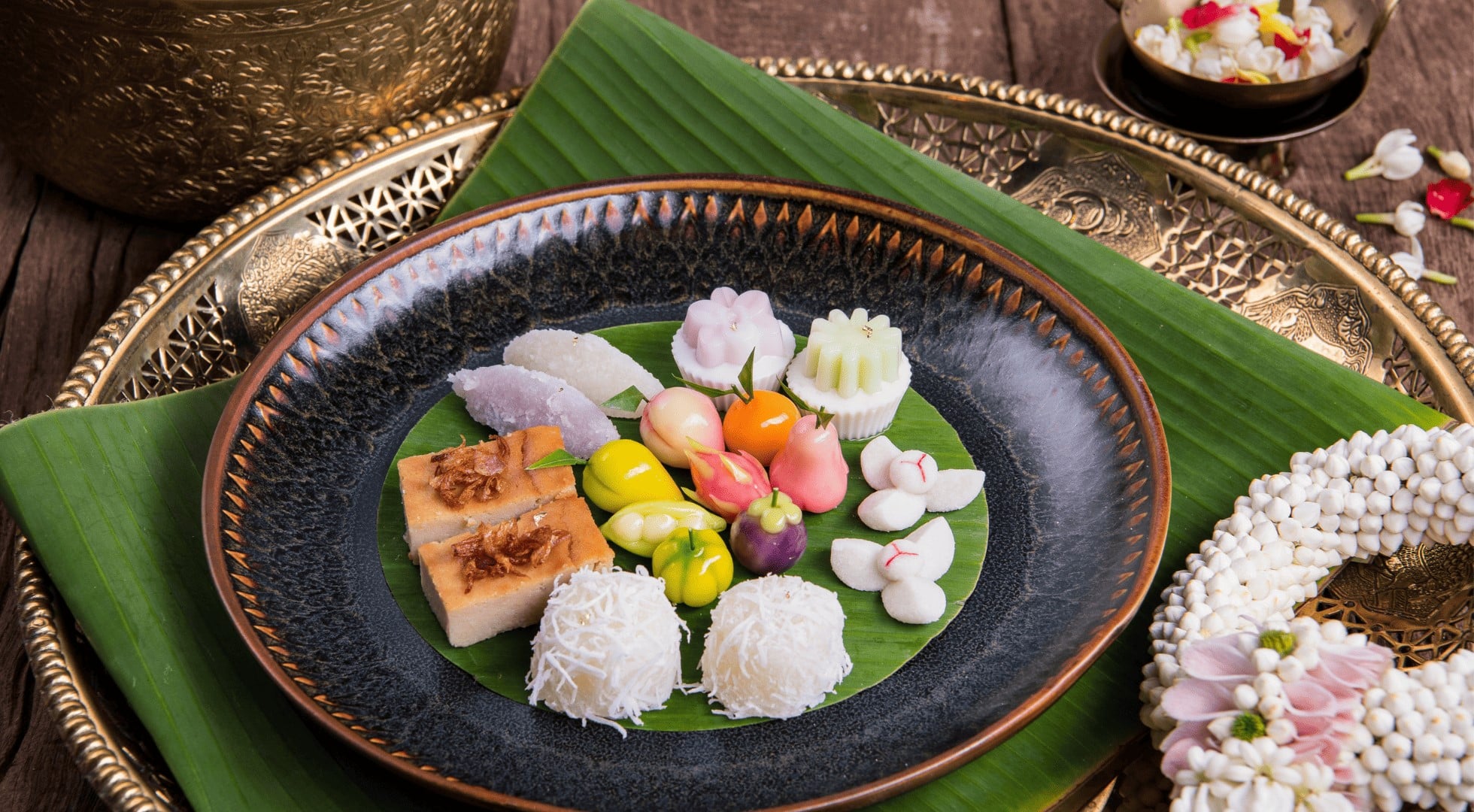 Saneh Jaan is also among the few MICHELIN-starred restaurants in Bangkok renowned for desserts. End your culinary experience on a sweet and auspicious note with Saneh Jaan's Khanom Thong Ruam, a dessert platter for prosperity featuring a fine selection of authentic Thai bite-size desserts, including Khanom Thong Ek (a classic dessert garnished with gold foil), Foy Thong (sweet golden silk threads), Thong Yod (a beautiful water drop-shaped dessert), Med Khanoon (dessert made with jackfruit seeds), Khanom Dara Thong, (a Thai sweet decorated with watermelon seeds, and Khanom Saneh Jaan (a dessert in the shape and aroma of a golden apple).
Saneh Jaan observes a strict smart casual dress code (i.e., no shorts, sandals, or slippers).
4. Haoma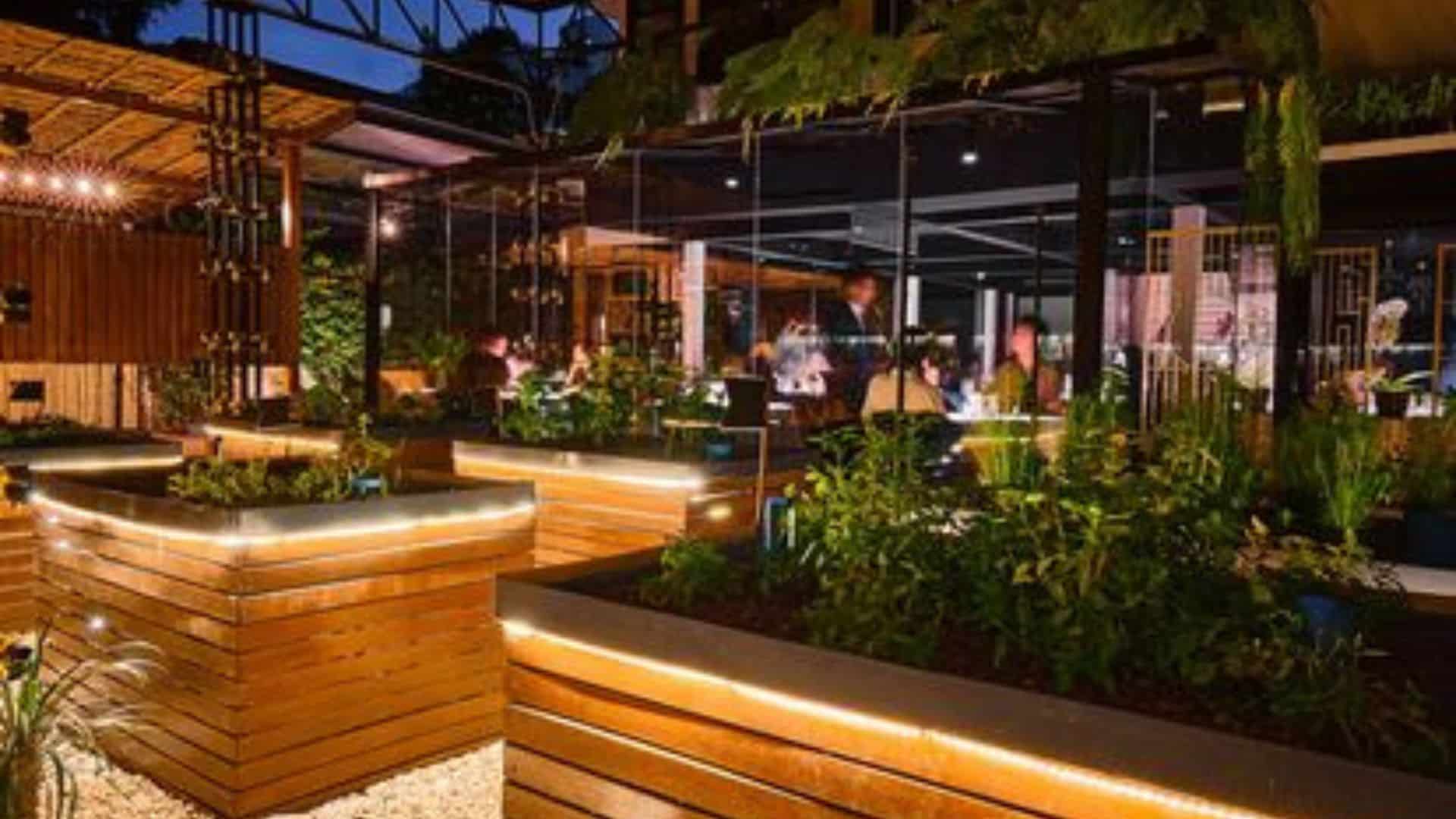 Rating: 1 MICHELIN star
Type of Cuisine: Neo-Indian
Vibe:  Located in a remote corner of the high-end area of Sukhumvit Soi 31 with luxury residences and cafes. The exterior includes a long driveway path with archways of edible butterpea flowers and lush greenery. Patrons will immediately feel like they are in a homey backyard with tables set among raised pots of herbs, walls of vegetation and a mini fish farm. The interior is intimate and stylish with woody décor, black metal and jazzy geometric fabrics, and large glass windows reflecting the verdant surroundings that promises a refreshing and stimulating multi-sensory dining experience.
Price: THB 2590++/MYR340++ with wine pairings (Weekend lunch menu–6-course non-vegetarian, vegetarian or vegan menu)
Operating hours: Tuesday – Friday (5.30 pm – 11.00 pm)/Saturday and Sunday – Lunch (12.00 pm –2.00 pm)/ Dinner (5:30 pm –11.00 pm)
Address: 231/3 Sukhumvit Soi 31, Phrom Phong, Bangkok, Central Thailand, Bangkok 10110
Awarded the new MICHELIN Green Star for sustainable gastronomy, Haoma takes pride in offering patrons an innovative Indian contemporary farm-to-table dining experience. Deeply influenced by Thai, Japanese Zen and Indian heritage, this intimate fine dining establishment is driven by Chef Deepanker Khosla's passion for sustainability, including sourcing organic and fresh local ingredients from various parts of Thailand and maintaining its own mini ecosystem by recycling water and food waste to growing over 20 different vegetables, fruits and fishes in its own garden space.
Almost every dish at Haoma is a work of art bearing beautiful simplicity, focusing on the greens and fresh produce prepared with modern cooking techniques. Among Haoma's signature salads is Buratta and Bubbles, Chef Khosla's twist on Italian caprese salad with ultra-fresh and juicy tomatoes, a creamy homemade burrata, beautiful chimichurri of homegrown mint, dill, basil, and Thai-inspired candied job's tears and tapioca pearls for a unique textural experience.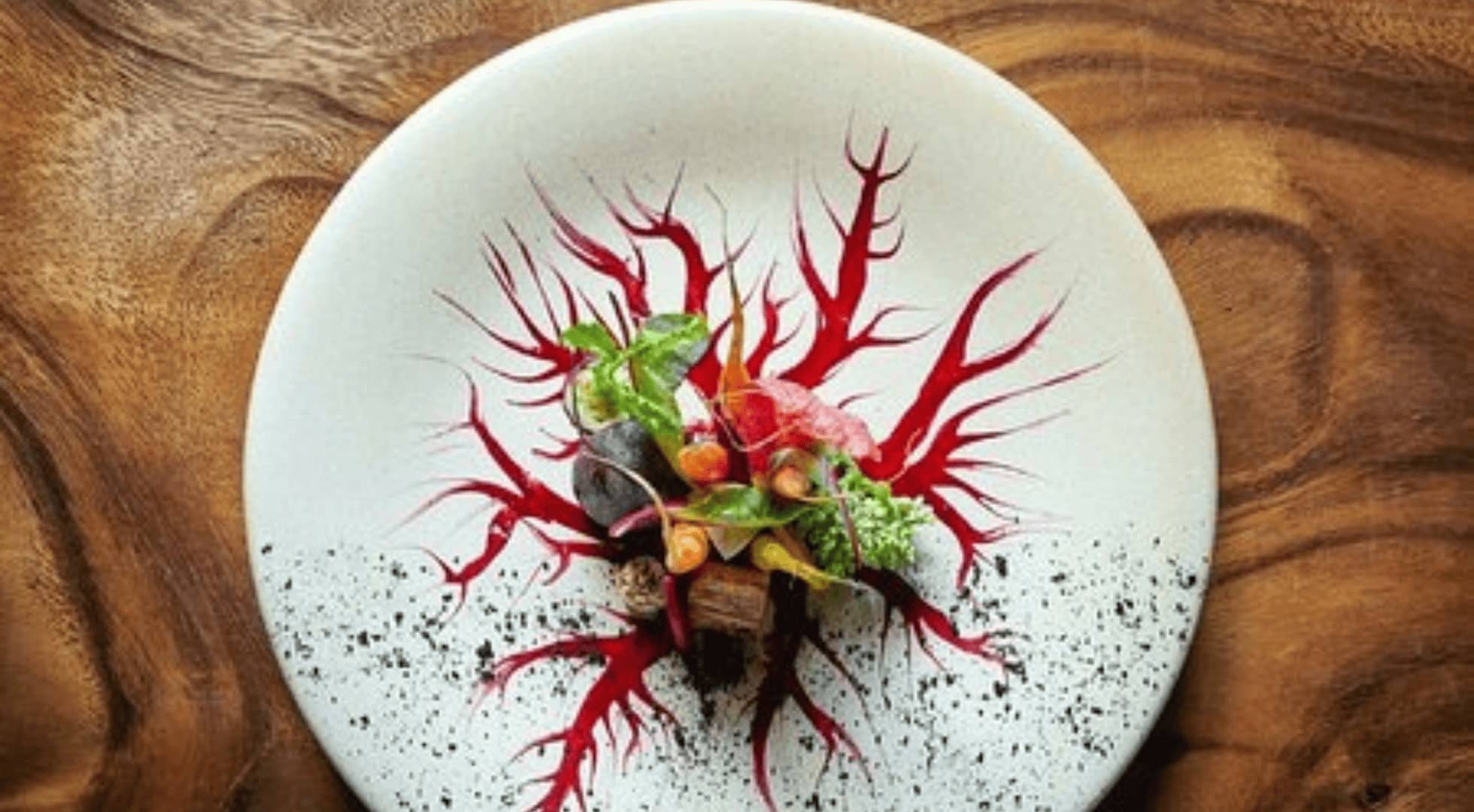 Root vegetables stand out in Stick to the Roots, the high bar set for presentation is complemented by pickled lotus root, heirloom carrots, delicious and fresh confit turnip, beetroot crisps and mini carrot-macaron. The Eggs As We See Them is a dessert that celebrates panna cotta of lanzan nut, vetiver root, a scoop of ice cream, a touch of black stone flower (a staple of northern Indian cuisine) and black pepper glaze, making it a popular dessert at Haoma. 
Cocktails celebrating fresh ingredients and flavours reimagined from classics are crowd favourites. Try Kale filled with all the goodness of a classic green juice featuring avocado, kale, apple, and celery with a cheeky dash of gin. Olive, Haoma's take on a martini, has a white chocolate hint and ends with a surprising molecular magic, an 'olive sphere' that tastes like a dirty martini.
Beginning 4 November 2023, Haoma serves weekend lunches that include exciting dishes like Lobster Two Ways, which marries fresh Thai seafood like the Phuket Lobster and classic Indian flavours of ghee roast, idli, and pulissery (traditional Kerala yoghurt curry). For vegetarians and vegans, the Phuket Lobster is swapped with Squash sourced from Chiang Mai to create a similar medley of flavours.
5. Jay Fai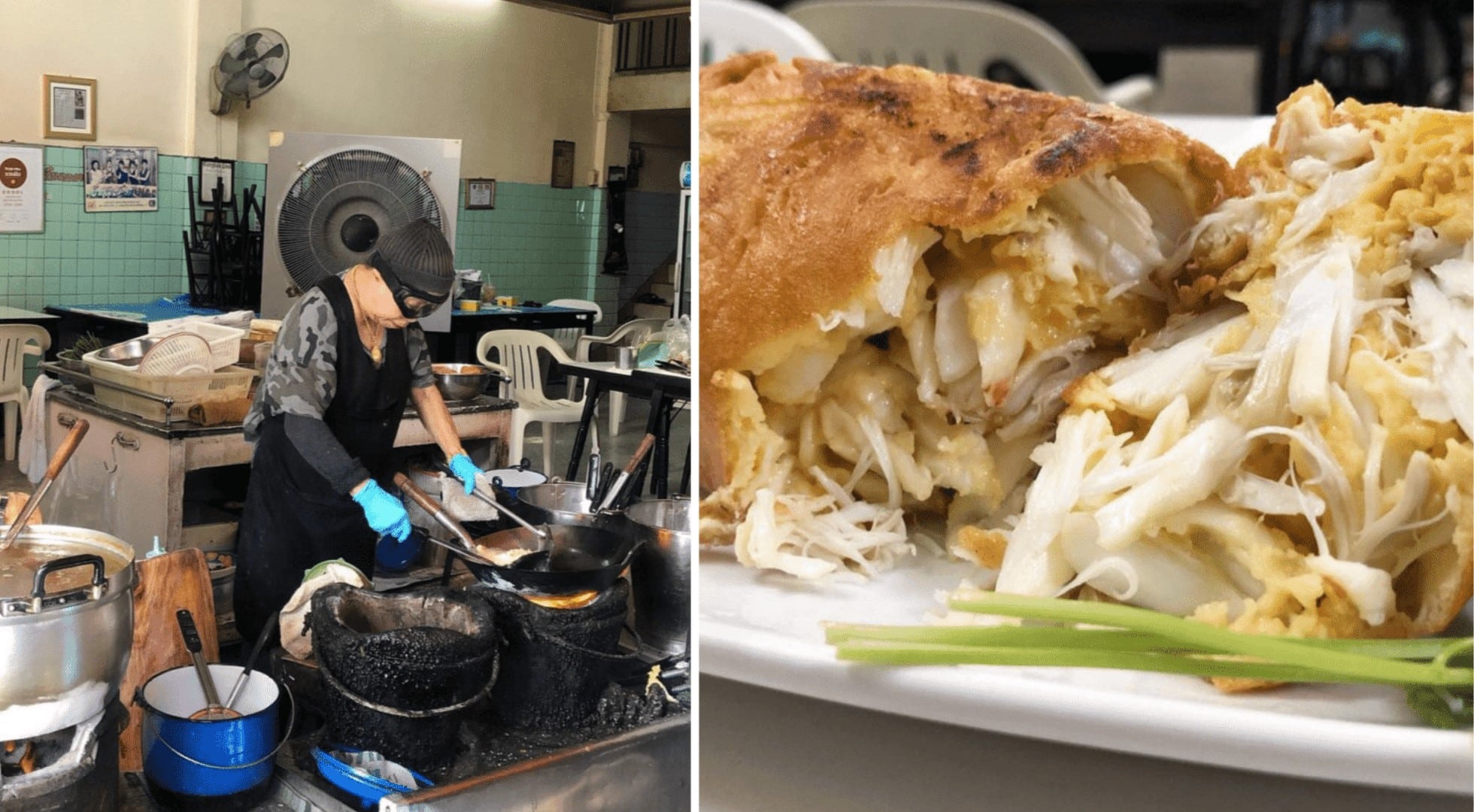 Rating: 1 MICHELIN star
Type of Cuisine: Thai street food
Vibe: Rustic street food restaurant reflecting Bangkok's old-town charm. What it lacks in a sophisticated ambience, it makes up for in bold and authentic Thai street food flavours that justify its long queue of international tourists.
Price: THB800–1000++ /MYR100–200 per dish
Operating hours: Wednesday –Saturday/ 9.00 am – 7.30 pm
Address: 327 Mahachai Road, Samran Rat, Phra Nakhon, Bangkok, 10200, Thailand
Jay Fai shot to worldwide fame as Bangkok's only Michelin-star street food restaurant since 2018, despite its steady reputation for whipping up delicious wok-fried culinary masterpieces among locals for many years. Operated and owned by septuagenarian Supinya Junsuta, nicknamed Jay Fai, watching the skilled chef clad in her iconic black apron, beanie and ski goggles tending to the flaming charcoal-fired stoves is a rare dining experience in itself.
Among Jay Fai's signature dishes include Crab Omelette (succulent and generous chunks of crab meat and egg cooked in hot oil and wrapped like a golden-brown burrito), Drunken Noodles (addictive sticky and chewy stir-fried flat rice noodles in hot and spicy sauce, fragrant basil leaves, fresh chilli, coconut palm, and tender and fresh prawns, squid and cuttlefish kissed with a smoky char), and Crab Yellow Curry (generous portions of wholesome crab meat stir-fried with eggs and onions in a fragrant and creamy yellow curry sauce).
Try to be early to get a table, as the restaurant doesn't accept reservations. There is a ticketing system implemented to manage the long queue of patrons handled by the chef's daughter, Yuwadee Junsuta, who is English-speaking.
Embark on a Bangkok culinary adventure where the vibrant street food culture converges with the sophistication of Michelin-starred dining. These five affordable gems not only redefine the boundaries of gastronomic excellence but also offer a taste of Thailand's rich culinary tapestry.
As you savour each meticulously crafted dish in these unassuming yet Michelin-acclaimed establishments, you'll discover that Bangkok's food scene is a harmonious blend of tradition and innovation. From the bustling markets to the elegant dining rooms, the city beckons food enthusiasts to explore the unexpected, proving that exceptional dining experiences need not come with a hefty price tag. So, let's indulge in the flavours of Bangkok's affordable Michelin-starred treasures, creating memories that linger long after the final bite.
Experience the best of Asia's elevated dining at affordable Michelin star restaurants in Bangkok.
You may also be interested in: