Turkiye Travel and Safety: A 2023 Guide
Haven't made Turkiye travel plans? When a country is often in the headlines with reports of natural calamities and political unrest, it's unsurprising that it would give travellers pause before booking their flights. However, do note that it is safe to travel to this beautiful country, so reconsider making Turkiye travel plans with the following tips in mind: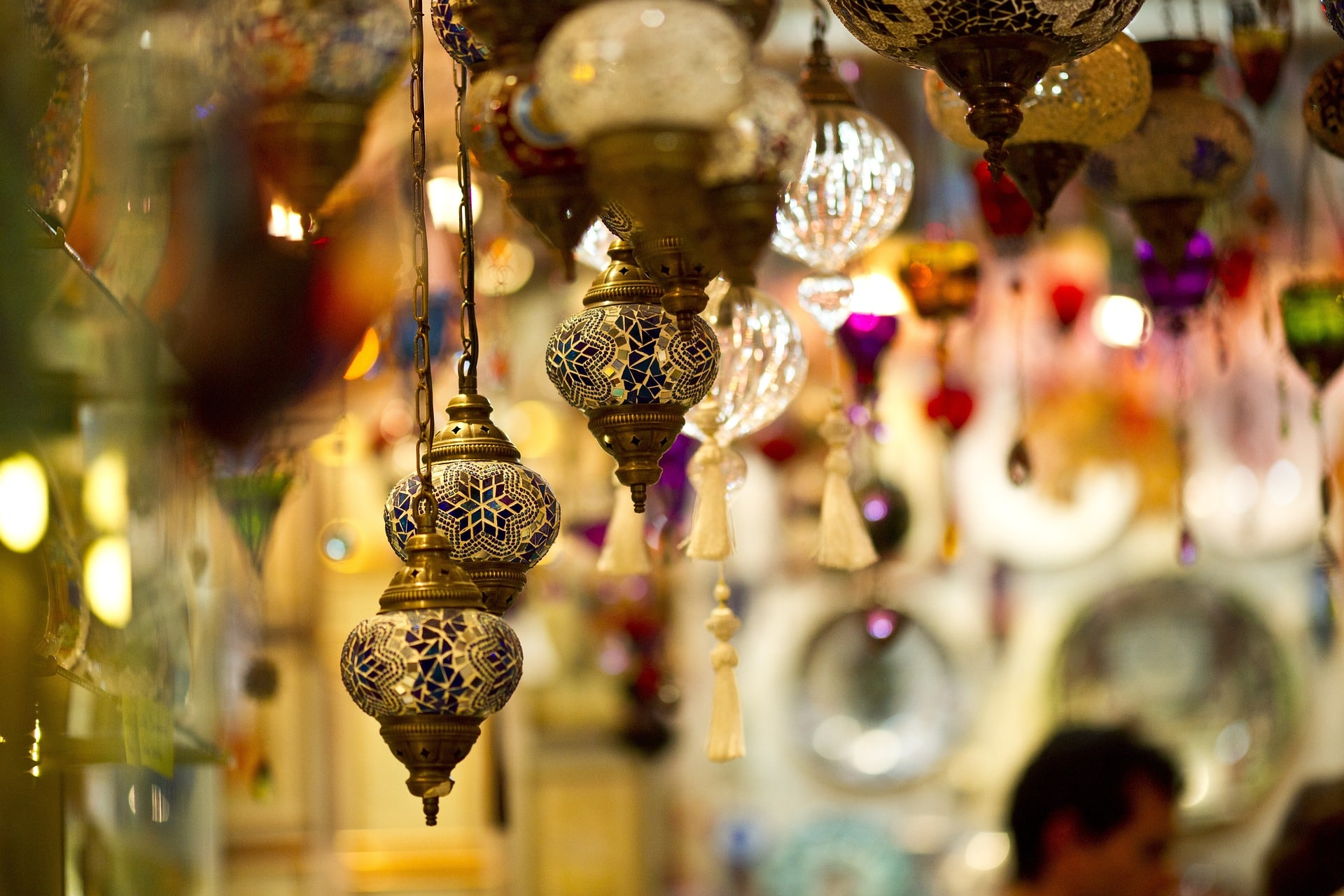 This popular tourist destination has also been in the news for other things, such as its official UN name change to Turkiye in June 2022. Turkiye (tur-key-YAY), as it is spelt and pronounced in Turkish has elaborated their choice as reported in this Guardian article. It says, "The move is seen as part of a push by Ankara to rebrand the country and dissociate it from the bird of the same name and the negative connotations associated with it."
The name change aside, this country has also been in the news for terrorist attacks in 2015 through 2017 and a coup attempt in 2016. More recently, a devastating earthquake, made the rest of the world sit up and take action.
On 6 February 2023, a 7.8 earthquake hit Gaziantep and its neighbouring provinces in southeast Turkiye. Not long after, another 7.5 magnitude earthquake hit the Kahramanmaras. The first earthquake was the most devastating to hit earthquake-prone Turkey in more than 20 years. Consequently, Turkish President Recep Tayyip Erdogan declared a three-month emergency in 10 of the country's provinces.
Despite strong travel bookings recently across Europe, Turkiye's travel sector has yet to regain momentum. However, tourism officials expect a potential return to expected pre-earthquake travel figures after the country's 2023 elections (see below) as peak summer travel demand to the country ramps up.
While it is understandable that there is now fear and caution, the big questions on everyone's minds are: "Is it safe to travel to Turkiye in 2023?" and "Should I start making Turkiye travel plans?"
As of April 2023, the answer is yes, as long as you avoid the region affected by the earthquake, as rescue efforts, restoration, and cleanup are underway. Turkiye's coastal resorts were unaffected since the quake's epicentre was in the southeastern inland city of Kahramanmaras. Top tourist destinations of this country, such as the breathtaking chimney rocks and semi-arid terrain of Cappadocia or the coastal beach towns of Bodrum and Antalya, are perfectly safe to visit.
As for terrorist risks, tourists have been cautioned against travelling along the border Turkiye shares with Syria and Iraq, specifically Diyarbakir and the Hakkari and Sirnak provinces (which are close to the Iraqi border).
Although the earthquake did not directly impact the rest of Turkiye, many people were still affected by the natural disaster. Many citizens of the area were left looking for shelter in temporary housing as buildings and homes were destroyed. Always remain mindful and ask your travel agent to keep you updated on announcements declared by the government or local authorities.
Turkiye Travel: What To Expect
Post-Covid travel is not without risks, but Turkiye is currently relatively safe and open to tourists. Turkiye was also one of the countries commended for its swift response to the spread of Covid-19. As long as you meet its immigration regulations with your passport and a valid visa, you can visit the country.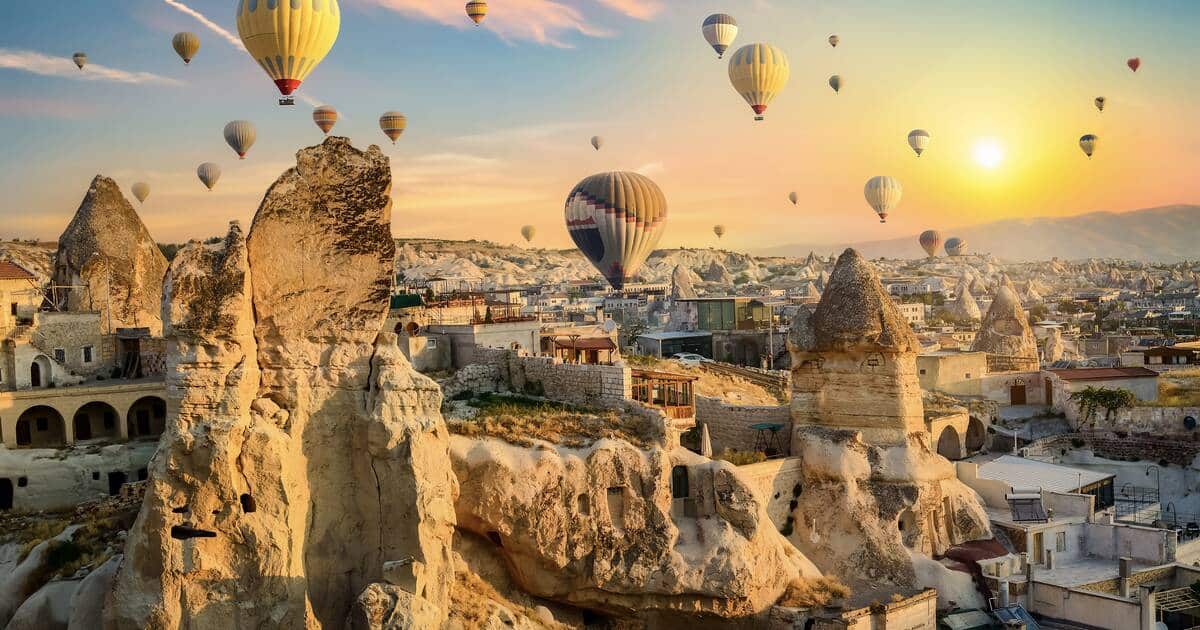 Turkiye Travel: Stay Informed
Given that, travellers are advised to apply the same amount of caution as travelling to any new country. It's essential to respect the local laws and be careful not to break them. One of the bigger ones is that it is illegal to insult the country, flag, President or government and Turkiye's founder, Mustafa Kemal Atatürk. On top of that, as a country with religious sites and shrines, it is encouraged to dress modestly during Turkiye travel to avoid unwanted attention.
Travel experts advise women to cover their arms and legs with loose clothing. However, ordinary clothing is probably acceptable if you stay in a large hotel with many Westerners. The consensus is that modesty is generally the best policy, so consider how to best dress for the climate and culture.
The general crime rate is relatively low, as the threats are more politically inclined. This is heightened with events such as the upcoming general elections scheduled to take place on 14 May 2023. President Recep Tayyip Erdogan has launched his ruling party's bid to stay in power as he seeks to extend his leadership of Turkiye beyond 20 years. However, he is facing his stiffest challenge yet from six opposition parties who have combined forces for presidential and parliamentary elections.
As a complex country with a history of political turmoil, Turkish authorities are taking all necessary security measures. Security for tourists is already high on the government's list of priorities. This is especially so as tourism is a big industry for the country's economy.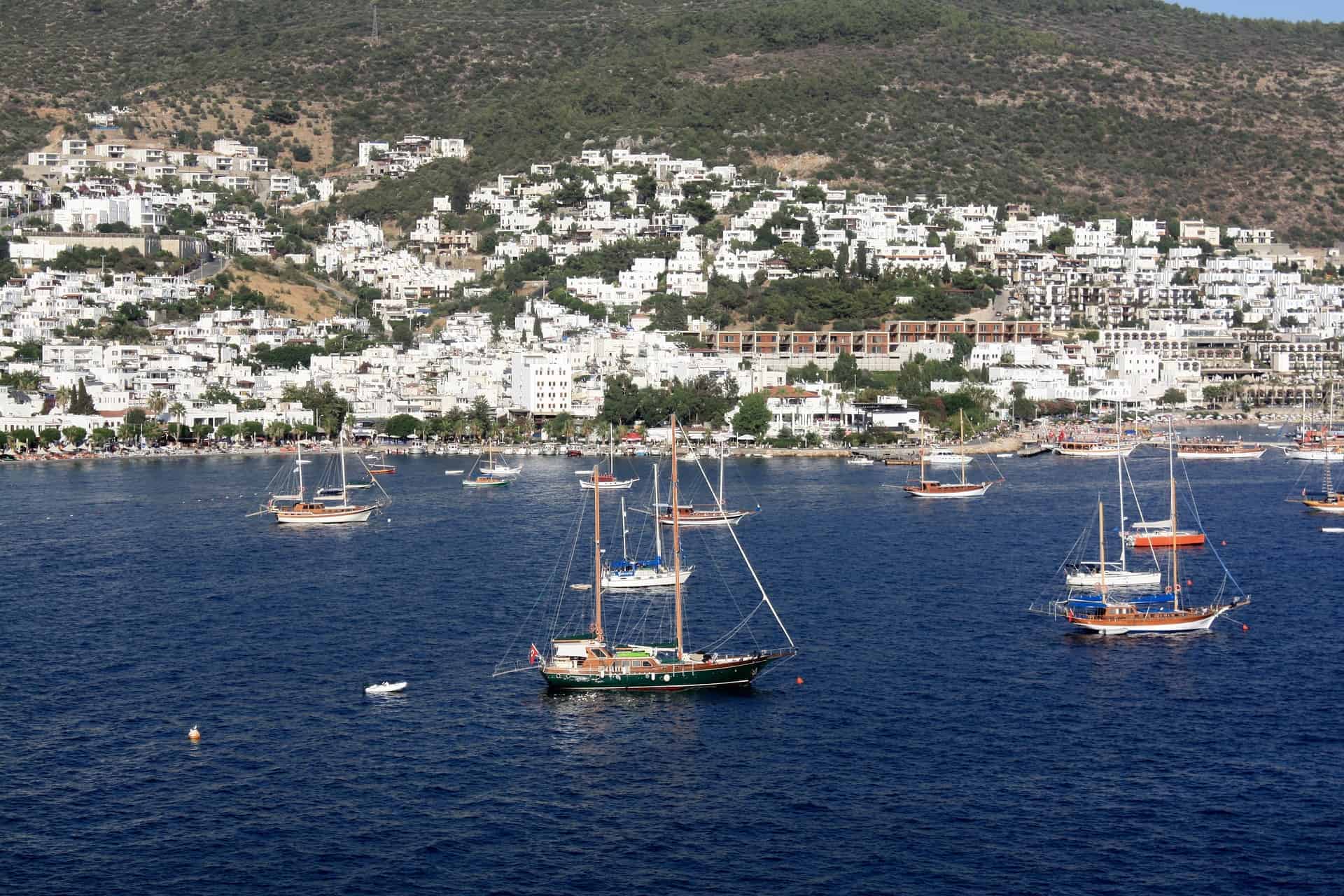 Turkiye Travel: THe Lira At An All-Time Low
The low value of the Turkish Lira also highlights the country's fragile economy. While this is despairing for the locals, the affordability of the Lira bodes well for many foreigners. For some travellers, this could be the difference between travelling at a mid-range level, to something a little more luxurious since your currency can stretch your Lira for that much more.
Turkiye Travel: Where To Go
The vibrant old city of Istanbul deserves its own guide, but other Turkiye destinations are worth visiting. Aside from the aforementioned coastal towns of Bodrum and Altanya, the capital of Ankara, and Cappadocia for the famous hot air balloon ride that Turkiye has become very well-known for, there are also other spots in the country to check out. This would be especially exciting for history buffs as Turkiye is one of the world's earliest permanently settled regions. As a result, many ancient towns and ruins tell tales of the battles and civilisations that walked through the same land hundreds and thousands of years ago.
Ephesus Ancient City Ruins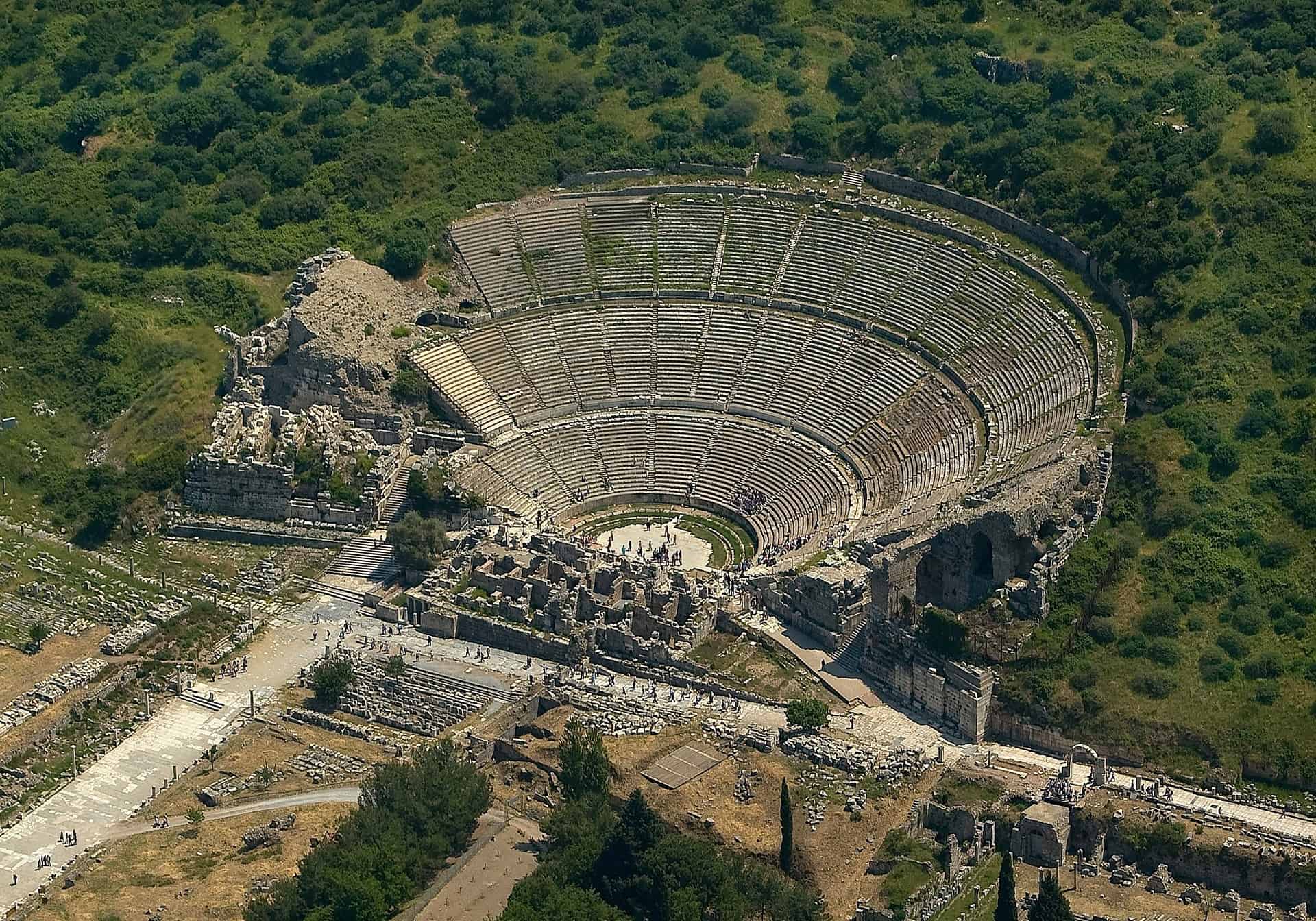 The majestic Grand Theatre is sitting atop the slope of Mt Pion. | Credit: David Mark via Pixabay
What is left behind is a collection of many ruins around the country. But one of the main ones worth visiting would be the Ephesus Ancient City Ruins on the Aegean Coast. The excavated structures built by the Roman Empire depict how the Romans lived. There are water aqueducts, Roman terrace houses, the framework of a library, and the main attraction: the Grand Theatre. Elevated on the slope of Mt. Pion with a 25,000 capacity, it was the forum for philosophical, religious and political discussions, an arena for gladiator fights and a venue for plays and concerts.
Other ruins to look for are the Acropolis of Pergamon in Bergama, near Izmir. It was the capital of the Hellenistic Attalid dynasty, once a major learning centre in the ancient world. The old city is also on a sloping terrain surrounded by a city wall, with temples, theatres, gyms and a library in the compound. There are also impressive stoa (or porticoes known in Greek architecture as freestanding colonnades or covered walkways) to wander through. It's hard not to think of the events that once were held in these structures.
Pamukkale Natural Hot Springs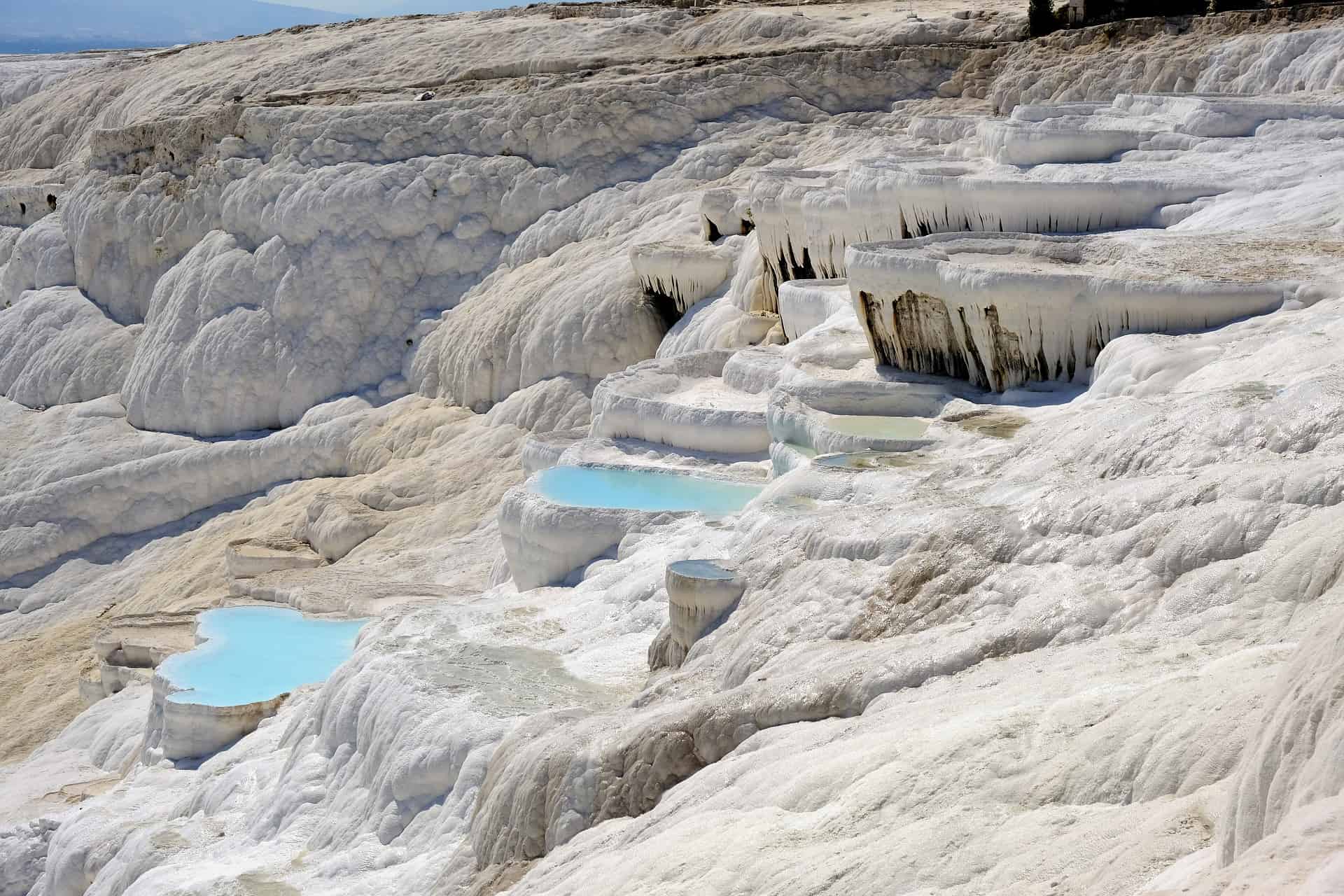 'Cotton castle' in Turkish is Pamukkale, the name of these limestone rocks that also have formed pools and natural hot springs. | Credit: neponu via Pixabay
Your Turkiye travel plans should include a trip to Pamukkale. About 19km from Denizli in the Inner Aegean region in the River Menderes Valley is Pamukkale, a sight to behold. The name means 'cotton castle' in Turkish and is famous for the white 'cotton' rocks caused by carbonate minerals left by flowing water.
White velvet stones give everything a fairytale vibe, but the mineral-rich thermal waters have also formed water pools and hot springs renowned for their skincare properties. Some would also go so far as to say that these pools can heal chronic illnesses – ranging from digestive to blood circulation problems.
Shoes are prohibited when visiting the springs and travertines (limestone deposited around mineral springs) at Pamukkale. This is to avoid causing erosion or harming the natural formations. So bring a waterproof bag for your clothes and shoes and wear swimwear.
While the pools are the main attraction in Pamukkale, the neighbouring ancient Greek city of Hierapolis is also nearby. The ruins are an ancient Roman spa city founded in 190 BC. Hierapolis is one of the biggest archaeological sites in the country. It takes about 45 minutes to walk between some of the major sites, and you could easily spend about two hours wandering around this historic area.
Declared a UNESCO World Heritage site in 1988, Pamukkale and Hierapolis are among the most visited places in Turkiye, with over two million visitors annually. Consider visiting the nearby village of Karahayıt, home to many hot spring pools. The waters of the thermal spring at Karahayıt are much hotter than those at Pamukkale. This sulfur-rich water is also believed to offer therapeutic properties for the bones and skin and heals acne.
Fethiye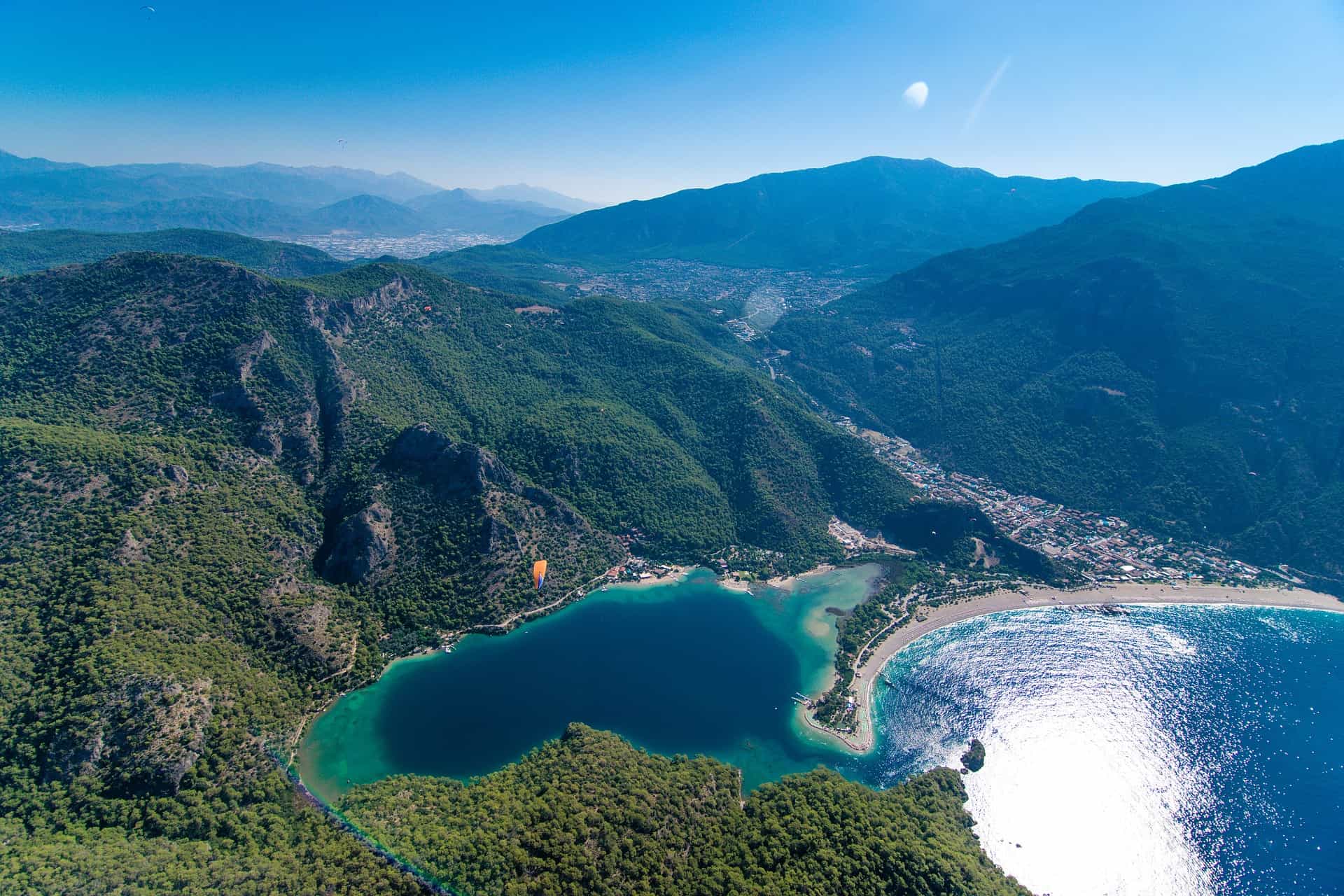 The beautiful Gulf of Oludeniz Beach. | Credit: nenadkostic1975 via Pixabay
The port city of Fethiye is on Turkiye's Turquoise Coast, in the southwest part of the country. This spot has many attractions in this one area – from ruins and natural wonders to explore to the holiday resort town and neighbouring islands to visit.
It's also known as the entry point to the remote ruins of other Lycian cities, as Fethiye was once Telmessos, part of ancient Lycia. The blue waters and many rock tombs are part of its appeal. Look for the Tomb of Amyntas – carved into the rock face with its friezes, pediments and ionic columns.
To reach the tomb, you need to climb a staircase. There are many steps, and many have said that while it is tiring, this climb is totally worth the effort. The best views are in the evening when you can watch the sunset from the cliffside.
Around Fethiye, you can go on day trips to the UNESCO World Heritage Site of Ephesus, one of Turkey's most impressively preserved ancient cities; the Lycian tombs of Kaunos; and the abandoned Greek-Christian village of Karakoy.
Just 10 km south of Fethiye's old town is the Oludeniz Blue Lagoon, which is astoundingly beautiful, with clear waters, white sand and flanked by majestic mountains. This lagoon is the much-photographed gem of Turkey's Southern Coast and is known for its different shades of turquoise, azure, and soft sands. You can snorkel, paddle barefoot along the shoreline or swim across to the tiny island at the mouth of the lagoon.
Another natural wonder to explore is the Saklikent Canyon, a 300m deep, 18km long canyon that is so narrow at only two metres across. The Saklıkent Canyon National Park is a paradise for nature lovers and adrenaline junkies. Summer is the best time to visit as the canyon is deliciously cool and shady with cold water. Expect stunning cliffs, wild river rapids, natural springs, and picturesque vegetation. Be sure to bring submersible shoes, as you will sometimes walk in shallow water or mud.
There are also many rural restaurants on your way to Saklıkent. Try traditional food such as gözleme (traditional savoury flatbread) and ayran (a yoghurt drink served icy cold) to cool off.
We can help you with your turkiye Travel plans! 
You may also be interested in: