Vibrant, exciting, glamorous, and cosmopolitan. The reputation of Hong Kong certainly means it has its share of uber-luxe hotels. And if you're going all out with the many activities in Hong Kong, why not live it up as well? Here are some of the luxury hotels in Hong Kong you can consider on your next visit!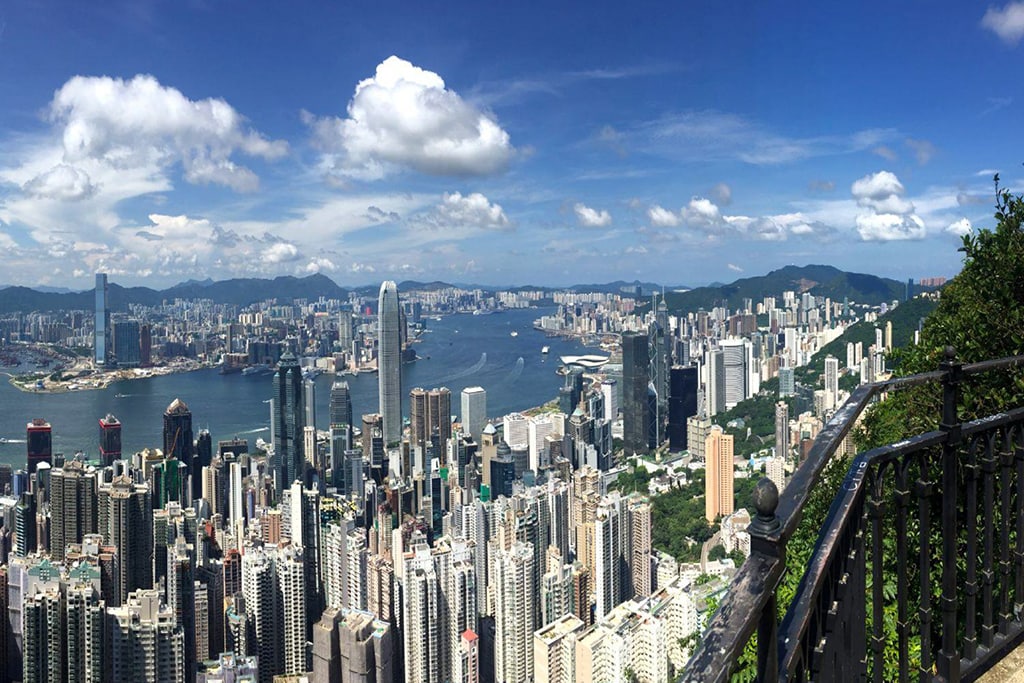 1. Four Seasons Hotel Hong Kong
Overlooking Victoria Harbour, the Four Seasons Hong Kong is undoubtedly one of the premier luxury hotels in Hong Kong. In a city packed with so much, a strategic location is an undeniable privilege.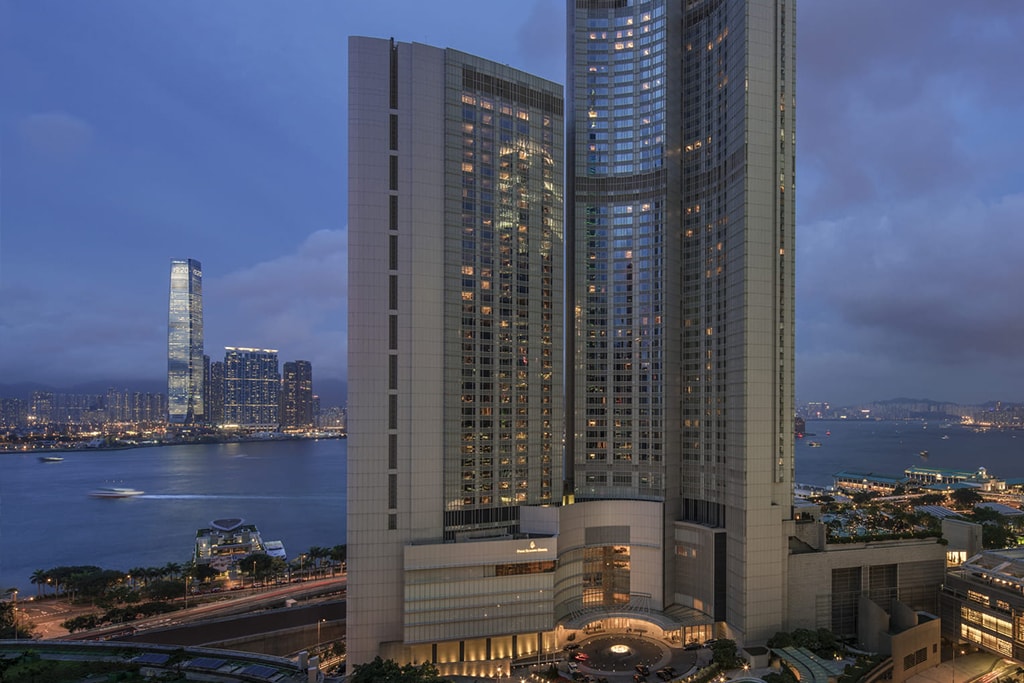 The Four Seasons is directly connected to the International Finance Centre (IFC) shopping mall, just a short walk from the Star Ferry terminal. Not only that, the Airport Express and Central MTR stations are just downstairs. Wherever you're headed, all the options of getting around Hong Kong are at your doorstep. There are 399 rooms decked out with Western or Chinese designs. For even more extravagance, you can upgrade to one of their 54 suites with harbour-facing wraparound balconies and unlimited free drinks.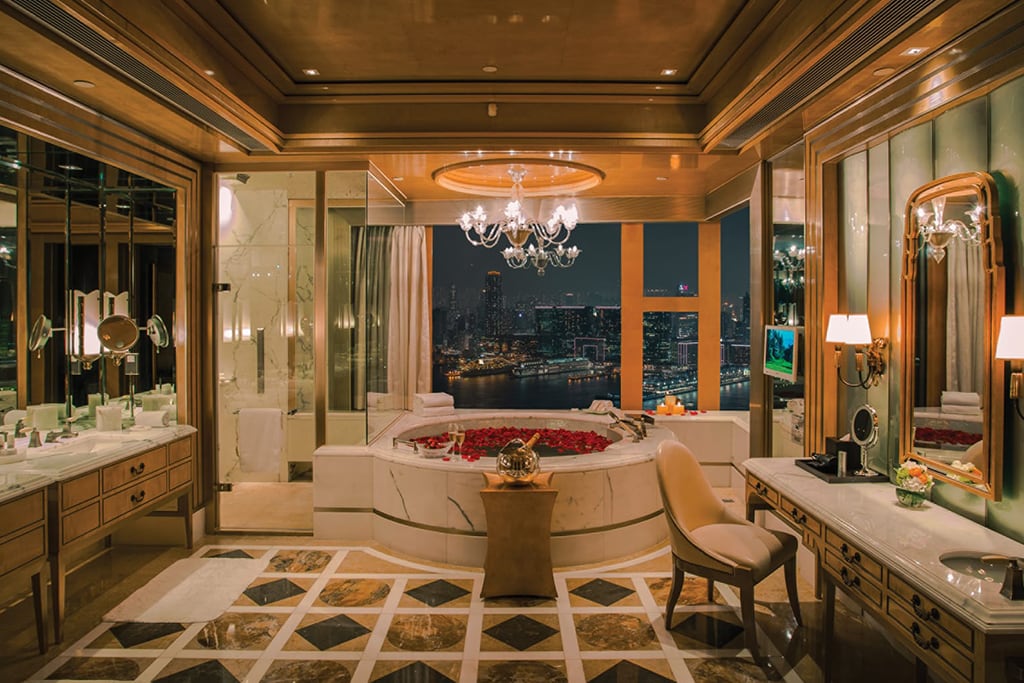 A culinary destination on its own, Four Seasons boasts three Michelin-starred restaurants – the revered Japanese Sushi Saito with two stars, the elegant French eatery Caprice with three stars, and Cantonese fine dining haven Lung King Heen with three stars. (A proud first: Lung King Heen is the world's first Chinese restaurant to attain three Michelin stars in 2008.)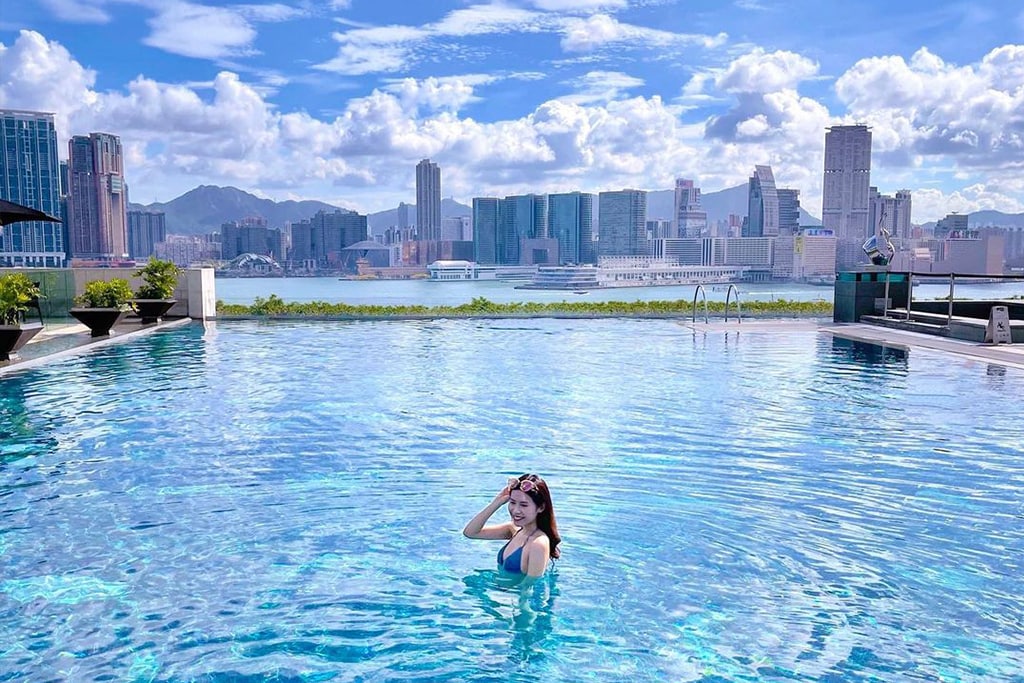 Beyond all the luxury, however, is a more iconic experience. Many laud the Four Seasons' pools as their best feature – overlooking the harbour, there's an infinity pool, lap pool, whirlpool and plunge pool. And after your fun in the sun, complete your stay with a visit to the adjacent award-winning spa because nothing says luxury like some all-important, indulgent 'me' time.
2. The Ritz-Carlton Hong Kong
For the ultimate in luxury, the Ritz-Carlton Hong Kong offers you an other-worldly stay in the clouds, and that's no exaggeration. It's one of the world's highest hotels, at an elevation of around 490m or 1600ft.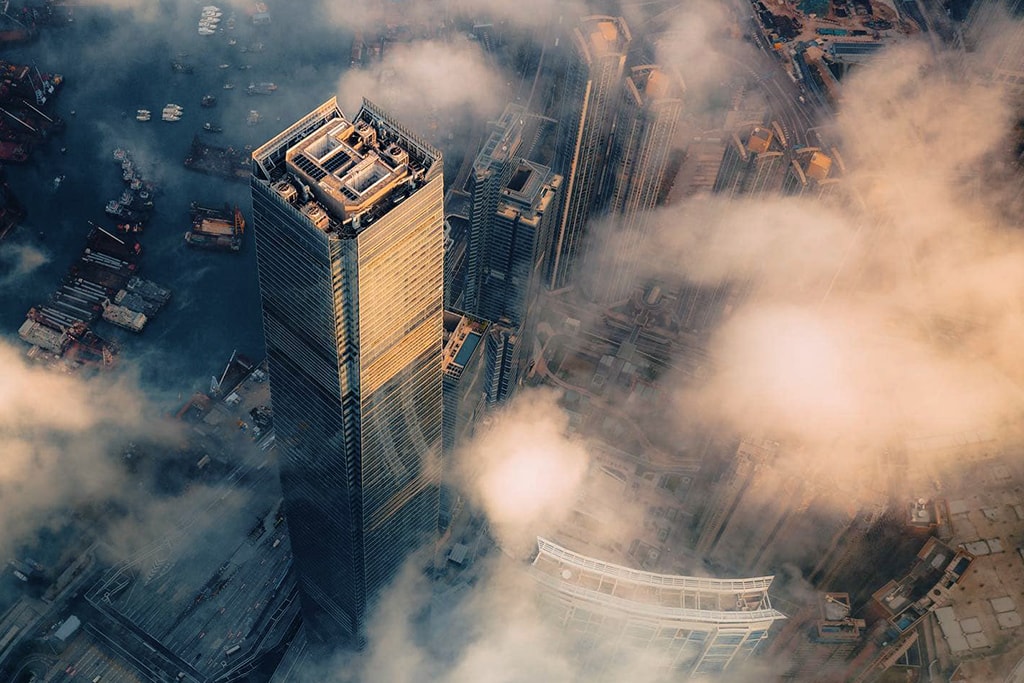 Furthermore, it occupies floors 102 to 118 of the International Commerce Centre (ICC) in Kowloon, which puts you way up in the air. In Hong Kong, the scene is usually dominated by vertical masses of skyscrapers. So when you finally take in the rare sight of an unbroken horizon across Hong Kong Island, Kowloon and Victoria Harbour, the luxe at the Ritz-Carlton speaks for itself.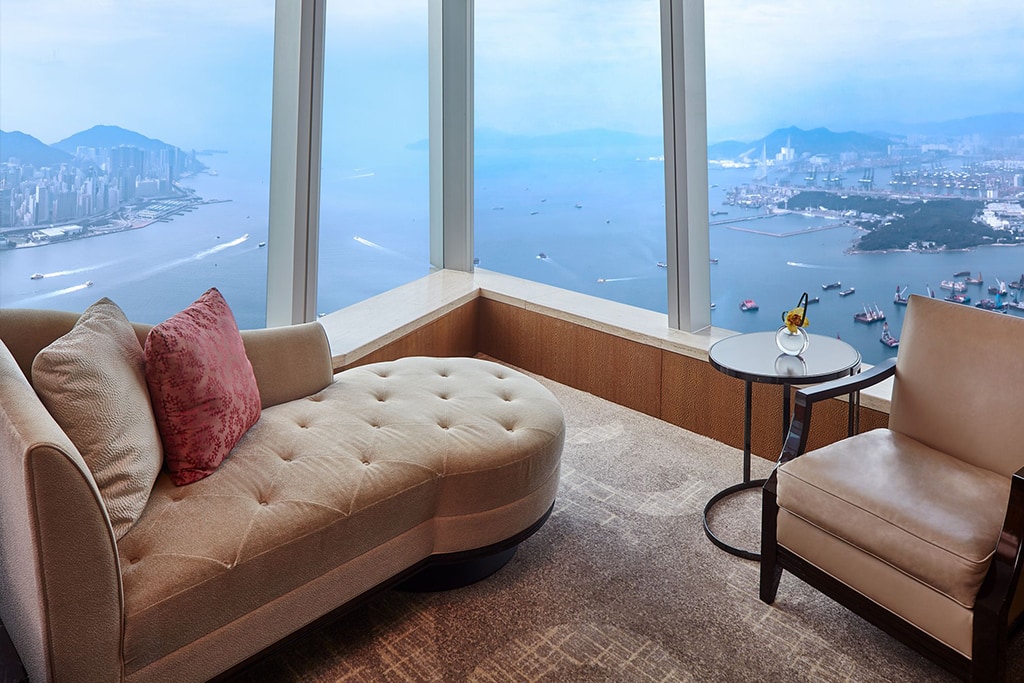 Besides the 312 guestrooms, commanding grand views around the harbour, guests can dine at any of six prestigious restaurants, two of which are Michelin-starred Tin Lung Heen and Tosca di Angelo. After dinner, you can while away the evening with a cocktail at Ozone, the futuristic rooftop bar, nearly half a kilometre up from sea level. Imagine the view!
Another extraordinary experience is swimming in the hotel's indoor pool on the 118th floor, which comes with a mirrored ceiling and a massive LED display wall. Cap off the luxurious experience at Ritz-Carlton Hong Kong with a visit to the spa on the 116th floor, for a pampering session on cloud nine.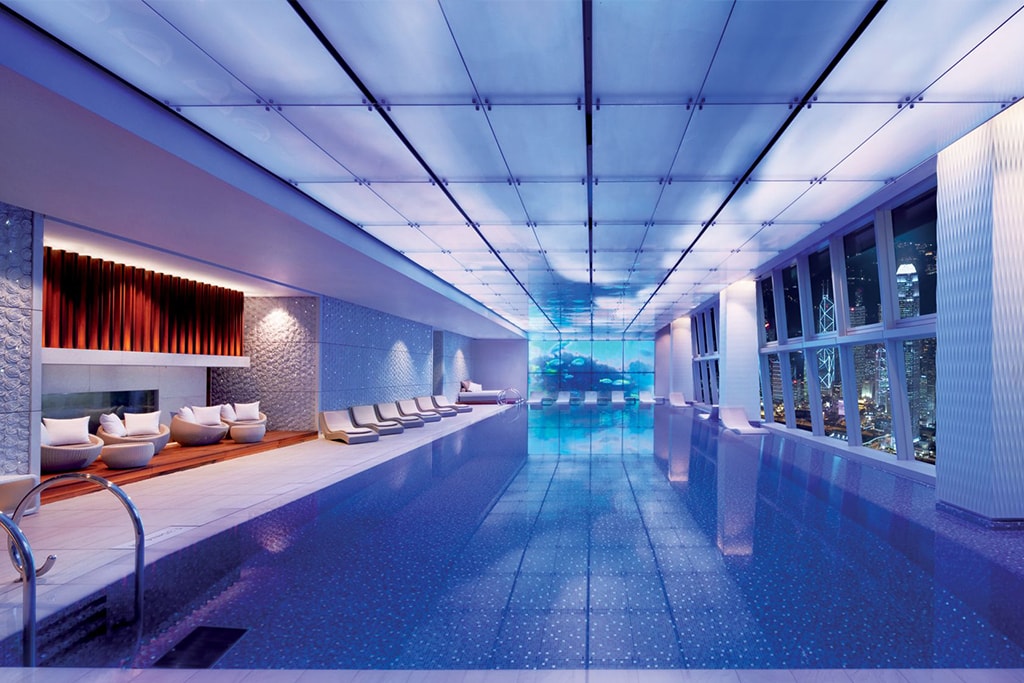 3. St. Regis Hong Kong
The St. Regis Hong Kong was established in 2019 in bustling Wan Chai. It's a 5-minute walk from the Hong Kong Convention and Exhibition Centre and the Star Ferry Central Pier, where you may alight from a speedy, scenic ride across the water from Kowloon, the more traditional side of Hong Kong.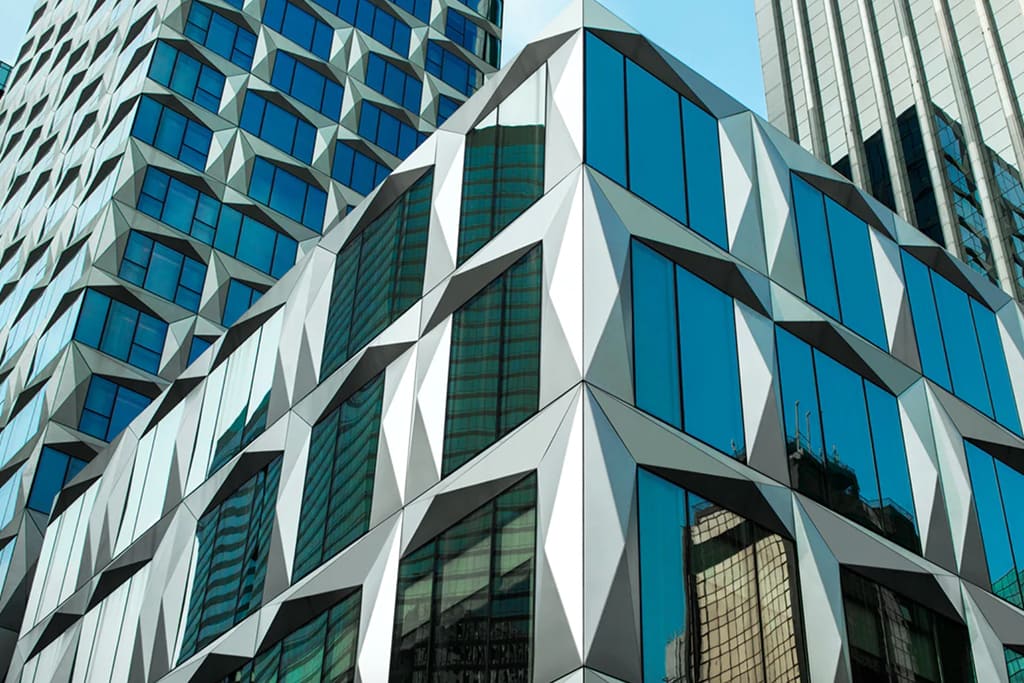 Be wowed as you are transported into the heavenly sanctuary of St. Regis, much lauded for having been designed by André Fu, Asia's most sought-after award-winning interior architect. From glistening marble floors to soaring high ceilings, with vintage light fixtures inspired by the city's old street lamps, no expense was spared in creating this world-renowned Hong Kong hotel.
There are 129 guest rooms and suites, and guests can enjoy personalised, in-room check-in and St. Regis's trademark 24-hour butler service via an in-room phone or the Marriott Mobile app.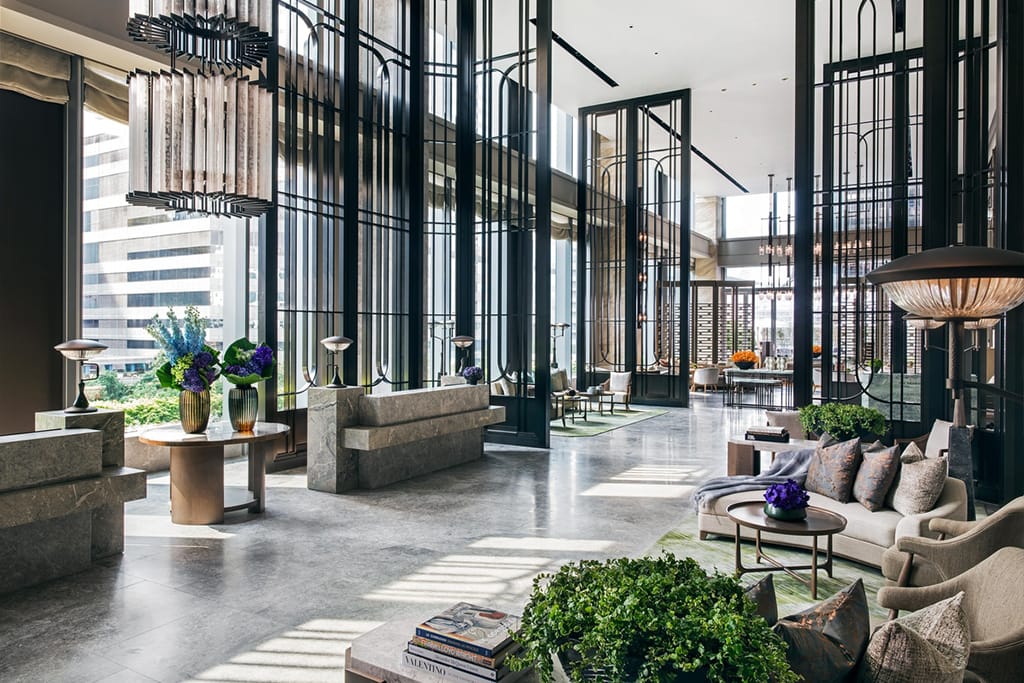 The hotel's four dining venues include two Michelin-starred restaurants – L'Envol, which serves contemporary French cuisine and Run, a Cantonese fine dining restaurant. More delights abound at The Drawing Room, where the hotel's signature Afternoon Tea is served, and where you may enjoy a complimentary glass of bubbly every evening, before settling in for a live jazz performance.
Recreational facilities include a temperature-controlled outdoor pool, a small but excellent spa and an expansive gym equipped with the latest fitness equipment.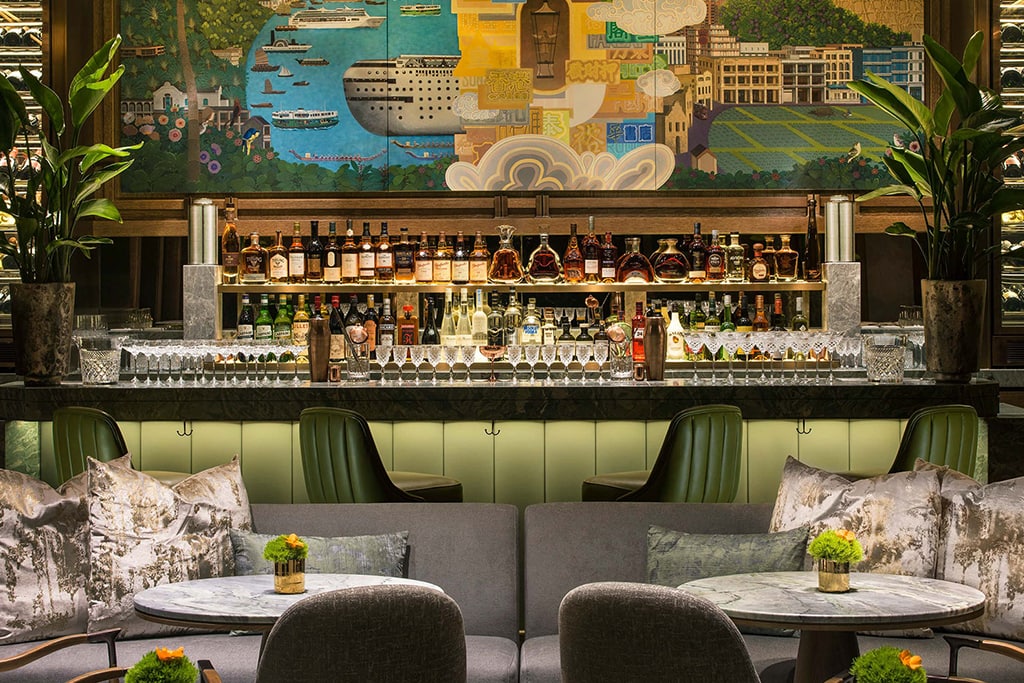 HTT Tip: A must-try at the St. Regis bar is Canto Mary, which uses dried tangerine peel, Chinese five-spice and soy sauce. There are three different versions of this drink.
4. JW Marriott Hotel Hong Kong
The JW Marriott Hotel Hong Kong, located atop the prestigious Pacific Place Mall in the bustling Admiralty district, is the first Marriott property in Asia. Established in 1989, this luxurious hotel is a super-convenient base to explore all that Hong Kong has to offer, being just a short walk to the Admiralty MTR station.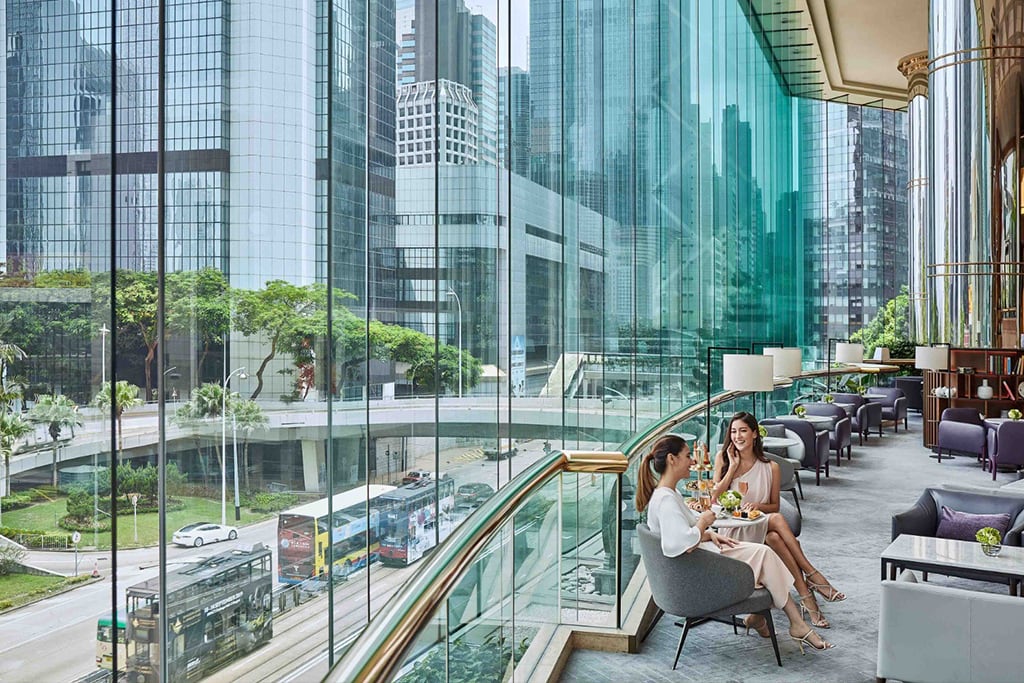 There are over 600 guest rooms that offer panoramic views of Hong Kong's mountains, harbour or city. The utmost in comfort is yours, as the beds are furnished with exclusively designed seven-layer mattresses, with six choices of different pillows. So rather than drift off, you'll be sinking into a deep bliss of sleep.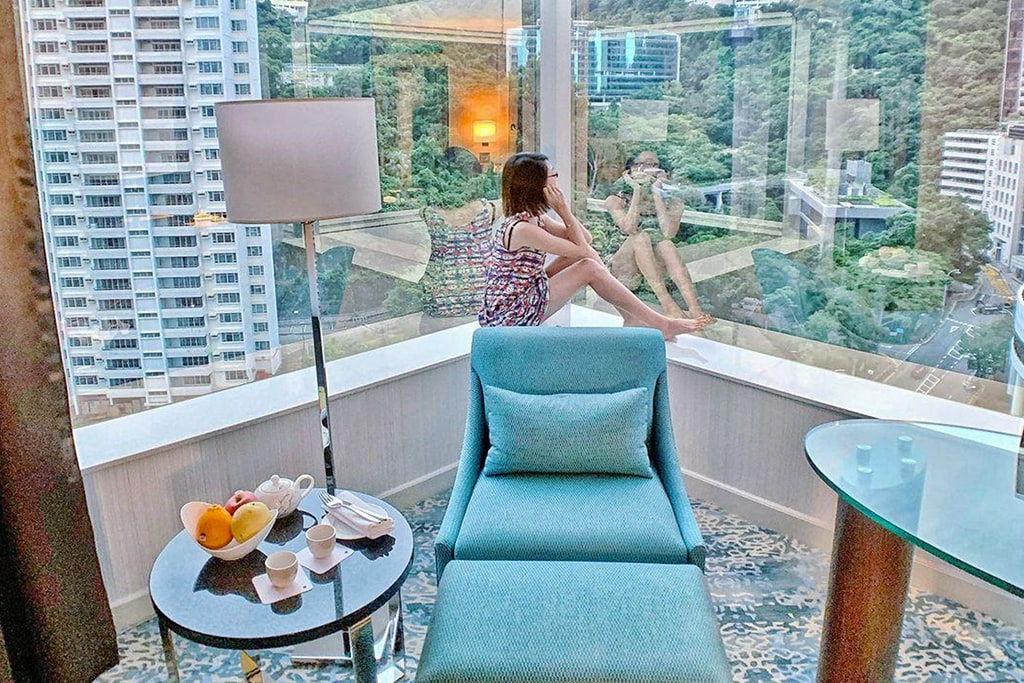 If that's not luxurious enough, wait till you awake. Press that button on your in-room capsule coffee machine, and a gourmet brew is yours. With steaming coffee in hand, and the view outside your window, it's an experience to savour every morning.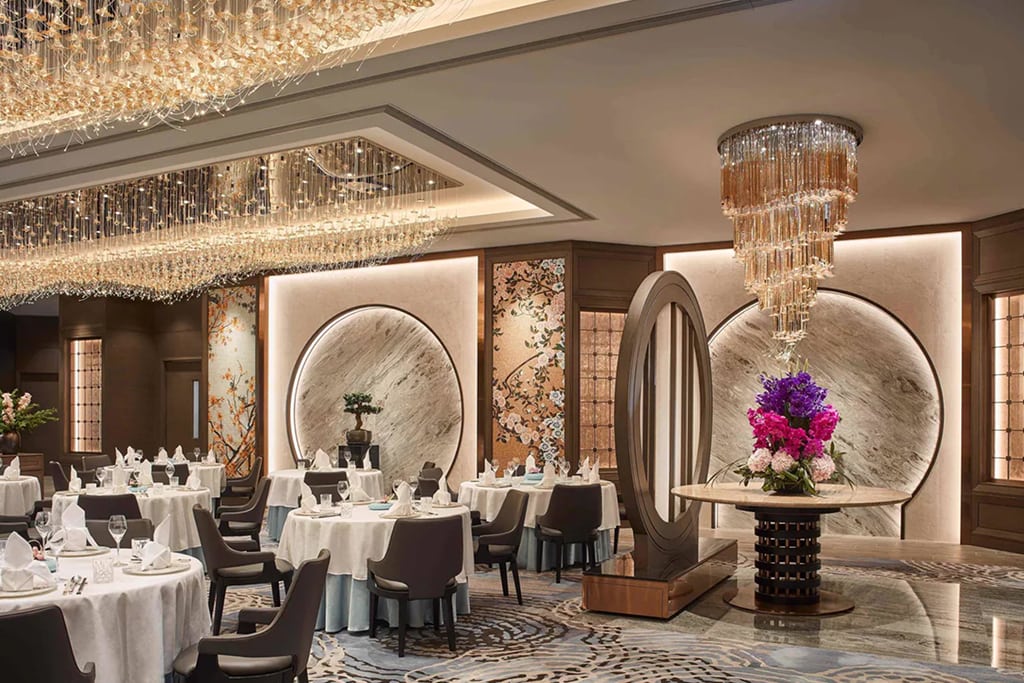 There are eight dining venues, including the award-winning Man Ho Chinese restaurant, an outdoor heated swimming pool, a 24-hour fully-equipped fitness centre, and a spa.
5. The Island Shangri-la Hong Kong
The Island Shangri-la Hotel Hong Kong, established in the nineties, is a much-loved local icon and pillar of stability in a city of constant change. Like JW Marriott, it is also part of the Pacific Mall complex and close to Hong Kong Park, a great outdoor spot for family bonding time.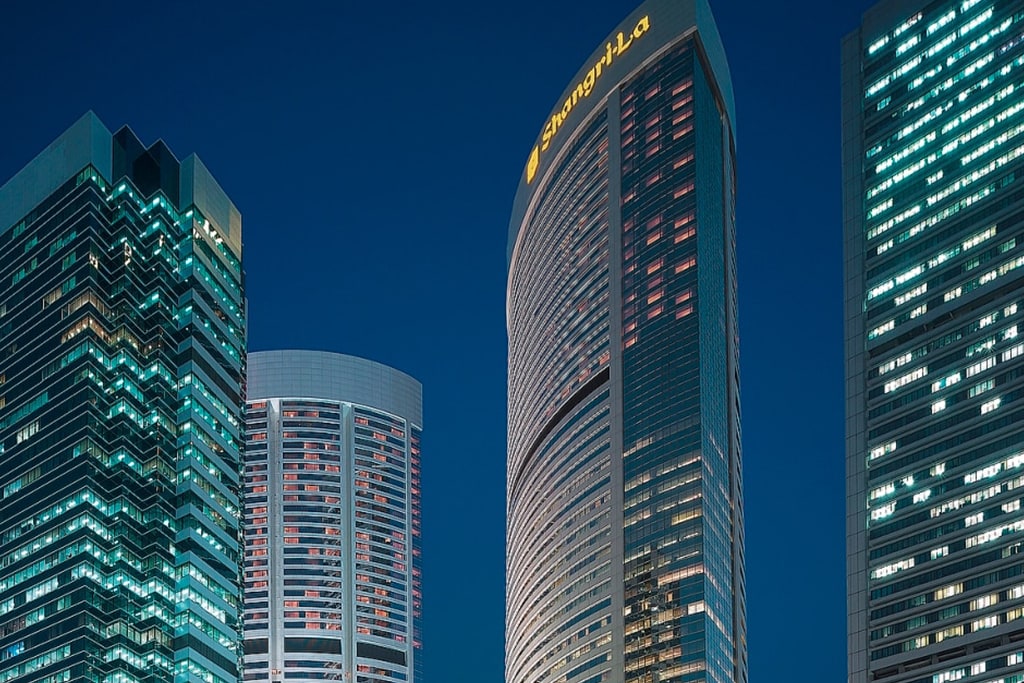 This 56-storey hotel has a whopping 565 rooms, which feature an eclectic mix of European and Asian décor. Business travellers will praise the Horizon Club lounge for its cocktails and intimate setting, whilst families will appreciate the convenience offered by over two hundred sets of connecting rooms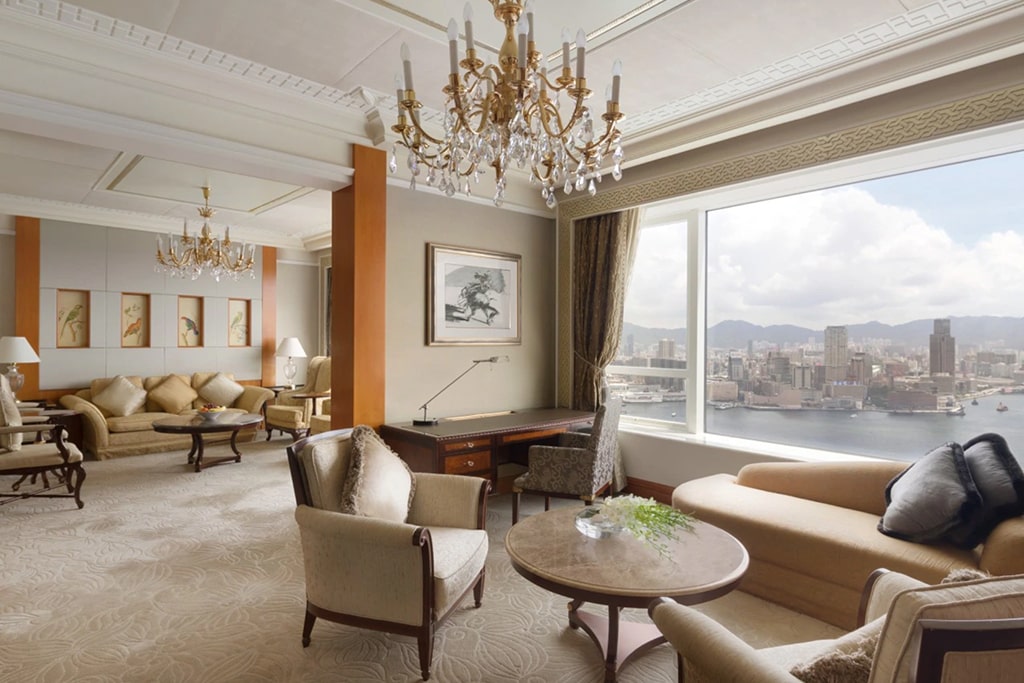 The hotel is known for its flawless service and eight dining venues. Your options range from Michelin-starred Summer Palace to the masterful Restaurant Petrus. In between, you have the Island Gourmet grab-and-go cake shop, as well as a Thai restaurant by the hotel's outdoor pool.
Fun Fact: There are over 770 Venetian and Austrian crystal chandeliers in the hotel, which the hotel staff meticulously clean by hand every three months.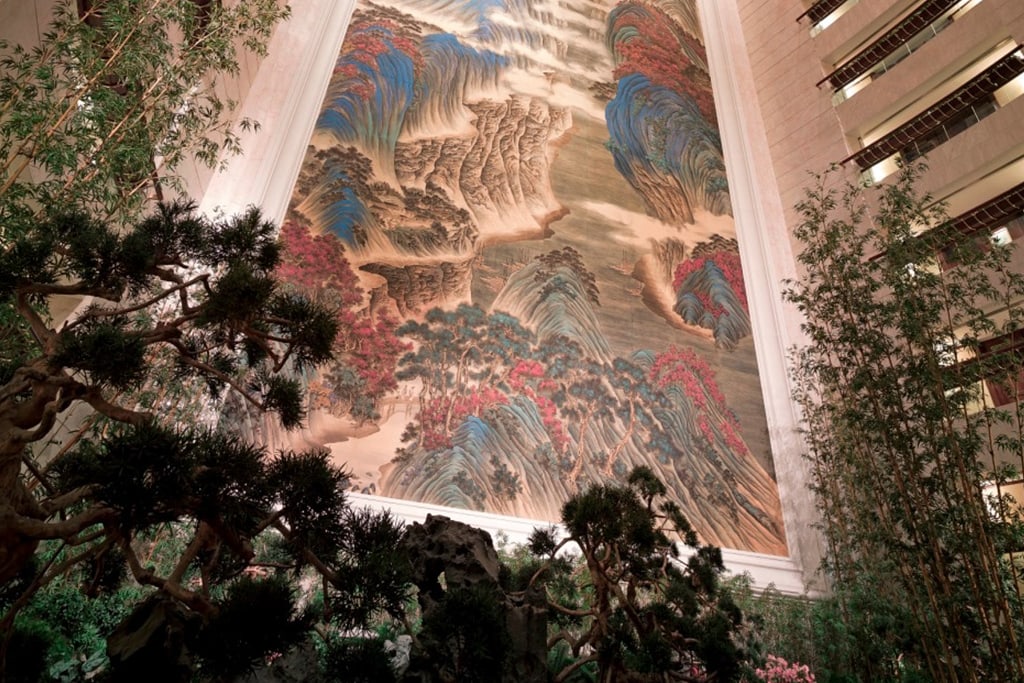 Also not to be missed is the world's largest indoor Chinese silk mural titled 'The Great Motherland of China' – measuring 16 storeys high, spanning floors 41 through 56. It is the crowning piece alongside the hundreds of original artworks which adorn the hotel's walls.
Throughout your stay, you'll notice that kids love the bubble lifts! And between their laughter and your holiday bliss, you'll come to appreciate a practice preserved from the old days – the lift carpets are changed daily to remind you what day it is. It's one of those instances when a touch of thoughtfulness can exemplify the idea of luxury.
6. The Landmark Mandarin Oriental Hong Kong
The supremely modern and stylish Landmark Mandarin Oriental is located right in the heart of Hong Kong's shopping and business district.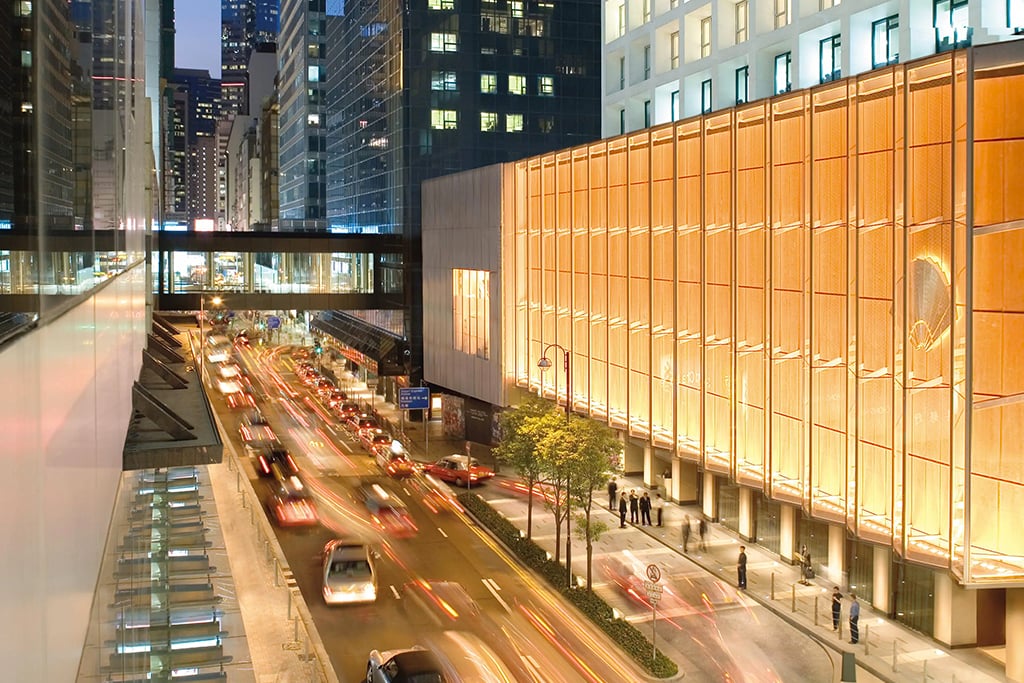 It is one of the 11 hotels worldwide to be awarded the Triple Five-Star distinction by Forbes Travel Guide. This rare honour indicates exceptional service in all three areas of an establishment – the hotel, its restaurants, and its spa.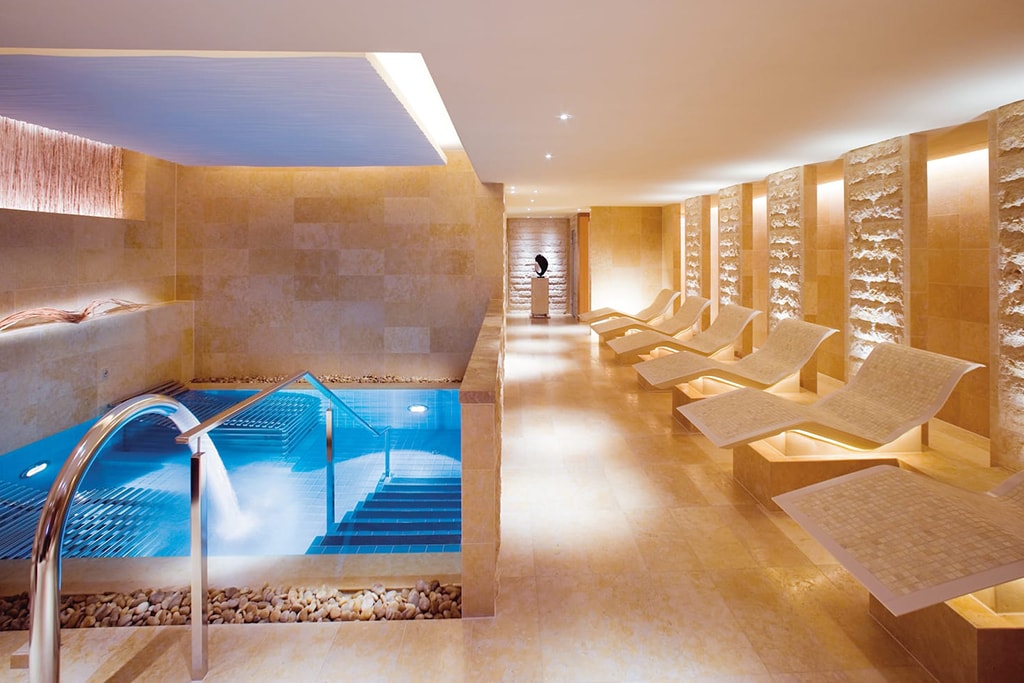 Cutting-edge tech compliments the attractive interiors of its 113 guestrooms. There are knock-out food and drink options, an indoor heated pool and The Oriental Spa.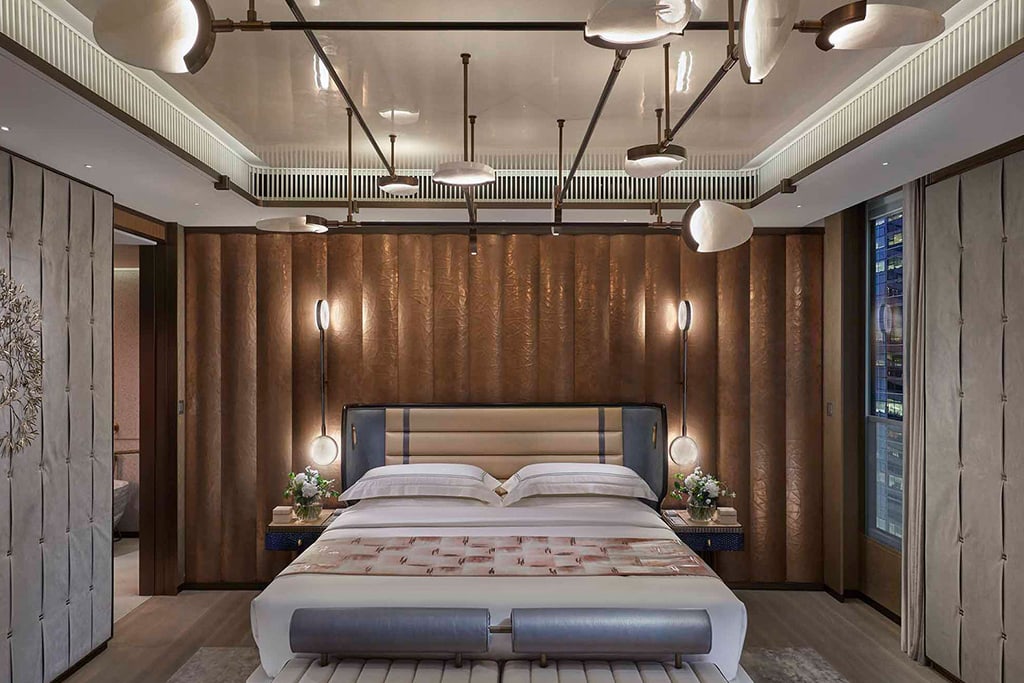 The hotel's 7th floor is home to four dining establishments, including Amber (two Michelin stars yearly since 2009) and Sushi Shikon (three Michelin stars yearly since 2014). For liquor lovers, SOMM is an essential stop, featuring a classy wine bar and restaurant offering a diverse selection of over 1,600 champagnes, wines and sake.
You can find world-renowned musical talents playing at the MO Bar, featuring a hugely popular weekend brunch. And hidden within MO Bar is PDT (Please Don't Tell), a 25-seater speakeasy bar, the first international outpost of the famous PDT NYC. Look out for its entrance in an uber-cool vintage phone booth.
7. The Rosewood Hong Kong
The Rosewood Hong Kong is a towering 65-storey skyscraper on Kowloon's waterfront, housing 413 rooms beautifully designed by world-renowned interior designer Tony Chi. Most rooms offer breathtaking panoramic harbour views.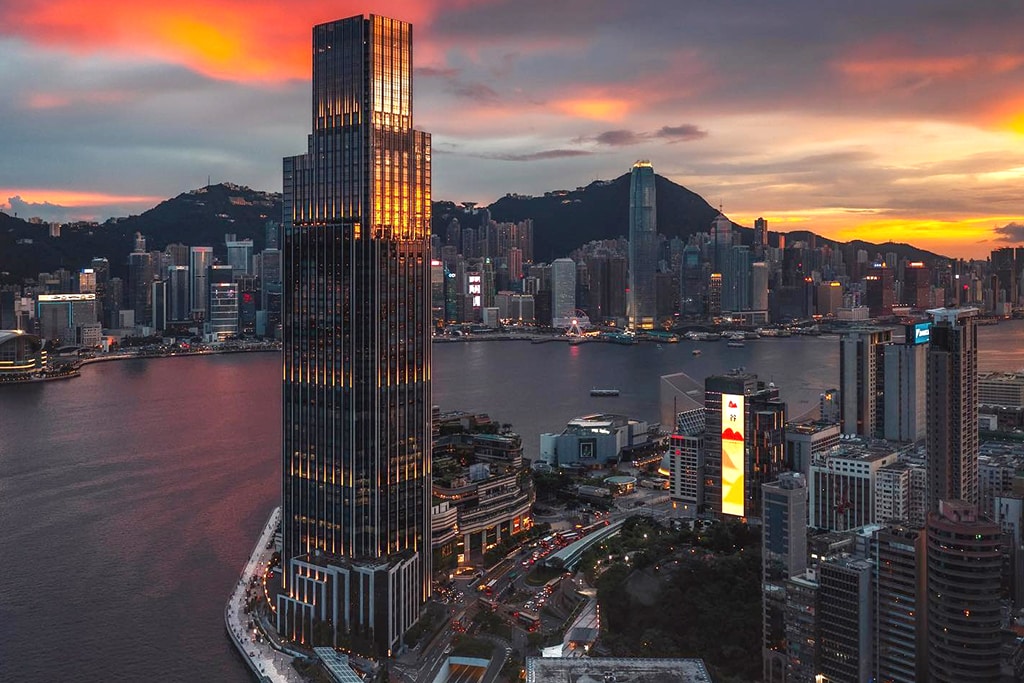 In Tsim Sha Tsui, Hong Kong's revamped art and cultural district, guests enter Rosewood Hong Kong via a charming cobbled driveway. The décor is impressive, combining a mix of Hong Kong heritage with 1930s Hollywood glamour with an extensive in-house art collection.
There are eight dining venues, including Michelin-starred Chaat serving Indian fare, a dim sum restaurant, a steakhouse, and The Butterfly Room which offers delightful afternoon tea.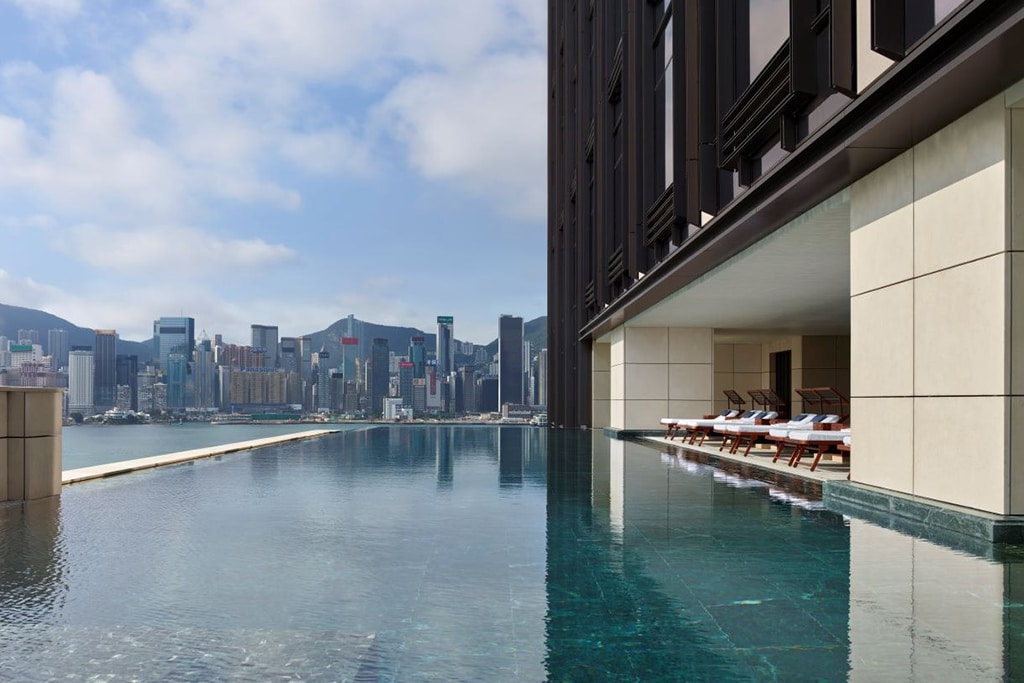 The hotel's renowned wellness brand Asaya spans two floors. Besides the Asaya Spa, you can enjoy the Asaya Kitchen, fitness centre, and infinity pool. With the view of the city at bay, it's a one-of-a-kind place to retreat and rejuvenate in style.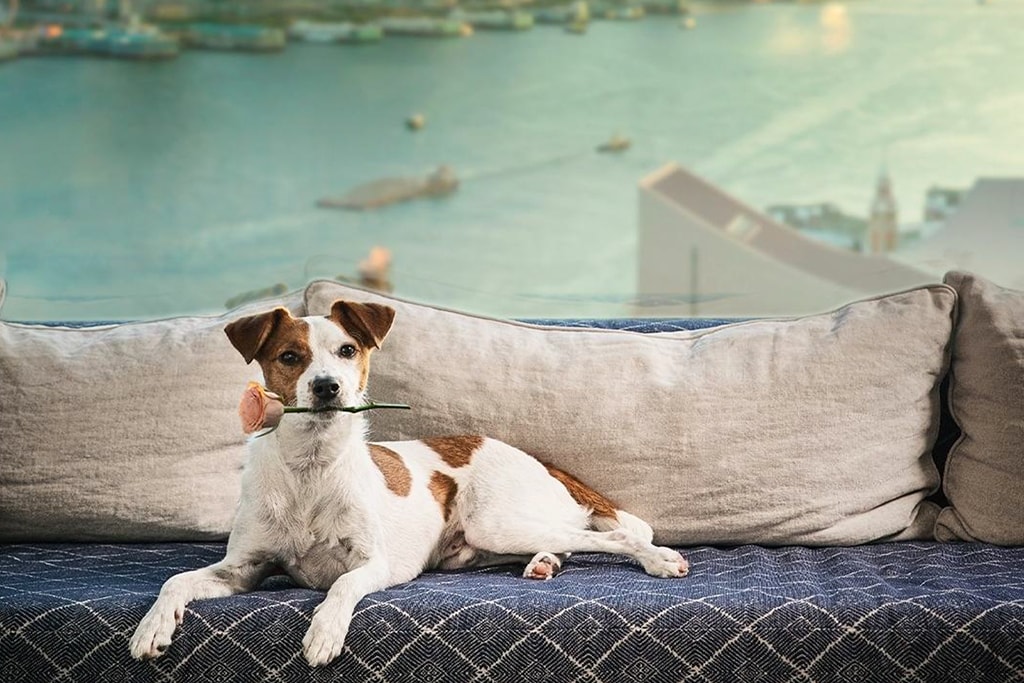 8. The Pottinger Hong Kong
Hong Kong's charm lies in its intersection of the historic and the contemporary, an idea embodied in The Pottinger Hong Kong, aptly located in Central.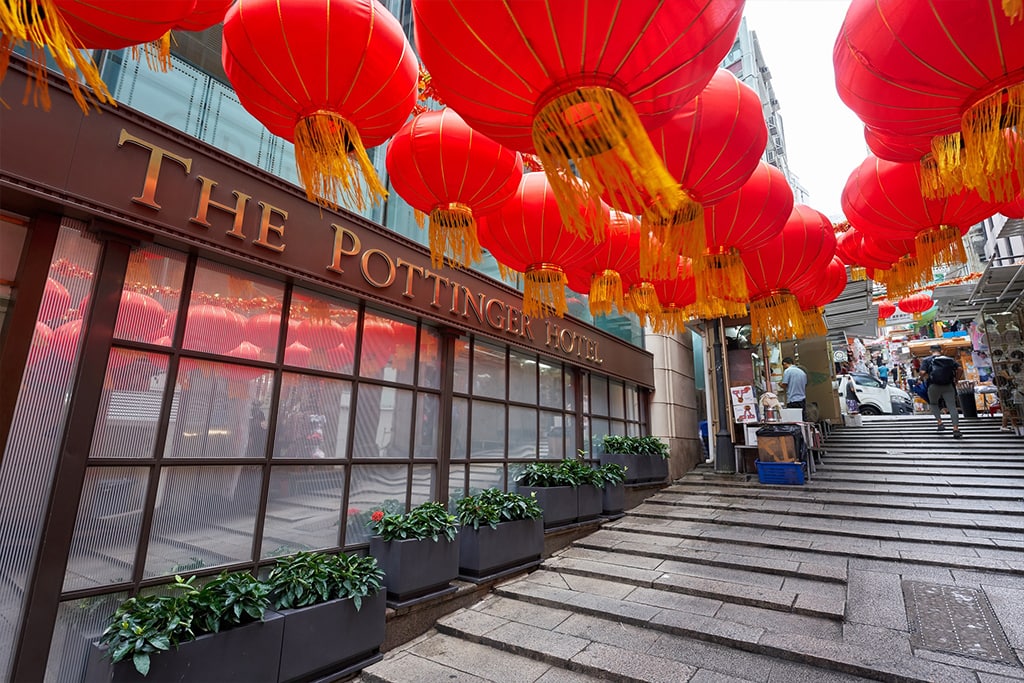 It's an inviting place where old and new mingle, where heritage meets hospitality. And it makes a powerful first impression, with tiled floors silkscreens and walls adorned with black & white photographs by revered photographer Fan Ho, reflecting Hong Kong's storied past.
As a boutique hotel, there are only 68 rooms available. The luxe experience begins with its tasteful old-China decor and continues through its amenities such as your own Nespresso coffee machine, and other high-tech essentials. And as you turn in for the night, you can look forward to a deep comfortable slumber, on exquisite 300 thread-count linens.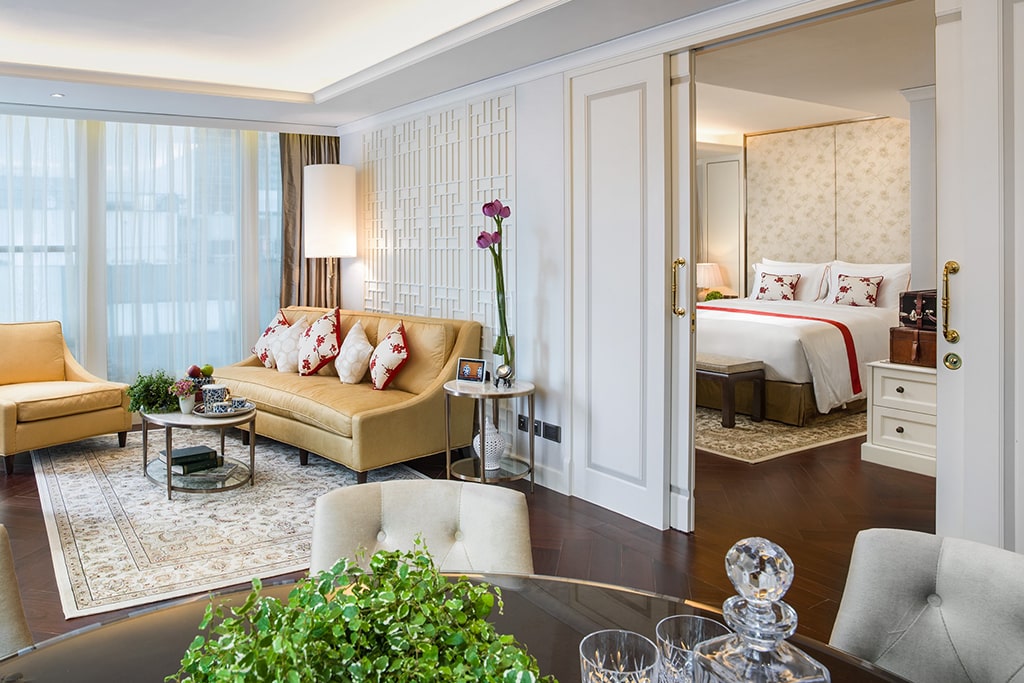 When it comes to dining, there are four exclusive options. Gradini Ristorante E Bar Italiano serves classic hearty Italian fare with a modern spin. Adjacent is a stylish and intimate bar, where you can sink into leather armchairs for a post-work cocktail, or indulge in an afternoon tea set.
Ta Vie旅 boasts two Michelin stars, a testament to its blend of French techniques and Asian ingredients. The Envoy offers contemporary high tea with cocktail pairings, executive lunches, and weekend brunch, which can be enjoyed on a spacious outdoor terrace. Last but not least is Venchi, known worldwide as an artisanal gelato and chocolate destination.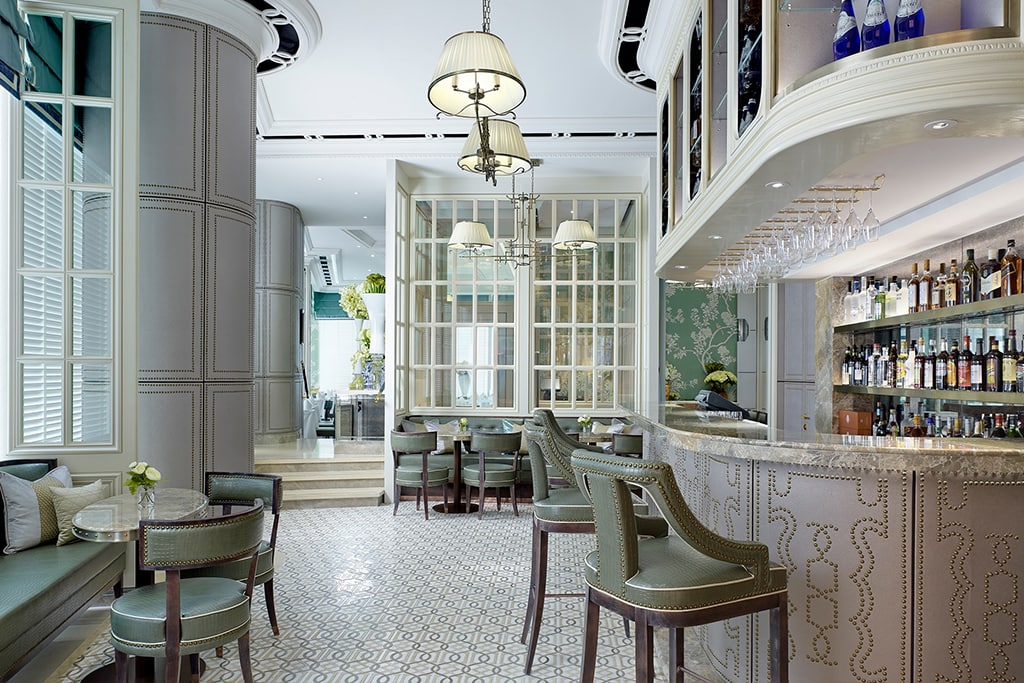 Beyond facilities, The Pottinger Hong Kong also has packages catering to new lifestyle needs, with flexible arrangements from a monthly stay package to a 6-hour escape. Digital nomads will be interested in their innovative "33-hour workcation" too, for a cosy room complete with amenities, an environment conducive to a highly productive work sprint.
9. The Upper House Hong Kong
It's a simple name, and for good reason. The Upper House occupies a lofty location, floating above Admiralty on the top floors of Pacific Place tower. (Upstairs from JW Marriott, which we've covered above.) It exudes tranquillity, standing apart from the bustling city below, with an air that feels more residential than a hotel.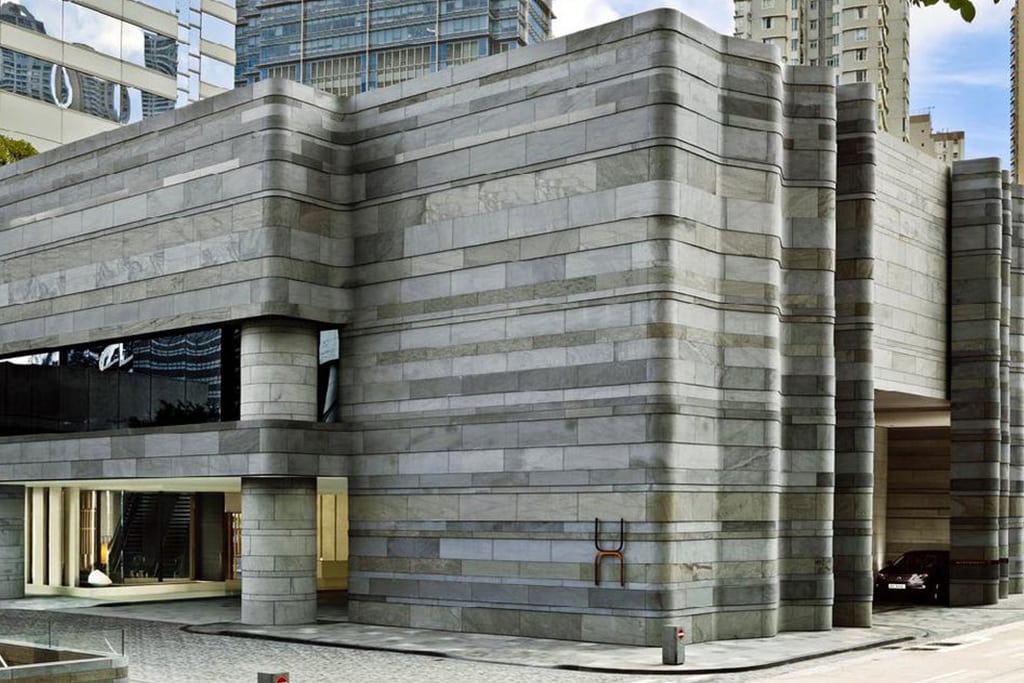 Design and craft play a big part here – with a sculptural entrance designed by Thomas Heatherwick, and interiors designed by maverick Andre Fu, using carefully chosen natural materials – as guests experience an overarching concept of an 'Upward Journey'. Adding to those superstar names is a laundry list of premier awards, including Four Stars awarded by the Forbes Travel Guide.
The Upper House features 117 rooms in all, decked out in neutral tones, sleek furnishings, and high-tech gadgetry. No minibars here, as they have complementary "Maxi" bars instead. Across spacious studios and palatial penthouses, the amenities are bound to delight – espresso machine, dual-temperature wine fridge, spa-style baths with rain showers and limestone tubs – along with each room's own spectacular view.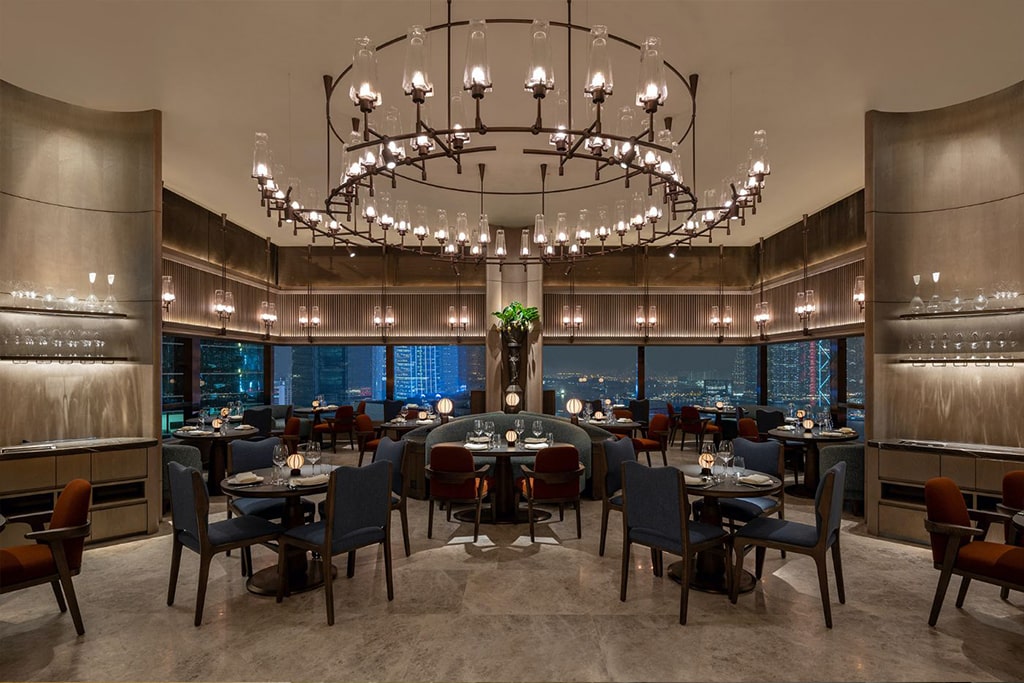 For a gastronomic adventure, head to Salisterra on the top floor. Helmed by London-based Michelin-starred chef Jun Tanaka, it draws inspiration from Mediterranean coastal cuisines, designed for sharing, expressive in its seasonal approach. Salisterra combines the warmth of a neighbourhood bistro with the refined elegance of The Upper House.
Other options are The Continental, a sophisticated yet relaxed European-inspired cafe, serving an elegant accessible menu on a tranquil terrace, all year round. Or you may be piqued by The Lawn, which is as its name suggests, a secret rooftop garden perfect for picnic-style cocktails and lounging with a glass of wine.
For a truly elevating stay, this is the pinnacle of it all. Now that you have a good idea of where to stay in Hong Kong, book your stay at participating Marriott Stars & Luminous hotels with Holiday Tours to enjoy enhanced benefits such as:
Complimentary breakfast for two people daily
Early check-in and late check-out*
Complimentary room upgrade**
Complimentary WiFi
USD 100 hotel credit***
On-property welcome
Welcome amenity
Marriott Bonvoy™ points
*Subject to availability
**Based on availability upon arrival
***Selected participating properties only
Inspired to visit Hong Kong when the borders reopen? LET US HELP
REACH OUT TO US AT +603 2303 9100 OR

[email protected]
You may also be interested in these articles: