In Hong Kong, shopping is a way of life for most. Recognised as one of Asia's most prominent retail hubs, the shopping malls in Hong Kong are seemingly curated to live up to that reputation. Famed luxury brands that have garnered worldwide cult status such as Chanel, Louis Vuitton, Dior and Gucci have secured their place in the multicultural city to cater to affluent locals and travellers alike.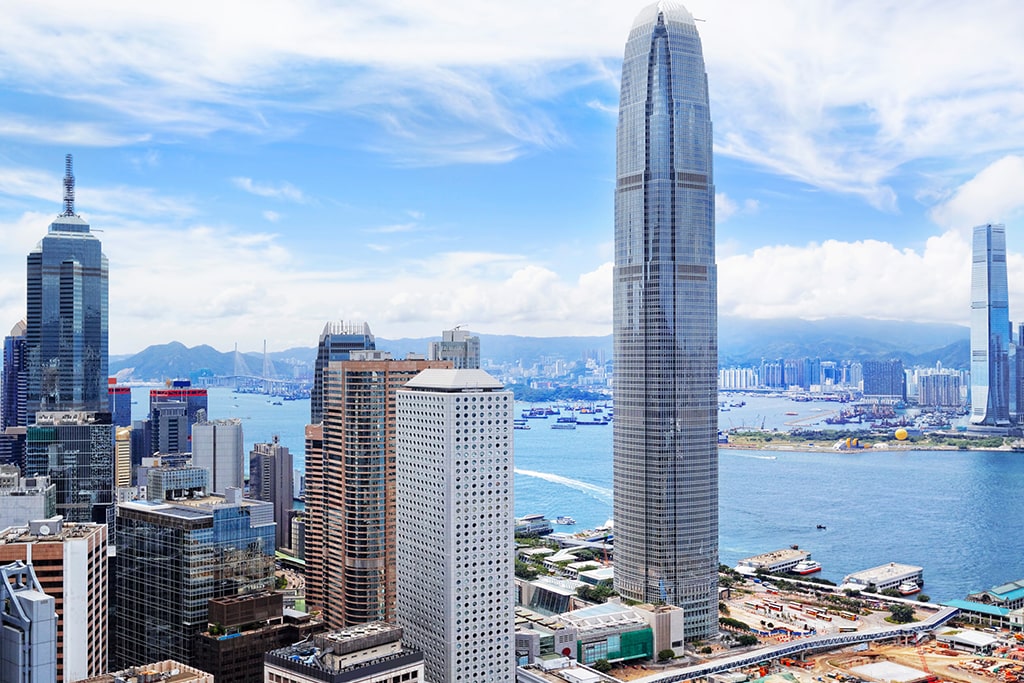 The luxury shopping malls in Hong Kong are typically one part of the bigger picture. Most malls are situated in significant buildings that are architectural marvels in their own right with a wealth of lifestyle offerings. Plan lunch at a Michelin-starred restaurant, spend an afternoon at the rooftop for a view of Victoria Harbour or catch a movie at the largest cinema in the city. Make sure to allocate more time for full-blown indulgence.
Here are the top 5 shopping malls in Hong Kong you should put on your list to experience luxury at its best.
1. IFC Mall
The International Finance Centre (IFC) at Central Waterfront is a prominent landmark in Hong Kong. The mall is anchored by Lane Crawford, a luxury department store where shoppers can find luxury favourites like Prada, Yves Saint Laurent, Miu Miu and more.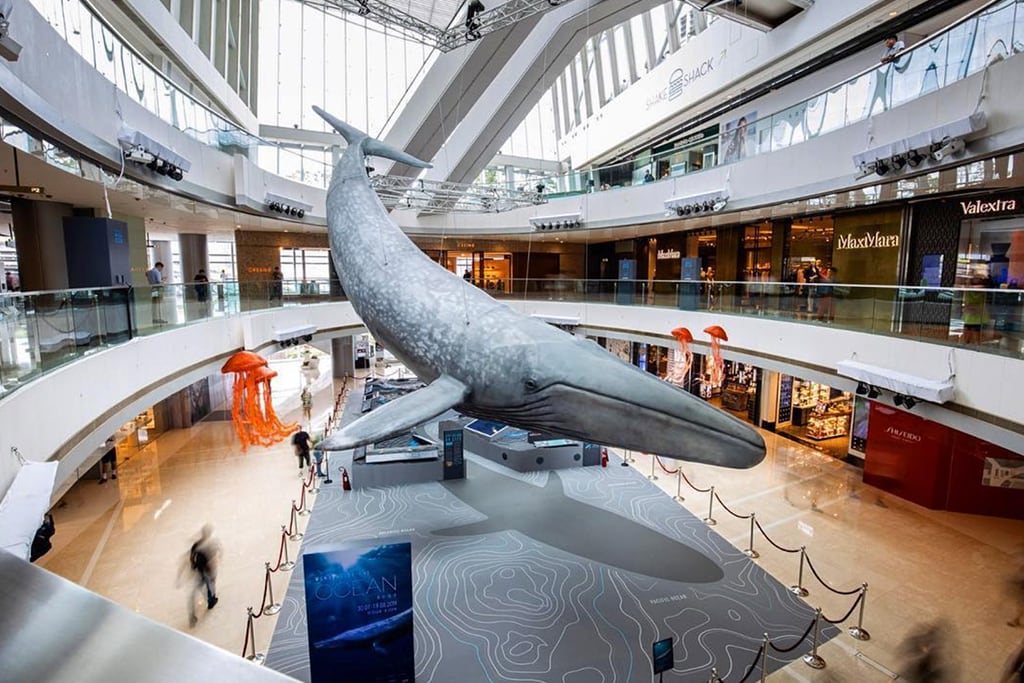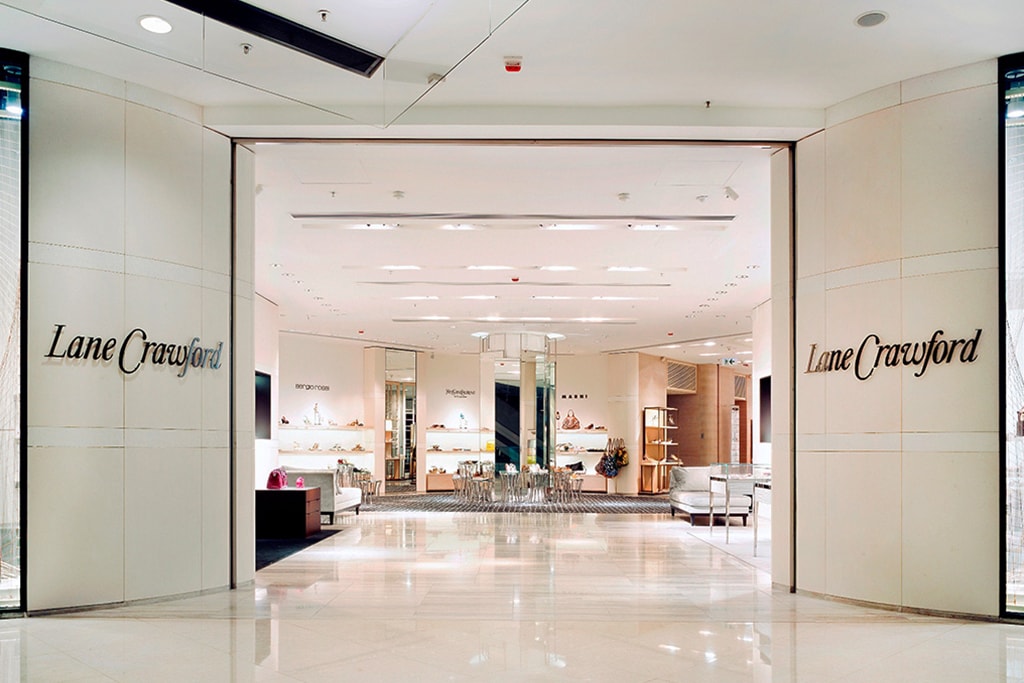 There are over 200 shops spreading across the mall's four levels. If you're a tech enthusiast, don't miss Apple's first flagship store in Hong Kong at IFC Mall. Suspended above Lung Wo road, the store has three levels for all your Apple needs.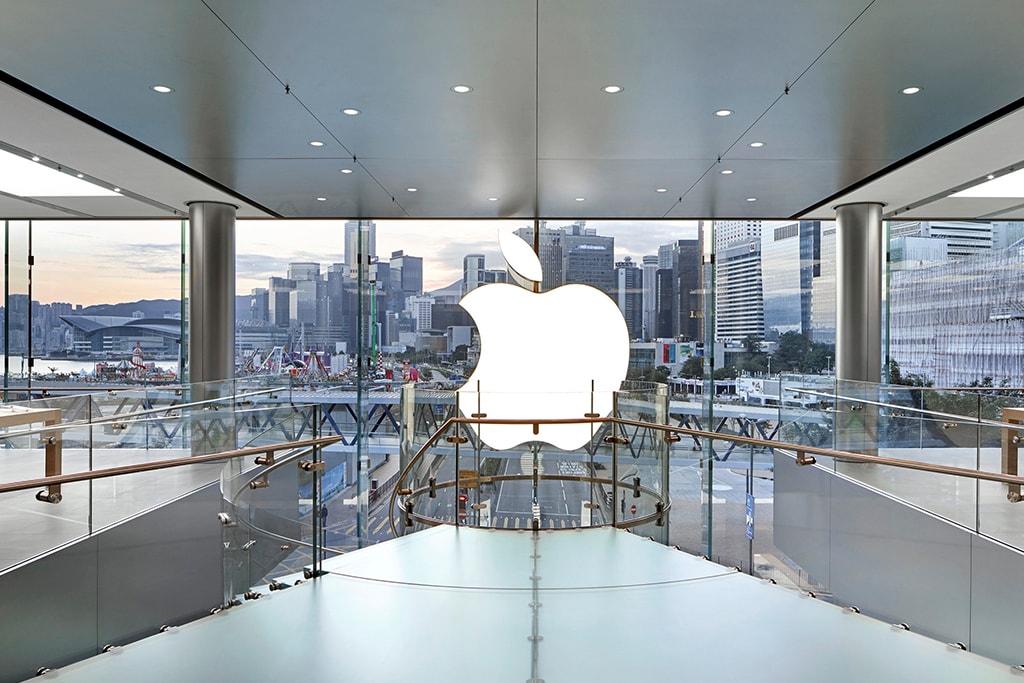 We can't talk about a day full of shopping without sustenance to get us going. There are more than 45 dining options at IFC to satisfy your hunger pang. Check out Pierre Hermé Paris' pastry shop for macarons, the only one in the region (besides Japan) or head to La Rambla on the third floor for Spanish delights with an iconic view of Victoria Harbour.
For authentic Parisian desserts without the need to go all the way to France, head to Dalloyau, the only maison de gastronomie to serve the Palace of Versailles' royal court since 1682. We recommend the Parisian Platter for a taste of the highlights.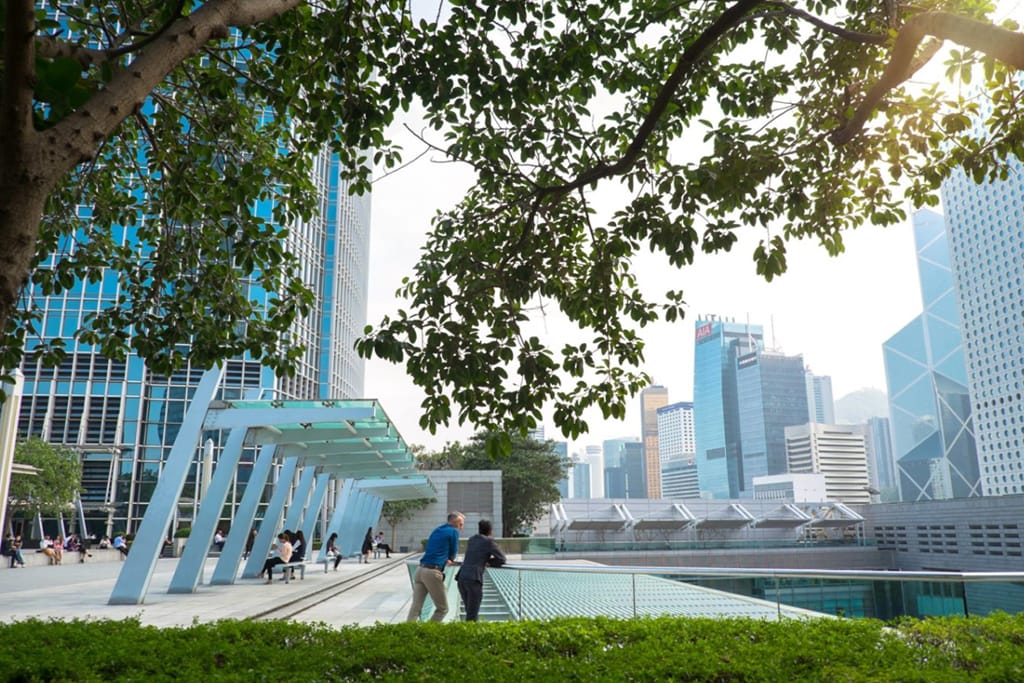 End the day at the IFC rooftop for an unbeatable view of the Hong Kong skyline. Drop your shopping bags and bring some drinks to relax with the calming breeze wafting by from the harbour.
2. Pacific Place
Nestled between four five-star hotels—the Conrad, Shangri-la, JW Marriot, and The Upper House, Pacific Place is one of the very first premiere shopping destinations in Hong Kong. In 2011, the revitalised mall above the Admiralty MTR station evolved into a one-stop destination for food, work, play, and shopping.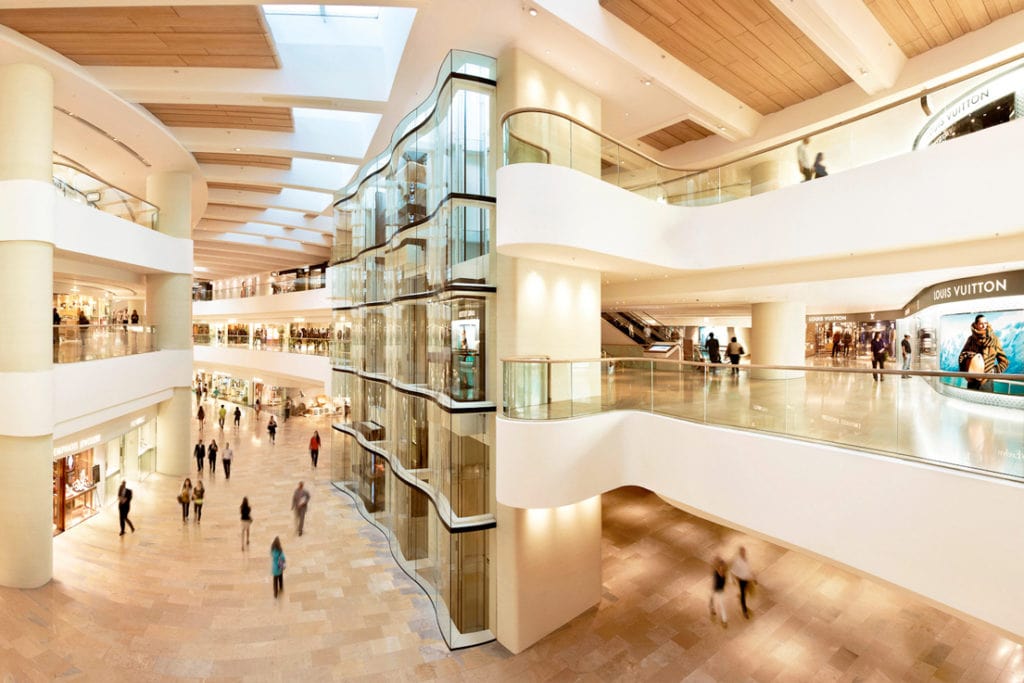 Head to Harvey Nichols, the British department store's first flagship Asian location for designer goods and a personal shopping experience in the women's wear area. You can find designer brands like Chopard, Louis Vuitton, or Dior on the higher floors. Pacific Place also features an opulent theatre with stadium-style seats. Ladies, be sure to visit the cosmetics mecca, Beauty Gallery, a contemporary reimagining of London's 19th Century Burlington Arcade.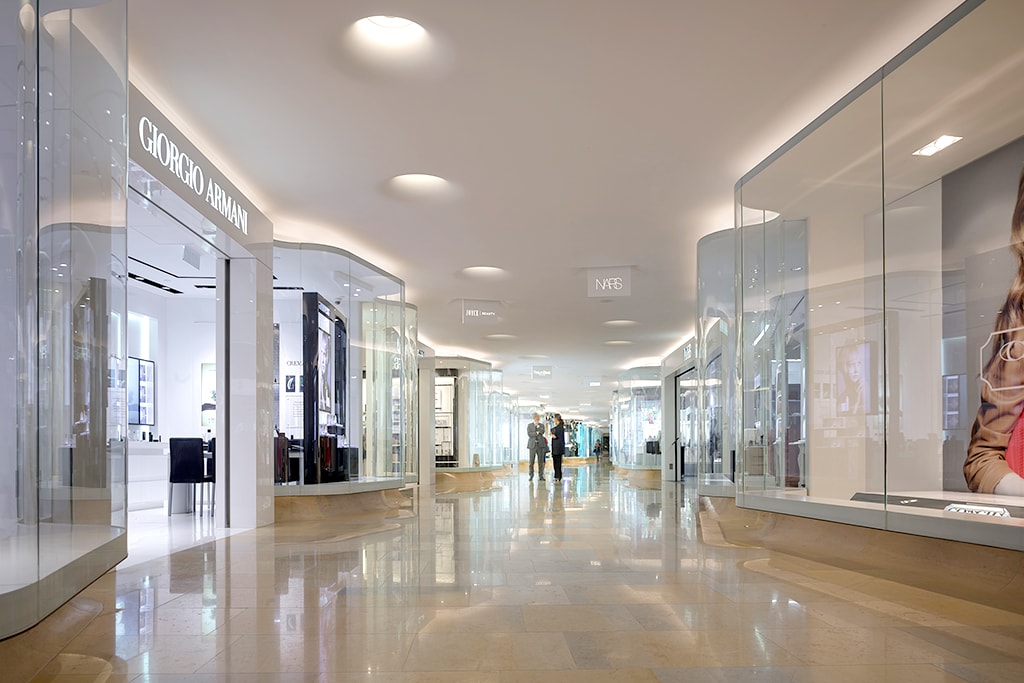 The mall is also adjacent to Hong Kong Park, and it's accessible through a series of escalators on the opposite end of the mall from the MTR station. The Upper House, located on the highest floor of Pacific Place, also offers sweeping views of Victoria Harbour and is perfect for a nightcap after a day of shopping.
3. The Landmark
The ultra-modern shopping destination in central Hong Kong hosts Louis Vuitton's iconic all-glass facade flagship store frequently photographed by passerby and fans alike.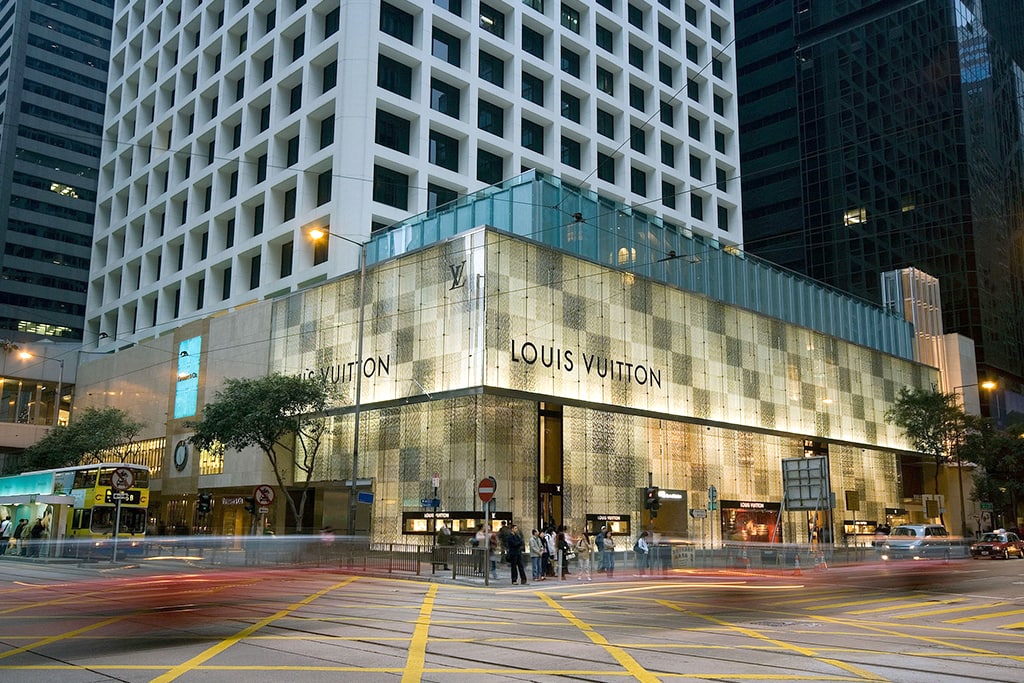 Located in Central, the mall curates flagship high-end boutiques in one location and features an airy layout with high ceilings and plenty of space to take in the grandeur of the storefronts. Shoppers worldwide gather to peruse brands like Alexander McQueen, Stella McCartney, Paul Smith, and more while diners flock to L'Atelier de Joel Robuchon, a French restaurant with three Michelin stars.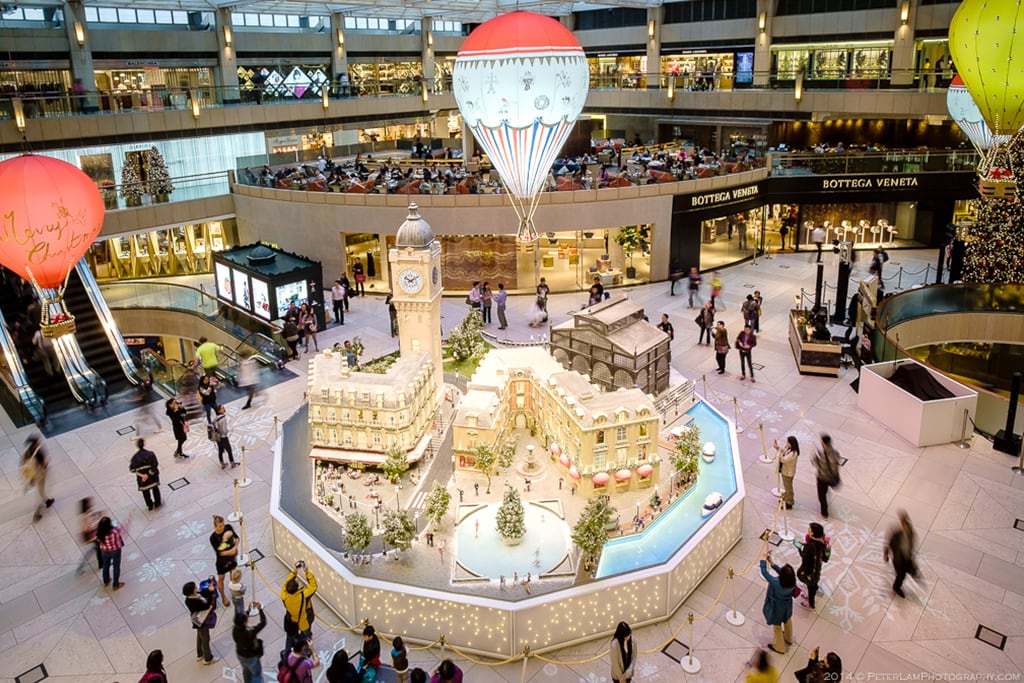 The mall also has the honour of hosting 14 Michelin-starred restaurants under one roof, including Sushi Shikon, 8½ Otto e Mezzo BOMBANA, and Amber. It is divided into four iconic buildings: the Landmark Atrium, Landmark Alexandra, Landmark Charter, and Landmark Prince, connected via glass-walled pedestrian bridges. The Atrium is frequently used for exhibitions, art displays, and product launches. Be sure to check out 30 permanent world-class art pieces like Salvador Dali's Woman Aflame.
The Landmark also shares its space with Mandarin Oriental. Travellers frequently visit the Oriental spa to indulge in their signature therapies and unique treatments.
4. Times Square
One of the most famous landmarks in Hong Kong located in Causeway Bay, Times Square was the first of its kind when it was launched. Being one of the first vertical malls, Times Square has 17 floors dedicated to retail and dining.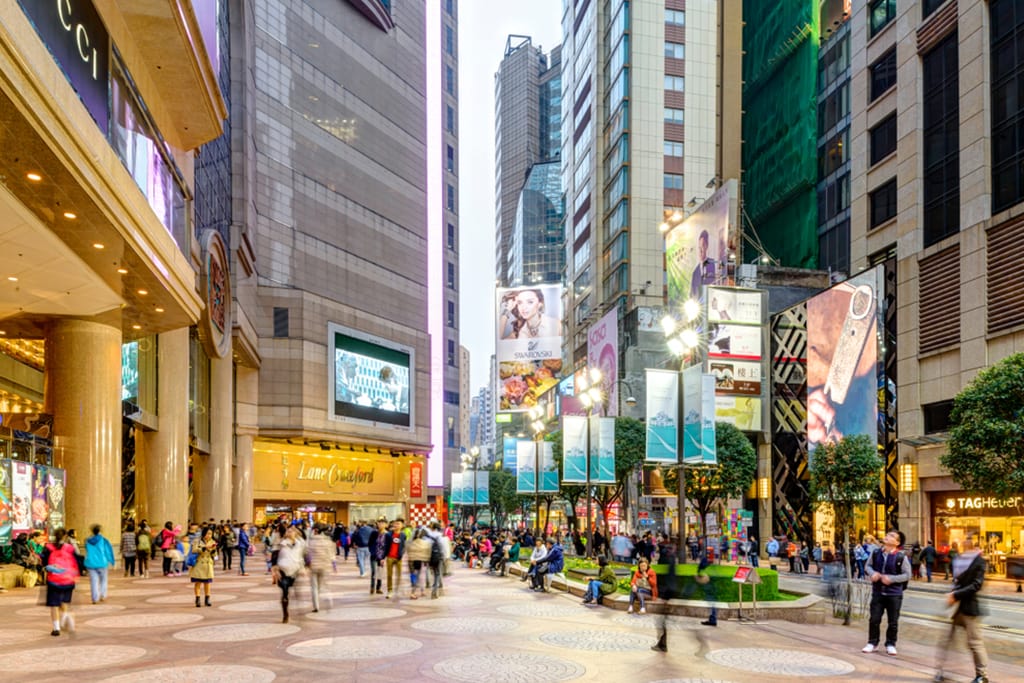 The mall features 230 stores featuring mid-range brands from Diesel to high-end favourites Louis Vuitton. Dining selections are available on levels 10 to 13, sportswear on level 7, and electronics and watches on level 8.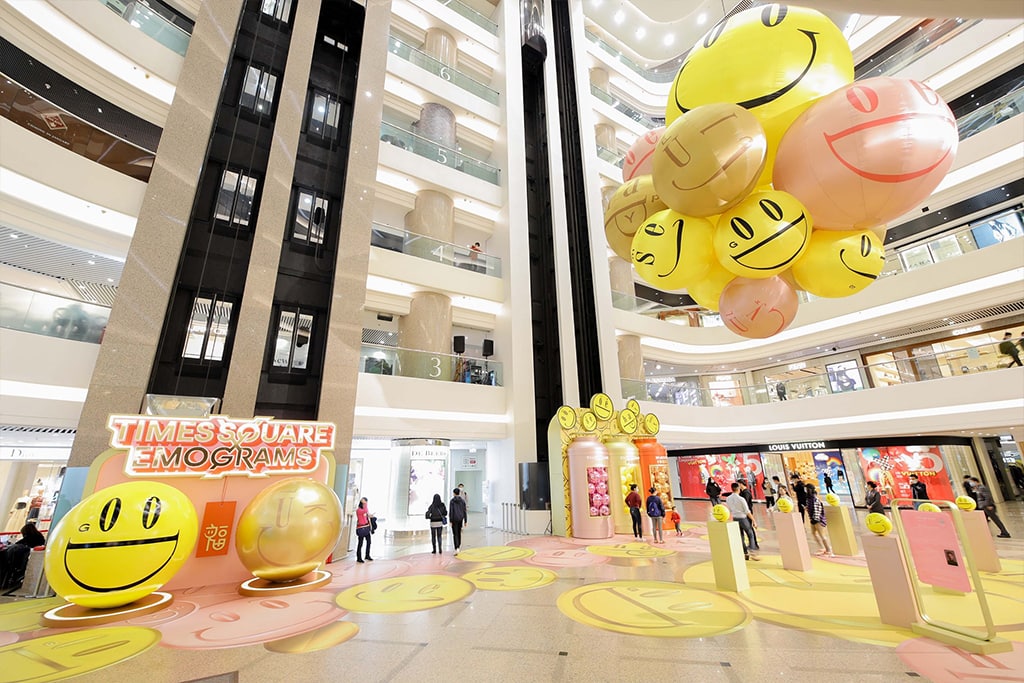 Mirroring its namesake in New York, the mall is also the location for New Year's Eve countdowns and other events. Its surrounding area is also home to various boutique outlets like Audemars Piguet, Burberry, and Patek Philippe on Russell Street, to name a few.
For a taste of luxury, head to Forbidden Duck, a restaurant helmed by Michelin-starred chef Alvin Leung for the signature Peking duck or contemporary renditions of Cantonese classics. Alternatively, the delightfully understated Kei Cuisine offers a Cantonese dining experience elevated with Japanese elements for some unexpected thrill on the palate.
5. Elements
For the final entry, let's shine the light on Elements Mall. The upscale shopping mall features unique architectural touches and an expansive 1 million square footage of retail space.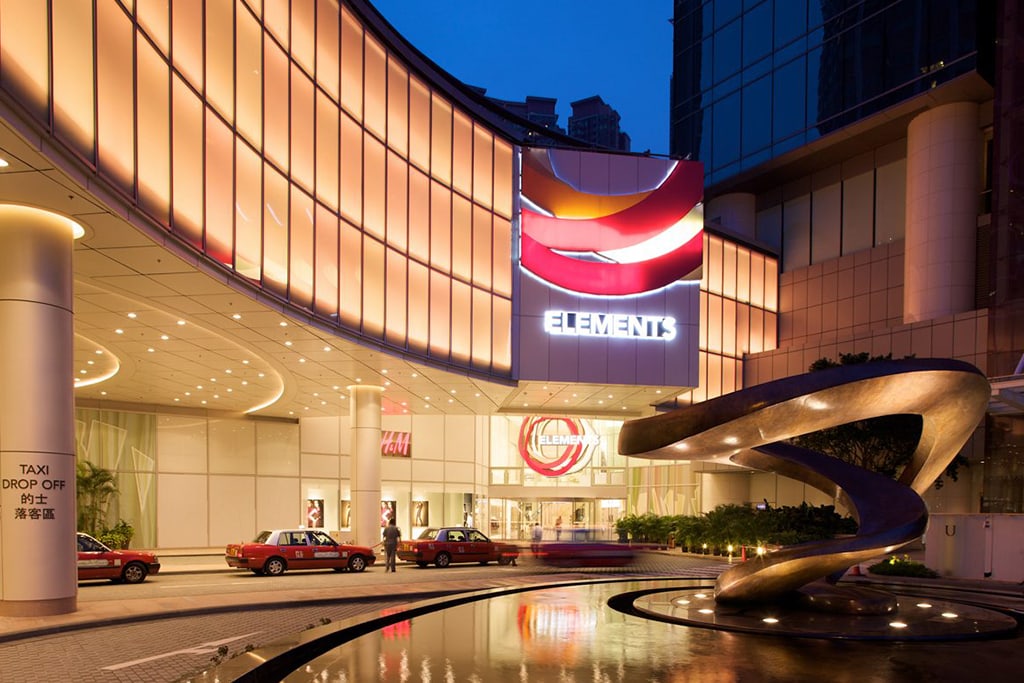 The shopping zones are categorised based on the five Chinese elements: fire, water, wood, earth, and metal. Each zone showcases displays reflecting each component and are worth visiting just for the photos.
Each element also has themed shopping environments: metal houses luxury brands and fine dining, fire has entertainment, water houses international cuisine, earth on fashion, and wood houses health, beauty and lifestyle.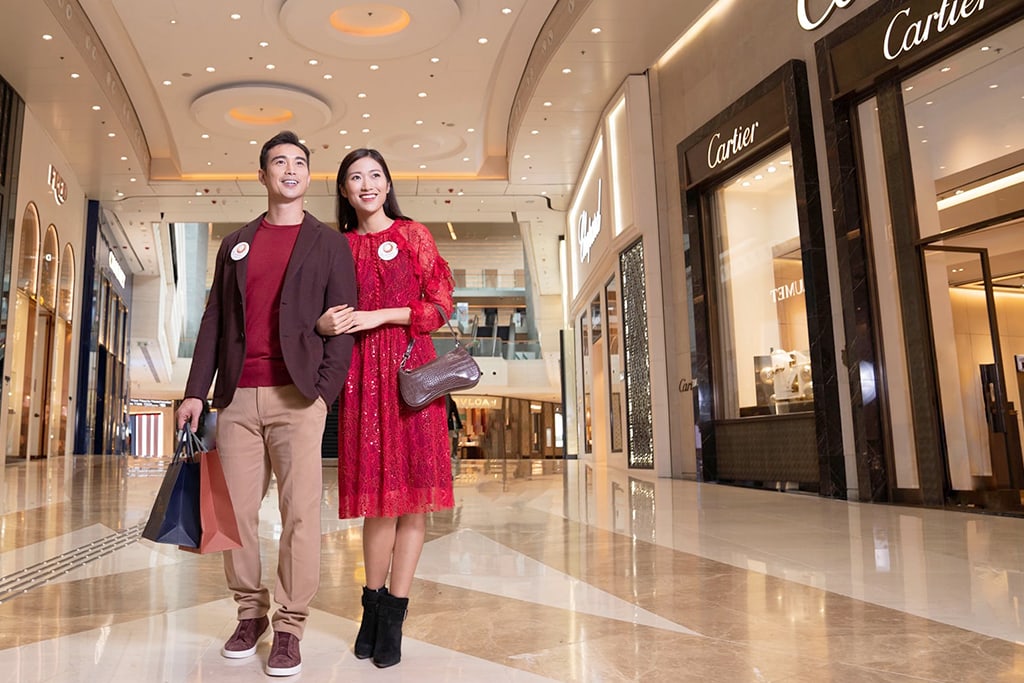 There are over 120 stores and boutiques to shop at while taking in the art displays, and you can expect to find luxury flagship stores like Hermes, Miu Miu, and Burberry, to name a few. For health-conscious shoppers, 3hreesixty, Hong Kong's largest organic supermarket has a variety of eco-friendly goods.
Its strategic location in West Kowloon also places them next to Hong Kong's most famous attraction, the sky100 Observation Deck, where visitors can get a breathtaking view of Hong Kong. The mall also boasts the largest cinema in Hong Kong—the biggest hall seats 1,600 people—and a pay-as-you-go ice skating rink. Simply enter the rink with your Octopus card to pay by the minute.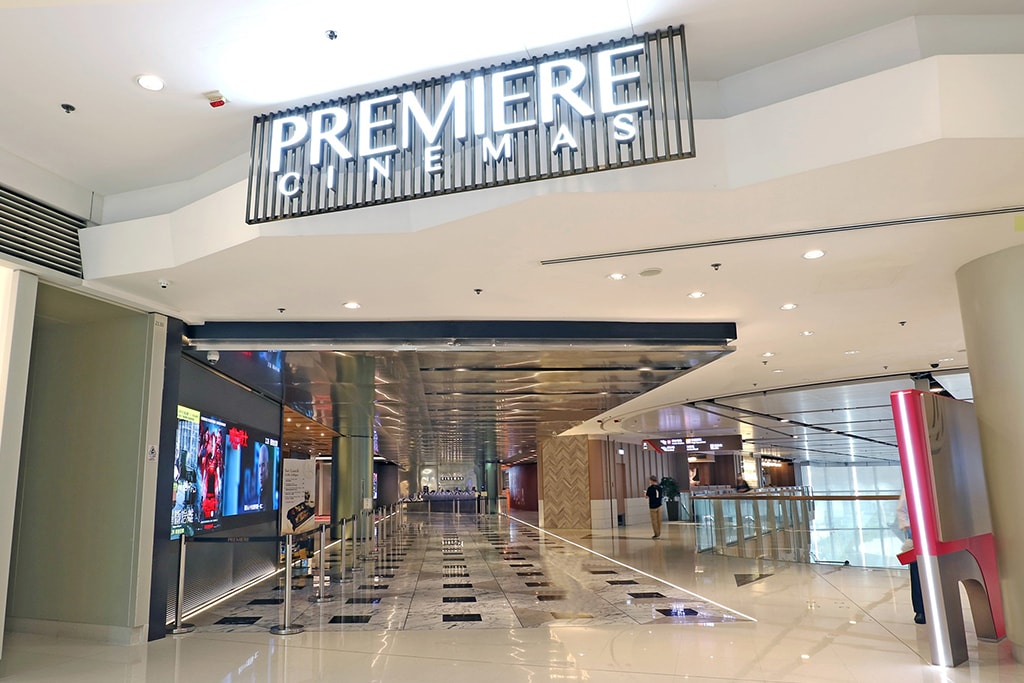 Our list is not exhaustive, and there's still so much more to see and shop in Hong Kong! Plan your visit with experts to ensure you don't miss out on the best luxury shopping experiences.
Inspired to visit Hong Kong when the borders reopen? LET US HELP, REACH OUT TO US AT +603 6286 6288 OR

[email protected]
You may also be interested in these articles: