Did you know there are Muslim-friendly islands? Yes, this is the place for the Muslim honeymoon you dream of. You can relax, celebrate, and create lasting memories on these Muslim-friendly islands.
This article looks at halal travel options, mainly halal honeymoon destinations. Expect a blend of natural beauty, cultural experiences, and unique halal gastronomical delights.  Let's explore eight Muslim-friendly islands filled with pristine beaches, halal eateries and captivating landscapes for that perfect romantic experience.
8 Exotic muslim-Friendly Islands
1. Zanzibar, Tanzania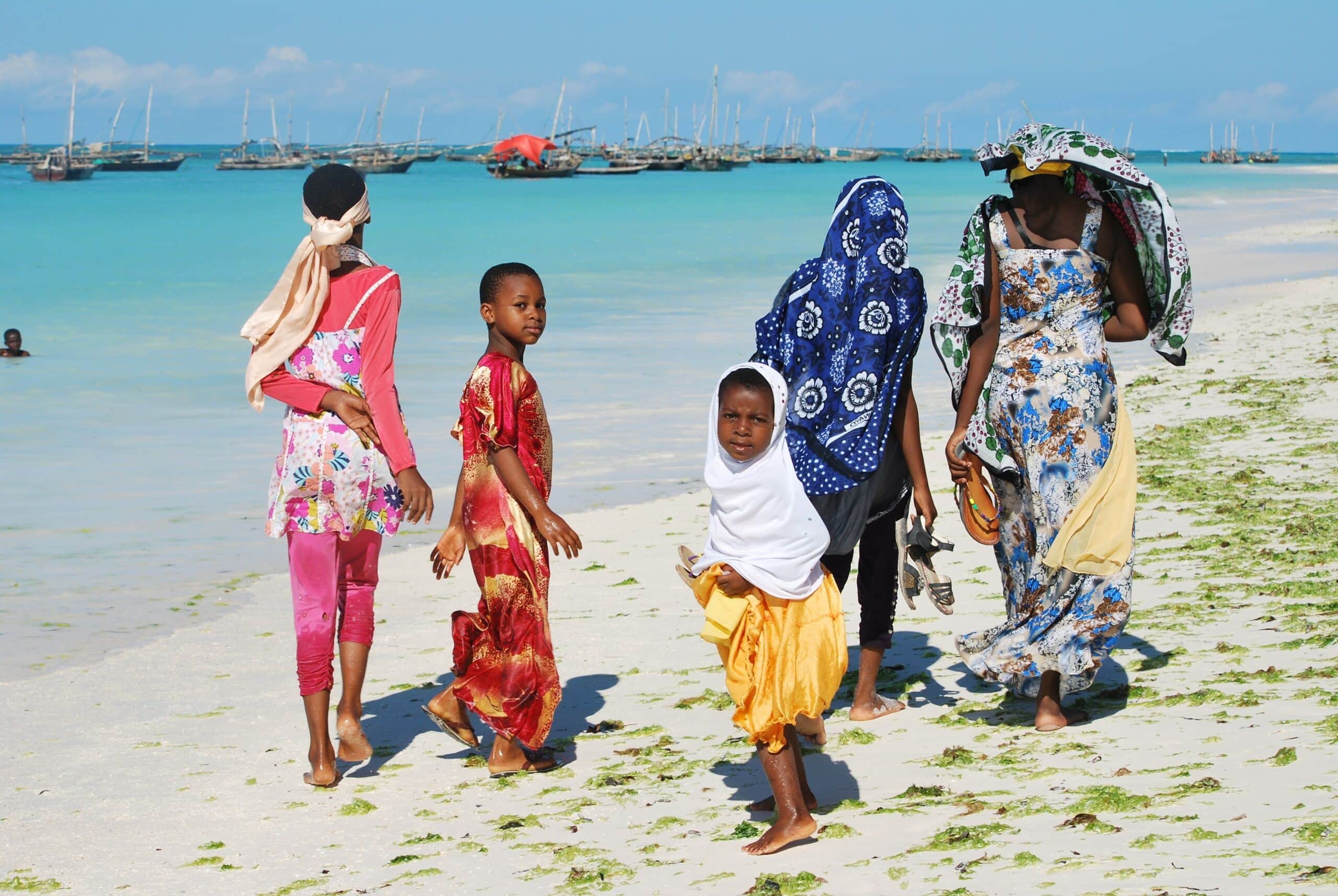 If you have ever considered going to Tanzania, your honeymoon is the perfect time. Zanzibar should be on your halal travel list. Nestled off the coast of East Africa, Zanzibar, located off the coast of Tanzania, is a tropical paradise that combines natural beauty with a rich Islamic history.
This island has palm-fringed beaches, azure waters, and vibrant coral reefs. You can explore Stone Town, visit historical mosques, and immerse yourselves in the local culture.
Perfect for a Muslim honeymoon, Zanzibar offers luxurious halal-friendly resorts catering to your dietary requirements, providing private villas and secluded beachfront accommodations for a quiet and intimate stay. Indulge in spice tours, take romantic sunset cruises, or relax and unwind on the picturesque beaches.
If you're wondering about culinary delights, worry not. Zanzibar is home to a sizeable Muslim population, meaning there are plenty of halal restaurants and offers a variety of seafood and vegetarian options. These are some of the recommended spots to get you started:
The Silk Route is a great place to enjoy traditional Indian food in copper bowls while looking out at amazing views of Stone Town.
The Rock Restaurant in Zanzibar is an excellent choice for seafood lovers. Situated on a boat-accessible island, it's perfect for a unique halal honeymoon experience with stunning views.
Secret Garden is a cosy and atmospheric colonial-themed restaurant in the heart of Stone Town. You can enjoy affordable lunch options with seafood and traditional side dishes here.
Besides relaxing and soaking up the island vibes, here are some things you can explore on your Muslim honeymoon in Zanzibar:
Old Fort Mosque: The UNESCO World Heritage Site of Stone Town, Zanzibar, is renowned for its elaborate 19th-century merchants' houses. If you're a history buff, the iconic Old Fort Mosque in the heart of Stone Town is not to be missed. Built in the 16th century and rich in history, it has an open-air theatre for music and dance shows and a restaurant. Dinner and a show!
Jozani Chwaka Bay: Take it easy with nature and walk through Jozani Chwaka Bay National Park on a guided tour. Enjoy impressive baobab and mangrove trees, and look for the Zanzibar Sykes' monkey, bush babies, and all types of butterflies and birds. Bush babies, also known as Zanzibar Galagos, are small primates native to the island.
2. maldives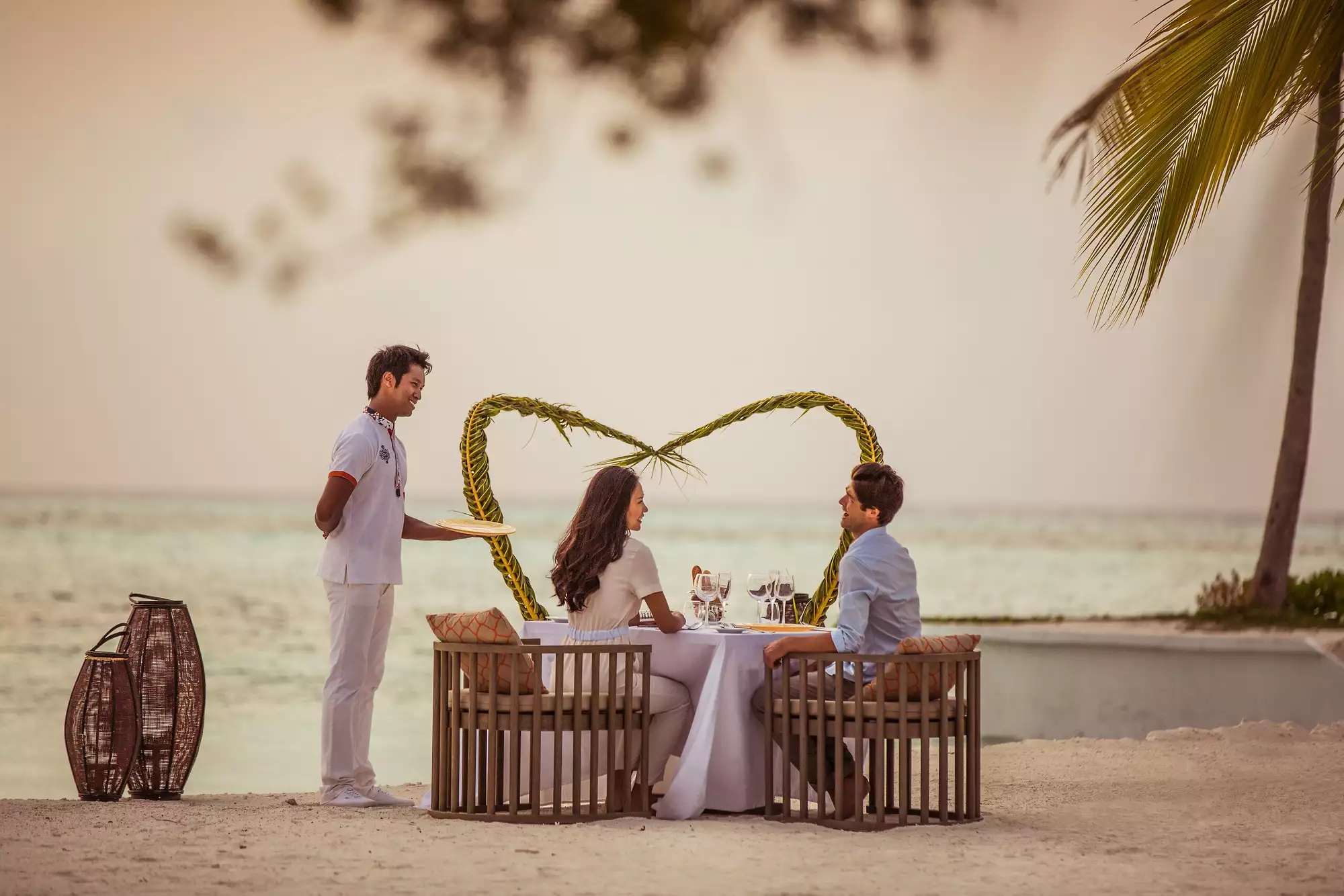 Who wouldn't want to go to the Maldives? Without a doubt a popular choice for halal honeymooners and is one of the most Muslim-friendly islands in the world. Renowned for its stunning white-sand beaches, turquoise lagoons, and lush resorts, the Maldives is a dream destination for your Muslim honeymoon.
Imagine stepping onto pristine white-sand beaches, surrounded by turquoise lagoons and staying in luxurious resorts designed with Muslim honeymooners in mind.
This archipelago offers an array of halal-friendly accommodations, providing you with the utmost comfort and private stay. Imagine indulging in candlelit halal beachfront dinners, rejuvenating with a couple's spa treatment after snorkelling in vibrant coral reefs.
Where to stay?  Spoiled for choice, we will break it down by the types of accommodation to get you started.
Overwater villas: Ideal for a luxe halal honeymoon with your private pool, sundeck and fun water sports such as snorkelling, scuba diving and jet skiing activities to try together. Sun Siyam Olhuveli is a beautiful overwater resort accommodation suitable for Muslims.
Beach villas: If the beach is your happy place, beach villas will be perfect with a private deck and all your modern amenities. Conrad Rangali Island and Vilamendhoo Island Resort & Spa are Muslim-friendly accommodations.
Since Maldives is an Islamic country, you will find that most restaurants have Muslim-friendly menus so that you can find halal meals throughout your stay there. Please take it to the next level and surprise your spouse with a floating halal breakfast in your private pool or dine at an underwater restaurant with panoramic views.
As a top destination for halal travel, this tropical paradise is well-equipped with mosques and praying facilities. Maldives is a once-in-a-lifetime experience you don't want to miss out on.
3. Fiji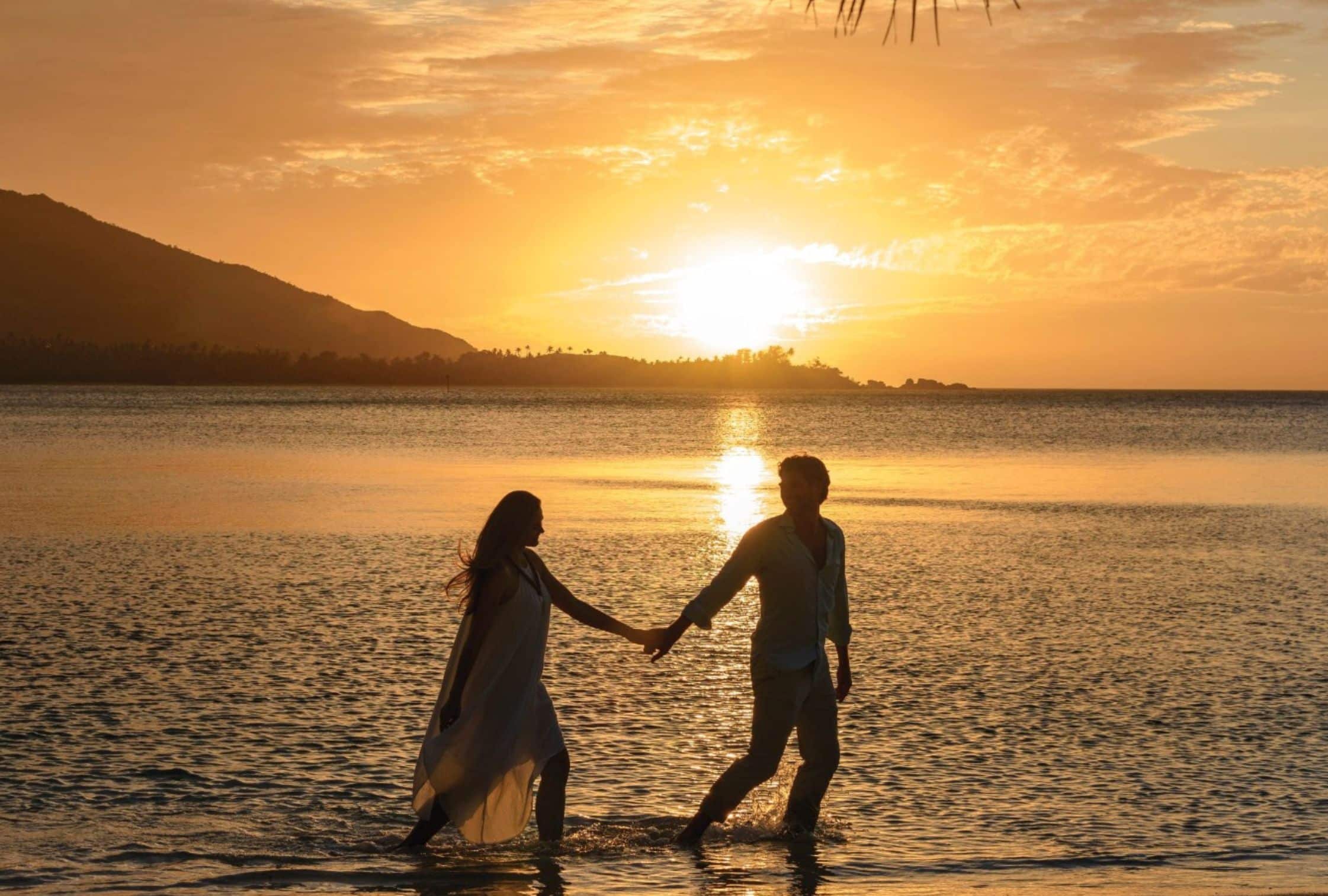 Home to over 330 Muslim-friendly islands, Fiji will not disappoint, with beaches covered in fine white sand and calm lagoon waves washing over as you take in all the tranquillity and beauty. This is a newlywed's dream come true for the perfect honeymoon. For food, it's not hard to find halal cuisine on a Fiji island. For example, all McDonald's restaurants in Fiji are Halal certified.
A lot of the food in Fiji is influenced by the Indian-Fijian culture making it delicious and spicy (if spicy is your palette, especially curry!). Some of the best Middle Eastern dishes to surf and turf can be found on these islands. Furthermore, Fiji has an abundance of tropical fruits and vegetables such as bananas, coconuts, yam and sweet potatoes. There's nothing like enjoying the beach in Fiji with fresh coconut.
As part of the exotic islands for Muslim honeymoon list, there is always something to do. From island hopping to hiking on breathtaking trails, Fiji is ideal for creating special halal honeymoon memories. Don't miss the chance to snorkel or dive amongst brilliant soft corals and magnificent marine life. Incredible hiking routes will take you through forests and waterfalls for panoramic views. This is where you will find the ultimate photo-op!
Fiji offers a range of mosques where you can find a place to pray. Chances are you will get to meet some local Muslims too.
4. mauritius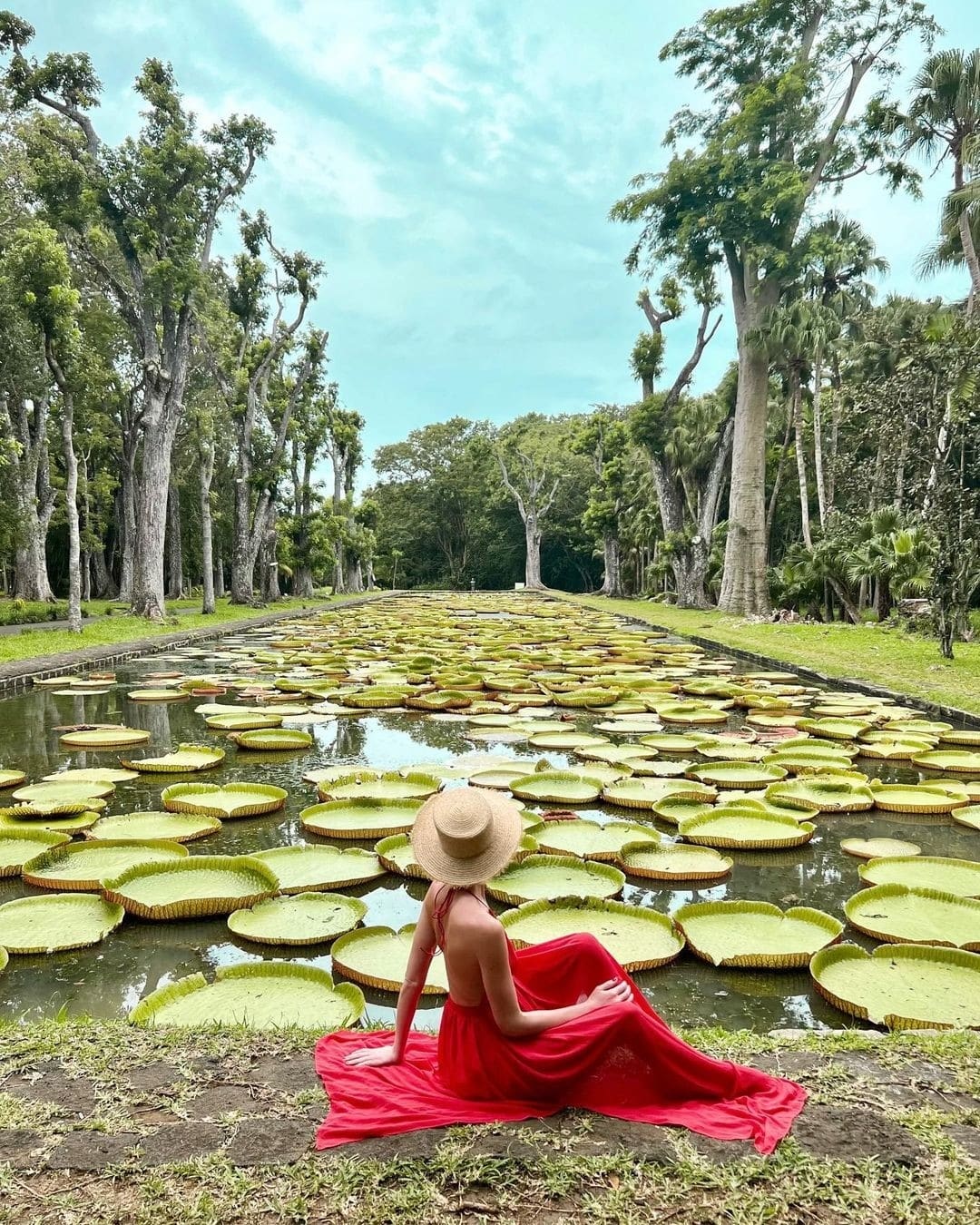 A Muslim honeymoon haven, Mauritius is an island paradise in the Indian Ocean, renowned for its "I can't believe it" crystal-clear waters, immaculate beaches, and diverse cultural heritage. With its warm hospitality and Muslim-friendly amenities, Mauritius is the ideal setting for a memorable and romantic halal honeymoon.
Luxury resorts with spas, prayer facilities, and activities span the island, with some even outfitted with dedicated halal kitchens. For peace of mind, some resorts offer halal honeymoon packages. Beyond its stunning beaches, Mauritius has many outdoor activities and natural wonders for adventurous honeymooners. Snorkel or dive to explore the coral reefs teeming with marine life. Or step into nature for a hike through The Black River Gorges National Park and marvel at native wildlife, lush greenery, waterfalls, and unreal landscapes.
For a unique experience, a visit to the Seven Colored Earths in Chamarel showcases beautiful dunes of different colours, a natural phenomenon found only in Mauritius. Check out the dolphin cruises or paddle boarding if you want a more peaceful and relaxing Muslim honeymoon!
Once you have an appetite, dive into Mauritian cuisine, a beautiful blend of African, Indian, Chinese, and French European flavours. Some of the best halal foods are:
The Mauritian version of a falafel called Gateau Piment.
Dhal Puri is a type of bread, like roti, found all over the island.
A Chinese-Mauritian dish called Bol Renversé. As the name suggests, it's a flipped rice bowl layered with saucy chicken and vegetable stir-fry on rice with a fried egg. If you are not drooling, we are.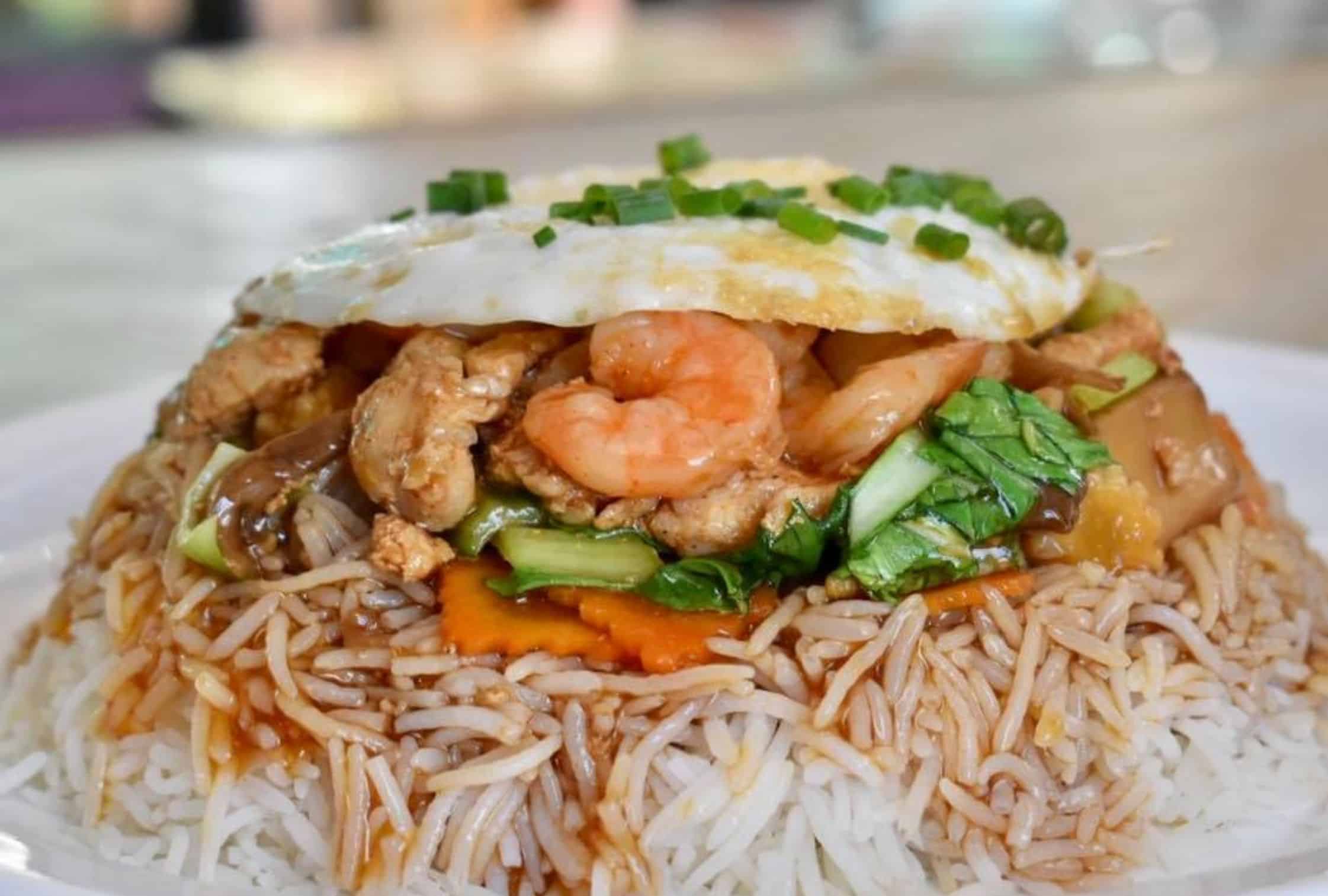 During your halal travel in Mauritius, be sure to try out these recommended restaurants that cater to Muslim dietary requirements:
Zub Express – an Indian Chinese restaurant with an ocean view.
Pakbo – local cuisine is known for its delicious seafood.
Creole Shack – although a lunch-only spot, you enjoy home-cooked food.
Top off your Muslim honeymoon by immersing in cultural and Islamic heritage. Visit the Jummah Mosque in Port Louis and explore the Islamic Cultural Centre and Mosque in Plaine Verte for its architectural beauty.
5. Lombok, Indonesia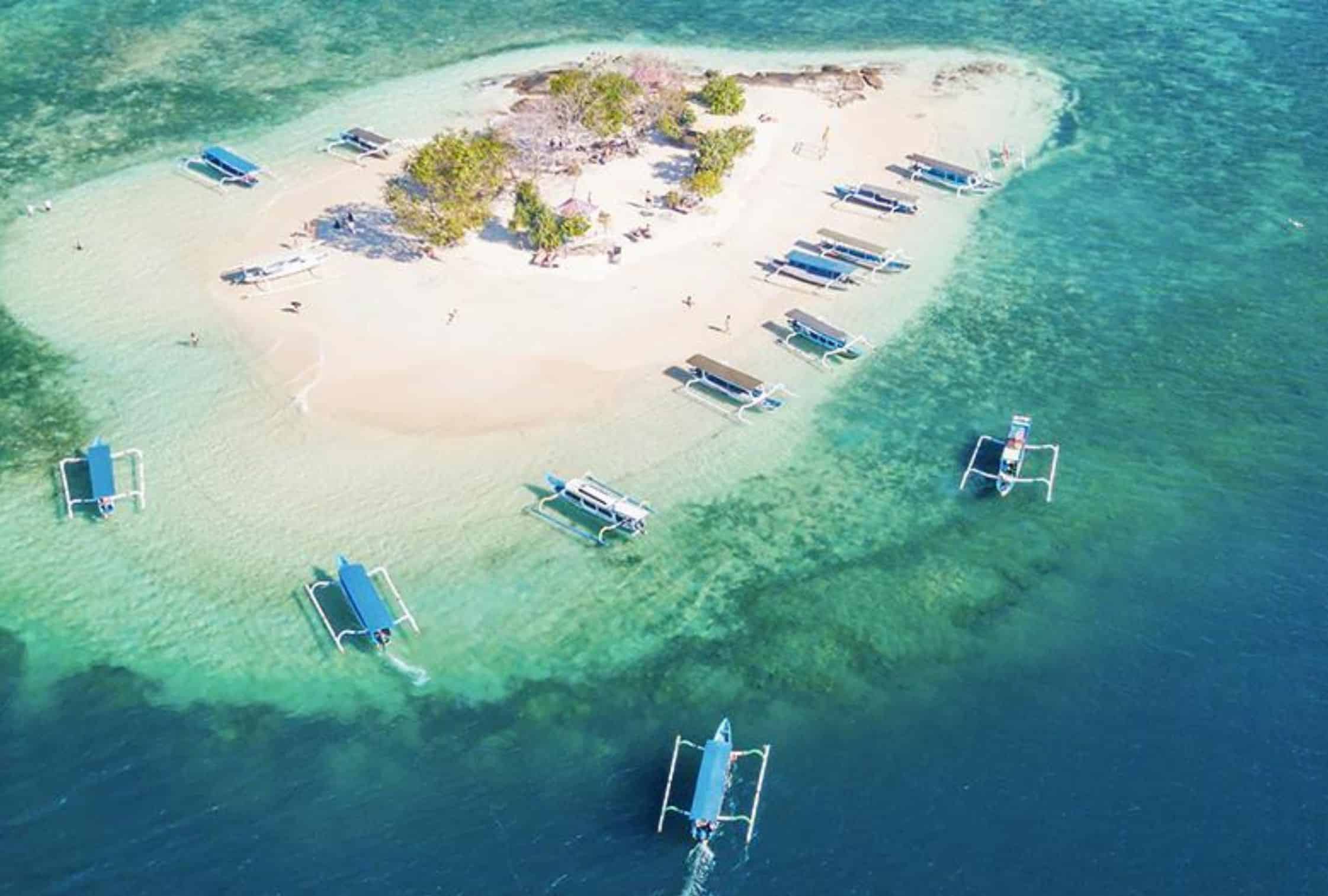 Lombok is one of many Muslim-friendly islands in Indonesia. It is located east of Bali and west of Sumbawa; Lombok claims its spot among the many exotic islands for a Muslim honeymoon worldwide. This halal honeymoon destination that should be on your radar is famous for its picturesque beaches and surf spots.
Amazing views coupled with warm and welcoming hospitality, accommodations span from resorts and hotels to villas that will give you peace of mind on your Muslim honeymoon. Check out:
Svarga Resort Lombok
Novotel Lombok
Narvik Villa Senggigi
Sukun Villa Lombok
Lombok is a treasure trove of natural wonders perfect for adventure and exploration. Located in a remote area on the east coast of Lombok is the Pink Beach or Pantai Tangsi, a must-see destination. There are beautiful hiking trails for outdoor lovers, and for the most adventurous ones, plan a hike to the summit of Mount Rinjani, an active volcano.
You might even catch the surfing bug. Or take it down a notch with paddle boarding and relaxation on the beach and swim in crystal-clear waters. And don't forget that romantic walk along the shore.
If you're in Lombok, you might want to extend your halal travel plans and check out the nearby Gili islands. You can go beach hopping as each island—Gili Trawangan, Gili Air, and Gili Meno—has a unique charm.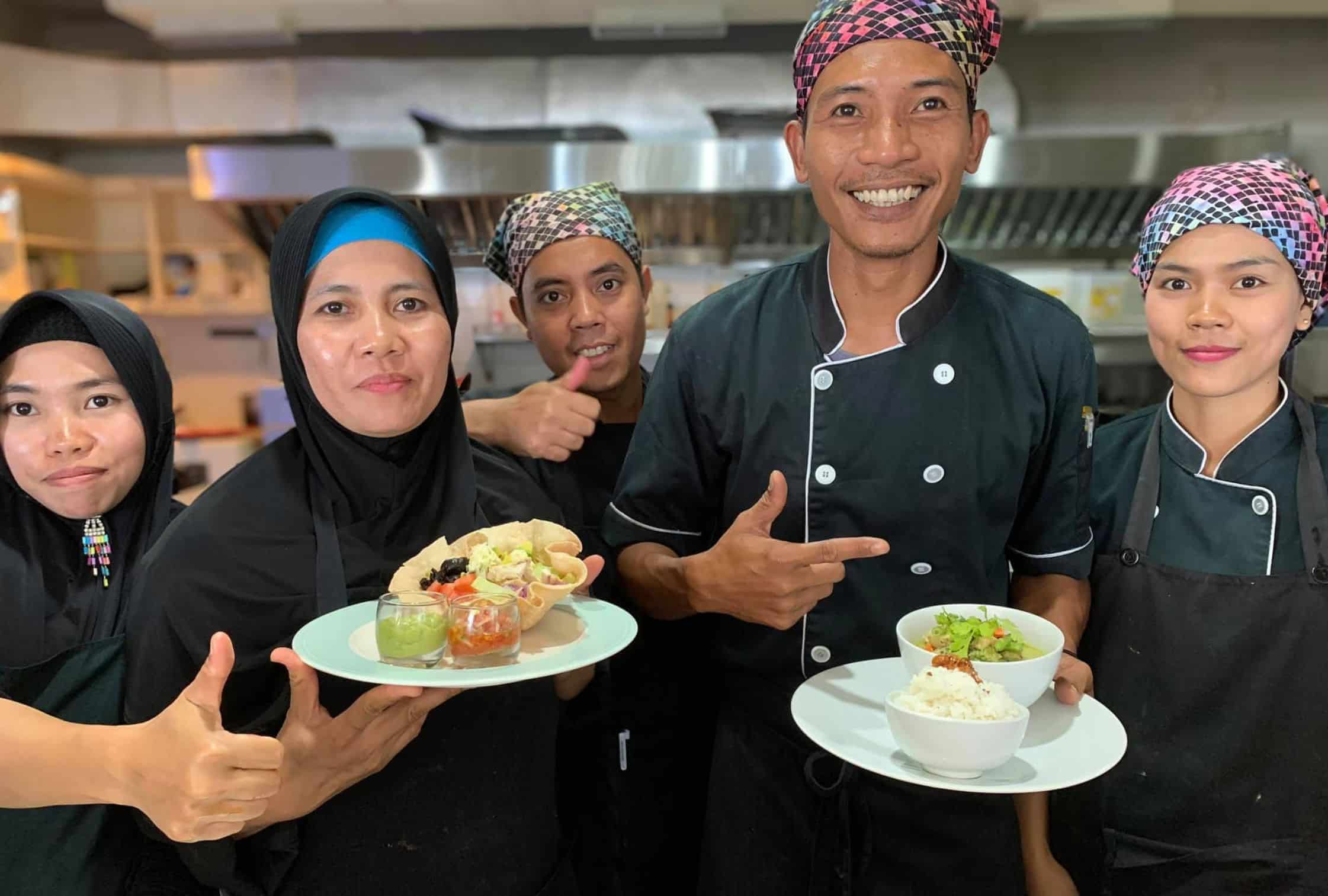 Your halal travel experience in Lombok won't leave you hungry, as the island offers a variety of delicious halal food options. A local favorite is Ayam Taliwang, a grilled chicken dish served with rice and vegetables. Here are some notable spots to satisfy your cravings:
Laut Biru Restaurant – Local and international menu with ocean views.
Warung Menega – Where you can pick your seafood and have a sunset dinner.
Shake and Bake (Vegetarian & Vegan Food, No Alcohol) – A go-to spot for surfers, serving vegetarian and vegan-friendly food.
A popular attraction in Lombok is the historic 300-year-old Bayan Beleq Mosque, about 80 kilometres from the capital city of Mataram. While prayers are not allowed for visitors, the sheer magnificence of the structure will leave you in awe. Other mosques for praying or visiting are accessible and easy to find too.
6. French polynesia  
Who would have thought French Polynesia would be on the halal travel list, much less a halal honeymoon destination? Located in French Polynesia, Bora Bora is Muslim-friend with its white sandy beaches, turquoise lagoons, and idyllic sunsets. Insta-backdrops any which way you turn. A romantic stroll along Matira Beach is one way to take it all in. Snorkel or scuba dive and say hi to the coral reefs and underwater life.
Other Muslim-friendly islands in French Polynesia include Tahiti and Moorea. Who has yet to hear of Tahiti and dreamed of going there? The largest island in French Polynesia, with its breathtaking landscapes and beautiful beaches, is another excellent pick in the pool of exotic islands for a Muslim honeymoon. Get outdoorsy with snorkelling, kayaking, or even more adventurous and try some windsurfing!
Over at Tahiti's sister island, Moorea, a more rugged landscape calls for ATV tours across various terrains. Moorea is home to a lagoon and is perfect for scuba diving and snorkelling. Also, make it a point to visit marine mammals at the Moorea Dolphin Centre.
While halal food isn't as widely available on the islands, it is recommended to call your hotel or resort ahead to request halal meals. Nearby mosques would be a good place to look for halal food; fresh seafood options are plenty in restaurants too.
7. seychelles
An archipelago of 115 pristine islands in the Indian Ocean near Madagascar, Seychelles is a Muslim honeymoon destination as it offers a peaceful and inclusive environment. Draped in lush jungles and immaculate beaches, this must be on your halal travel list.
As one of the Muslim-friendly islands, halal food is relatively easy to find as the meat imports are from Dubai. Seychellois food is called Creole Cuisine, consisting of a unique blend of African, French, Indian, Chinese and African influences. You will typically find curry and seafood dishes on the menu. Western favourites like burgers and pizzas are also available.
From island hopping to hiking trails, or golfing, there is plenty to do on your halal honeymoon. If it's up your alley, don't miss out on snorkelling or scuba diving, the beautiful underwater wonders filled with colourful fish and lush coral.
In the capital city of Victoria, you can experience local culture and visit the impressive Al-Maarif Mosque. Or pop over to the vibrant Sir Selwyn Clarke Market to immerse in local flavours, check out traditional crafts, and interact with friendly locals. Out of all the exotic islands for a Muslim honeymoon, Seychelles ranks highly on this list.
8. langkawi, Malaysia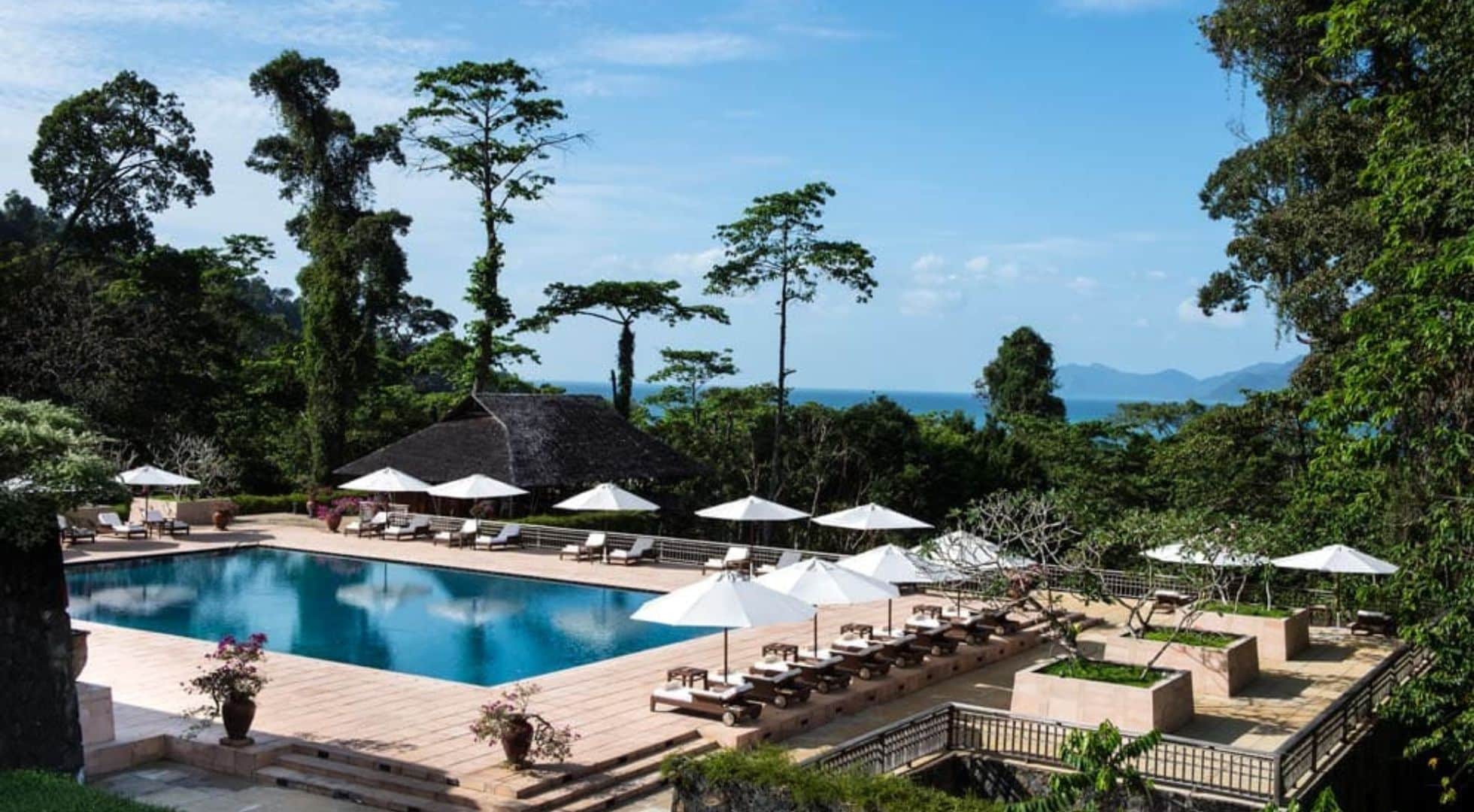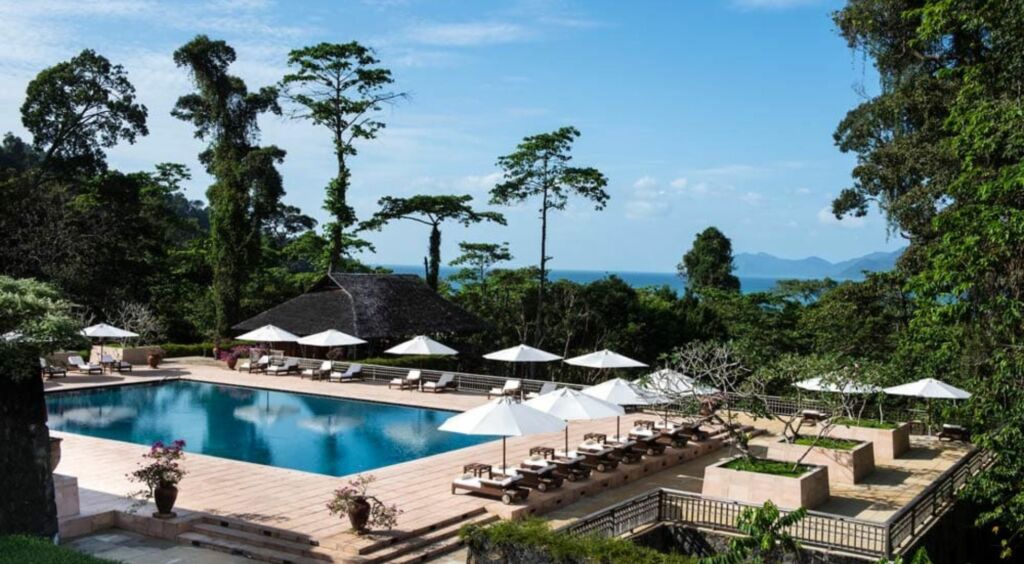 Malaysia is a melting pot of cultures synonymous with halal travel and home to many Muslim-friendly islands. As soon as you arrive in Langkawi, you are greeted with the warmest welcome and friendliest hospitality. Sandy beaches, eating places, and luxury resorts stretch miles along the island.
If you're planning a lush halal honeymoon, there is no shortage of romantic resorts. Some even with fancy bathtubs, sea-front Jacuzzis and private pools- because why not? You deserve it.
Resorts to consider:
Berjaya Langkawi
La Villa Langkawi
Bon Ton Antique Wooden Villas
The Datai Langkawi
Ambong-Ambong Pool Villa
Dash Resort Langkawi
The Danna Langkawi
The Andaman, a Luxury Collection Resort
Let's talk about food. Delicious halal food- Asian, Western, BBQ, fresh seafood, and local dishes- is essential. You won't run out of choices to indulge in.
Telaga Seafood – is arguably one of the best places for grilled prawns, crab, steamed sea bass and more Malay and Thai dishes.
Arang BBQ & Grill – Malaysian and Middle Eastern flavours.
German Food Corner – Muslim-owned, serving up hefty portions. Vegetarian friendly too.
Yasmin Syrian Restaurant – get your fix of some of the best falafel and hummus in Langkawi.
Gelato Cabana – did someone say ice cream? Homemade and just what you need on any given hot day.
Mosques and praying facilities are also widely accessible.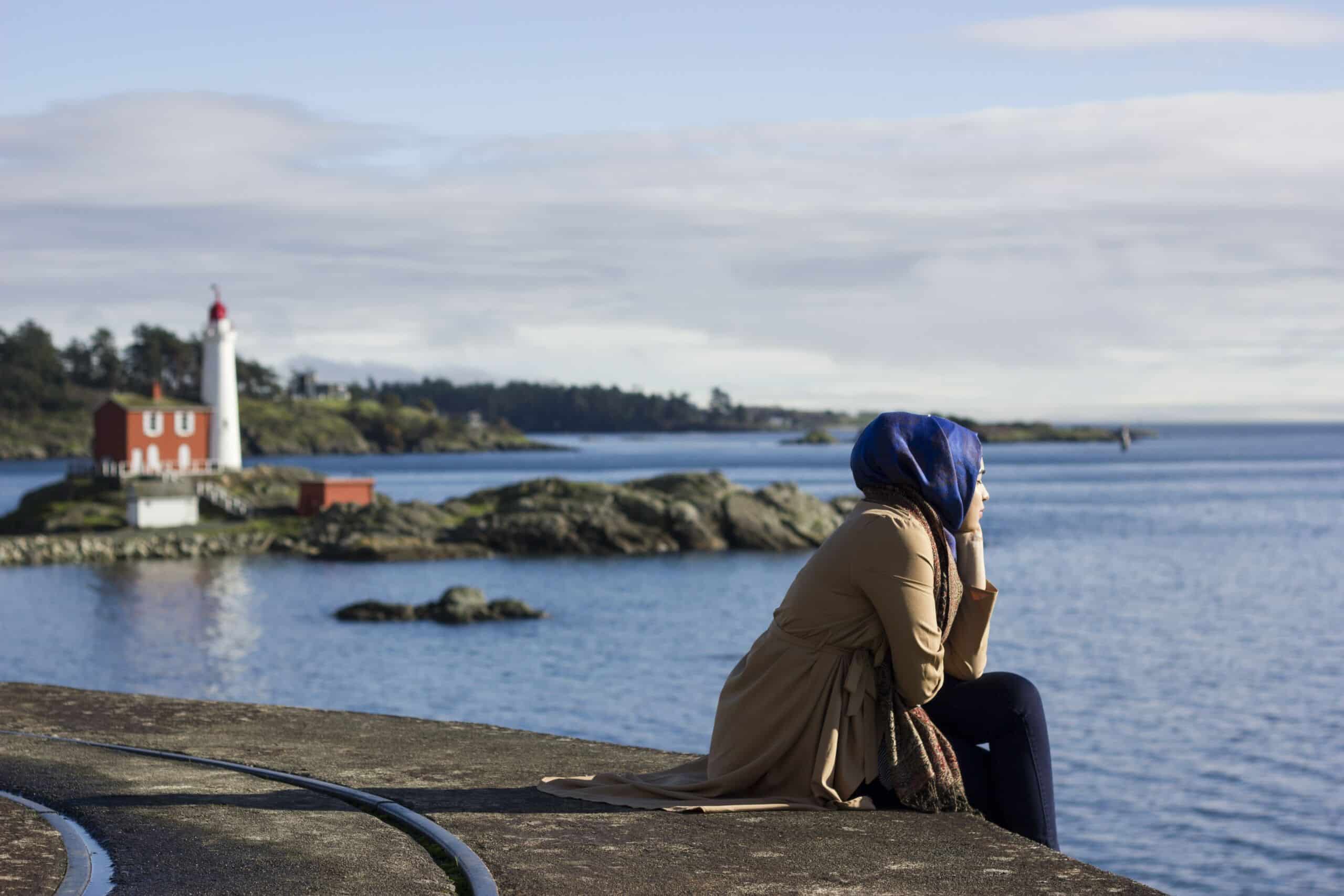 The above Muslim-friendly islands offer an idyllic paradise for honeymooners seeking a blend of natural beauty, cultural richness, and religious sensitivity. From the azure waters and pristine beaches to the warm hospitality and halal-friendly amenities, these islands provide an unforgettable experience for Muslim couples embarking on their new journey together.
Whether indulging in secluded romantic escapes or exploring historical sites and local traditions, the Muslim-friendly islands promise an enchanting and inclusive honeymoon experience that celebrates love, faith, and the boundless wonders of nature. Here, couples can create cherished memories while basking in the harmony of their surroundings, embracing the spirit of togetherness and embarking on a lifelong adventure hand in hand.
WE can help you find the top destinations for halal travel
You may also be interested in: