When someone says Sydney is a place like no other, it's true, and this applies to the state of New South Wales too. So what are the best places to visit in Sydney? What about the best places to visit in New South Wales? Almost everything is a must-see, taste, and do. Whether you're a nature lover, city explorer, food enthusiast, or go-with-the-flow-traveller, there is something for everyone.  From the vibrant blend of stunning architecture, and it's-a-vibe beaches, to its coastal charm, culture and natural wonders, you're in for an unforgettable experience. 
Let's jump right in on things to do in Sydney and things to do in New South Wales.
10 Best Places to Visit in Sydney and New South Wales
1. Sydney Opera House and Sydney Harbour Bridge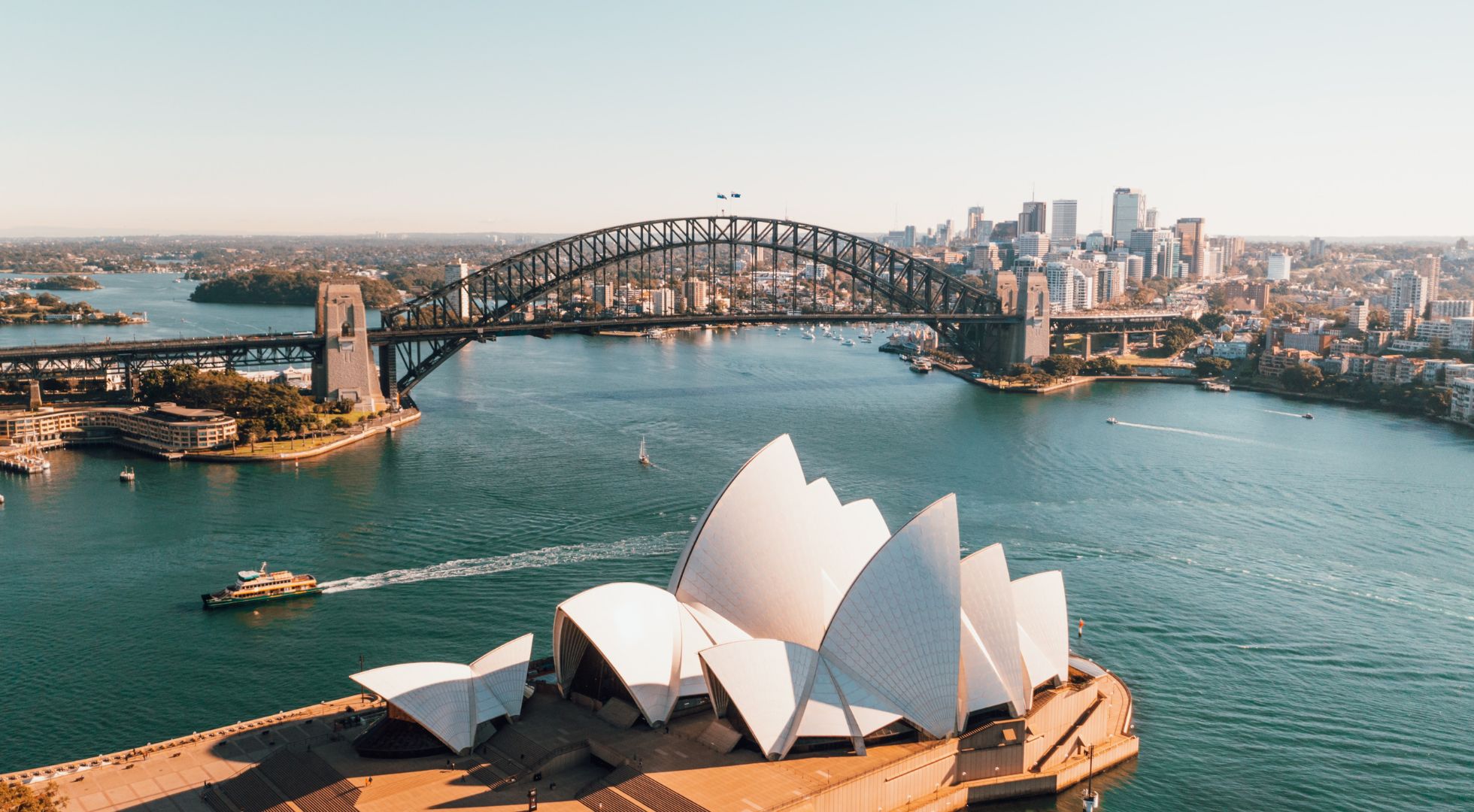 Naturally, your journey begins with the iconic landmarks that define Sydney's skyline. Take a guided tour to see the inner workings of the Sydney Opera House's unique design and architectural wonder. You will also learn about the history of the Opera House and the challenges that were faced in its construction.
Here are some of the things you can expect to see on a guided tour of the Sydney Opera House:
The Utzon Room, where the original architect, Jørn Utzon, worked on the design of the Opera House.
The Concert Hall, with its world-famous acoustics.
The Joan Sutherland Theatre, the largest theatre in the Opera House.
The Drama Theatre, where plays and musicals are performed.
The Studio, a smaller theatre used for experimental productions.
The rehearsal rooms, where performers prepare for their shows.
The dressing rooms, where performers get ready for their performances.
The orchestra pit, where the orchestra plays during performances.
Feeling a bit more adventurous? Walk, cycle, or climb the Sydney Harbour Bridge, affectionately known as the giant 'coathanger' to Sydneysiders. Experience this beast in all its glory on foot with stairs and lifts to climb up the bridge that will lead you onto a footpath. The guided climb varies from a 90-minute to a 3.5-hour tour. There are different climbs available, depending on your fitness level and how much time you have.
The shortest climb is the BridgeClimb Sampler, which takes about 90 minutes. This climb takes you up the lower arch of the bridge to the Pylon Lookout, which is about 87 meters above the water. The most popular climb is the Summit Climb, which takes about 3.5 hours. This climb takes you up the upper arch of the bridge to the Summit, which is about 134 meters above the water.
There are also other climbs available, such as the BridgeClimb Ultimate, which takes you across the entire width of the bridge, and the BridgeClimb Aboriginal Climb, which is led by an Aboriginal guide.
No matter which climb you choose, you're sure to have an unforgettable experience. Once you're up there, the magnificent 360 panoramic views will not disappoint. Sydney is no doubt one of the best places to visit in New South Wales.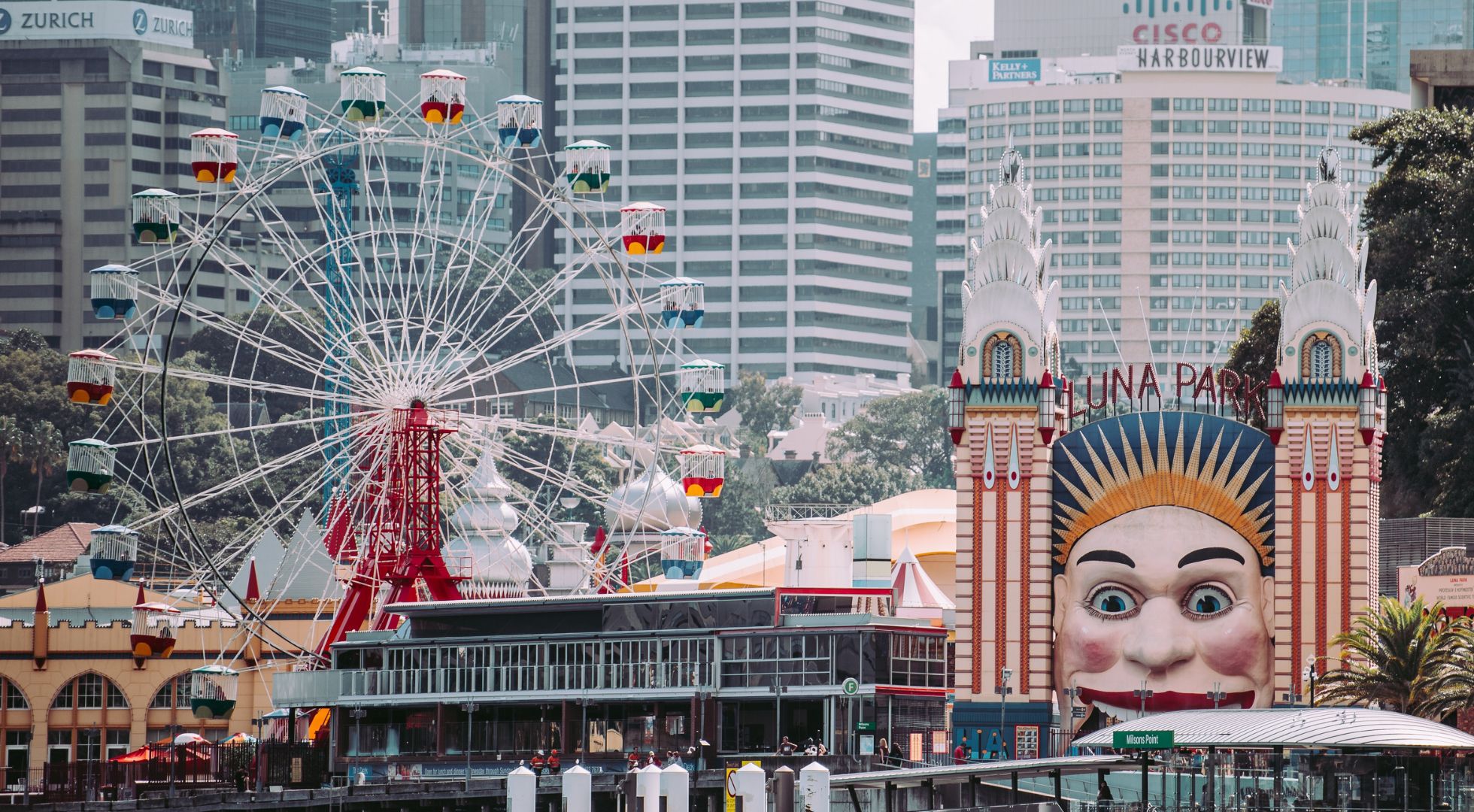 Luna Park is a heritage-listed amusement park located at 1 Olympic Drive in the harbourside suburb of Milsons Point, New South Wales, Australia, on the northern shore of Sydney Harbour. It is a rare surviving example of a 1930s Art Deco Amusement Park, which has historically represented escapism and frivolity for Sydneysiders. To this day, the park continues to bring joy and nostalgia to its Guests and a huge part of that is our team of talented performers who work hard to spread magic to every corner of the Park.
The park has a number of rides, including roller coasters, a Ferris wheel, and a ghost train. There are also arcade games, sideshows, and food stalls. Entry to the park is free, but you need to pay for rides and games. You can buy an unlimited rides pass, or pay per ride.
The park is open year-round, but it is busiest during the summer months.
2. Bondi Beach
If you're keen to swim, the most photographed Bondi Icebergs Pool is a 50-metre saltwater pool that comes with a sauna too. Don't know how to surf but want to because you're at Bondi Beach? No worries mate, sign up for a class and you'll be standing on that board in no time. And if you subscribe to Surfing is Life, then you know you need to check Bondi off your list. Or opt for bodyboarding if that's more your speed.
Here are some tips for surfing in Bondi:
Choose a time when the surf is not too big. The waves can get quite big at Bondi, especially during the summer months.
Take a lesson from a qualified instructor. This is the best way to learn the basics of surfing and avoid getting hurt.
Be patient. It takes time and practice to learn how to surf. Don't get discouraged if you don't get it right away.
Have fun! Surfing is a great way to get exercise and enjoy the outdoors.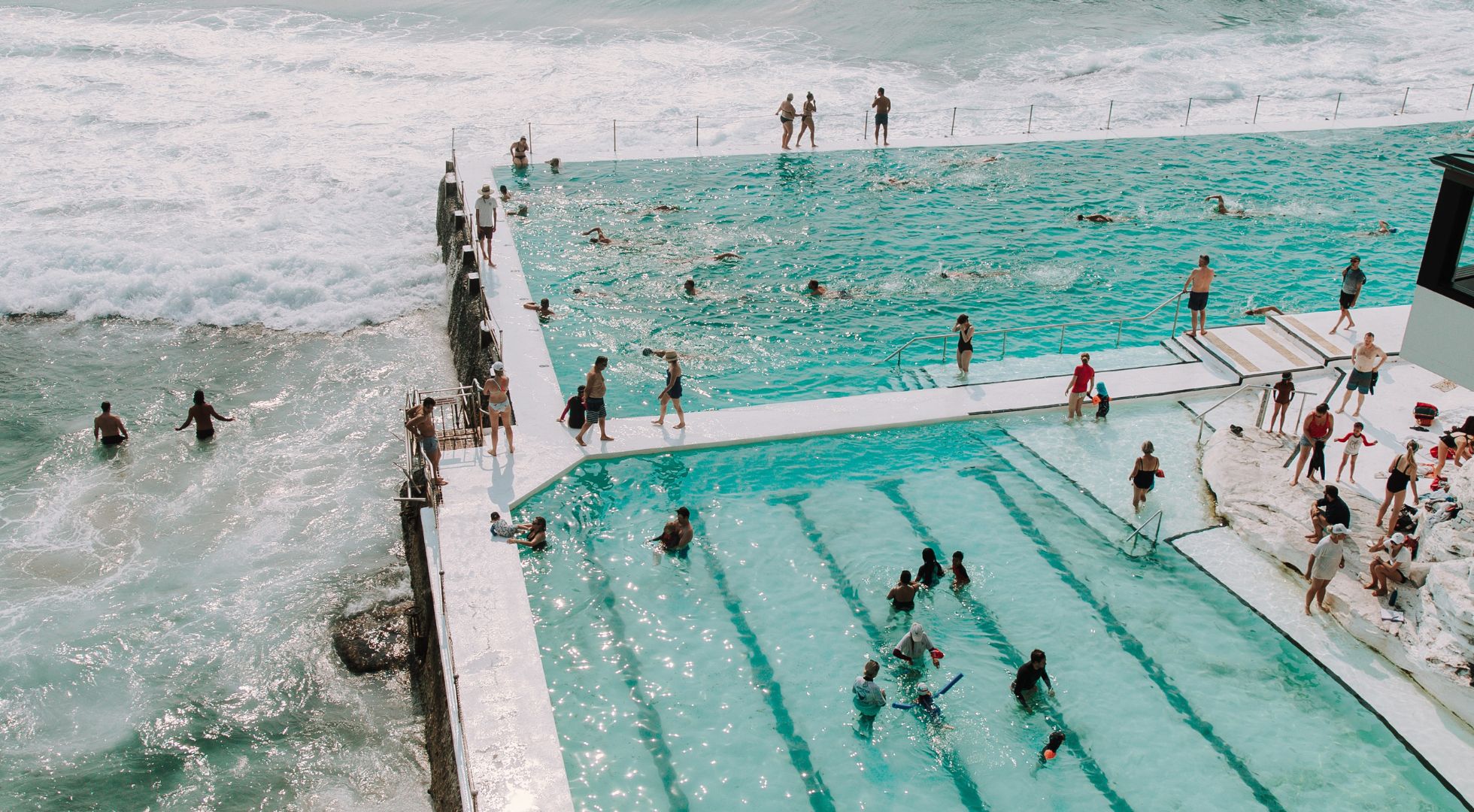 This sun-soaked haven for surfers and beach lovers is a staple. 
Crystal clear waters and a lively atmosphere, Bondi forms a life of its own. Whether you're there to catch some waves, lounge and relax, walk around, pop into trendy cafes and restaurants, or simply have a day to soak it all in, Bondi will stay with you forever. Definitely at the top of the best places to visit in Sydney.
Bondi Beach is one of the most popular surf beaches in the world, so it can be quite crowded, especially on weekends. If you're looking for a more relaxed surfing experience, you can try one of the other beaches in the area, such as Bronte Beach or Coogee Beach.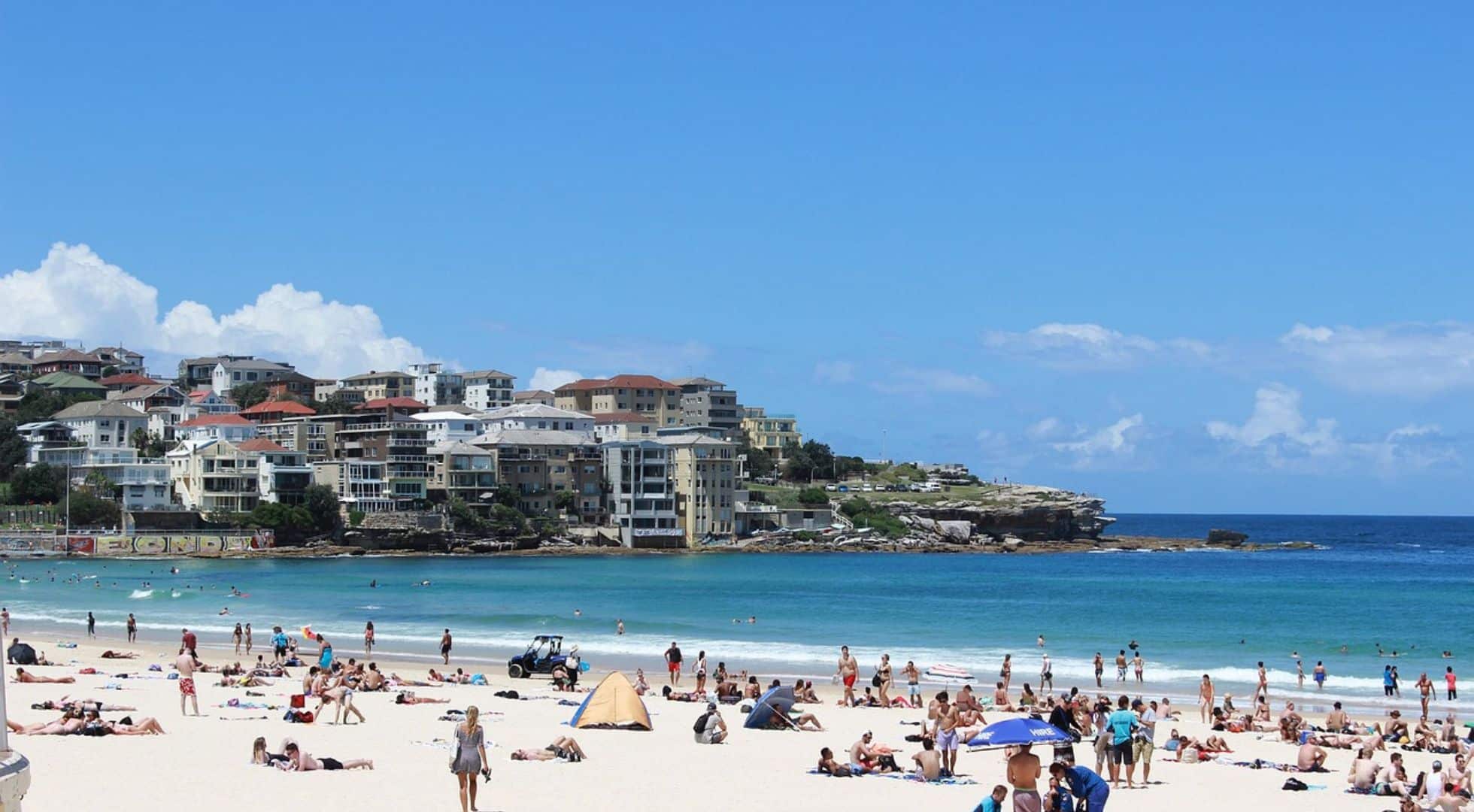 3. Blue Mountains
Just about 90 minutes out from Sydney the Blue Mountains is a must on any Sydney travel guide or generally just one of the best places to visit in New South Wales.
Hike through lush forests, enjoy panoramic views, and immerse yourself in nature's grandeur. There are many hiking trails in the Blue Mountains, ranging from easy to challenging. Some of the most popular trails include the Three Sisters Walk, the Katoomba Falls Walk, and the Jenolan Caves Walk.
The Blue Mountains boast rugged and dramatic sceneries including the iconic Three Sisters rock formation which can be seen from Echo Point but there's also a short walking path from Echo Point to see it up close.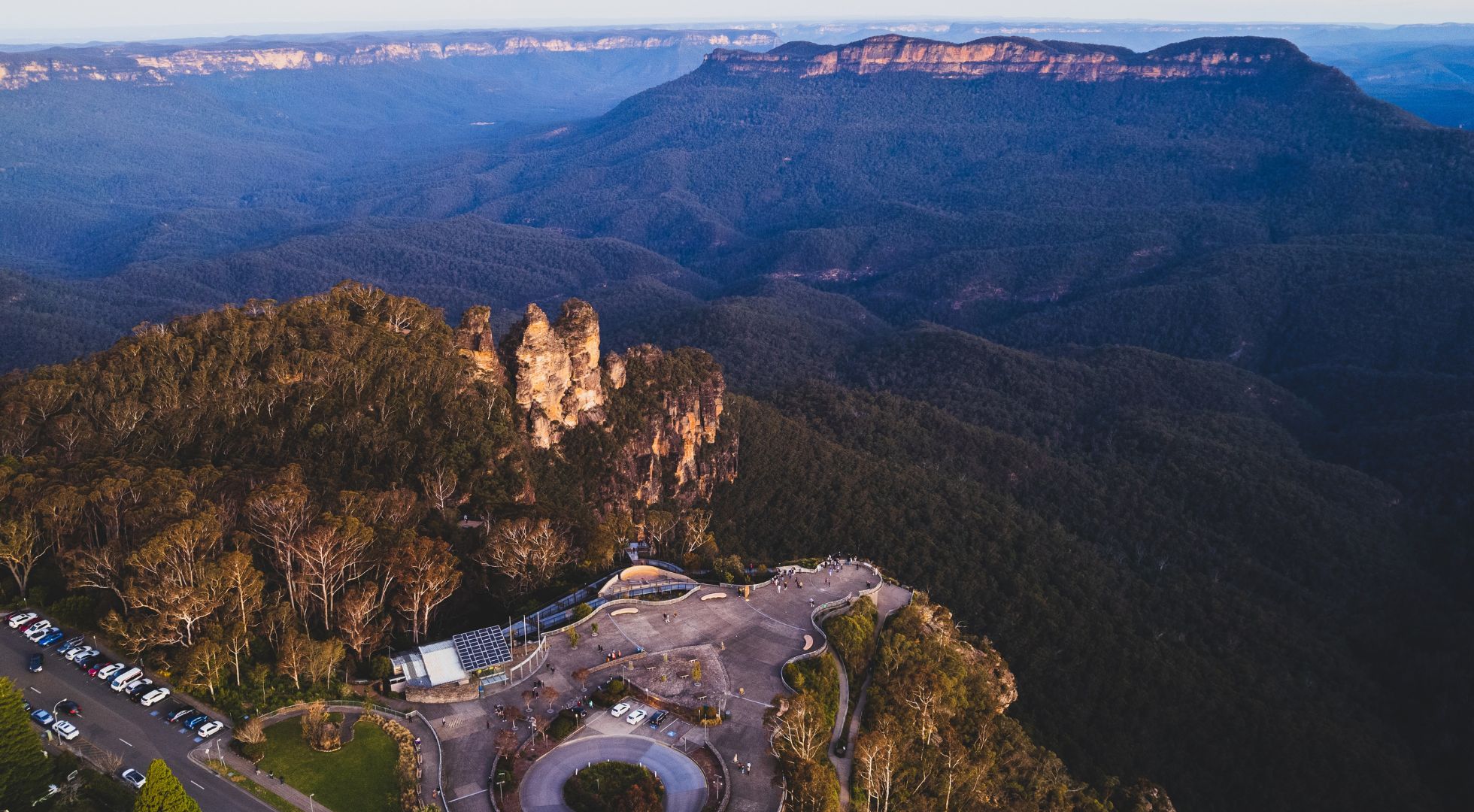 Katoomba Falls is also worth a stop while you're there. Take a walk from Echo Point along the Prince Henry Cliff Walk, past the Katoomba Cascades for an amazing view from the Cliff View Lookout. 
You can also try the Scenic Railway – a funicular railway that takes you up to the top of the Blue Mountains. From the top, you can enjoy stunning views of the surrounding countryside. You can also pay a visit to the Jenolan Caves, a system of limestone caves that are home to a variety of stalactites and stalagmites. You can take a guided tour of the caves to learn about their history and geology.
After a day of exploring, kick back, relax, and indulge in the best food, wine, and craft beers the Blue Mountains has to offer. You'll find casual to fine dining restaurants and cafes nestled on this mountain with stunning views all around. 
4. The Rocks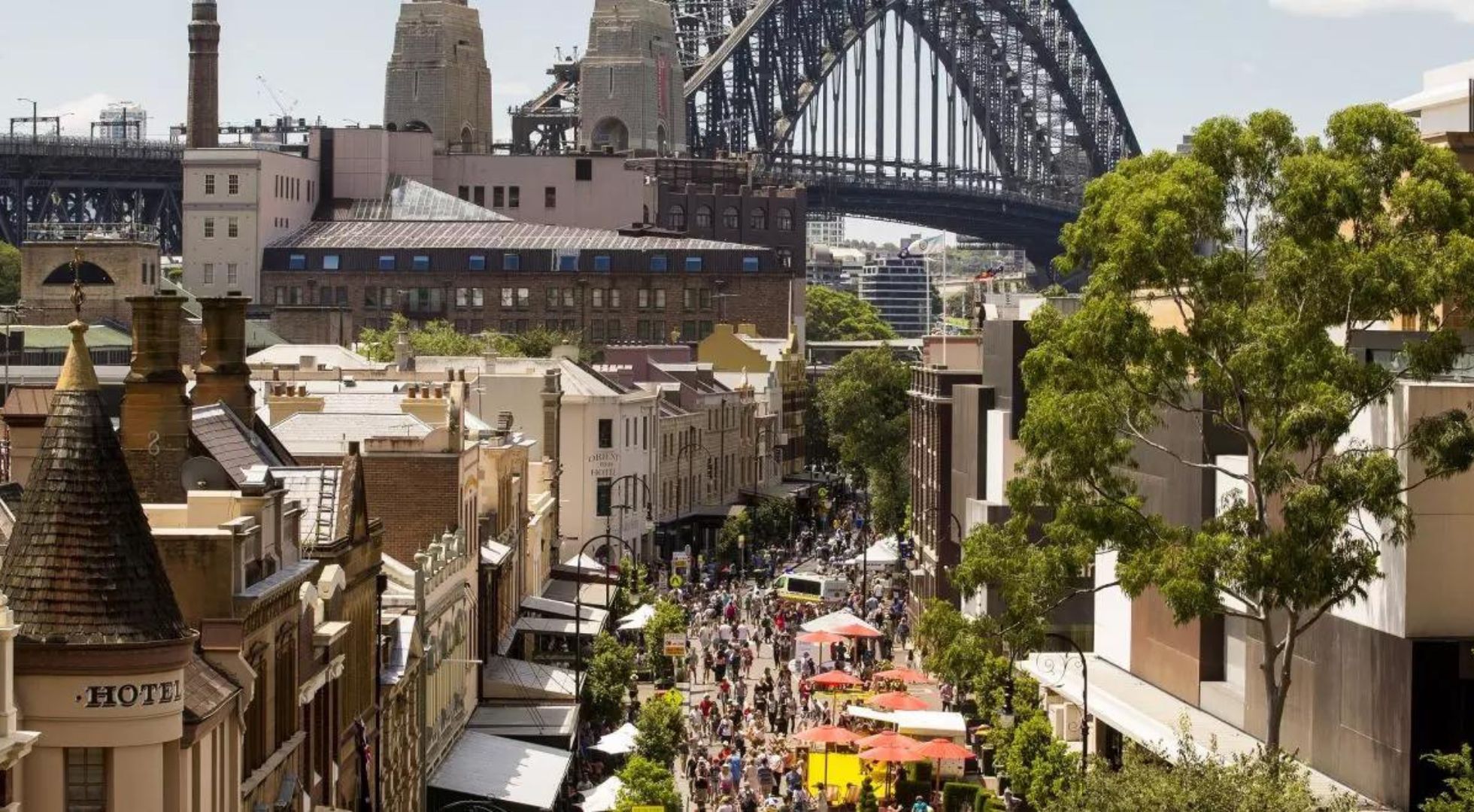 Immersing in the birthplace of modern Sydney is another one of the things to do in Sydney. Rich in colonial history, this thriving entertainment hub is located right by Sydney Harbour. Take a stroll along the cobbled streets to check out markets like The Rocks Market (open every Sunday), museums such as the Museum of Contemporary Art, galleries, and more. Walking tours and bicycle rentals are also available. 
Drop by some of the oldest pubs in town for a glass of cold brewski. Take your tastebuds on a round-the-world culinary adventure with modern Japanese dishes, Tex-Mex, Asian, and Middle Eastern flavours.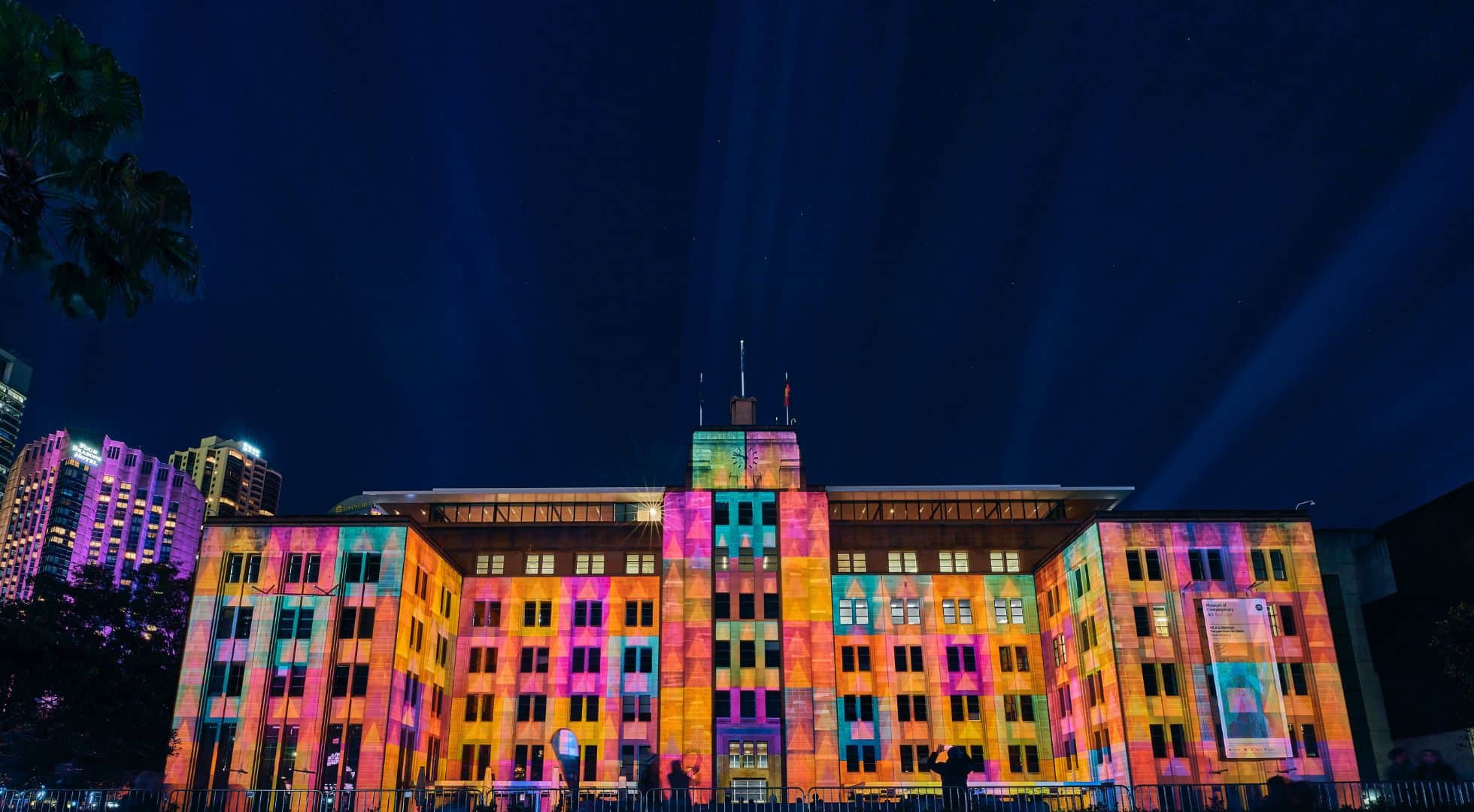 Dive into the history and culture with The Rocks Aboriginal Dreaming Tour on their connection to Sydney Harbour. The tour takes you on a walk through The Rocks, where you will learn about the Gadigal people's connection to the land, their culture, and their Dreamtime stories.
The tour is led by an Aboriginal guide who will share their knowledge and insights about the Gadigal people. You will learn about the plants and animals that are important to the Gadigal people, the traditional ways of hunting and gathering, and the Dreamtime stories that explain the creation of the world.
The tour also takes you to some of the important places in Gadigal culture, such as the Cadmans Cottage, the oldest surviving building in Sydney. You will also learn about the impact of European colonization on the Gadigal people and their culture.
The Rocks Aboriginal Dreaming Tour is a great way to learn about the rich history and culture of the Gadigal people. It is a unique opportunity to learn from an Aboriginal guide and to gain a deeper understanding of Aboriginal culture.
5. Manly Beach
Just a ferry ride away, Manly Beach is another stop on our Sydney travel guide. Known as the birthplace of surfing in Australia, it's also the more laid-back and relaxed beach. Take a scenic stroll or bike ride on walking and biking trails around the parks and gardens.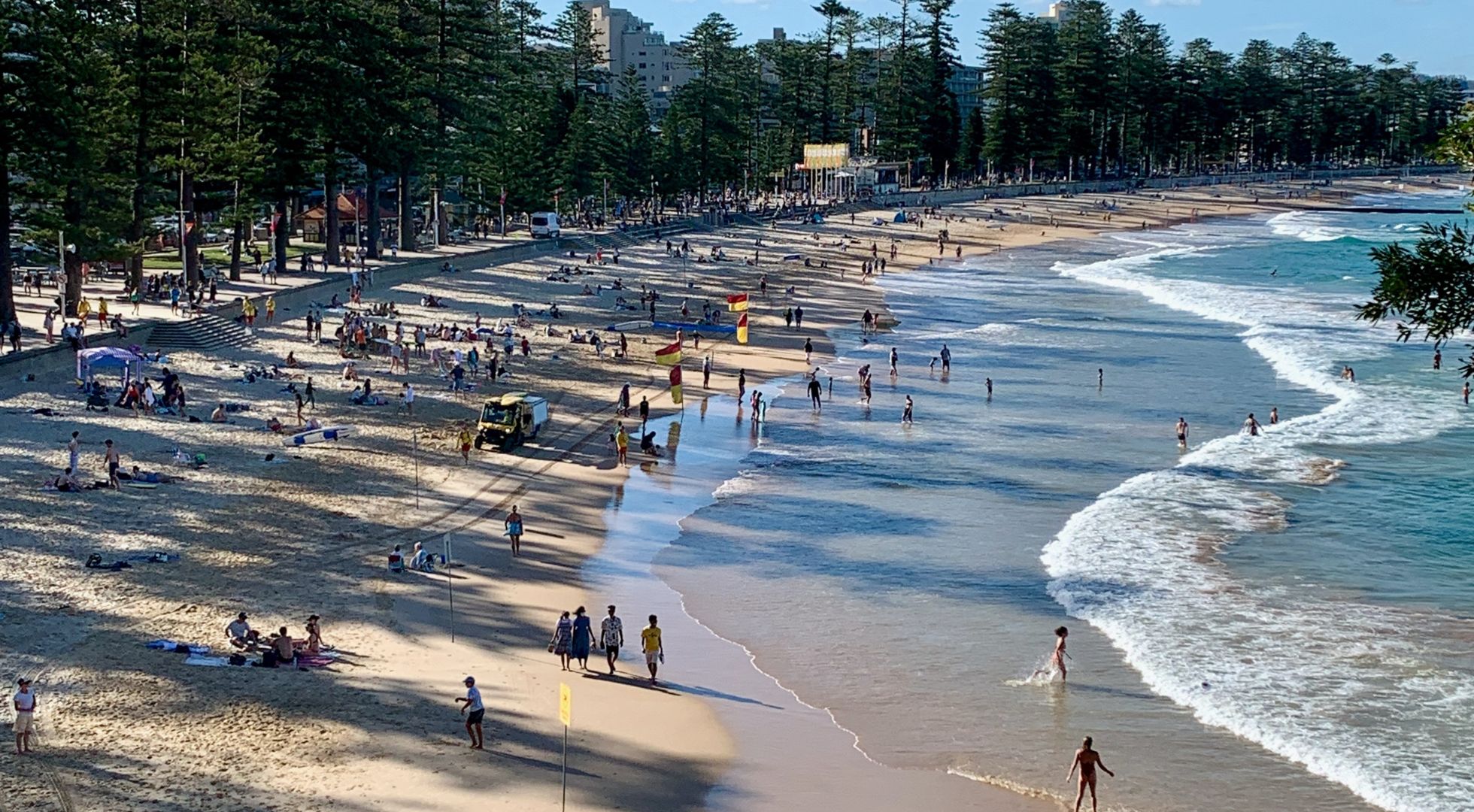 You can also snorkel at Cabbage Tree Bay, cook up a BBQ or go stand-up paddle boarding at Shelly Beach, rent a kayak for a paddle to Store Beach, and of course, surfing lessons are available.
What about food? Shopping? Plenty of cafes and restaurants to feast with a view such as The Bower overlooking the Fairy Bower pool, and shops to browse. If you're there on a weekend, check out the markets at Market Place. 
6. Hunter Valley
You've come to the right place! Hunter Valley is definitely on the list of things to do in New South Wales for any wine lover. There are several wine tastings and tours to suit your style; from a scenic wine and cheese tour to a wine masterclass to a premium food and wine tasting experience. It is home to over 150 wineries, and it is known for its Semillon and Shiraz wines. There are many different wine tours and tastings available in the Hunter Valley, so you can find one that suits your interests and budget.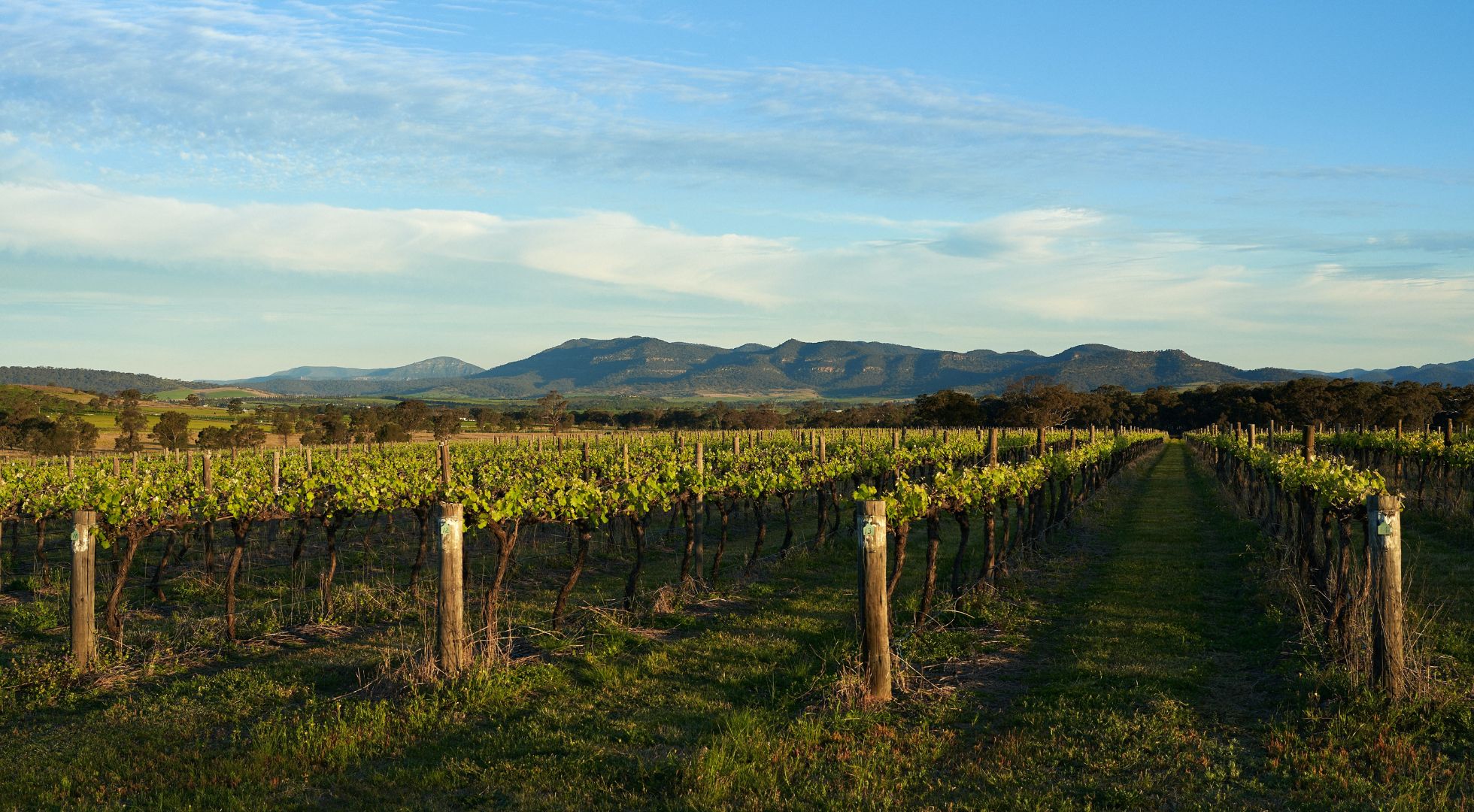 But don't worry there's more to Hunter Valley than just wine. Escape the crowd for a country experience. 
Go glamping in eco-friendly and portable mini houses and spend a night under the stars. Get up early and high up in the sky for a sunrise hot air balloon ride. Hop on an electric bicycle tour through vineyards for that fresh countryside air. Race around in go-karts for a more thrilling adventure. Have some fun hitting golf balls into floating nets with Aqua Golf. Or tee off for a full round at Hunter Valley Golf and Country Club. Make it a truly Aussie moment by kangaroo spotting in the vineyards either at dusk or dawn but from a safe distance as the roos are not tamed. 
7. Byron Bay
A laid-back coastal paradise, Byron Bay lures travellers with its bohemian spirit and breathtaking beaches. One of the best places to visit in New South Wales where you can embrace the surf culture and relish stunning sunsets over the Pacific Ocean. 
Take a 4km coastal trail walk or drive up to the beauty that is Cape Byron Lighthouse. At the lighthouse, you can take a peek inside, find out about the history, and stop for a coffee and a bite to eat at the cafe next door. 
See the local culture in the produce and craft markets Byron Bay has to offer. The Byron Bay Community Markets is known for selling handcrafted wares, locally-grown produce, and all sorts of artworks. Check out the Byron Bay Farmers Market too where you'll find a range of fresh and delicious fruits and vegetables.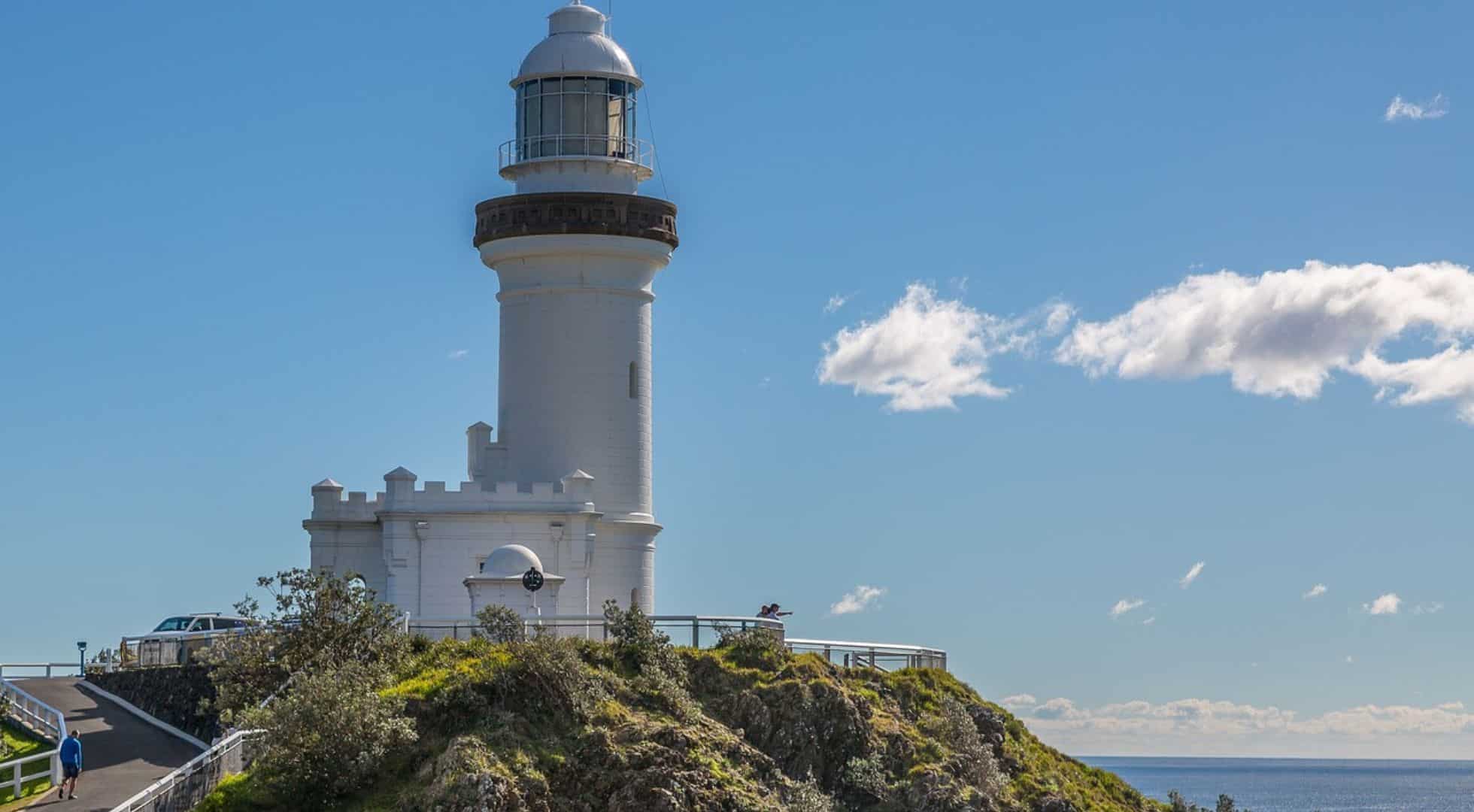 There is no shortage of pubs, bars, and restaurants to keep your bellies full and spirit merry. 
Byron Bay is also home to some long-standing music events such as the annual Byron Bay Bluesfest – Blues and Roots Festival usually held over the Easter long weekend.
About 60 kilometres west of Byron Bay, there's a sleepy little town called Nimbin. You might feel like you're being transported back to the 1970s when you're there. It's a place that attracts artists, musicians, environmentalists, and permaculture enthusiasts. 
Here are some of the things you can do in Nimbin:
Visit the Nimbin Markets: This market is held every Sunday and it is a great place to find souvenirs, handicrafts, and local produce.
Visit the Nimbin Gallery: This gallery showcases the work of local artists.
Take a walk or hike: There are many walking and hiking trails in Nimbin. You can take a stroll along the river, or explore the bushland.
Visit the Nimbin Aquarius Festival: This festival is held in April and it celebrates the alternative lifestyle of Nimbin.
Learn about permaculture: Nimbin is a great place to learn about permaculture, a system of sustainable living. There are many permaculture workshops and courses available in Nimbin.
8. Kangaroo Valley
As its name suggests, Kangaroo Valley is a valley and a small town in New South Wales with the Kangaroo River running through its rainforests and countryside. About 2.5 hours south of Sydney, it makes for a great weekend getaway.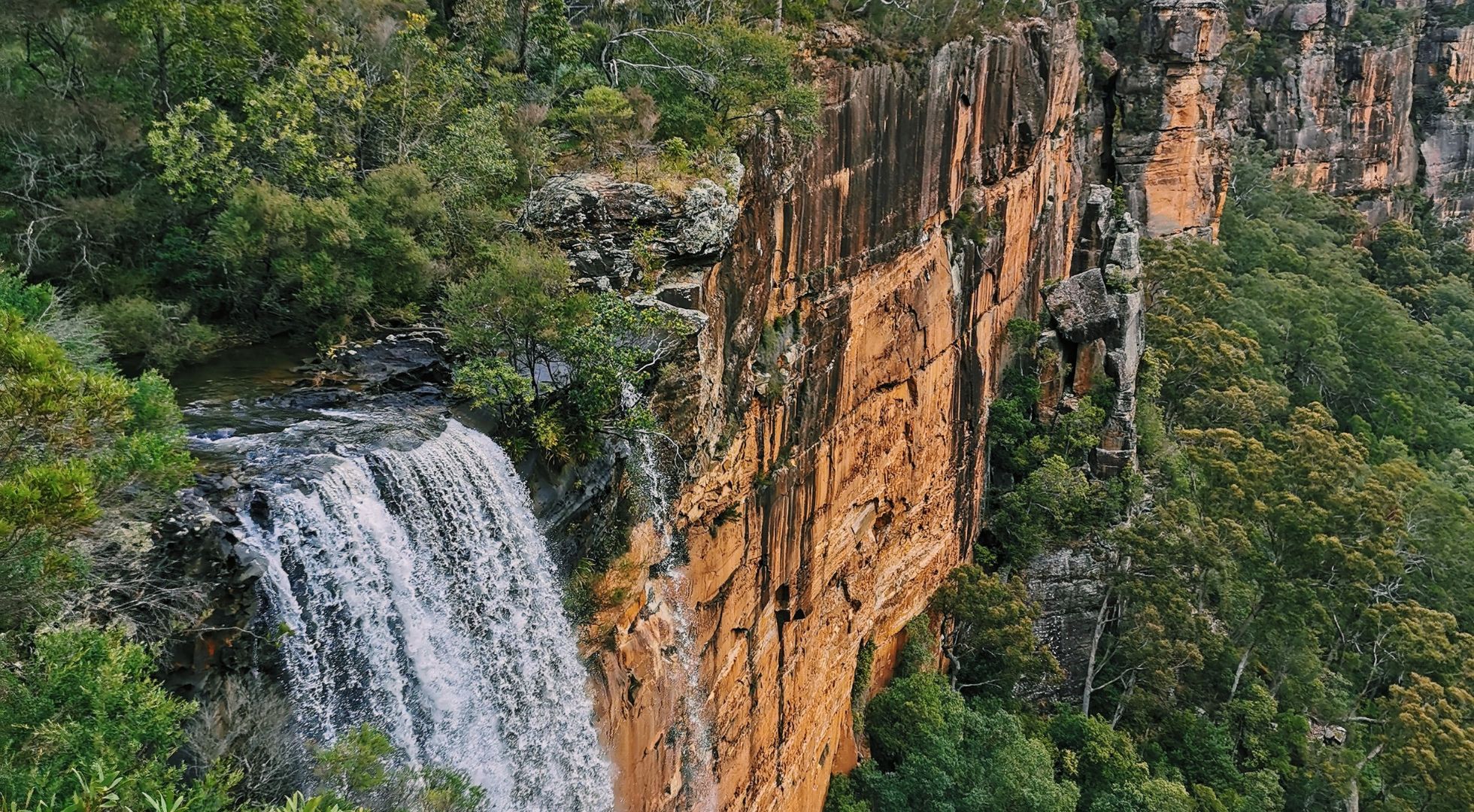 Kangaroo Valley is known as the place to spot wombats in the wild. Who wouldn't want to see a wombat? They're adorable. There are even signs along the roads warning of wombats crossing. Your chances of spotting a wombat are likely in the evening as they're mostly nocturnal. They're also shy so be sure not to startle them. 
Fitzroy Falls, a breathtaking waterfall cascading down a sandstone cliff face is not to be missed. The viewing platforms and walking trails around Fitzroy Falls offer panoramic views of the waterfall, the surrounding forest, and the expansive valleys. The national park surrounding Fitzroy Falls features a range of walking trails suitable for short, easy strolls, or a more challenging hike.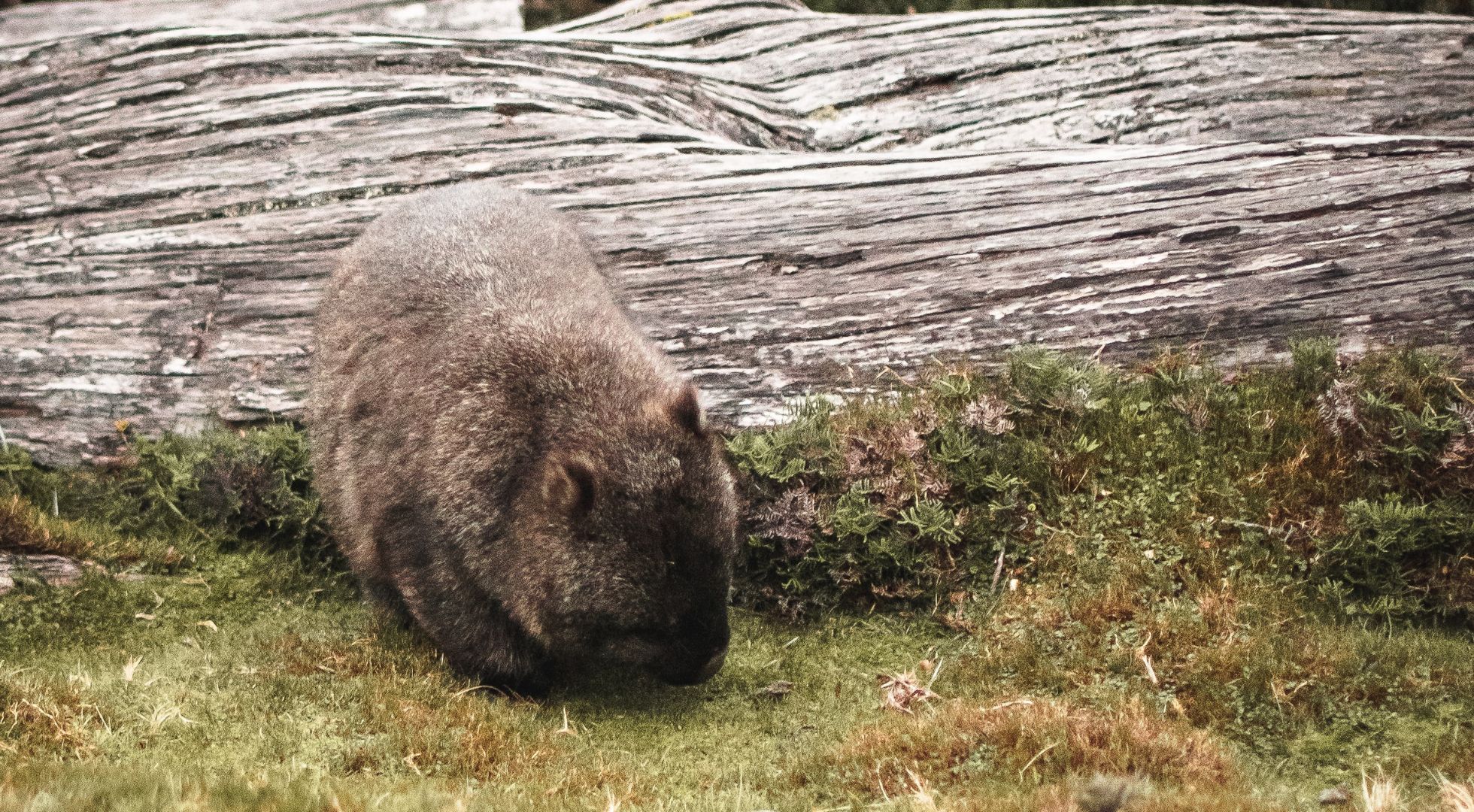 9. Kingscliff
Part of things to do in New South Wales is to visit Kingscliff which is a coastal town way up in New South Wales almost near Queensland. Located about 3 hours north of Sydney, it is known for its beautiful beaches, laid-back atmosphere, and abundance of wildlife. 
Cudgen Creek is a local favourite water playground. This estuarine waterway is perfect for kayaking, paddleboarding, canoeing and swimming for kids. Explore the calm waters, spot marine life, and enjoy the peaceful surroundings.
Rent a bicycle and go for a scenic ride on the cycling paths that meander along the coast.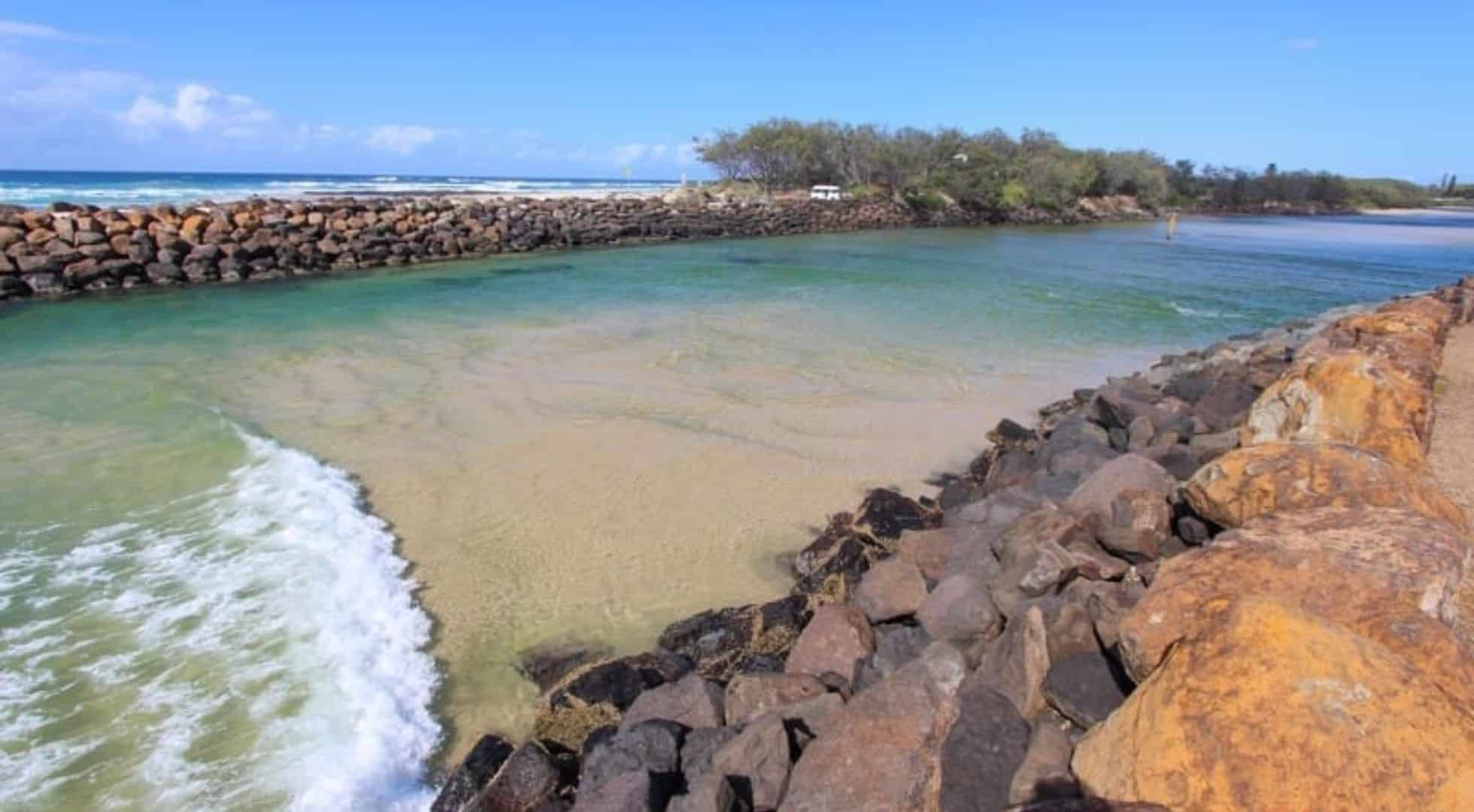 For a great day at the beach, hit the surf or just hang out at Kingscliff Beach. There's also a picnic area and amenities- how convenient. 
The town is known for its selection of cafes, restaurants, and eateries—freshly caught seafood, gourmet meals, and delicious coffee at your service. Kingscliff Bowling Club seems to be a popular place to eat with beachfront views. 
There's also a boat tour out of Kingscliff to Cook Island where you can snorkel with turtles. The island is a marine reserve and home to an interesting mix of reef, puffer fish, groupers, clownfish, stingrays, and of course turtles. 
10. Mudgee
Located 4 hours west of Sydney is a countryside for foodies and wine lovers, Mudgee is considered a hidden gem – it is one of the best places to visit in New South Wales in our books. 
Cycling here with fresh country air is the perfect way to explore this town. You can cycle between wineries, ride off the beaten track in beautiful bushland and explore national parks, heritage sites, and wetlands, or pedal your way to nearby historic towns. 
If you're visiting on a weekend, don't miss the local markets. You'll find fresh produce, artisanal foods, cheeses, arts and crafts, handmade textiles, jewellery, pre-loved books, clothes and more.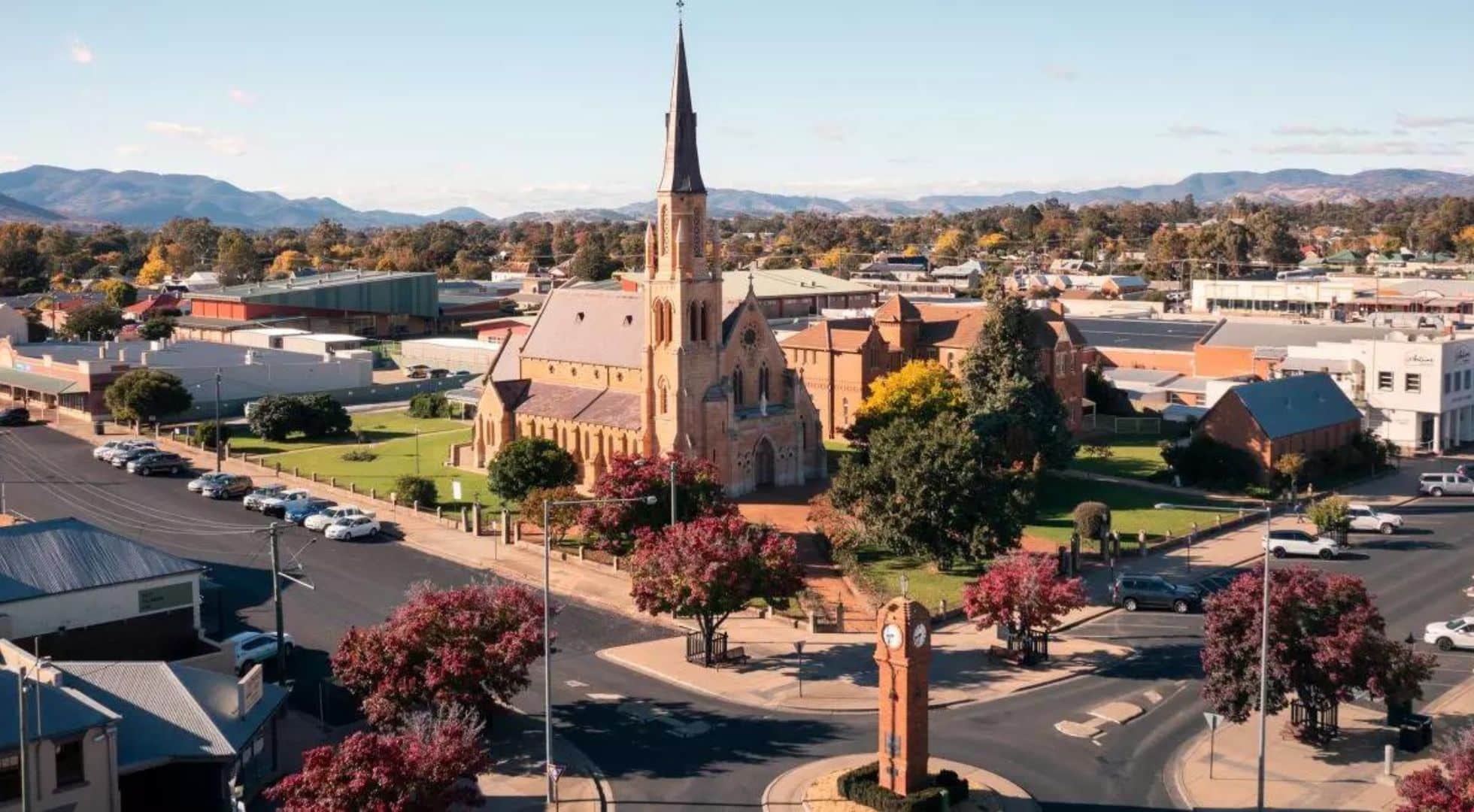 For a more immersive experience, there are several options to choose from.
Try your hand at making handcrafted spirits and liqueurs focusing on regional flavours at the Baker Williams Distillery.

Experience Mudgee from a whole new perspective by taking a hot air balloon ride over the picturesque countryside with Balloon Aloft Mudgee.

Explore the charming neighbouring towns of Rylstone and Gulgong. These towns offer historic architecture, boutique shopping, and insights into the region's history.

Mudgee hosts a range of art galleries showcasing local and regional artwork. Explore the vibrant arts scene and discover unique pieces.

Venture the great outdoors at Dunns Swamp also known as Ganguddy perfect for birdwatching, fishing, and canoeing or kayaking.

Endless family-friendly attractions such as the Mudgee Water Park, Adventure Playground in Gulgong, feed ducks at Lawson Park, check out the local skate parks, ride the Mudgee Miniature Railway, and you can't go wrong with some fun at a hole-in-one at putt golf.
Exploring these 10 best places in Sydney and New South Wales promises a journey of unforgettable moments and captivating experiences. From the iconic Sydney Opera House and the golden shores of Bondi Beach to the tranquil Blue Mountains, this region offers a diverse tapestry of natural beauty, cultural richness, and modern marvels.
Whether you're seeking adventure in the great outdoors or immersing yourself in vibrant city life, Sydney and New South Wales truly have something for every traveller. Each destination on this list unveils a unique story, a glimpse into the past, and a vision of the future.
PLANNING A Trip To Sydney and New South Wales?
You may also be interested in: