Are you looking for the best street art in Sydney? Prepare to be captivated by the vibrant street art scene that adorns the walls of New South Wales and its capital city. Strolling through its colourful alleys and hidden corners, you'll discover an awe-inspiring open-air gallery where creativity knows no bounds.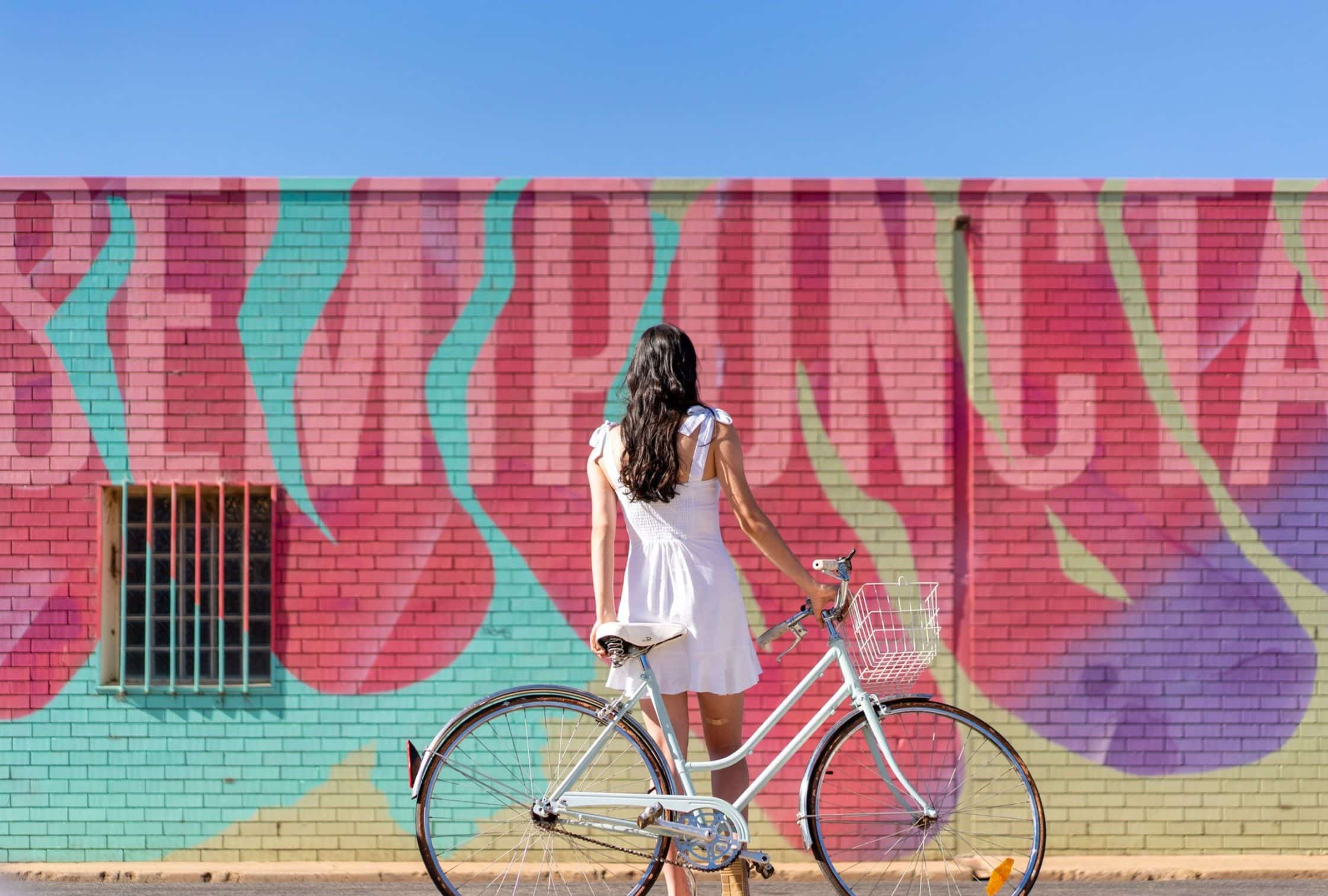 Best of all, admission is free, and you can take all the time you have to immerse yourself in the captivating masterpieces of shapes and colours that adorn the city's walls. When hunger strikes, fear not! Sydney is brimming with delightful eateries, ready to satisfy your taste buds and complete your unforgettable day out.
Fortunately, property owners often support Sydney street art and Sydney graffiti (legal street art initiatives), likewise in New South Wales (NSW). Larger-than-life artwork offers Instagram-worthy photo opportunities and a wonderful way to engage with the spirit and creative energy. Talented local and international artists reflect various themes as they draw the best street art in Sydney and NSW. The ideas behind these images extend from colourful and fun to thought-provoking and dark.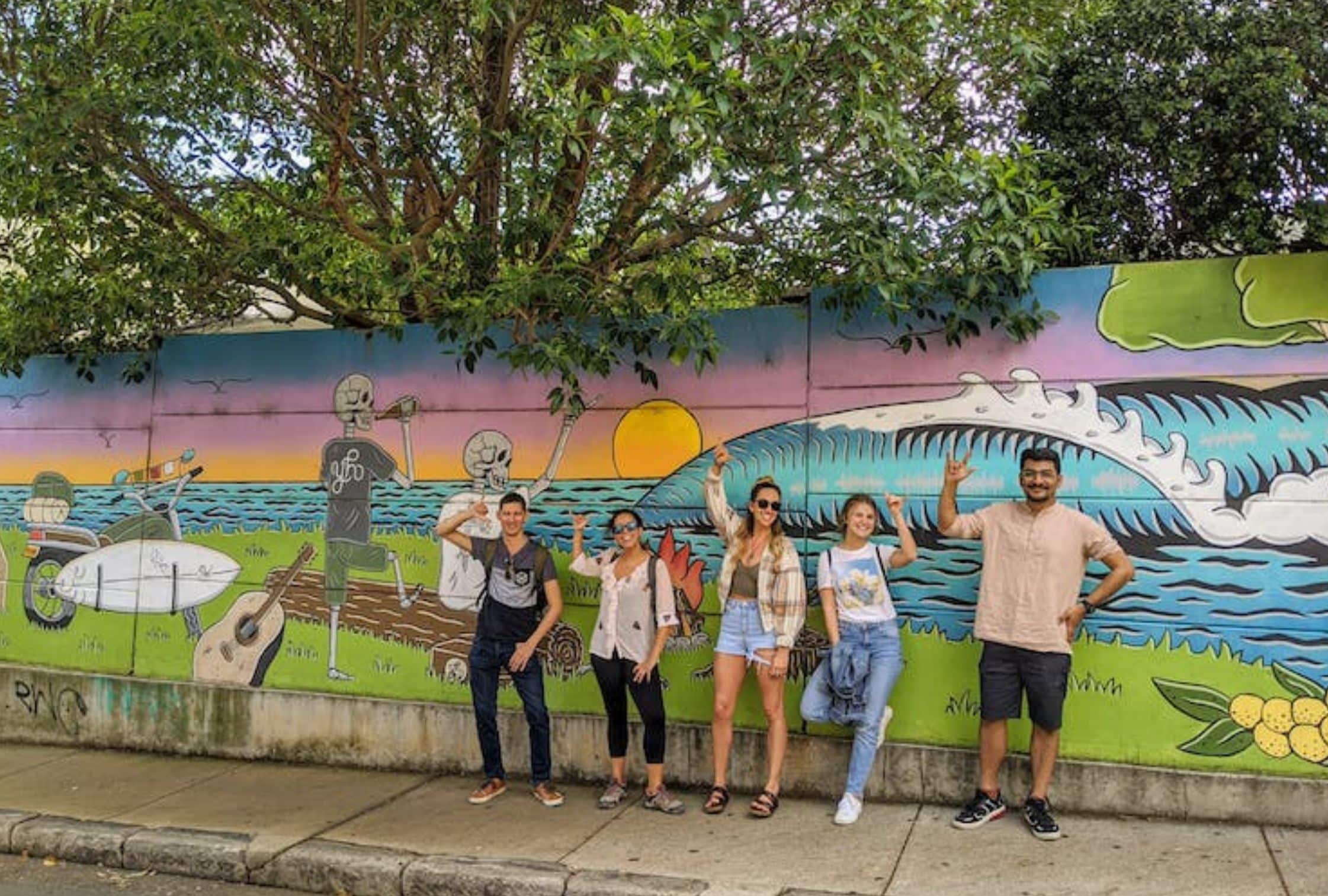 Main streets, alleyways, large buildings, in unassuming spots, there is always something interesting to see when it comes to Sydney street art or Sydney graffiti.  This is a dynamic, evolving art form. In other words, urban canvases on hotly contested spaces on premium real estate should be expected to change frequently, sometimes within a year!
This means you can keep returning to the same place on every trip to Sydney and enjoy a unique visual experience. Let's look at a few places to find Sydney's most intriguing and exciting street art. So as you know, we cannot feature pictures of some of these iconic artworks because of copyright issues. We decided to add a link to the artist's portfolio so you can view their work on their site. But nothing beats seeing Sydney street art and Sydney graffiti in person, and this is what we highly encourage you to do.
Street Art in Sydney: Top Hotspots
Newtown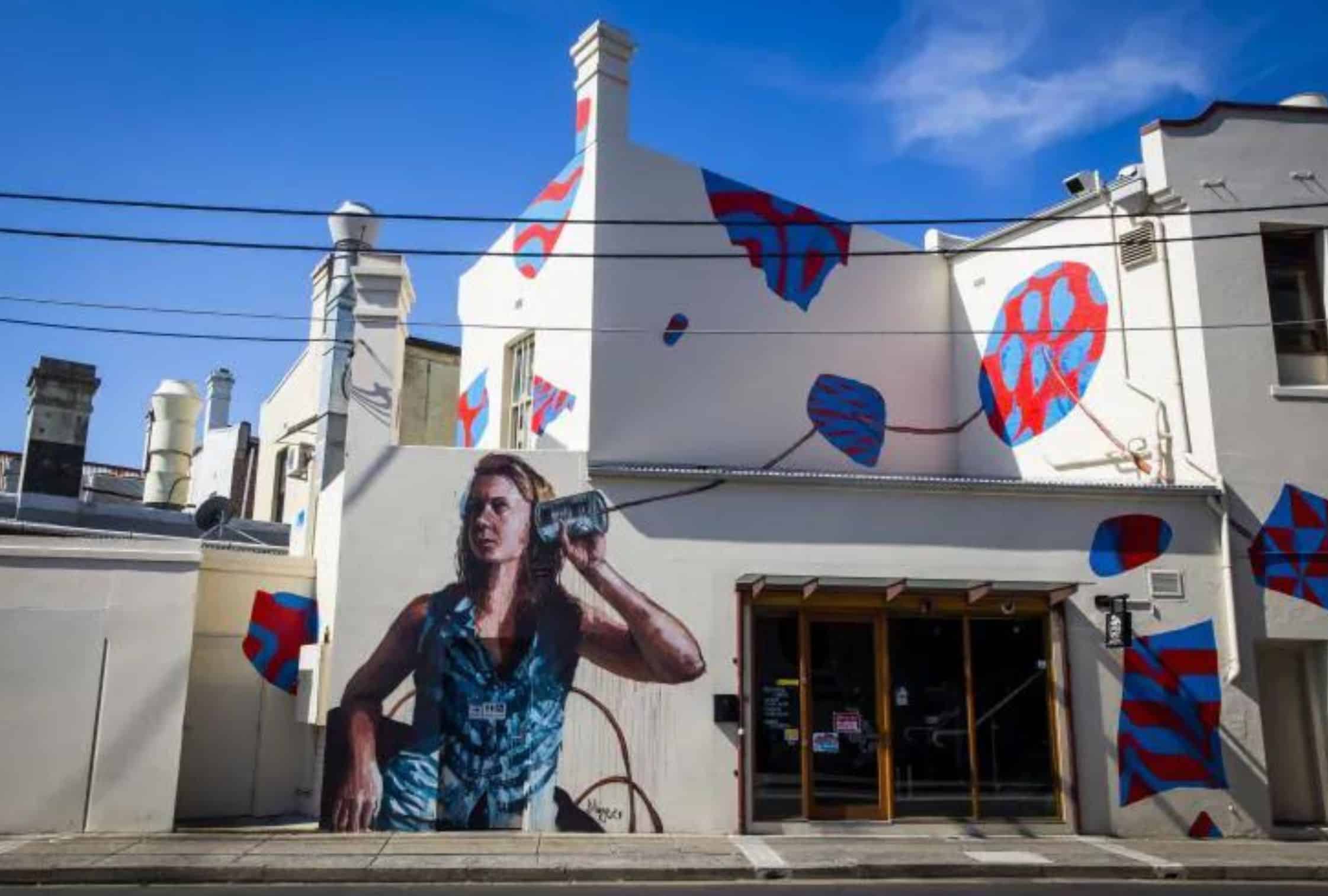 Newtown is the ground central of Sydney's mural art scene. This is a world-famous street art destination with masterpieces on every corner.  Newtown is southwest of the city centre and is ideal for those with limited time to check out street art. This area also has excellent food – burgers, craft beer, coffee, and cake.
One of Sydney's most famous street murals is on King St in Newtown. The "I Have A Dream" mural was created in August 1991. The inspiration behind it is said to be a call to fight for Indigenous Australian rights. In addition, the mural's location perfectly fits the reference to Martin Luther King Junior's iconic speech; I Have A Dream.
Have you heard about the famous UK-born, Sydney-based graffiti artist Steven Nuttall, aka Ox King? His murals can be found around Newtown. The most popular one is of a beautiful woman with two cats. Known as the "Promise", this mural depicts real-life Sydney socialite Eliza Emily Donnithorne, who was jilted at her wedding. She lived as a hermit and wore her wedding dress until she died.
On the other side of the "Promise" is a massive mural that covers a whole wall in a car park on Lennox Street. Then walk to the corner of Lennox and Mary Street, and you can find work by Australian visual artist Kyle Hughes-Odgers, called "Hide and Seek". Kyle is known for his great illustrations for children's books; the artist's murals playfully present the concept of nature and life.
Marrickville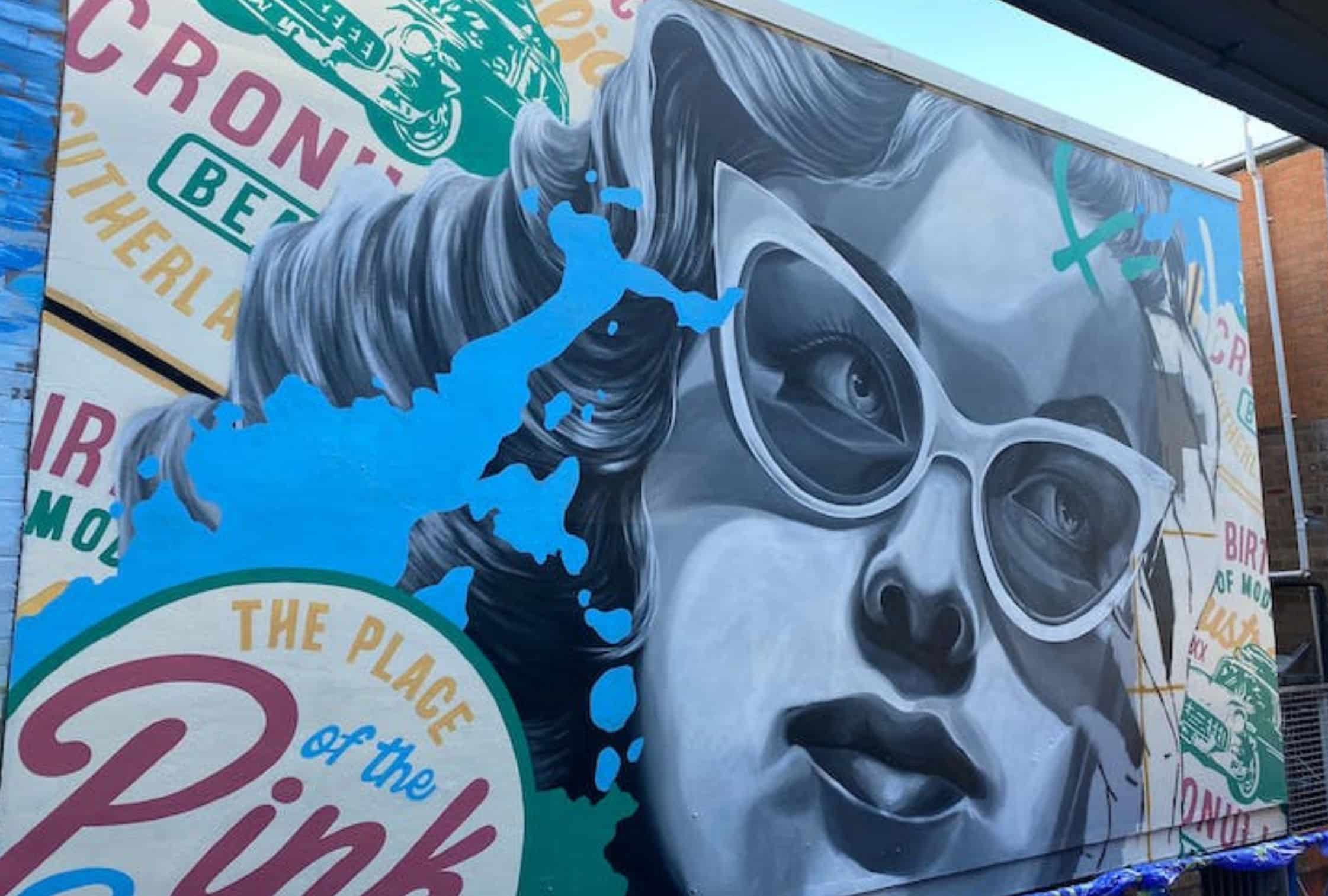 Street art fans visit and revisit Marrickville in Sydney. There is always something new to discover, and like Newtown, it is home to top craft breweries and eateries. You can find artwork on main streets, the back of warehouses, side streets and laneways.
A highly recommended walk is on Faversham Lane, off Faversham Street. This is a tiny industry lane, but there are many murals here, possibly over 100, all by artist Stuart Sale. An interesting one was drawn on a mattress and featured Eminem, aka Marshall Mathers. This piece of art is movable, so consider yourself lucky if you see it. Other interesting murals on Faversham Lane include Yoda, David Bowie, Jules and Vincent from Pulp Fiction. In an interview, Stuart Sale said his favourite work on Faversham Street is a large lion, which took two days to complete.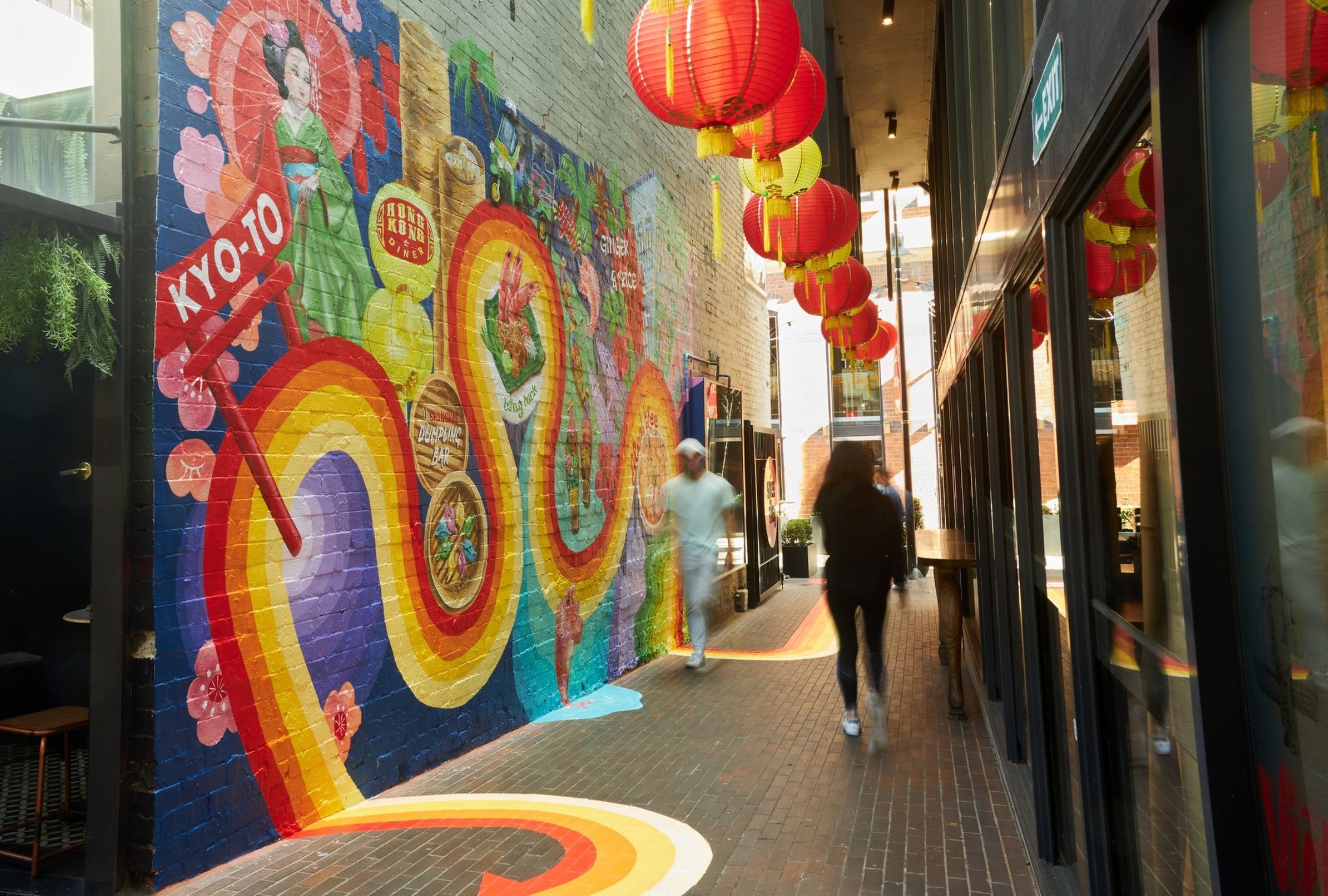 Guerrilla graffiti artist Future Shaper Scott Marsh collaborated with Hawke's Brewing Co to create a mural supporting Sydney's vaccination drive in Marrickville. The mural, completed in 2021, features a man that resembles former Australian Prime Minister Bob Hawke,  with two of his favourite things: beer and crosswords. A band-aid on Hawke's arm is printed with a QR code that directs you to a website filled with vaccine clinics. You can buy his t-shirt from the brewing company, which donates a small portion of the sale to a charity.
Scott Marsh is also the artist that drew a mural of Kanye kissing himself in a nod to the rapper's famous ego.  This mural, known as 'Kanye Loves Kanye', was eventually removed. The artist claimed he received $100,000 for doing so.
Chalder Street, Illawarra Road and Marrickville Metro are other places to find the best street art in Sydney. A large Vietnamese community lives on Illawarra Road, which means that this is where you can find some of the best Vietnamese food in the city. Marrickville Road is a main retail strip, and you need to look above shop signages to see elevated murals. Also, please look at the rear of buildings, on the sides, and car parks.
Surry Hills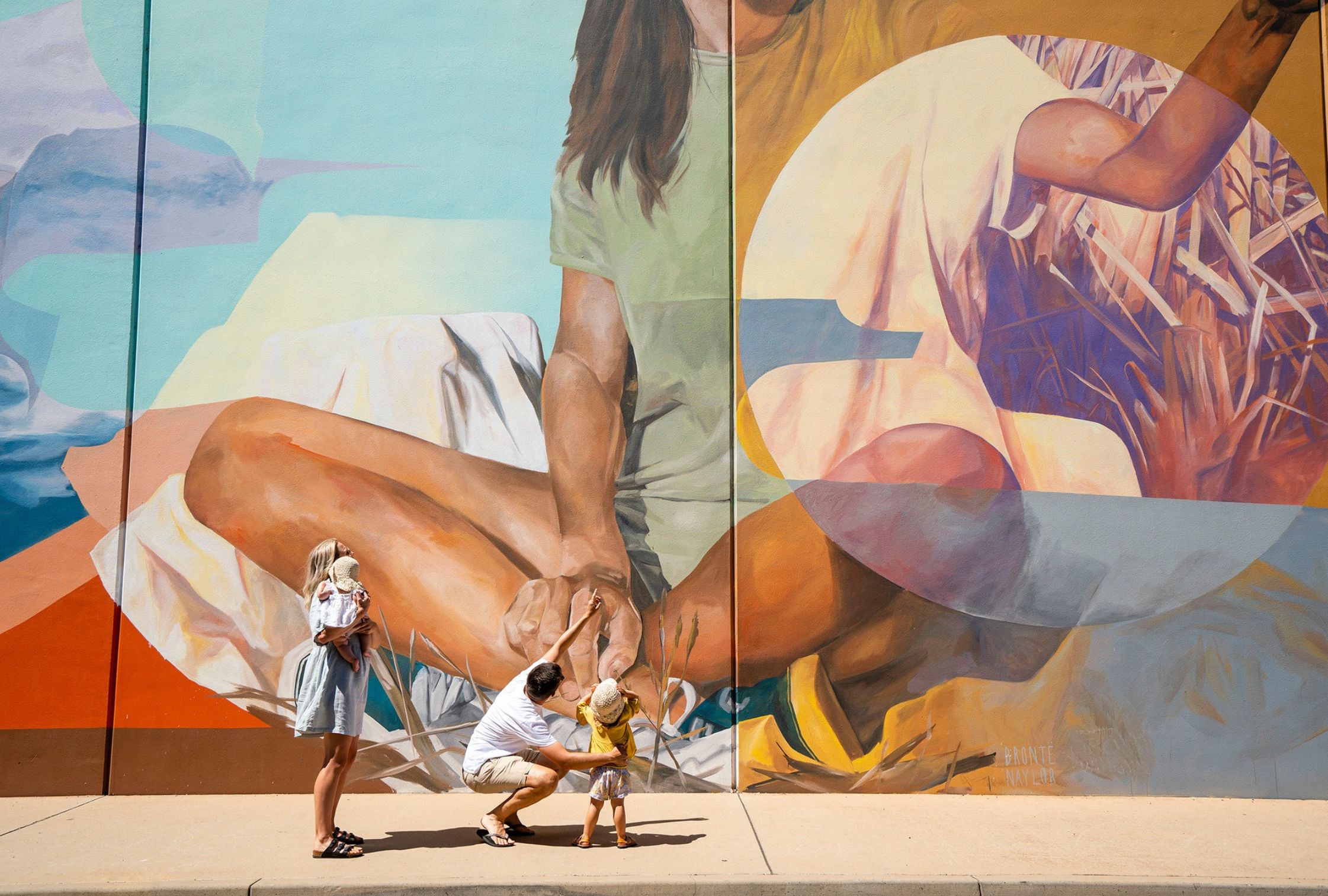 Trendy inner-city suburb Surry Hills has great street art that is frequently refreshed. Again you have to explore and look at side streets and laneways. Fitzroy Lane is known for interesting large art pieces from artists Reubszz and Crisp. Just off this Fitzroy Street is Hutchinson Place, which also features several murals. A highly recommended eatery on this street is Café Con Leche, a Colombian café. It serves authentic single-origin Columbian coffee and classic Columbian dishes.
"Housing Bubble" is a Surry Hills mural depicting a man on all fours struggling under the weight of a woman sitting on his back. She is trying to catch a little house floating on balloons.  This mural is on the front of The Urban Hotel on Enmore Road. This mural was inspired by the issue of unaffordable housing in the city, the gentrification and displacement of communities, and the impact of the housing crisis on ordinary people. The artist, Fintan Magee, dubbed the Australian Banksy, has painted many large-scale photorealistic murals worldwide.
Spice Alley, Kensington Street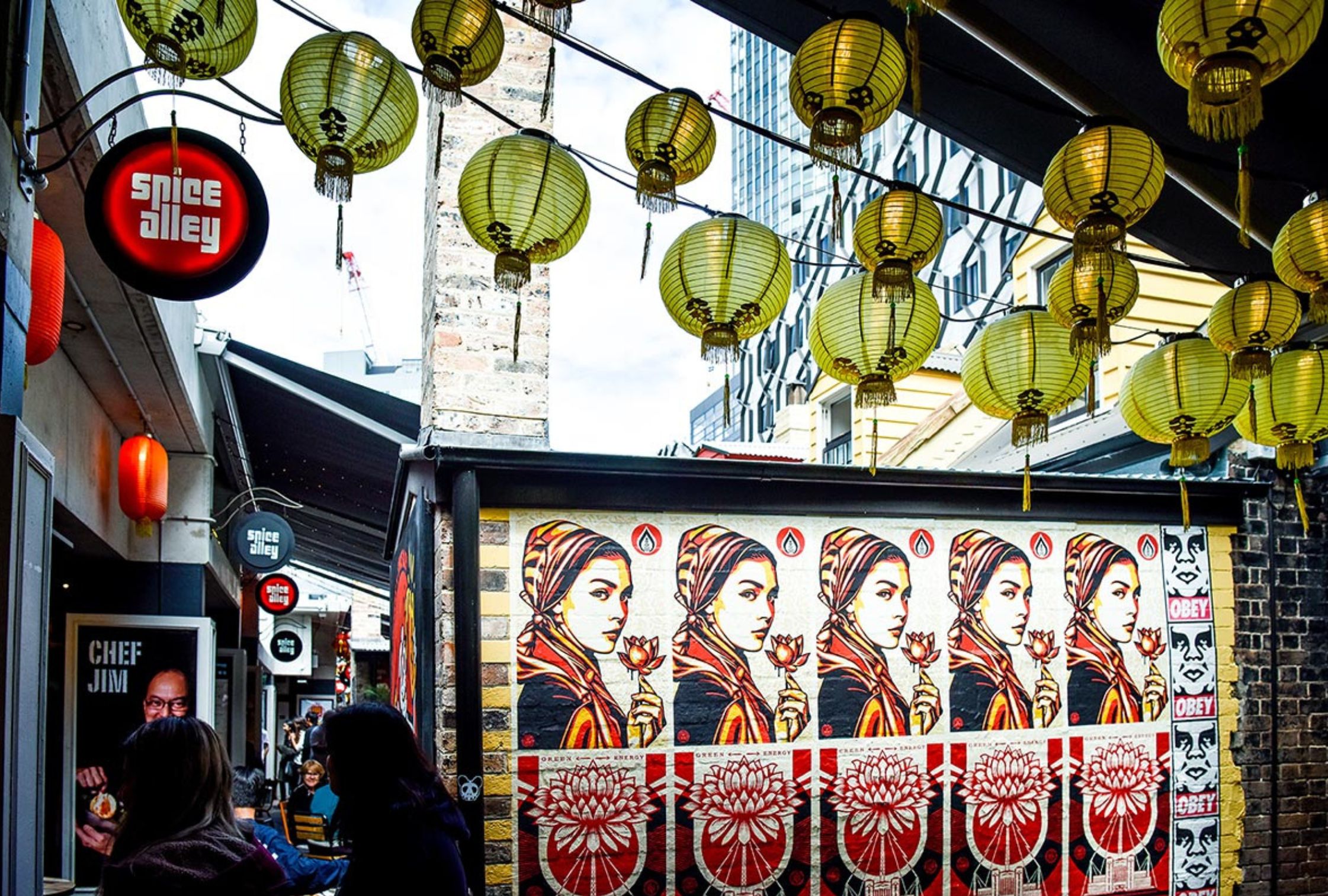 Food-obsessed Asian tourists hungry for street art must visit Spice Alley on Kensington Street in Chippendale. This alley proves that Sydney has its fill of incredible south-east Asian food and colourful kooky art.  You can dine on Singaporean, Thai, Japanese and Malaysian cuisine and feast your eyes on more artwork by Scott Marsh.
Looking around, you will find two murals of beautiful women by MCRT. Studio. One mural invites you to extend your boundaries, perhaps by trying a new dish. The other mural asks the eternal question of what makes us who we are.
Bondi Beach Sea Wall
Bondi isn't known for its street art. However, stop at the Bondi Sea Wall if you visit the beach. The Bondi Beach Sea Wall has been around since the late1970s and has featured a mix of street and contemporary art with strong social and political messages throughout the decades.
Over the years, the Bondi Beach Sea Wall has hosted the work of some of the best-known street artists across the globe. Featured artworks ranged from collages, stencils, pop art, text works, love notes and memorial portraits. Two murals have been endorsed for long-term preservation; "The Girl with a Frangipani in Her Hair" (dedicated to Chloe Byron, who died in the 2002 Bali bombing) and the Anzac commemorative mural.
Sydney Street Art: Notable Artwork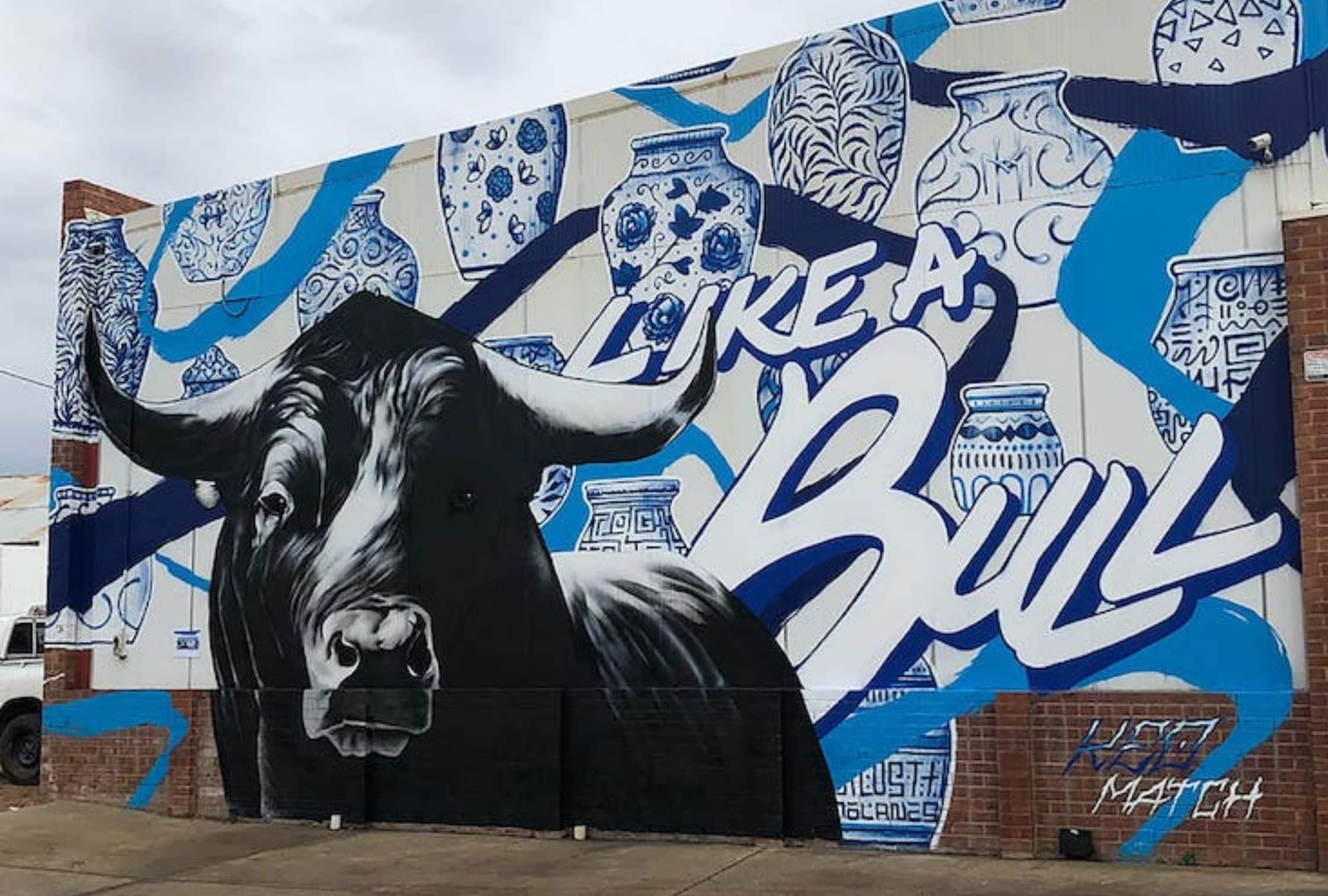 Many murals in Sydney and NW are nuanced with a politically-charged or inspiring message. Think of the iconic "I Have A Dream" mural in Newtown. While in the city, you should look at the striking face of Aboriginal elder Jenny Munro. This mural is on a white 10-storey building wall near Harbour and Goulburn Street near the Chinese Garden. Ms Munro looks into the distance, and a mountain sunrise is painted in her eyes. She is known for protesting the state government's plans to relocate public housing tenants in Waterloo.
The Woolloomooloo History Murals are a series of street art murals in Woolloomooloo, Sydney. Created in 1982, these murals depict the history and cultural heritage of the neighbourhood, including its indigenous and working-class roots. Eight of these sixteen murals are considered highly historical significance to the community.
New South Wales Street Art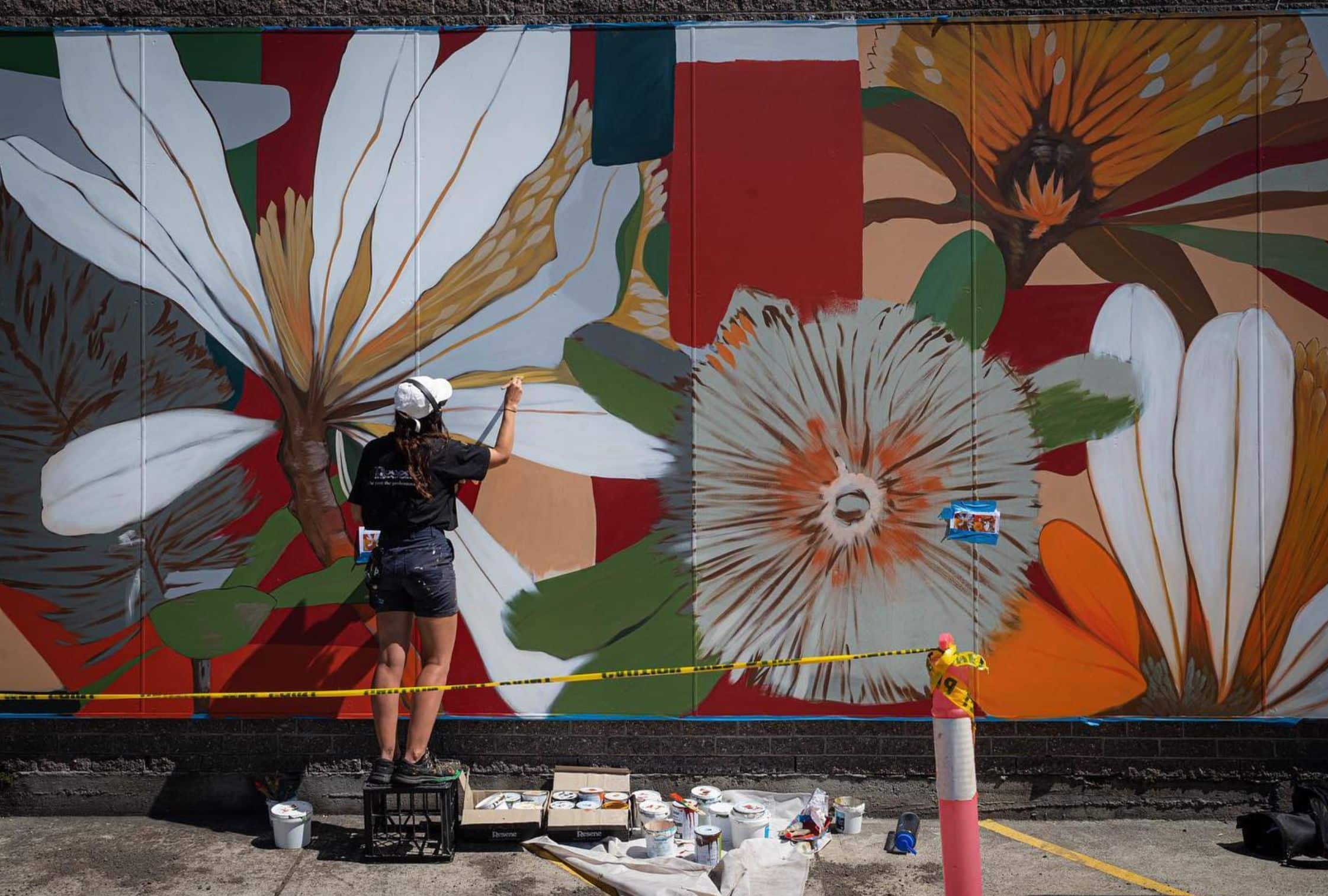 The Street Art Walk is a  community-driven cultural treasure of the Blue Mountains, NSW. It is located in Beverly Place, Katoomba, in the heart of the beautiful Blue Mountains. The iconic Three Sisters, Blue Mountain's most spectacular landmark, is only ten minutes away. The Street Art Walk is where you can find large-scale world-standard street art from all aerosol disciplines. Murals are constantly evolving, but you should be able to find stunning graffiti portraits of global indigenous people as well as waterfalls, butterflies and oversized apes.
Australia loves street art, and New South Wales has its share of street art festivals like other states. Here are some annual celebrations of colour and energy, which always provides good outdoor fun.
Chalk the Walk is where pavement artists do magic on the ground. This art festival started in 2005 and features local and international artists. If you stand in the right spot on the 3D artwork, it will look like you are floating in the air or balancing on a puzzle. Think of the photos that you could take!  Chalk the Walk will run from September 23 to October 2 in Newcastle this year.
Established in Wollongong in 2012, Wonderwalls Festival is Australia's largest and longest-running street art festival. This festival has produced more than 150 murals by more than 120 artists worldwide.   This festival was held in November 2022 in Port Kembla. This festival has yet to announce dates for its event in 2023. Do follow their Facebook page for updates.
Exploring the vibrant street art scene in Sydney is a journey that unveils a diverse tapestry of artistic expression. From the colourful laneways of Newtown to the thought-provoking murals of Bondi Beach, Sydney's streets are adorned with captivating masterpieces that reflect the city's spirit, culture, and social narratives.
Sydney offers an array of artistic treasures waiting to be discovered. So, immerse yourself in the dynamic world of street art, wander off the beaten path, and let the vibrant colours, bold statements, and hidden gems of Sydney's street art scene leave an indelible mark on your journey.
Ready to discover the best street art in Sydney?
You may also be interested in: