Bangkok, the capital of Thailand is on every traveller's wish list when they plan a trip to Southeast Asia. Filled with ancient temples, historical sites, natural beauty, and delectable culinary delights, Bangkok's friendly and laidback charm promises a great stay for an exotic adventure with a gateway to gorgeous sandy beaches in Pattaya for a memorable island holiday.
For the best travel experience in Thailand, we've narrowed down tourist hotspots in Khao Yai, Hua Hin, and Pattaya that won't disappoint!
Best Destinations For An Exotic Vacation
Wat Huay Mongkol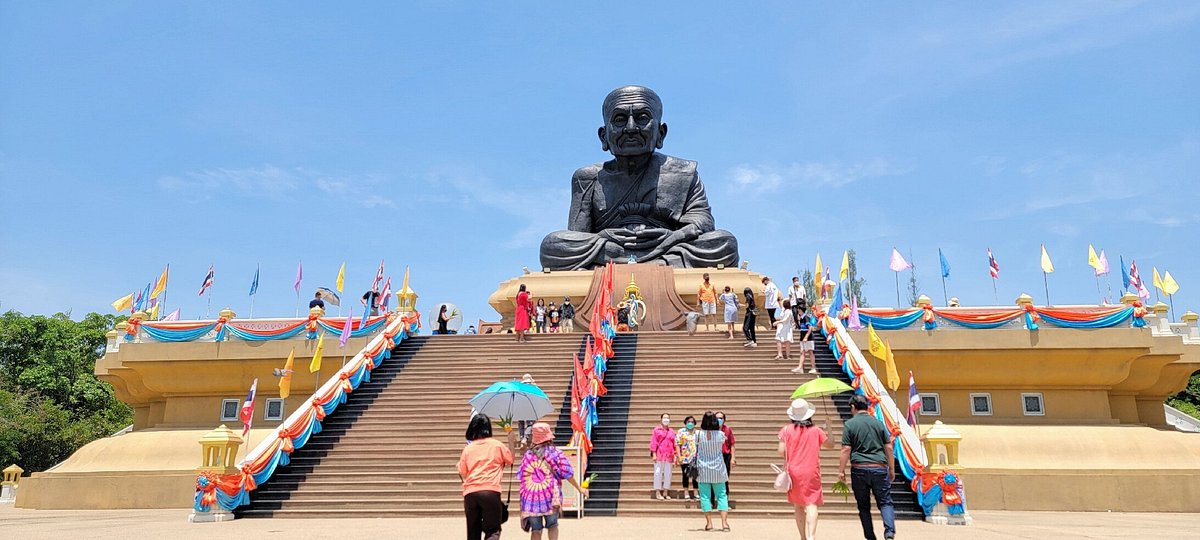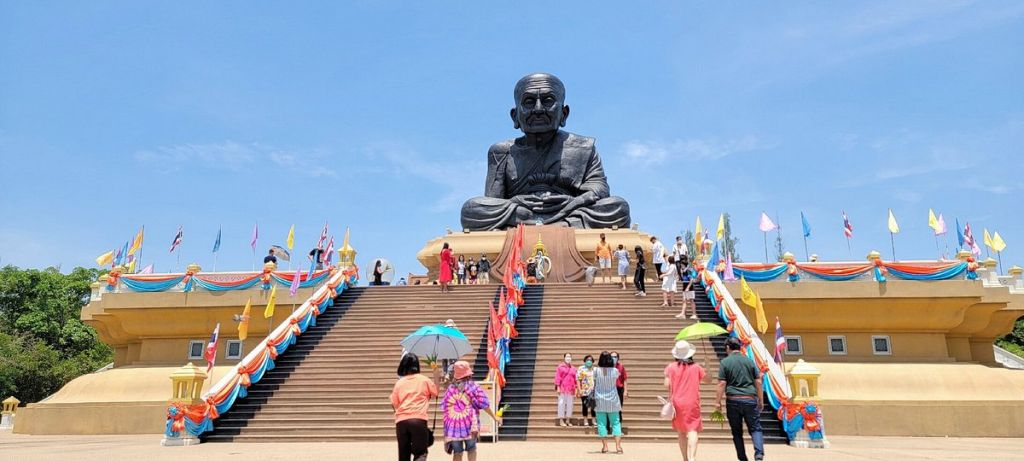 Wat Huay Mongkol is a complex of temples in Hua Hin dedicated to one of Thailand's most famous monks – Luang Phor Thuad – featuring a giant statue of him that stands 12 metres tall. Get a closer view by ascending the broad stairway at this popular tourist attraction. Locals come to the temple to pay their respects and pray for wealth, health, and happiness. Huge wooden elephant sculptures stand majestically on each side of the statute. Be sure to visit the Buddhist temple within the area or purchase amulets of Luang Phor Thuad for good luck. Stroll around the park and enjoy its relaxing atmosphere.
Laser Buddha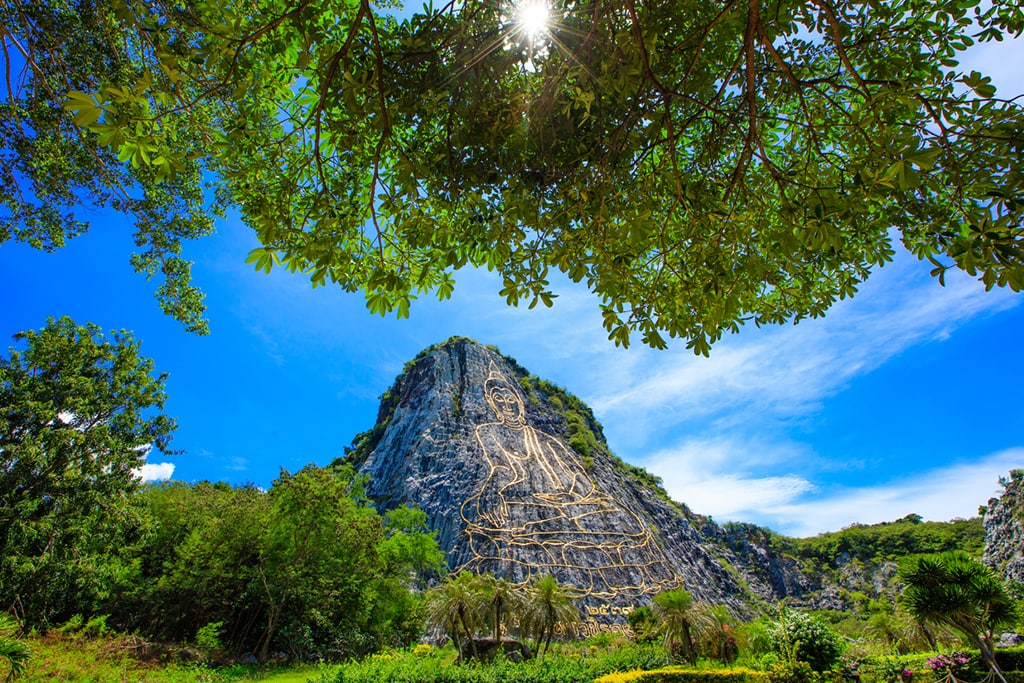 Located about 30 minutes from central Pattaya is one of Thailand's most famous landmarks, the "Laser Buddha", located on the northern side of the Buddha Mountain. The 70-meter-wide image of the sitting Buddha commemorates King Bhumibol Adulyadej's 50th year on the throne. Designed and carved on the rocks using laser technology, the gold leaf engravings took months to complete.
Hua Hin Heritage Train Station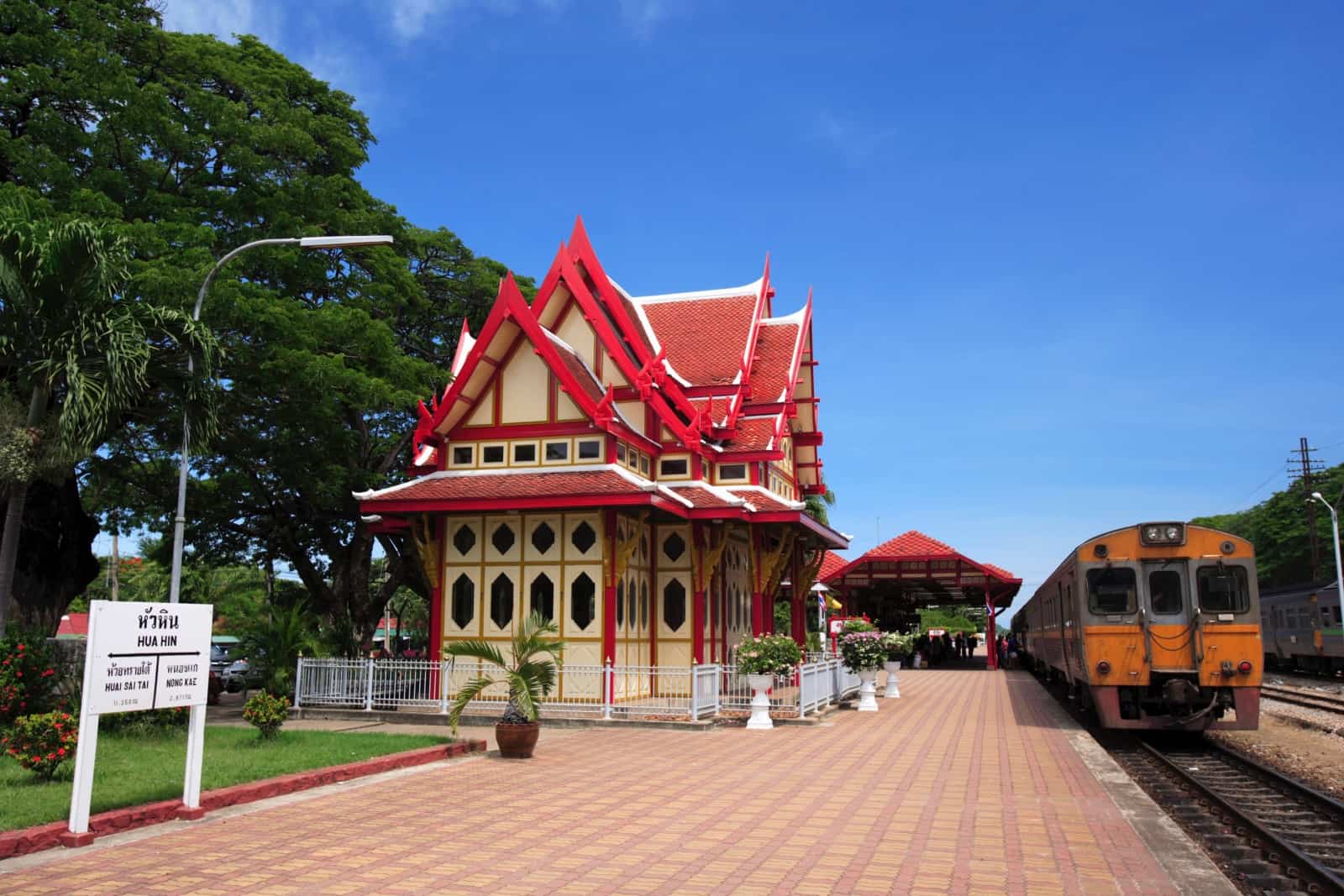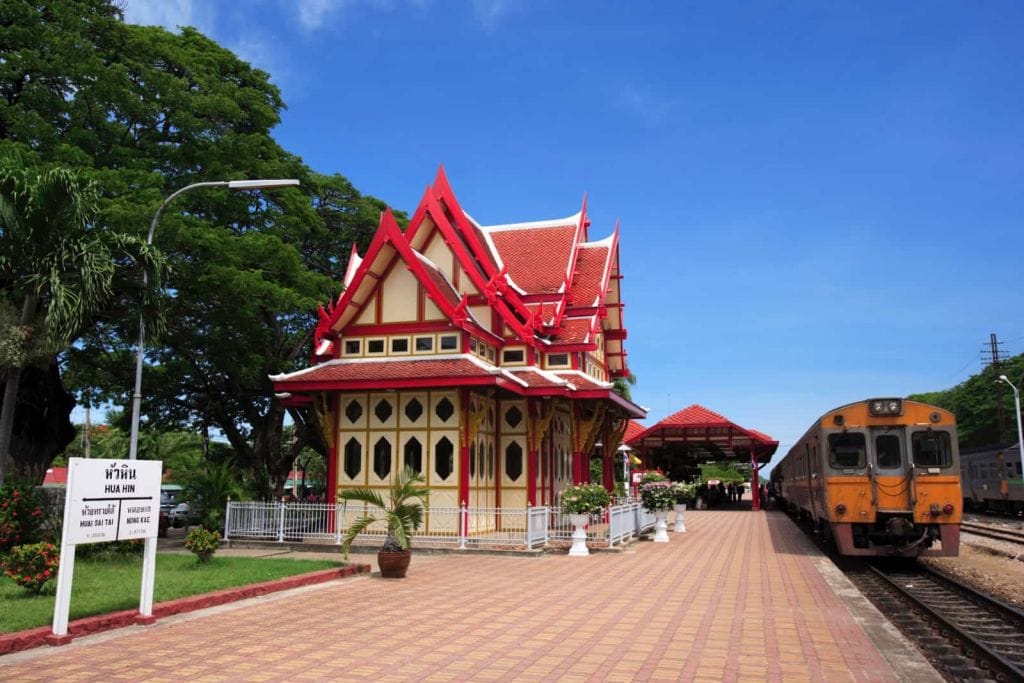 The iconic red and white building is the oldest and most beautiful train station in Thailand. Built during the rule of King Rama VI, Hua Hin was a popular seaside getaway for the royal family by train from Bangkok due to the lack of roads. Take a step back in time as you stroll around the brightly-coloured train station with a Victorian feel adorned with old-school light bulbs held by Thai mythological birds. Get up close with antique steam locomotives and visit the Royal Waiting Room with exquisite wooden pillar carvings once used by the Thai Royal Family during their summer retreat.
Damnoen Saduak Floating Market
An iconic feature of Hua Hin is the oldest floating market since the reign of King Rama V. The name "Damnoen Saduak," which means "going very convenient," denotes the strategic location of the market in the intersection of three provinces, Samut Sakhon, Samut Songkhram, and Ratchaburi. Over the decades, locals from these three provinces traded various goods from boats along the canal or "khlong." Take a sampan tour ride along the canal to shop for handmade souvenirs, paintings, artwork, herbs, and spices. Savouring authentic Thai delights prepared instantly by water vendors while cruising on a sampan along the canal is an experience not to be missed!
Pattaya Floating Market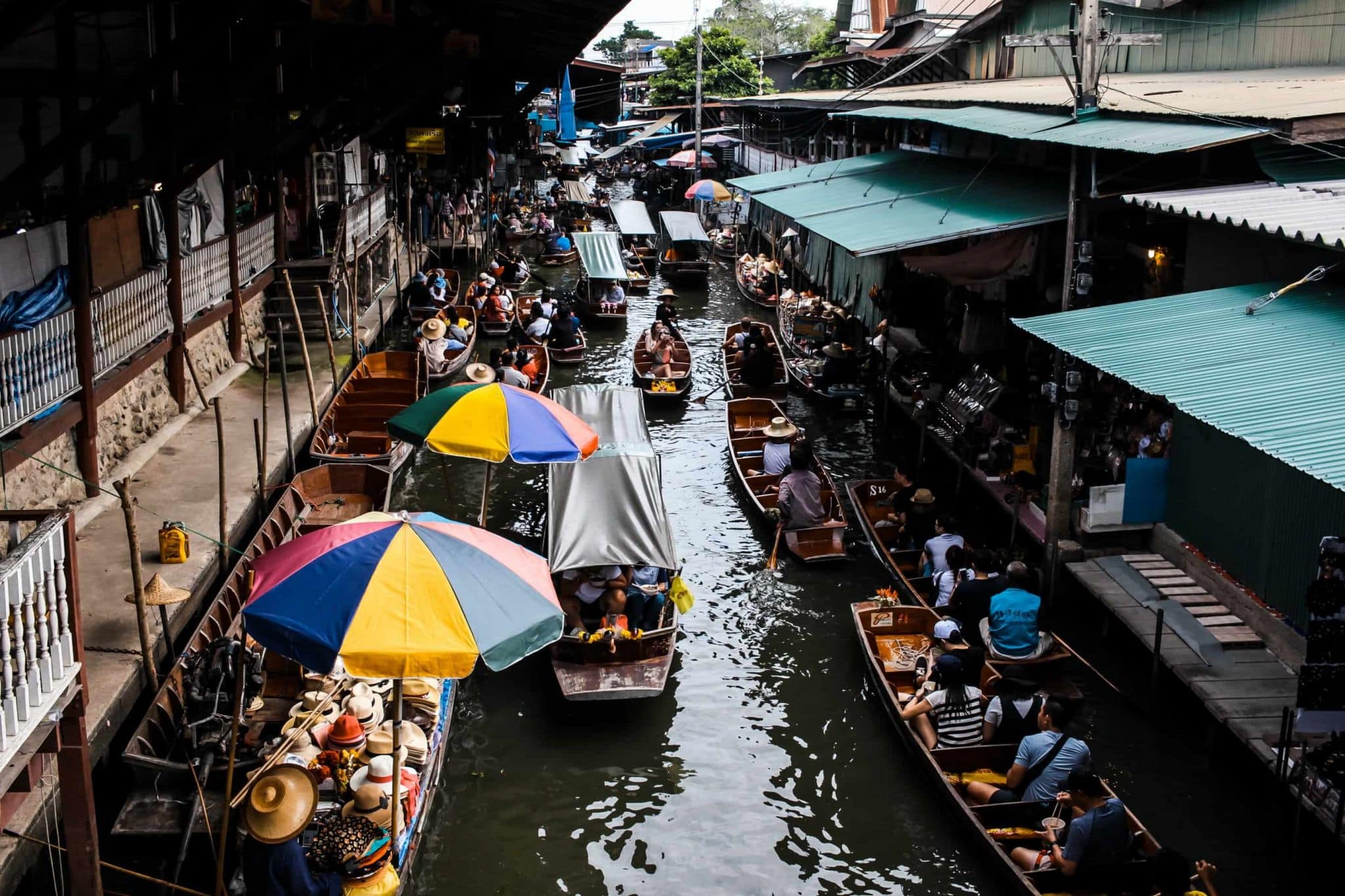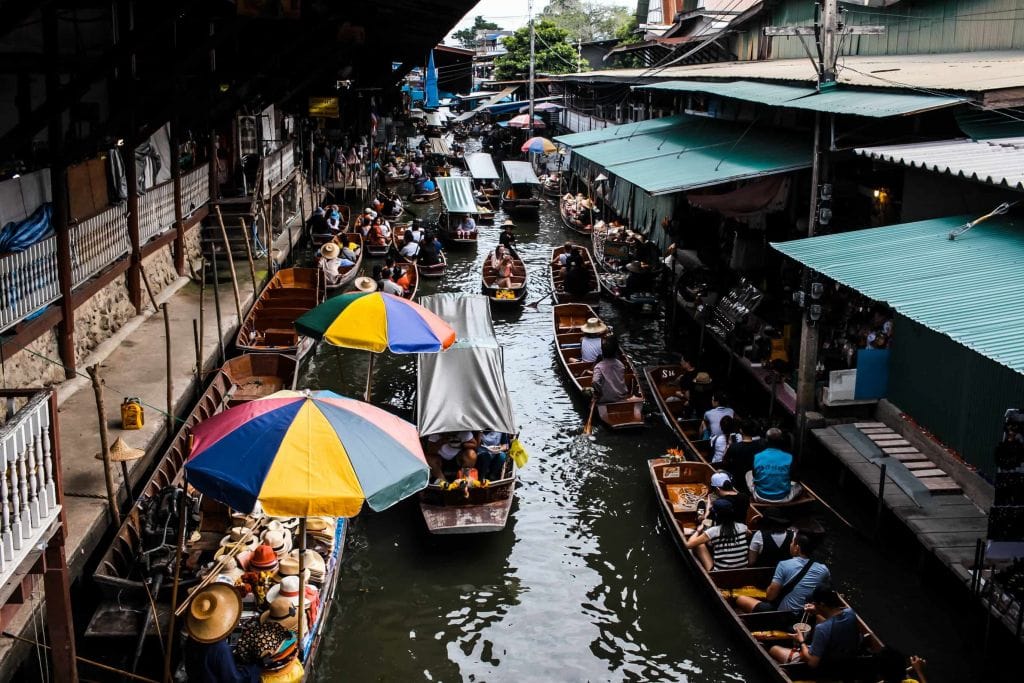 Popularly known as the "Four Regions Floating Market," this floating market covers four regions of Thailand with over 100 water vendors selling food and souvenirs. Some stalls are floating on boats, while others are on stilted properties throughout the canal. Don't miss a taste of exotic Thai food, including fried insects and bamboo worms prepared by the locals, or get a traditional Thai head and foot massage.
Hua Hin Night Market
If you are eager to soak in Thailand's vibrant street life, then the Hua Hin Night Market is worth visiting. Located in the town centre spanning the entire street between Petchkasem Road and the railway line, you will be captivated by the lively atmosphere with music and various merchandise sold at the night market. The seafood restaurants along the Hua Hin Night Market are popular among tourists for cheap and authentic Thai-style fresh seafood.
Khao Yai National Park
Famed as a UNESCO World Heritage site, this first and oldest national park in Thailand covers four provinces – Nakhon Ratchasima, Prachinburi, Saraburi, and Nakhon Nayok, making it a natural habitat for diverse wildlife such as elephants, gibbons, hornbills, and reptiles. Be sure to visit the spectacular Haew Narok Waterfall, the biggest waterfall in the park standing at 80 metres tall, and surrounding caves for some bat sightings. Don't miss the chance to go on a night safari adventure or hiking across trails that lead to a breathtaking view of the entire landscape filled with lush greenery.
Nong Nooch Tropical Garden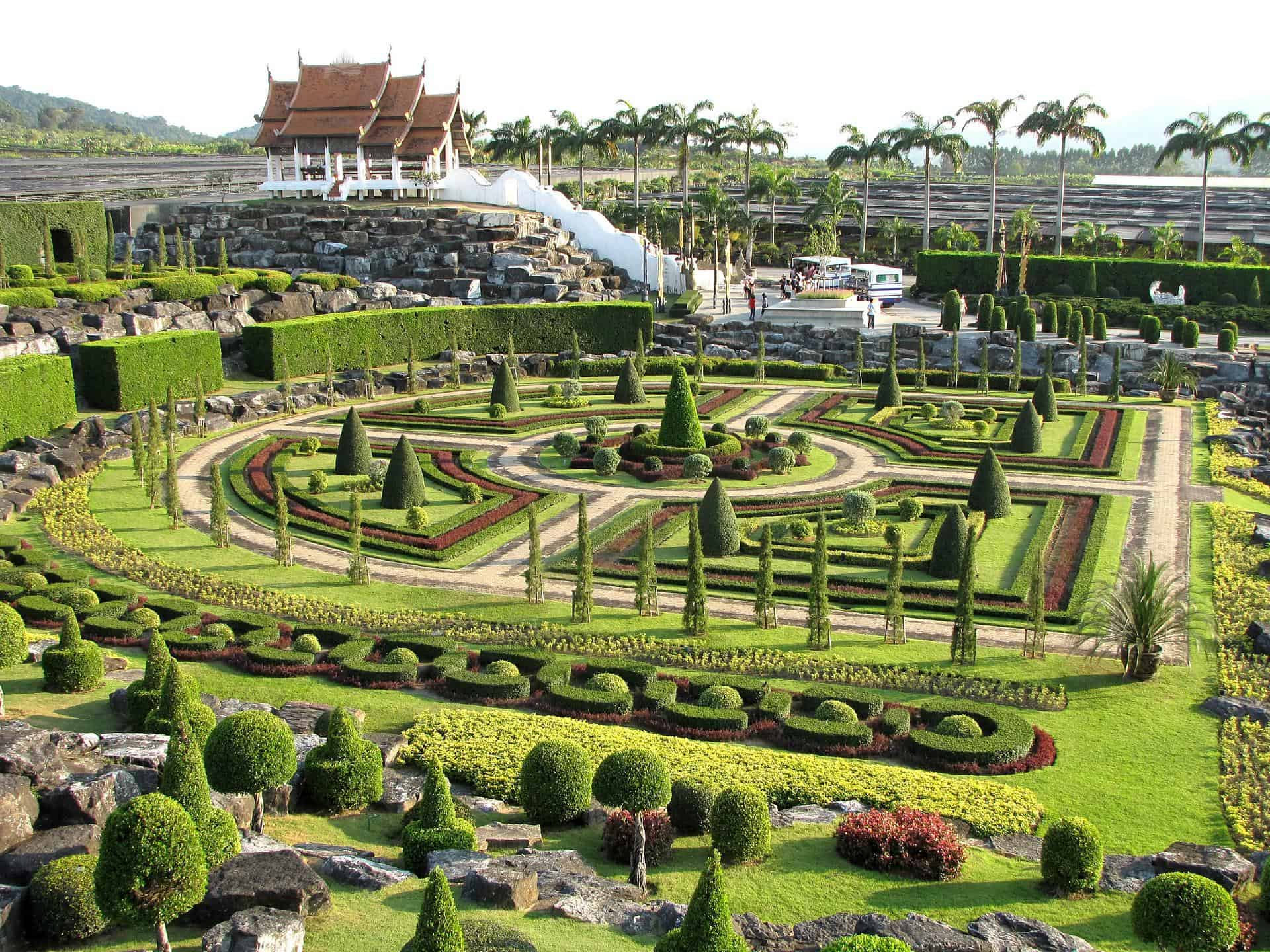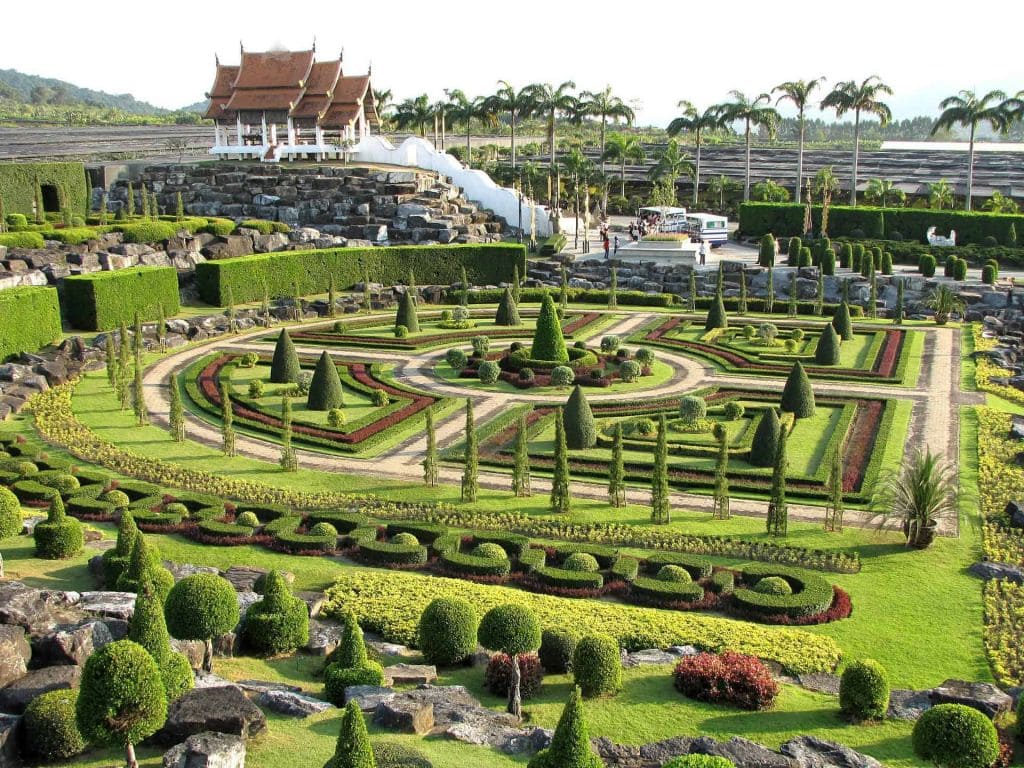 This award-winning garden in Hua Hin is a hit among nature lovers for its pristine flower gardens, fascinating trees, and serene atmosphere. Spanning over 2.4 square km, discover over 670 species of orchids and a variety of some of the most beautiful flowers in the world. While in Nong Nooch, be sure to relax and catch the elephant show or Thai cultural shows to discover the beauty of Thai heritage.
GranMonte Valley Winery
Fancy visiting a winery in Thailand? Head to Khao Yai's GranMonte Valley Winery for a unique experience! Take a stroll along the grape vineyards, witness winemaking techniques, and visit the barrel room packed with oak barrels. Treat yourself to a winetasting session over cheese and crackers or you could wind down with friends and family at the restaurant overlooking Thailand's most beautiful grape vineyard.
Pattaya Beach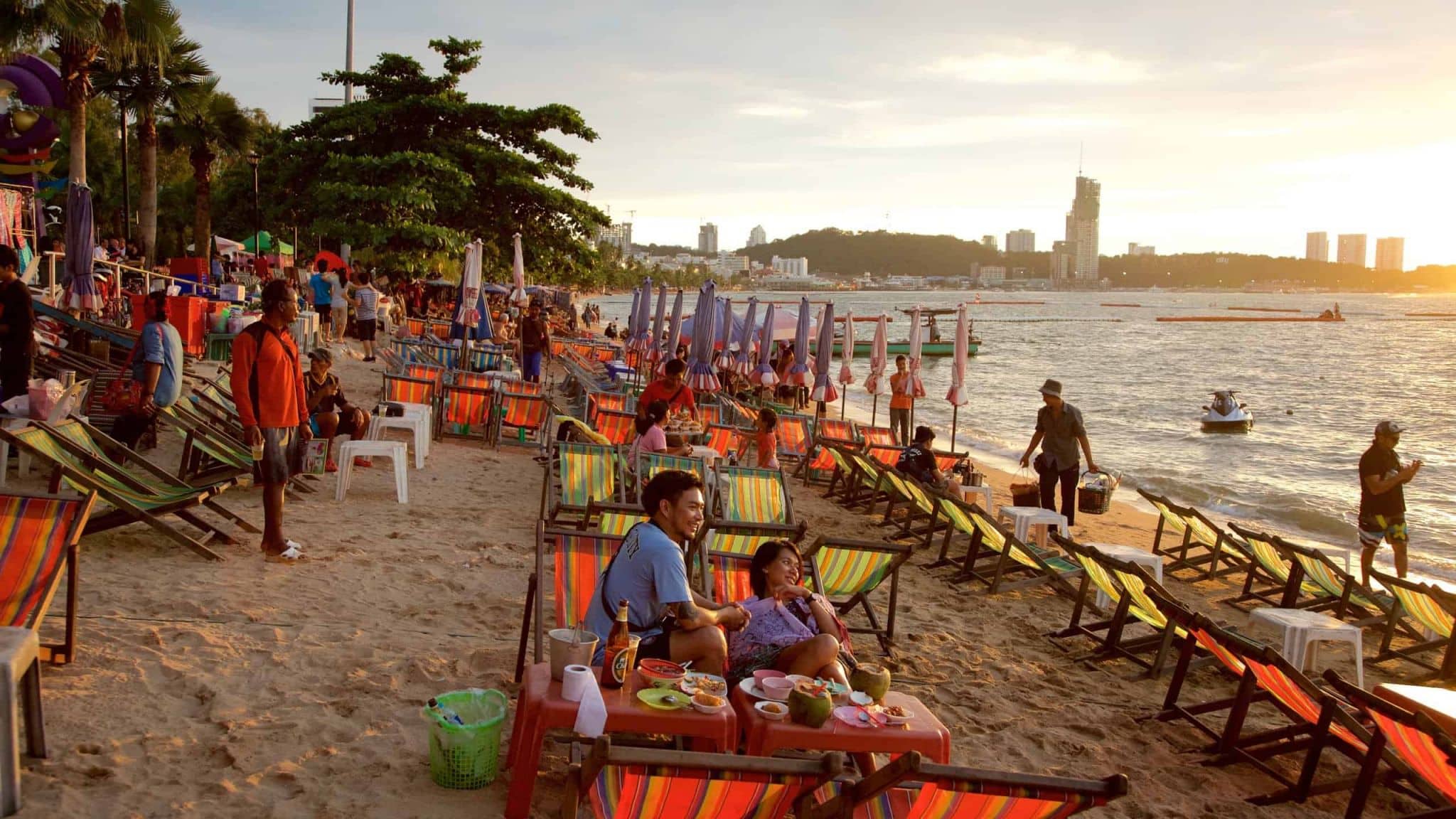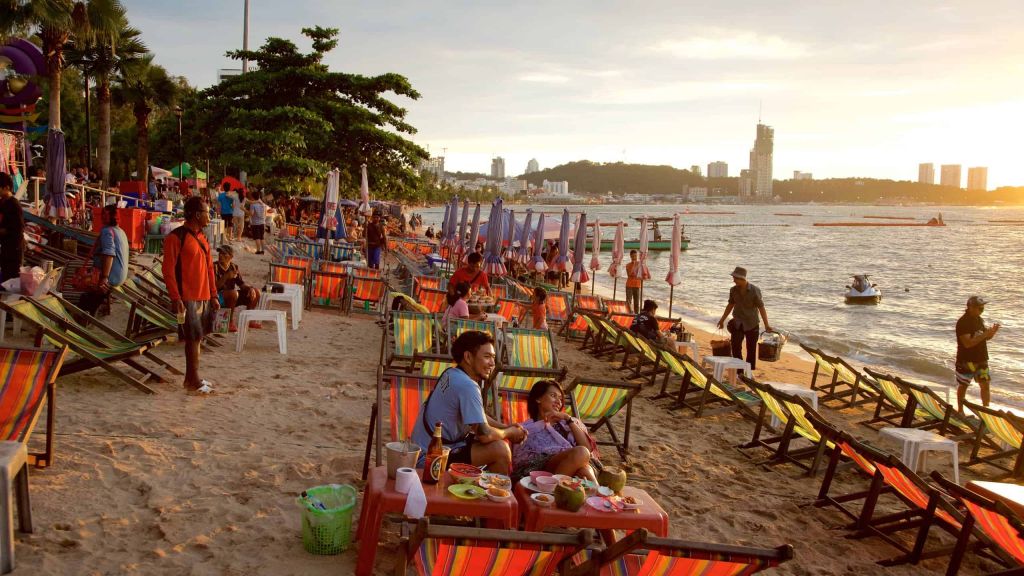 A trip to Thailand would not be complete without visiting Pattaya beach. One of the best beaches in Thailand for sunbathing and water sports like jet skiing and parasailing, you can be sure to experience an exhilarating beach adventure or unwind and watch the sunset while savouring local Thai snacks at a beach cafe.
Primo Piazza
Not ready for a vacation all the way in Italy? Then, take a trip down Little Italy in Thailand at Khao Yai. Fun activities include feeding farm animals such as sheep and alpacas. Drop by quaint cafes and gelaterias to savour gelato made from milk sourced from the local dairy farms. You are in for a quintessential Italian experience reminiscent of a Tuscan village with elegant Italian architecture and gorgeous scenery of lush flower gardens with a backdrop of tranquil mountains.
Khao Hin Lek Fai Viewpoint
Get a panoramic view of Hua Hin at this hilltop, also known as Flinstone Hill. At 160 meters, there are six viewpoints to enjoy breathtaking views of the beautiful coastal town of Hua Hin with beach resorts against the backdrop of Khao Takiab (Abbey Mountain) and the Gulf of Thailand. A great spot to catch the sunset and snap memorable photos.
3D Art in Paradise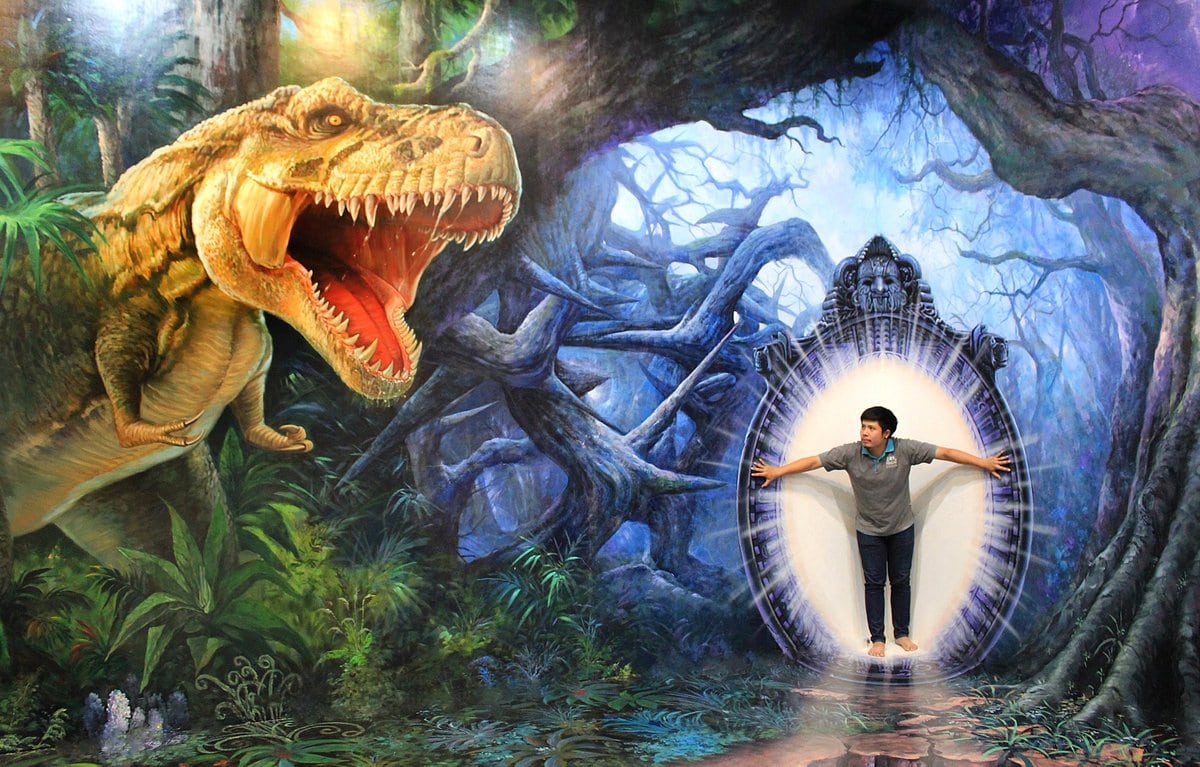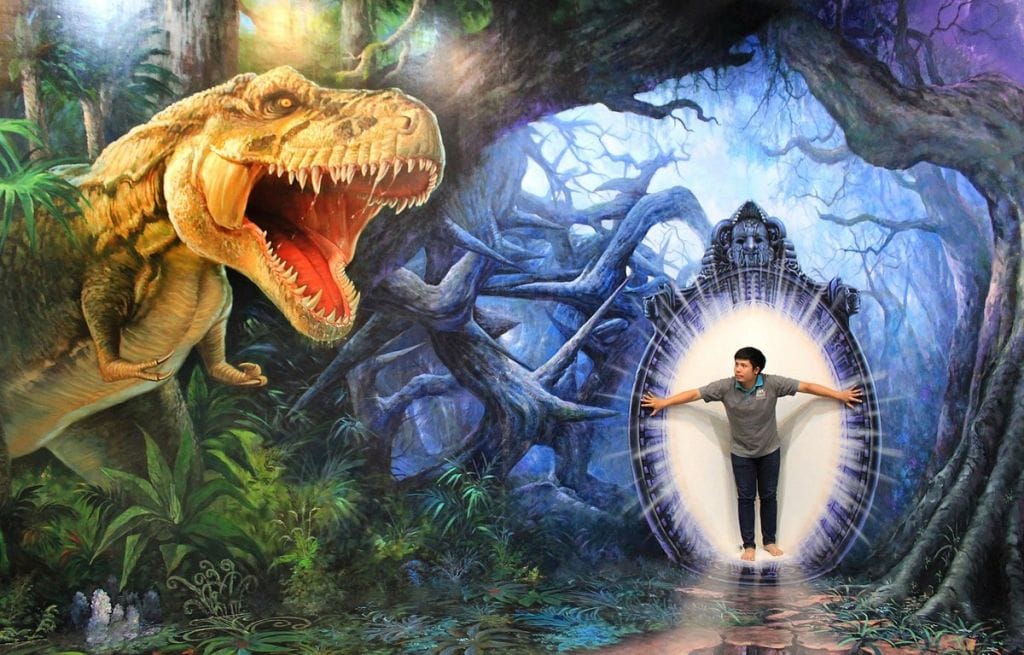 Step into a world of illusions and 3D paintings for an unusual experience at the world's largest interactive museum in Pattaya. Explore ten different zones of 3D exhibits with exciting themes such as Classic Art, Ayutthaya, Egyptian, Surrealism, and Dinosaur. Unleash your inner child as you explore the entire gallery and capture Instaworthy moments.
The Chocolate Factory
A must-visit for chocoholics in Thailand, this establishment in Khao Yai houses a restaurant serving Thai-Western cuisine and a chocolate shop offering scrumptious snacks and desserts from handmade chocolates. You can be sure of a fun time capturing Instaworthy desserts, sampling mouthwatering choco delights, and even purchasing some quirky and delectable souvenirs like chocolate-shaped high heels!
Secret Art Garden
One of Khao Yai's hidden gems, this family-owned tourist hotspot is not to be missed by art and nature lovers. The vast area is an ode to a local businessman's greatest passion, art, craft, and garden. Home to various species of plants and foliage, the place is also well-known for life-size clay art dolls and decorations and art workshops. A guided tour will take you through wooden bridges to the "secret garden" beyond an iron-cast black gate. A magical world awaits with quirky art made from flower pots, metal, and mosaic.
With Thailand opening its border to international travellers and relaxing entry requirements for unvaccinated travellers, don't miss this golden opportunity to visit the Land of  Smiles for your first taste of travel since the pandemic.
Get THE BEST DEALS FOR A MEMORABLE VACATION IN THAILAND!
You may also be interested in: