Bangkok is one place in the world that you'll never go hungry at any time of the day.  Food stalls operate around the clock everywhere in the city serving up delicious meals and snacks. The beauty of Bangkok street food is that you can find them at every nook and cranny, whenever and wherever you need them. There are plenty of choices all over the city and as a tourist, it's not possible to finish trying out each and every Thai food in a day or two. Having been to Bangkok, I have come to realise that being adventurous and trying different food at random stalls/restaurants/vendors has its perks as you may discover a hidden gem!
Nevertheless, here is the best Bangkok food you should try, as well as the best location to get them. So charge your phone, launch Google Maps and get ready to visit the stores that serve the best Bangkok food. But first, let us highlight the popular street food amongst locals and tourists that you can find in Bangkok.
Popular Bangkok Street Food that will Satisfy Your Cravings
Pad Thai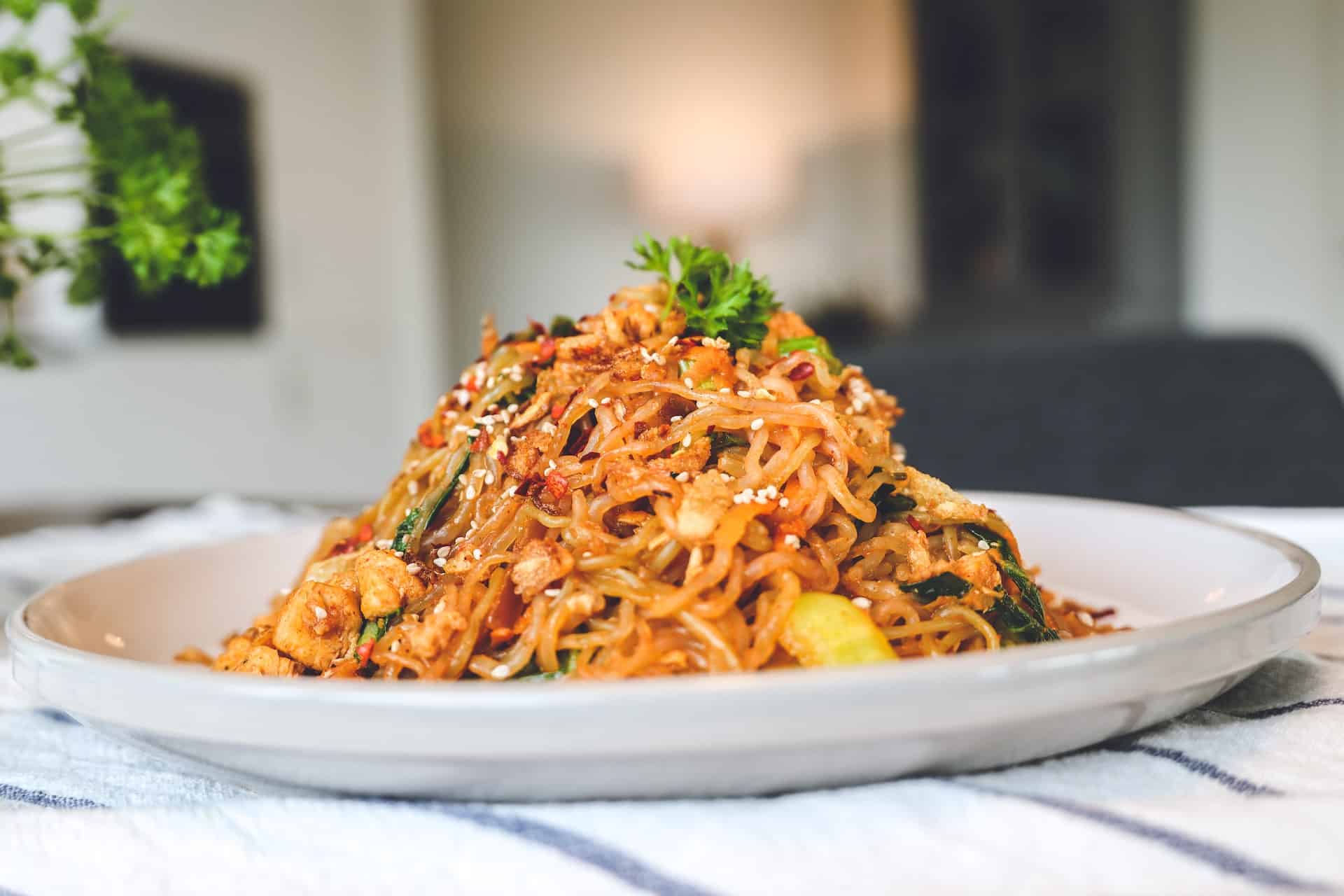 You cannot leave Bangkok without eating Pad Thai. Its rice noodles are a slightly narrower and sweeter version of the Malaysian Char Koay Teow and usually come with big shrimps, red pepper flakes and cilantro. The stir-fried noodles have equal parts of salty, sour, sweet and spicy levels of your choice. Now, not everywhere in Bangkok serves good Pad Thai. Nevertheless, there are a handful of stalls you can go to.
First, the best place to for Pad Thai is Baan Pad Thai, which is located in the oldest road of Bangkok, Charoenkrung Road. It has a distinct flavour, and the noodles are always cooked to perfection. They are never clumpy or dry, and the overall seasoning is just perfect.
Of course, there are plenty of other stalls and restaurants you can visit for good Pad Thai, especially if you're around the area. Here's some suggestions:
Nara, Erawan Bangkok lower Ground Floor, Bangkok.
Pad Thai Ekkamai, Sukhumvit 63, Soi 19, Bangkok.
Pad Thai Mae Am, 2227, Rama IV Road, Khwaeng Khlong Toei, Bangkok.
Wann Pad Thai, Phetkasem Frontage Rd, Khwaeng Wat Tha Phra, Yai District, Bangkok.
Rosabieng Restaurant, 102/5, Thanon Kamphaeng Phet 5, Khwaeng Samsen Nai, Phaya Thai District, Bangkok
Thai Boat Noodles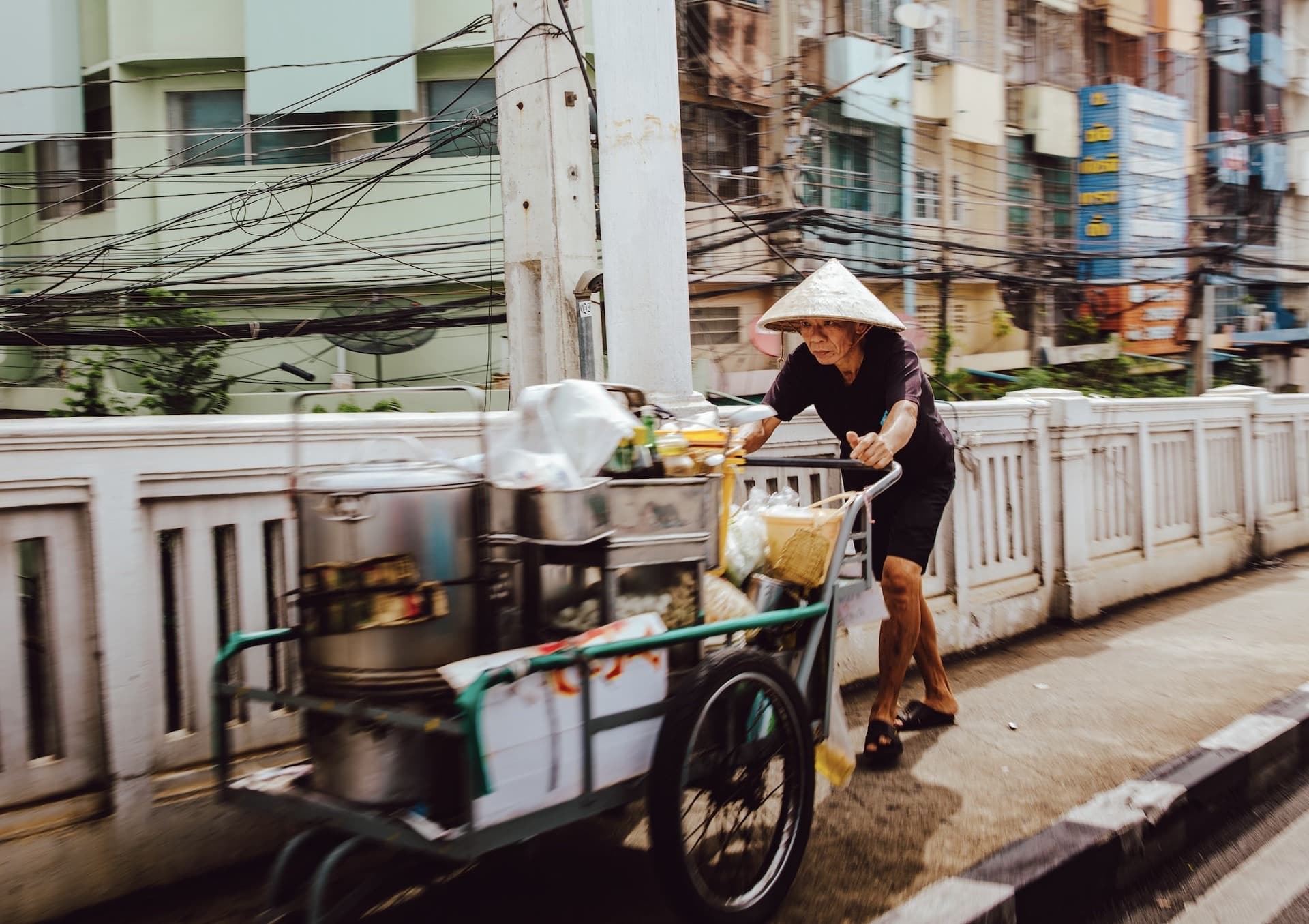 As the name suggests, Thai Boat Noodles were originally served on boats, especially to fishermen. When boats are out at sea, they tend to get rocky, hence food, especially noodle soups, will be prone to spillage. That's the reason why fishermen ate those noodle soups in small batches.
Thai Boat Noodles or also known as Kuay Teow Reua is now a modern delicacy. It's no longer only sold on boats but at stalls and restaurants to keep the tradition alive. The best Thai Boat Noodles are still located at the riverside stalls, which provide an authentic and nostalgic experience. 
When ordering your Thai Boat Noodles, you can customise your noodle dish. Choose your favourite type of noodle, ingredients like fish balls and fish cakes, as well as your choice of soup. As they all come in small quantities, you can take this opportunity to order different types of noodles and soup flavours. Multiple stacked bowls on each table are a common sight.
The best Thai Boat Noodles can be found near the Victory monument, where you can find plenty of excellent boat noodle stalls. Insider tip if you are looking for an authentic yet "cleaner" vibe – Pranakorn Boat Noodle at Victory Monument serves the dish in a modern cafe setting next to Khlong Sam Sen. 
Som Tam or Spicy Papaya Salad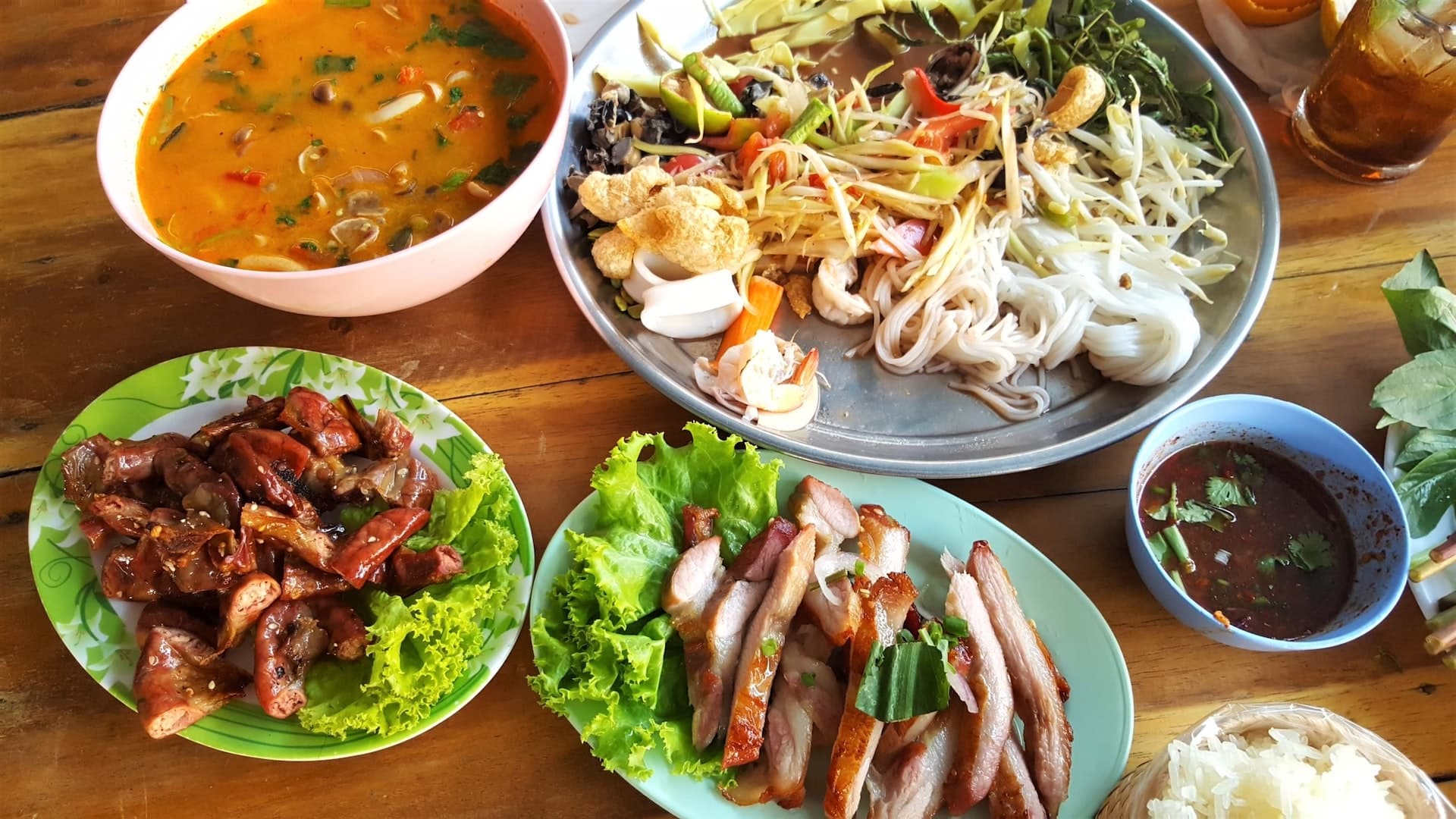 Salads are a whole lot different in Bangkok than what we usually have in western restaurants. Som Tam or easier known as Spicy Papaya Salad is super popular, and the local's most loved salad. You'll find tossed together some dried shrimps, sweet tomatoes, lemon grass, crunchy peanuts, shaved papaya and flavoured with fish sauce, as well as spicy and sour sauce.
You can find Som Tam in any corner of Bangkok. If you're on a low-calorie diet, then Som Tam would be the best choice. The best Som Tam can be found at six top stores, including some at the famous Chatuchak weekend market. Head to these locations to get your tastebuds tantalised.
Somtum Der, 5/5 Sala Daeng Rd, Bang Rak, Bangkok
Baan E-san Muang Yos, 19/3-5 Sukhumvit 31, Vadhana, Bangkok
Baan Somtum, 9/1 Si Wiang, Bang Rak, Bangkok
Som Tam Nua, 392/14 Siam Square, Pathum Wan, Bangkok
Sabaijai Kebtawan, 65 Soi Sukhumvit 63, Vadhana, Bangkok
Baan Khanitha, 36/1 Sukhumvit 23, Vadhana, Bangkok
Gaeng Keow Wan Gai or Thai Green Curry Chicken
Thai green curry is an ubiquitous dish that can be easily found in any restaurant, local and international. However, not every restaurant would cook it the right way and there are many versions that has emerged. Originally, the Indians introduced both green and red curry to the Thais, which immediately became a local favourite. Today, Gaeng Keow Wan Gai (Thai green chicken curry) has evolved and has become a staple dish in Bangkok.
Gaeng Keow Wan Gai is typically made with ground green chillies, basil leaves and other aromatics like galangal and lemongrass. Then, the paste will be then made into gravy with more chillies, basil leaves, lime leaves and green eggplants. As for the protein, you can always swap chicken with beef or whatever tickles your fancy. Gaeng Keow Wan Gai is delicious especially when paired with steamed white rice. 
While you can get Gaeng Keow Wan Gai anywhere, we'd suggest that you head to the popular Ros Niyom and Kub Kao Kub Pla for a hearty bowl of Thai Green Curry Chicken.
Khao Neow Mamuang or Mango

Sticky

Rice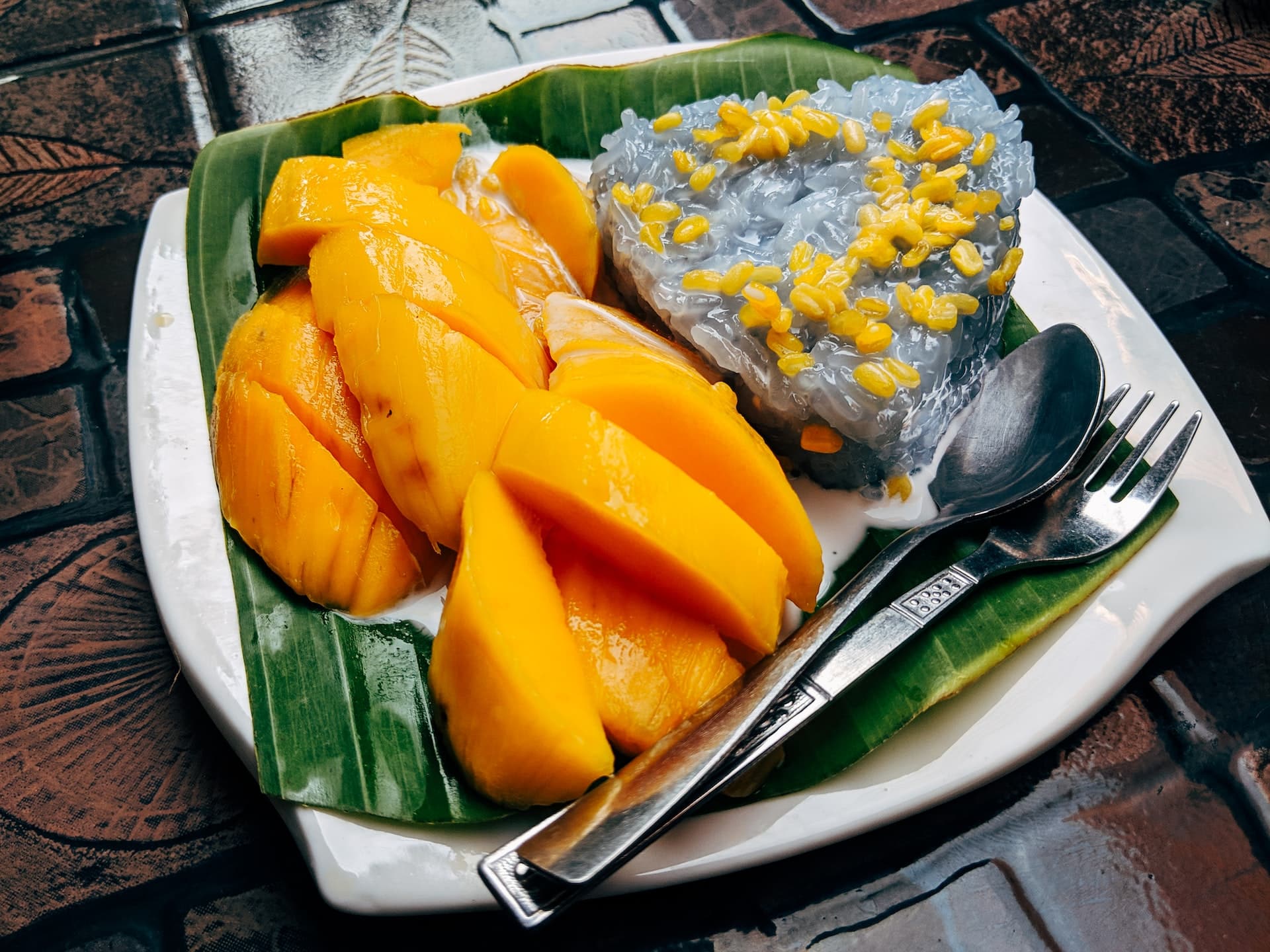 When hunting for Bangkok food, you cannot leave out Khao Neow Mamuang or Mango Sticky Rice. Although it's a dessert, it can sometimes be eaten on its own as a hearty snack. This traditional summery Bangkok street food is definitely made for your sweet tooth.
The dish is made with very fresh and sweet mangoes, placed on warm Thai sticky rice, drenched in thick coconut milk syrup and sprinkled with crispy mung beans.
Khao Neow Mamuang can be found at every corner, nook and cranny in the streets of Bangkok. But two particular places serve the best Mango Sticky Rice – Pier 21 food court and Mae Varee in Thong Lo. They could be the best in the whole of Bangkok, and they sell out very fast so you'll need to hurry and get them when they're open for business.
Mangoes aside, you can always try this dessert with durians as well, or any fruits you love. Some street stalls might serve durians as well when it's in season.
Khao Man Gai OR Thai Chicken Rice
Think Hainanese Chicken Rice, and Khao Man Gai the Thai variation. In Thai, Khao means rice, Mun means fat and Gai means chicken. The chicken is poached until it's tender while the jasmine rice is cooked in chicken fat, the chicken's poaching water and other aromatics to get its distinctive flavour.
Khao Man Gai cannot be served without its trusted dipping sauce which is made from minced garlic, ginger and Thai peppers. They are then mixed into soya bean paste to create that delightful dipping sauce.
Lastly, the dish is also accompanied by soup made from chicken broth. Sometimes, these soups contain MSG but the authentic ones do not. You can easily find Khao Man Gai anywhere in Bangkok but there is one place that serves the best – Phra Sumen Road. It's located near Khao San Road, and try to get there as soon as its business opens as they sell out pretty quickly. 
Khao Phat or Thai Fried Rice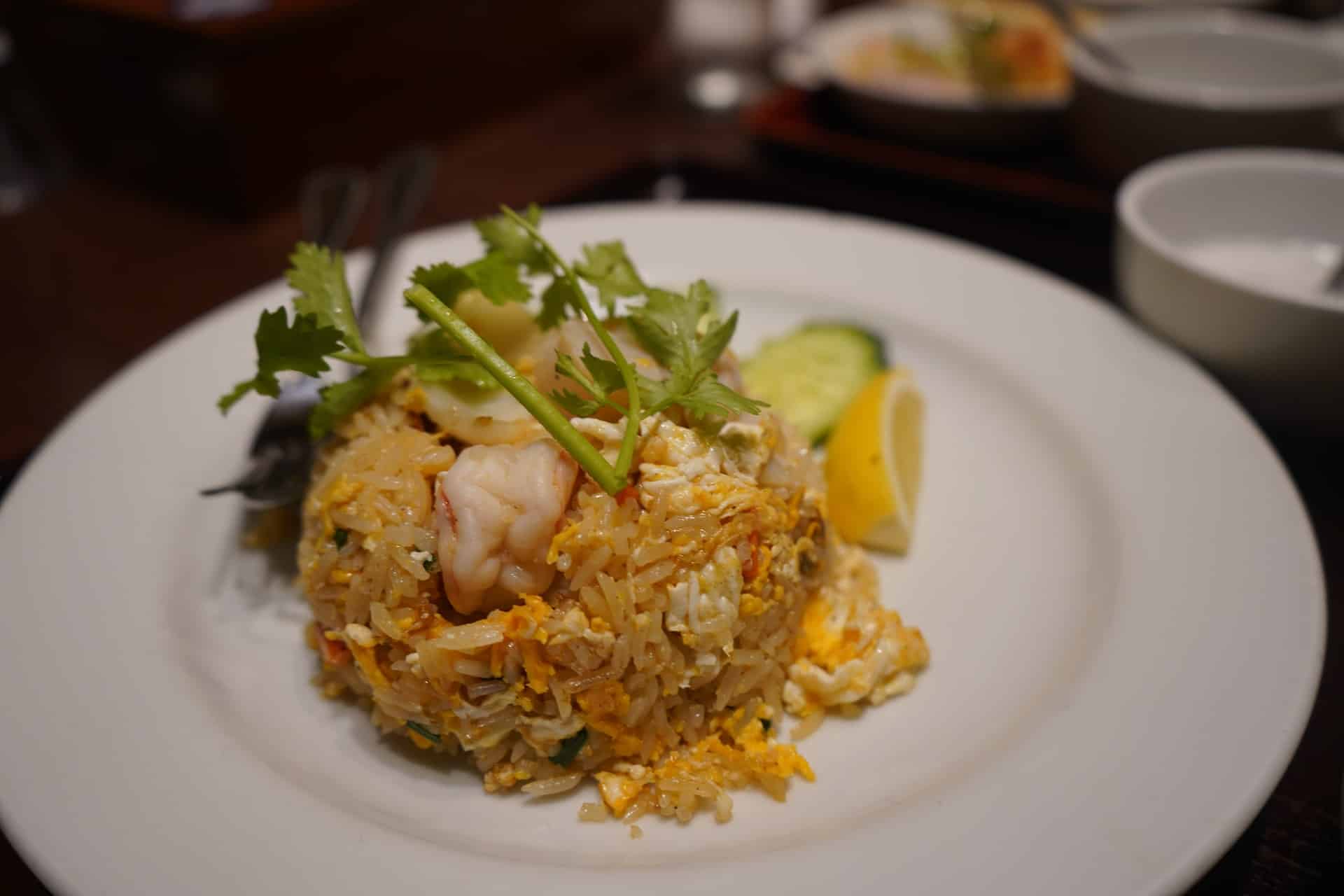 There is plenty of fried rice variation and they're usually eaten when you have no clue what to have for lunch or dinner. As for Thai Fried Rice or Khao Phat, it's a big Thai delicacy. Rice is cooked and left overnight on purpose to make this amazing Bangkok street food. Khao Phat is best when made with jasmine rice. Khao Phat is first made with a variety of proteins like shrimp, chicken pieces or minced and sliced pork, or even crab meat. Then, eggs, onions, garlic and tomatoes are added in. The wok has to be extremely hot to make this dish. It is then finished with chilli paste, soy sauce and brown sugar for the caramelised flavour.
Of course, just like any Thai cuisine, fish sauce or Nam Pla is then added at the end to boost the flavour. Khao Phat is then finished with a perfect blend of sweet, sour and hot tastes.
In Bangkok, there are three main places to get scrumptious Khao Phat. The first would be Khaosan Restaurant which is located at 4/33 Moo 2, Chaweng Beach Road, Chaweng. The other two are located in Chinatown and Banglamphu.
Tom Yum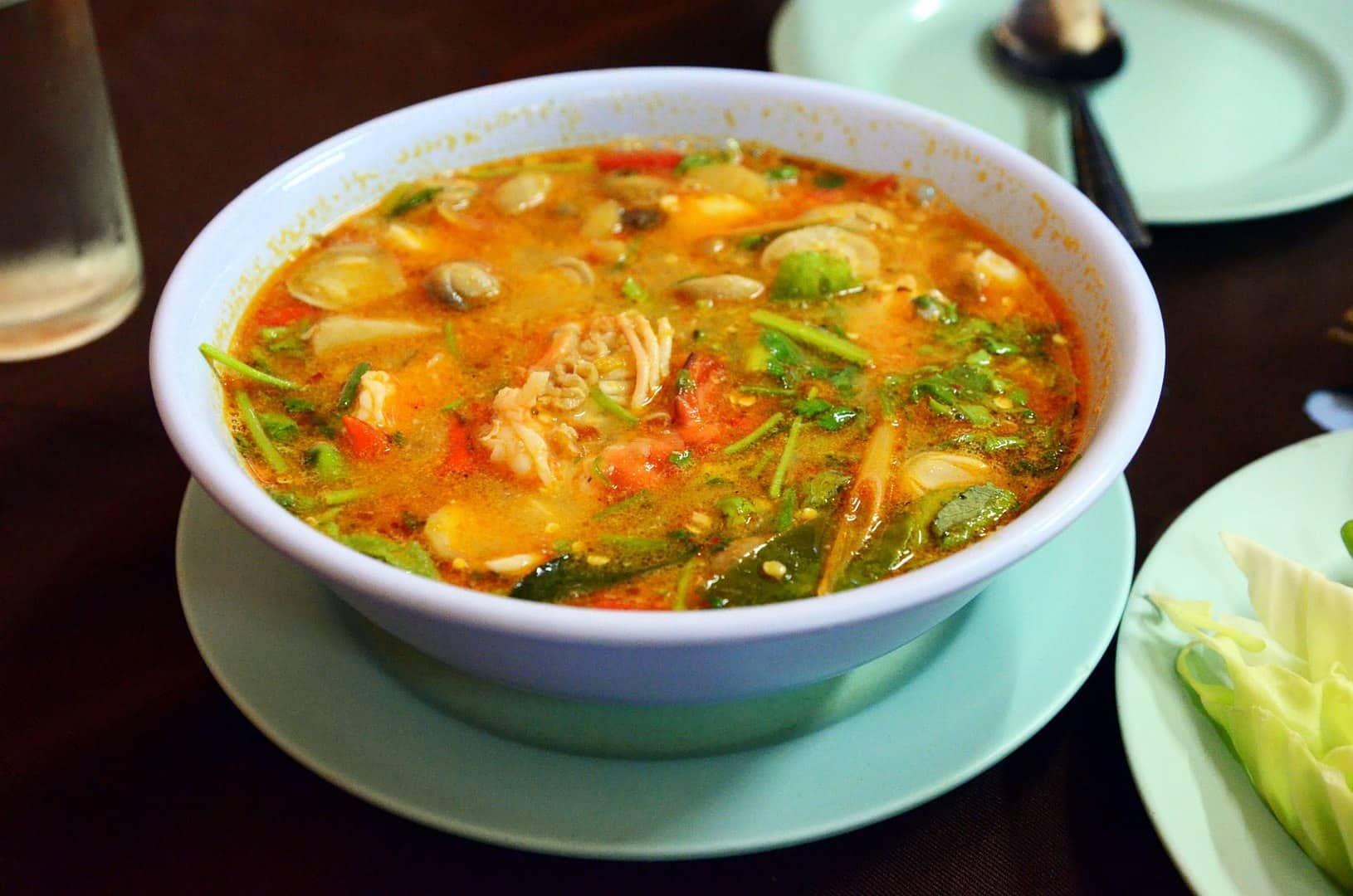 One of the Bangkok street food staples, Tom Yum is a must-have on the dinner table. This hot and sour soup is made primarily with seafood stock, galangal, lemongrass and kaffir lime leaves. As for the proteins, you can choose anything from pork, chicken and beef to fish, squid, prawns and other types of seafood. Tom Yum is always finished with fish sauce and hot Thai peppers.
In Thai, Tom simply means boiling and Yum means Thai salad that is sour and spicy. They don't really mean salad per se but more like a mixture of meats, herbs and vegetables in a pot. While you can easily get Tom Yum anywhere in Bangkok, there are two places you'll have to go to for the best Tom Yum.
Rung Rueang at 10/1 Soi Sukhumvit 26, Khlong Toei, Bangkok.
Ban Khun Mae at Siam Square, Pithum Wan, Bangkok.
Moo Ping or Thai Grilled Pork
Another Bangkok food favourite, Moo Ping refers to bite-size pieces of pork that are skewered together with the fat portion and grilled atop charcoal for that extra char flavour. When the fat melts and drips on the charcoal, it creates a thick smoke that rises and covers the pork, and that's the extra flavour that makes Moo Ping what it is today.
Before grilling, the meat will first be marinated overnight with herbs and all sorts of Thai condiments. They usually consist of sweet and salty notes.
Moo Ping is usually soft and will melt in your mouth upon eating, provided you eat it as soon as it comes off the grill. Be careful not to burn your tongue. You can eat it on its own or pair it with steamed jasmine rice.
There are a few stalls that sell the best Moo Ping in Bangkok.
Moo Ping Hea Owen, located at Silom, Soi Convent.
Sukhomvit Soi 19, Watthana.
Chinatown, 6 Yaowarat road, Samphanthawong.
Street food markets in Bangkok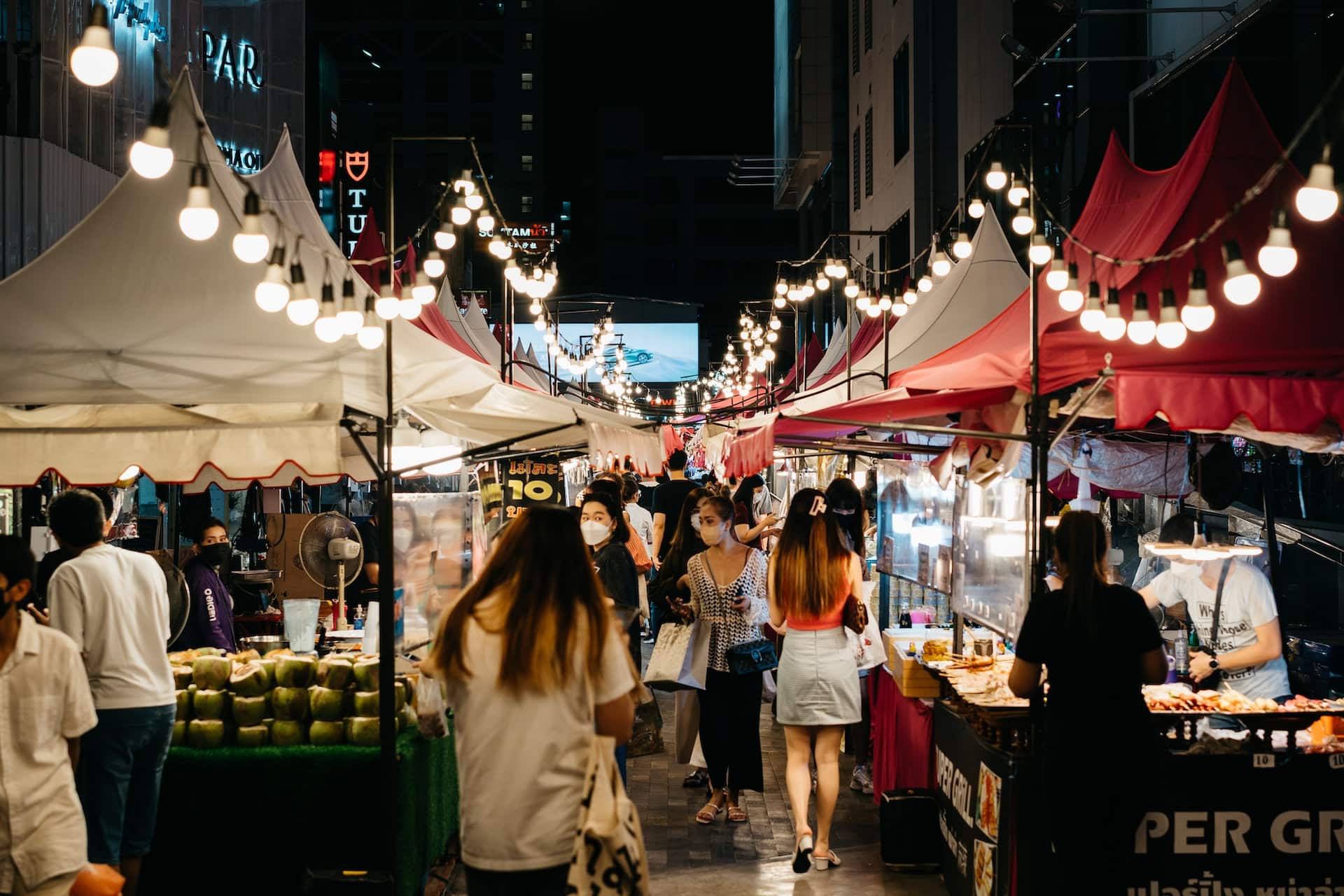 Types of food aside, you should definitely visit these areas for the best Bangkok street food. First, you'll have to visit the famous Convent Road street food area selling variety of Thai dishes.
The amazing thing about Convent Road is that the vendors change every few hours. From morning to afternoon to night, all these night street food market stalls are from different sellers. If time permits, stay on to check out the different types of food and vendors available. So it's great to try the different flavours from different cooks if you're feeling adventurous.
Some must try dishes – for breakfast – pork porridge, fried pork belly and sticky rice, lunch – kao mok gai, dry tom yum egg noodles and kanom jeem, dinner – moo ping, fried chicken, kao ka moo and kao mun gai.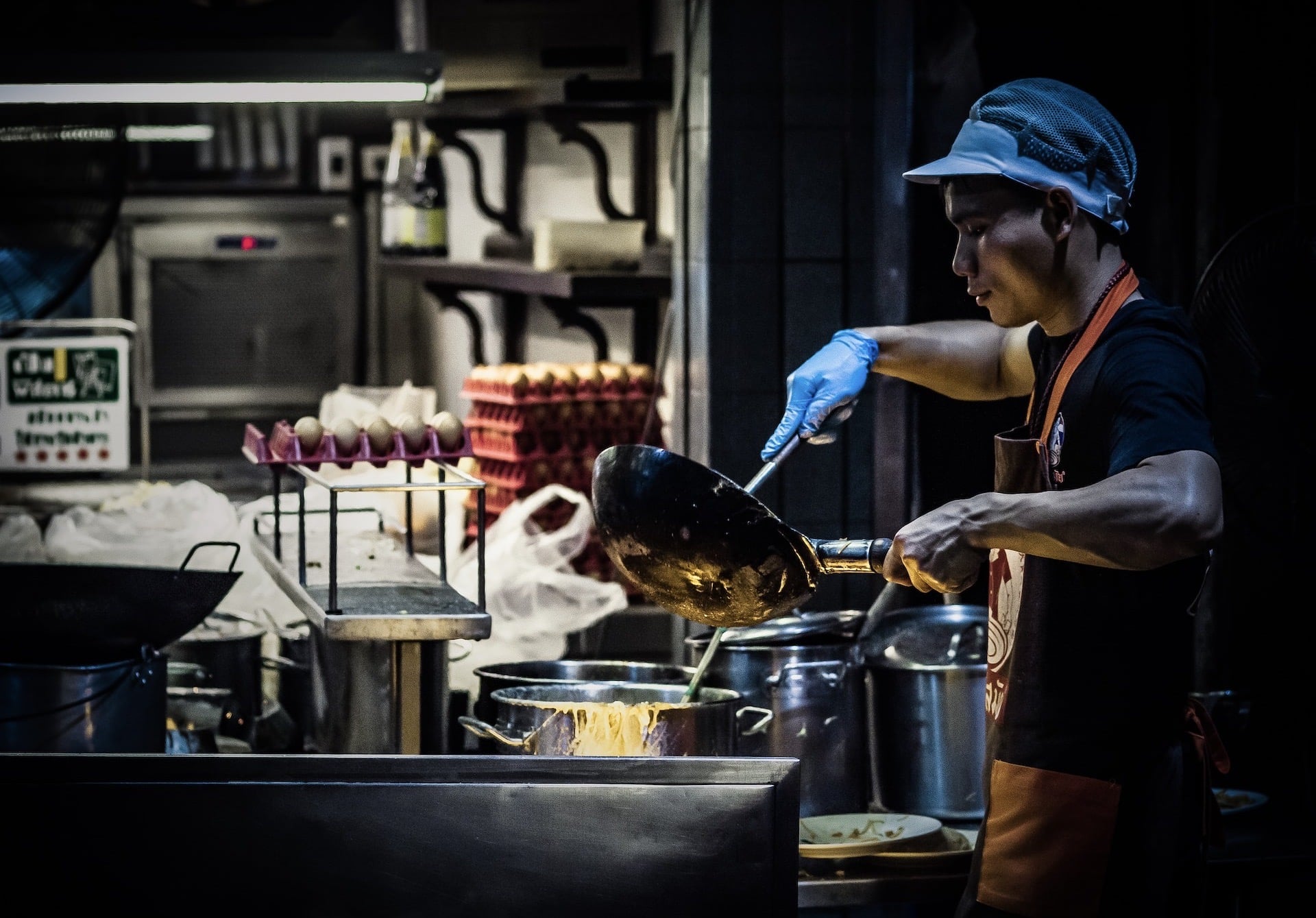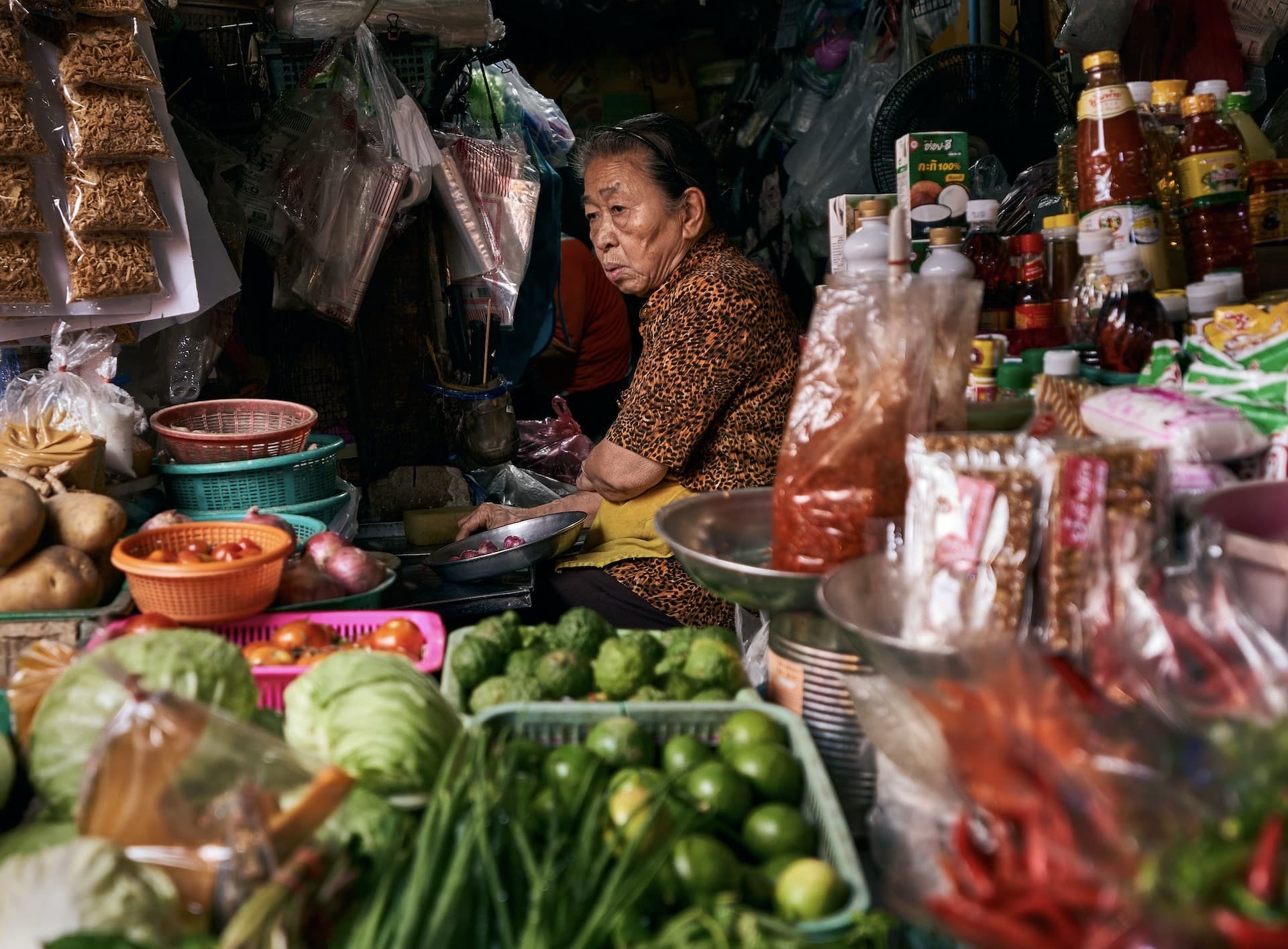 Other night street food markets in Bangkok you should visit for more scrumptious Bangkok food are Ratchawat Market or Sriyan Market. You will find the best Ran Gaeng Pa Sriyan (Thai Curries), Roast Duck and Pad See Ew, also known as fried wide rice noodles.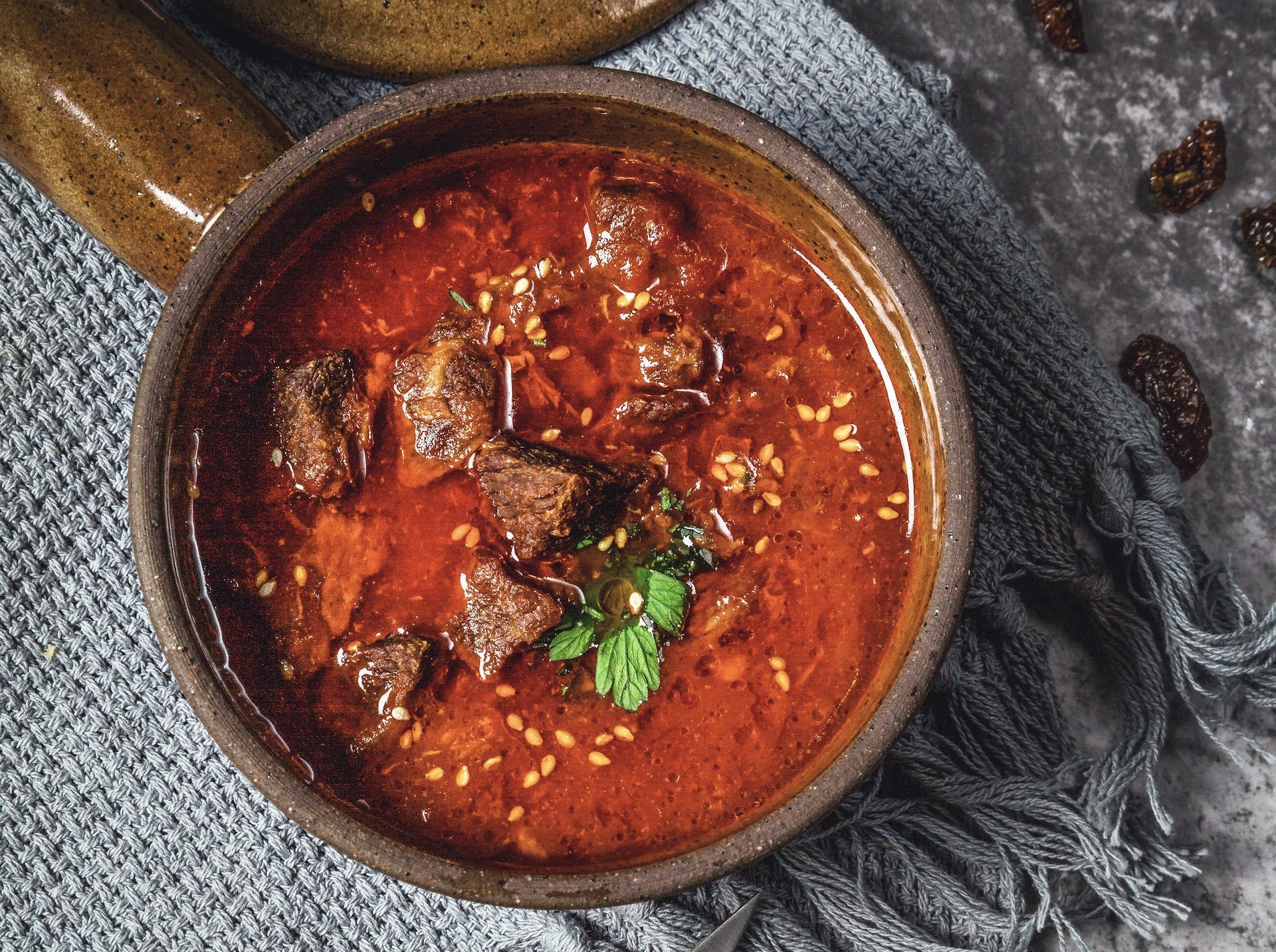 Charoen Krung and Bangrak are the other areas you'll want to visit for good Boat noodles which are located at Saphan Taksin. There's also Prachak Duck Noodles, Tien Sin vegetarian restaurant – if you're a vegetarian – and Home Cuisine Islamic Food that serves biryani and curries with a Thai flavour.
Last but not least, Petchaburi Soi 5 has plenty of Bangkok food varieties as well. The area is located between Siam and Victory Monument. It's pretty easy to find, as you'll see plenty of people and stores.
DISCOVER BANGKOK AND OTHER PARTS OF THAILAND WITH THE BEST DEALS!
You may also be interested in: