Let's face it – it's still safer to stay in the confines of our homes, even though the global pandemic is thankfully getting better. We may as well make the best of the situation, and we know how to do this well now after nearly two years of lockdown-life.
Enjoy these 10 DROOL-WORTHY Korean snacks while you binge-watch your K-dramas !
So, here we have for you the top 10 delicious Korean snacks that the team at HTT have painstakingly taste-tested. ( Yes, we know it's a hard job but hey, someone's got to do it ! )
Try them whilst you're bingeing on your favourite K-drama or Netflix show. Till the day that we can make our travel dreams a reality, we hope that in the meantime, these can bring you a little closer to South Korea.
*You can purchase these popular Korean snacks from CU Mart, Centrepoint, Bandar Utama and EMart 24, Desa Sri Hartamas, KL.
1. LOTTE Pepero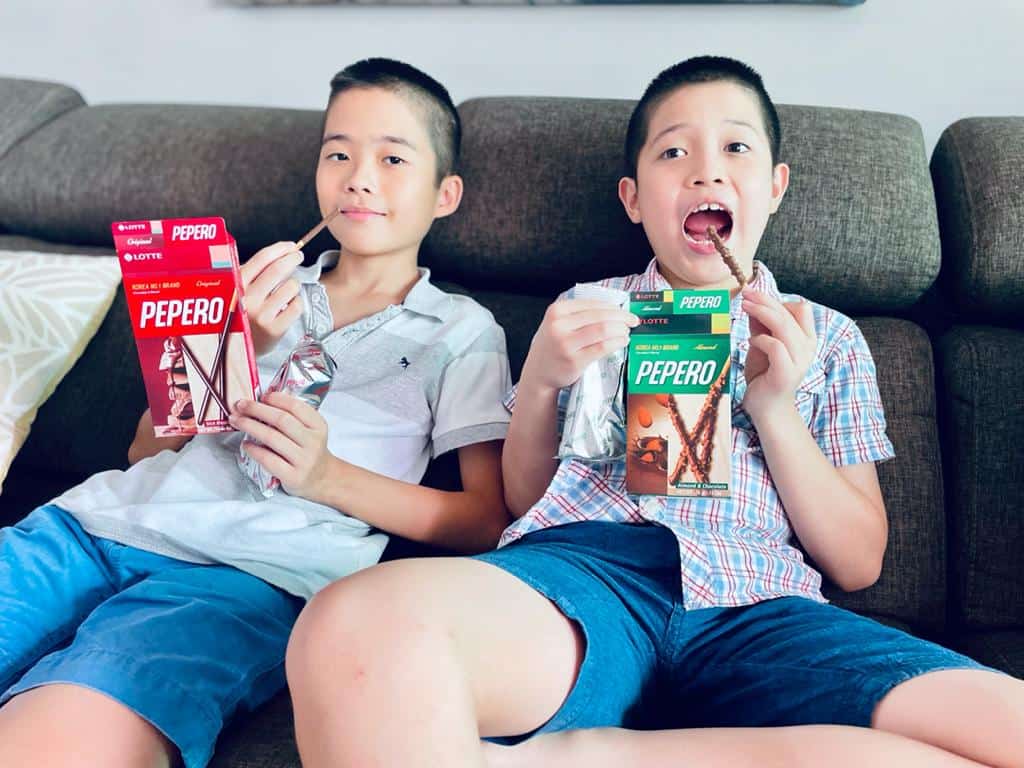 What it is : Pepero are thin cookie sticks dipped in chocolate. A very familiar and much loved brand, Pepero is Korea's No. 1 Chocolate Stick. Fun fact : Pepero Day means "a day to convey love and friendship" and is celebrated annually on November 11th in South Korea where friends and lovers gift each other with Pepero.
Our Verdict : There are over 20 ( yes 20 ! ) different flavours of Pepero – we chose the evergreen Original and Almond and Chocolate. As expected, they are delicious. Easy to eat, you can finish off a box in mere seconds and be left wanting more !
There are also easy Korean recipes using Pepero such as the Pepero Parfait, but we prefer to eat them on their own, and in large quantities !
2. Tteokbokki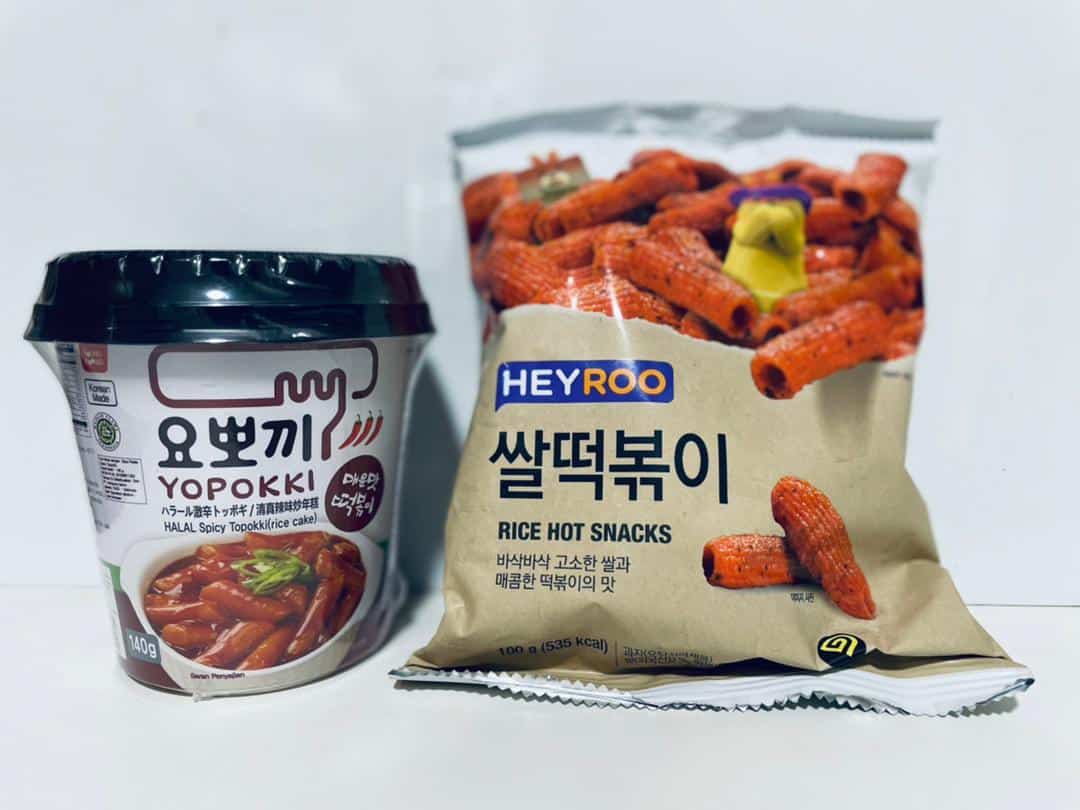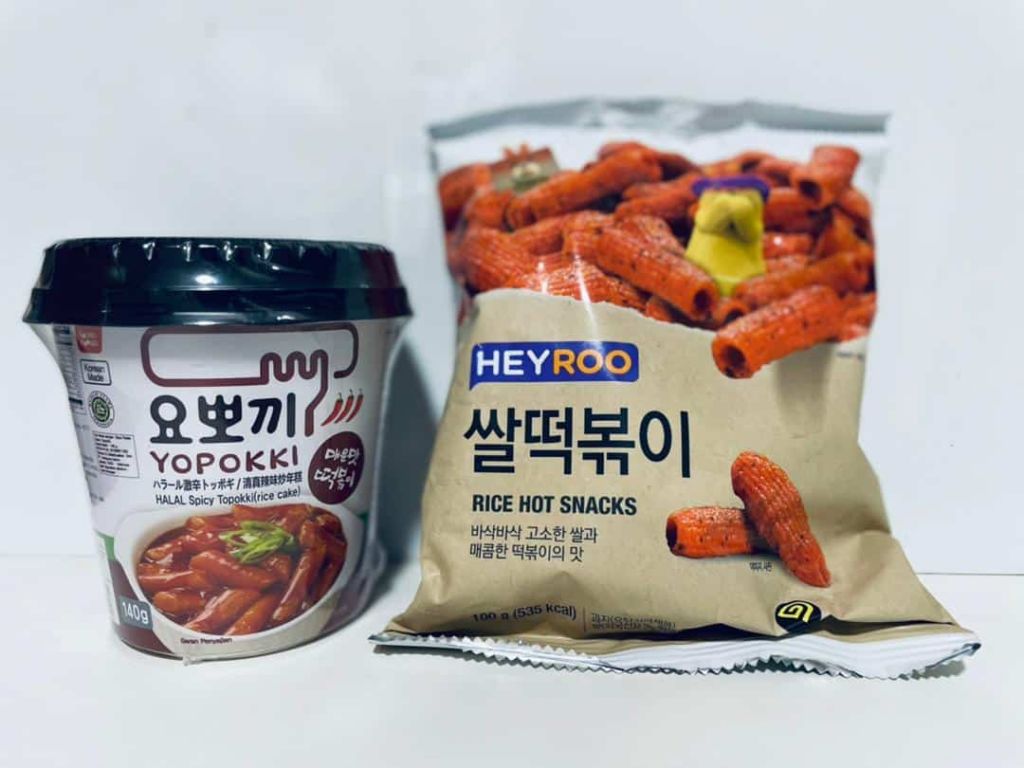 What it is : Tteokbokki, or the simplified version in Malaysia – Topokki – means spicy rice cake. A Korean traditional snack, it is one of their most popular street foods. We tried Yopokki's Halal Spicy instant topokki in a cup. To cook it, you just have to mix the rice cakes and sauce together and pop it in the microwave oven for 2-3 minutes.
Our Verdict : We found the Topokki soft, chewy, sweet and super spicy ! This is a Korean snack that will suit those with fiery taste buds. Finding it too much to handle on its own, we mixed it into Kimchi noodles. It added great flavour and punch. We like the unique and interesting texture of these oblong shaped rice cakes.
3. heyroo topokki rice hot snack
What it is : Dedicated to rice cake lovers, this is a spicy tasty rice hot snack imported from South Korea. Fiery-red in colour, each crunchy stick is coated with a sweet and spicy tinge.
Our Verdict : We thought this was an interesting way to try Tteokbokki, in the form of crisps. We found it much less spicier than the cup version, above. It was tasty with the tinge of Tteokbokki sweetness and makes for a nice change from the usual flavours.
4. Ramyeon ( Korean Instant Noodles )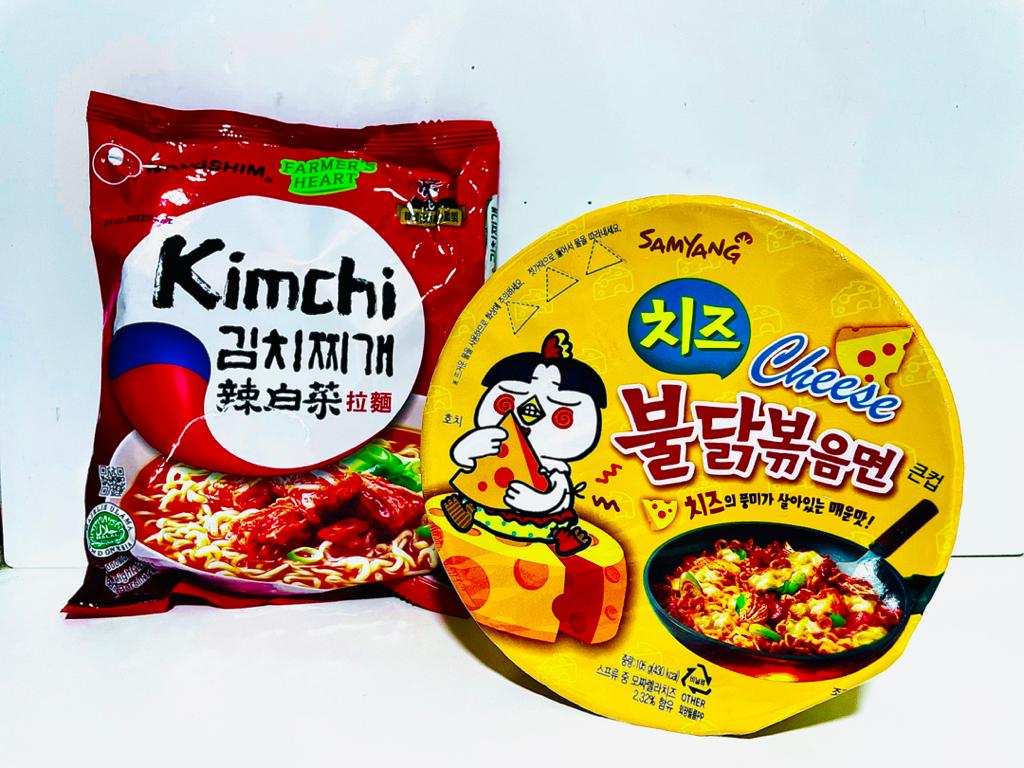 What it is : Who does not know ( and love ) ramyeon or instant noodles ? For K-drama lovers, they will know that during late-night dates between the characters, a bowl or two of ramyeon will surely appear. This sometimes means you have to hit the 'pause' button to go into the kitchen to whip up your own bowl of noodles as it looks so tantalising ! In that case, you can add both Nongshim soup based Kimchi ramen and Samyang Cheese flavoured ramen to your ramyeon stash.
Our Verdict : Both are firm favourites in our household because they are just that good and make for a super-easy and delicious Korean snack.
The Nongshim Kimchi noodle comes with a packet of dried vegetables. The colour of the soup is fiercely red but it's not too spicy. There is a lot of flavour. The noodles are springy, or if you cook it a bit longer, they get softer and slurpier. For an easy Korean recipe, throw in an egg, some greens, prawns or squid, and wallah! you get a complete and satisfying meal.
The Samyang Cheese flavoured noodles is deceivingly super spicy ! You can taste the cheese flavour and its quite a unique experience to have both the cheese and chilli in one slurp. We heard that one way is to eat it really fast so its not so spicy. Go ahead and put it to the test !
5. Mr Kim's Roasted Seaweed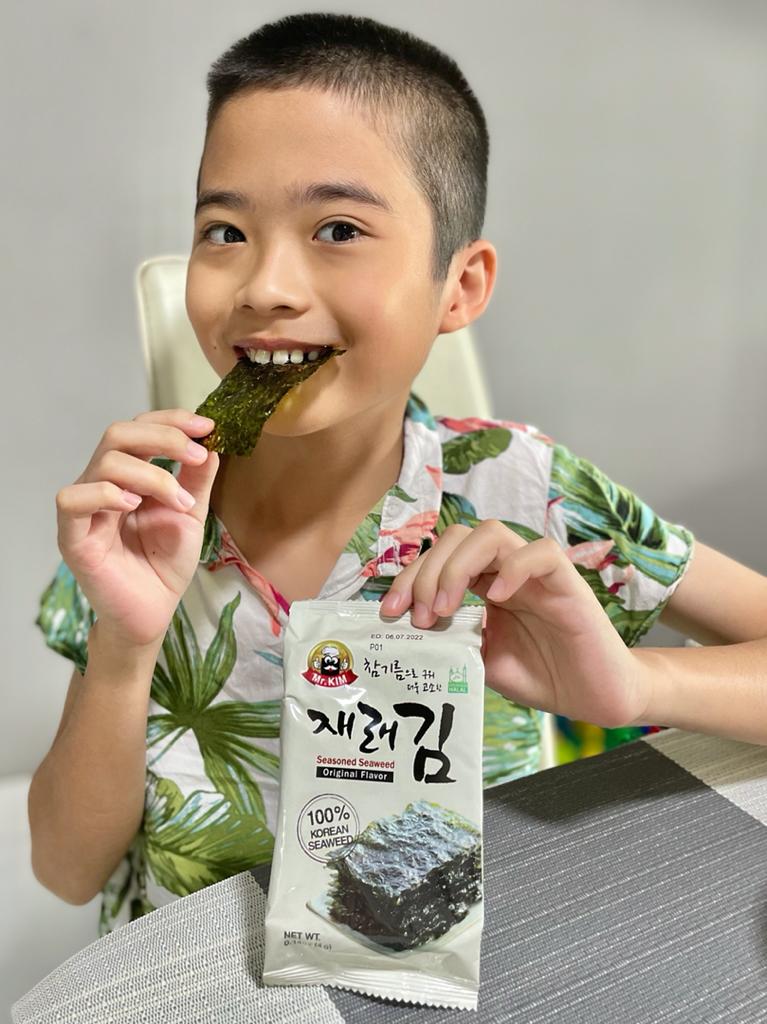 What it is : These are high quality, thin sheets of seaweed that have been seasoned and roasted to perfection. Seaweed is known for being rich in nutrients and vitamins. These come in a variety of flavours such as Original, Spicy and Teriyaki.
Our Verdict : A very yummy and healthy Korean snack, it's light, salty and pleasantly crisp taste makes you want to eat more. We have witnessed 4 or 5 packets single-handedly demolished at a go. Thankfully, its just 4g per pack.
6. Nongshim shrimp crackers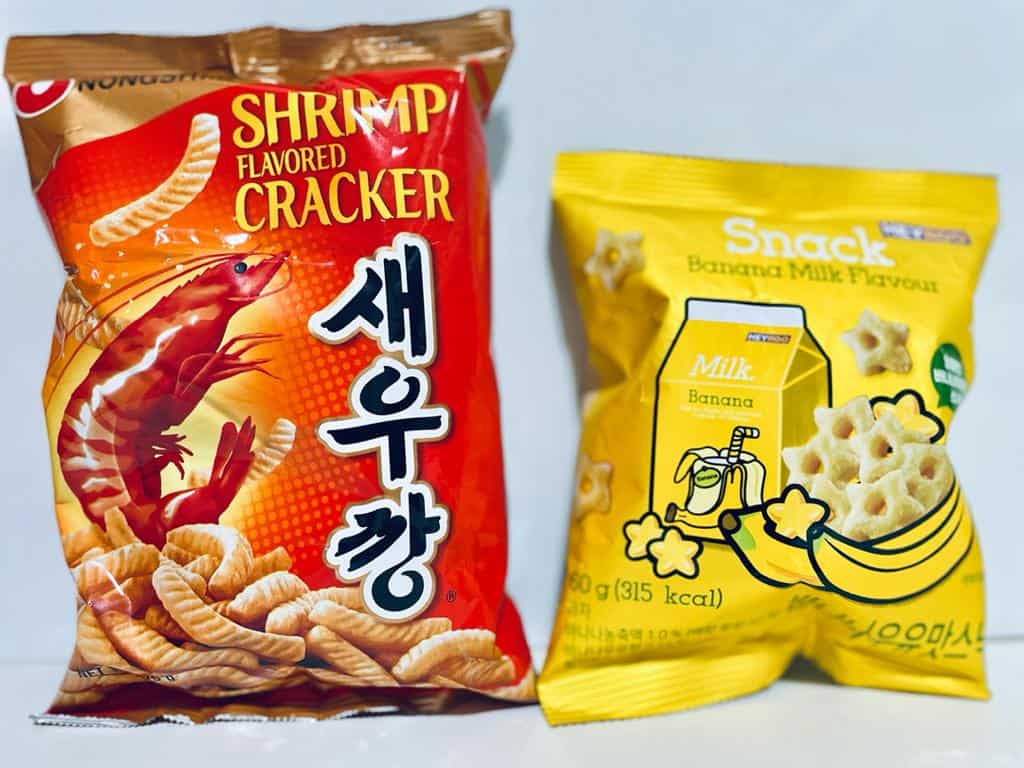 What it is : Another famous Korean snack brand, Nongshim Shrimp Crackers look like French fries with grooves in it. They are crunchy and salty with a strong shrimp flavour. The good news is that they are baked not fried, so they make for a relatively healthier Korean snack and you don't feel too guilty after eating the whole bag.
Our Verdict : We like the crunch, the salt and shrimp taste. These are great for sharing around during a late night K-drama binge-watch. Just make sure you have enough to go around !
7. HEYROO BANANA MILK FLAVOURED SNACKS 
What it is : Based on the bestselling Korean Banana Milk drink which is a subtle and delicately sweet treat commonly found in Korean groceries and convenience shops. Aside from banana flavour, there is also melon, strawberry and chocolate flavour.
Our Verdict : The taste is similar to the cereal Honey Stars, but with quite a strong banana flavour. It is shaped like  a star and is quite large, size-wise. The packet itself is quite big too. If you have a sweet tooth, you may enjoy this Korean snack.
8. DOLPHIN GRAPE FLAVOURED KONJAC JELLY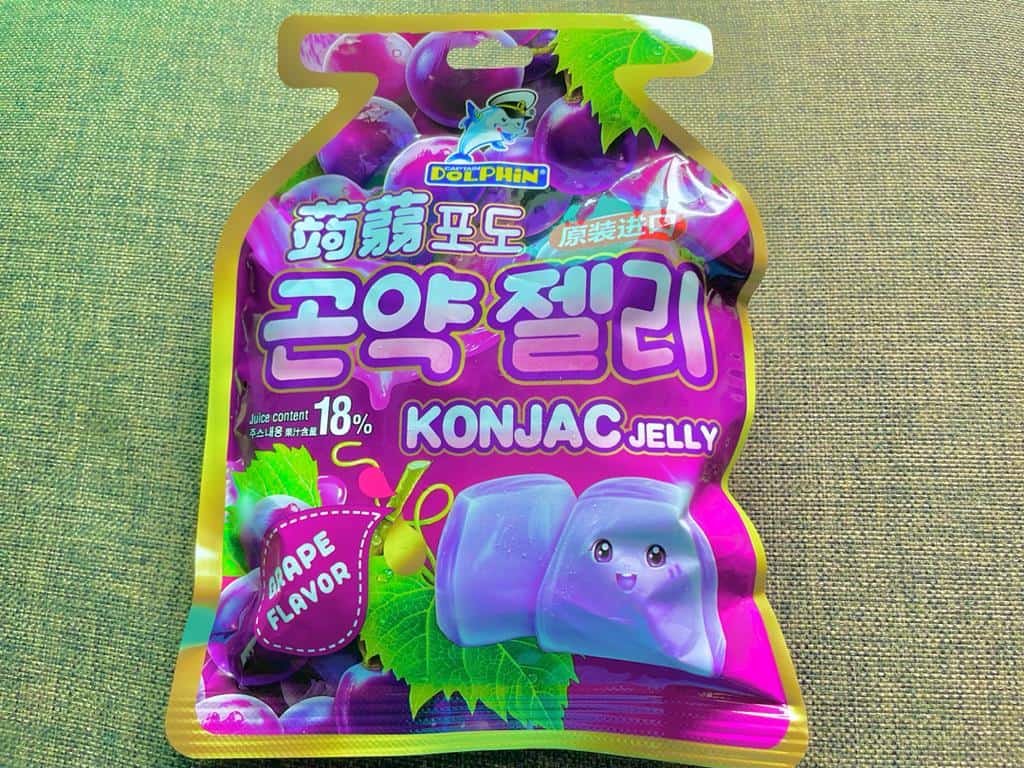 What it is : Konjac or konyaku actually comes from a herb. It is used in TCM (traditional Chinese medicine ) and as a dietary supplement for weight loss and to manage cholesterol. Konjac jelly is a popular sweet treat for children and adults alike.
These comes in other flavours such as peach, mango and lychee.
The packaging is safer than the mini jelly cups which have been known to cause choking. This pack is rectangular and to get the jelly out, you have to squeeze it.
Our Verdict : A yummy gummy grape-flavoured jelly treat. Best if chilled. Soju lovers can try this super easy Korean recipe – pour your favourite flavoured Soju into a glass, add some konjac jelly and let it sit in the fridge for a while. Geonbae!
9. KOREAN FRIED CHICKEN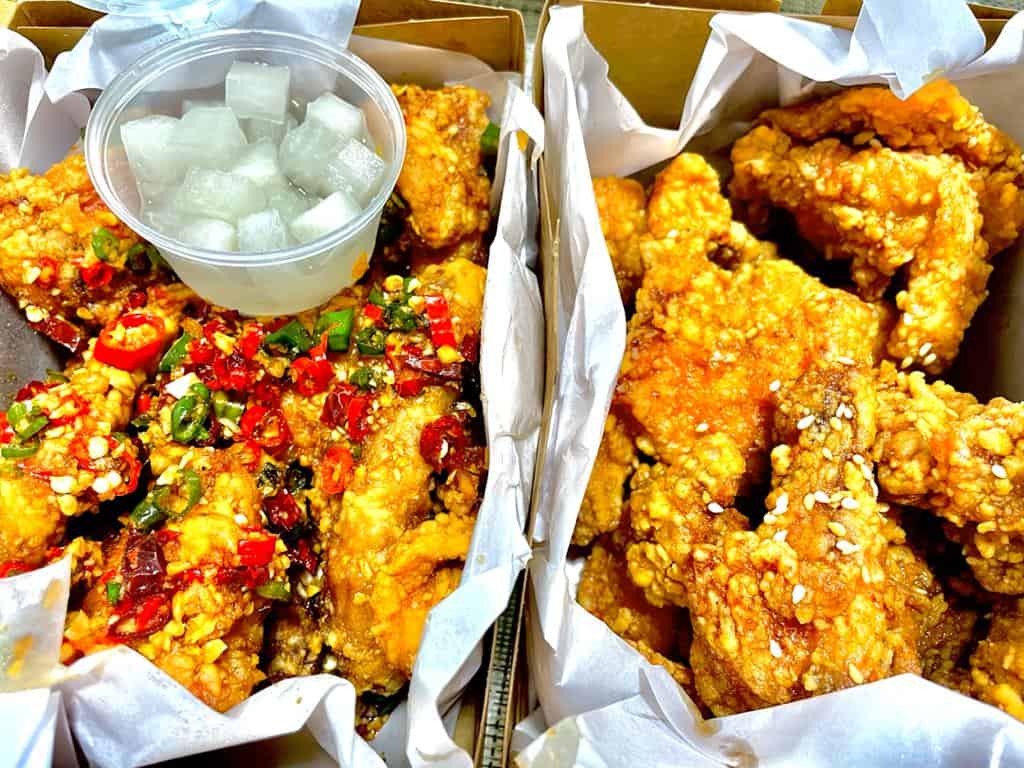 What it is : This list would not be complete without Korean fried chicken or chikin. Usually served in bite size pieces, this makes it versatile enough to be consumed as a meal, an appetizer, or in between meals as a delicious Korean snack. It is typically seasoned only after it is fried and you can enjoy it in different flavours such as honey soy, hot and spicy and sweet chilli.
Korean pickled radish is almost always served with Korean fried chicken. This is because the sour, vinegary, crunchy radish helps cut through the heaviness of fried chicken so you get the perfect balance of sour, salty, and sweet.
Our Verdict : Amazingly tasty fried chicken. Just as we thought it couldn't get better than the honey soy variety, we tried the hot and spicy version and were blown away. This is definitely a dish you can eat every week and that makes you want to visit Korea just to taste the original !
10. DELAFFE BLUE ICE LEMONADE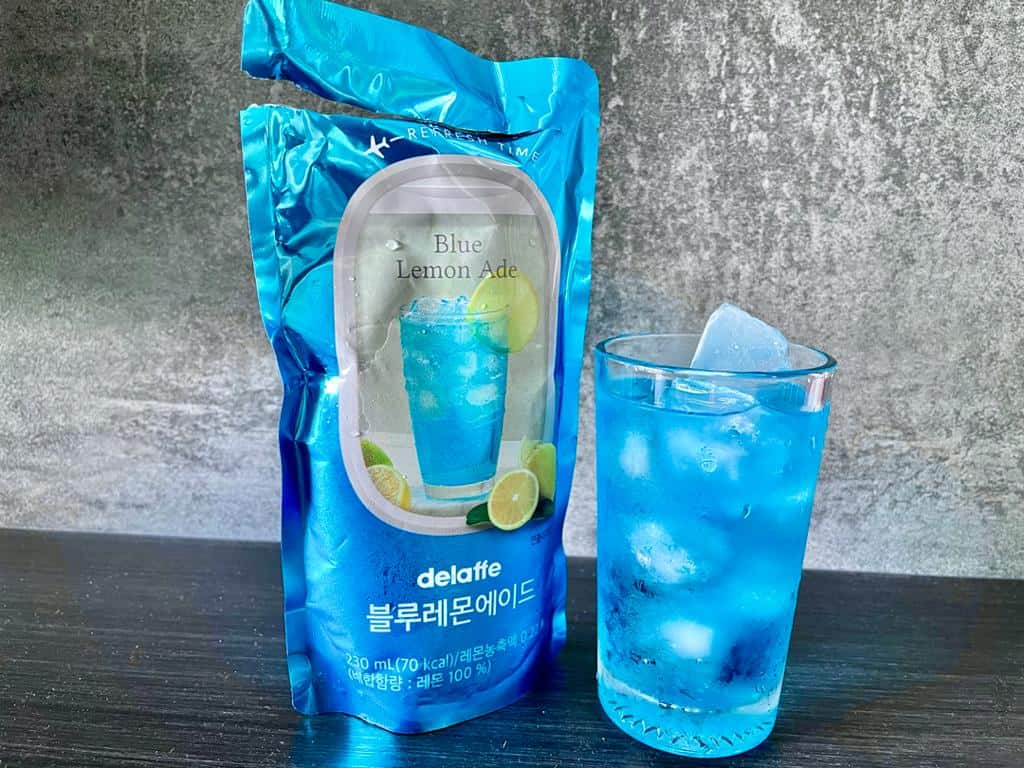 What it is : Quench your thirst on those hot days with a blue ice lemonade drink. Popular in South Korea, blue lemonade is a beverage and/or drink made by adding lemon, carbonated water and blue syrup.
The packaging is very pretty and to drink it all you have to do it tear it open at the top and pour into a glass filled with ice cubes.
Other flavours to try :- Americano Sweet, Black Americano, Hazelnut Flavor Coffee, Green Grape Ade, Peach Iced Tea, Plum Ade, Watermelon Ade.
Our Verdict : This went down really well after the hot and spicy Korean fried chicken. We liked that it was not too sweet, and such a pretty and unique colour. Eating Korean fried chicken and drinking blue ice lemonade will make you feel like a true blue bona fide Korean. Annyeonghaseyo!
Salivating already? We have carefully selected the tastiest Korean snacks for your eating pleasure. You can place your orders here.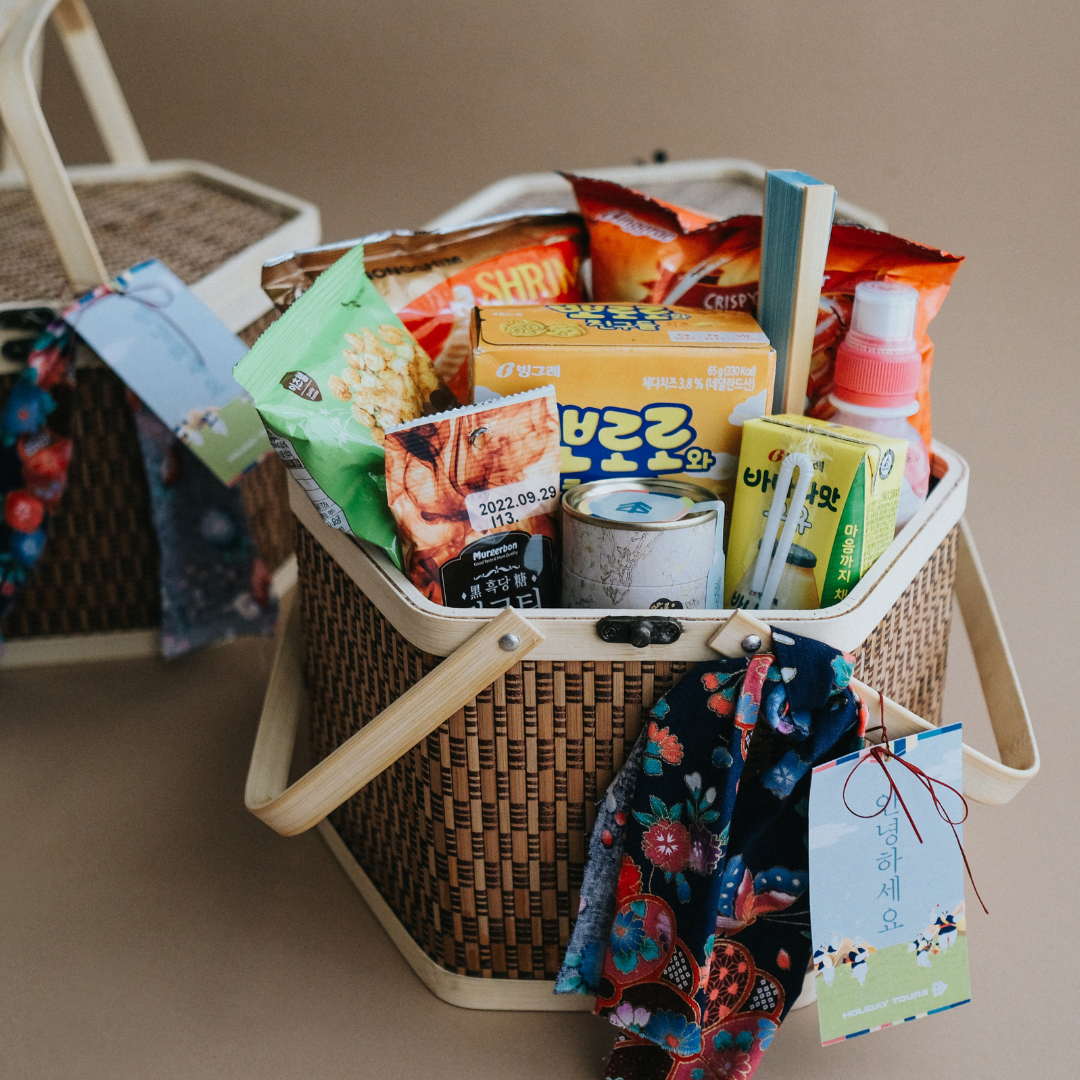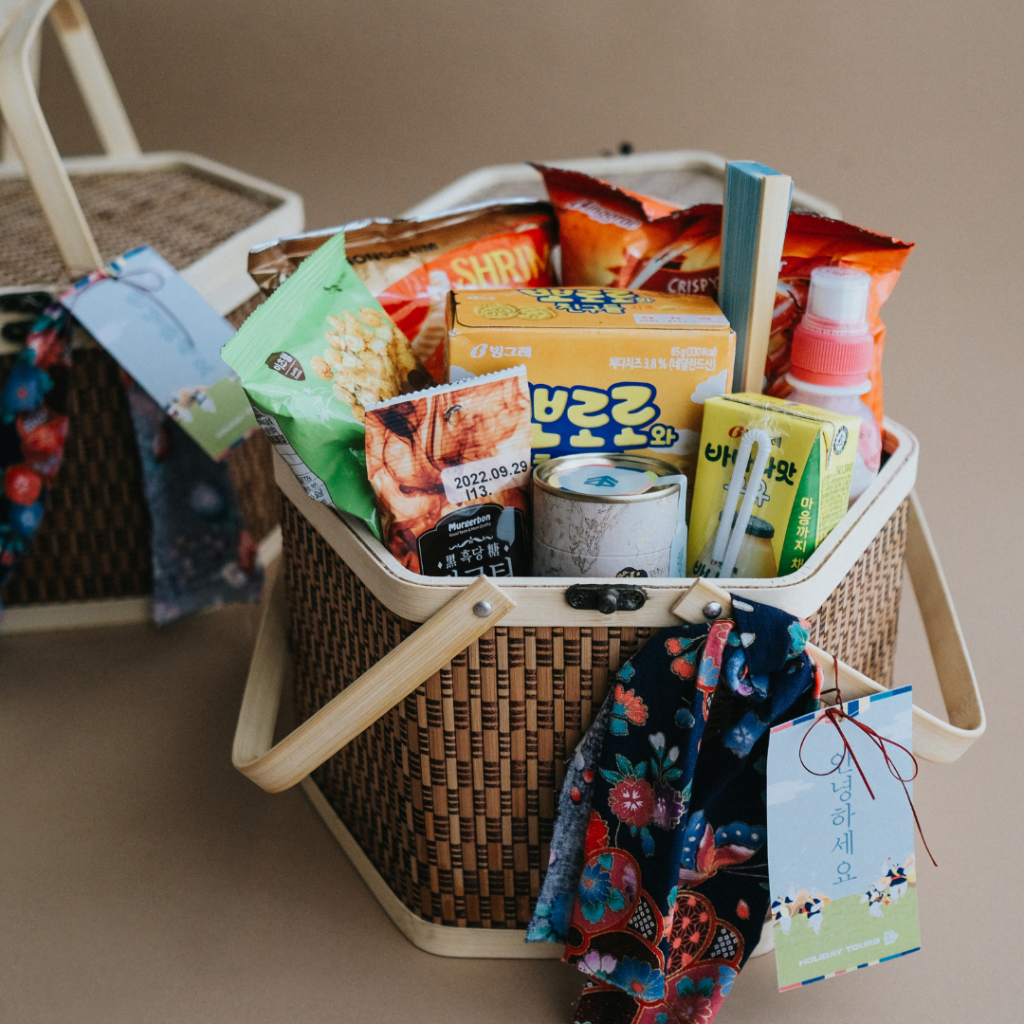 If Korean snacks makes you dream of beautiful South Korea, do get in touch with us. LEt's make that dream come true.