After two years of mandatory lockdowns, the thought of the sun shining and the sound of the waves crashing in along with the wind blowing sand into every possible crevice has everyone scouring the web for the ideal travel destination. As Australia's borders have reopened to receive foreign travellers, there's no time like now to consider holidaying down under. Start planning your next holiday to Sydney and New South Wales to experience these white-sand beaches and other adventures!
Exploring New South Wales Beaches
New South Wales is touted to have some of the best beaches in Australia and the world. Read on to explore the beaches within Sydney's city surrounds and those further along the coastline.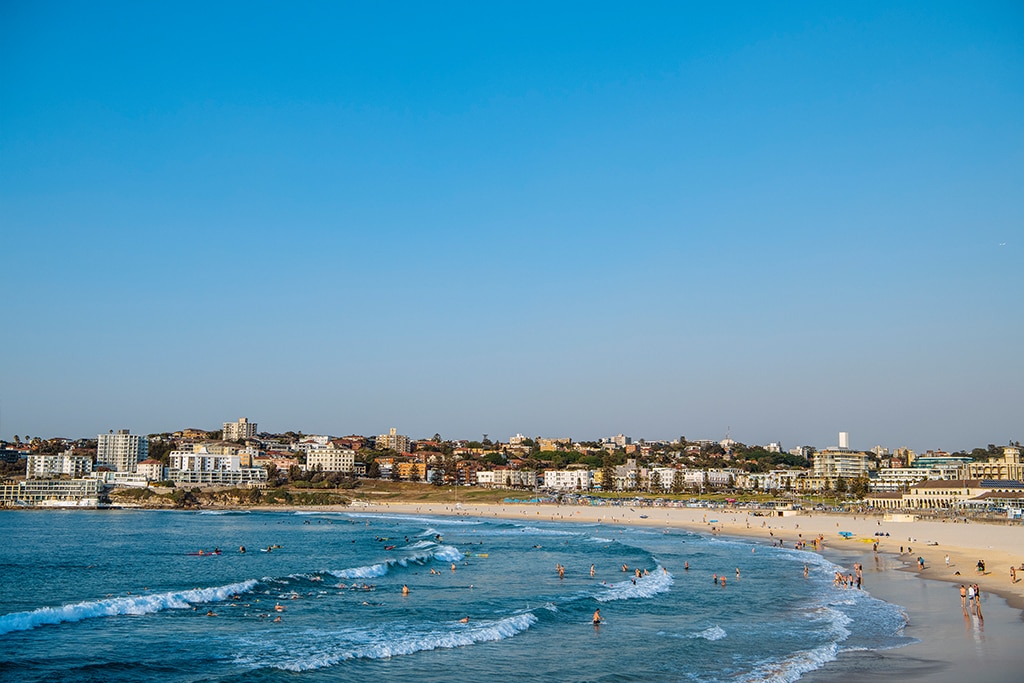 Sydney
Bondi Beach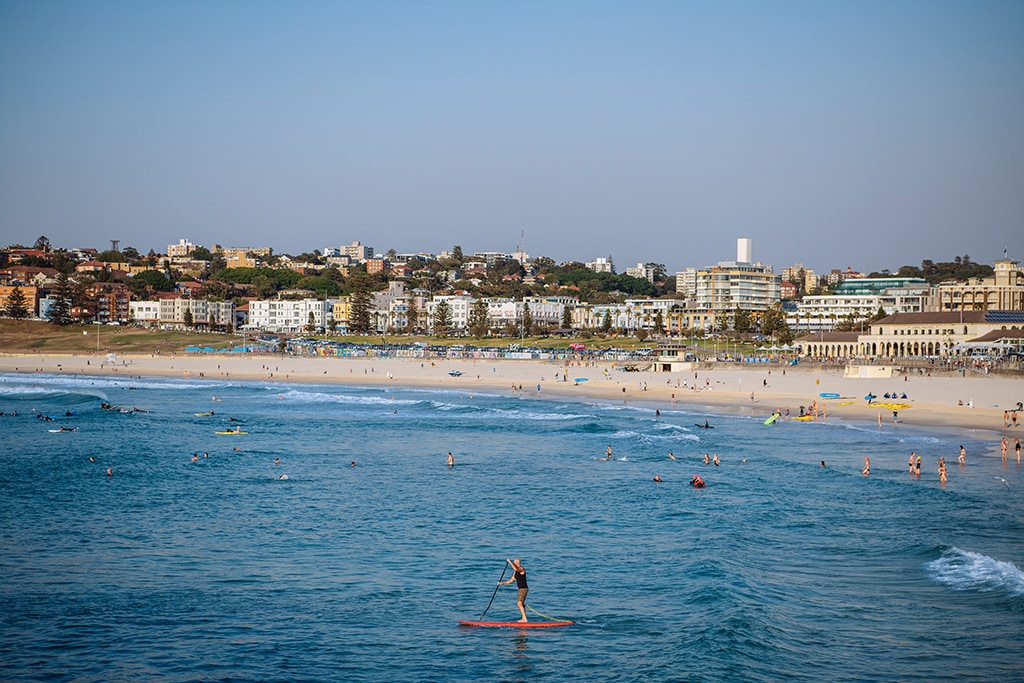 Located a mere 8km from Sydney's city centre, the iconic Bondi beach is easily accessible by public transport available throughout the day, by land or sea. Go on a ferry ride and enjoy spectacular views of Sydney from the water. Alternatively, you can opt for a 30-minute bus ride or an 11-minute train ride from Sydney Town Hall to get to this top beach destination. Bustling from dusk till dawn, the excitement at Bondi never ceases.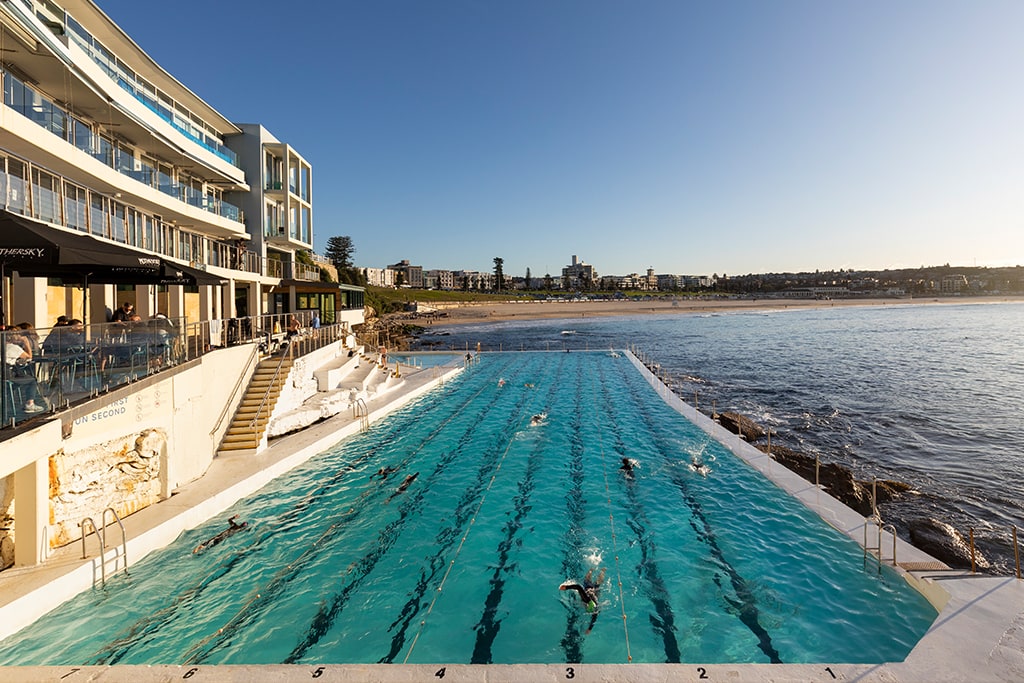 Attracted by Bondi's laid back yet trendy atmosphere, locals and visitors alike find themselves spending the entire day along this famous stretch. Head over to the southern end of Bondi and experience the famous Bondi Iceberg Club. Their saltwater ocean pools are open to the public year-round, except every Thursday when it's closed for cleaning. The Iceberg restaurant and bar are a Bondi establishment and offer great food and unparalleled ocean views.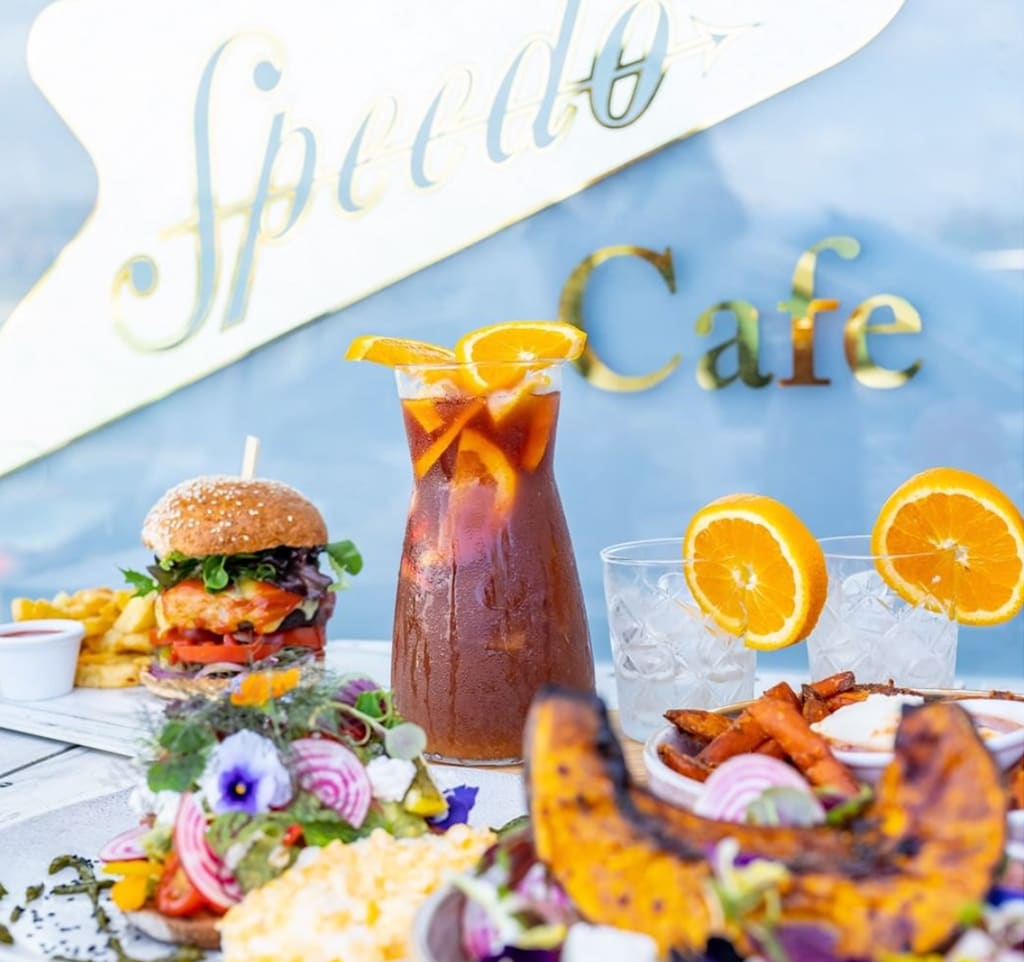 With lively bars and eateries scattered along with the beachside suburb, be sure to head up on the esplanade between visits to the sea for a bite to eat and to rehydrate. Grab a juice from Cali Press on Hall Street, just minutes away from the beach. Speedos at Bondi is another spot not to be missed. This is the place for Instagram-worthy photo opportunities and great food served all day.
If you're looking to spend the day at Bondi, Bills serves up healthy and delicious fresh meals and is open for breakfast, lunch and dinner. Finer dining options such as The Corner House, Lola's Level 1 and The Pacific Club offer local Australian produce integrated with Mediterranean and European influences.
Manly Beach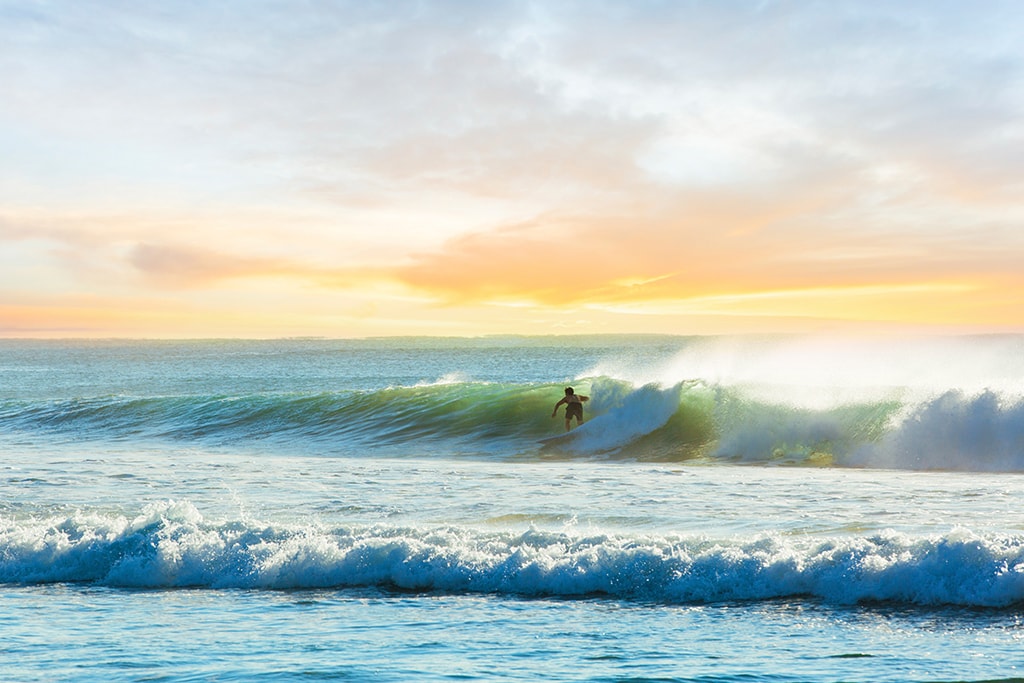 Caught between the hustle and bustle of city life and the laid back vibes of a coastal town, the magnificent Manly beach offers visitors a unique experience. This 3 kilometre stretch of golden sands is a mere hour away by public transport, half that duration if you go by car from the CBD. Enjoy unbeatable views, if you opt to take a 30-minute ferry ride.
Manly beach is a popular spot for locals and visitors over the weekend. The markets, local distilleries and nature hikes make it an ideal location to spend the day. In 1964, Manly Beach held the first World Surfing Championship, cementing its reputation as a surfer's paradise to this day. Visit Manly Surf School for an introduction to surfing with lessons for beginners and advanced surfers looking to up their skills.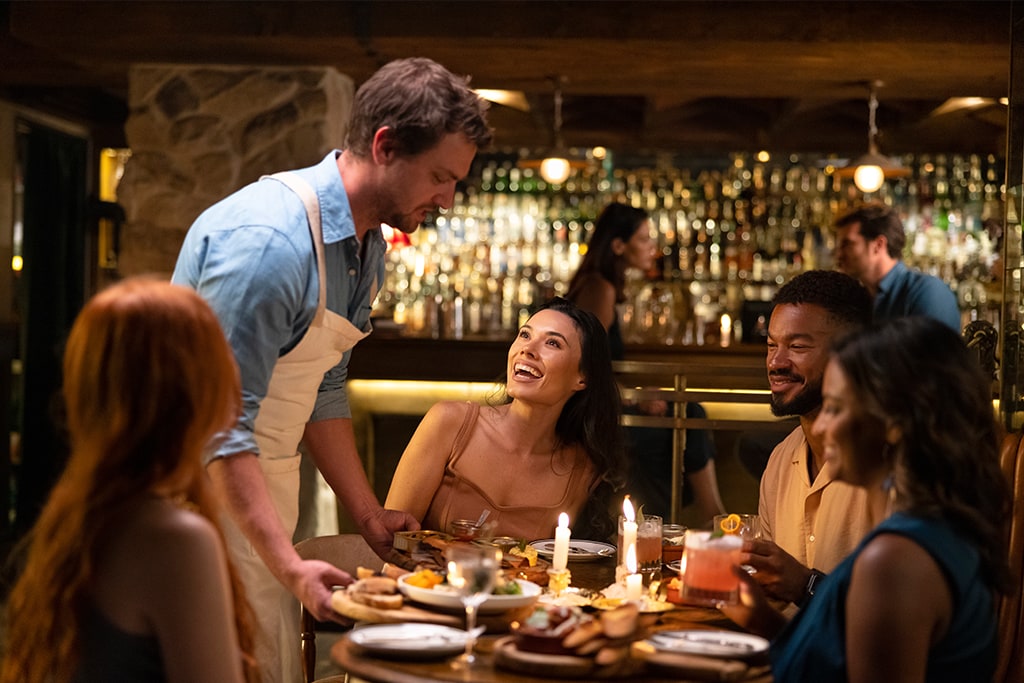 As one of the most popular New South Wales beaches, Manly boasts notable dining and drinking spots along the waterfront.  Busta Restaurant offers wine and authentic handmade pasta. Queen Chow offers up a slice of the east, with a live seafood tank, oyster bar and dim sum served on the waterside. And be sure to visit The Cumberland, an underground speakeasy with a Spanish twist. The sophisticated basement bar offers a wide selection of whiskies, natural wine, craft beer and an extensive themed cocktail menu inspired by original counties from Sydney.
Palm Beach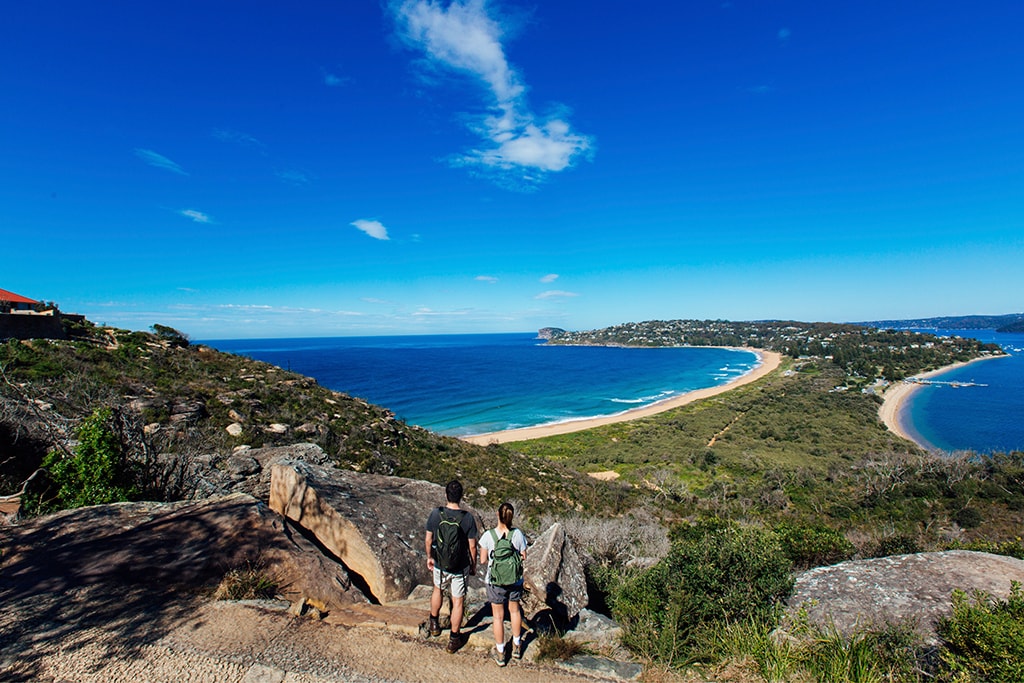 Better known as Palmy by locals, the golden sands and pristine waters of Palm beach offer a calm and more laid back vibe compared to the previous city-side beaches of Bondi and Manly. As Sydney's most northern point, Palm Beach is home to the Barrenjoey Lighthouse, an icon presenting spectacular 360 views from its lookout. Tours of the lighthouse are guided but its surroundings are open to the public.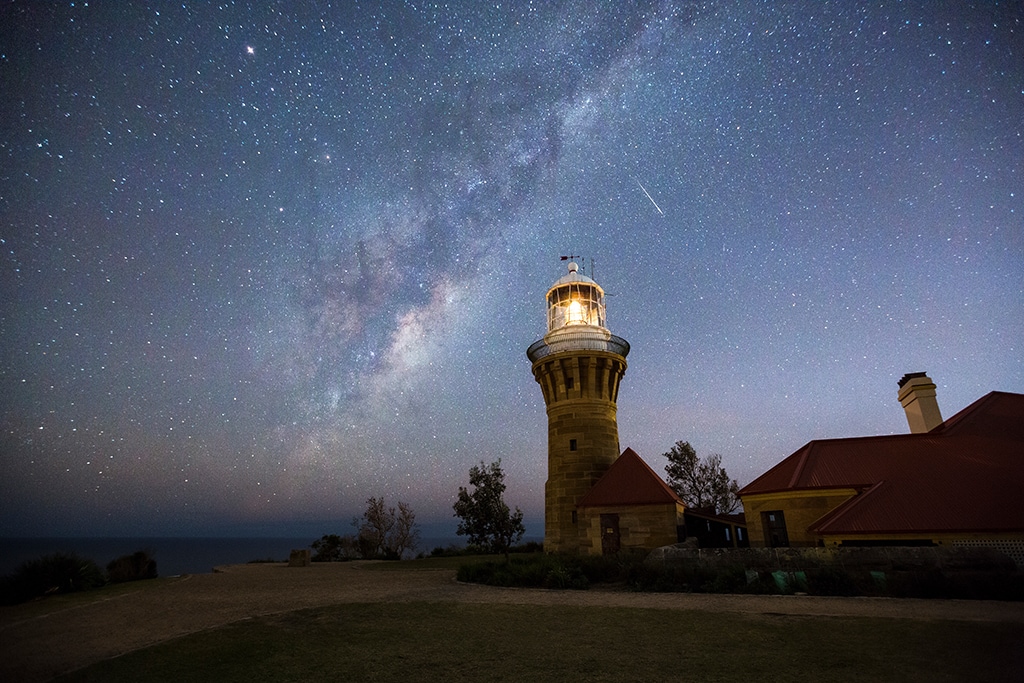 Pittwater Kayak Tours
offer guided kayaking tours around Palm beach, which make for fantastic fun with family and friends. Nature tours to explore the flora and fauna of the land can be booked through
EcoTreasures
, which aims to preserve nature while sharing its wonders with visitors.
North Coast
Port Stephens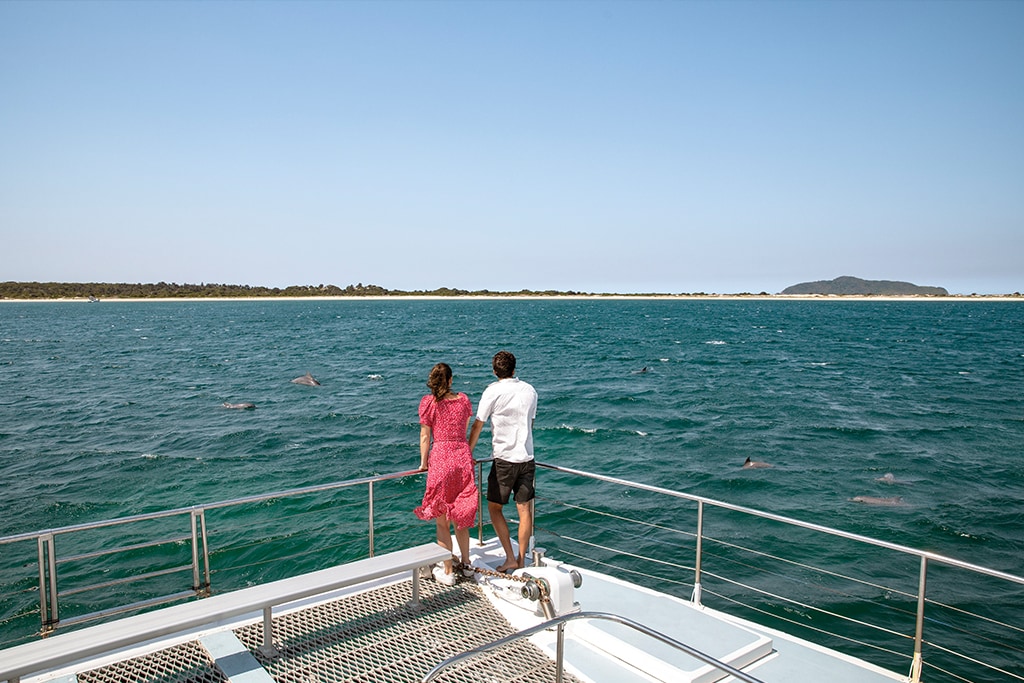 For the more adventurous, a two and a half-hour drive north of Sydney gets you to Port Stephens, Australia's dolphin capital and home to over 150 bottlenose dolphins. The crystal clear blue waters of the bay make it easy to spot these playful animals. Head out on a cruise to see them or maybe even swim alongside them. There's also a chance to see majestic humpback whales if you visit from May to November, which is the migration season for these beautiful sea mammals.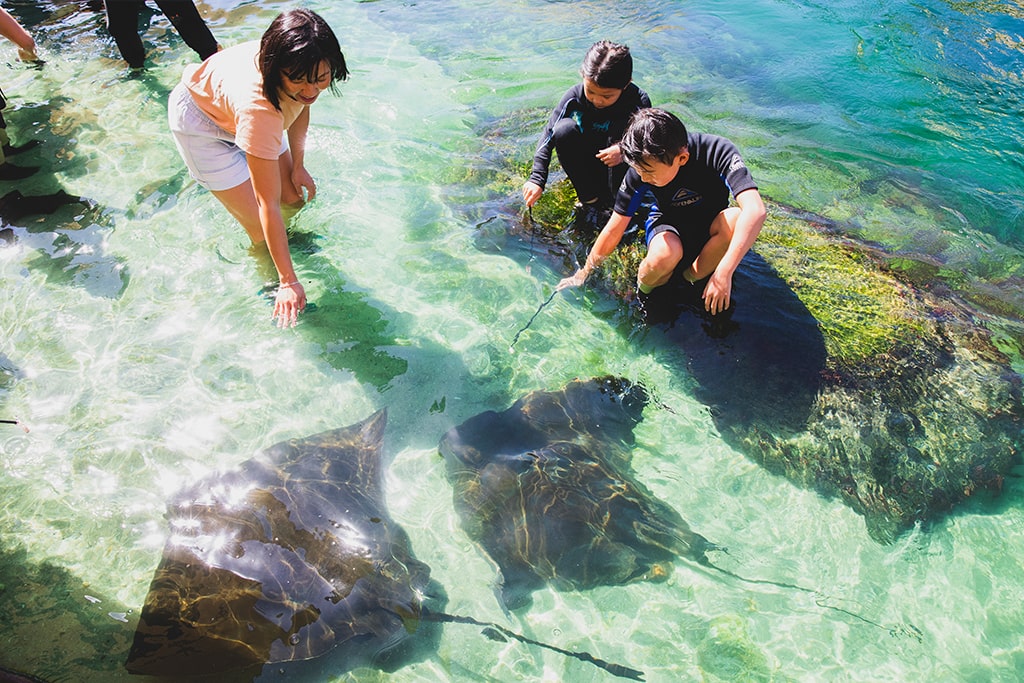 Along with dolphins and whale sightings, Port Stephens own Irukandji Shark and Ray Encounters at Anna Bay offers a safe environment for visitors to learn more about the marine animals, which inhabit its waters.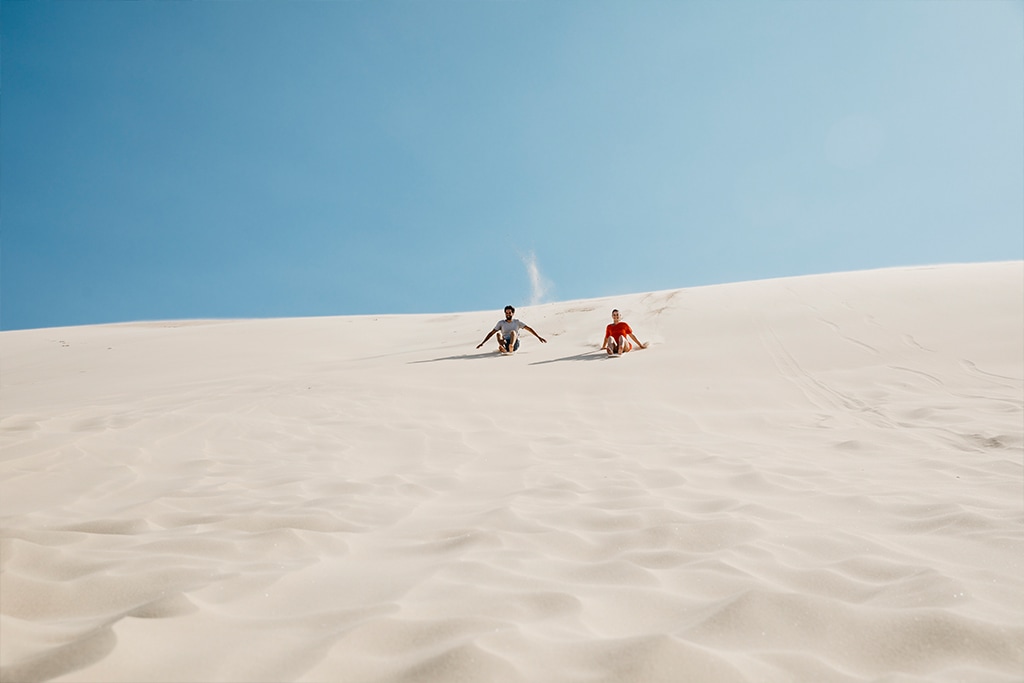 Port Stephens is also home to the largest moving coastal sand dunes in the Southern Hemisphere. Local tourism has taken to the dunes to offer a range of land-based adventures for all ages. Whether it is sandboarding, sand surfing or a 4WD dune safari tour, the Port Stephens dunes leave adrenaline junkies wanting more.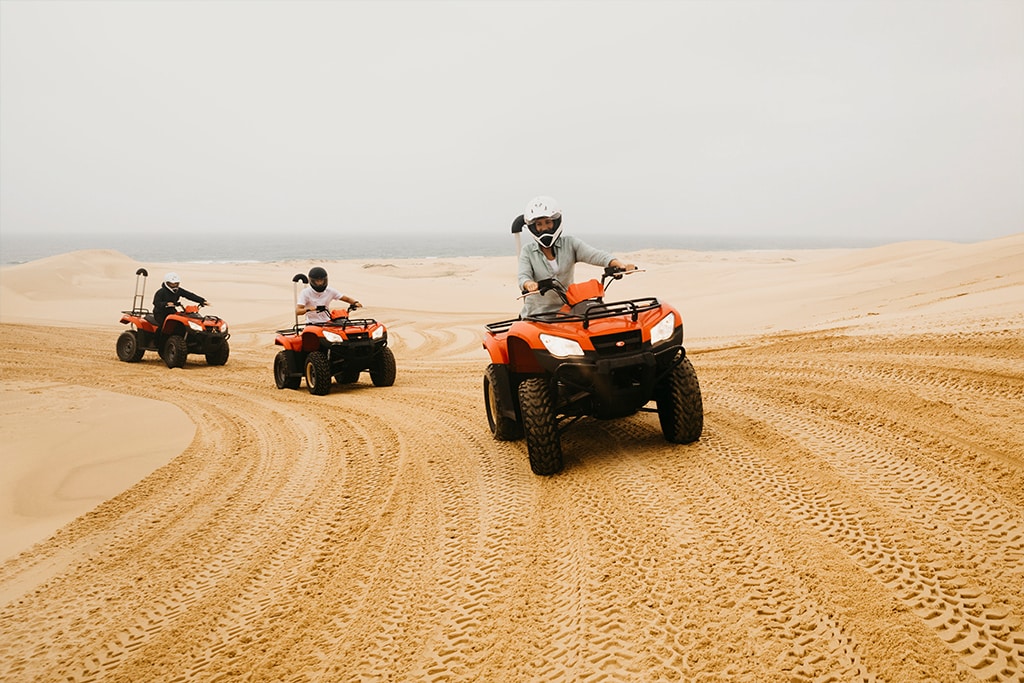 To cap off a long and adventurous day in and out of the water, appreciate the golden hour and extraordinary views of Port Stephens beaches with an exotic camelback ride. Once done, indulge in the fresh local seafood of the region.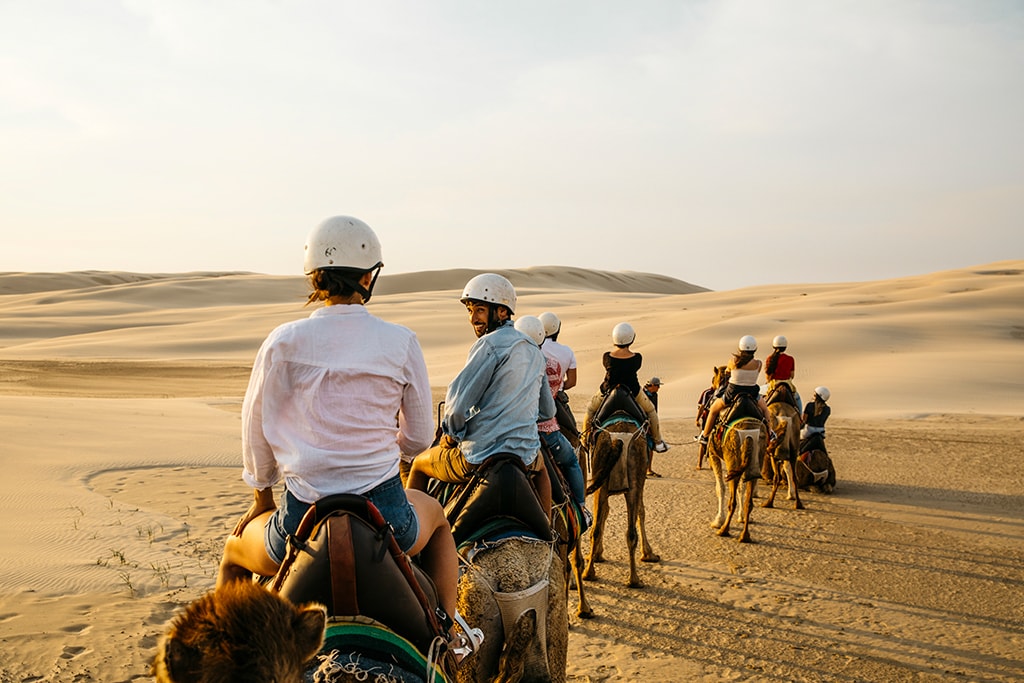 Byron Bay

Byron Bay is a coastal town set on the north coast of New South Wales, the most easterly point in Australia. You can find some of the most luxurious beach homes in the country here. If you're coming from Sydney, we highly recommend taking the Legendary Pacific Coast scenic route. Along this spectacular drive, explore Hunter Valley's famed wineries as well as Port Stephens' amazing wildlife and vast sand dunes.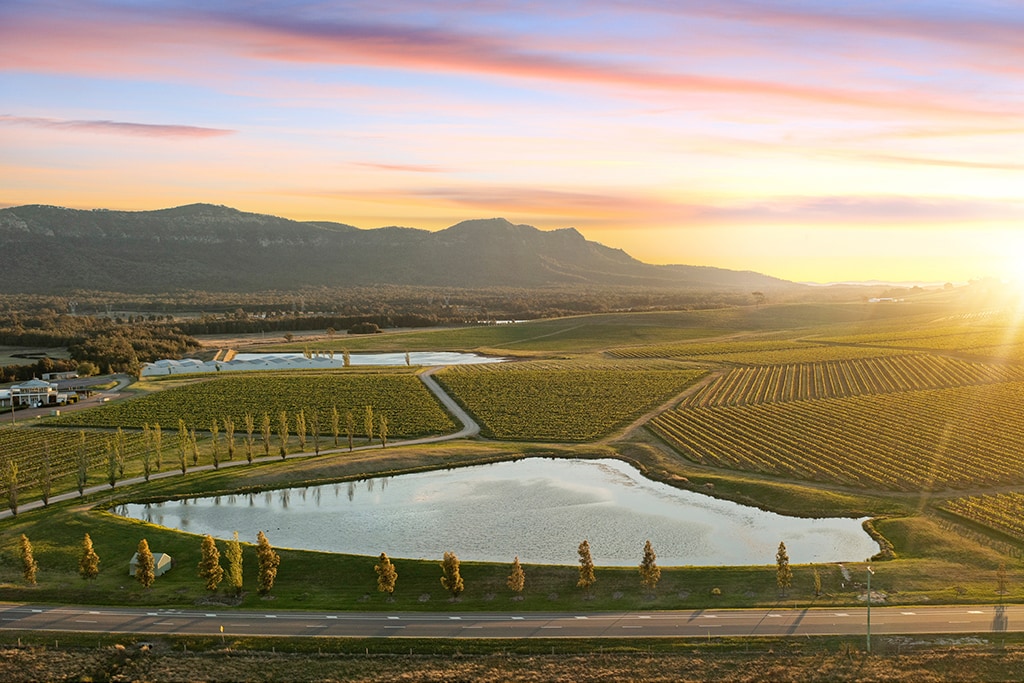 Be immediately greeted by the scent of the sea, crystal clear waters and pristine beaches. The views from anywhere in Byron Bay are sure to make those at home envious. Due to its prime location, the ocean ensures residents and travellers alike experience great weather throughout the year.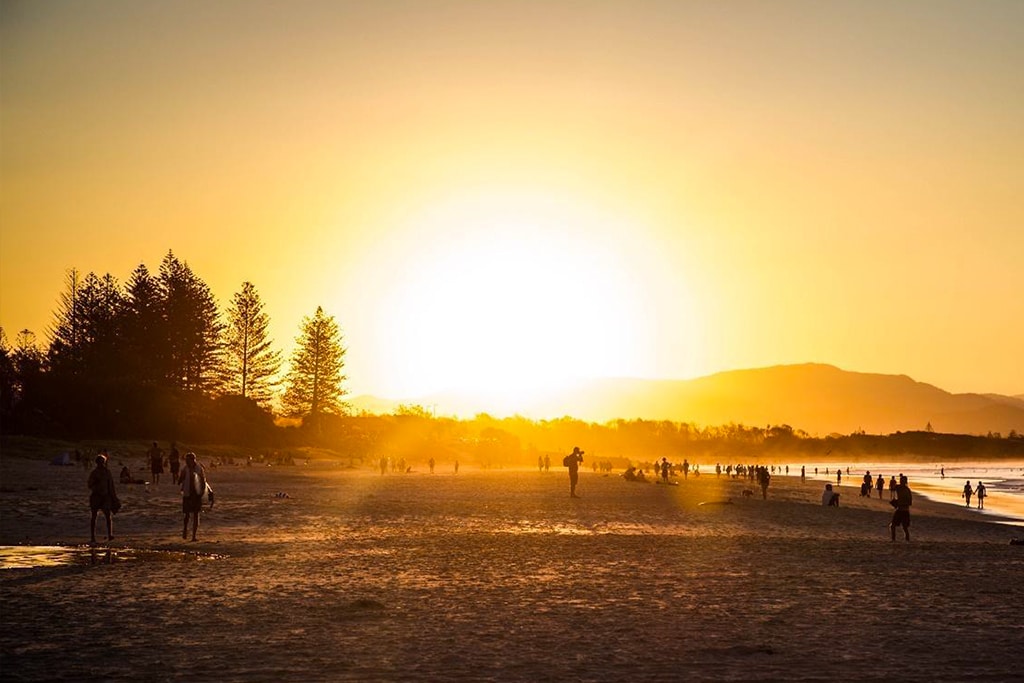 Main Beach is the most frequented beach in Byron Bay located in the centre of town. Crowds flock there during the peak season to get their tan, enjoy family time and partake in beach activities in and by the water.
Given its location, Byron Bay is home to all sorts of wild and sea life. From June to August, humpback whales cross the open water of Byron Bay. Go Sea Kayak offers guided kayaking trips out into the open ocean for those wanting to be amongst playful dolphins and to get a closer look at majestic humpback whales. Another option is to get to the Byron Bay lighthouse early in the day. This place is touted to get the best views of migrating whales from land.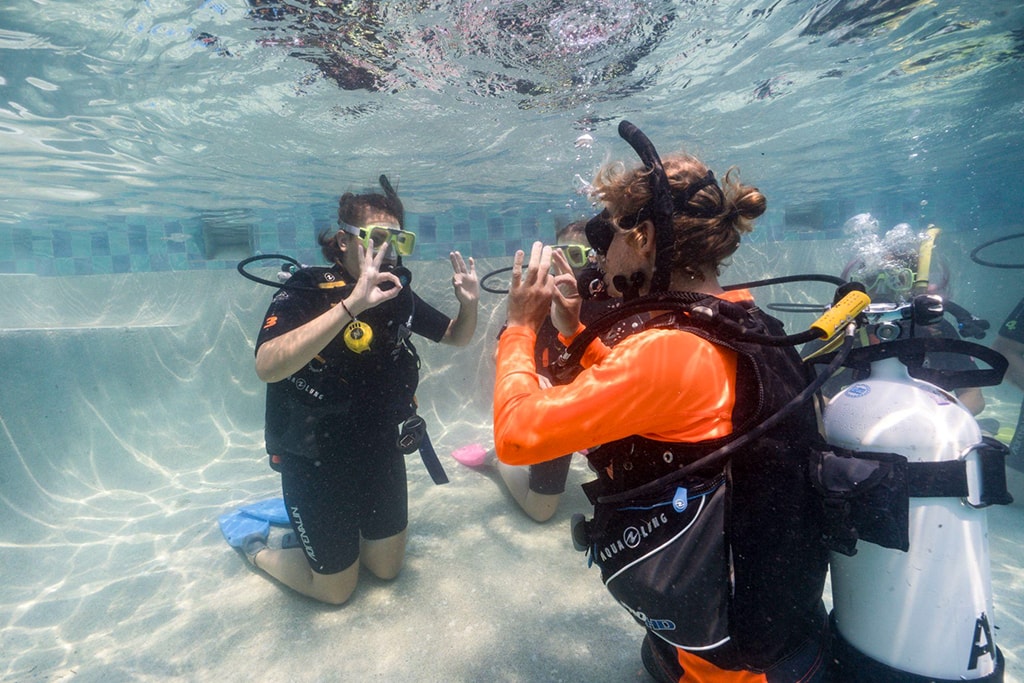 For those who can't wait to get into the water, be sure to visit the Byron Bay Dive Centre. This centre organises daily excursions out to the sea where customers can snorkel among sea turtles and other sea animals.
For those wanting a bit more than a dip, Earth to Surf Adventures offers visitors a comprehensive package consisting of a hiking tour of the Minyon Falls, a World Heritage site, followed by a kayak tour around the bay in the afternoon.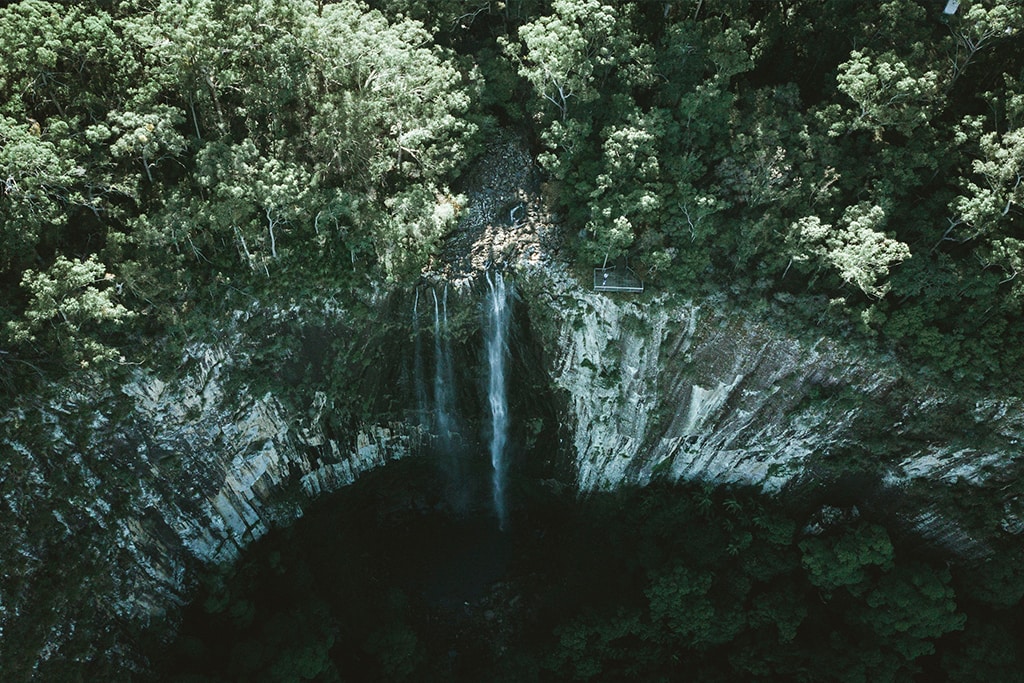 With daily activities taken care of, let's get to the other important subject… food! Activity fuelled days must be highlighted by amazingly good grub. With a plethora of exceptional dining venues and cuisines, read along to uncover exceptional dining experiences on offer.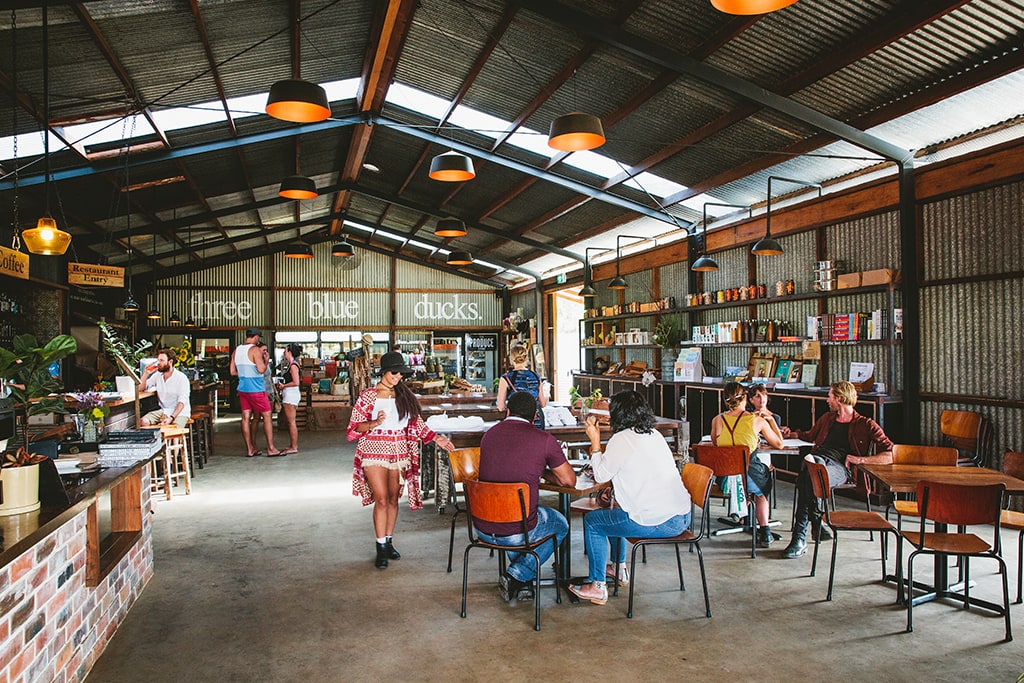 Feeling like a treat or here for a special occasion, Forest beckons a meal like no other. Located in the middle of the rainforest at the Byron Bay Resort, dishes are created with the region and its local produce in mind and sourced from farmers and fishermen who share the same values of sustainability and community. For more simple eats, Three Blue Ducks and Shelter Lennox Head are not to be missed. Both eateries focus on local produce, and offer Australian dishes unlike any other, ensuring customers leave with a full belly and the urge to return.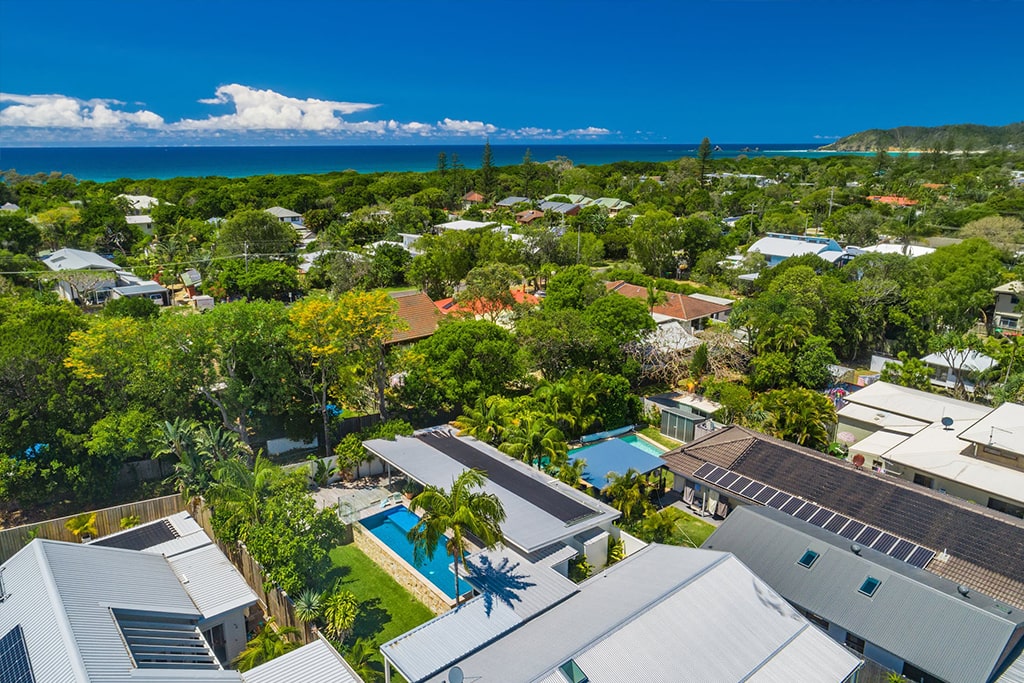 SOUTH Coast
Jervis Bay
Our southern New South Wales beach trip starts with Jervis Bay, the region that is known for its white-sand beaches as well as a sanctuary for native wild and plant life. With 2 national parks, Jervis Bay National Park and Booderee National Park as well as the Jervis Bay Marine Park, wild and plant life are protected by law. This ensures the bay remains a biodiverse gem for years to come. Dolphins frequent Jervis Bay year-round and there is whale watching from May to November.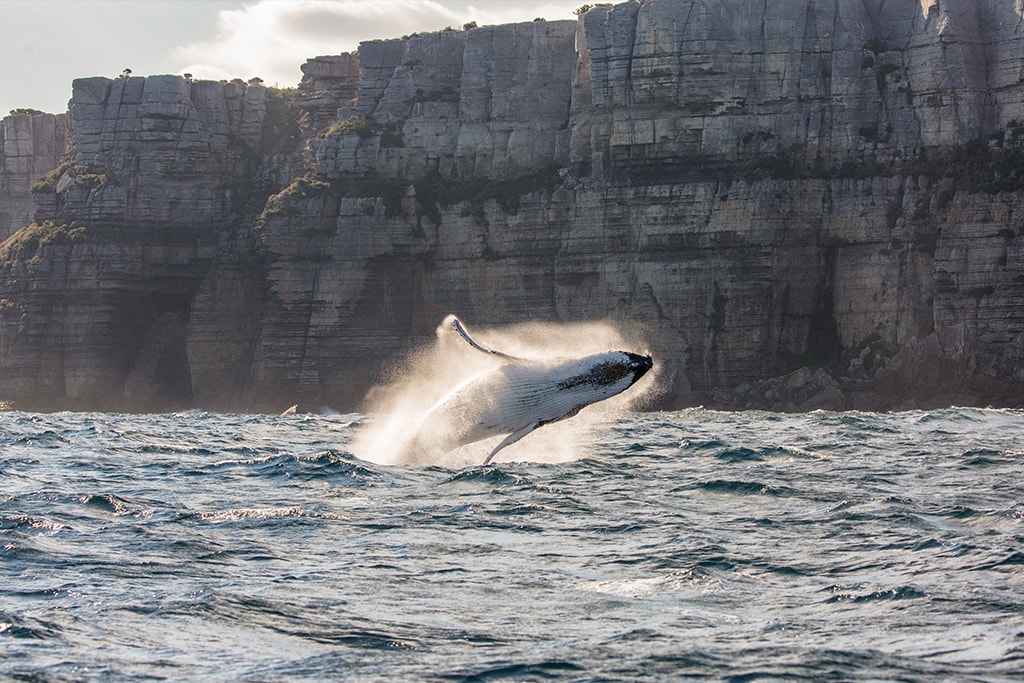 Plan ahead and be sure to visit the Jervis Bay Marine Park, home to penguins, seals, dolphins and migrating whales. Book a trip out on the water with Moonshadow Cruises – TQC for a closer look at these amazing animals as they migrate along the coast.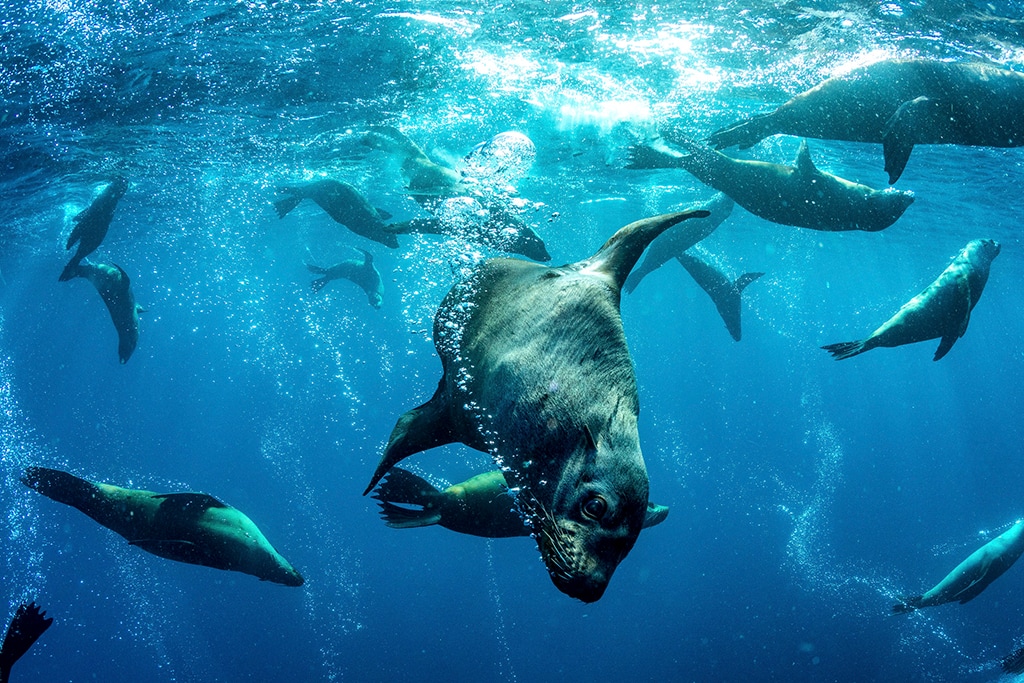 Take a break from the water activities and explore the quiet and humble seaside towns of Huskisson, Vincentia or Hyams Beach.  A trip to Jervis Bay will be sure to give you that long-awaited reset as you disconnect from the hustle of city life. Once recharged, visit Jim Wild's Oysters for an educational and delectable experience. Here you will learn about an oyster's life cycle from spawn to the table and of course to get your fill of the freshest oysters.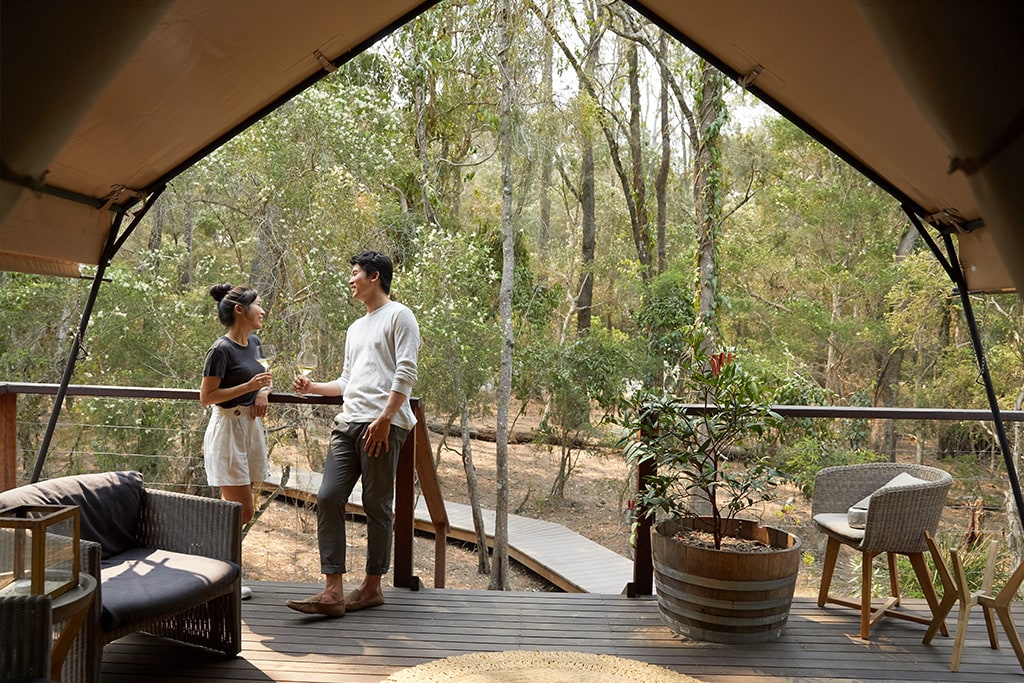 For an extended stay in Jervis Bay, head out to Paperbark Camp to experience dining and glamping at this peaceful bush retreat. With 3 different levels of luxury tents, absorb and enjoy the outback during the day and spend the night stargazing.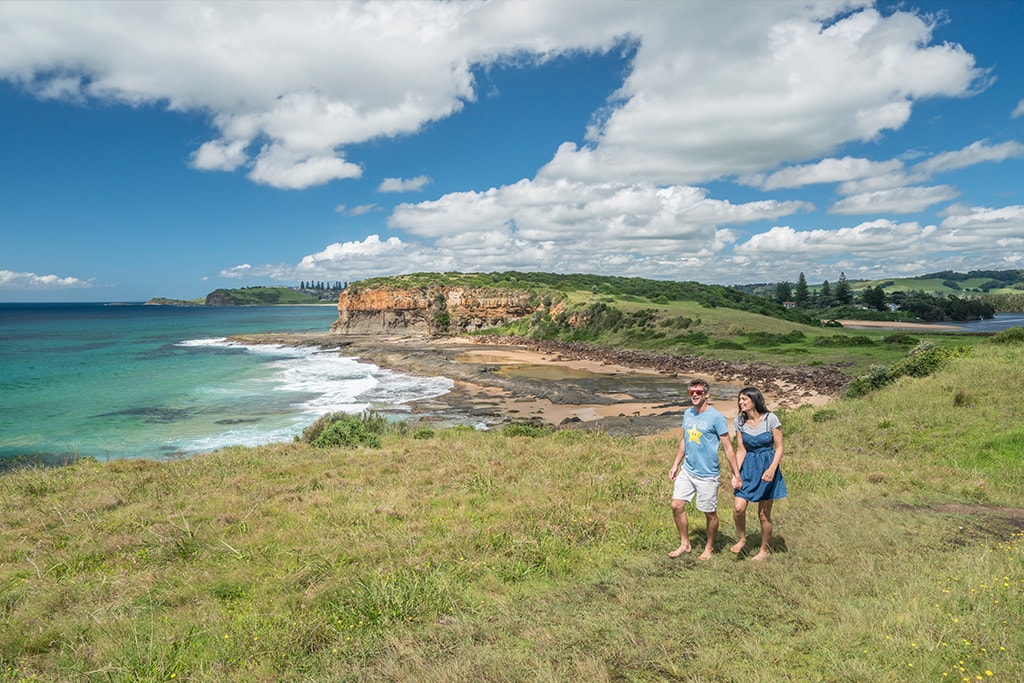 Kiama Beach
Kiama, a mere 3-hour drive from Sydney, is home to world-class waves, majestic hillsides and natural wonders. Not to be missed are its world-famous blowholes. The larger, Kiama Blowhole is the largest blowhole in the world with a 2.5-metre wide opening. Kiama has recorded heights exceeding 30 metres.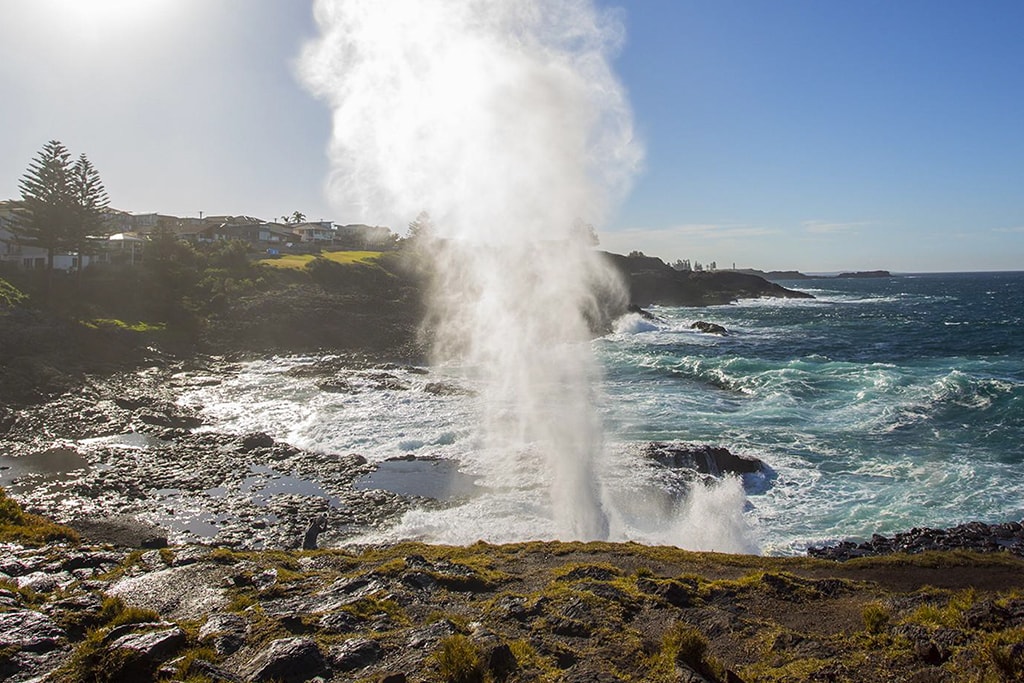 Locals will be quick to tell you that Minnamura Beach or "Mystics" at Kiama has an incredibly reliable swell, making it a hotspot for novice and advanced surfers. Or escape the beach and adventure into the ancient Minnamura rainforest.
The rainforest is not to be missed by nature lovers. With 3 difficulty options, there is an adventure awaiting hikers of every level. The loop walk, a short 1.6km stroll along the forest floor is suitable for all ages and is wheelchair accessible, welcoming all to enjoy the natural wonders under its lush canopy. Take in the area in its truest self, and be amongst trees and native Australian animals for an unforgettable experience.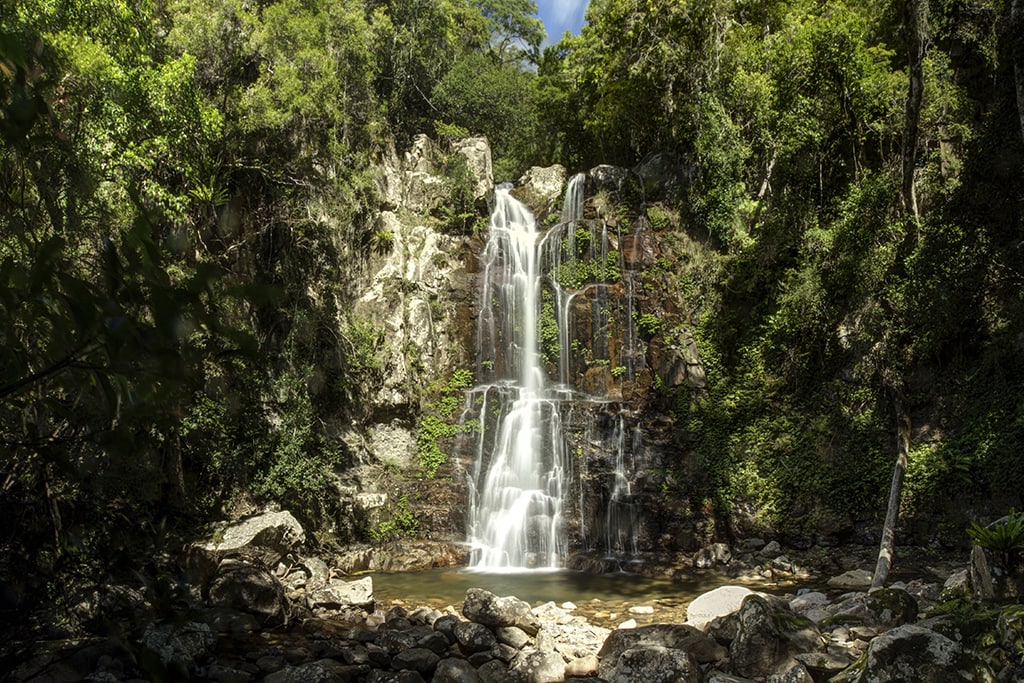 A short drive further into the region takes us to Kiama's Surf Beach, known for calmer swells. This beach is ideal for those who want to swim or are eager to give surfing a go. Surf Beach's sheltered bay makes it great for kids to play in the water. Children will also be captivated by the many rockpools littered all along the beach. It is easy to spend hours here. Experience a sunset like no other and watch the stars by night at one of the best beaches in Australia.

Thrill-seekers who are up for discovering Wollongong and its glorious beaches from the skies can head up to the clouds with Skydive Australia. With arm wide open, freefall for around 60 seconds towards the New South Wales coastline, then enjoy 5 to 7 minutes of zen parachuting drinking in this part of the world from above.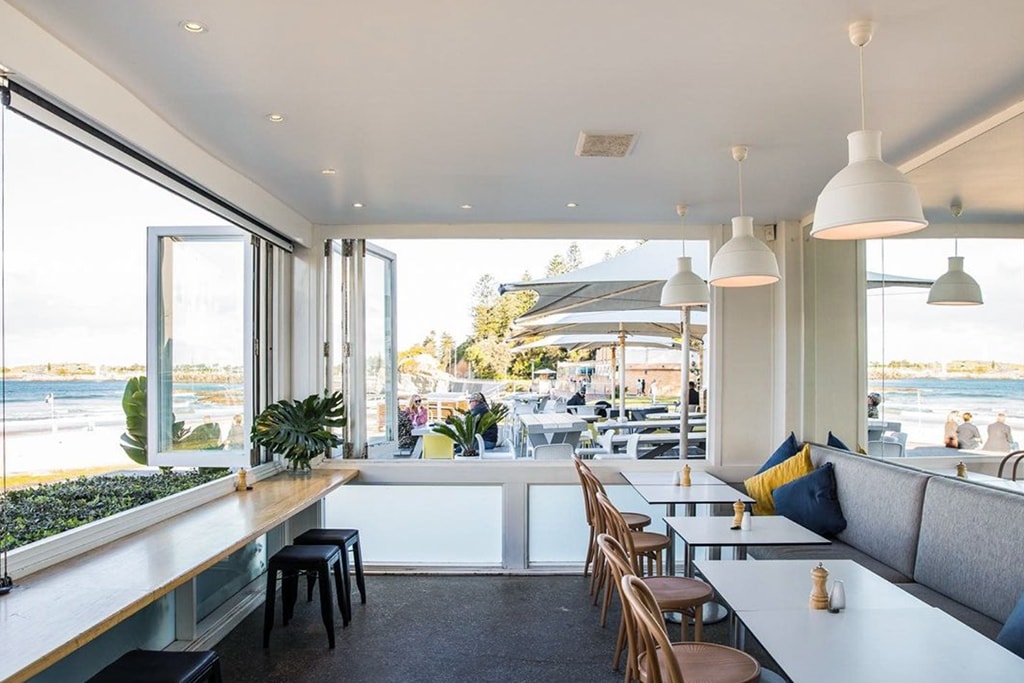 What's a vacation without sampling the local delicacies? Stop by at any restaurant or cafe scattered along the coast. For something a little fancier, head to Silica for a meal, experiencing food from the region with mid-week specials throughout the year. For a quick bite before heading back to the water, check out Diggies Cafe at Wollongong's
North Beach for your daily food fix. Diggies Cafe offers up brunch classics and seafood specialities like local mussels and classic Australian fish & chips.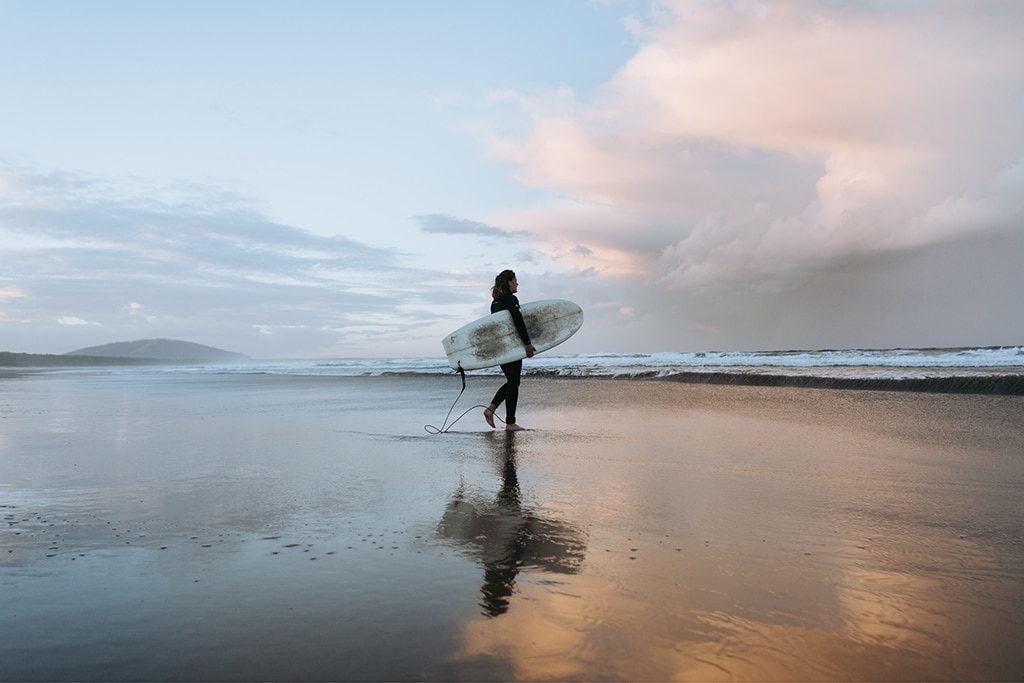 Seven Mile Beach
For those looking for just a bit more sun and sand, look no further than the town of Gerroa. This small town marks the beginning of a true natural spectacle, the Seven Mile beach. Stretching from Gerroa to Shoalhaven Heads is 7 miles (around 12km) of coastline that is ideal for relaxing, snorkelling, windsurfing and all other beachside activities. With the shore protected by native plant life, take a walk on the Sand Track or prepare a picnic to escape the sun at one of Beach Roads' picnic sites. The only things that are going to disturb you on this stretch of beach are the sounds of waves breaking and wildlife going about their day.

Travel restrictions and regulations apply and are subject to change. Find out about the latest travel updates here.
Inspired to visit SYDNEY AND NEW SOUTH WALES?
You may also be interested in these articles: