With Chinese New Year just around the corner, it's no doubt that everybody will have to start thinking about how they would have to get the house ready and all the red envelopes, festive cookies and meals that have to be prepared to usher in the celebration. Of course, while all that is being thought of, business relations must be kept well and it is only proper that as a blessing for good fortune ahead, CNY gifts should be part of your plans too.
While red envelopes or more commonly known as 'ang paos' is the traditional way to go, they are often given only when you meet the person face-to-face. With the new norm taking over our lives, unfortunately, people don't see each other in person as often as we did pre-COVID for safety reasons. Hence, in this time and day, in place of that, we can have CNY gifts delivered straight to the houses of our employees, prospects, or clients.
But what exactly is a good CNY gift? While there's no hard and fast rule of that, we believe that a good CNY gift is something that is practical and could be used to enhance the spirit of the celebration. If you're still scratching on your head while thinking about some ideas of a good CNY gift for your employees, prospects, or clients, then do not worry because we have an auspicious number of ideas for you to choose from to send the festive joy and fortune to your recipients.
18 CNY Gift Ideas for a roaring good celebration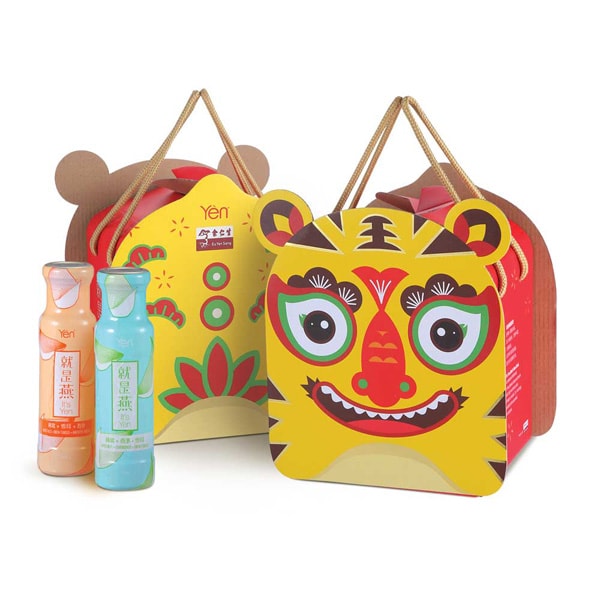 When you talk about the biggest present (in size) that you could give as a CNY gift, it is no doubt that it will always be a hamper. What more, health will be always the most valuable form of wealth that one could have and with these variation of herbal goodness from bird's nest to ginseng, your recipients will know the care you have for them to keep them in the pink of health.
PERSONALISED T-SHIRTS FROM PRINTCIOUS
Nothing speaks better than a wearing actual good fortune on your sleeve. With these customisable t-shirts, all you need to do is to come up with some CNY designs and even put the name of your recipient on the shirt too. It even comes in the colour red which is of course the luckiest CNY gift colour to get. If you need some other ideas as to what you could print on the shirt, remember that this 2022 is the Year of the Tiger which means some tiger prints would look great too as a design to be worn.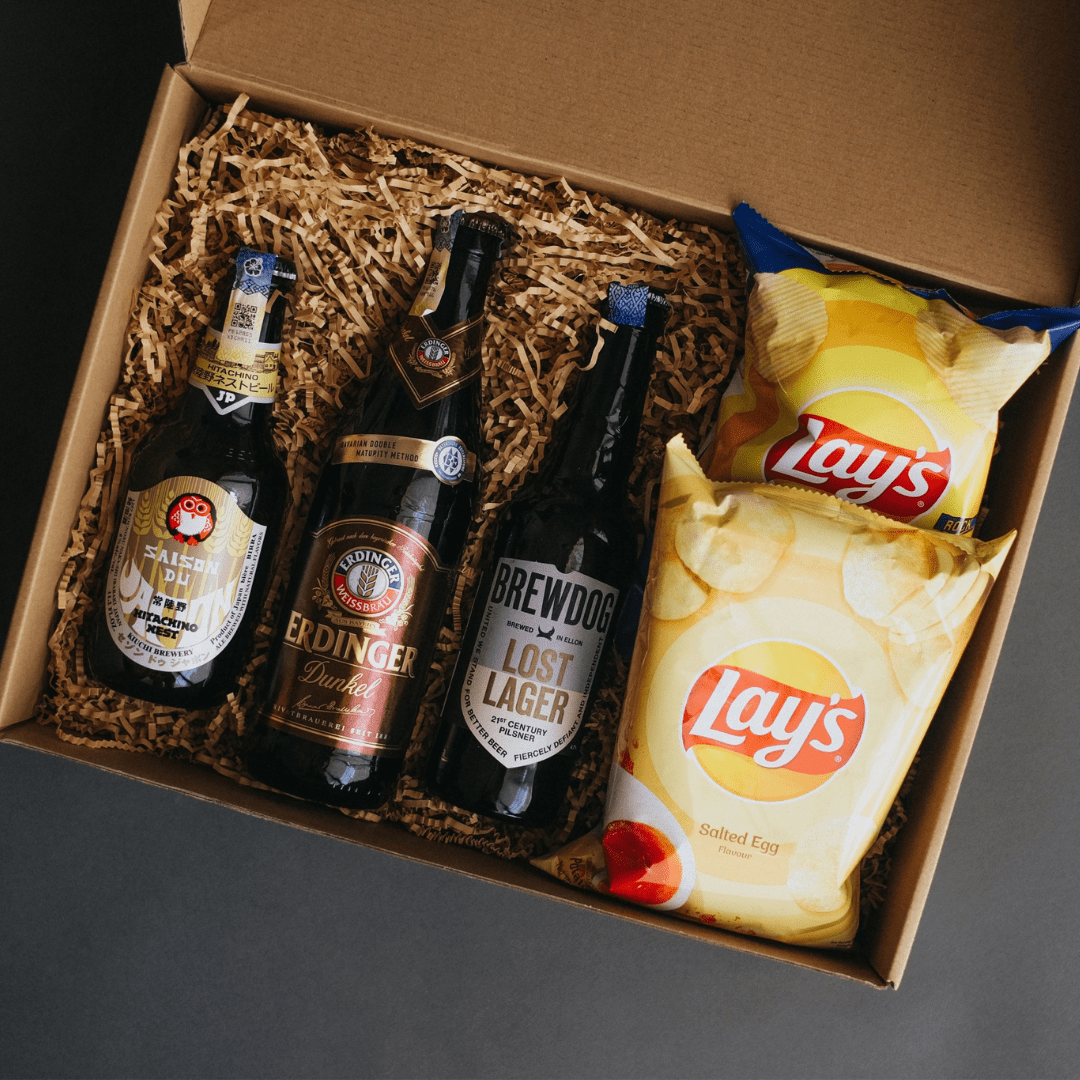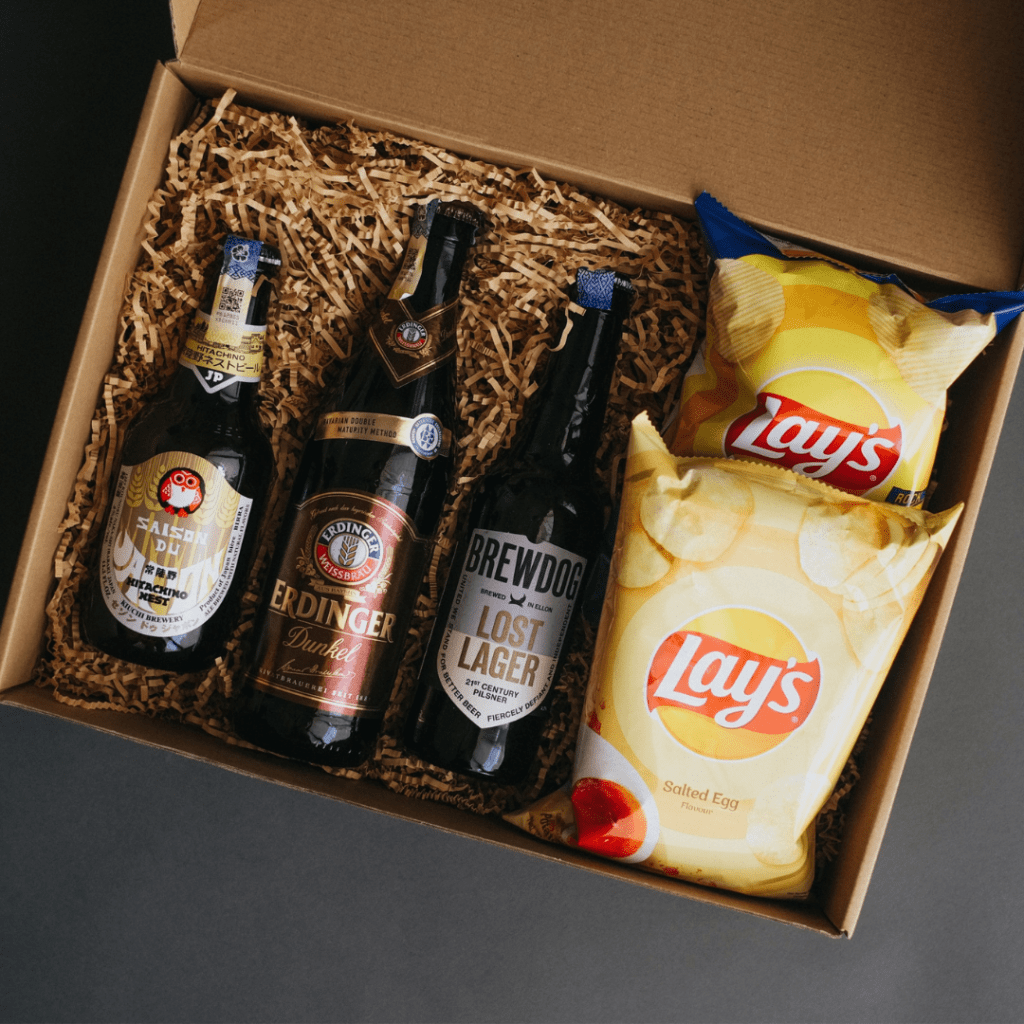 What is CNY if it doesn't come with a little alcohol to really have a good night with. This is why this box would be the perfect CNY gift that comes with 3 bottles of beer from around the world together with bags of Lay's chips that will surely keep your recipients accompanied on those fun festive nights (or mornings, we won't judge!) together with their loved ones.
CNY-THEMED BATH ESSENTIALS FROM WUNDERBATH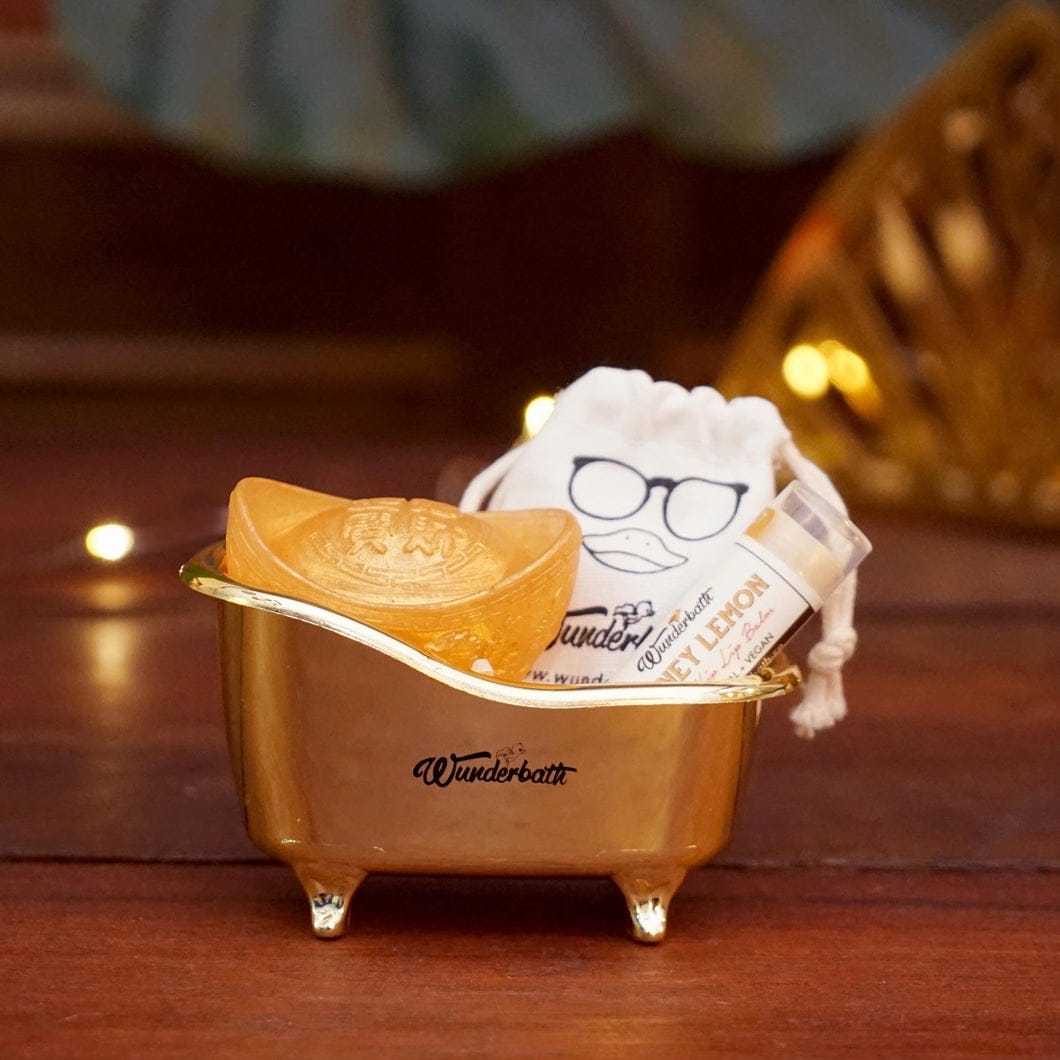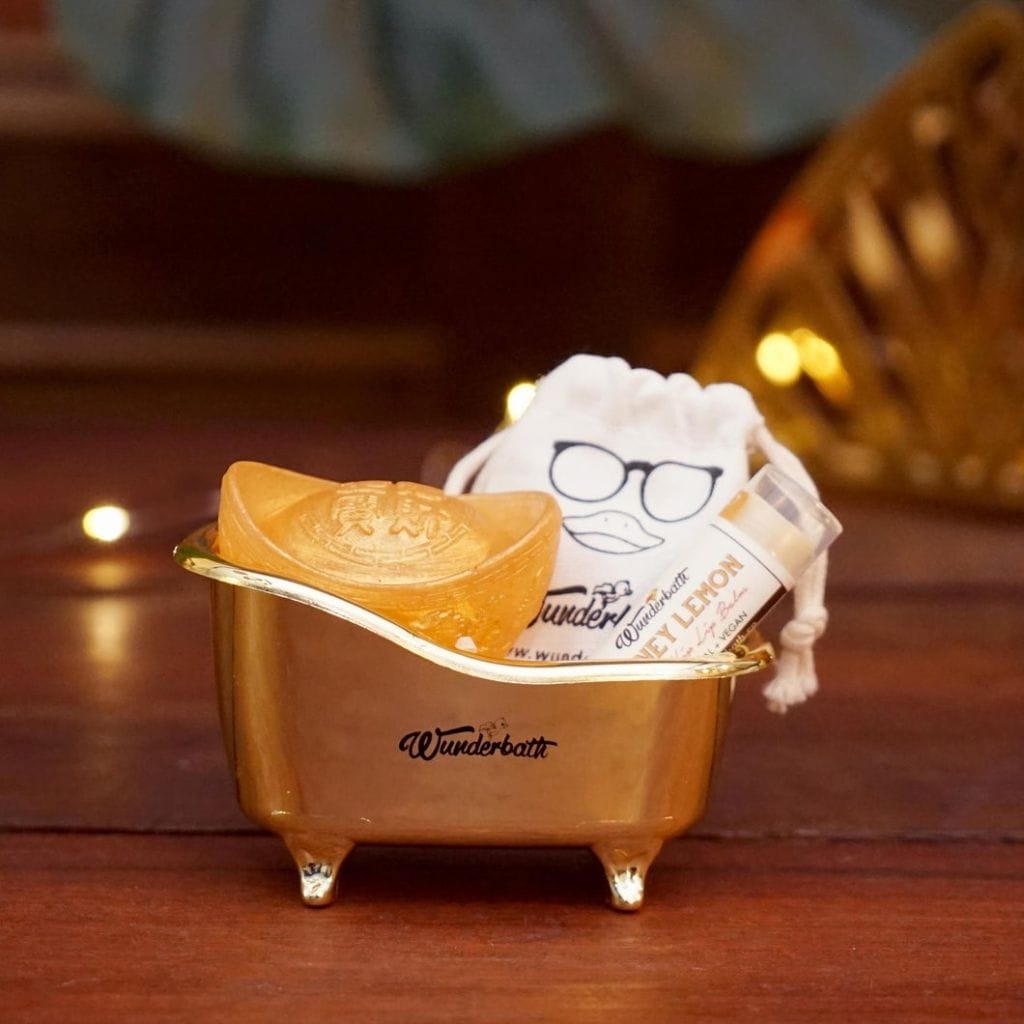 Here's an idea that is more suited for those who love some good self-care and aromatic smells. With this festive collection that include mandarin orange soaps to fireworks bath bombs, your recipients are going to be thanking you for keeping them fresh and bringing the celebration to the bathroom as well. Besides, it's going to get extra tiring and sweaty after going around visiting and enjoying feasts, so to come back and relax in these essentials will truly be a great experience after a long day celebrating.
Beside the alcohol, it's only right that CNY includes some gaming fun and one of the favourite tabletop games to play during this celebration besides playing cards, would be mahjong. This set is a CNY gift that would be much appreciated and the best part is that it can be used again and again for the celebrations in the year after.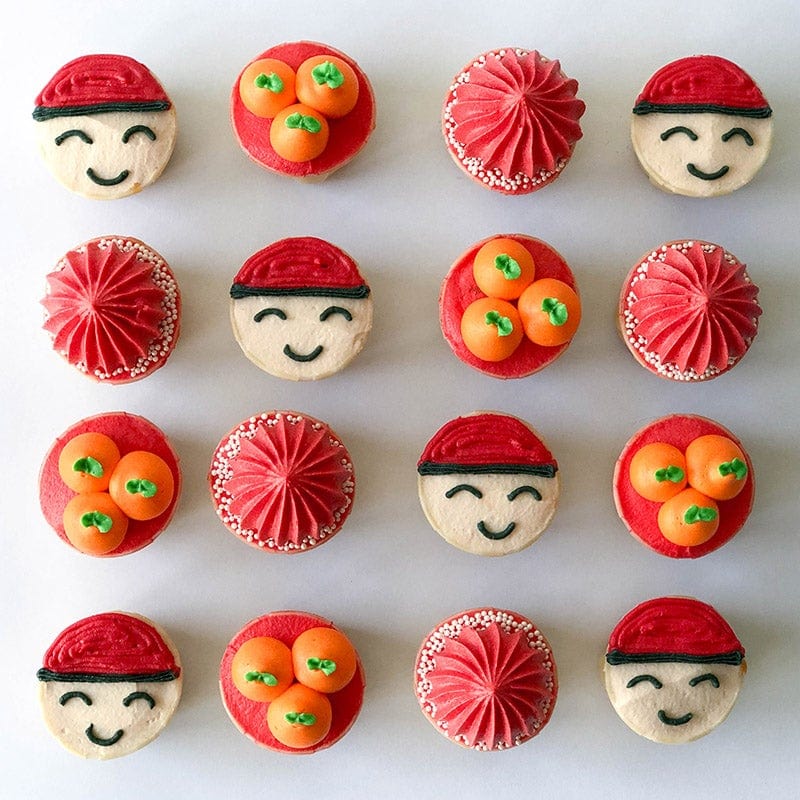 This is one option you can choose that will be a great add-on to the CNY cookies. Cutely decorated to suit the occasion as well, these cupcakes will not only be good for self-indulgence but for your recipient to share with his or her family and guests who come to visit during Chinese New Year. It makes for a deliciously sweet and unique variation to the usual cookies.
TRADITIONAL BAKES THAT EVERYBODY LOVES BY JUNANDUS
While it's nice to have a unique type of munch to your CNY celebration, sometimes the best CNY gift would be the traditional bakes that everybody looks forward to every year. One of the cookies that people eye the most during this season would definitely be the pineapple tarts which you can also get from here to be delivered to your recipients as their guilty indulgence.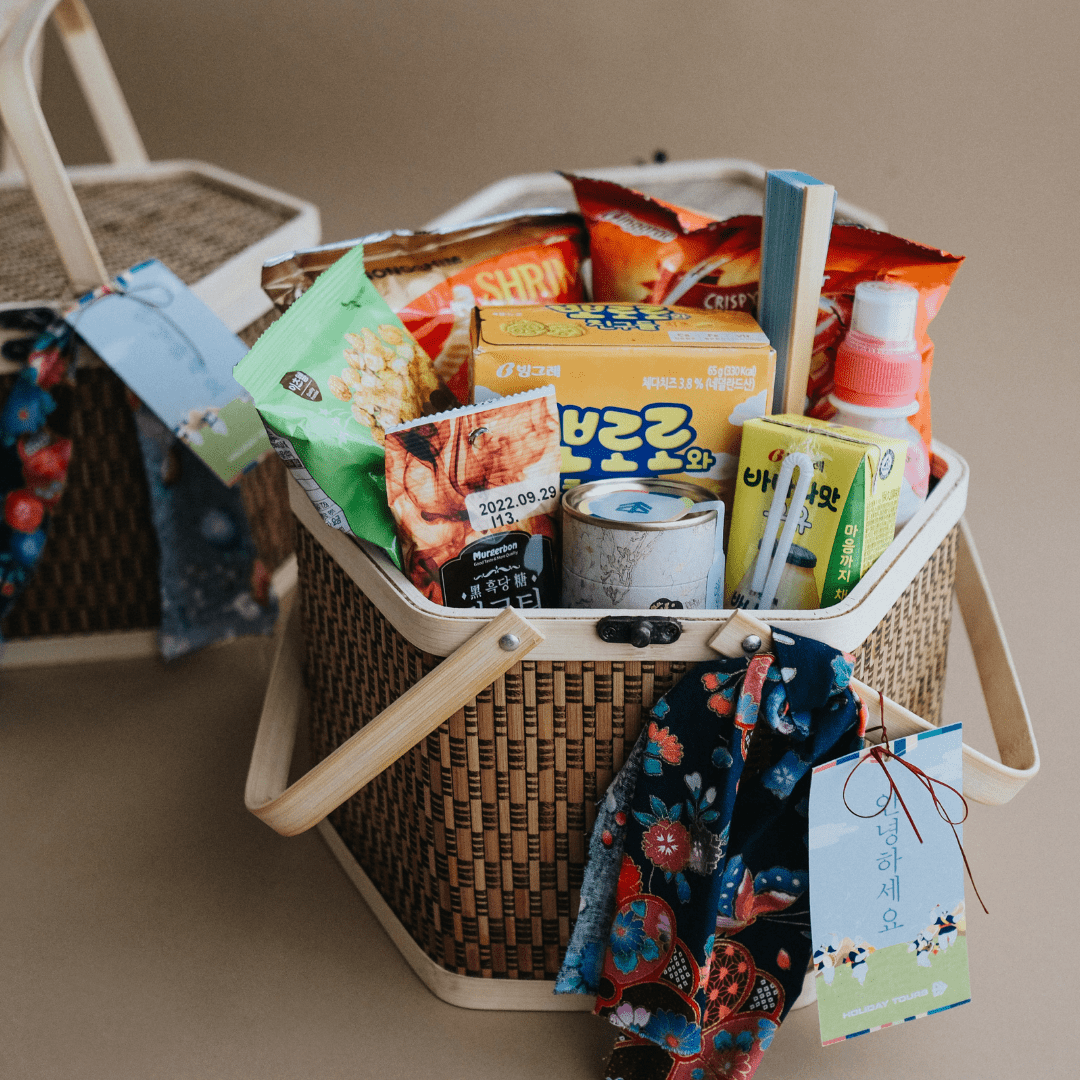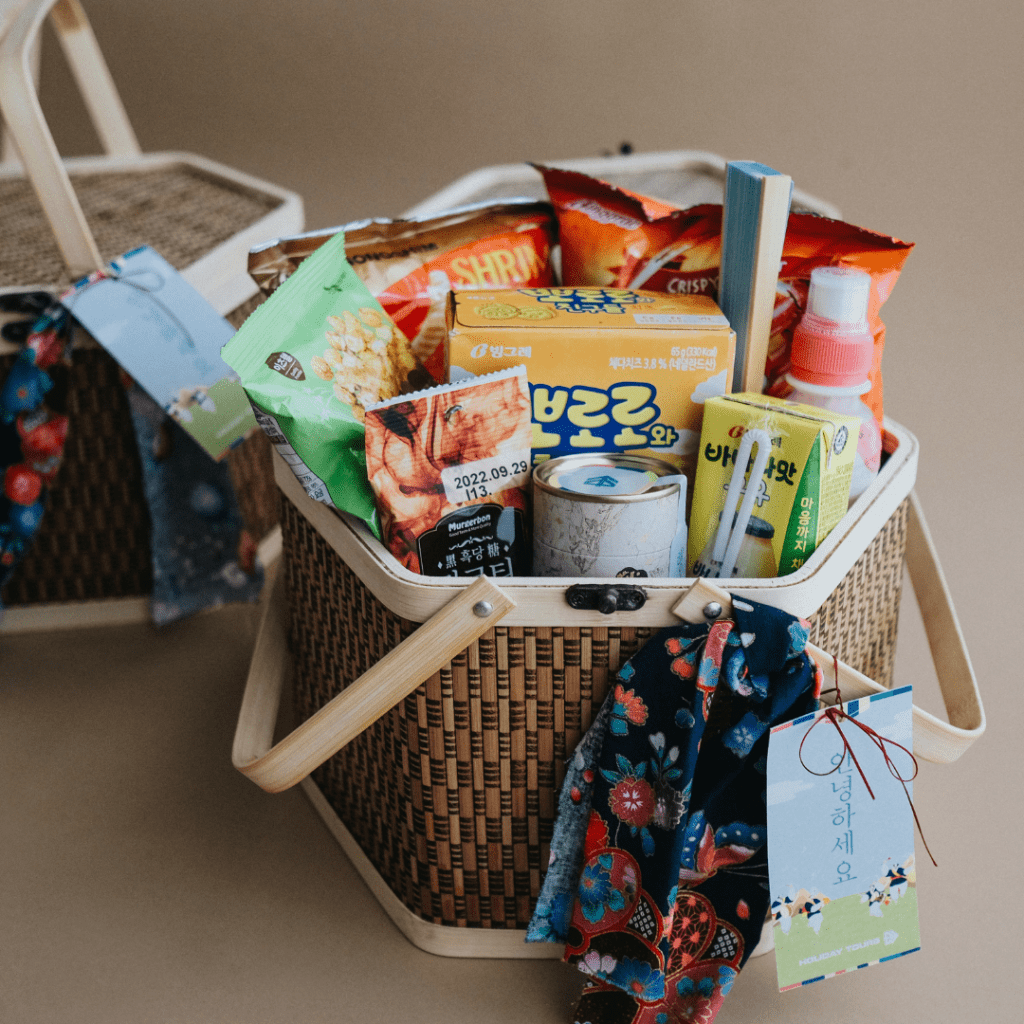 While it isn't a China Box, this makes as a great CNY gift set which contains snack, drinks, and trinkets from Korea. Suitable for those who need snacks to munch on or even to enjoy with those Chinese New Year movies on the television, this gift set is a beautifully curated present that has the traditional feel suited for the occasion.
SIGNATURE MARKET'S FESTIVE SMELLS TO FILL THE AIR
Fill the air and your hands with the smell of mandarin oranges and tangerines. This box contains a portable diffuser together with essential oils to make your place smell exactly like Chinese New Year while making your recipient's guests and family be in the mood to celebrate. Besides that, the box also contains a set of hand creams which are perfect for your recipient who will be either busy receiving plenty of red envelopes or giving them out, to moisturise their hands throughout the day.
PORTABLE BLUETOOTH SPEAKERS TO BRING THE CNY MUSIC FROM JBL
Of course it is not important for your house to be smelling like CNY but also to be filling the house or wherever you go with those festive songs to complete the ambiance. It's only right to have these songs blasted on high definition so that your recipients and their guests can really feel the "Gong Xi Gong Xi" spirit in them too.
CHINESE TEA TO RELAX GUESTS BY pURPLE CAN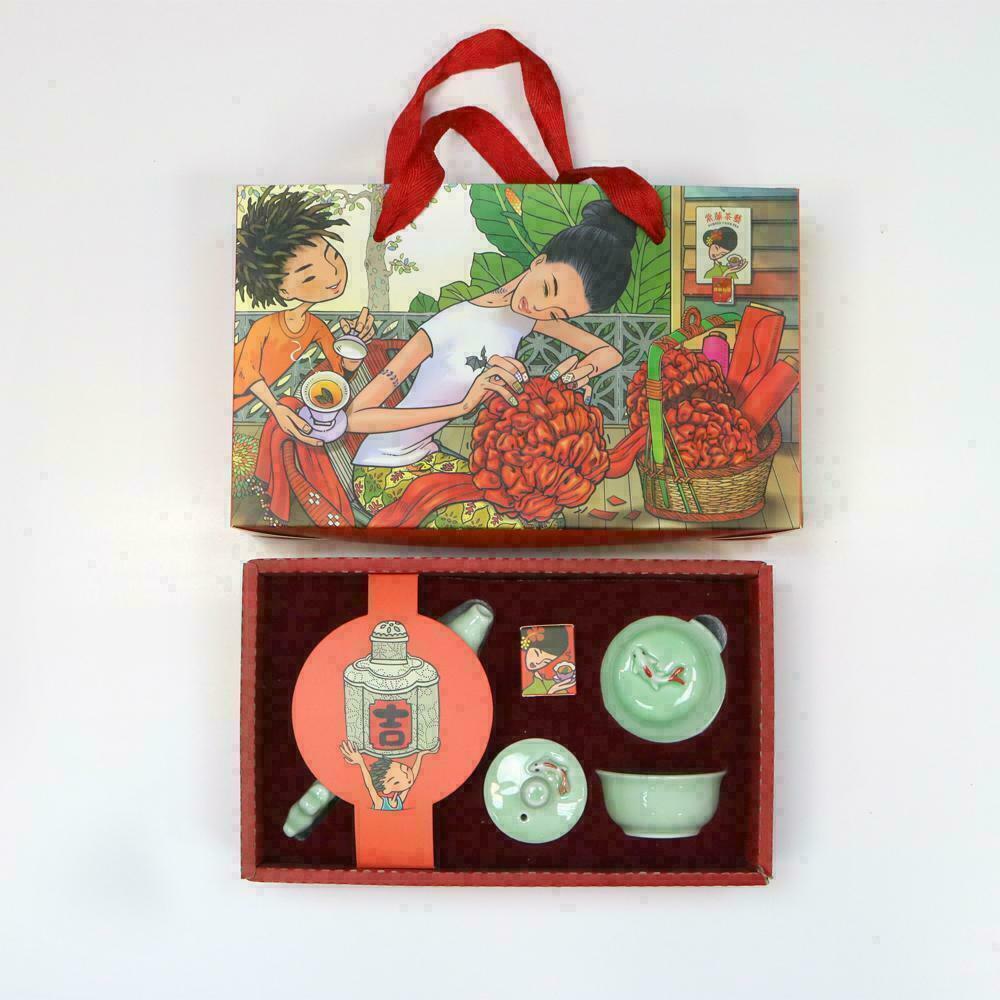 After having tons of cookies and food, it's good to burn those calories off with some soothing and calming tea which is not only suitable as a CNY gift but also as a general gift that can be used for other occasions as well. With teaware sets that come with the pots, cups, and a variation of tea to choose from, this CNY gift is perfect for those welcoming guests especially during tea time and make you feel as if you're in the heart of China enjoying a relaxing cup.
COFFEE TO KEEP THE ENERGY UP FROM NESPRESSO
Chinese New Year might be a holiday, but we all know how tiring it gets sometimes from visiting everybody to having countless dinners and lunches. Guests might not show it too but sometimes all they need is a little boost of energy. If you know your recipient has a Nespresso machine, then this CNY gift idea is perfect for him or her which comes with an assortment of coffee flavours packed in a beautiful seasonal gift box.
ROBOT VACUUM TO CONSTANTLY KEEP THE HOUSE CLEAN FROM XIAOMI
Chinese New Year is the time when everybody visits and it goes without saying that the floor is bound to get dirty with all the cookie crumbs dropping down. It's also important that your house is kept clean during this season but you won't have the time to constantly keep a lookout on that so a robot vacuum is the perfect CNY gift to take care of that. Just have it go around automatically and have your house clean every time a new guest arrives.
Mandarin oranges are a symbol of auspiciousness and well wishes during Chinese New Year. This CNY gift idea is a cute tangerine pouch that keeps a terrarium inside for your recipient to take care of. While the terrarium will make a good CNY decoration as well as improve the overall aesthetic of the house, the tangerine pouch can also be used to collect red envelopes and complete your festive OOTD.
CNY-THEMED PILLOWS TO GET COMFORTABLE WITH BY pHOTOBOOK
Another decoration to fit the theme would be these cute pillows that really get you in the mood for CNY. The designs of these pillows are perfect CNY gifts for all ages from traditional prints to Disney-themed illustrations too for your recipients who have children of their own. These can be great additions even to your recipient's car as they fetch their family for visiting.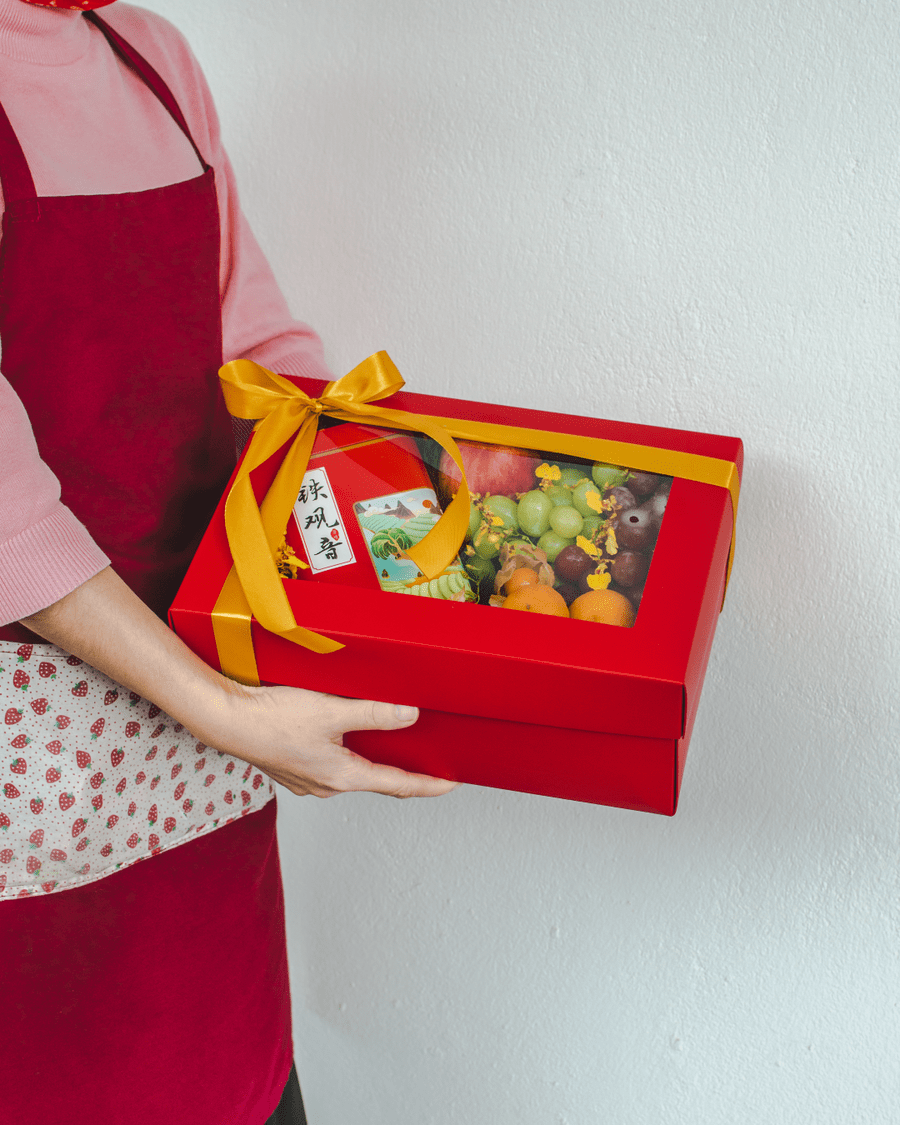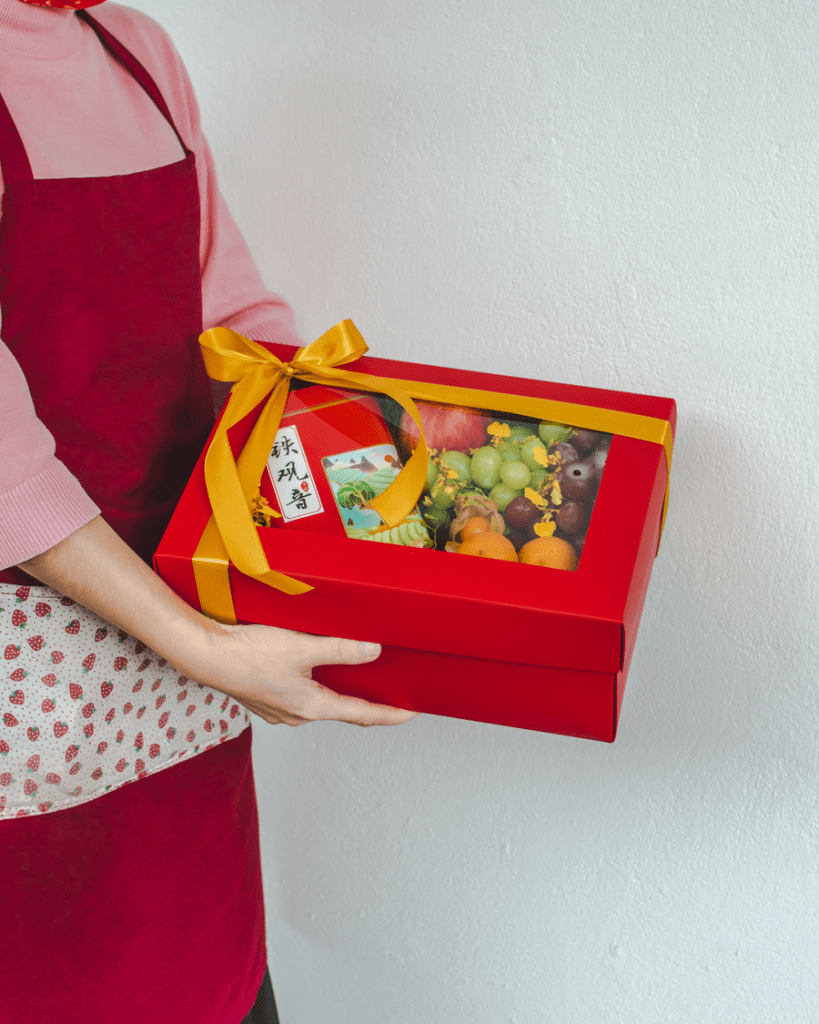 Filled with all things fresh, this gift set comes with imported fruits including an Australian Peach, red & green seedless Grapes, Colombian Groundberries, and Tangerines together with a fresh oriental floral arrangement as well as Tieguanyin tea. All these packed in a beautiful red box makes an unforgettable CNY gift.
S&J's BECKONING CAT TO BRING IN GOOD BUSINESS & FORTUNE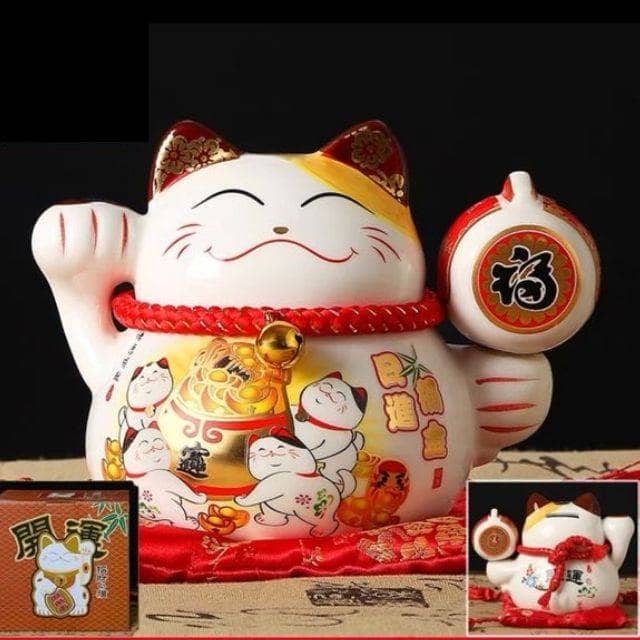 Ever noticed the cats at the front of a shop which have their hands continuously go up and down as if beckoning for you to come in? It's a symbol of good fortune as it brings in business and money to the business. Giving this as a CNY gift especially to those within the retail industry would be perfect for them to put around their outlets as a good luck charm in celebration of Chinese New Year as well.
The Why's, When's And How's
There is no tradition in the Chinese New Year rule book that CNY gifts are a must to be given. Sometimes a simple message could do wonders, as long as you make sure it's not templated one of course. However, has anybody ever not liked gifts? To receive gifts especially during a festive season is something that will always be appreciated especially so if you know the lengths and thought that went into it. If the CNY gift is personalised, then that makes it all the much special too. Besides, Chinese New Year is about giving prosperity, health, and good luck to each other and while it's mostly symbolised through the red envelopes, CNY gifts could be a good alternative especially for those whom you won't be able to see physically for some time more.
Chinese New Year typically stretches over a few days which means there's plenty of time to be giving gifts. While the celebration stretches a course of 16 days, it is of course better to be delivering these gifts earlier on in the course of the festivity as that's when all the visiting and get-togethers usually happen. We suggest delivering even earlier so that these gifts could be kept to be used during the celebration instead. Moreover, we expect delivery services being delayed if you order too close to Chinese New Year with the surge of orders and lack of riders so remember to get started early, at least 2 to 3 weeks in advance. This way, you can have peace of mind knowing that your gifts will be delivered and arrive at your recipient's house in time for the celebration.
When we talk about how we are going to have these CNY gifts delivered nowadays, it would always be best if they are able to be delivered straight to the house. In these pandemic days, minimising contact as much as possible is key and plenty of businesses these days already offer delivery services which really help the situation.
This is why Holiday Tours & Travel have all those checkboxes ticked off to provide the perfect gifting experience to your recipients. Our gifting services cover everything from having your gift personally prepared by our experienced team and personalised with a message that you can write to your recipient to having it delivered straight to their doorsteps on time. All you need to do is provide the details and you can pass the rest to us while you enjoy a hassle-free experience for your CNY gifts.
Spread the joy and have your cny gifts delivered using our CORPORATE GIFTING SERVICES THIS CHINESE NEW YEAR