Holidays should leave you feeling refreshed, recharged and restored. We've curated a list of activities for an unforgettable Australia relaxing holiday including uniquely Aussie activities, the country's very best health and wellness retreats, romantic getaways, natural spas and day spa experiences.
1. Bask in these uniquely Australian experiences
Watch koalas from your balcony at Wildlife Retreat, Sydney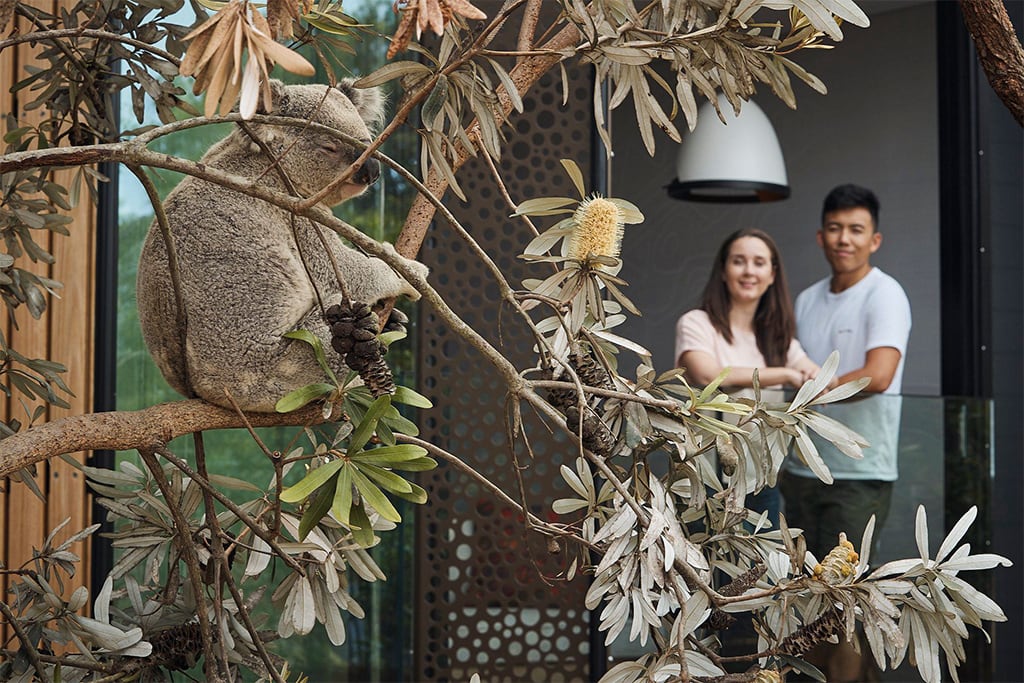 To get up close with koalas, Australia's cute furry mascot, book a stay at Taronga Zoo Sydney's Wildlife Retreat. Their accommodation includes rooms in the wildlife sanctuary where you can de-stress and relax by watching koalas right outside your window.
You can opt for a relaxation package that covers two days' complimentary access to the zoo, guided tours with zookeepers, and three-course dinners at the on-site restaurant. This also includes exclusive access to the sanctuary where you'll meet other adorable Australian ambassadors such as kangaroos, wallabies, echidnas and platypuses.
Proceeds from your stay support Taronga's ongoing work in caring for animals at its two zoos (Taronga Zoo Sydney and Taronga Western Plains Zoo in Dubbo), as well as conservation programs around the world. So you can relax and recharge in style, glad in the knowledge that you are contributing to conservation on a global scale.
Travel tip: Rise early and join the Daybreak Walk to see the zoo's furry friends wake up to a spectacular harbour sunrise.
Enjoy the view along the Bondi to Bronte Coastal Walk, Sydney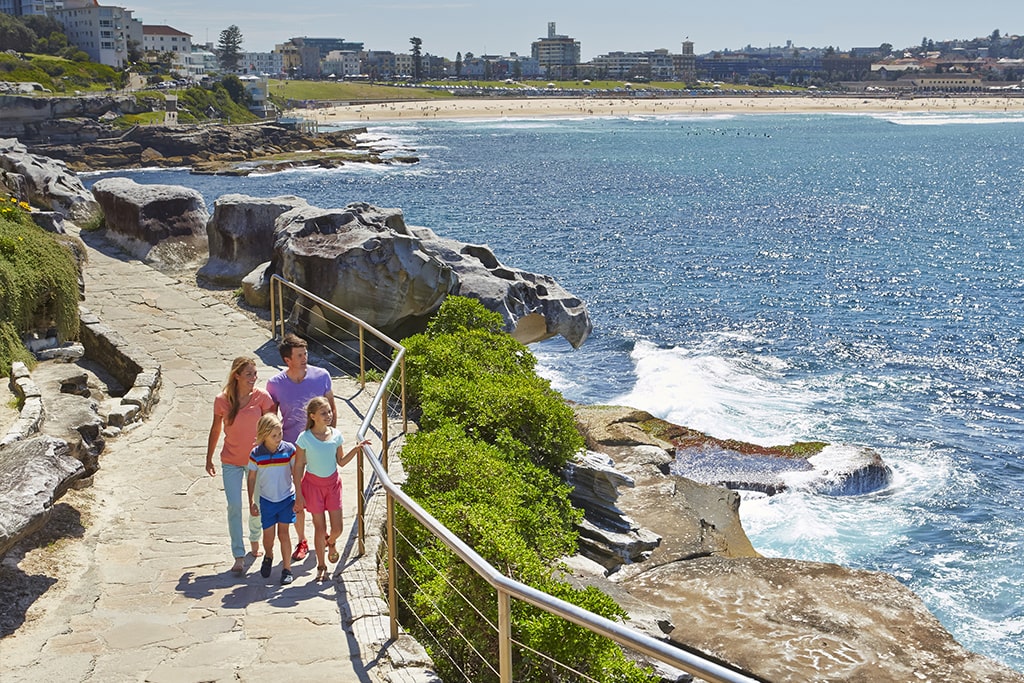 For a little exercise amidst bracing sea winds, take the famed Bondi to Bronte walk in Sydney. Follow the trail on top of the sandstone cliffs for vantage points where you can immerse yourself in the views. You may even be able to spot whales and dolphins.
Without stops, it's an easy 40-minute walk. However, the journey is more than the destination, so take your time at one of the many oceanside cafes or restaurants. At Bondi beach, there's Bondi Icebergs, the iconic swimming club with a restaurant upstairs that faces the ocean.
Mackenzies Point, a headland between Bondi Beach and Tamarama Beach, boasts of a great lookout point. And don't miss Marks Park, a large clifftop field where the popular Sculpture by the Sea event is held annually, showcasing extraordinary artistic sculptures.
At Bronte Beach, you can check out the surfing action, as the swell makes the beach popular amongst surfers. There's also Bronte's famous rock pool on the south side of the beach. Just behind the beach is the grassy tree-lined Bronte Park, offering excellent barbeque and picnic facilities. If you want to relax and have someone else do the cooking, try the Three Blue Ducks, celebrated for its innovative local cuisine.
Travel tip: Fresh ocean air and amazing views may reinvigorate you! If so, you can follow the walking trail to Coogee Beach after Bronte Beach.
2. Experience therapeutic whale-watching at the Australian coastline
Watch the aerial dance of the humpback whales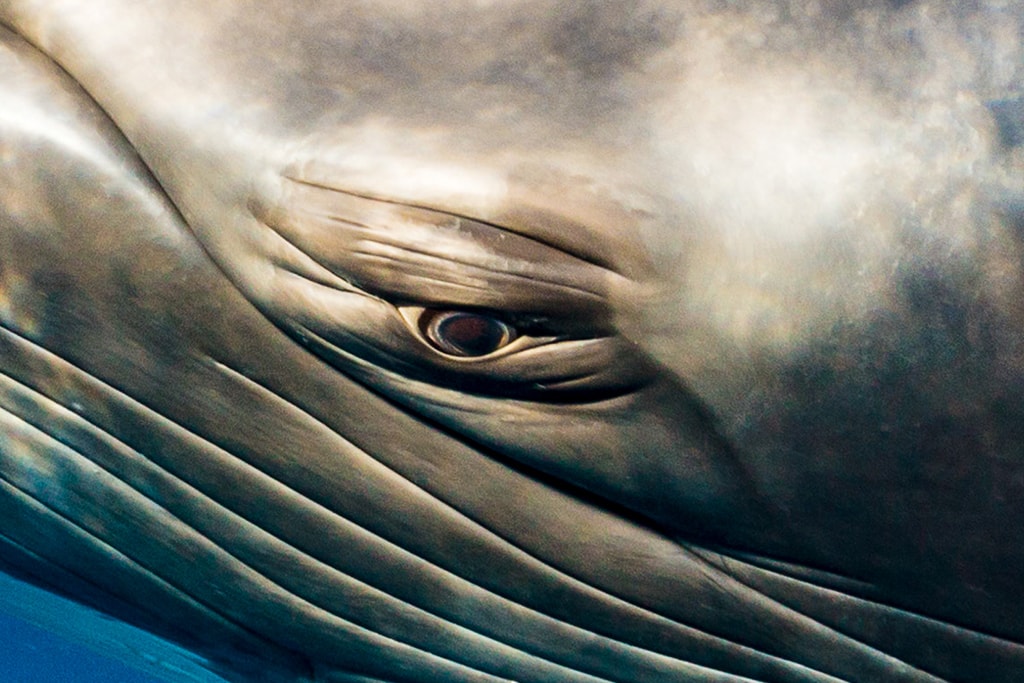 Renowned for their spectacular breaching, humpback whales are the most commonly seen whale in Australia. You can see them at Ningaloo Reef in Western Australia, through which around 30,000 humpbacks migrate from June to November. Whale-watching operators include Naturaliste Charters and Ningaloo Coral Bay Boats, and Live Ningaloo even offers a swim with the whales departing from Exmouth.
Another place to go is the "Whale Watching Capital of the World". Visit Hervey Bay in Queensland in the first week of September, a hotspot for humpback mothers raising their calves. See their playful antics aboard Whalesong Cruises or Blue Dolphin Tours, or with legendary guide Vicki Neville of Tasman Venture, who has been dubbed the Whale Whisperer by National Geographic.
Spot them in Sydney on the famous Bondi to Coogee coastal walk as humpback mothers head north between June and July, then return south with their calves from early September. At Jervis Bay, a three-hour drive south of the city, you're almost guaranteed a whale sighting in the calm, clear waters, either from an outlook or on a whale-watching cruise. You can also see these huge, graceful creatures from June in Byron Bay, just offshore from the Cape Byron Lighthouse.
Go diving with dwarf minke whales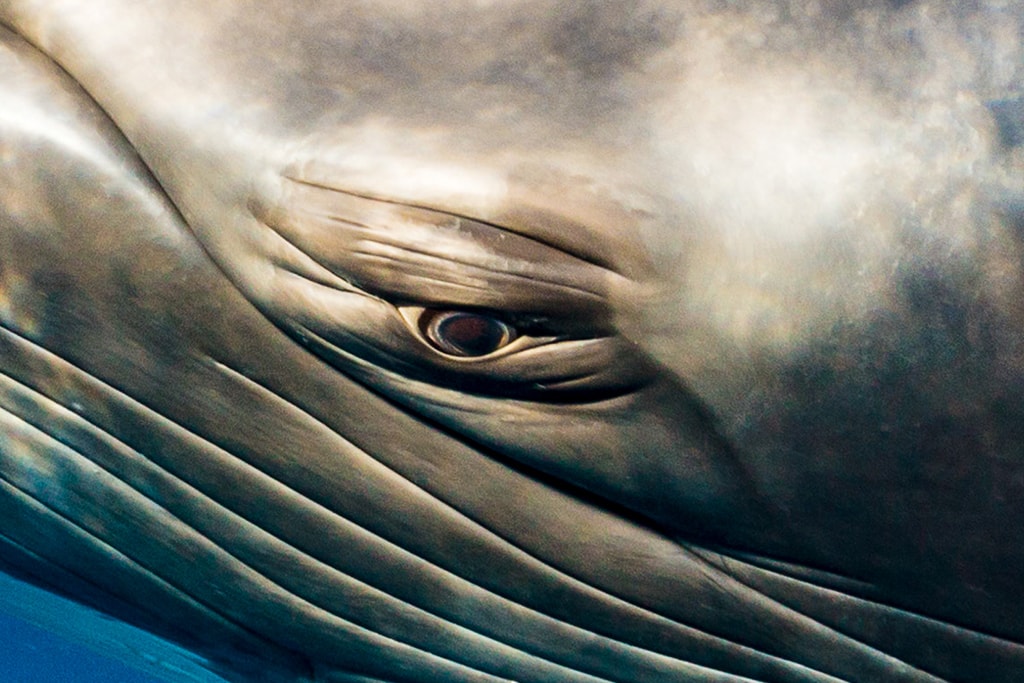 Although a dwarf subspecies, these whales can still grow to six tonnes and eight metres in length. To meet these highly intelligent and inquisitive creatures, visit the northern Great Barrier Reef in June–July, which is the only place in the world where you can interact with dwarf minke whales (and maybe hear them singing underwater if you're lucky). Mike Ball Dive Expeditions is one of the local operators who takes tour groups out to dive with the dwarf minke whales.
Witness the migration of southern right whales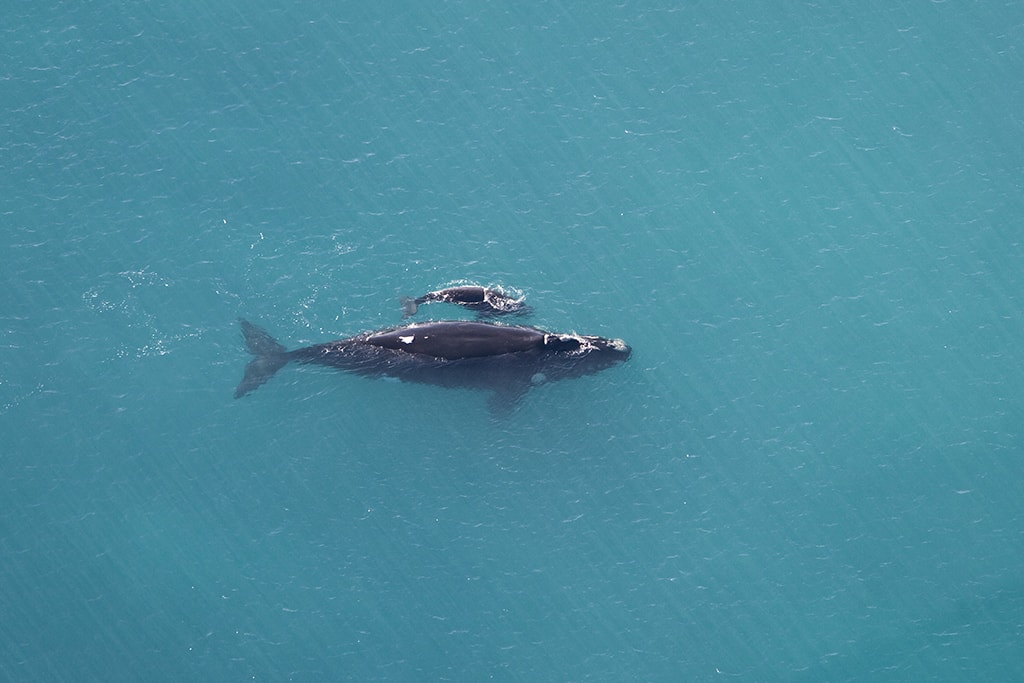 These majestic creatures can be seen in a number of locations. The Head of Bight, South Australia is one of the key places to witness pods of Southern Right whales. The whales gradually enter the nursery waters of the Bight in early June and congregate to give birth. In Tasmania, you can catch them coasting through Great Oyster Bay, where they migrate between May–July, and September–December. Frederick Henry Bay is another great spot to glimpse the passing whales from dry land, as with Mercury Passage off Maria Island, a natural wildlife sanctuary.
From early June, find them frolicking in Flinders Bay in the picturesque Margaret River wine region in Western Australia. Or see them close to shore along the Great Ocean Road in Victoria, where new mums often come close enough to spray you with breakwater at Lady Bay in Warrnambool. Another spot is nearby Logans Beach, where you can sight mother-and-calf interactions from a specially designed viewing platform on the sand dunes.
Meet the colossal blue whales
To sight blue whales, Earth's largest creatures, go to Geographe Bay in Dunsborough, Western Australia in September where you may just see them with their calves as they join bottlenose dolphins. Another place would be on the Great Ocean Road in Victoria, at Cape Nelson near Portland.
3. Leave your daily life behind at these Australia retreats
Gaia Retreat & Spa, Byron Bay, New South Wales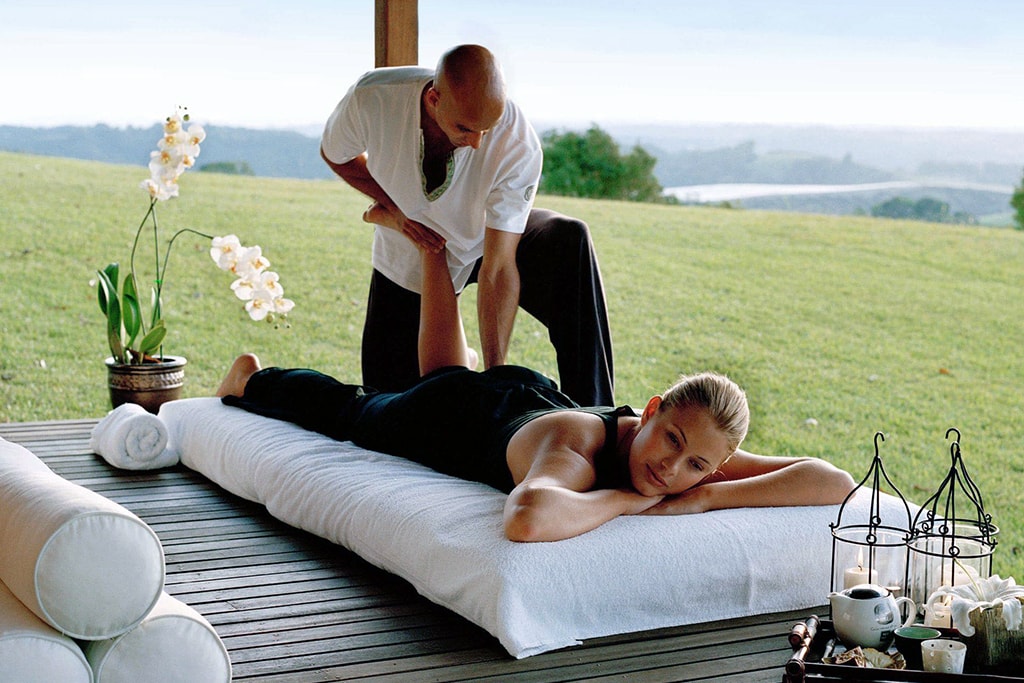 Check into Australia's most awarded boutique retreat, Gaia Retreat & Spa, nestled in the breathtaking Bundjalung Country hinterland of Byron Bay in northern New South Wales. Your relaxing stay comes with beautiful views and the ultimate pampering experience at the spa with 14 treatment rooms and more than 35 healers and therapists. Start the day with yoga, choose from activities like tennis, cooking classes and fitness, and enjoy gastronomic paddock-to-plate dining experiences from Gaia's own organic garden.
Injidup Spa Retreat, Yallingup, Western Australia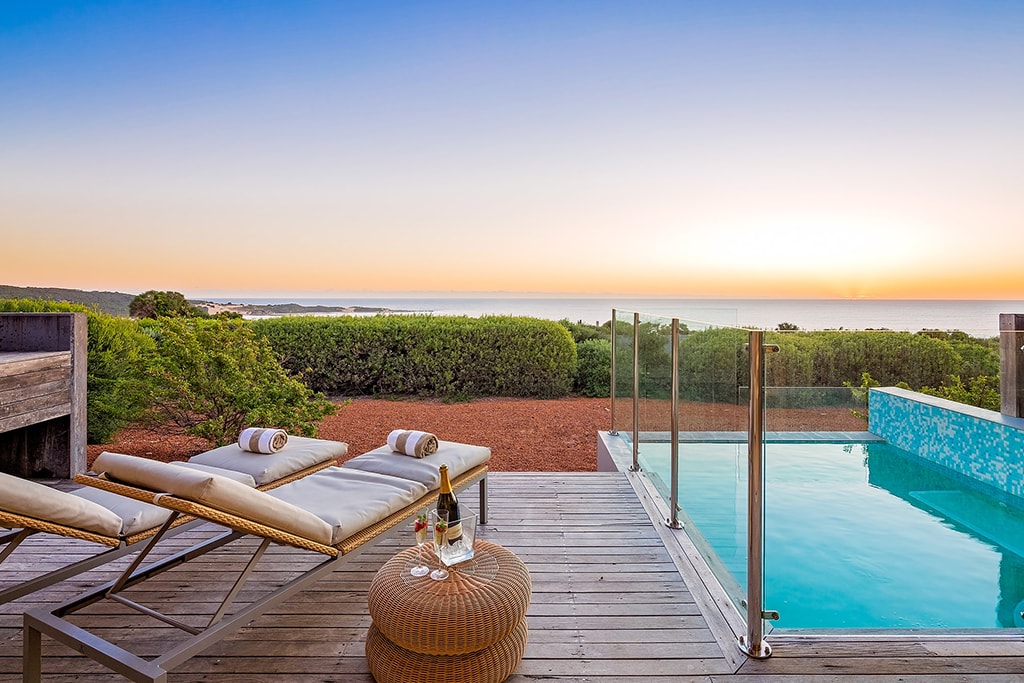 Travel three hours south of Western Australia's Margaret River, and you'll come to Yallingup. This town is home to Injidup Spa Retreat, one of Australia's most luxurious retreats for a pure relaxation experience. The resort features just ten adult-only private villas, each with its own heated plunge pool, deck, spacious lounge, living areas and kitchenette. But aside from these, what truly stands out is the stunning ocean view which you can bask in all day. Enjoy the welcome gourmet breakfast hamper—and a bottle of wine—upon arrival, participate in private yoga sessions and indulge in a range of rejuvenating spa treatments.
Travel tip: Injidup Spa Retreat is located directly on the renowned Cape to Cape Track, offering great opportunities for long, relaxing strolls along the coast.
Daintree Ecolodge and Spa, Daintree, Queensland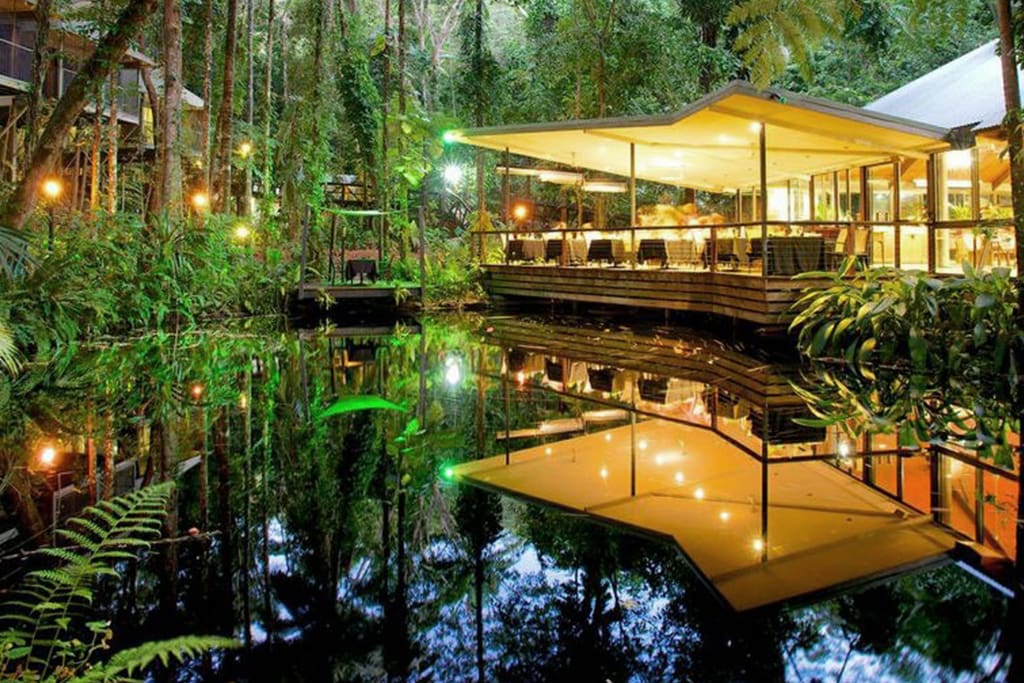 The Daintree Ecolodge and Spa is one of a kind, being situated in the only place in the world where two UNESCO World Heritage Sites meet (the 180 million-year-old Daintree Rainforest and the Great Barrier Reef). Their extensive spa menu uses 100% natural ingredients and was developed out of respect and with the approval of the Elders of the local Kuku Yalanji tribe. Stay in one of the 15 eco-friendly bayans (treehouses), rise to the sounds of rainforest birds, breathe in fresh tropical air and discover the retreat's private on-site waterfall.
Harmony Hill Health Retreat, Margate, Tasmania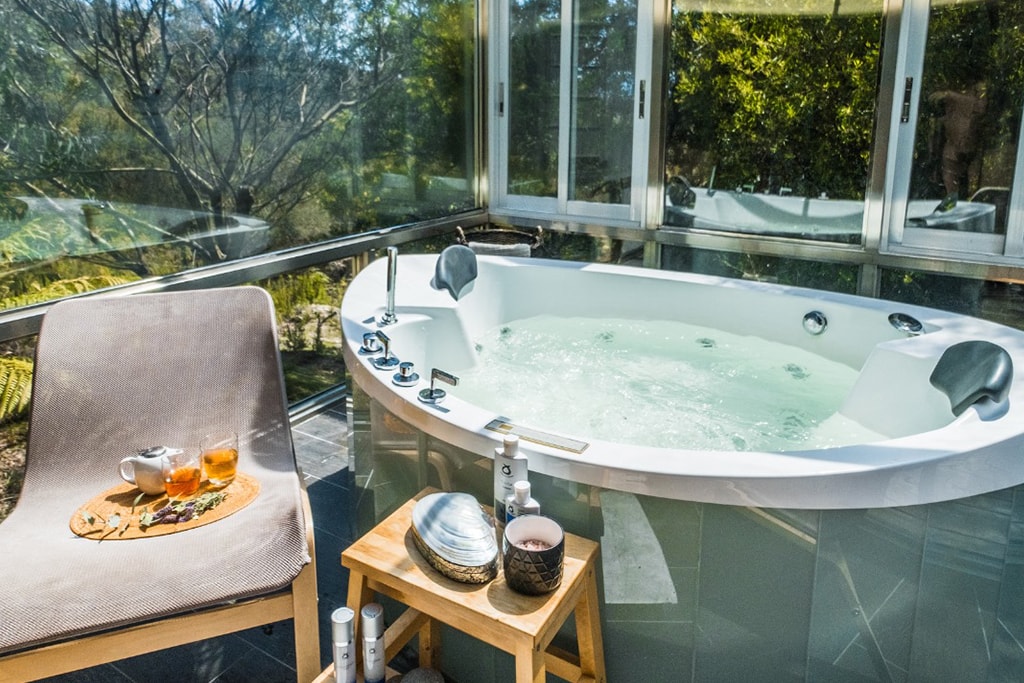 Just a 30-minute drive south of Hobart in Margate lies the Harmony Hill Health Retreat, offering natural therapies and treatment to those with health conditions or just needing deep relaxation. The Day Spa offers luxury couple getaways with deep tissue massages, detox mud treatment and a spa bath in a striking glass-walled sunroom. Extend your stay in their beautiful villas and enjoy vegan meals, alongside treatments such as reflexology, organic facials, chakra healing massage, spiritual consultations and even an eight-day weight loss program.
Gwinganna Lifestyle Retreat, Gold Coast, Queensland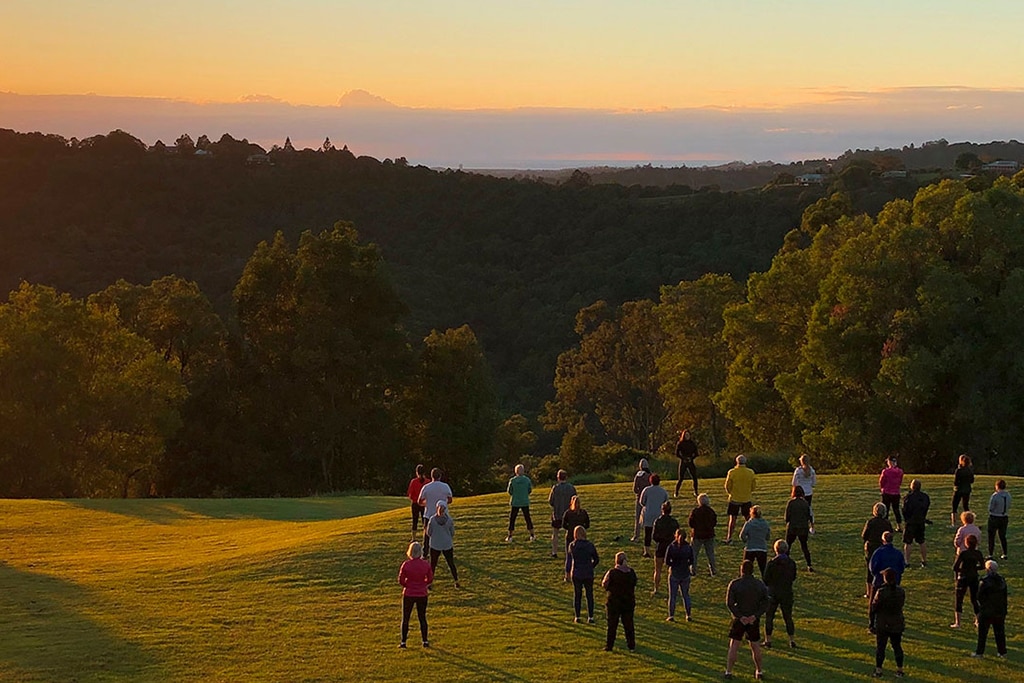 A 15-minute drive from the Gold Coast beaches, Gwinganna Lifestyle Retreat is located in the beautiful Tallebudgera Valley in Queensland (there are courtesy transfers available from Gold Coast Airport). This sanctuary has 33 rooms to choose from—from a reconstructed Queenslander (an elevated timber house commonly found in the state) to open-plan villas with their own private plunge pool, to Meditation Suites. There's qigong at sunrise, 16 walking trails to explore, horse-riding, boxing, yoga, plus extensive spa treatments and nourishing organic meals.
4. Spoil your loved ones (and yourself) at these romantic getaways
The Whitsundays, Queensland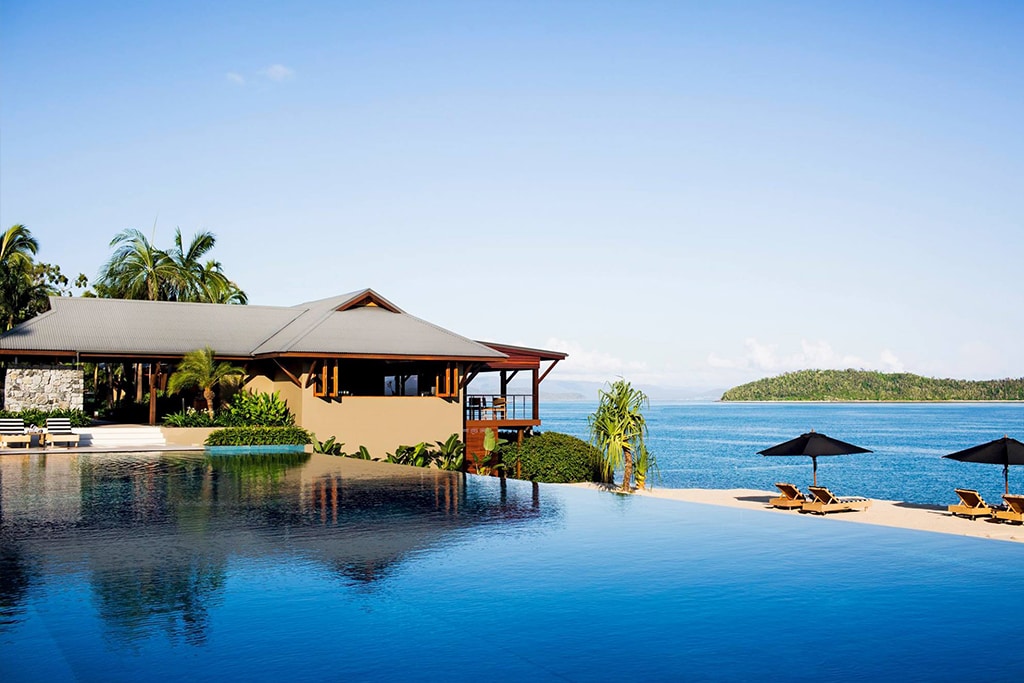 Whisk your loved one away to some of the most beautiful islands in the world, the Whitsundays. Made up of 74 tropical islands, this top-notch travel destination offers luxe accommodations from which to explore the wondrous Great Barrier Reef.
The most prestigious address would be qualia, at the northern tip of Hamilton Island. There are 60 pavilions, some featuring an infinity plunge pool while others a sunset-facing deck. Snorkel and dive the Great Barrier Reef, or enjoy the resort's incredible infinity pool. Take a golf buggy out to explore Hamilton Island, or simply get dropped off at a secluded beach on a nearby island with a picnic hamper.
Uluru, Northern Territory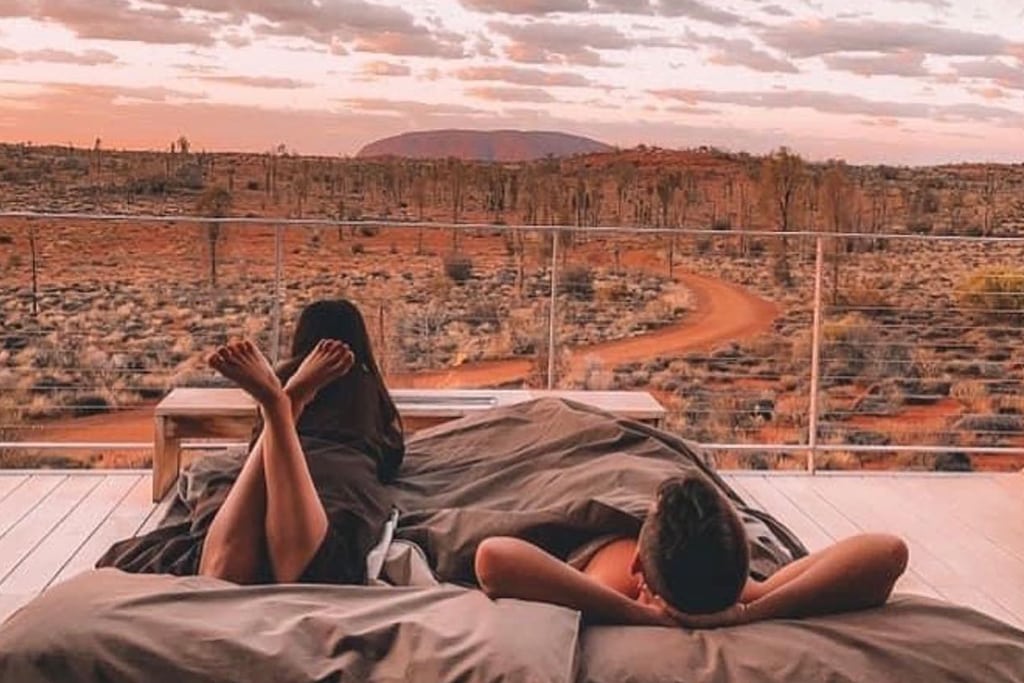 With direct views of Uluru and across the desert to Kata Tjuta, Longitude 131° is one of Australia's most celebrated luxury camps. It makes for an unforgettable romantic getaway, with sixteen tented pavilions resting atop rust-red sand dunes, offering extraordinary views of the Red Centre (the best views are at sunset and sunrise). Explore and learn about Uluru and Kata Tjuta with the lodge's naturalist guides and at night, dine under the stars at Table 131°.
Freycinet, Tasmania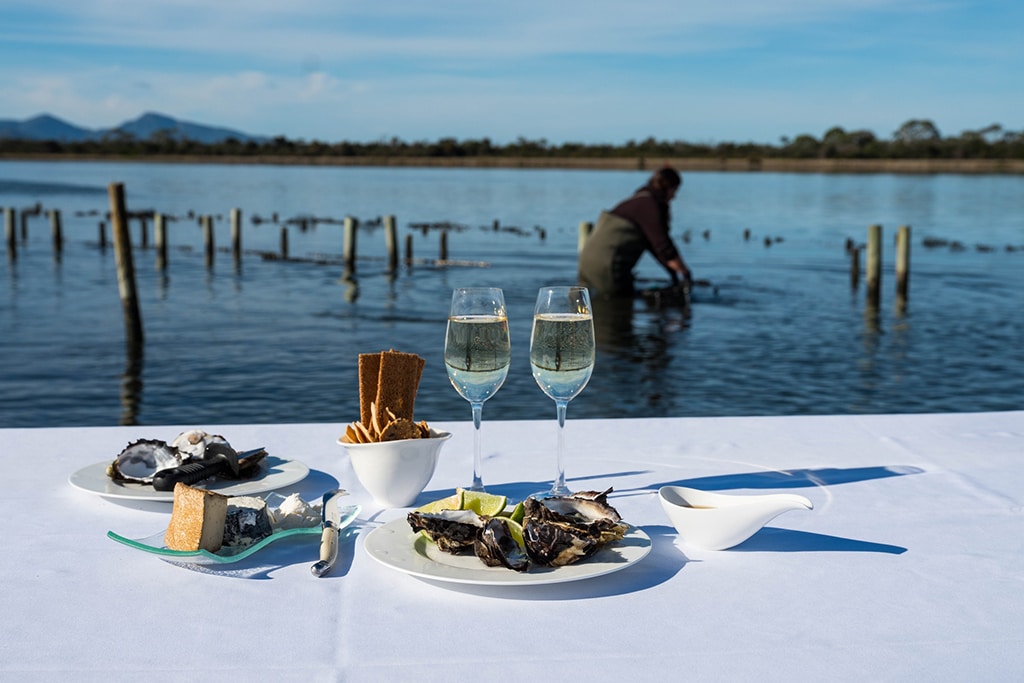 For foodies and adventure-loving couples, Freycinet in Tasmania is the perfect romantic getaway. The region is home to some of the freshest seafood in the world as well as stunning hikes, views and accommodation. Saffire, overlooking magnificent Freycinet National Park and Wineglass Bay, has regularly been voted Australia's top luxury lodge. Visit a working oyster farm to enjoy freshly shucked oysters and champagne while still knee-deep in the crystal-clear waters of Coles Bay, then check into their spa for a full day of pampering with your loved one.
Wolgan Valley, New South Wales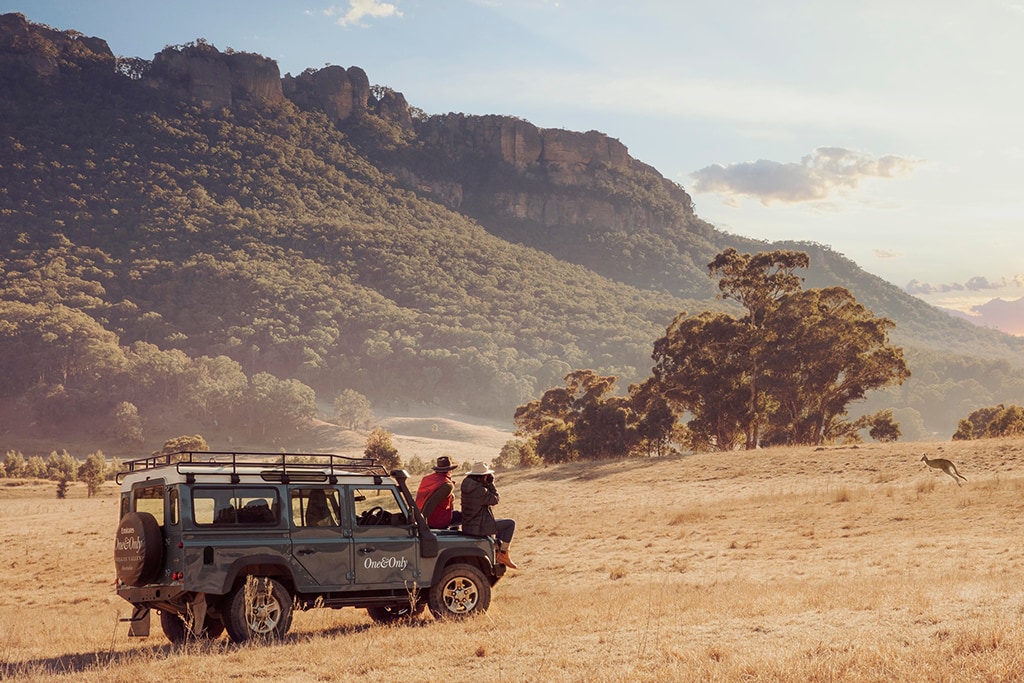 Less than two hours west of Sydney, nestled in a valley of the World Heritage-listed Greater Blue Mountains, is the Emirates One&Only Wolgan Valley. In this conservation-based luxe resort that occupies just one per cent of a 2,800-hectare (6919-acre) nature reserve, expect to encounter mobs of kangaroos and wombats who call the valley home. Spot them from your private enclosed pool in your federation-style villa, then explore the magnificent landscape via mountain bike or on horseback (catering to all levels and abilities). Let the friendly staff know where you'd like to stop for lunch, and they'll drop off a gourmet picnic complete with champagne on ice.
4. Spoil your loved ones (and yourself) at these romantic getaways
Injidup Natural Spa, Yallingup, Western Australia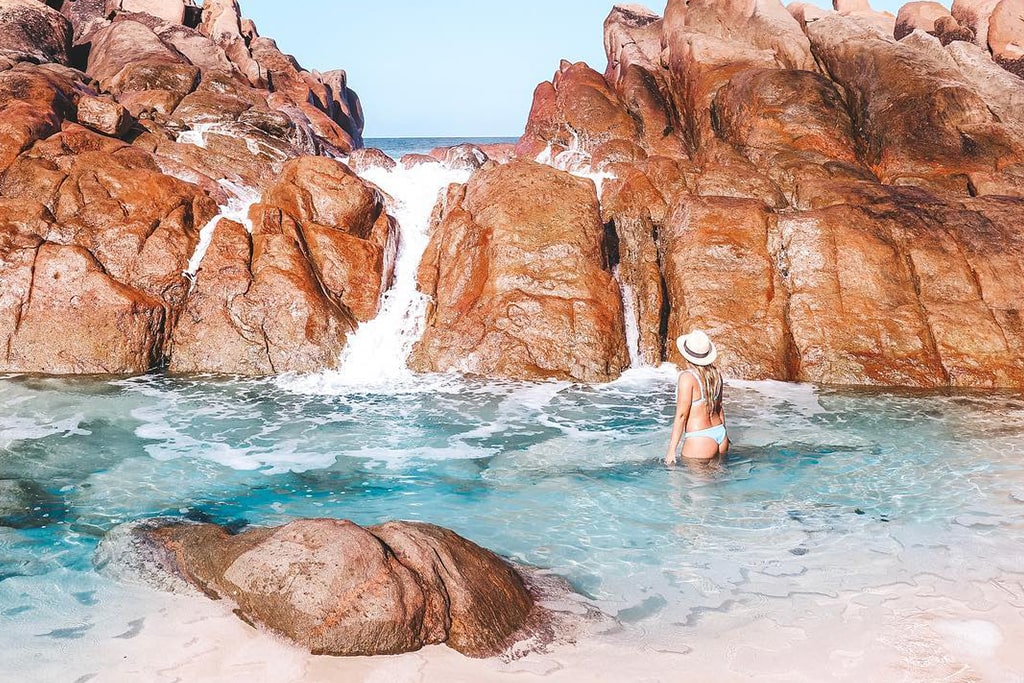 We've covered Injidup Spa Retreat at Yallingup above, but let's revisit the town here for Wyadup Rocks—where you'll find the hidden jewel that is Injidup Natural Spa (also called the Wyadup Spa). An amazing display of nature that is easily accessible, it's a certain spot where waves cascade through rocks and narrow gaps into a clear rock pool. All of which create the perfect amount of bubbles and foam to make you feel like you're in the world's most spectacular jacuzzi.
Travel tip: You will be climbing over rocks, so do note that you will need a pair of good shoes.
Fairy Pools, Noosa, Queensland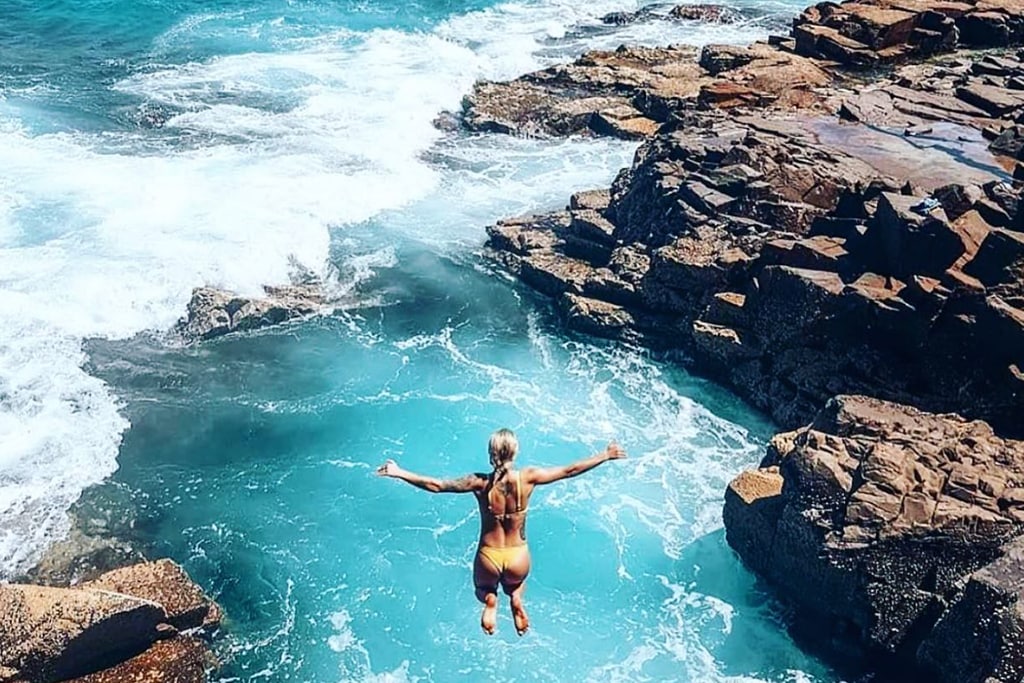 Noosa in Queensland is known for its high-end boutiques and restaurants. However, you can enjoy nature at its finest for free at Fairy Pools located at Granite Bay in Noosa National Park. Lying low between the basalt rocks at the tip of Granite Bay's headland, you'll find two natural tidal pools ready for you to make a splash. At high tide, the waves crash over the rocks, refilling the pool and creating a thrilling, all-natural spa experience.

At low tide, have your snorkel ready to see several kinds of corals and sponges making for a beautiful display growing on the rocks. There are various ways to get to Fairy Pools—one is a 30-minute walk from Little Cove Car Park, climbing down rocks along a coastal path; another is an hour's walk from Sunshine Beach, through the forest where you can look out for koalas.
Champagne Pools, Fraser Island, Queensland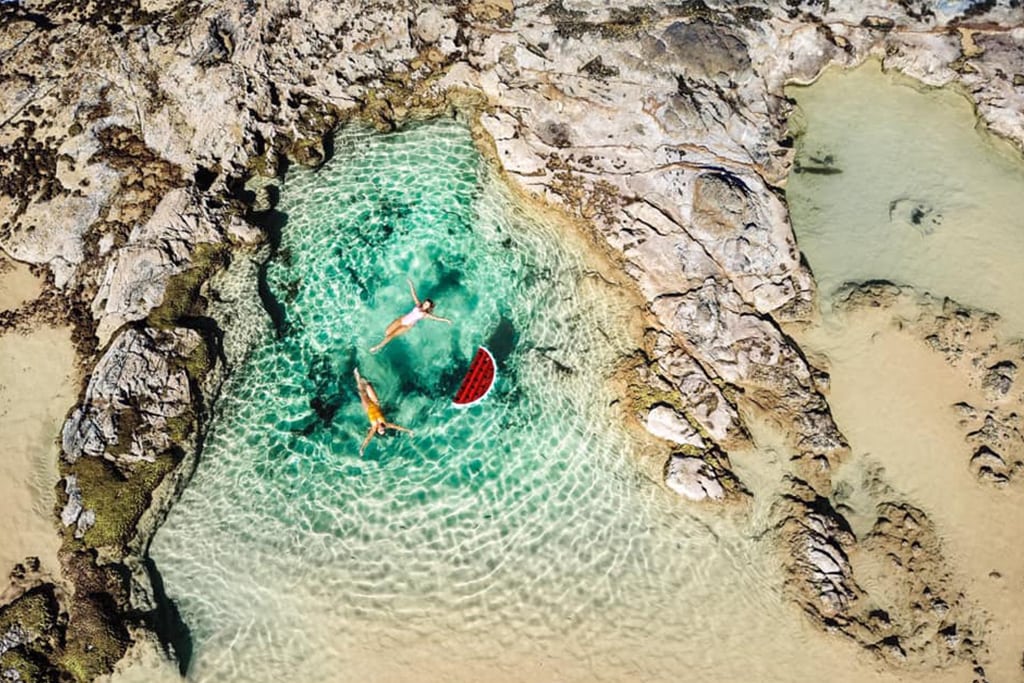 K'gari (Fraser Island) is the world's biggest sand island and home to dingoes, rainforest, amazing scenery, great fishing and incredible freshwater lakes. But the highlight here is Champagne Pools, said to be the island's crown jewel. Naturally formed saltwater rock pools create a collection of shallow swimming pools on the edge of the ocean, that naturally comes with unsurpassed views.

Visitors should take note of the tides—during low tide, the pools are much calmer and make for the perfect place to soak in the saltwater enjoying the sounds of the ocean.
Bitter Springs, Northern Territory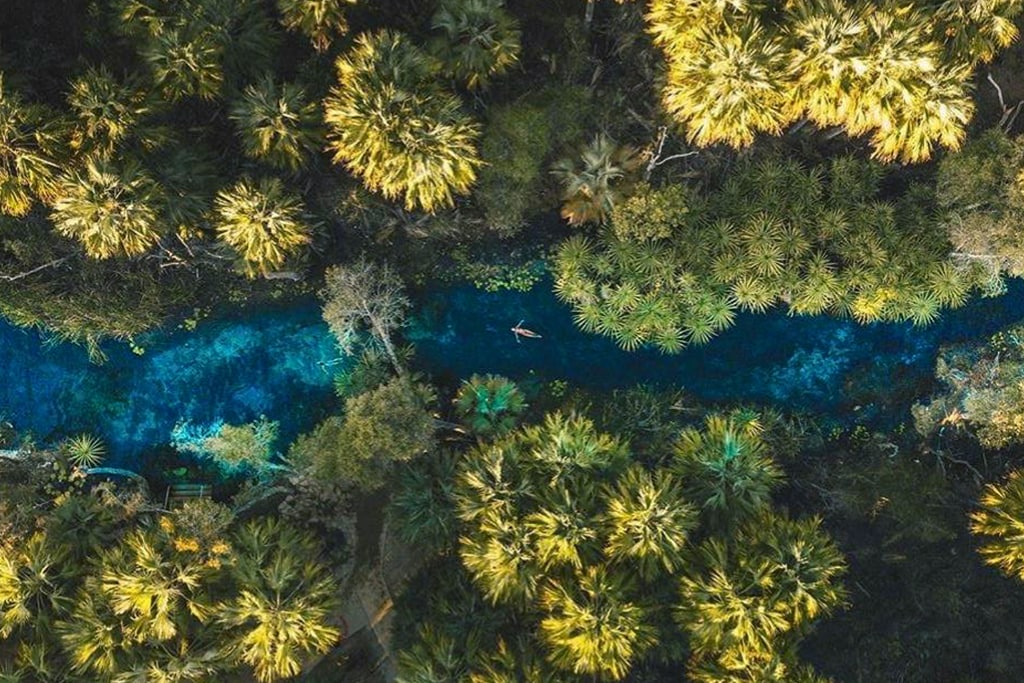 Spend a day in nature and tranquillity in the spring-fed thermal pools at Bitter Springs, located near the Katherine region in the Northern Territory's Elsey National Park. You can rent a foam pool noodle from the local caravan park, and let the calm current carry you along for about 200 metres. Then climb out, follow the path beneath fan palms back to the beginning and do it all over again! Try spotting freshwater turtles swimming along with you.
Apsley Waterhole, Tasmania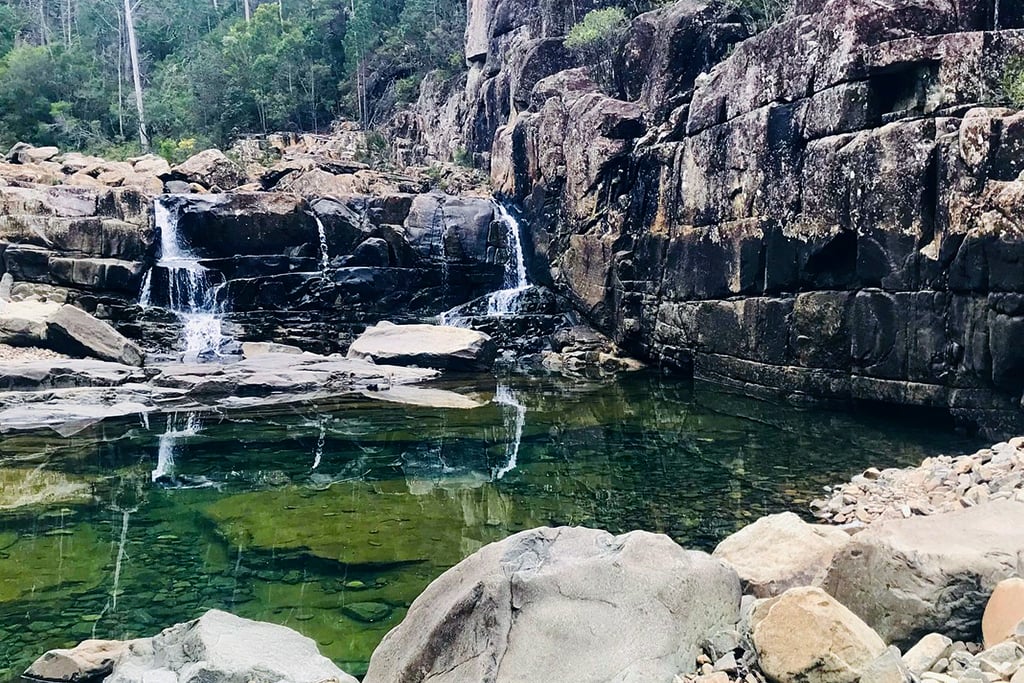 The Douglas-Apsley National Park is located in the east coast wilderness of Tasmania, and is home to wondrous gorges, flowing waterfalls, heathland, eucalyptus forests and wildflowers. Start off on your stroll through the open woodlands of the park and you will come across the Apsley Waterhole. This beautiful and tranquil pool begs you to stop and gaze into its pristine waters before taking a dip to cool off if the weather permits. During winter, it will be a little chilly yet no less refreshing.
4. Spoil your loved ones (and yourself) at these romantic getaways
The Darling Spa, Sydney, New South Wales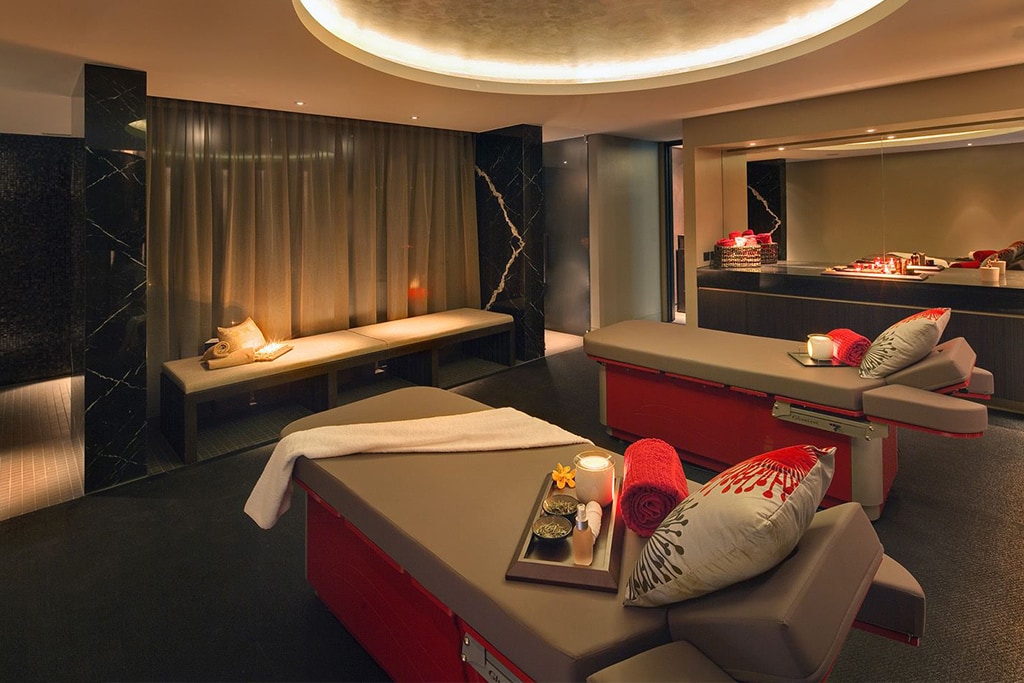 The Darling Spa in Sydney is the only place where you can indulge yourself with a decadent caviar facial, using La Prairie's iconic Skin Caviar collection. Experience pure luxury with this treatment that instantly firms your skin whilst perfecting its tone and texture, transforming even the dullest complexions into radiant, luminous skin.
Chi, The Spa, Sydney, New South Wales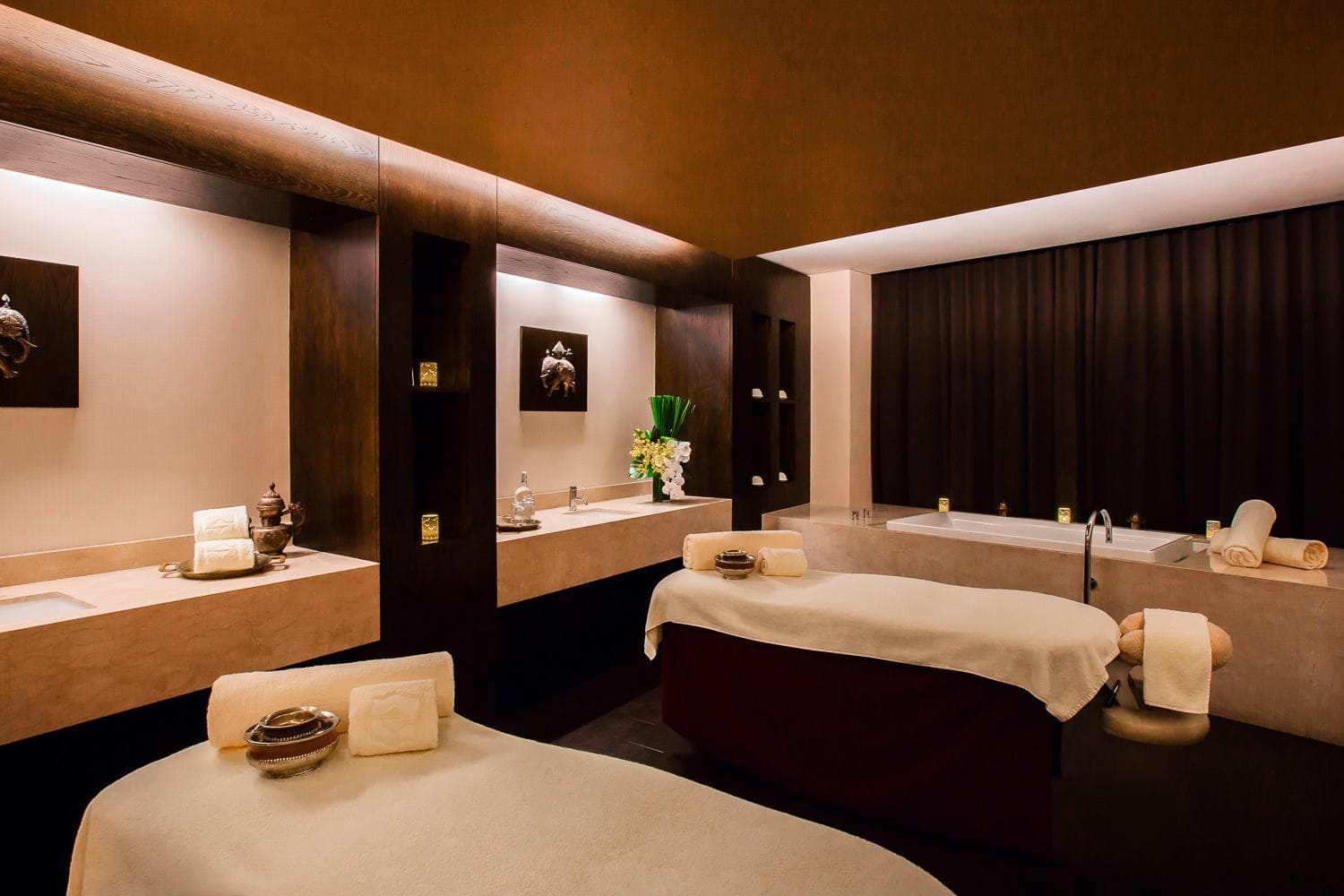 At Chi, The Spa, a sumptuous Asian-inspired retreat in Shangri-La Sydney, try their Signature Himalayan Hot Stone Massage. Feel your tension melt away through the use of heated natural salt stone crystals. Containing 84 naturally occurring minerals and salts, they are considered the purest and most beneficial salt on earth. The heated salt stones neutralise the ill effects of toxic frequencies and are excellent for treating jet lag and insomnia.
Lake House, Daylesford, Victoria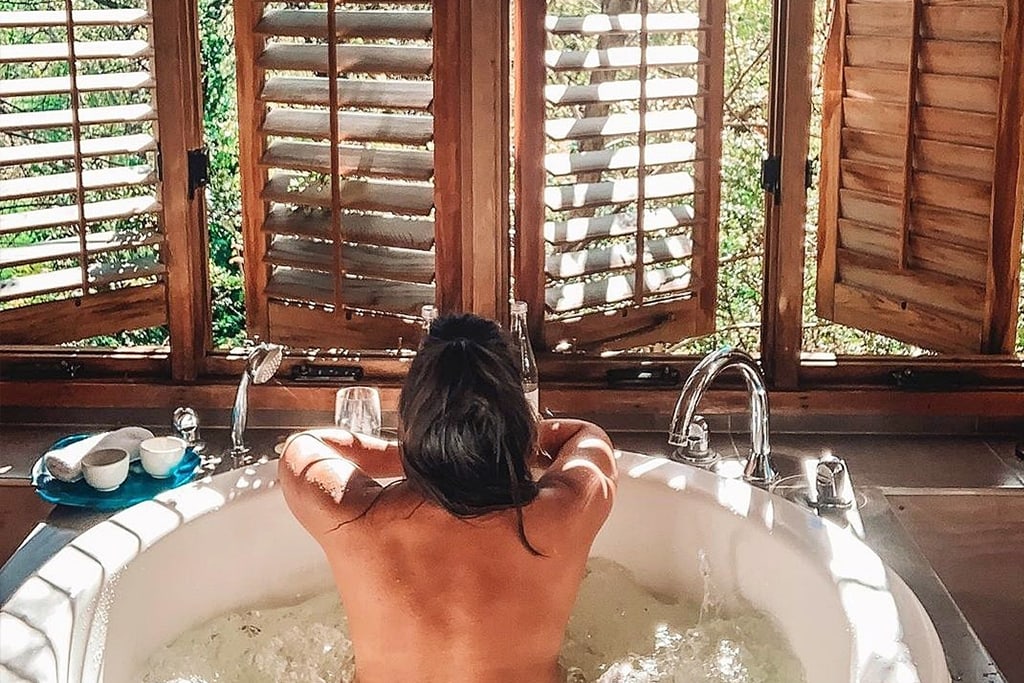 Located an 80-minute drive northwest of Melbourne, Lake House is a magical resort perched above waterfall streams overlooking Daylesford. It's the region which has Australia's largest concentration of mineral springs, so the must-try speciality is their mineral spa treatment. Start with a long soak in a private spa tub in a secluded treetop cabin, where you can peer through the willows down to the lake. You can then follow this up with a massage or body treatment that will leave you relaxed and glowing.
Aurora Spa, Melbourne, Victoria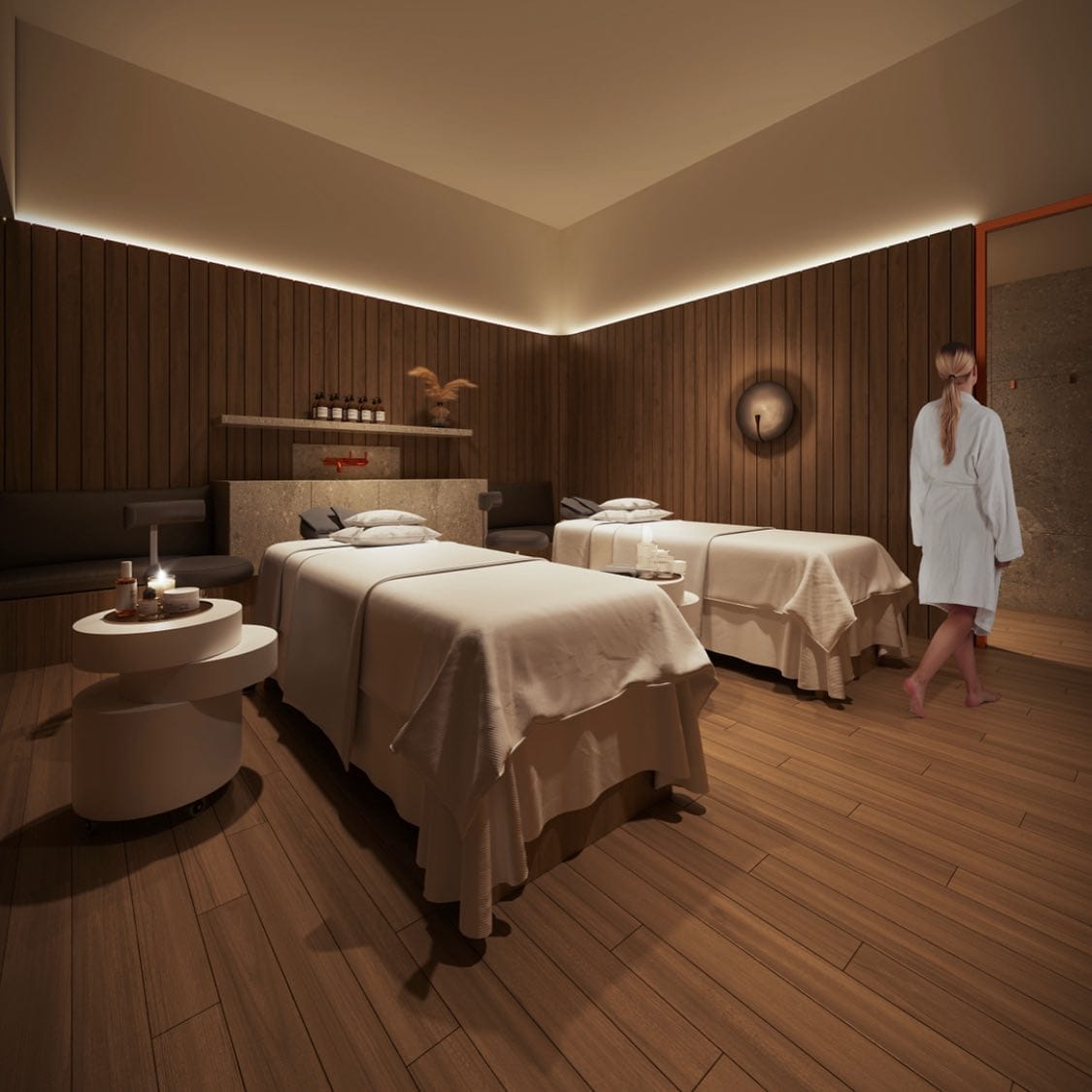 Aurora Spa in St Kilda, Melbourne has won a devoted following for treatments that combine indulgent pampering with solid results. Try their Cellular Hydrating Facial which comes with a surprisingly soothing ice facial massage, as well as relaxing massages for your scalp, hands and feet. Another option to check out is the state-of-the-art Aurora Spa & Bathhouse, which opens in May 2022 at The Continental Sorrento, in Mornington Peninsula.
Travel tip: If it's the relaxation you're after, less is more. Don't fill your itinerary up to the hour! Set aside a day or two to just let life happen, and Australia will reward you in unexpected ways.
INSPIRED TO VISIT AUSTRALIA?

 You may also be interested in these articles: