We deserve to spoil ourselves once in a while, so it's best to do it right. Australia offers some of the best luxury escapes paired with world-famous cuisine, gorgeous weather, and the warmest hospitality.
To help you plan an indulgent holiday that you'll remember for a lifetime, we've compiled our favourite Australia luxury lodges and experiences that are hand-picked for the uniquely Australian charm they provide.
New South Wales: Emirates One&Only Wolgan Valley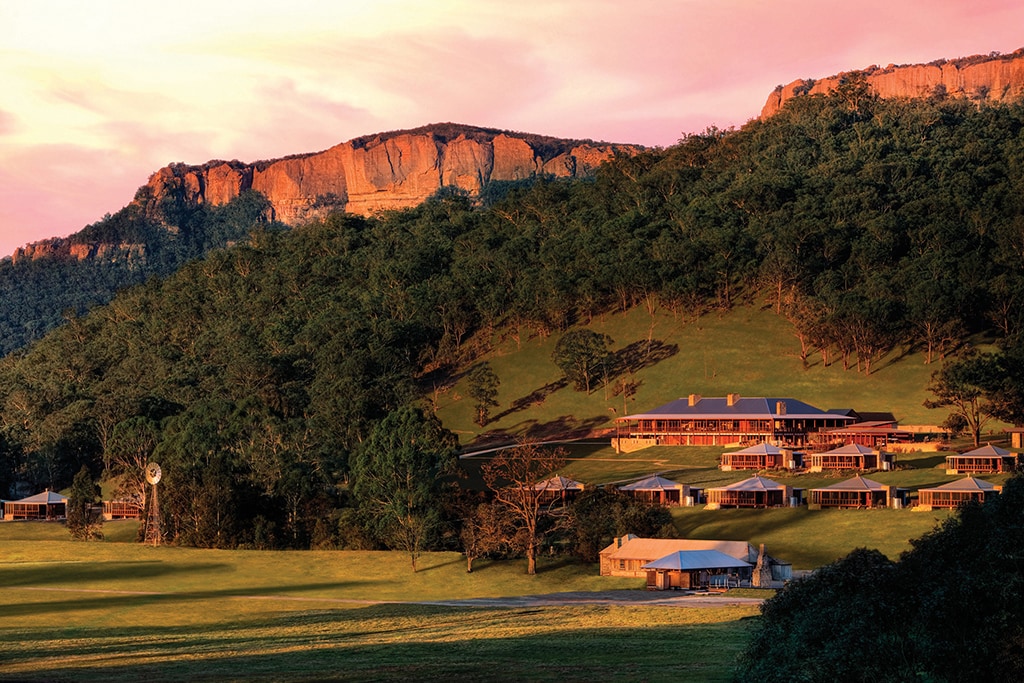 As Harper's Bazaar puts it "This remote valley is Australia's best-kept secret". The Emirates One&Only Wolgan Valley is an ultra-luxury conservation-based resort in a nature reserve in the Greater Blue Mountains World Heritage Area is a three-hour drive away from Sydney and occupies only one per cent of its own 2,800-hectare conservancy.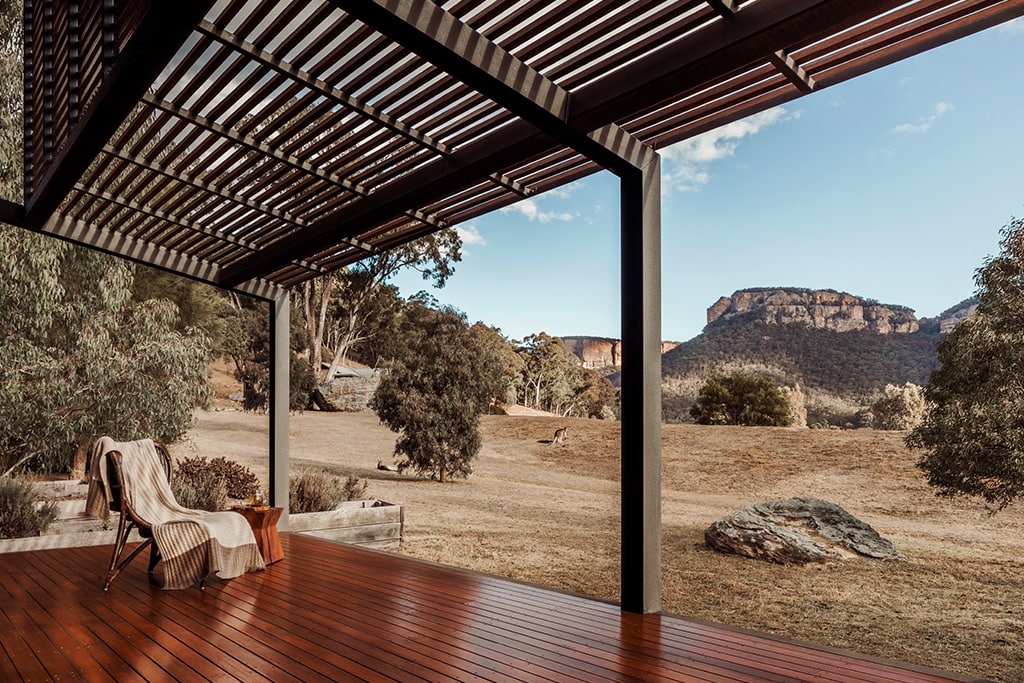 Each of the lodge's 40 standalone villas has a private enclosed swimming pool and large sleeping and living quarters. There are also one-bedroom, two-bedroom, and three-bedroom that each provide views of the mountains outside but still offer intimate privacy.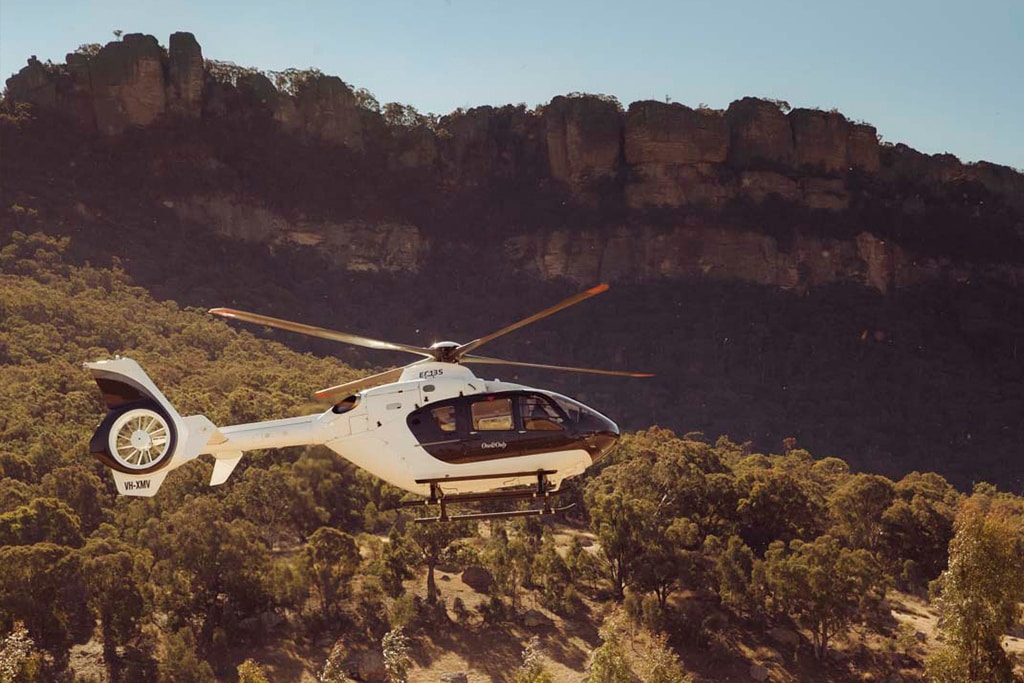 Your luxurious escape starts the minute you land as there are various options for private hotel transfers. We recommend you take the helicopter which provides you with an aerial view of the Sydney harbour which transposes into the scenic valleys of the Blue Mountains.
There is also plenty to do here from going on an authentic bushwalk to riding horses at the stables, enjoying a 4WD wildlife safari, going mountain biking, and taking in a spa day at the signature spa. This is a place for you to leave everything behind and be immersed in the outback.
Victoria: Lake House, Daylesford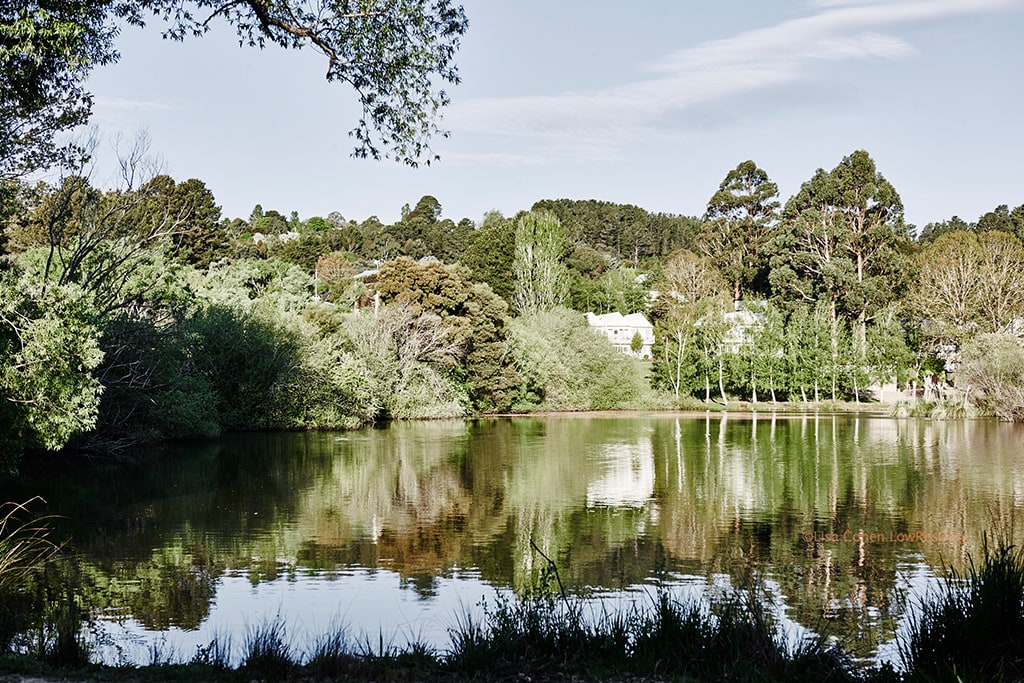 Located only 90 minutes from Melbourne, Lake House has 33 spacious, art-filled rooms and suites overlooking Lake Daylesford in the heart of Victoria's Spa Country. The hotel has six unique accommodation options that have been tastefully decorated to provide you with the feeling of a countryside escape.
Nestled in nature, there is a walking track that leads from the property, around the lake, and into the Wombat State Forest where natural springs can be found along with native birds that call the woods their home.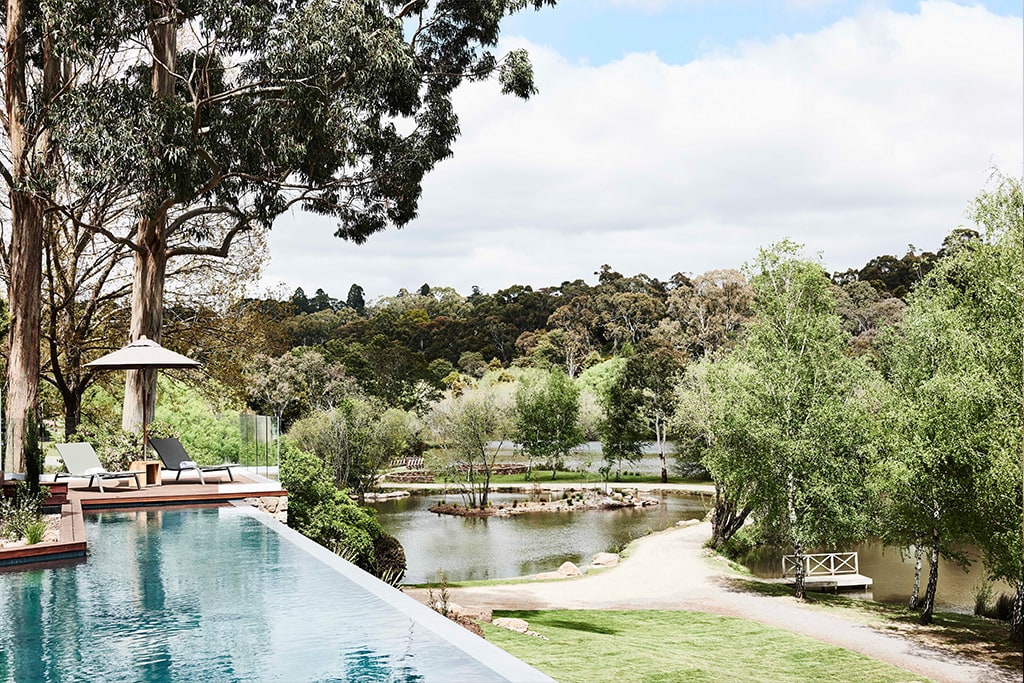 The hotel also offers cooking lessons from Australia's top chefs in a purpose-built kitchen. Get hands-on experience cooking with local chefs, producers, growers, and winemakers with events pre-scheduled throughout the year.
Don't miss the chance to experience the Australia winery as well and join the Daylesford wine tours. Meet the makers behind the labels and walk through an extensive choice of the best regional drops and get to know three to five of the best local winemakers in the area. It is an informal yet informative afternoon featuring tasting sessions with the makers, discussing each of their varieties whilst sharing with you their own personal wine, cider, spirit or liqueur-making techniques, and stories.
Queensland: Nightfall, Lamington
Camping might not be top of mind when you're considering a luxurious getaway but you've never camped like this before. Glamping is not new but Nightfall elevates it to another level.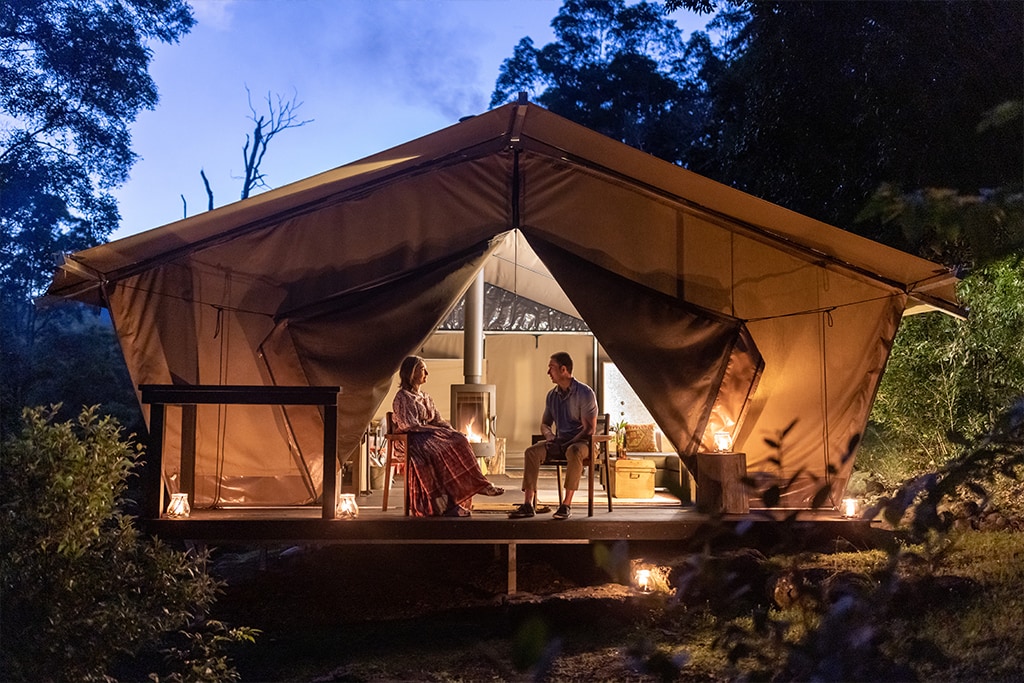 The exclusive glamping experience only allows 8 guests at any one time. Each safari tent features a king-sized bed, fireplace, and freestanding bath, so you can go straight from hiking in Lamington National Park to soaking in a bubble bath. For tight muscles, book Nightfall's famous waterfall spa massage; your choice of body treatment, alfresco, next to a waterfall.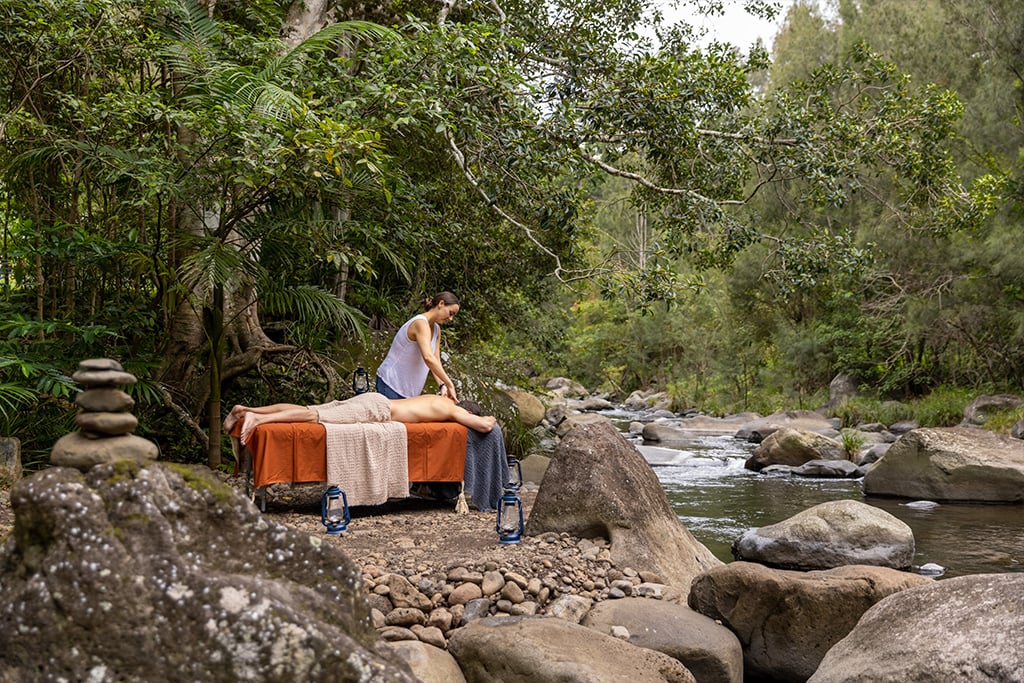 The air in the forest is cool and crisp, the mountain stream water is pure, and all the food served is homegrown. Nightfall invites you to step away from the excess and complications of modern life, by redefining luxury through architect-inspired, hand-built, permanent safari tents; sumptuous home-cooked organic food and the relaxed feeling of staying with old friends.
Come nightfall at… Nightfall, the campsite is transformed as a roaring fire bathes the grounds in a warm light. Food is prepared fresh with organic ingredients harvested from Australian bush tucker plants as well as sourced from local organic markets.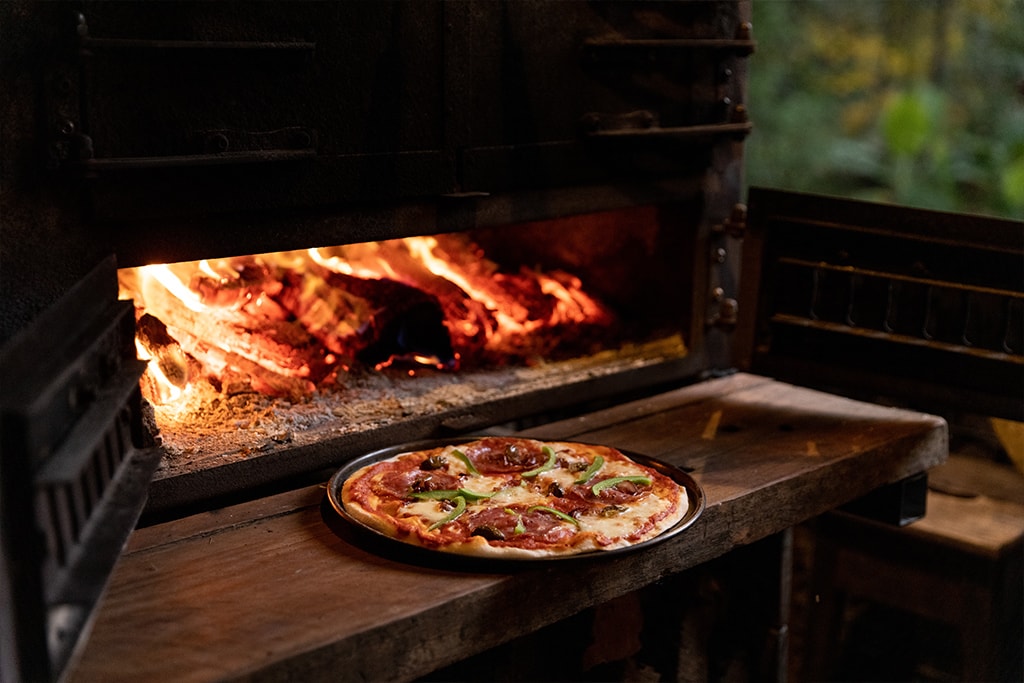 Guests can enjoy their meal by the fire in the lounge together with other guests or retreat to their personal corners for intimate dining serenaded by nature. Nightfall provides the creature comforts of modern life, paired with a unique camping experience.
Tasmania: Saffire Freycinet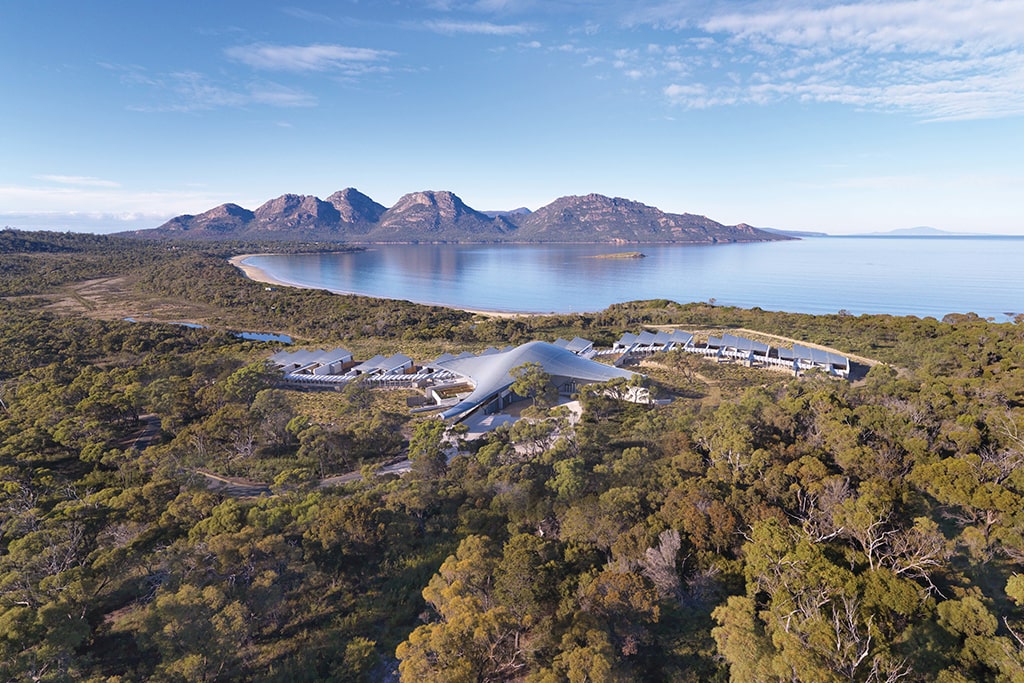 The Saffire Freycinet is a luxury coastal resort on Tasmania's East Coast, adjacent to Coles Bay and overlooking the Freycinet Peninsula, Great Oyster Bay and The Hazards mountain range. The undulating roof of the main building evokes the look of a sea creature, blending in with its surroundings while its 20 private suites curve around the site, reminiscent of waves.
Saffire boasts the best of Australian fine dining alongside more than 20 bespoke, included experiences. Slip your waders on and taste oysters right out of the water with a glass of Tasmanian sparkling wine. Discover the Tasmanian Devil Experience and learn about the initiatives to save this endangered species from extinction. While you're there, treat yourself to a luxury luncheon cruise to Wineglass Bay.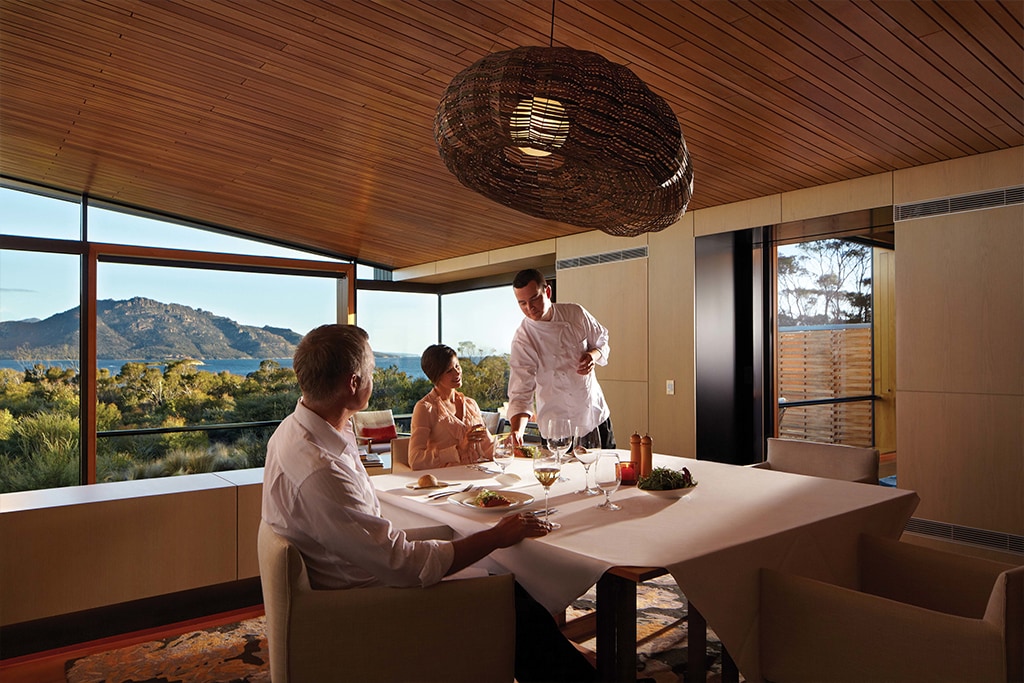 The resort is an all-inclusive resort experience that offers breakfast, lunch, and dinner at your leisure along with complimentary snacks and selected lounge beverages. The Private Pavilion suite offers its own plunge pool, dining area, and kitchen for a private dining experience.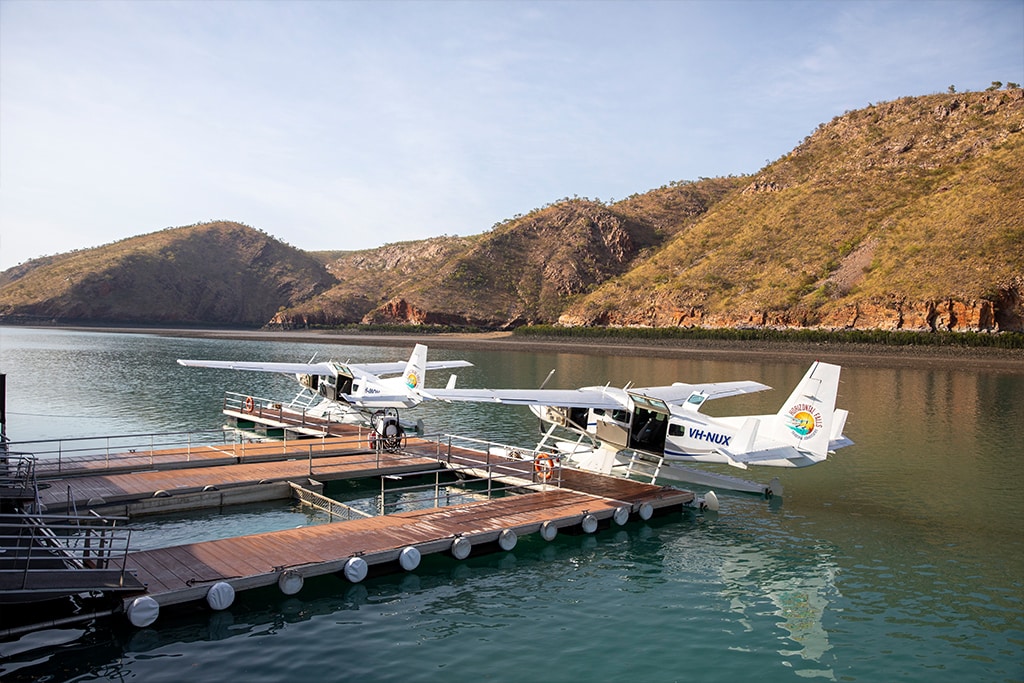 While here, you can also get on an Australia seaplane to view Tasmania from the skies with Above & Beyond. The 50-minute ride provides spectacular views of the Hazards mountains of Freycinet National Park.
Western Australia: True North, The Kimberley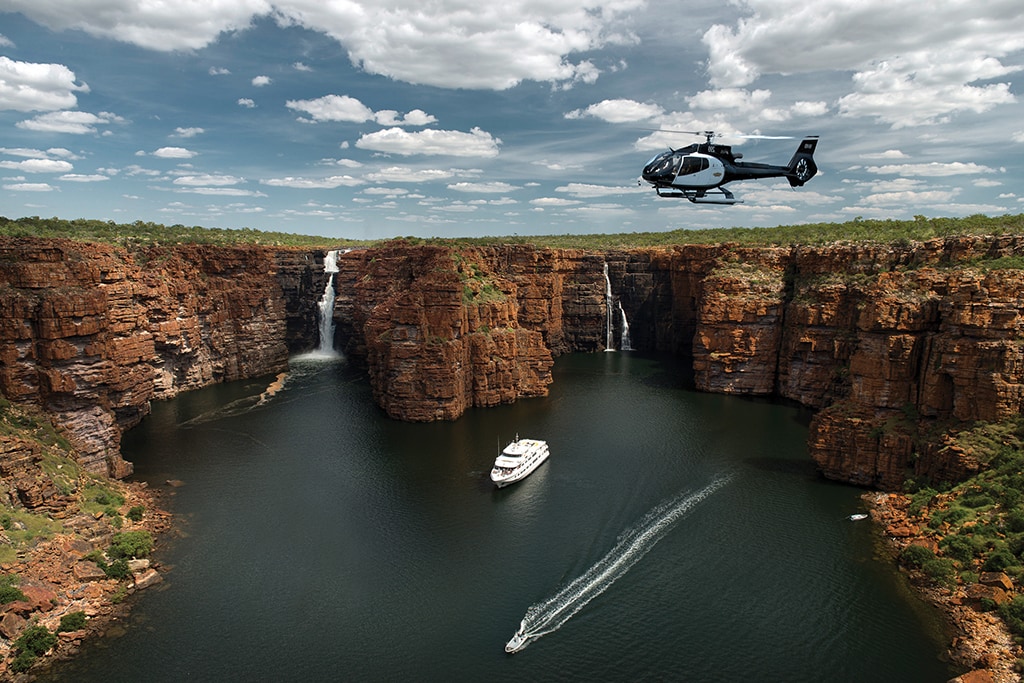 The 18-cabin adventure cruise is an unbeatable way to discover the gorges, waterfalls, and ancient Aboriginal rock art of the Kimberley coastline of Australia, as well as other remote coastal destinations.
There is a full-time, onboard helicopter and six expedition boats for daily adventures, and a 20+ all-Australian expert crew who provide unique insights to this remote land. This is activity-based cruising, with a maximum of 36 guests, personalised service and superb dining. The cruise has been purpose-built to go where bigger ships cannot, which uniquely positions it to bring you on one-of-a-kind adventures all while enjoying the comforts of a traditional cruise.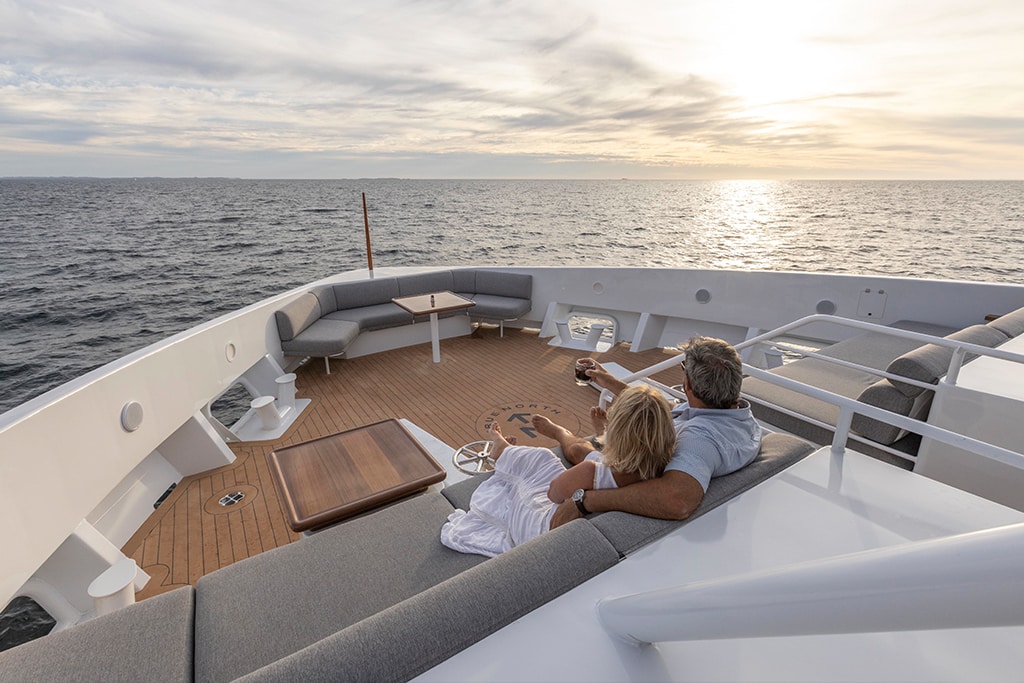 There are three configurations of staterooms with the Explorer Class stateroom being the most luxurious. The room features a king-sized double and a twin-basin en suite. There are large panoramic windows, amenities fridge, in-cabin entertainment, and satellite telephone.
The real adventure is not on the boat however, it is on land. The waterfalls that the boat gets right next to, the rock-art, fishing, and exotic animal watching that only the True North (the name of the boat) can bring you to.
Michelin-worthy Restaurants in Australia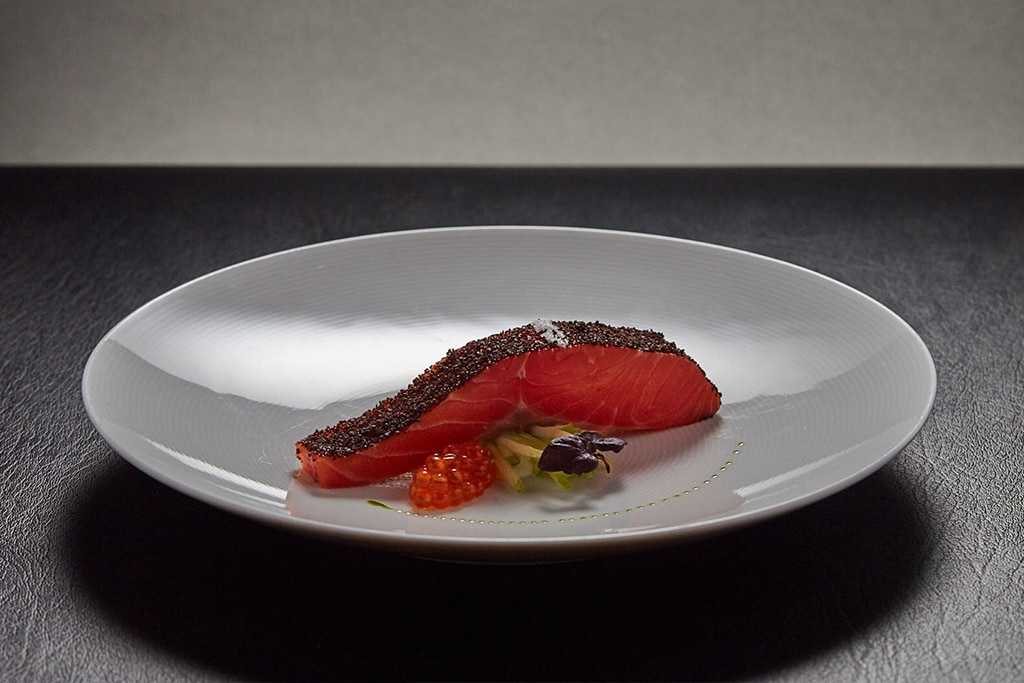 While there are officially no Michelin-starred restaurants in Australia because the Michelin Guide simply has not introduced Australia into its guide, there are plenty of Australia fine dining restaurants to sink your teeth into.
Tetsuya's in Sydney is a fine example as Chef Tetsuya Wakudo owns both Tetsuya's and Wakhu Ghin in Singapore the latter of which earned two Michelin stars.
Nearby in Sydney harbour is Quay which has been listed in the World's 50 Best Restaurants list nine times. Next up in Melbourne, 55 floors up is Vue de Monde in the iconic Rialto building. Led by Executive Chef Hugh Allen, the menu changes constantly, but the quality remains.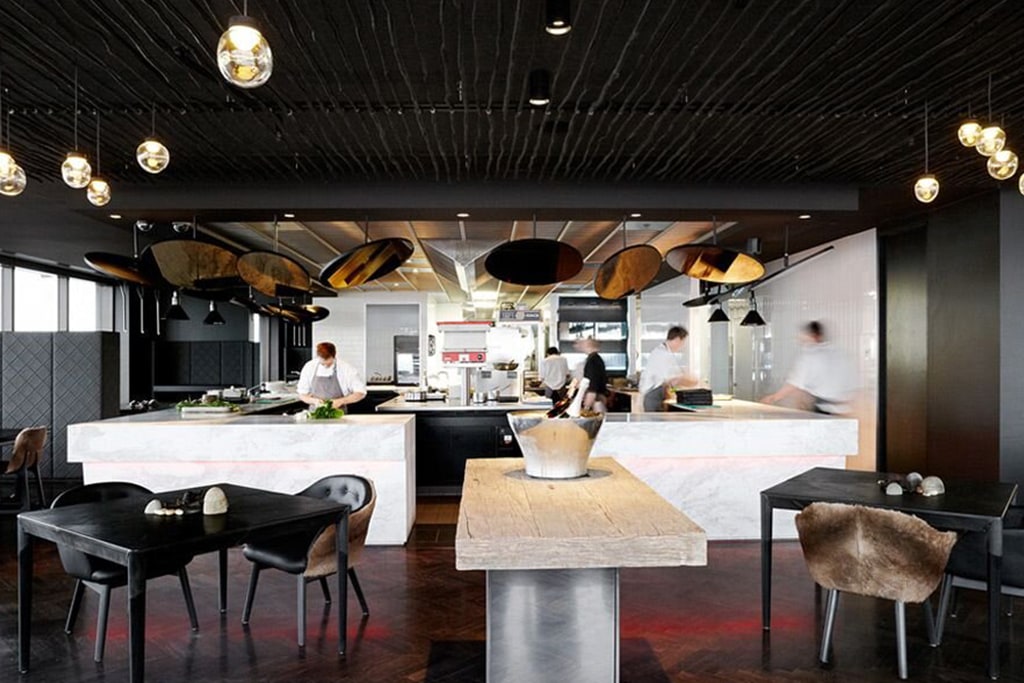 These Australia luxury experiences are just the tip of the iceberg and Australia has many more for you to explore. Make sure you get a personalised itinerary that caters for your needs by engaging a suitable travel agent.
INSPIRED TO VISIT AUSTRALIA?
REACH OUT TO US AT +603 6286 6288 OR
[email protected]
 You may also be interested in these articles: