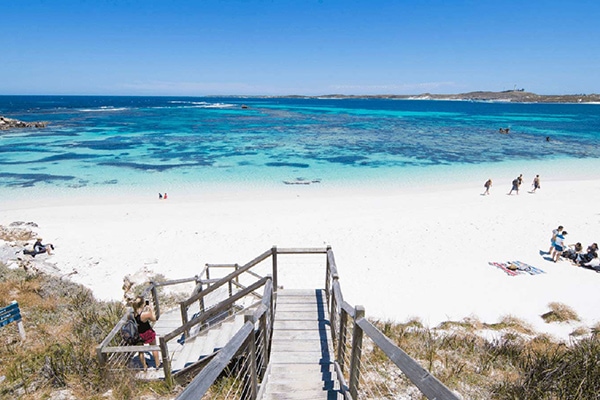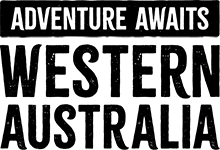 BEACHES
10 Best Beaches of Western Australia
Western Australia beaches are frequently voted as some of the most beautiful beaches in the world. Hugging the Indian Ocean, WA's coastline covers a whopping 12,000 kilometres and has some of the most beautiful beaches compared to any other state in Australia. Here's our pick of the top 10 beaches in WA.

1. LUCKY BAY, ESPERANCE
Home to pristine white sands, turquoise waters of the Indian Ocean and sunbathing kangaroos, Lucky Bay in Esperance has been crowned year after year as the whitest beach in all of Australia. Hidden within the Cape Le Grand National Park, Lucky Bay was named by Matthew Flinders in the early 1800s when he took refuge during a summer storm.
At night, witness clear starry skies and enjoy cool nights while camping out at Lucky Bay Campground. Lucky Bay is a protected area that can host only a limited number of campers, hence it's best to book your spot before going on your camping trip.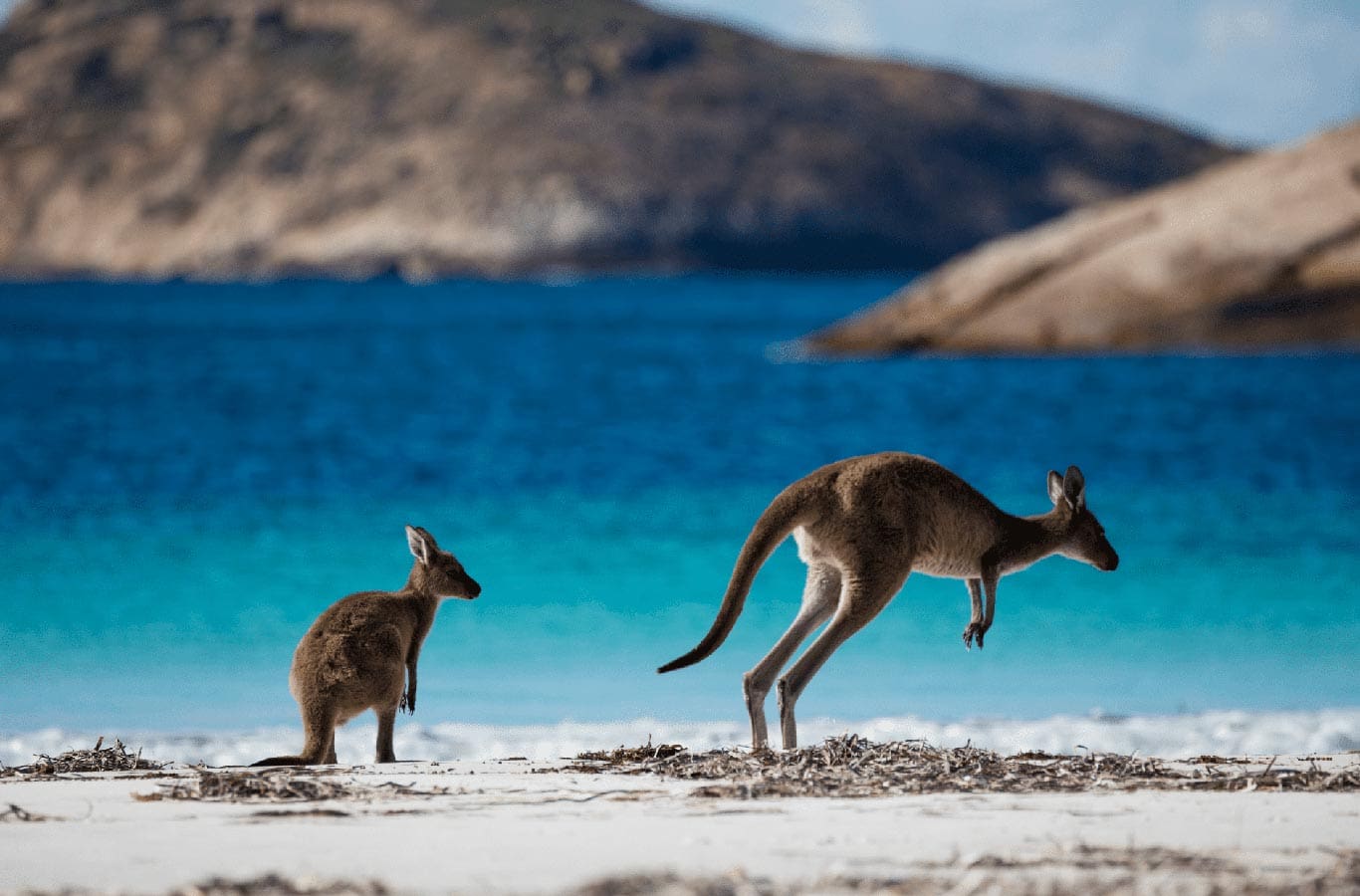 The scenic route to Lucky Bay would be an 8-hour drive to Esperance from Perth and another 45-minutes to the east. Once you arrive, you will be greeted with refreshing sights of sparkling sands and resident kangaroos. You can also go bushwalking along Cape Le Grand National Park or take a scenic helicopter ride to glimpse the bubblegum-pink Lake Hillier.

2. THE BASIN, ROTTNEST ISLAND
The Basin in Rottnest Island makes for a unique swimming spot. A favourite among locals and visitors alike, The Basin is sandwiched between low calcarenite bluffs, which has created an intertidal platform, making it a safe and calm environment for families to swim and frolic.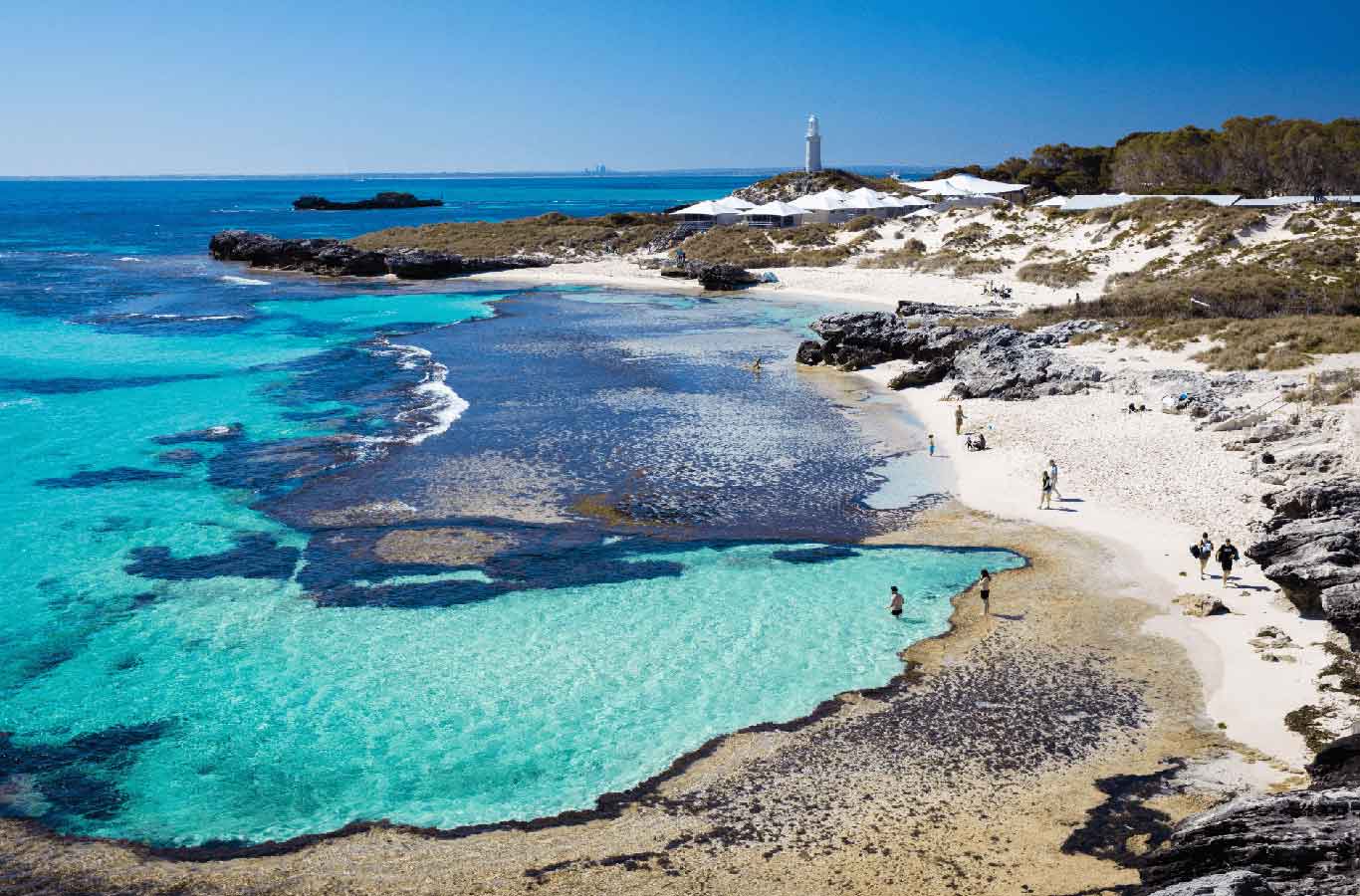 A 10-minute leisurely walk from the west of Thomas Bay Settlement in Rottnest Island will get you to the emerald pools and clean white sands. Lie on the soft sand, and enjoy clear blue skies while taking in the scenes of fellow frolickers having fun.
The best time to visit The Basin would be from spring to autumn, as the weather during winter tends to get a little rough.

3. CABLE BEACH, BROOME
No other place in Australia can compare to Cable Beach when it comes to all year round perfect warm weather to enjoy a beach holiday.  Named after the telegraph cable that connected Australia to the world in 1889, Cable Beach stretches over 22 kilometres and is a perfect sanctuary for you to disconnect and wind down while enjoying its fine sand beach and clear waters.  The most famous beach in Kimberley known for its unparalleled sunsets will astonish you with gradients of pink and orange as you saunter down the beach on the camel train. You could also explore the dunes and the walking trails of Minyirr Park or chart a boat to go sailing.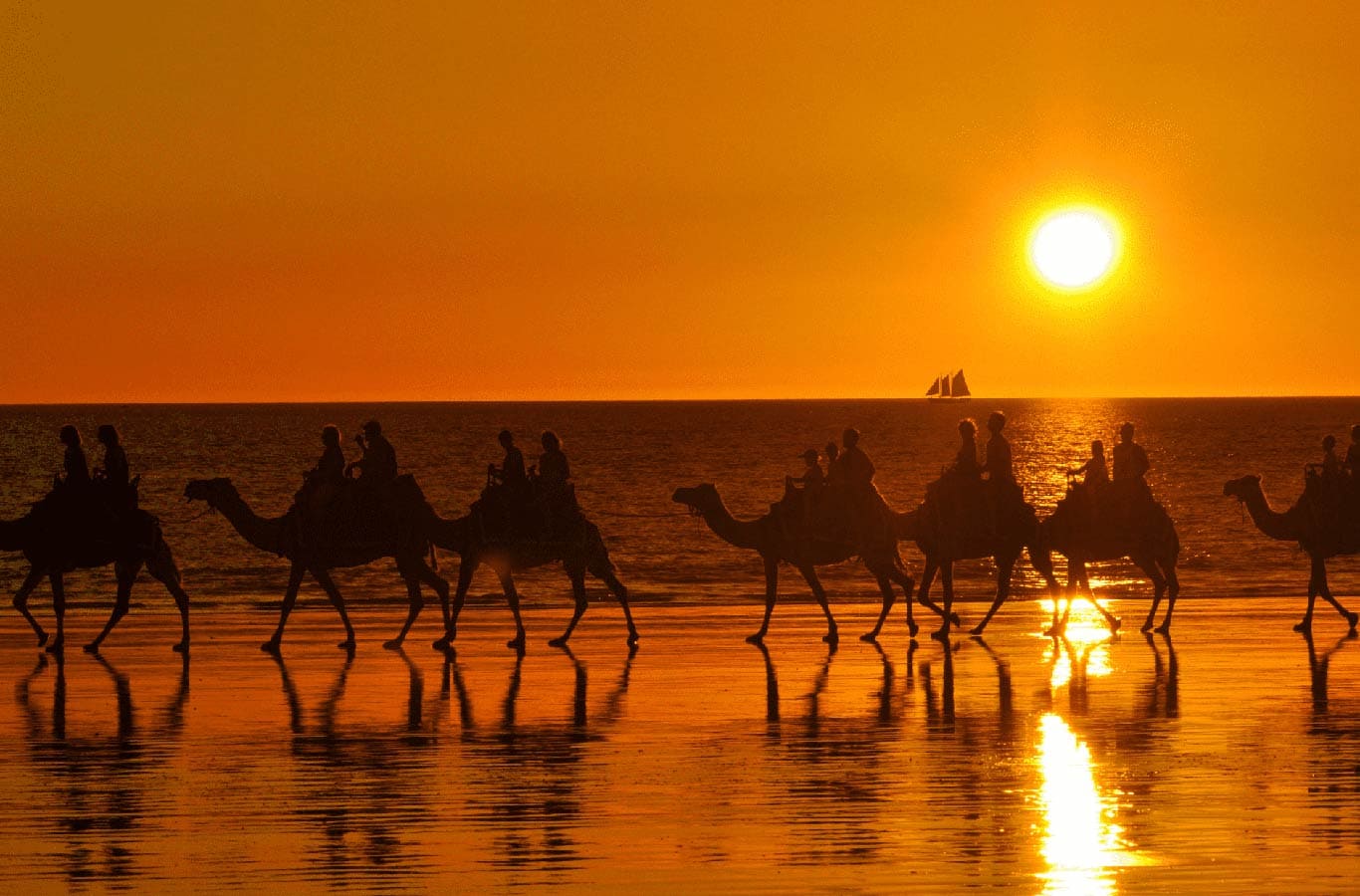 You can get to Cable Beach by taking a flight to Broome and the beach is accessible by bus or a 10-minute drive from Broome town.

4. COTTESLOE BEACH, PERTH
Cottesloe Beach, better known as the "Cott" to the locals, is one the most iconic Australian beaches. Swim, surf and snorkel without having to leave Perth. Just 15-minute drive from the city centre, you will be greeted by turquoise waters of the Indian Ocean, large shady Norfolk pines and tiered grass area perfect for a picnic.
The 1.5 kilometres of soft white sand also houses the central beachfront Indiana building and world-class annual sculpture park exhibition. Popular with locals and tourists, Cottesloe Beach makes for a fun day out while you enjoy dipping into the cool ocean waters or laze around the lawn area soaking up the sunshine.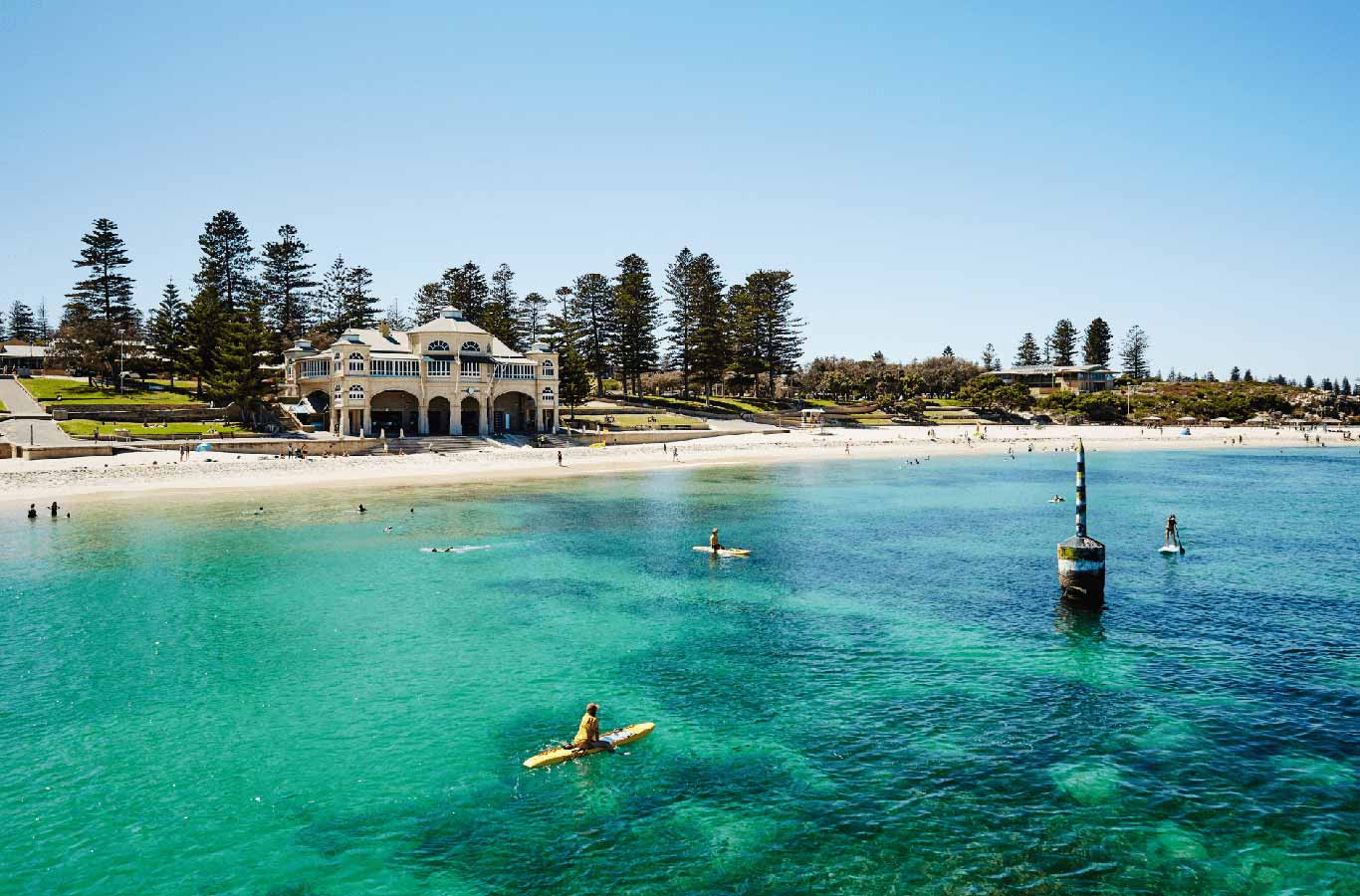 Cottesloe also has a vibrant dining and nightlife scene, ideal for enjoying alfresco dining with impressive sunset views or a lively Sunday session.

5. YALLINGUP BEACH, MARGARET RIVER REGION
The big waves offshore have made Yallingup Beach in the Margaret River Region the top surfing spot in Western Australia. Yallingup Beach is divided into two sides. To the left of the main beach, you will find the Yallingup lagoon, a little tranquil spot with a shallow reef perfect for children to swim and play all day. On the opposite side, you will find a crash of beach breaks making it an ideal condition to surf.
Famous with both families and professional surfers, Yallingup Beach is situated right on the south-west edge of Western Australia. From Perth, it will take a 3-hours drive down south and a 30-minute drive to the west of Busselton to reach the beach.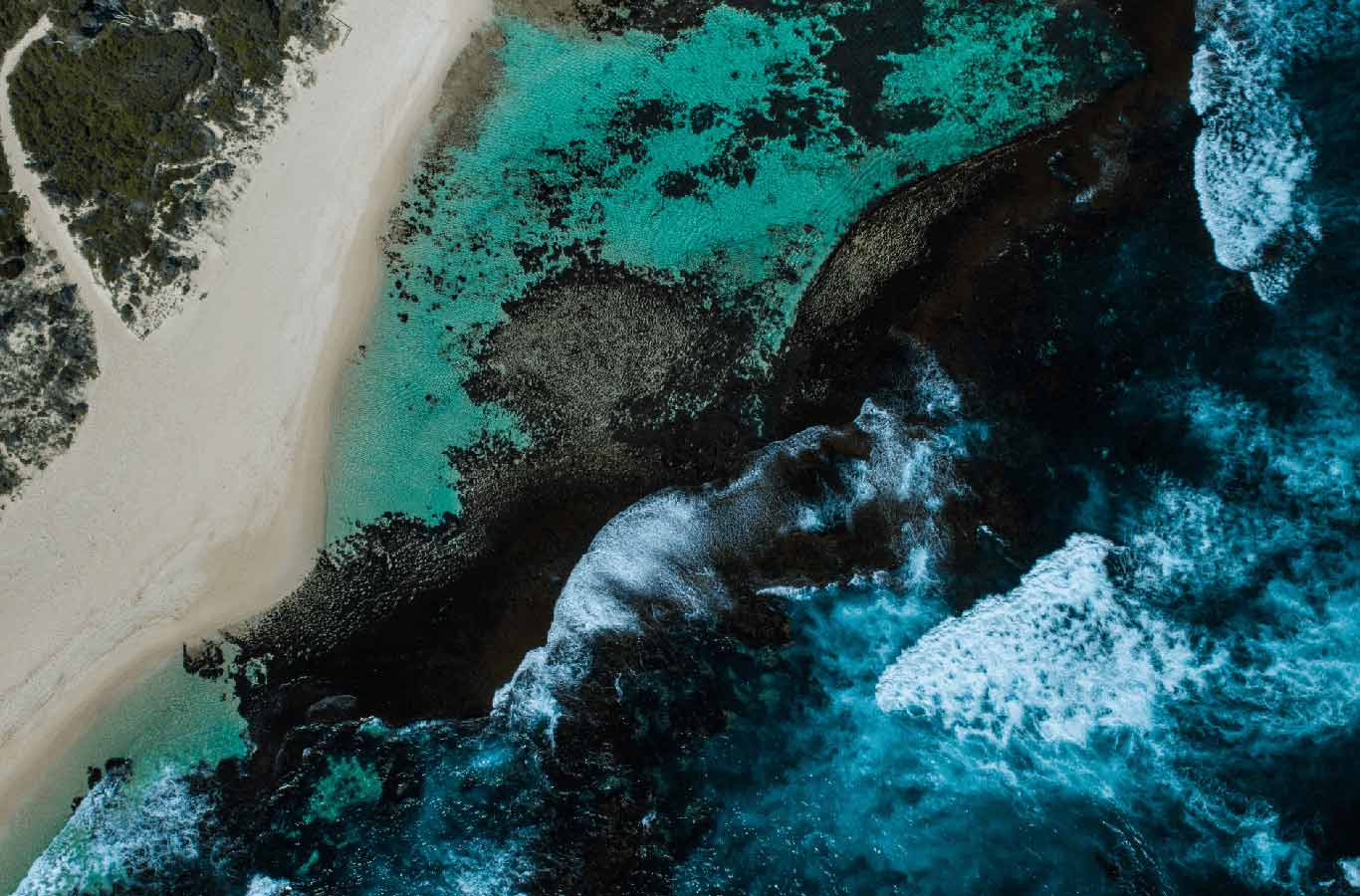 Yallingup Beach also has a camping ground or you could book a holiday retreat home and complete your holiday with a visit to the Margaret River wine region nearby.

6. GREENS POOL, DENMARK
While Western Australia coastline is never short of beautiful sparkling turquoise waters and pure white sands, Greens Pool stands out for its beautiful naturally sculpted rocks. Voted 4th place in the Top 10 Beaches in the recent 2022 Traveller's Choice Awards in Tripadvisor, Greens Pool has become popular not only for its scenic views but also for swimming, snorkelling and diving thanks to the low tide.
Nestled in the shores of William Bay National Park, take a four and a half hour picturesque drive down to Margaret River Region from Perth as you pass by tall timber forests and roads bordering the beautiful coastline of the south west.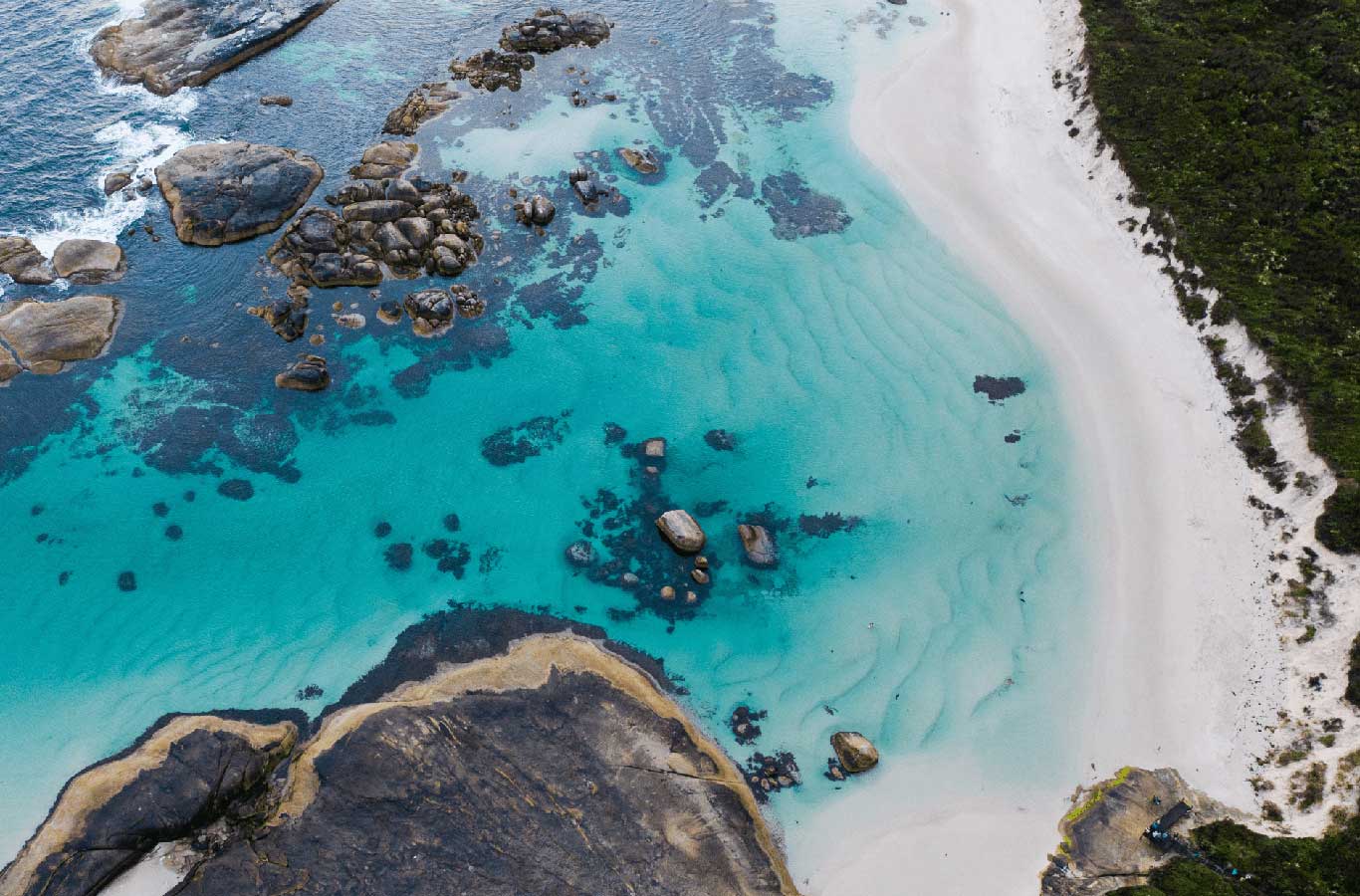 Don't forget to visit Elephant Rocks, a neighbouring bay where you will find huge elephant-shaped boulders in the water.

7. TURQUOISE BAY, CORAL COAST
Turquoise Bay is undoubtedly one of the top three best beaches in Australia, freshly crowned as the best beach in South Pacific in Tripadvisor's 2022 Traveller's Choice Awards. Turquoise Bay is popular amongst seasoned drift snorkelers as it is home to breathtaking colourful coral reefs, sea turtles, stingrays and the most beautiful schools of reef fishes that you will ever encounter. Seasoned swimmers could snorkel by themselves or join guided snorkel tours to experience the underwater beauty of Turquoise Bay.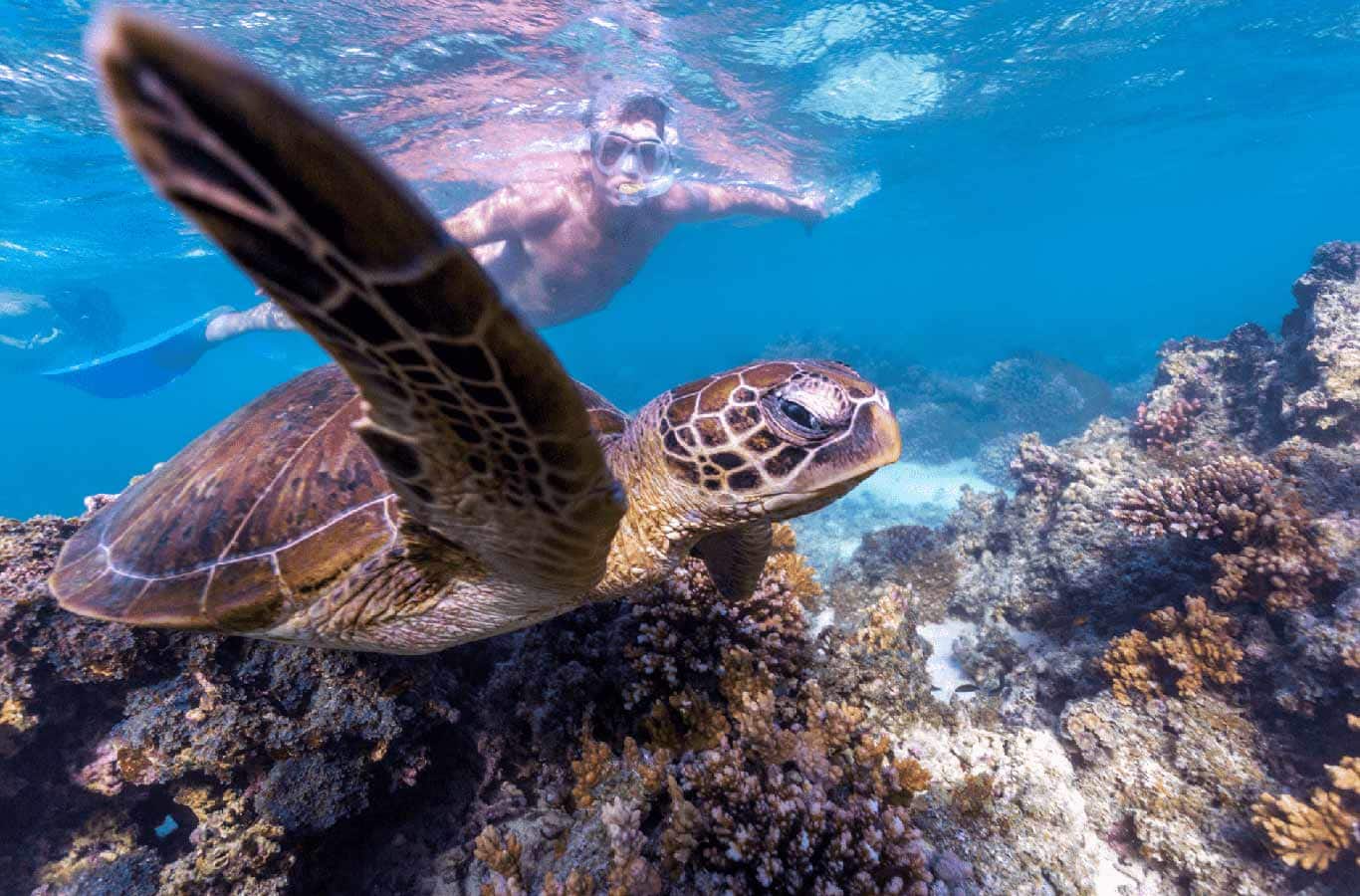 Located within Cape Range National Park, it's an hour's drive to the bay from Exmouth town centre. Shuttle bus services are also available from the town centre, making it easy for visitors to travel around the coast. A 10-minute drive south will lead you to Ningaloo Reef, the famed world heritage site for stunning coral reefs and marine life.

8. SHELL BEACH, SHARK BAY
The Shell Beach is literally named after the bed of tiny shells that cover the beach, replacing sand. The beach is made out of billions of tiny Coquina Shell, which only live in hypersaline waters. The lack of predators in this salty water resulted in the trillions of this species, accumulating up to 10 metres deep beach that stretches over 120 kilometres. This dramatic shoreline meets the perfect blue and green-gradient waters, calm enough to go for a swim or snorkel.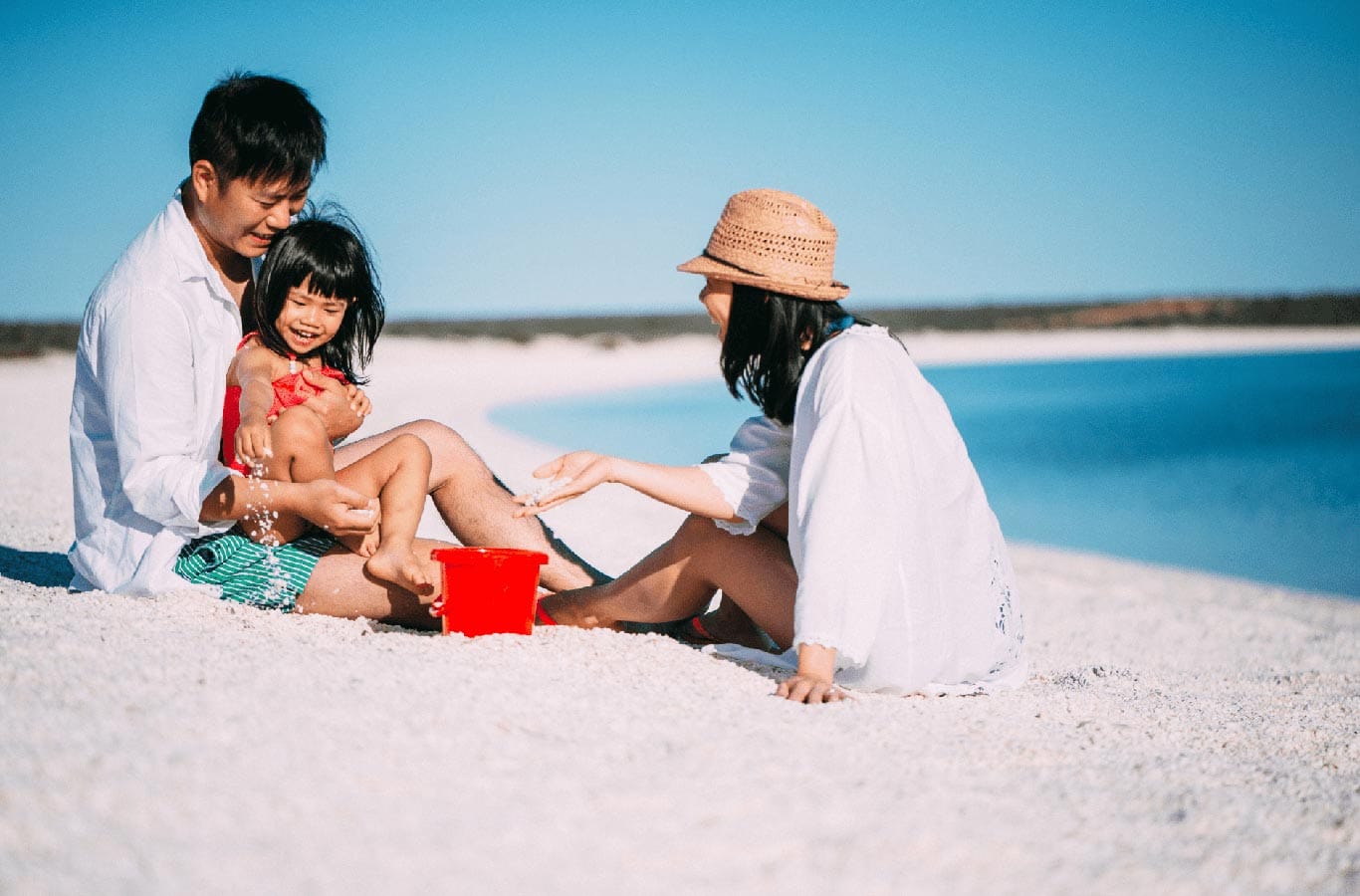 To get to this one of a kind beach, you can either fly to Denham or take a road trip up north from Perth towards Shark Bay World Heritage Area.
9. TWILIGHT COVE, ESPERANCE
Twilight Cove in Esperance has one of the most dramatic coastlines. Clear turquoise waters, smooth granite cliffs and panoramic views easily qualifies Twilight Cove as one of the best in the world. Its idyllic and safe surroundings have made it a popular spot amongst local families to spend a day out in the sun to swim and relax.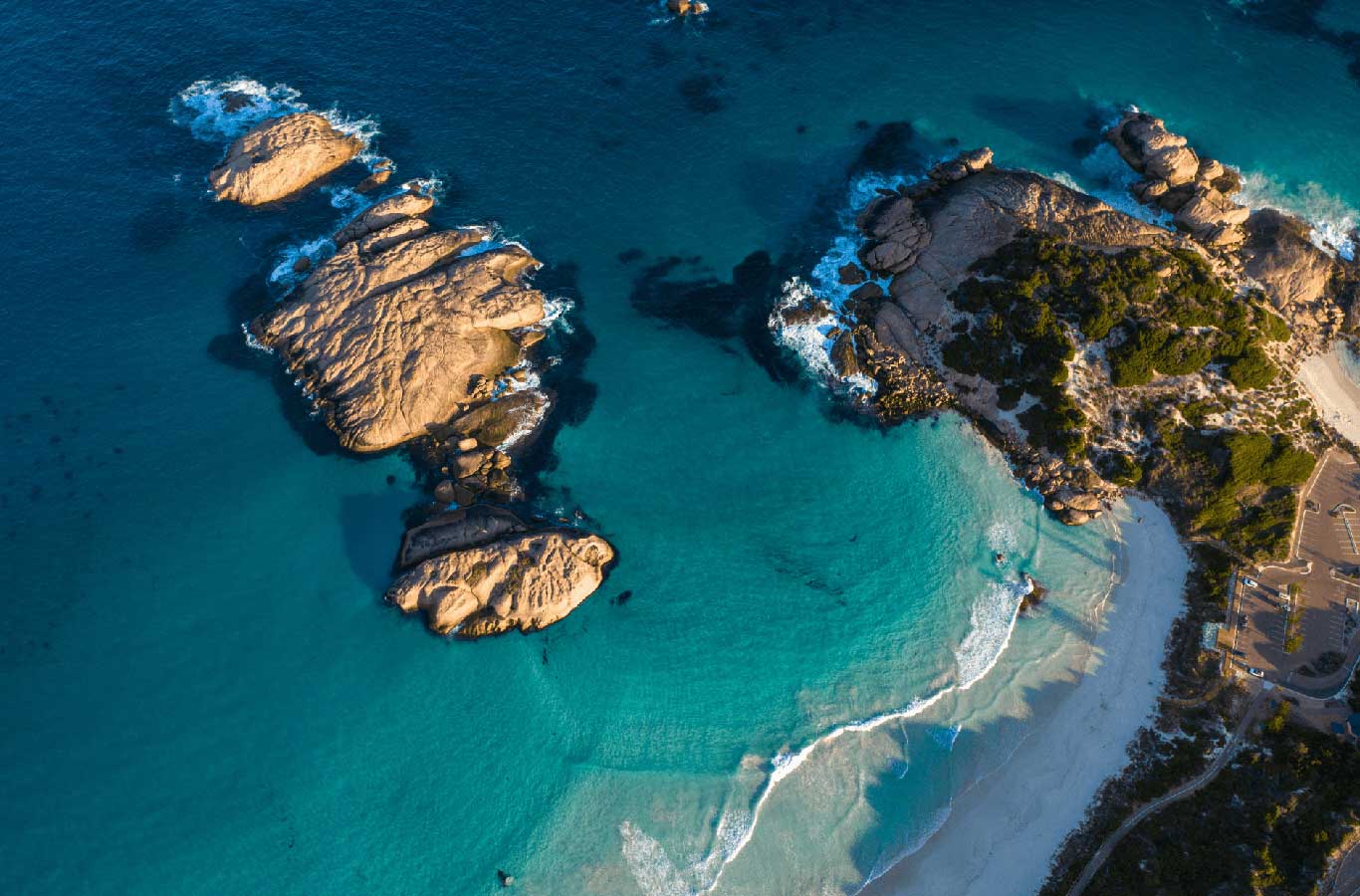 Take a flight direct from Perth or a picturesque road trip down to Esperance and it takes only a 10-minute drive from the centre of Esperance to reach this serene bay.

10. MEELUP BEACH, MARGARET RIVER REGION
If you are passing through Dunsborough in the Margaret River Region, a stop at Meelup Beach is a must! White sands hemming gentle rolling waves makes the calm bay ideal for swimming and a top spot for yachts and sailing boats to stop by. A family holiday favourite, enjoy a barbecue or picnic under the shady gum trees area right behind the beach
Surrounded by natural bushland, coastal walking trails lead to breathtaking views of the Indian Ocean and sprawling fields of wildflowers in spring. During late winter, you could also spot whales as they migrate along the coast.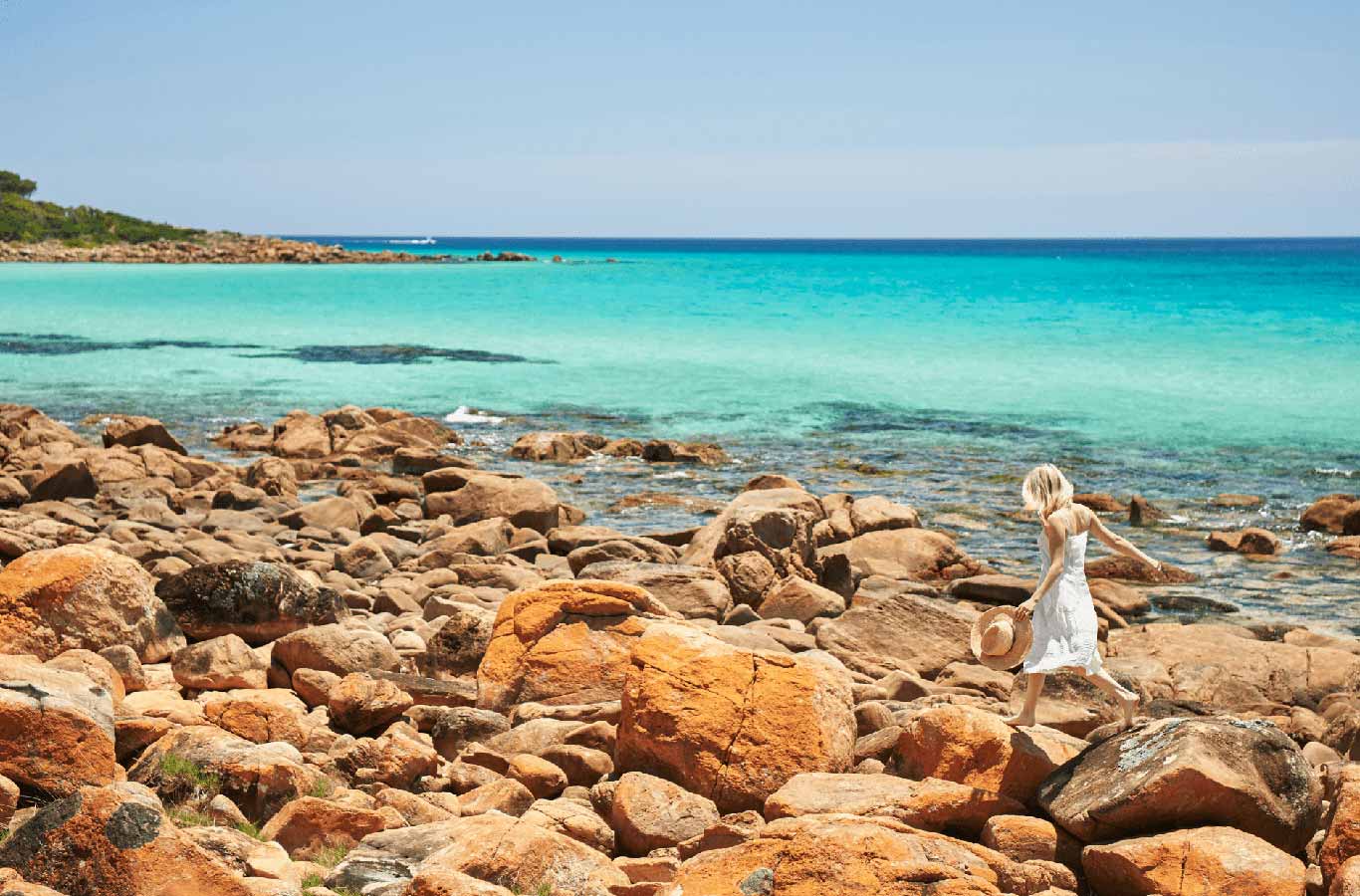 A three-hour drive from Perth towards the Margaret River Region will bring you to Dunsborough and Meelup Beach is a mere 10-minutes away.
INSPIRED TO VISIT WESTERN AUSTRALIA?
REACH OUT TO US AT +603 2303 9100 OR
[email protected].