Every year from mid-September to early October, beer aficionados from around the world flock to Munich, Germany for the largest beer carnival on the planet, i.e. the Oktoberfest.
The modern Oktoberfest is all about the parading beer wagons, the funfair, men and women in traditional costume, music, dancing and most of all, Oktoberfest beers fresh from the kegs. In great beer tents, thirsty merrymakers commune, shoulder to shoulder at long tables for the love and (often very loud) enjoyment of Oktoberfestbier. Other alcoholic drinks and non-alcoholic beverages are available, but does anybody really care? No. Bring on the festbier!
Did you know #1? During the last Oktoberfest held in 2019, an estimated 6.3 million visitors landed on the Wiesn and approximately 7.3 million litres of beer were consumed. The highest number of visitors ever recorded was 7.1 million people in 1985, while the most beer ever consumed during Oktoberfest was 7.5 million litres first recorded in 2011 (this was repeated in later years but never exceeded).
But why would a festival largely held in September be called Oktoberfest? Let's find out.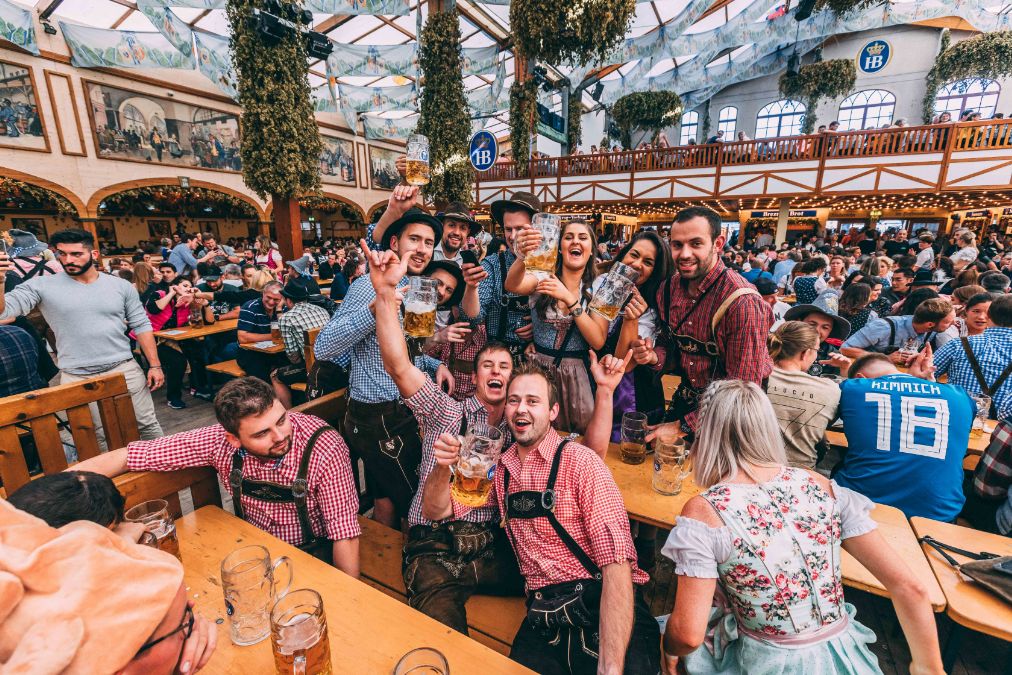 What is Oktoberfest?
The story began on 12 October 1810 and the marriage of Crown Prince Ludwig and Princess Therese of Saxony-Hildburghausen. To celebrate the joyous event, all of Munich was invited to a week-long festival held in a field named Theresienwiese after the Crown Princess. The festival culminated in a thrilling horse race in honour of the royal couple. The following year, it was decided, to everyone's delight, that the festival at the Theresienwiese, or Wiesn for short, would be repeated as a celebration for the whole of Bavaria. Thus, the annual tradition of Oktoberfest was born.
In the early years, aside from the horse race being the main highlight, agricultural shows were also featured to promote Bavarian agriculture. Then in 1818, a carousel and two swings were installed and the first beer stands appeared. The following year in 1819, the citizens of Munich took over the responsibility of organising the annual festival and decided to lengthen its duration and bring it forward to mid-September to take advantage of the warmer weather.
As the years went by and fairground trade in Germany began to grow, amusement park rides and other entertainment options were brought into the Wiesn. Backed by the large breweries, beer stands evolved into massive beer halls with interior balconies and bandstands with the largest able to accommodate up to 10,000 visitors.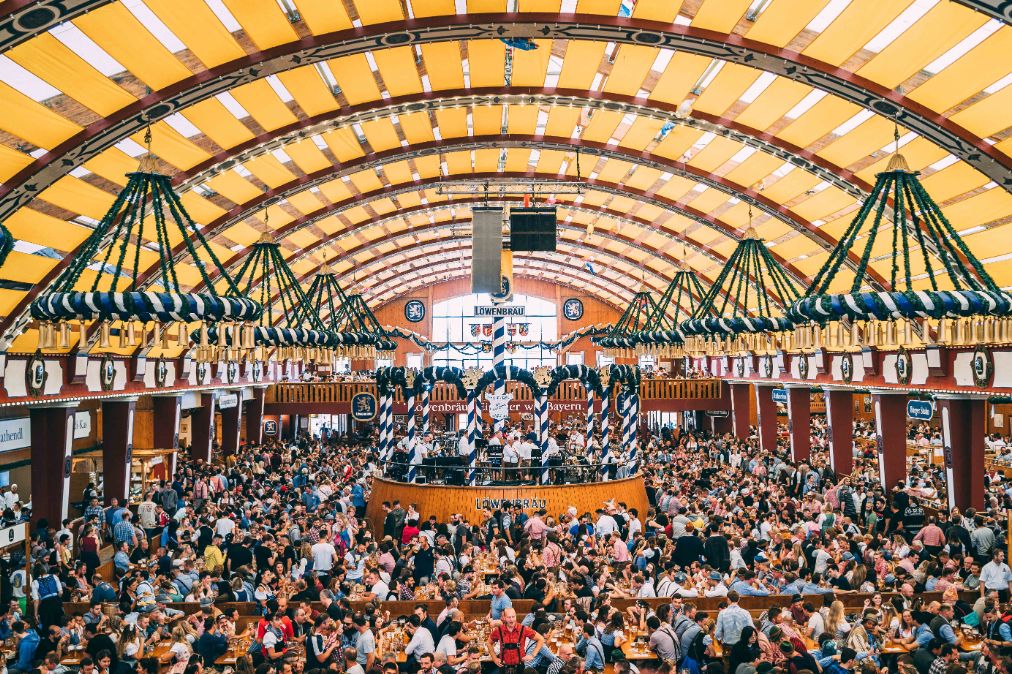 The horse race was eventually dropped in 1960. Instead, horse-drawn beer wagons and floats, marching bands, barmaids in dirndl and barmen in lederhosen parade the streets around the Wiesn to kick off the autumnal festivities.
Did you know #2? It is customary for the mayor of Munich to officially open the Oktoberfest by tapping the first keg of beer at 12 noon on opening day, and declaring 'O'zapft is!' (It has been tapped!). Record for the lowest number of hammer blows to successfully tap a keg – 2; Highest – 17.
In a nutshell, the Oktoberfest is a volksfest, a 'people's festival' that combines a travelling funfair and a beer festival. However, it's safe to say that most visitors to the Oktoberfest are there for the no-holds-barred, bier-swigging experience.

What's an Oktoberfest beer?
An 'Oktoberfest' beer relates more to the occasion rather than a particular characteristic. Although, in order to qualify as an 'official' Oktoberfestbier served on the Wiesn, it has to be brewed within the city limits of Munich. No other beer may be served on the Wiesn. The six major local breweries in Munich are currently Paulaner, Spaten, Hacker-Pschorr, Augustiner, Hofbrau and Lowenbrau. Each of these breweries will produce its own special Oktoberfest brew for the event.
Oktoberfestbier are mostly lagers, although this is not a hard and fast rule. However, the type of lager has changed over the years. Early on, Weisn beers tended to be a Dunkel or a dark, toasty lager, but by the late 19th century, the Marzen, an amber beer, came to the fore. Due to the use of paler malts, Oktoberfestbier have continued to lighten and are now generally a simpler, blond lager. In any case, whatever the hue or style, all Oktoberfestbier are brewed for flavour, balance and ultimate chug-ability.
Due to the recipes used, the official Oktoberfestbier also tend to have an ABV (alcohol by volume) of between 5.8% to 6.3% which is slightly higher than regular lagers that are typically between 4.8% to 6%. Strong + Chuggable = Danger!
Did you know #3? Weisn beer is served by the litre and contains approximately 500 calories. That's one McDonald's Big Mac per mug. #calorific
How to drink beer at Oktoberfest:
What's the food like?
Hearty, to say the least! It's not ALL about the beer on the Wiesn. Typical Oktoberfest fare isn't fancy but they are undoubtedly tasty, rich and satisfying, and most importantly, perfect to soak up all that beer. Popular dishes include a 1/2 roast chicken, crispy pork knuckle, grilled fish on a stick, all varieties of wurstl i.e. sausages, leberkase which is a Bavarian meatloaf, schnitzel and more, served with a side of sauerkraut to cut through the fat, bread to wipe up the drippings, and giant pretzels, spaetzle or knodle to fill you up, if you aren't already.

Ok, now I'm Thirsty and Hungry. when do we go??
Oktoberfest in Munich typically begins on the Saturday after 15 September and ends on the first Sunday of October.
Unfortunately, the Oktoberfest for both 2020 and 2021 has been cancelled due, of course, to Covid-19. But we are looking forward to the 187th Oktoberfest 2022 which is currently scheduled to open on 17 September 2022. Check with your friendly neighbourhood travel adviser for further updates.
In the meantime…
To quench our Oktober-thirst this season, Holiday Tours & Travel has curated a unique Happy Hour Beer Gift Box for all the beer aficionados out there!
The HTT Happy Hour Box features 3 amazing craft beers in 3 different styles, handpicked for the perfect happy hour experience:
Erdinger Weissbier Dunkel (Germany) – a rich, dark beer reminiscent of Oktoberfest back in the good 'ol days;
BrewDog Lost Lager (Scotland) – a fresh, vibrant pilsner made with classic German hops and Bavarian yeast; and
Hitachino Nest Saison du Japon (Japan) – a unique amber ale that is brewed with koji, which is the main ingredient used in making Japanese sake, and finished with yuzu rind.
Accompanied by Lays potato crisps in 2 thoughtfully selected flavours: Original to enhance the zesty Lost Lager and fruity Saison, and Salted Egg Yolk to balance the complex, malty spiciness of the Dunkel, the HTT Happy Hour Box is the perfect gift to celebrate your favourite beer enthusiast this October.
Excited? You can check out the HTT Happy Hour Box and place your orders here.
Prost! To a Beer-y October!