With the worst ( hopefully ! ) of the pandemic behind us, it is time to pick up where we left off and continue with our Spain trip and travel adventures.
Spain is a country that should be firmly on everyone's bucket list. It has all the adventure, culture, history, majestic natural beauty, trademark cuisine that we would want to explore in a country, and so much more.
In our previous article, we started the ball rolling with the top 5 cities that you should include in your trip to Spain.
Here we list for you our top 20 bucket list experiences in Spain. Whilst this is a mere drop in the ocean for all that Spain has to offer, we hope it can get you dreaming, inspired and started with your planning!
Don't forget, our friendly team at HTT are just a call or click away to help with Trafalgar guided holidays to make your travel dreams come true.
1. Eat at the World's Oldest Restaurant

Founded in 1725, Sobrino de Botin located in Spain's capital Madrid holds the prestigious title of 'Oldest Restaurant in the World'. The 4-storey restaurant charmingly preserves the original atmosphere of an inn, and it is said that the flame in their wood-burning oven has never been extinguished since 1725.
Come here for their traditional Castilian fare like el cochinillo (suckling pig), roast leg of lamb – which is still roasted in that wood-burning oven – and jamon (real ham).
2. go Shopping at the World's Biggest Zara

Attention all shopaholics !!! Did you know that Spain has the largest Zara in world ? This eco-friendly four storey shopping haven of over 6000m2 (65,000 square feet) is located in the financial district of Madrid.
Womens clothing and accessories ? Tick. Mens ? Tick. Kids ? Tick. Bring your credit card(s) and be prepared to shop the day away.
3. Go to a Flamenco Dance

Movies have long iconized this trademark of Spanish culture, the dramatic and fiery Flamenco dance. Now here is your chance to experience a real life flamenco dance in person, in venues known as tablaos across Spain.
Flamenco brings together 3 elements – rhythm, song and dance – with hand claps, guitar, castanets in a seductive, passionate and intense package that is guaranteed to leave you mesmerized.
Home of Flamenco :- As Andalusia is considered the true home of flamenco, it's natural the Andalusian capital, Seville, is the first place many people associate with the dance.
4. Visit the World's Oldest Bullfighting Ring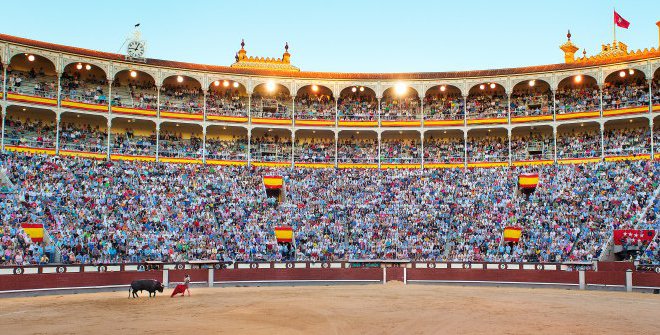 Plaza de Toros is located in beautiful Ronda, near Malaga in southern Spain. Completed in 1785, it is not only the oldest bullfighting ring in the world, but also considered one of the most beautiful and majestic.
The Spanish culture of bullfighting is on the decline and outlawed in some placed due to its cruelty to the animals. However, there is still a bullfight every September at Plaza de Toros (tickets are always sold out in advance).
Be fascinated as you walk though the majestic bullfighting ring, see where the bulls gather, where the matadors prepare and soak in the historic atmosphere.
Did you know ? The Nobel-award winning writer, Ernest Hemingway attended a bullfight at Plaza de Toros  every year during his life and his ashes are in Ronda.
5. Experience a World-Class Olive Oil Plantation

Pay a visit to the Basilippo hacienda in Seville where the family of Basilippo's Founder, Juan Morillo, produce world-famous, award-winning 100-percent organic extra virgin olive oil.
A visit to the hacienda will have a Morillo family member take you on a captivating tour of the olive groves, olive mill, cellar, family museum and tasting of different olive oils. Find out the secret to identifying a real extra virgin olive oil and complete the tour with a very special Spanish meal which includes – you guessed it – different types of olive oils.
Did you know ? The secret to producing exceptional quality produce is 'talking to the olive trees' every day as the Morillos believe in taking the best possible care of their olive oil producers – the olive trees.
6. Enjoy the Granada Experience of Free Tapas with sangria

Tapas originated in Andalusia, a Southern province of Spain. The word "tapa" means "cover".
A long time ago, tapas traditionally was a complementary piece of sliced ham served on top of a glass of Spanish wine.
This tradition still stands true today in Granada, Andalusia, where you will find most bars religiously serving up a free tapas with every drink.
Look for the best bars – they stand out because of the quality of the tapas, or because of the sheer quantity of free tapas. Who's to say no to that ?
7. Indulge in Traditional Paella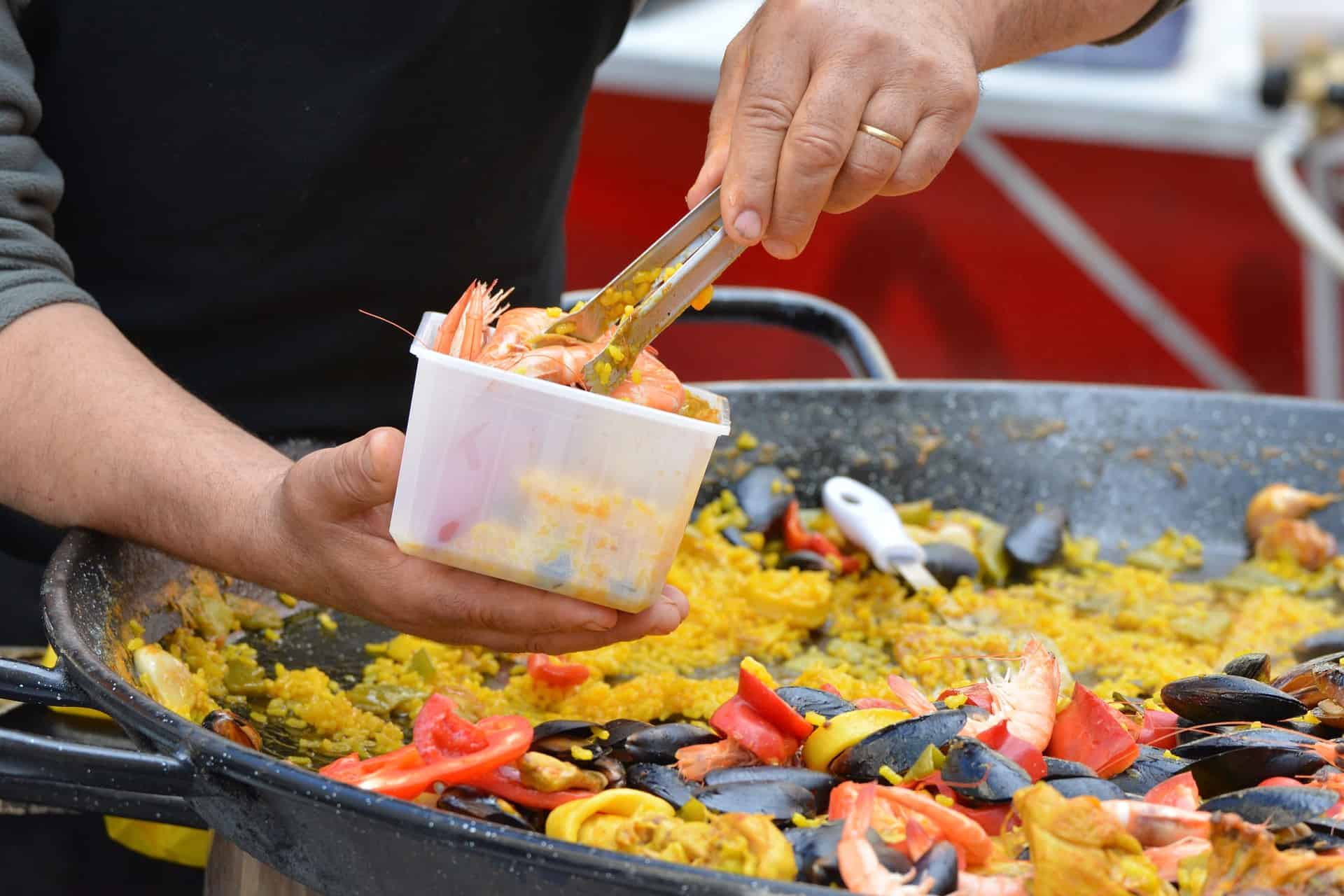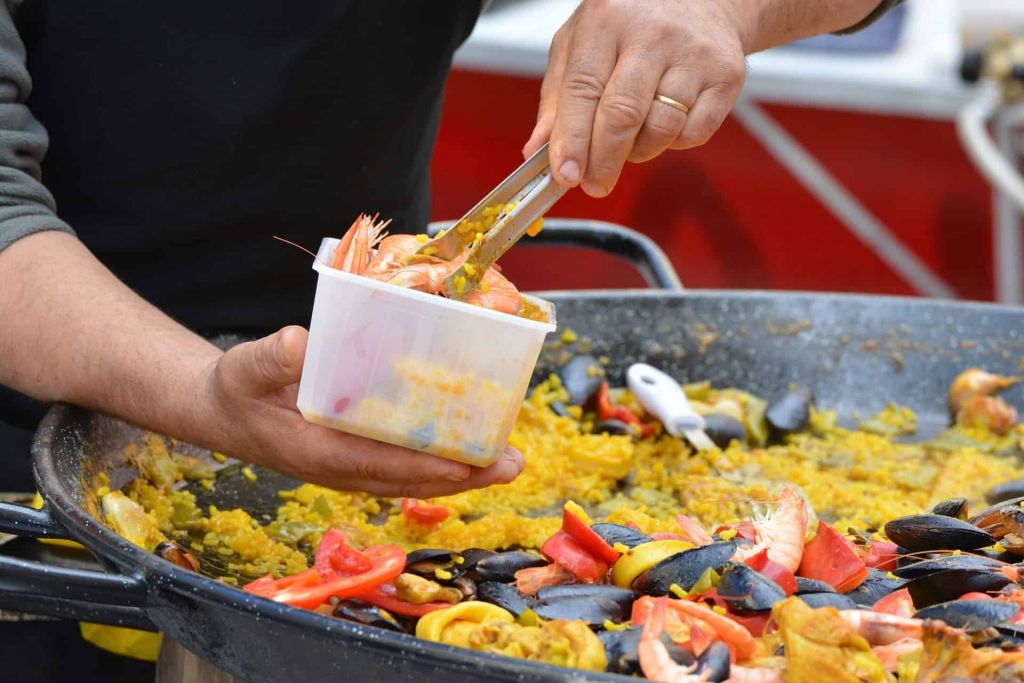 Spain's trademark cuisine paella originates from Valencia, Spain's third largest city with roots that go back more than 2,000 years ago.
Try Valencia's traditional paella which is usually made with chicken, rabbit, snails, green beans, and local garrofó beans (similar to lima beans).
Served in a large pan with 2 handles – which is how it got its name – have it like a local, meaning for Sunday lunch and shared amongst family and friends. Only tourists eat it for dinner !
8. Gaudi's Masterpieces – La Sagrada Familia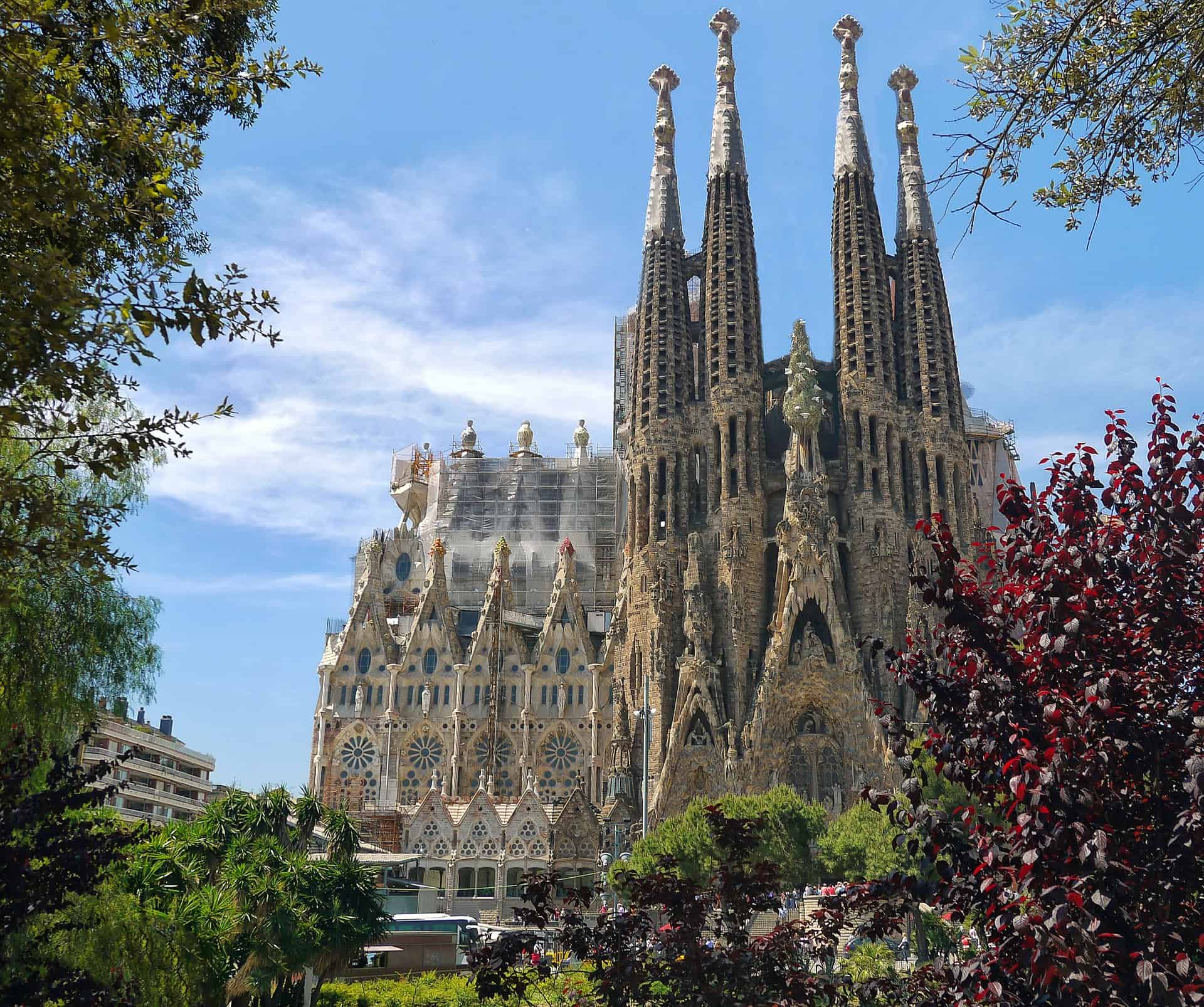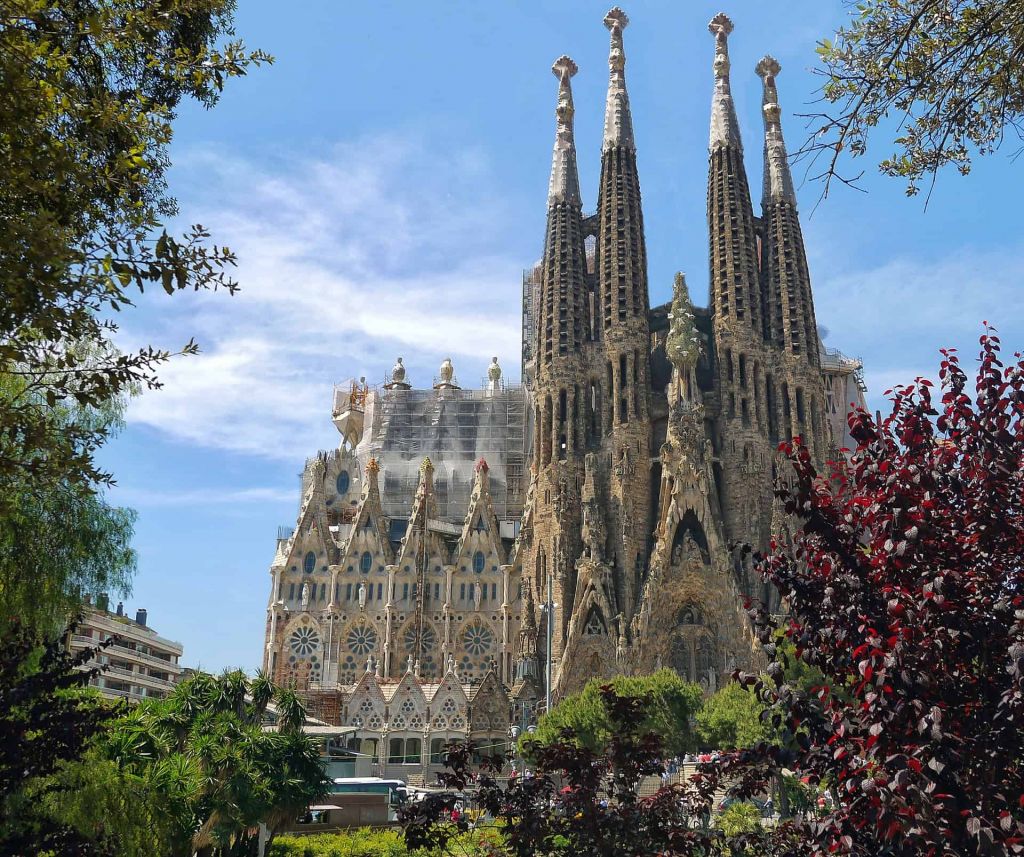 In Barcelona, soak up the charm of a city that professes two great loves – Gaudí and football.
You will be awe-struck by Gaudi's masterpiece, the mind-blowing yet to be completed La Sagrada Familia. Built entirely from donations, this was Gaudi's last work.
He died in a bizarre accident on the way to work and his remains are buried in the building's crypt.
Visit Gaudi's many other masterpieces scattered around Barcelona that are some of the city's most notable landmarks.
9. Get Wow-ed by the Mighty Alhambra

Spain is the country with the third most UNESCO Heritage Sites in the world, and mighty Alhambra in Granada is deservedly one of these sites.
Set on a hilltop with snow-peaked Sierra Nevada mountains as its backdrop, its extraordinary Moorish architecture and golden facades reflect centuries of multi-cultural history.
Moorish poets named Alhambra "a pearl set in emeralds," an allusion to the colour of its buildings and the woods around them. Prepare to be star-struck as you wander through Alhambra's amazing palaces and exotic water gardens.
10. Visit spectacular Seville cathedral and la giralda

A breathtaking landmark in Seville and another UNESCO Heritage Site is the Seville Cathedral and its bell tower, La Giralda.
Be awe-struck at the enormity of the cathedral and the intricacy of the architecture that took years for skilled craftsmen to perfect.
The world's largest Gothic cathedral also houses the tomb of Christopher Columbus, another majestic work of art.
Make the effort to climb up the ramps of La Giralda which stands at 104 meters (342 feet) and dominates the skyline of historic Seville. You will be rewarded with an incredible view of Seville in all her glory – look for the world's oldest bullfighting ring, the Royal Alcazar and the Jewish Quarter.
11. star wars was filmed here – the majestic Plaza de Espana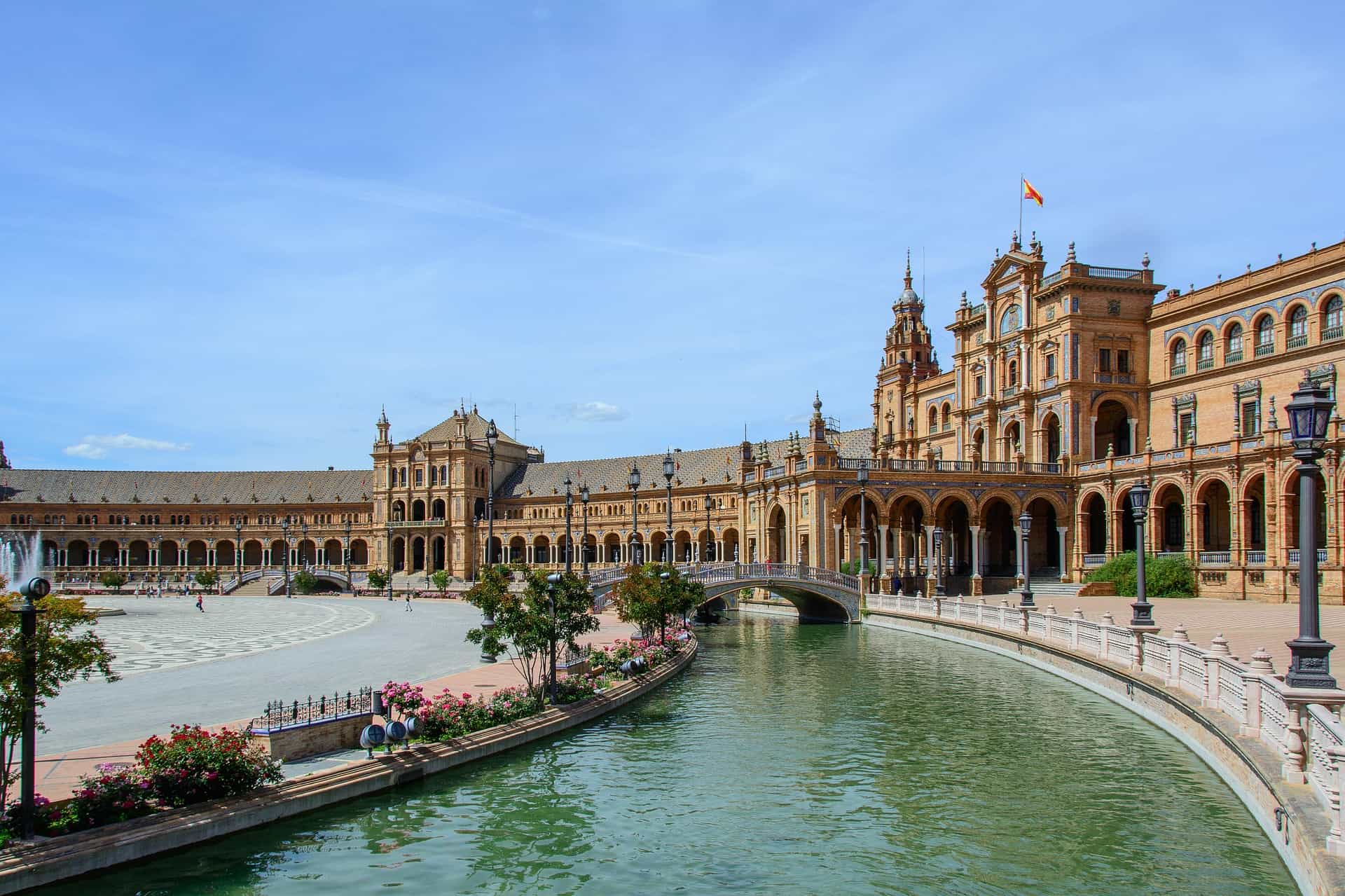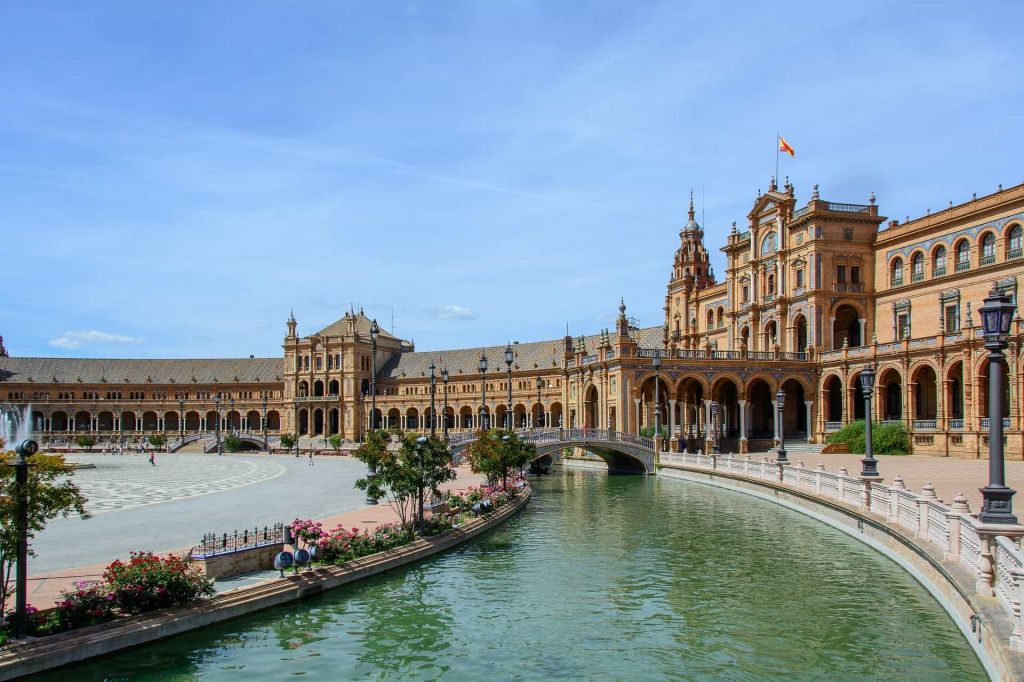 After visiting Seville Cathedral, stroll through Maria Luisa Park, with its tiled fountains, pavilions, palms and orange trees to the overwhelming and imposing Plaza de España – Seville's most famous square.
This massive building is Seville's most impressive after the cathedral, for its sheer scale and grandeur.
Known as "the Venice of Seville", you can rent small boats to row in the canal after taking a horse-and-carriage ride.
Did you know ? In Star Wars: Episode II – Attack of the Clones, Anakin Skywalker and Queen Padmé Amidala fall in love on Naboo, an idyllic world inhabited by peaceful humans. Back on earth, scenes of Naboo's Theed Palace were filmed at Plaza de España.
12. visit the royal alcazar and their beautiful Gardens where games of thrones was filmed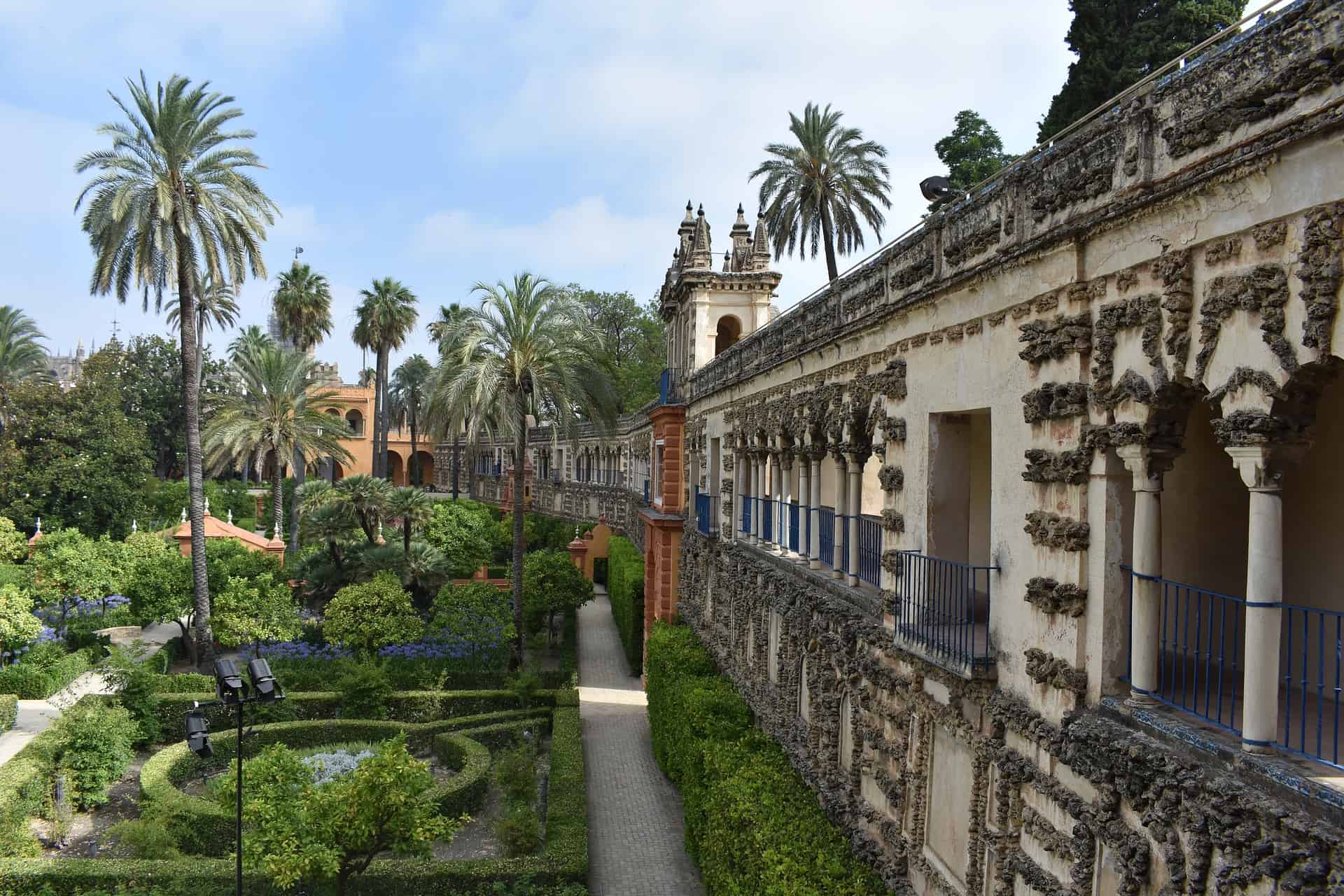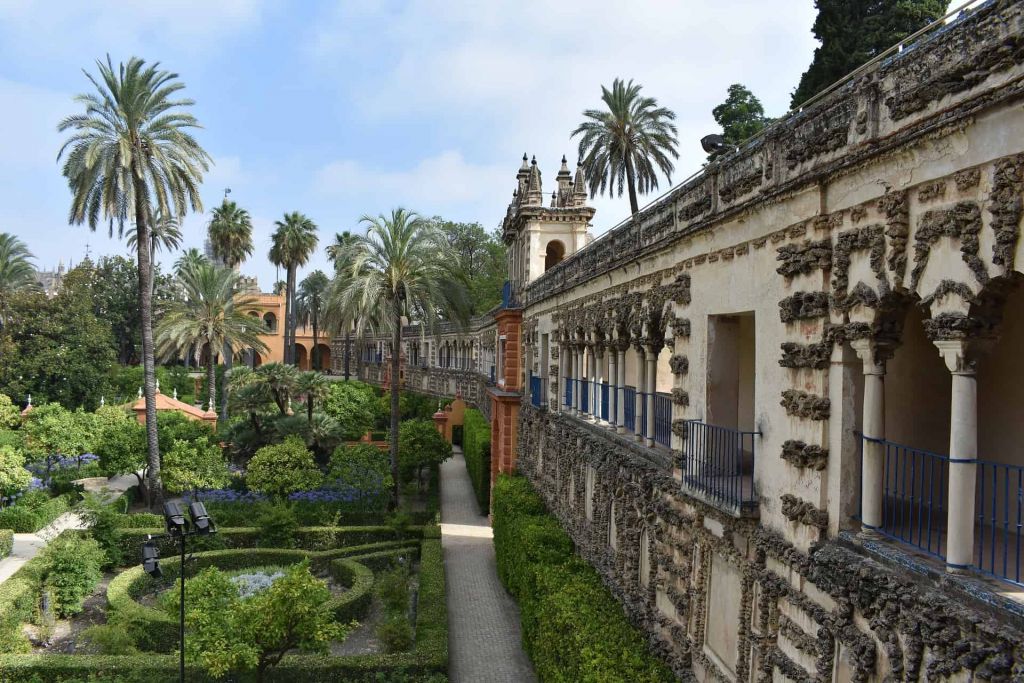 One of the top attractions in Seville and Andalusia is the elegant 14th-century Moorish Alcázar, an extraordinary mixture of Arab and Christian art.
Stroll through the beautiful Alcázar Gardens for one of the most unforgettable experiences of your visit. With breathtaking landscape and colours, fountains and pavilions where you can breathe in the freshness and stillness; this is an oasis of calm, peace and beauty.
Declared a World Heritage Site by UNESCO, the Real Alcázar has also been the scene of several productions, such as The Kingdom of Heaven, Alatriste and Game of Thrones.
13. stroll down cobblestone alleyways at picturesque Albayzin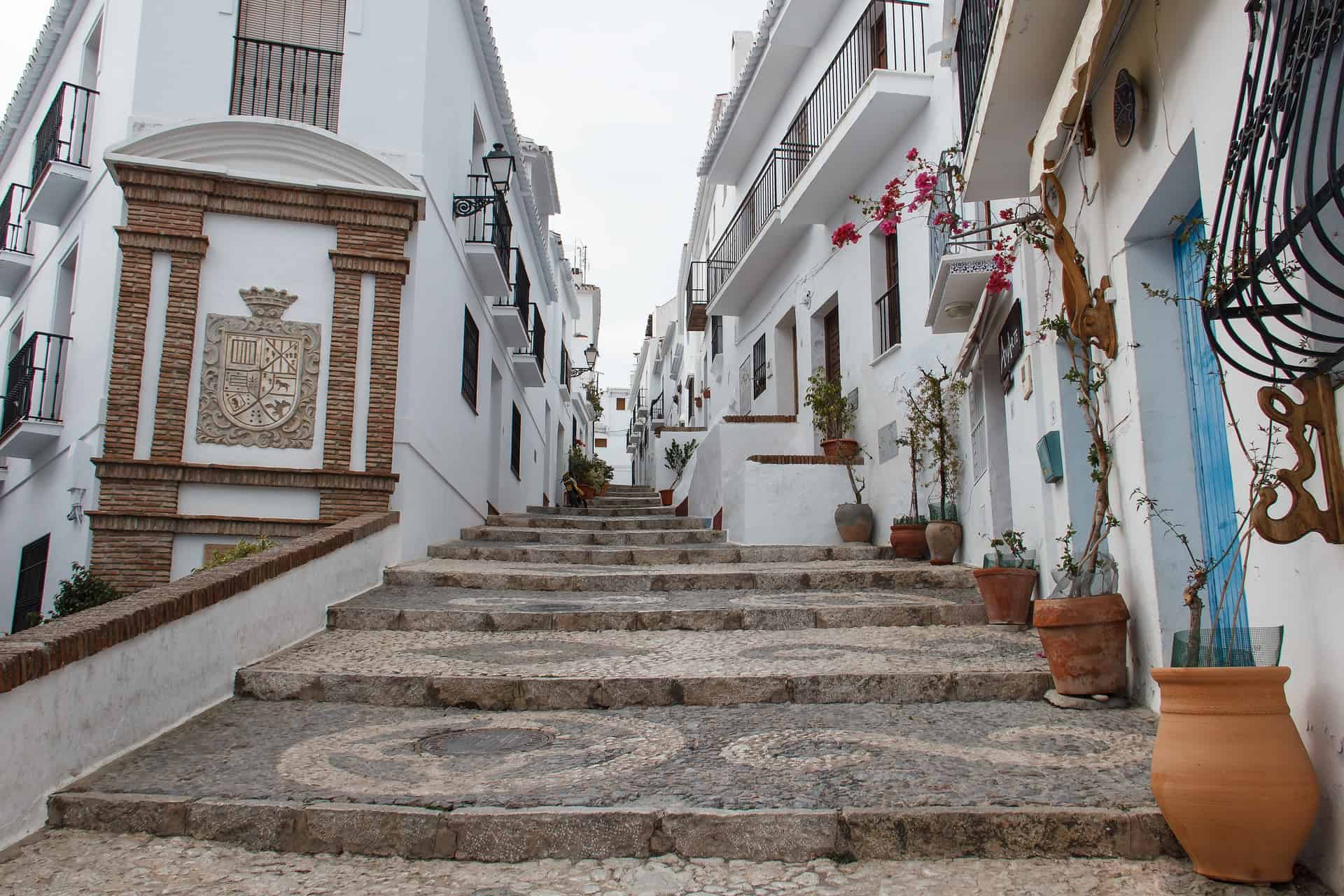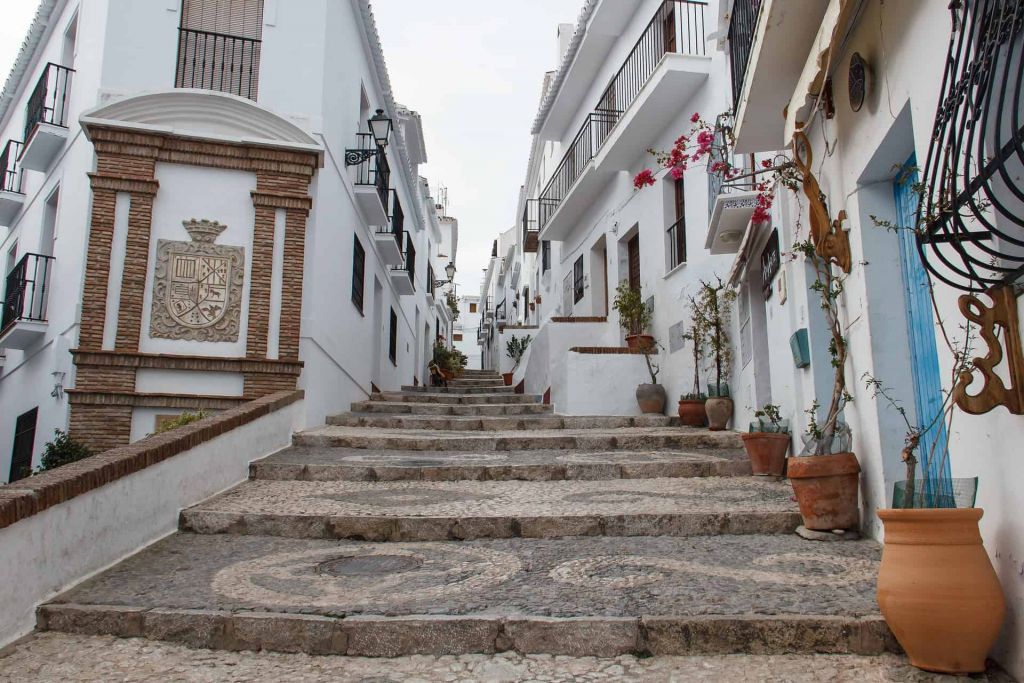 Albayzin is Granada's oldest, most iconic neighbourhood and a UNESCO Heritage Site. This is the Spain people dream about with its whitewashed houses and narrow cobblestone alleyways.
It is built on a hilltop and offers dramatic views of the Alhambra as you snake up the alleyways. Make your way carefully ( as those cobblestones can be a tad slippery ! ) to Mirador de san Nicolas. This is a viewpoint at the peak of Albayzin.
Enjoy spectacular, unobstructed views of the Sierra Nevada and Alhambra whilst listening to the gypsies strum their Spanish guitars and pick up a handicraft or two sold by hippies as a souvenir of your visit.
14. the new Real Madrid Football Stadium – A Must visit for soccer fans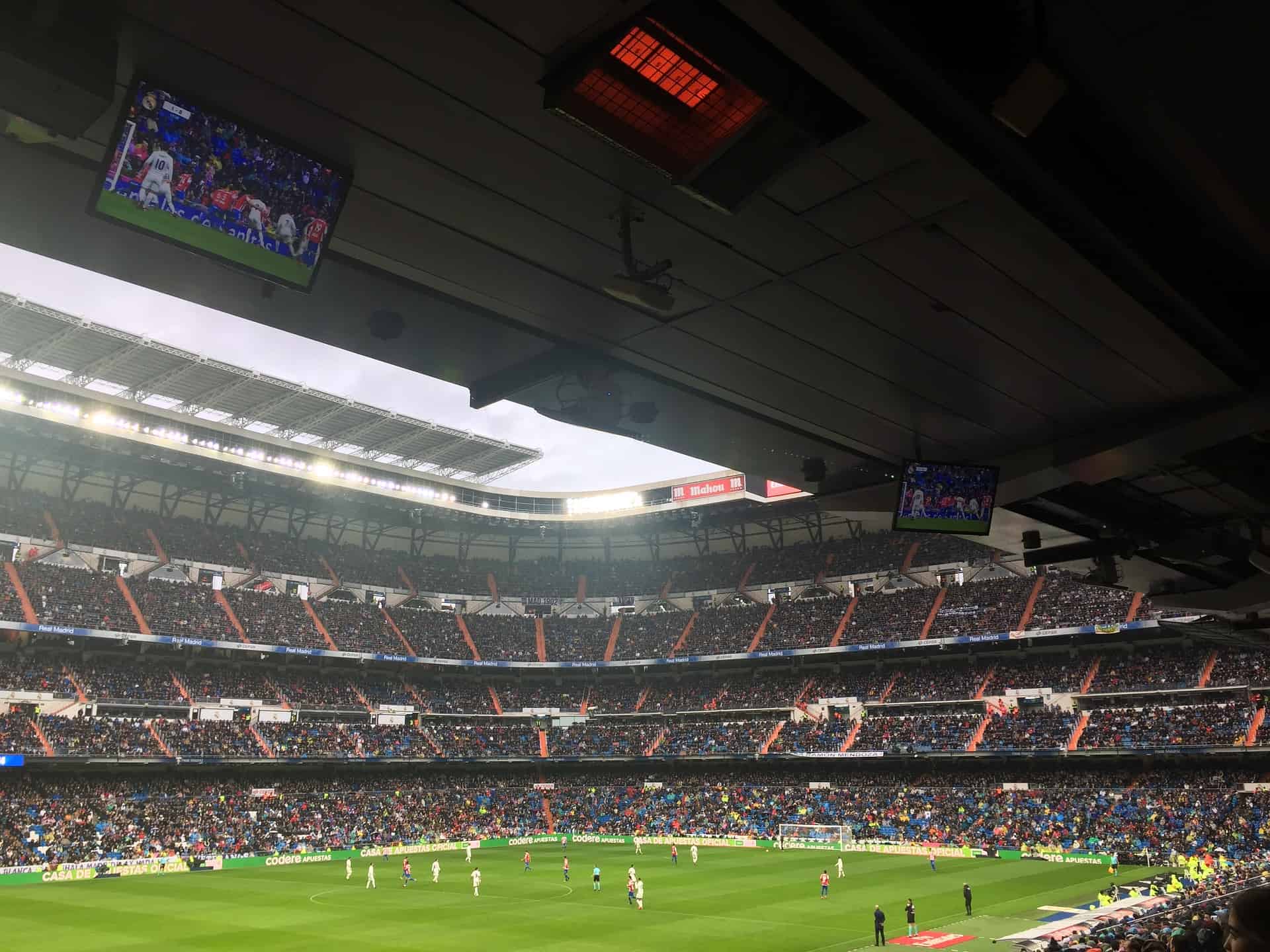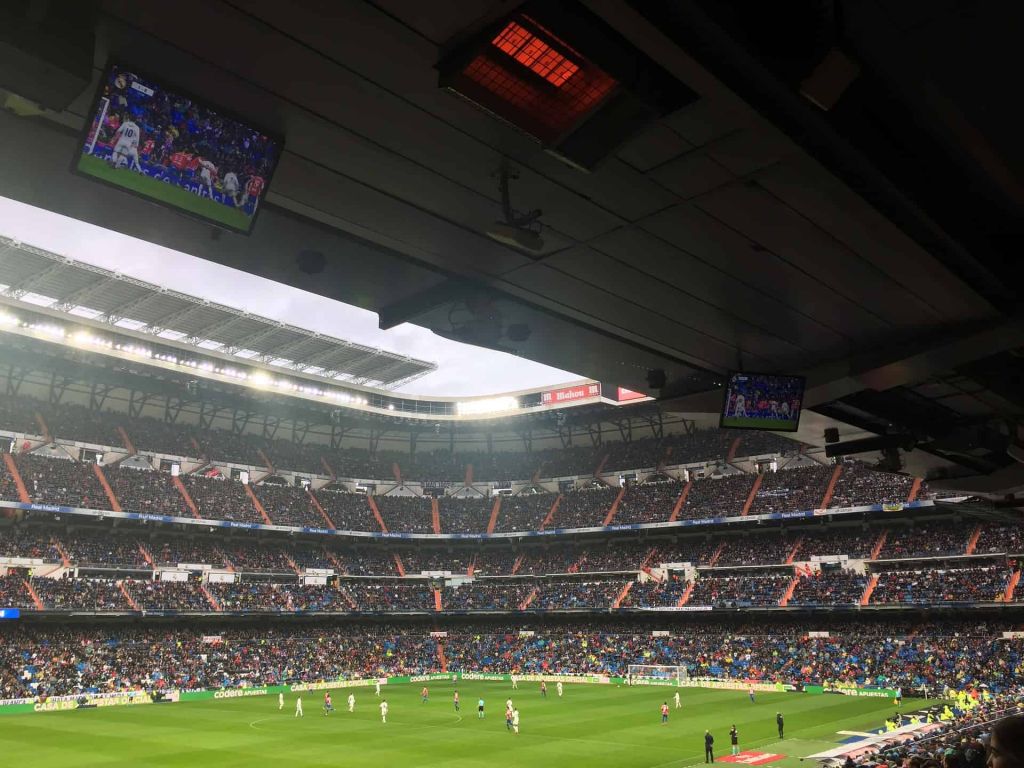 Soccer-mad fans will not miss the opportunity to visit the stadium of one of the most successful sporting clubs in the world.
The iconic Santiago Bernabeu stadium was already magnificent and impressive but has undergone huge renovations since 2019.
The new design is modern and mind-blowing and puts the venue among the very best in world football. A futuristic retractable roof covers the entire pitch, a fixed roof covers every seat, whilst the current capacity of 81,000 remains the same with plenty of off-pitch additions.
A tour includes visiting the football museum with gleaming old memorabilia, footballs, trophies, and stories of players, and the history of the club.
You also get to walk in the press room, stand on the pitch and visit the locker rooms of your favourite players.
15. Visit the Island where Rafael Nadal lives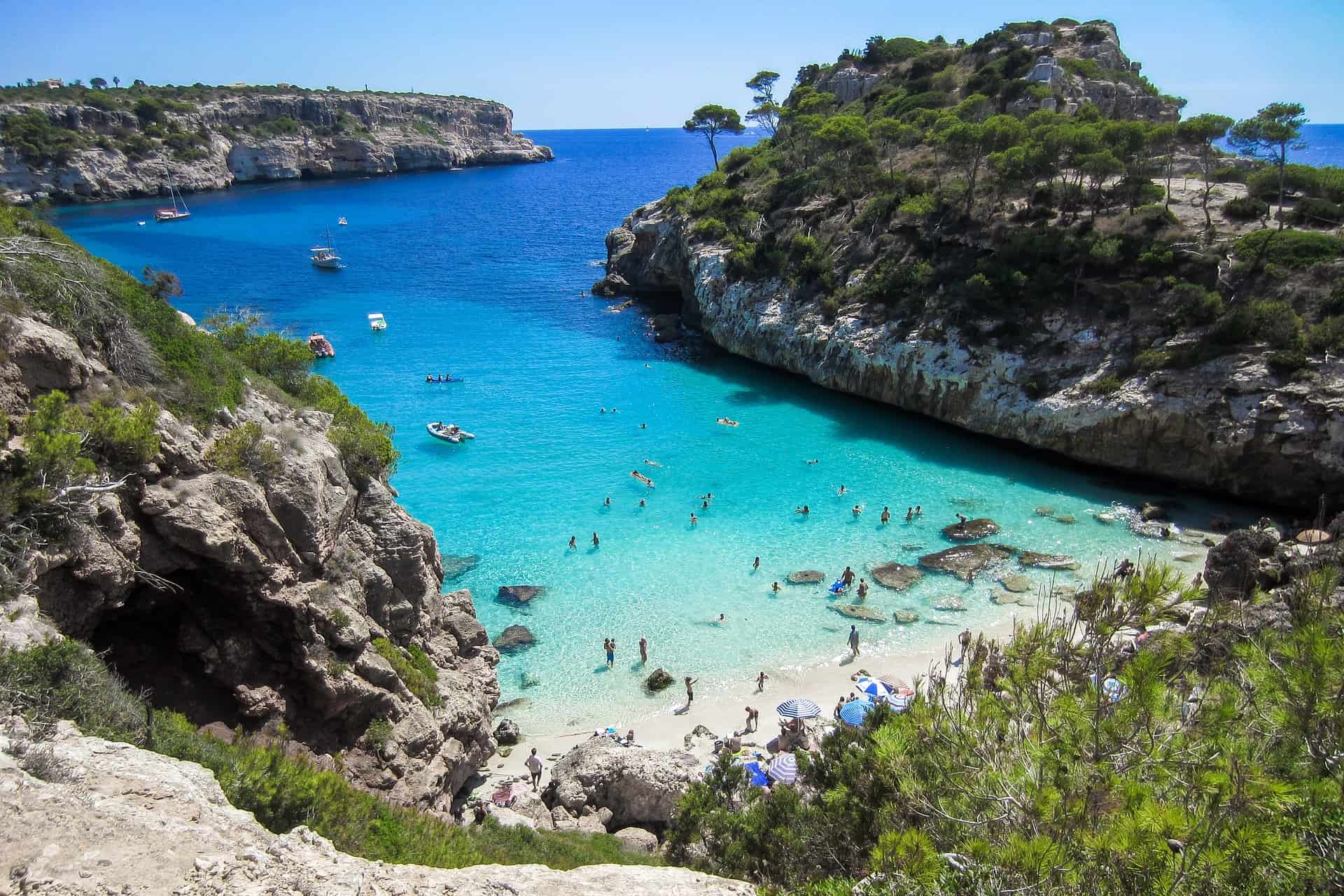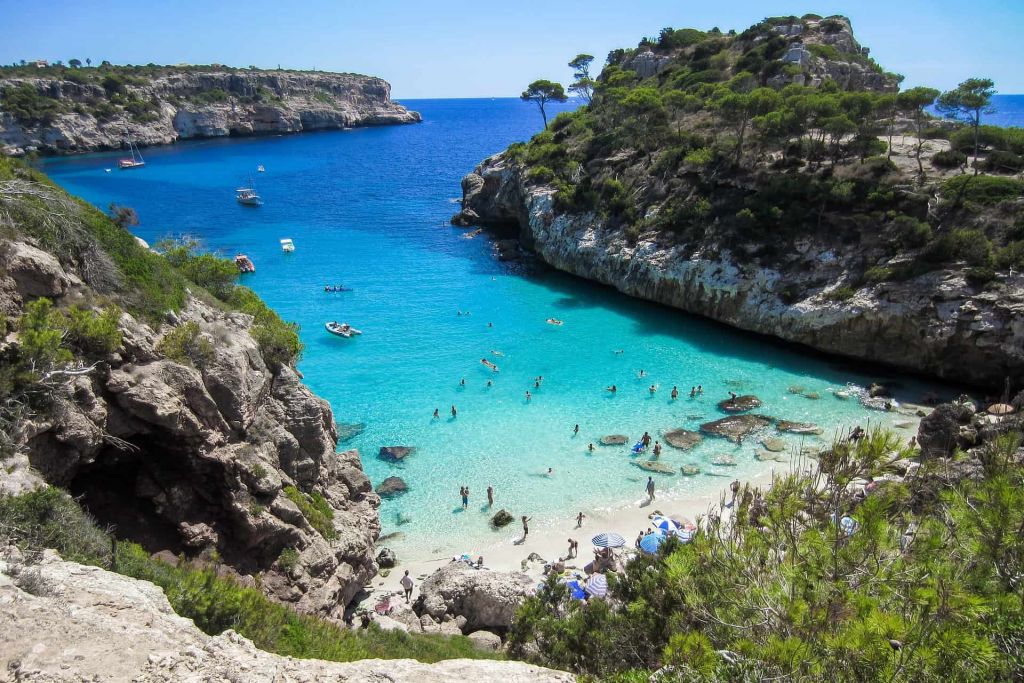 Mallorca is a gorgeous, sun-kissed island and largely unspoilt with beautiful scenery. Majestic limestone cliffs plunge into translucent sapphire and turquoise hued waters of the Mediterranean. Vast plains with almond trees, olive trees and vineyards stretch across the island.
Whilst Spain's rich history still shows in all the castles and ruins, cathedrals monasteries, grand manor houses with their gardens, and a host of art galleries and museums.
Architecture lovers will fall in love with the capital city Palma de Mallorca whilst tennis buffs will want to visit Manacor on the east coast where tennis legend Rafael Nadal "King of Clay" was born and still lives.
View the world-class Rafael Nadal Tennis Academy that he opened in 2016.
16. Visit the futuristic Guggenheim Museum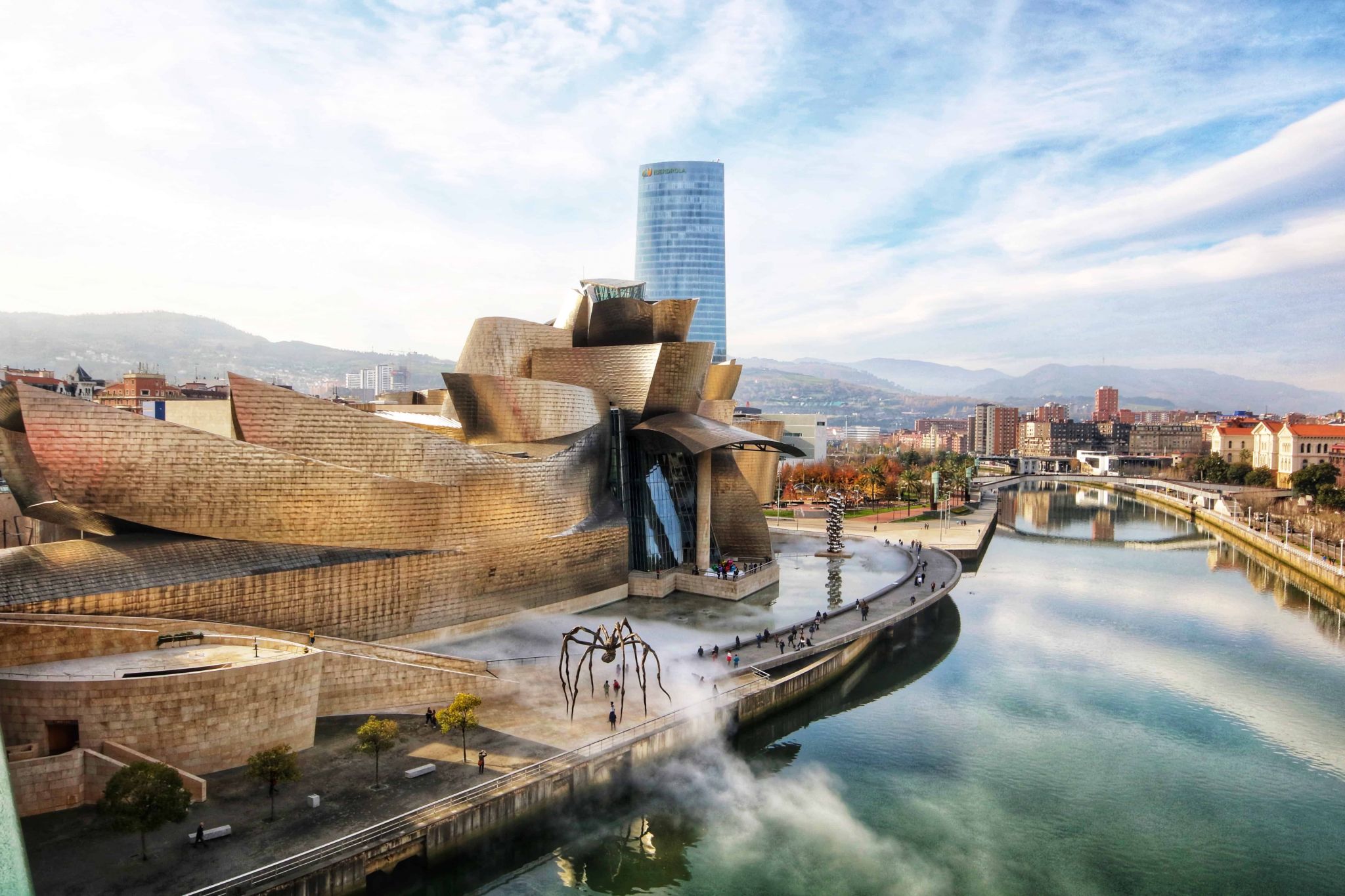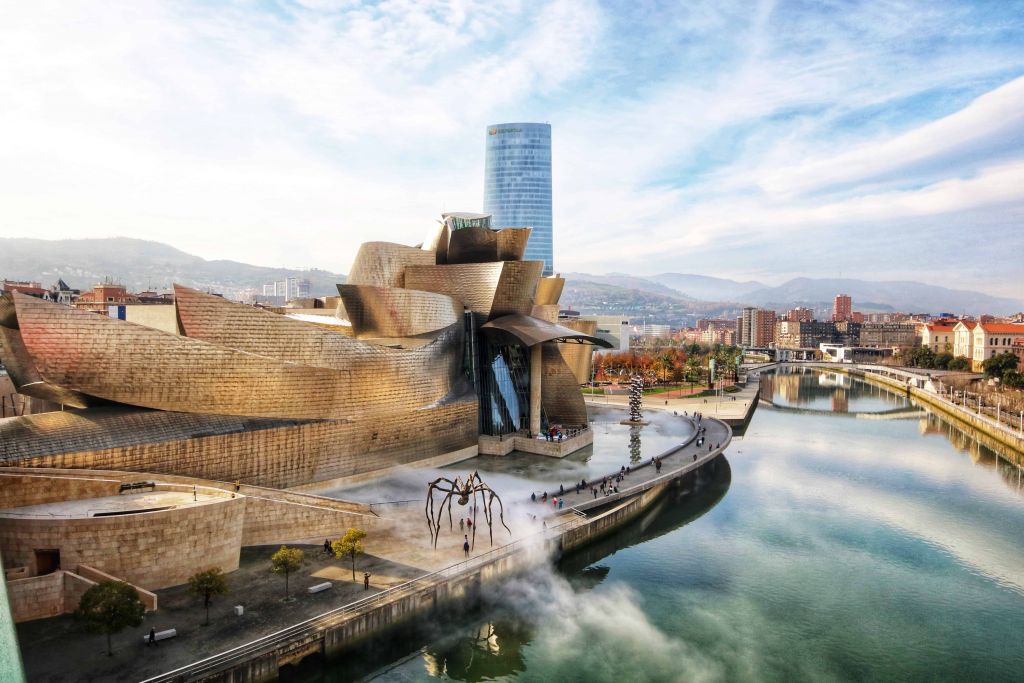 Make a trip to Bilbao in Northern Spain to view the striking Guggenheim Museum. Designed by famous Canadian-American architect Frank Gehry, it sits on the riverbanks of what used to be an industrial wasteland and is built from titanium, glass and limestone.
Bilbao has delicious tapas bars, a famed historic district with old cathedrals and quaint narrow streets, but its the Guggenheim, the Centre and Soul of the City which draws visitors from around the world with its architectural splendour.
17. Visit the Phenomenal City of Art & Science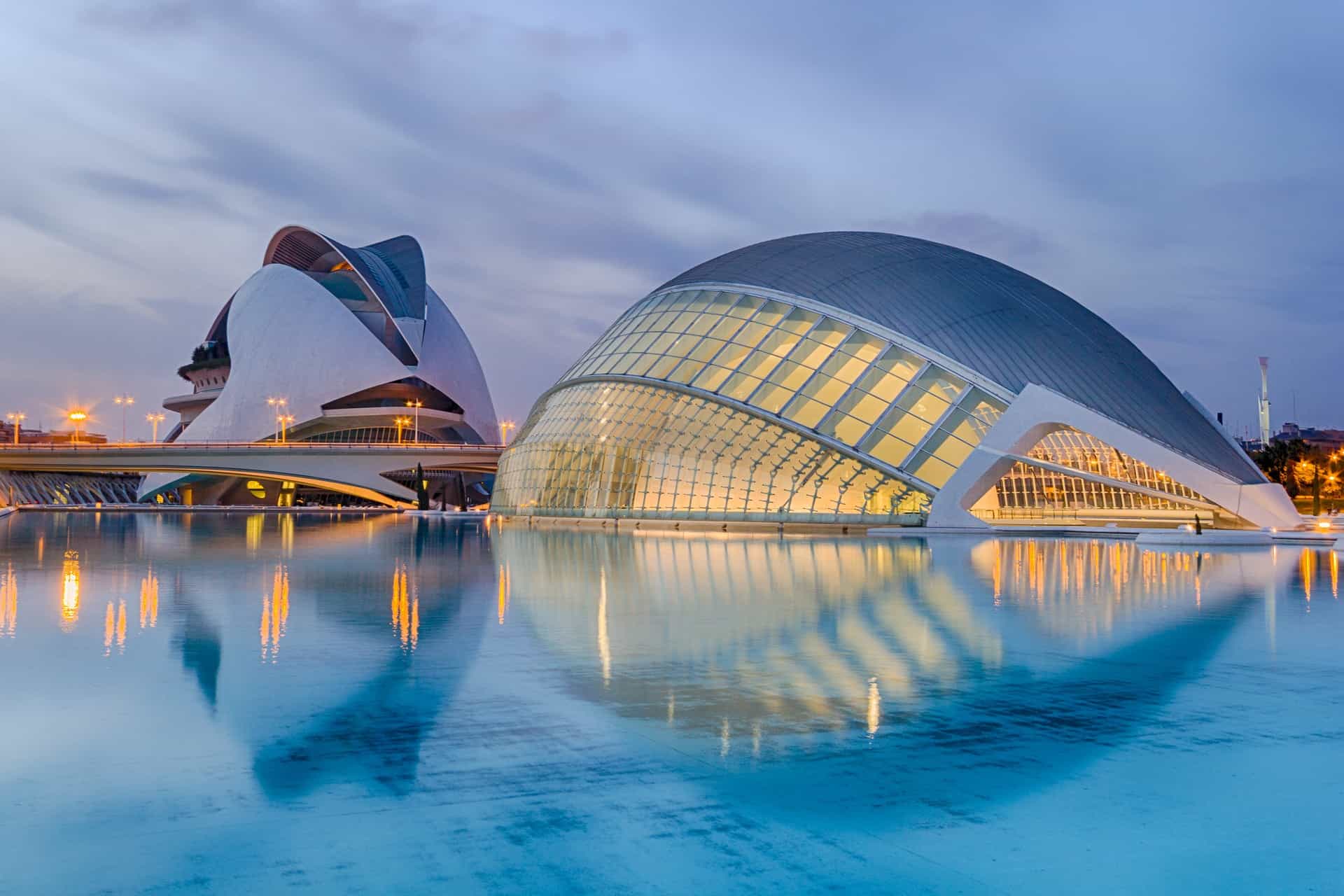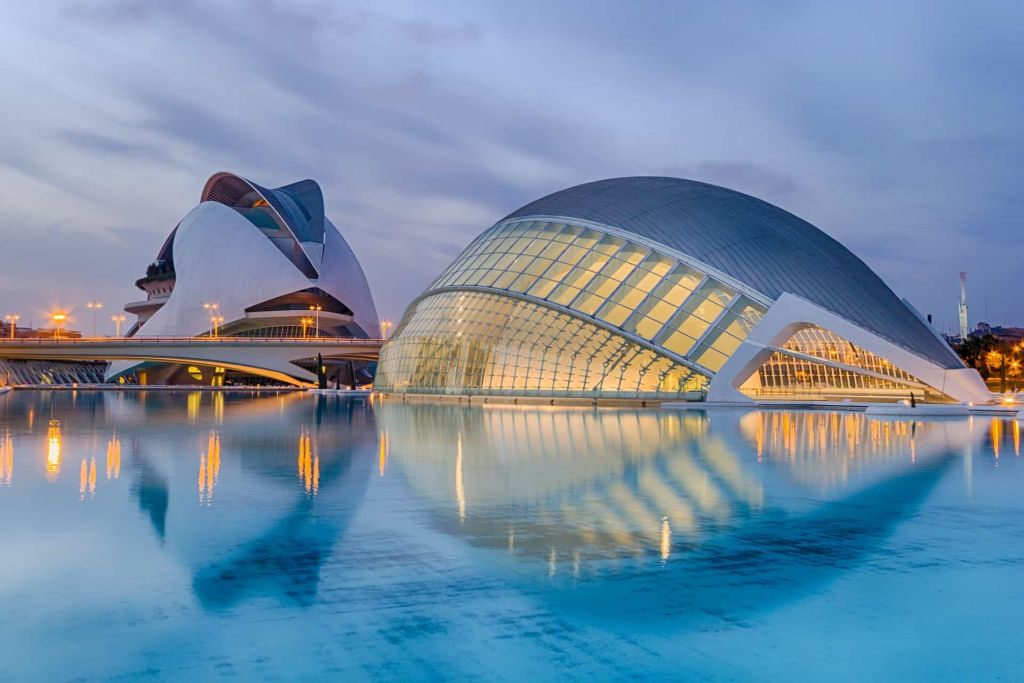 A must-see in Valencia is the ultra-modern scientific and cultural City of Arts and Sciences. Taking up an area of just under two kilometres, it is a group of six futuristic structures mostly designed by Valencian architect Santiago Calatrava.
There is simply so much to see and do here; with a domed cinema, landscaped viewing point and car park, science museum, aquarium and Agora, a multifunctional space, all connected by a public plaza and bridges around a central pool.
Did you know ? George Clooney is a fan; he filmed Tomorrowland at the City of Arts and Sciences and described it as insane and amazing.
18. Get tomato juiced at la tomatina

Vegetable ( especially tomato! ) lovers all around the world, this one is for you. Imagine a food fight festival where 120 tons ( 100,000kg ) of red tomatoes are the main star.
The La Tomatina Festival happens annually on the last Wednesday of August in Buñol, a little village near Valencia. This tradition started in 1945 and begins at 12am with a bang.
Trucks loaded with tomatoes proceed to drive through the fight area whilst locals in the back of the trucks start hurling tomatoes.
Everyone dives on the ground scooping for tomatoes to get themselves armed for battle …. prepare yourself for an unforgettable hilarious time, and lots of slipping and sliding around covered in tomato juice and pulp. Tomato puree facial anyone ?
19. Party at a LGBTIqA+ Festival

Bring out the party animal in you and head for one of the many LGBTQIA+ festivals in Spain.
Spain is one of the most gay-friendly countries in the world, constantly coming up with new ways to cater to the   LGBTQIA+ community.
LGBTQIA+ festivals events are a kaleidoscope of colour, usually held outdoors where the streets are jumping right up until the next day. They include cultural events, lots of eating and drinking the night away and are open to everyone to come enjoy the fantastic atmosphere.
Join the Contiki Spain Pride Trip that parties at 2 Pride parades :- Barcelona & Madrid.
20. Spend a weekend at Ibiza
Ibiza may bring to mind an island where the partying never stops. That is undisputedly true; as Ibiza is the top party capital in the world attracting world-class DJs and party-goers to its nightclubs, chic beach clubs and banging pool parties.
However the island has so much more to offer. Come to Ibiza to admire its stunning natural landscapes and beaches, watch some of the best sunset views you will ever see, feel the hippy vibe in the shopping and yoga retreats, and there's lots of culture and history on the island too.