We often hear our parents and grandparents mention the all-inclusive Club Med membership from our childhood, which gave us the impression that the brand exclusively caters to luxury resorts and holiday packages for families. If you're a new Club Med member, you have plenty to explore. Let's delve into what Club Med actually is and how it works.
Club Med offers all-inclusive resort stays in various countries such as Malaysia, Indonesia, Maldives, The Caribbean, France, Japan, and China, among others. The package typically includes all meals during your stay, access to various activities, and spa treatments.
Depending on the location of your resort, you'll have a diverse range of activities to enjoy. If your property is by the beach, you can indulge in snorkelling and other water sports. For resorts situated on hilltops, hiking and jungle trekking opportunities await. Those visiting Club Med resorts in Canada or Switzerland can look forward to skiing and snowboarding. The available activities are tailored to the natural surroundings of each resort.
CLUB MED RESORTS
#1 Club Med Bali, Indonesia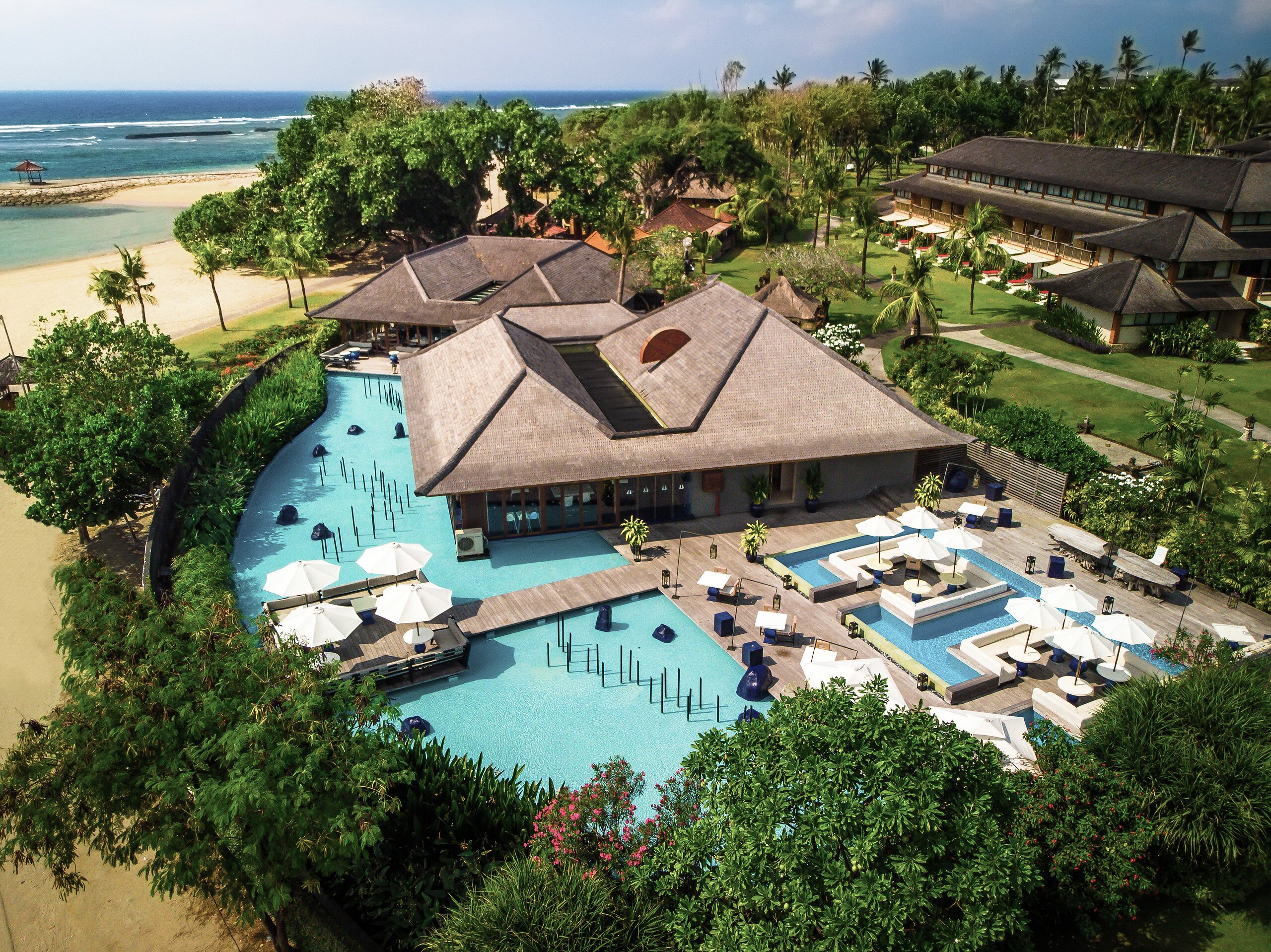 When you arrive at Club Med Bali, you'll be greeted with a wide array of beach and sea activities. The resort encourages you to unwind and pamper yourself in their wellness spa, which includes traditional Balinese massages for ultimate relaxation. If you prefer more adventurous pursuits, outdoor activities await you, and you can start your mornings with invigorating yoga sessions or take a refreshing dip in the crystal-clear blue sea.
Club Med Bali is all about rejuvenating your body, mind and soul so be sure to arrive at the resort with a relaxed mind. Throughout your stay, you'll have the pleasure of savouring authentic Indonesian food, adding to the immersive experience.
The resort offers an impressive selection of 38 activities to choose from, ranging from archery and trapezing to yoga. Additionally, there are 17 on-demand activities available, ensuring there's always something exciting to do during your stay.
Activities at Club Med Bali
Archery
If you're looking for an exciting challenge, archery is a must-try activity at Club Med Bali. This skill-based sport requires precision, making the techniques taught by the guides essential for success. The archery range is thoughtfully nestled amidst the natural beauty of bougainvillea, frangipani, and banyan trees, creating a serene and calming environment. Unlike going to war, the experience is all about honing your accuracy while enjoying the peaceful and tranquil surroundings. So, if you're up for a rewarding challenge in a relaxed setting, archery at Club Med Bali is the perfect choice.
Trapeze and Circus
Indeed, certain activities like trapeze sport at Club Med Bali are unique and not something you get to do every day, so it's an opportunity worth seizing. The trapeze area being surrounded by a tranquil garden creates a soothing atmosphere, making it a delightful experience rather than feeling like rigorous army training.
Safety is a top priority, and there's no need to worry because the guides are there to support you throughout the process. They will teach you how to properly put on the safety harness and guide you in executing all the tricks and moves safely. This ensures a fun and secure trapeze experience for both adults and children alike, making it an activity suitable for all age groups. So, don't miss out on the chance to try trapeze at Club Med Bali and create lasting memories in this idyllic setting.
Yoga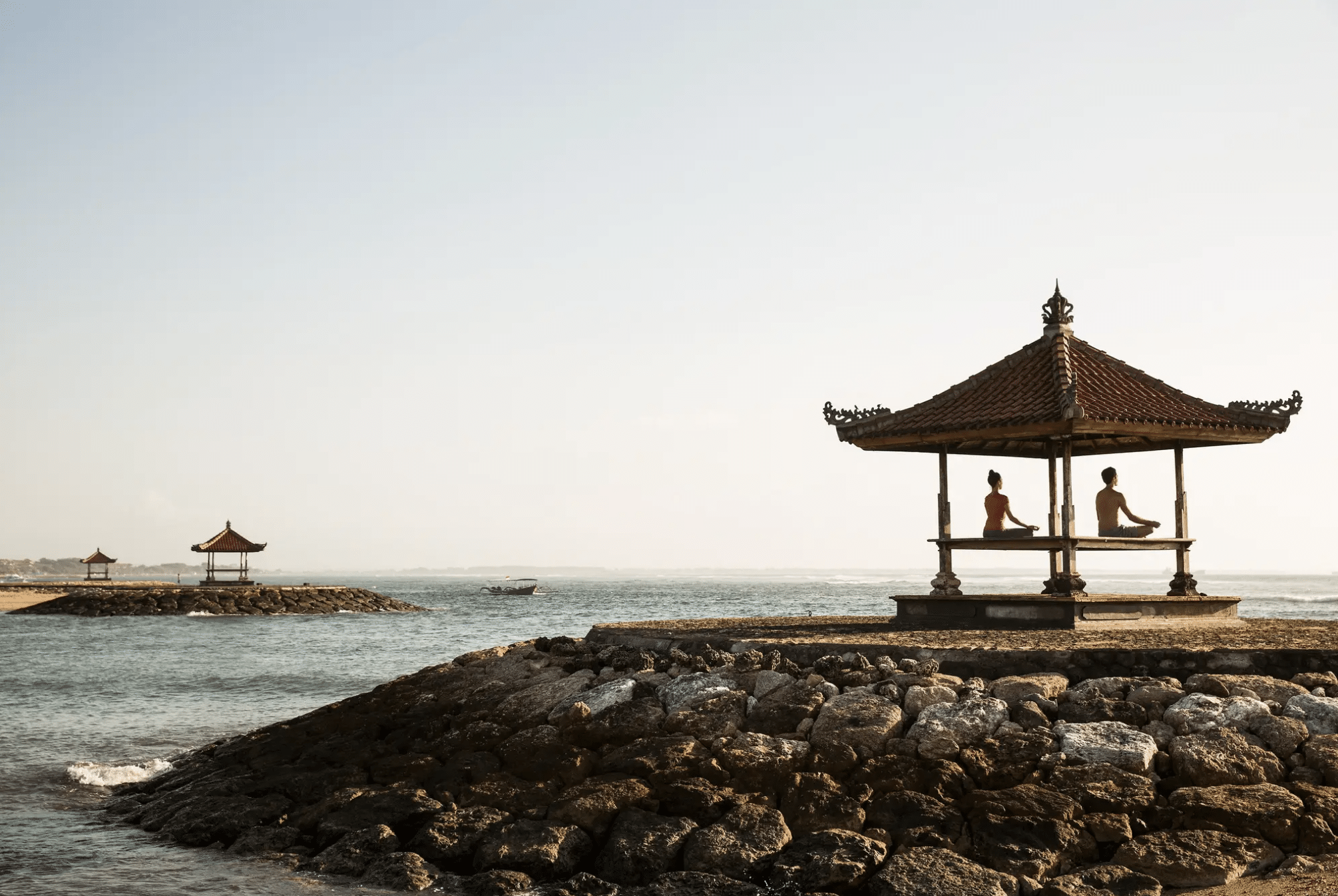 For those who prefer a gentle start to their day and aren't inclined towards hardcore activities, yoga is an excellent option at Club Med Bali. Practising yoga in the morning allows you to find inner peace and harmony between your body and mind. The yoga area is thoughtfully surrounded by beautiful beds of bougainvillaea and frangipani, providing a serene and picturesque setting for your practice.
Don't worry if you're new to yoga; there will be a skilled instructor on hand to guide you through the sequences and postures. This ensures that you can comfortably engage in the practice, regardless of your level of experience. So, if you're an early bird seeking a peaceful and rejuvenating way to begin your day, yoga at Club Med Bali is a wonderful choice.
Balinese Massage Class
Learning the art of giving a massage can be a rewarding experience, and Club Med Bali offers a fantastic opportunity to do just that. You can participate in the Balinese massage class, organized in partnership with Mandara Spa.
The class takes place under the serene Palapa Beach setting, ensuring a tranquil environment for learning. In this massage class, you will learn the right tricks and techniques to give someone a proper Balinese massage. Mandara Spa offers this class three times a week, so you won't miss the chance.
The Nomad Festival
This festival offers a more bohemian-chic vibe so you can dress to impress yet still stay comfortable. There will be themed menus and events planned for the evening. The best part is, you don't need to stress about formalities or strict dress codes; it's a casual and easy-going event. It's the perfect occasion for you and your family to relax and have fun together. 
Balinese Day
During the festival, the entire day will be dedicated to immersing yourself in the rich and vibrant Balinese culture. You'll have the opportunity to savour signature Balinese cuisine and drinks, indulging in the delightful flavours of the region. Engaging-themed workshops are also organized, offering a productive and educational experience for all participants.
For those seeking a deeper understanding of local traditions, you can join an eye-opening journey through religious celebrations, gaining valuable insights into Balinese customs and beliefs. However, the highlight of the day comes in the evening when you can witness the mesmerizing artistic expressions of the Balinese dancers, adding an enchanting touch to the festivities.
For travellers considering visiting Club Med Bali, the available dates for the travel package span from 15th July 2023 to 31st March 2024. The package is designed for two adults and offers a 4-day and 3-night stay. You'll have the option to choose from different room types, each with its own unique features and prices:
Superior Room for RM4,200.

Superior Room with Balcony for RM4,620.

Deluxe Room with Terrace for RM5,460.
With these attractive options, you can tailor your stay at Club Med Bali to suit your preferences and budget while enjoying a truly enriching cultural experience.
#2 Club Med Finolhu Villas, Maldives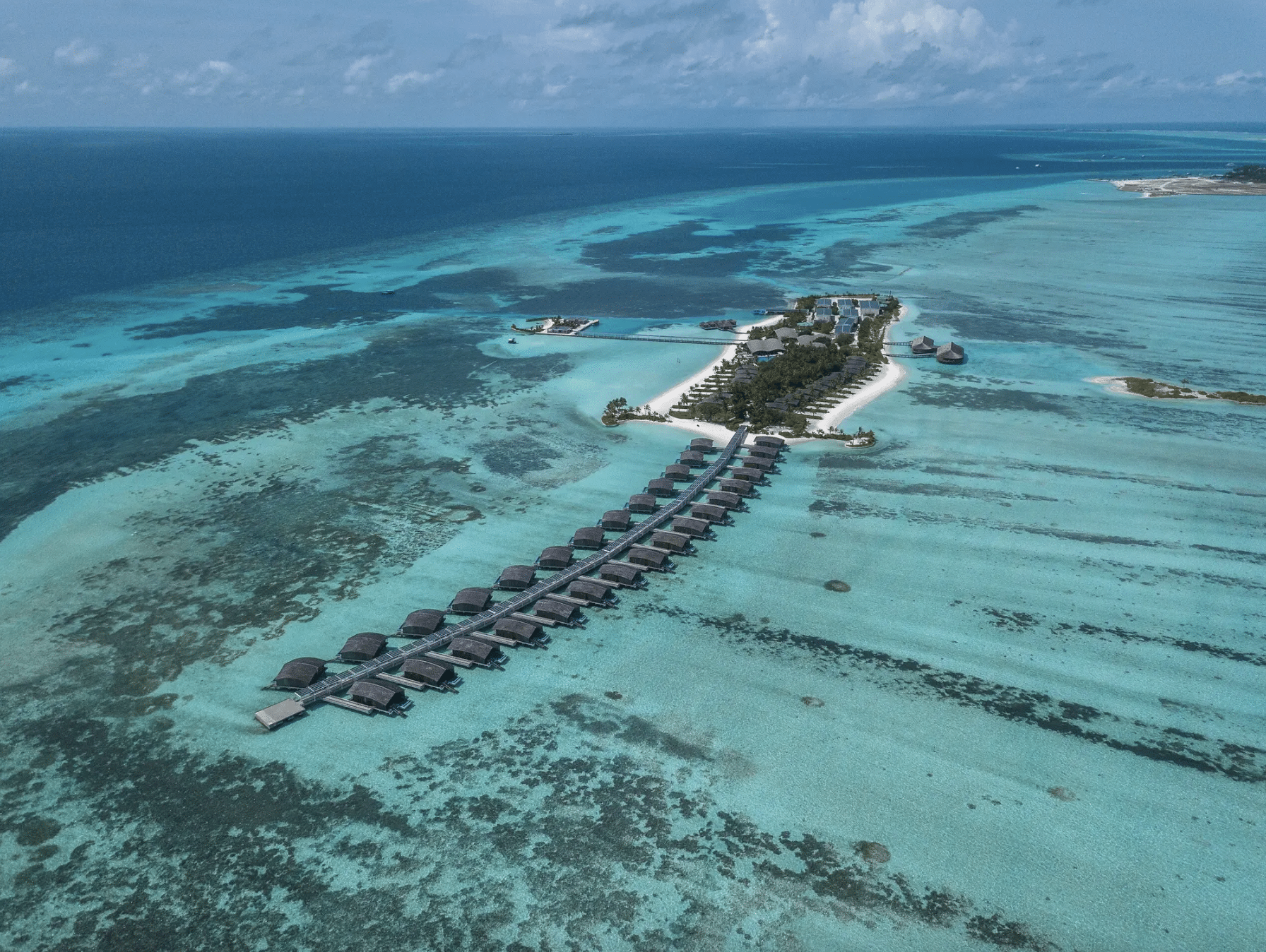 Immerse yourself in an all-eco-chic and all-inclusive retreat at one of the most beautiful beaches in the world. At Club Med Finolhu Villas, you will find your perfect romantic hideaway with your partner or loved ones. Also, enjoy the coolest experiences like panoramic views, underwater discoveries, and pampering indulgences. Club Med Maldives would not disappoint.
With 27 amazing activities included during your stay, you'll have plenty of options to keep yourselves entertained and make the most of your time in this tropical paradise. Moreover, there are an additional 50 on-demand activities that you can choose to join later on, giving you the flexibility to tailor your experience and explore the activities that interest you the most. Some of these on-demand activities are truly special and not to be missed.
Club Med Spa by Cinq Mondes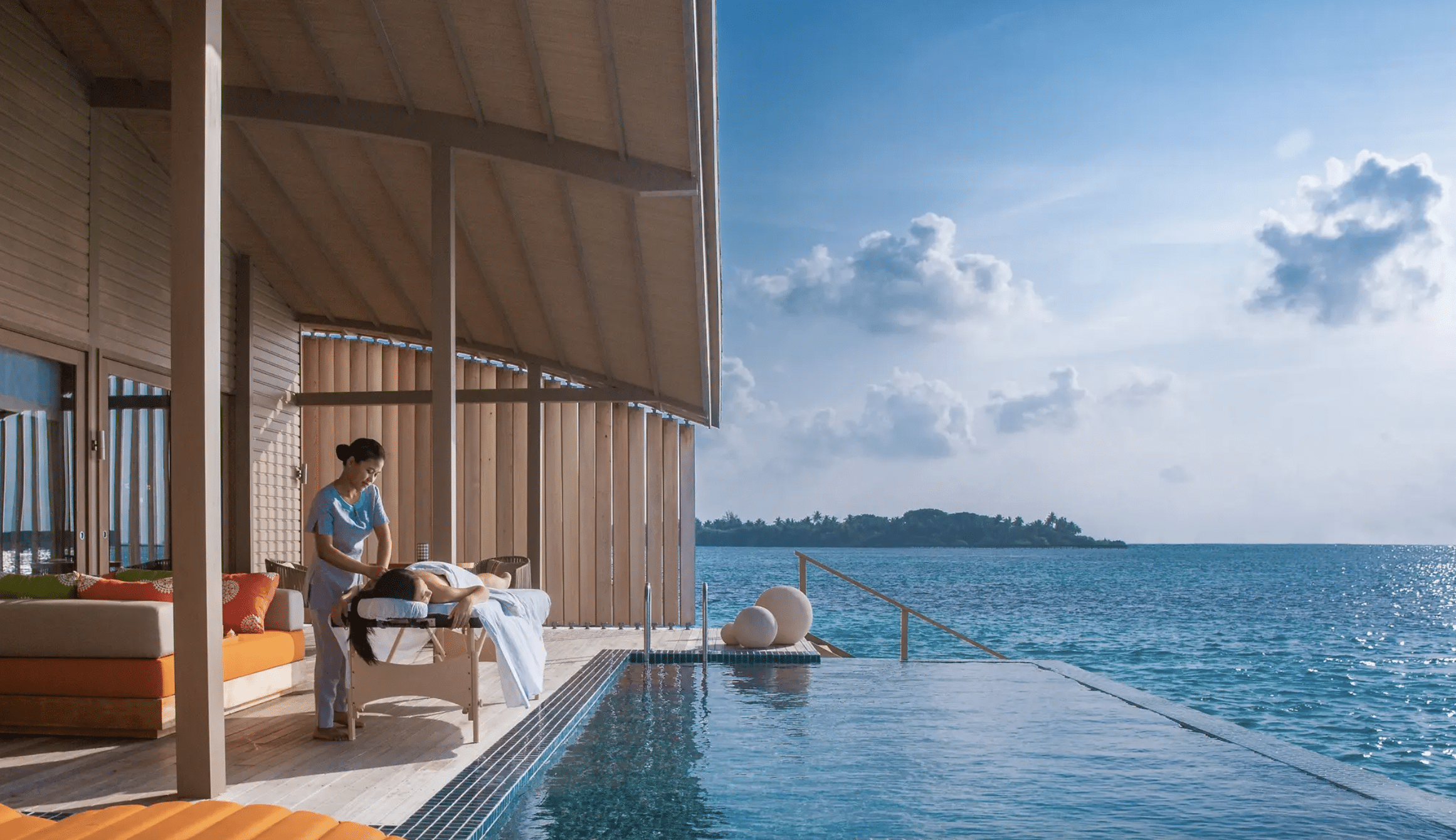 The spa at Club Med Finolhu Villas is a true oasis of rejuvenation, drawing inspiration from the rich ancestral knowledge of traditional medicine and beauty secrets from various cultures around the world. Immerse yourself in the luxurious comfort provided by Cinq Mondes, a renowned spa brand known for its commitment to using natural, active ingredients and advanced biotechnology to deliver an exceptional spa experience.
Indulge in the expert care of skilled therapists who are passionate about their craft, ensuring that every aspect of your spa experience is nothing short of extraordinary. The spa's dedication to using natural ingredients and innovative technology ensures that you receive the best possible treatments, leaving you feeling revitalized and glowing from the inside out.
Activities at Club Med Finolhu Villas
Snorkelling
Who doesn't like snorkelling in a crystal clear blue sea? Club Med Finolhu Villas ensures you have the best experience possible. The hotel provides you with all the necessary gear, including a mask, snorkel, and flippers, making it easy for you to jump right into the adventure. The starting point is conveniently located at the resort's private beach, allowing you the freedom to snorkel at your own pace. 
Alternatively, you can opt for a cruise to one of the prime snorkelling spots, where you can effortlessly swim and explore the underwater world carefreely. Throughout the activity, the resort staff will be there to assist and ensure your safety and enjoyment.
Once underwater, get ready to be mesmerized by the vibrant and colourful marine life. You'll encounter all sorts of fish species and stunning coral reefs, creating a breathtaking and memorable snorkelling experience.
Excursions and Adventures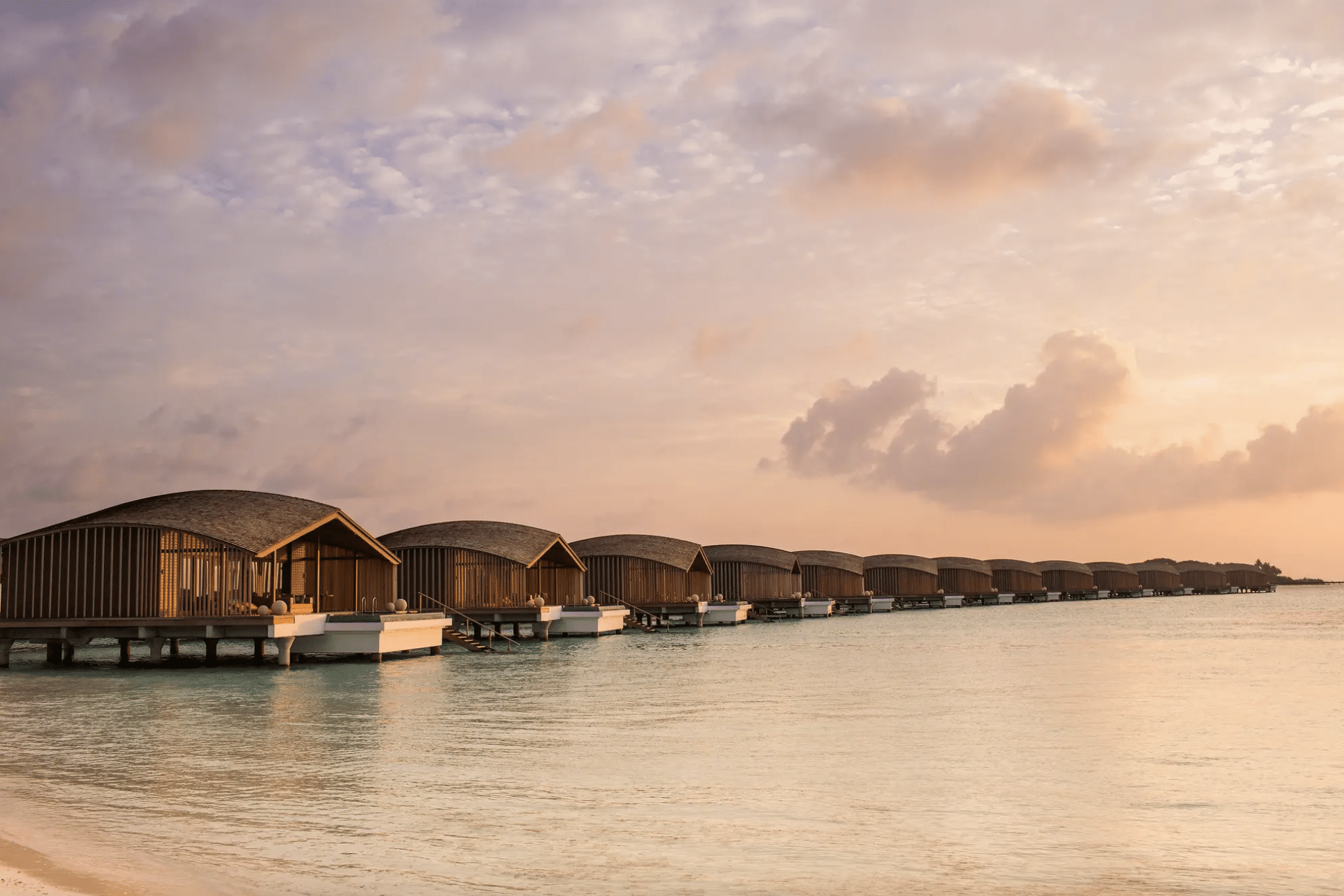 At Club Med Finolhu Villas, you will find plenty of activities outside of the resort too. During your free time, jump into the crystal clear turquoise waters and swim for as long as you wish. Get your guide to lead you to where the manta rays are and swim with them. 
The soft sandy beaches provide the perfect setting for a delightful family picnic, allowing you to relax and bond while surrounded by the beauty of nature. Beyond the beaches, you have the opportunity to venture out and explore the local markets, where you might discover some unique and valuable finds, providing a glimpse into the authentic Maldivian culture.
#3 Club Med Kani, Maldives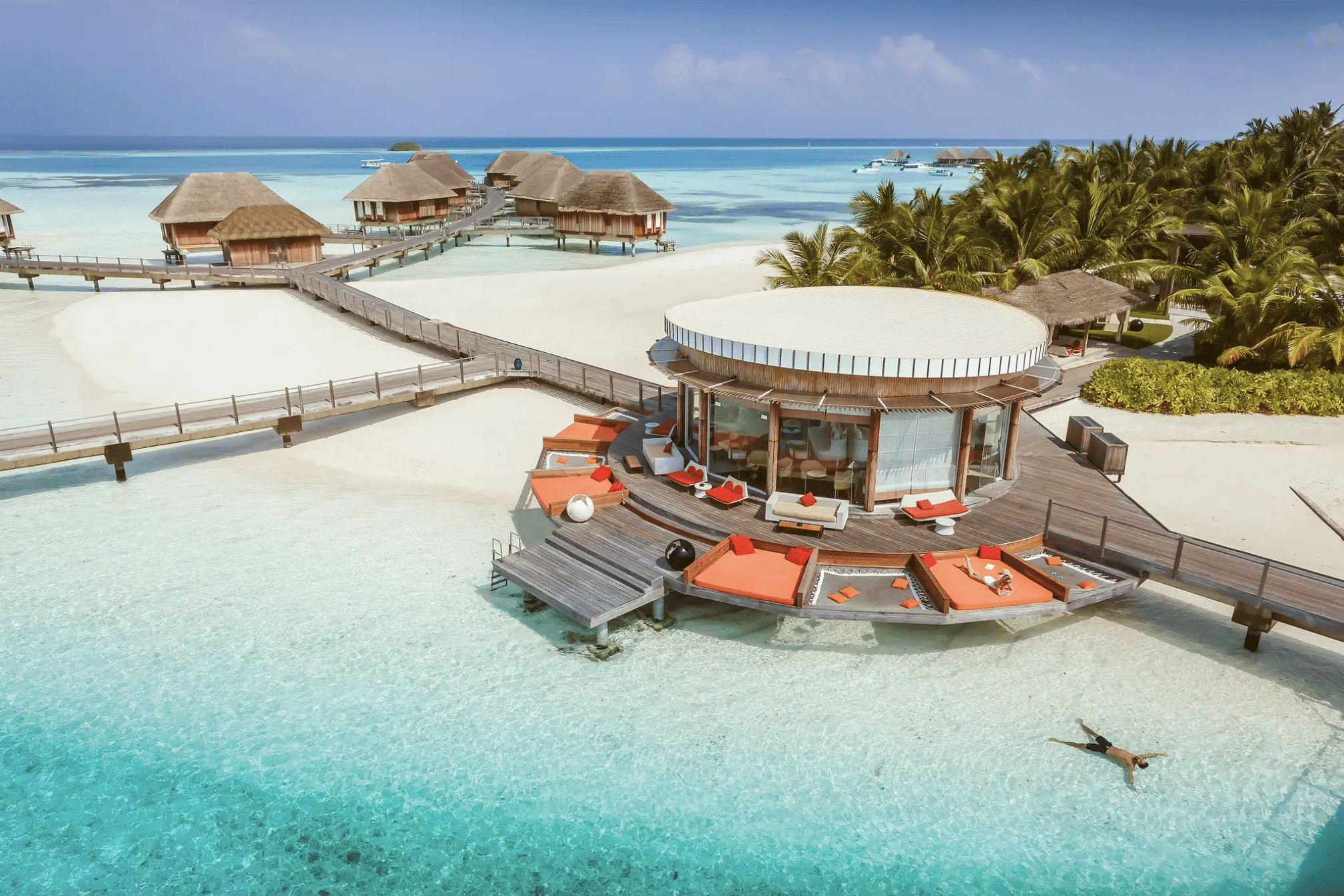 Also in Maldives, Club Med Kani promises an unforgettable family vacation with its endless water playground and a two-kilometre stretch of pristine private beach. You and your kids can enjoy the ultimate relaxation and immerse yourselves in the wonders of marine life through diving and snorkelling. The resort also offers a variety of water sports to keep you entertained all day long.
Club Med Kani ensures that your days are packed with excitement, offering 27 amazing activities included in your stay. But the fun doesn't end there; you also have the opportunity to choose from 51 on-demand activities, making your vacation even more adventurous and fulfilling. These on-demand activities are must-try experiences that will add an extra layer of excitement and discovery to your holiday.
MobiReef Underwater Trail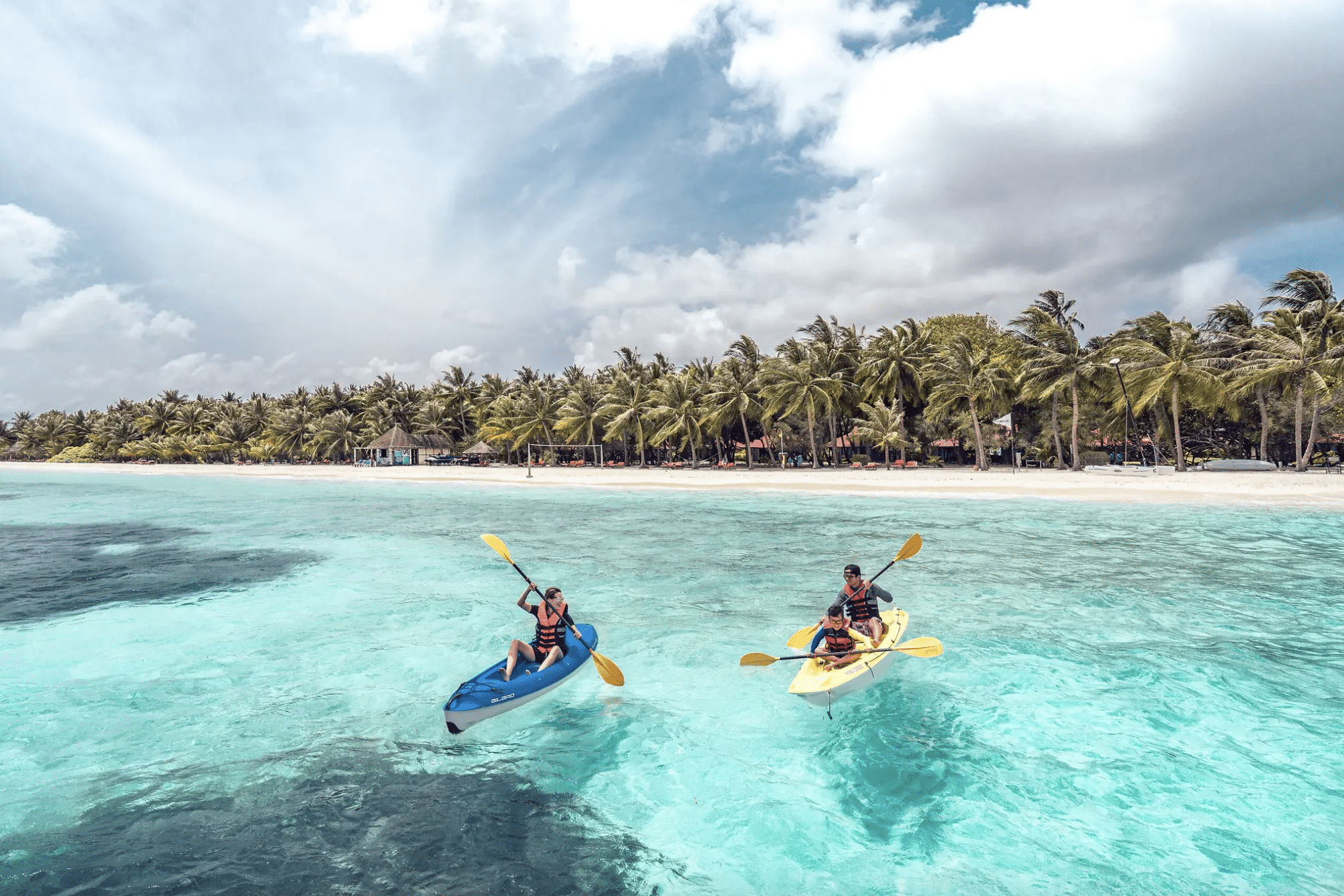 To ensure the best possible experience, Club Med Kani has partnered with SM² Solutions Marines for this underwater excursion. This collaboration ensures that you'll receive expert guidance and information about marine life, enriching your snorkelling journey. You can learn about Kani's diverse flora and fauna as well as visit a wide spread of coral reefs that are brimming with life and colour.
Water Bike
Water bikes are a thrilling and unique way to explore the beautiful blue waters of the Maldives, and if you haven't tried them yet, it's an experience worth having. They are incredibly easy to learn and operate, making them accessible to everyone. Cruising on a water bike allows you to enjoy the stunning surroundings and even spot some marine life along the way, adding to the excitement of the adventure.
One of the great things about water bikes is their eco-friendliness. They are gentle on the environment and marine life, ensuring that your exploration doesn't harm the delicate ecosystems in the area.
Regardless of the time of year, you can enjoy water bike activities, and they are also suitable for kids, making it a fun family-friendly activity.
However, it's important to note that water bike activities are typically not included in the standard stay packages at resorts. Therefore, it's advisable to check with the resort about availability, schedule, and any additional costs before planning your water bike adventure.
#4 Club Med started in Majorca, Spain
Club Med has come a long way since its humble beginnings in the 1950s on the island of Majorca, Spain. Back then, guests stayed in tents, and the facilities were basic with no electricity or proper water system. Everything was shared, making it an affordable option for families, newlyweds, and single individuals seeking a vacation.
However, over the years, Club Med's resorts worldwide have undergone a significant transformation. Today, they offer luxurious and modern accommodations with a wide range of amenities and services that cater to various preferences and interests. While the focus on creating an all-inclusive and immersive experience remains, the resorts now boast a higher level of comfort and sophistication.
Club Med Membership: All You Need To Know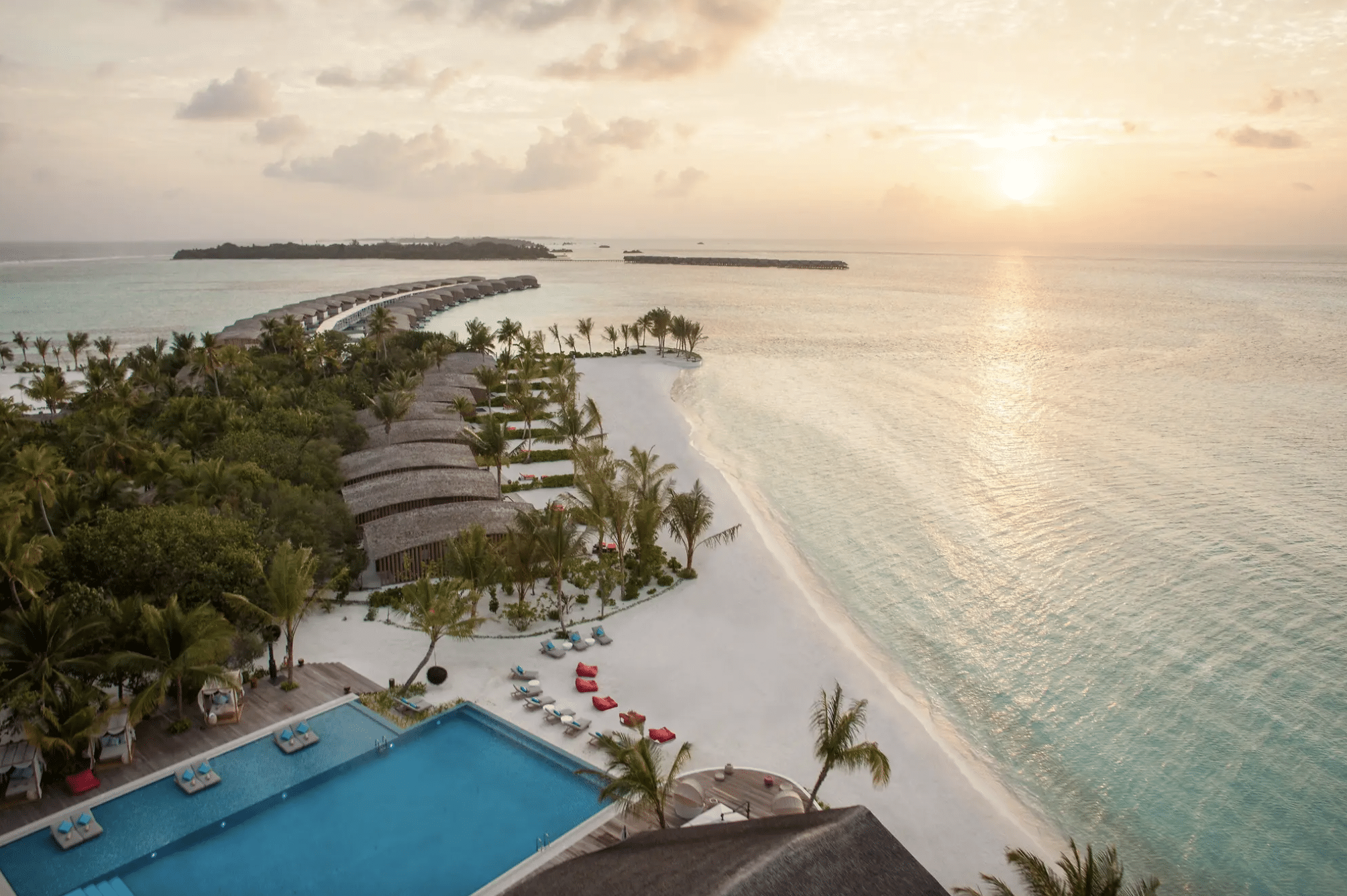 Some people want to sit and relax with bottomless cocktails during their vacation, but some want to get active from morning until nighttime. No problem – Club Med has you covered with a plethora of organized activities to suit your preferences.
One of the most significant advantages of a Club Med membership is the convenience it offers. You don't have to worry about planning anything as the entire trip is meticulously arranged for you. From your flight to reaching the resort, every aspect of your journey is taken care of. Additionally, all your meals and activities are included in the package, ensuring a hassle-free and enjoyable vacation.
Club Med resorts around the world offer a diverse range of activities based on their locations. Whether you're interested in running, hiking, swimming, or snorkelling, or prefer activities like yoga and meditation, there's something for everyone to enjoy. The resorts also cater to various sports enthusiasts, providing facilities for tennis, volleyball, basketball, and even skiing in snowy destinations like Switzerland.
For instance, if you are staying at Club Med Charlevoix in Quebec, Canada, then you'll get to enjoy activities like hiking and mountain biking in the Massif Mountains. There are also milder activities like yoga, pilates, and even runs, volleyball and other sports that are suitable for everyone.
With Club Med's all-inclusive approach and a wide array of activities tailored to diverse interests and locations, you can truly make the most of your vacation, creating memories that will last a lifetime. Whether you're seeking adventure or relaxation, Club Med ensures a fulfilling and exhilarating experience for every traveller.
It is For Everyone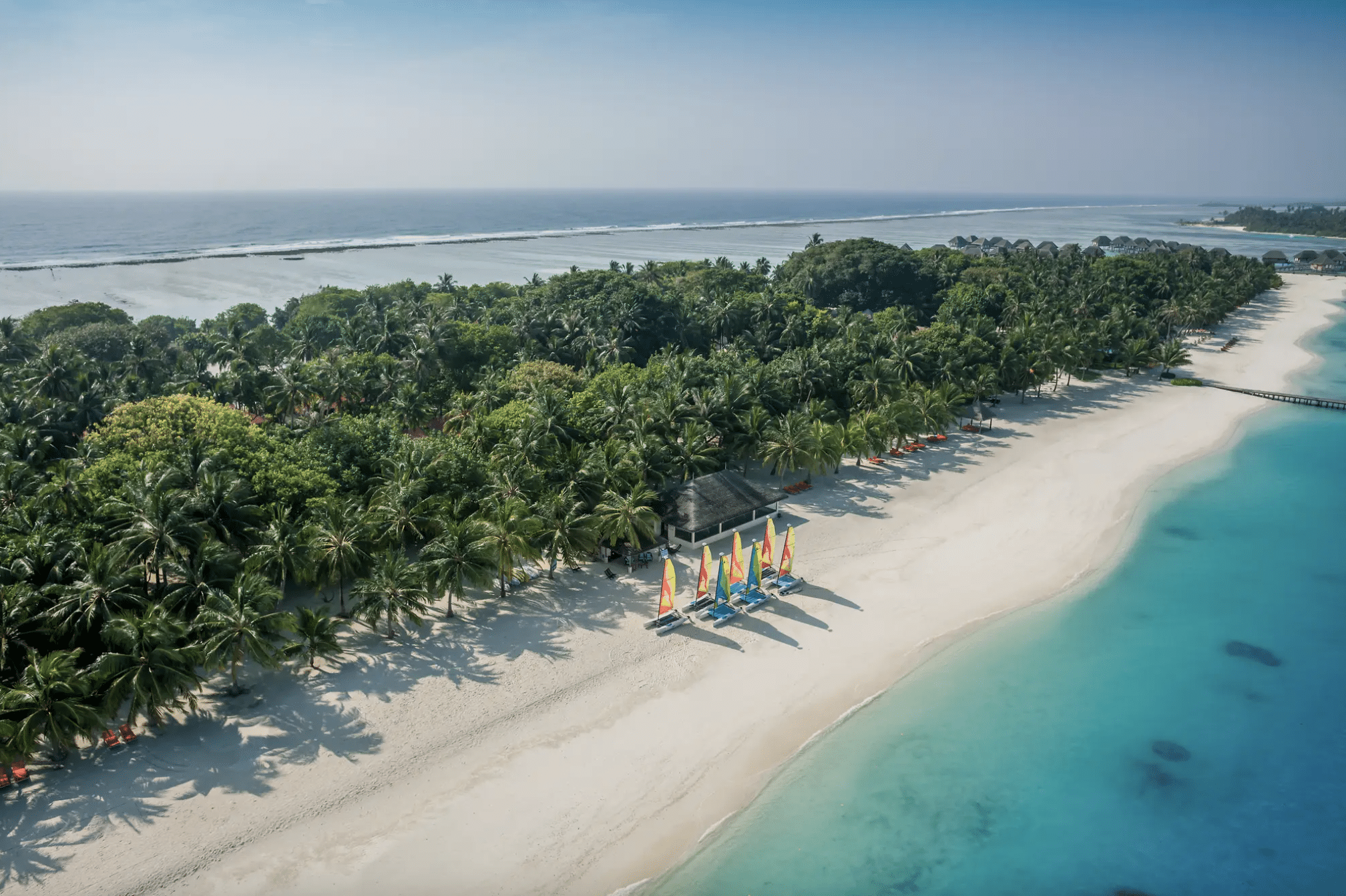 Club Med indeed focuses on providing a vibrant and active vacation experience, where guests have access to a wide range of activities throughout the day. While it may be a departure from the traditional image of a relaxing vacation with endless cocktails and lounging, it offers a dynamic and fulfilling holiday for those who seek adventure and exploration.
Participating in various activities and excursions can indeed be invigorating and may leave you feeling pleasantly tired at the end of the day. However, the beauty of a Club Med vacation is that you have the freedom to choose how you spend your time. If you wish to take a break and simply relax by the pool or enjoy a leisurely day, you are welcome to do so. You won't be forced to partake in activities in the early hours if you prefer to take it easy.
One of the fantastic advantages of an all-inclusive vacation at Club Med is that spa and massage treatments are included in the package. Though they might not be unlimited, they offer an excellent opportunity to unwind and pamper yourself amidst all the activities. It's the perfect way to rejuvenate your body and mind after a day of fun-filled experiences.
Take a break from your little ones
No, you don't have to leave your kids at home. Bring them along to your vacation, but the resort will take care of them and their daily activities, while you go for yours. Club Med is an all-inclusive vacation that's suitable for the whole family. So, you will get to spend some quality time with the family during mealtimes, relaxing time and perhaps, pool time. When it comes to the activities, the adults can go jungle trekking, snorkelling or even basketball while the kids can go swimming in the kiddy pool, befriend some other kids at the playground or run around at the indoor play area.
All Club Med resorts have day and night planned activities for adults as well as separate activities for the little ones. Besides fixed activities, you also have the option to choose different packages for your kids as young as three months old to as old as 18 years old. Club Med are also proud to introduce its brand for kids like Baby Club Med, Petit Club Med, Mini Club Med, Junior Club Med and Passworld for teenagers.
Even if you are not doing any activities at all, you can still send your kids to their planned activities while you enjoy your precious me-time.
Activities for Couples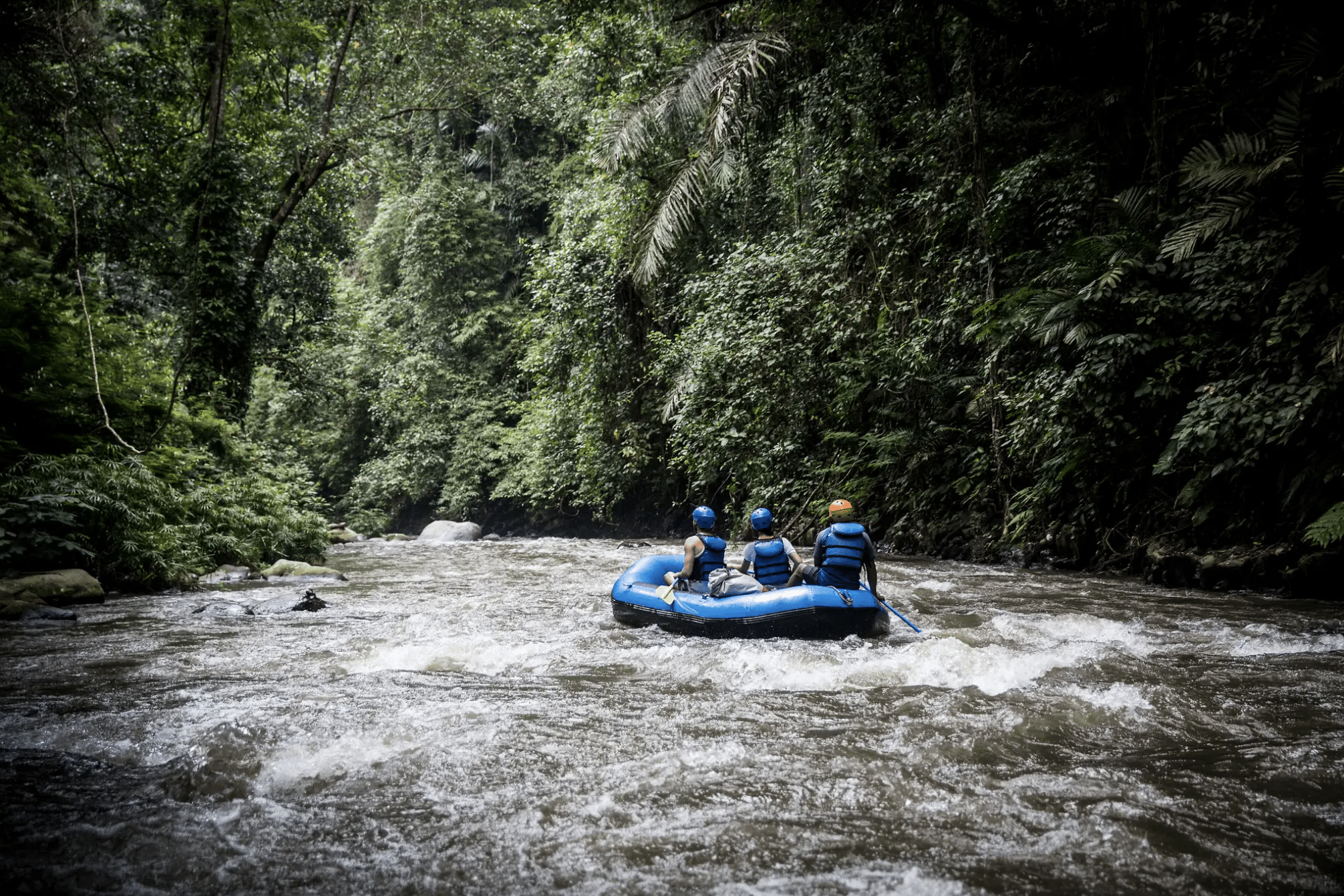 Club Med understands that each individual may have different interests and preferences when it comes to activities and experiences during the vacation. The resort offers a wide range of activities and excursions that cater to various interests and skill levels, ensuring that everyone can have a fulfilling and enjoyable time.
If your partner wants to go snowboarding while you prefer yoga, you can both indulge in your respective activities without any compromise. Club Med provides a diverse selection of activities, from adventurous sports like snowboarding to more relaxing pursuits like yoga and meditation. This allows each person to tailor their vacation based on their interests and desires, ensuring that everyone is happy and content with their experience.
This flexibility and variety in activities make Club Med a fantastic choice for couples and families alike. It allows each individual to follow their passions while still having the opportunity to spend quality time together during meals, relaxation moments, and other shared activities.
Take note of dress codes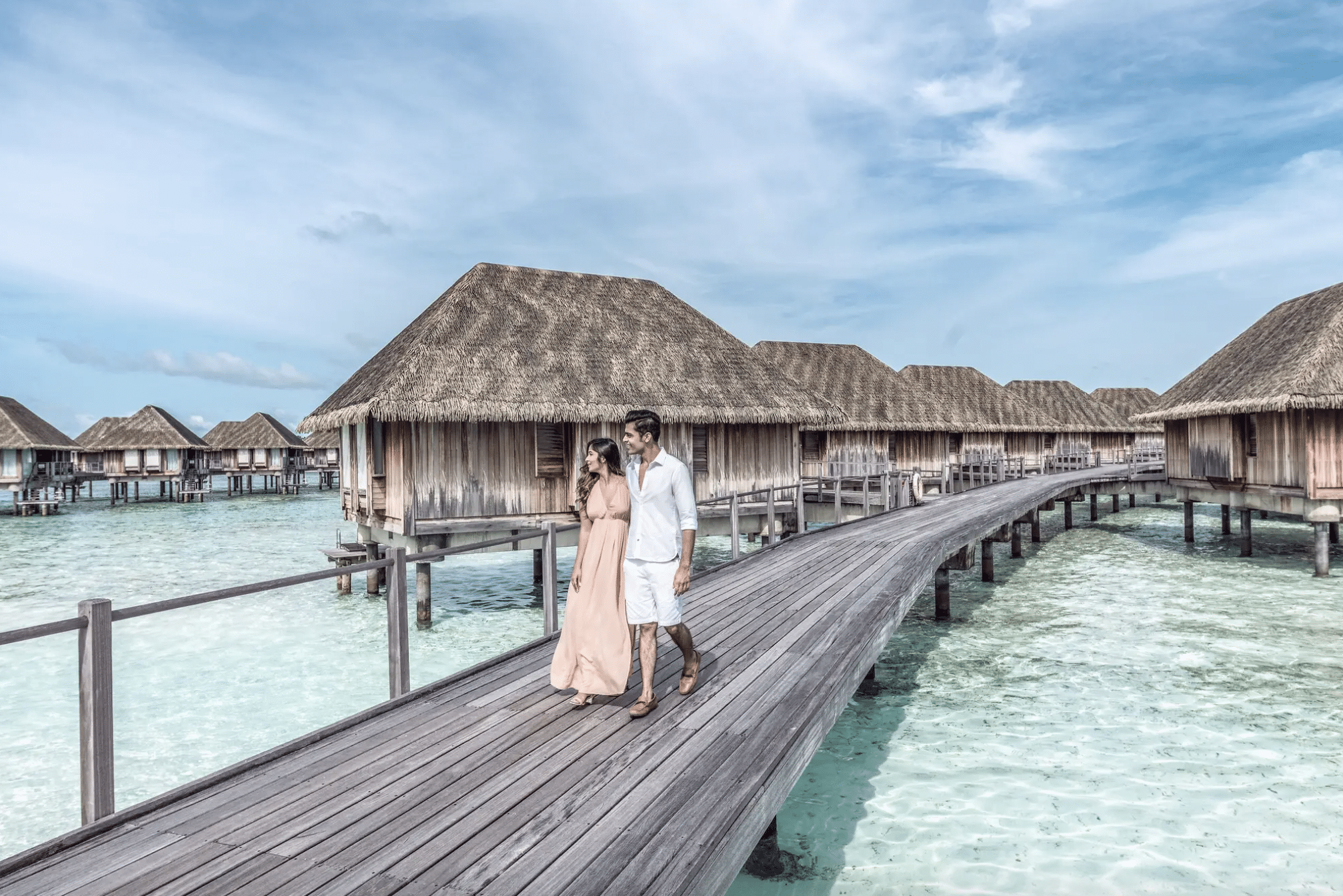 When booking a stay at a Club Med resort, it's essential to be aware of any dress codes that the resort may have in place. While you won't be forced to wear anything you're uncomfortable with, adhering to the dress code is essential for certain activities and events.
For leisurely activities like dinners and casual gatherings, following the dress code is a great way to fit in with other guests and create a cohesive and enjoyable atmosphere. Dress codes may vary from resort to resort, but they are usually designed to maintain a certain level of elegance and ambience during these occasions.
When it comes to sports and activities, specific dress codes may be necessary for safety purposes. For activities like yoga, jungle trekking, and swimming, appropriate attire ensures comfort, mobility, and safety during the experience. It's crucial to adhere to these dress codes to ensure smooth and enjoyable participation in these activities.
All members will be wearing a specific bracelet
Receiving a bracelet upon check-in is a hallmark of the Club Med experience, and it becomes your key to a seamless and enjoyable vacation. These bracelets hold significant importance during your stay as they grant you access to various amenities and services based on the package you've chosen.
The specific-coloured bracelet corresponds to the package you signed up for, allowing you access to your room, buffet meals, and a wide range of activities. It also determines your eligibility for consuming alcoholic beverages, ensuring compliance with legal age requirements.
The assortment of bracelet colours at the resort may signify different things. Firstly, it differentiates between guests of legal drinking age and those who are underage. Secondly, it distinguishes guests based on the different packages they've selected, which may offer varying levels of amenities and activities. Additionally, the bracelets may also indicate whether guests are first-timers at Club Med, creating a sense of camaraderie and a warm welcome for newcomers.
Club Med's all-inclusive concept offers an unparalleled vacation experience, particularly for families. By eliminating the need to plan activities, arrange transportation, and handle logistics, it allows families to relax and make the most of their time together, creating cherished memories without any stress or headaches.
The convenience and hospitality provided by Club Med Resorts make them an excellent choice for families seeking a memorable and hassle-free vacation. So, the next time you plan a family vacation, consider trying out Club Med and let the resort take care of everything, ensuring a truly enjoyable and enriching experience for all family members.
LET US HELP YOU FIND THE BEST CLUB MED HOLIDAY DESTINATION.
You may also be interested in: