Compared to the many festive seasons around the world, Christmas in Europe is probably the most calming yet cheerful celebration. The idea of Christmas gingerbread, chocolate chip cookies, gluhwein, warm pies, colourful decorations and falling snow just warms our hearts, mind, and soul.
Christmas in European countries hits differently, with joyful Christmas songs that set you in a serene mood, possibly better than lavender essential oil does. So this December, pack your bags and use up your annual leave to travel around Europe and experience these 12 European cities with the finest Christmas markets and bazaars, decorated streets and traditional eats.
12 Magical Cities that Make Christmas in Europe So Special
#1: Zagreb, Croatia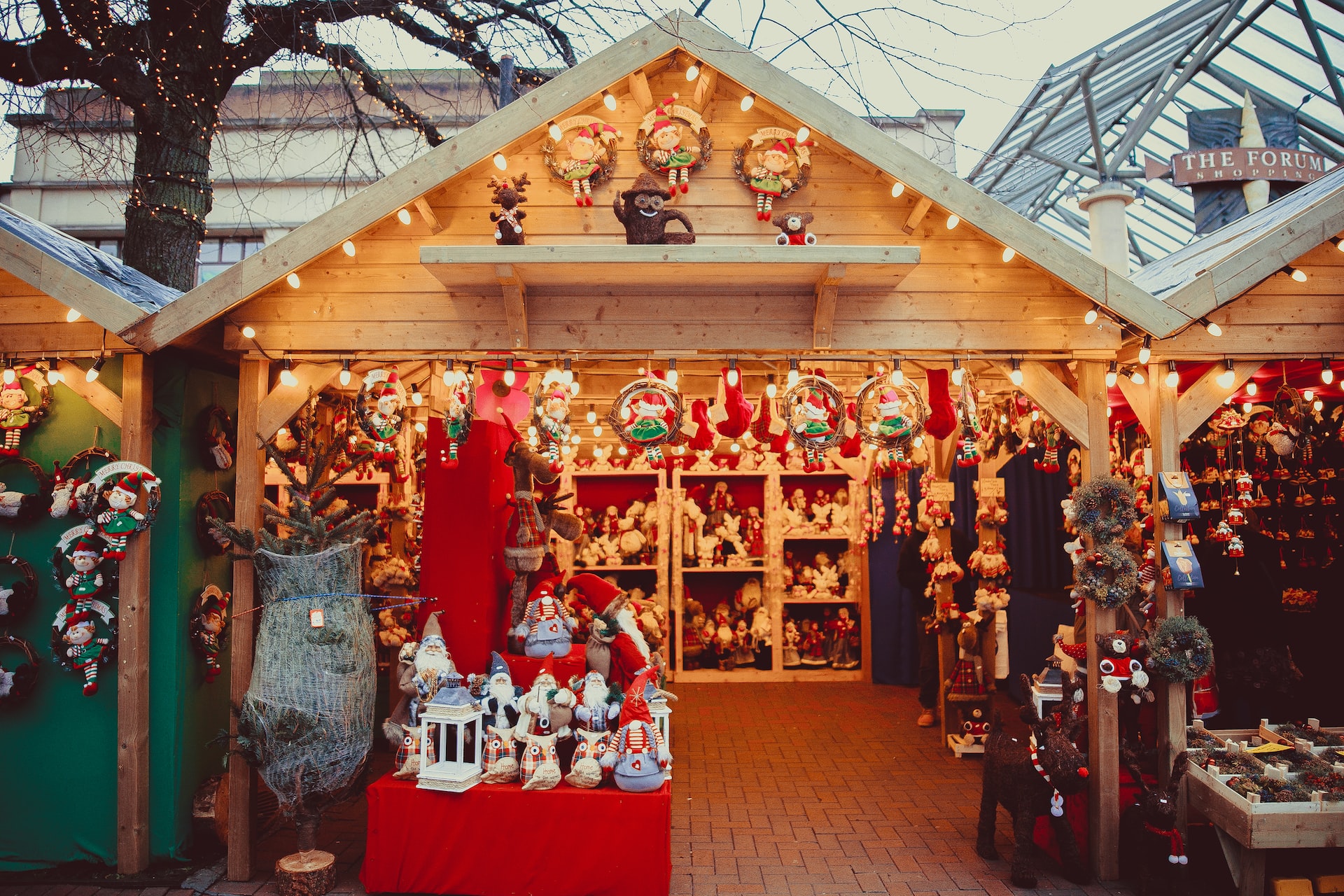 Selling and buying Christmas ornaments, decorations and accessories have become part of the celebration thanks to its heavily embellished stores in malls and bazaars. There is a sense of excitement when you walk through these stalls in a market and that's what you'll see a lot of in Zagreb.
Croatia's capital city is always filled with lights around Christmas time as well as art, performances, music and entertainment starting from November up till January. Blinking lights and decorations will line the streets, shops, malls and parks, and each location will fight for the spotlight in the city, creating a wonderful Christmas atmosphere.
When in Zagreb, you'll have to visit Ban Josip Jelačić Square. Its fountain will usually be transformed into a giant light display and next to it, a gigantic Christmas tree with beautiful lights that calls for an award.
If you are a fan of musical performances, then dropping by Zrinjevac Park is a must. Pop-up carts and stalls will also be lining the park's walkway where you can find handmade Christmas decorations, ornaments, and even gifts, art and accessories. You'll also spot food and drinks stalls with vintage wooden cabin looks selling cookies, hot chocolate, pastries, cakes and pies.
There's also Strossmayer Promenade to visit, as they are known for their unique themed Christmas sections. Usually separated into four markets with different themes, you'll find everything you need for Christmas in Europe. You're advised to visit Strossmayer Promenade during the evening time as the view of the entire city is phenomenal. Zagreb really makes Europe in winter extra joyful.
#2: Amsterdam, Netherlands
Amsterdam shines bright with tons of light installations that brighten buildings, bridges, and canals, and act as decoration on the streets. The city's Light Festival encompasses a different theme each year, bringing together illumination artists to spread their art all over Canal Ring and the Amstel River areas.
Some iconic decorations are butterflies hovering over a canal and a twinkling spider poised above a bridge. Speaking of bridges, some get beautiful white lights outlined, with amazing reflection from the canal waters below.
This Light Festival happens from November until January every year. Also, you can plan to visit Zwolle for the Netherlands Ice Sculpture Festival. Artists from every corner of the world would gather and create marvellous snow and ice sculptures.
#3: Prague, Czech Republic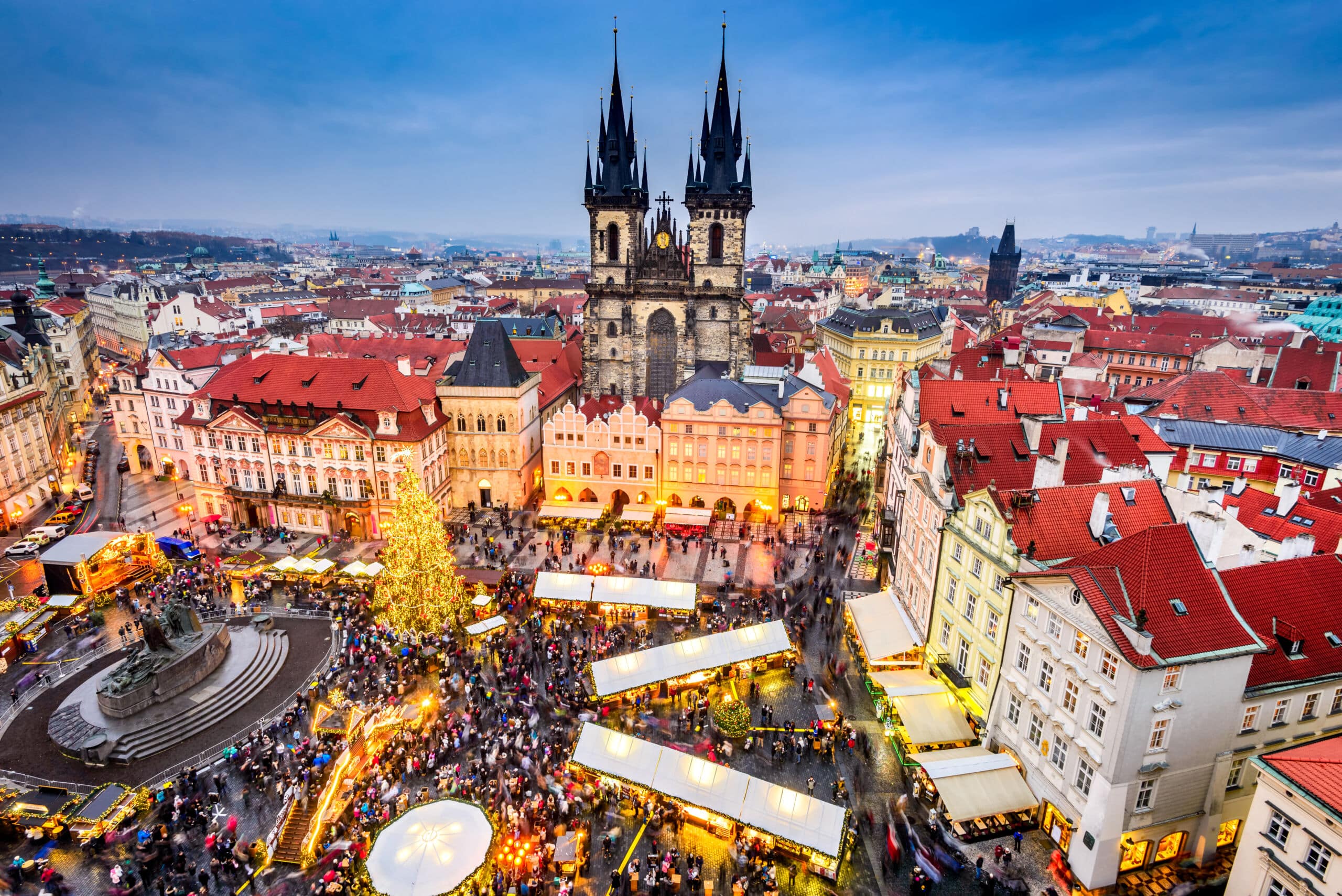 When in Europe for Christmas, you must visit Prague's old-world city for its vintage, almost magical setting. Prague Castle or known locally as Pražský Hrad will be heavily but charmingly decorated with lights and ornaments. This world's largest castle complex including its grounds like St. Vitus Cathedral and St. George's Basilica will transform into large Christmas markets selling everything from cookies and pies to fragrant shower gels and other gifts.
Also, the Old Town Square located in the city centre is filled with markets and bazaars. There is usually a 22-metre Christmas tree in the area every year, with carolling, concerts and other activities near it. At night, climb to the top of the Old Town Tower with your friends or loved ones to get a breathtaking view of the city and its lights. 
When you spot food stalls in these bazaars, look out for Sladké Knedlíky (sweet dumplings), Trdelník (rolled dough that is wrapped around a stick, then grilled and topped with sugar and walnut mix), Rybí Polévka (traditional Czech Christmas soup) and Palačinky (Czech pancakes) – these are very traditional Czech Christmas treats that you will have to try.
#4: Malmö, Sweden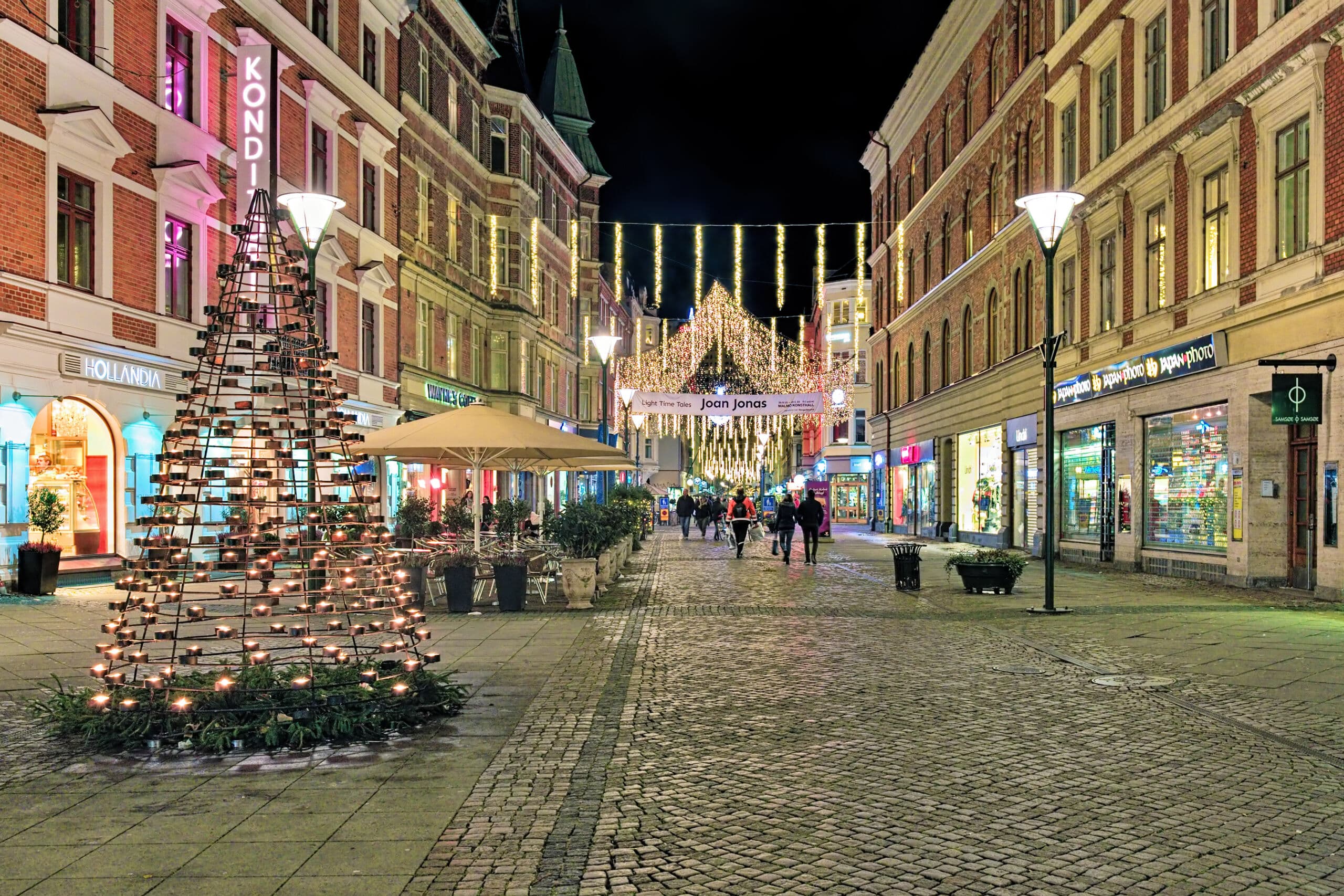 When celebrating Christmas in Europe, parties and celebrations start about 30 days earlier in Malmö, where shops and stalls will go on sale with their products and the city will be filled with carolling, concerts and events.
Aside from Malmö, you can also head over to Gustav Adolfs Torg which is smack right in the city centre to shop and eat. The market is so huge that it has a skating rink in the area. Be sure to try out the Swedish gingerbread cookie also known locally as Pepparkakor.
Every year, there will be a highlighted event called the Lucia procession, which happens on December 13th. This unique Swedish tradition is a ceremony where girls and boys will be dressed in all-white gowns, holding candle sticks while singing. It truly is a must-see. 
#5: Lapland, Finland
Christmas will always look and feel calm with the magical presence of snow. If you're looking for that fairytale Christmas we always see in movies, then Lapland is where you'll want to be. Also known as the village of Santa, this town is always filled with ice lanterns, Christmas lights and cute decorations. You'll also spot fascinating countryside cottages in this village.
Of course, food brings everyone together no matter the occasion. So, when in Lapland, go for their fish dishes, casseroles, roast pork and rice pudding. It's also a tradition for the locals to hit the sauna for a relaxing time after a whole evening of carolling, singing and goodwill exchange.
During the wood-fired sauna sessions, the locals love some spicy mulled wine – called Glögi – and some gingerbread as an accompaniment.
#6: Krakow, Poland
There is a certain charm and mystery to Krakow city, and when Christmas in Europe is near, that appeal is elevated. The city is made up of Gothic churches and Baroque palaces that are covered in snow – talk about white Christmas. People come together from all over the city and gather, singing carols under the glistening Christmas tree while exchanging presents.
That's not all, as every year, the people will throw a yearly contest called Krakow Christmas cribs. You can stand a chance to win amazing prizes, for yourself and your family. This contest is held at the city's central Grand Square on the first Thursday of December.
#7: Cologne, Germany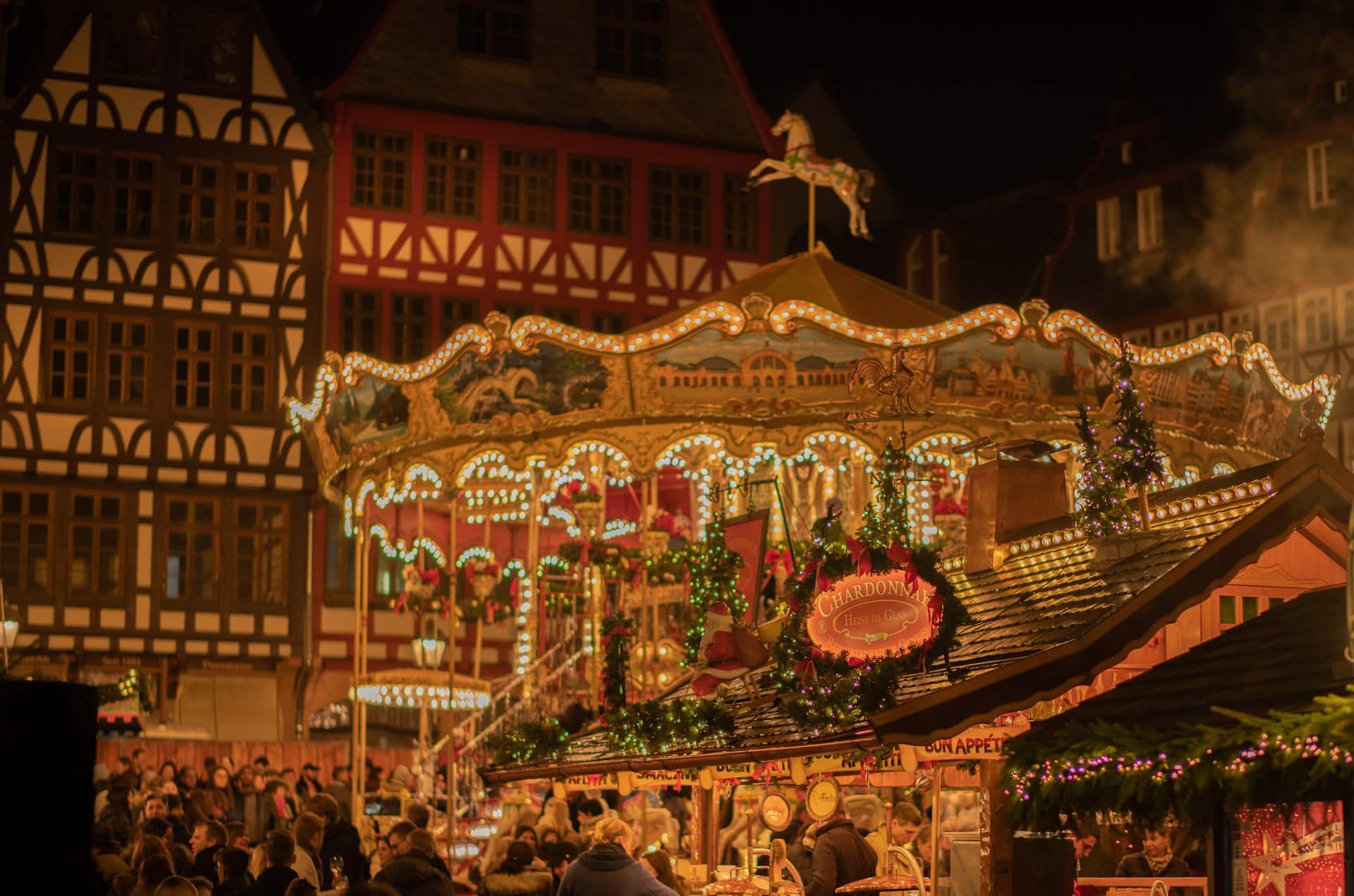 There are many ways to celebrate Christmas in Europe, but a river cruise is definitely a new one. The Rhine – one of Europe's major rivers – flows past Cologne and allows you to relax on a boat ride with your loved ones. You can also immerse yourself in Cologne's rustic charm, listening to calming Christmas music that flows through the city all month long.
In Cologne, the Christmas markets hit differently when you have the scent of mulled wine, Christmas cookies, chocolate, baked apples and fresh cinnamon biscuits in the air. It's like being enveloped in a warm blanket of joy and happiness.
#8: Barcelona, Spain
Christmas in Europe is all about the cold weather, quilted jackets, wool gloves and pretty scarfs. That's what you'll see the fashionable people wear in Barcelona. However, it's not always cold in Spain during this particular season. The warm Mediterranean temperature is perfect for those who don't enjoy the cold too much.
Since winter warmers might not be necessary, you can head out to its Christmas markets and enjoy some warm Chorizo, Marzipan, Galets, and of course, the famous Paella. Comforting warm food during a winter vacation – what's not to love?
To experience a unique traditional Catalan Christmas tradition, check out Caga Tió – a Christmas character in Catalan culture. The Tió is a big piece of log with two or four stick legs and a broad smiling face painted on its end wearing a traditional Catalan barretina (a little red sock hat). The locals will feed the log scraps of food for a few weeks before Christmas. and on Christmas Day, or in some households, Christmas Eve, it will be beaten with sticks, and a type of food called turrón (Spanish nougat) will appear.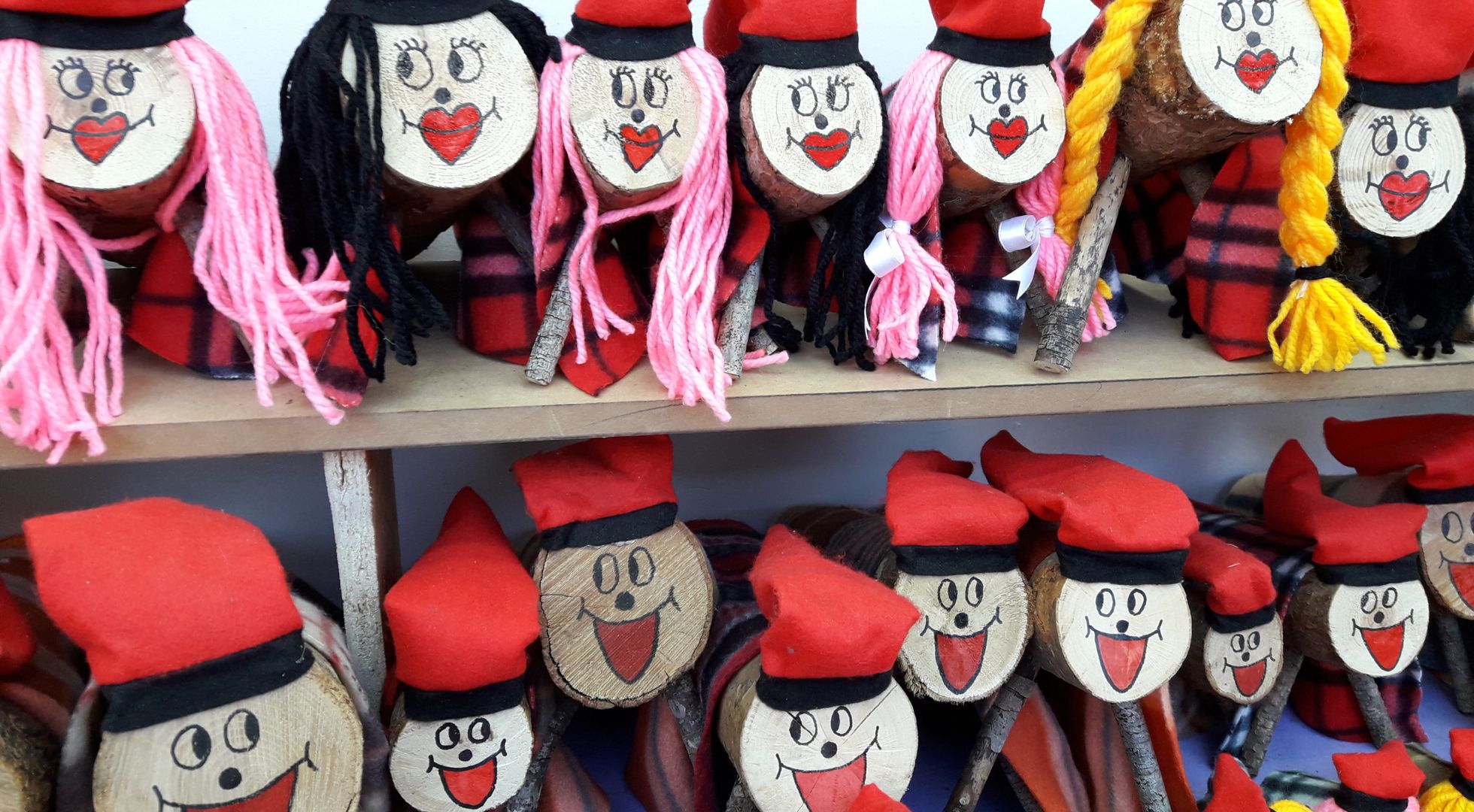 After Christmas day, the celebration continues, as on the 5th and 6th of January, the country will celebrate the King's procession, and you can join in the lively march.
Barcelona aside, Spain's capital Madrid throws a mean Christmas celebration throughout the city as well. The streets are decorated with lights and ornaments, giving you a cosy feeling of warmth and calmness. Feel free to enjoy the outdoors while sipping on sangria and filling your belly with tapas. As predicted, there will be plenty of live performances and carolling in every hot spot of the city.
#9: Colmar, France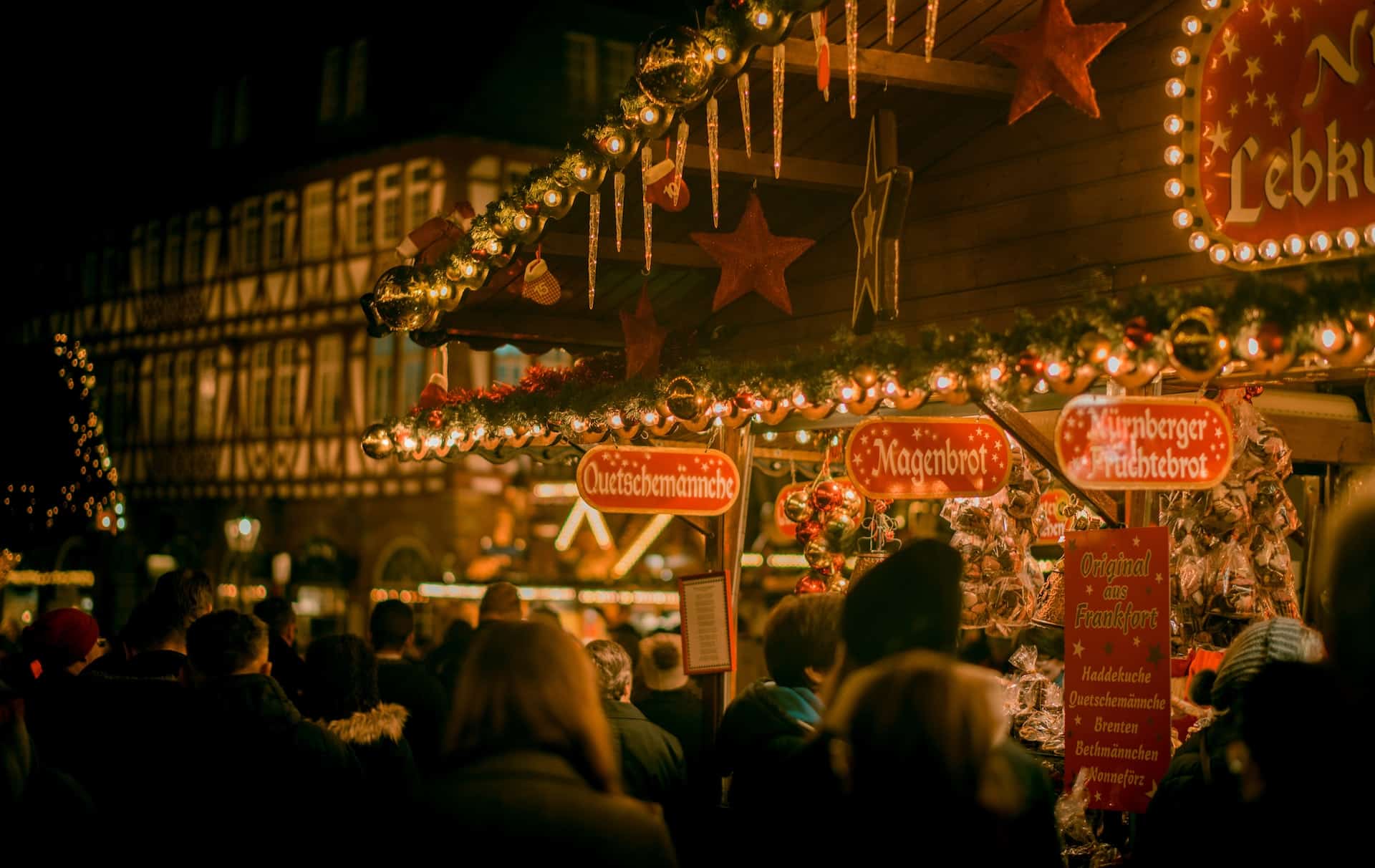 Paris is wonderful during the holidays, but you should make Colmar your Christmas destination. Located in the Alsace region, almost every corner is heavily decorated, as well as the preserved buildings, giving you that nostalgic, Christmas feel.
Just like what you see in movies, Colmar has one of the best Christmas bazaars at all their hot spots, selling delicious cakes and cookies, Parisian pastries and all things Christmas.
#10: Vienna, Austria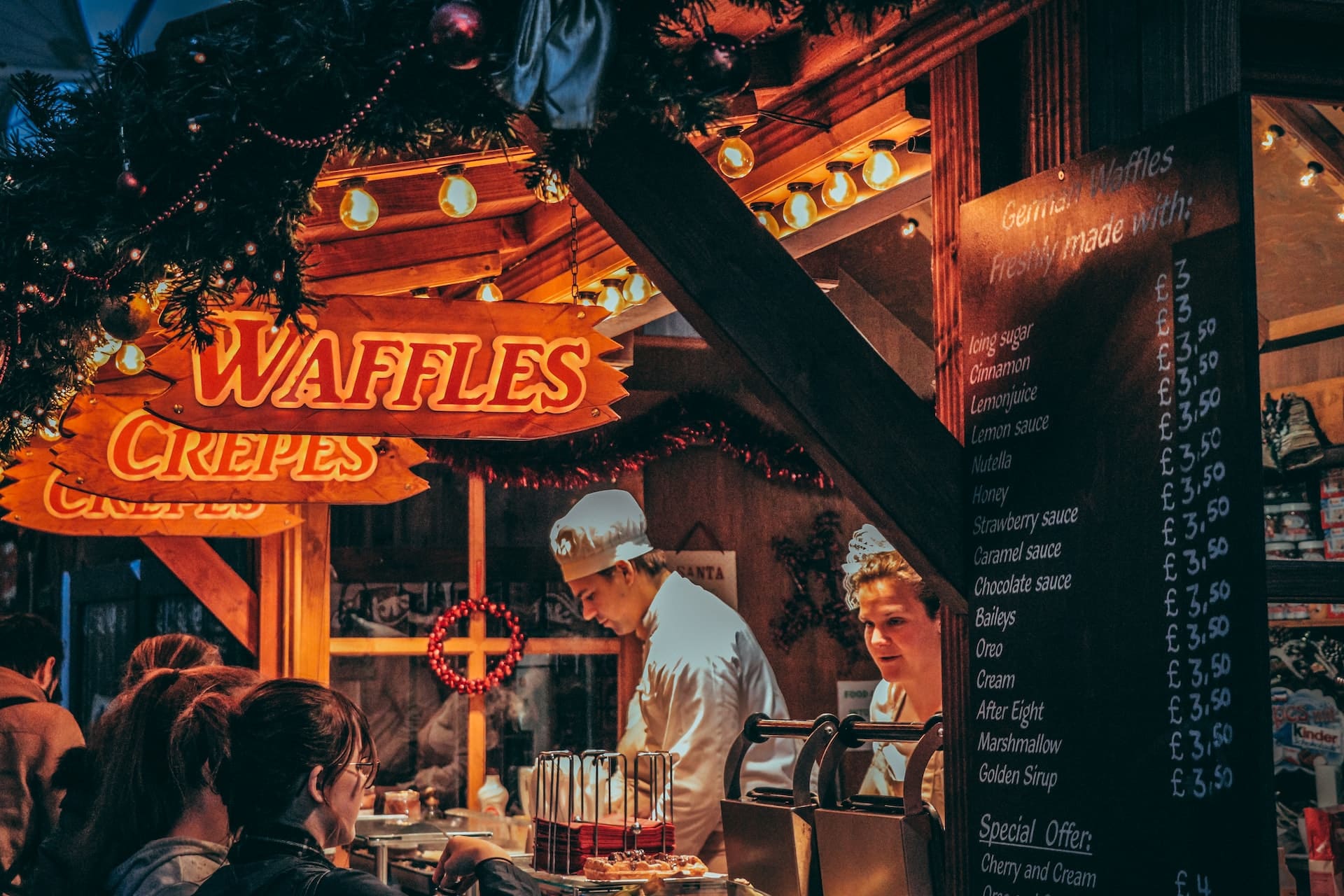 If you're a big fan of beautiful art, then you should head over to Vienna. Yes, their street and building decorations are unlike any other place – it's pure art. Vienna is one of the biggest European cities, and they go big on their Christmas celebration as well, apart from their counterpart, Germany.
In Vienna, you must give their famous sausage bread roll a try. It also goes hand in hand with mulled wine. There are 14 Christmas bazaars around Vienna and each one serves different local food. So, try your best to visit them all to get the best out of the city.
Bazaars aside, you should also visit Vienna's popular plazas like Stephansplatz, Rathausplatz and Maria-Theresien-Platz as well as Schönbrunn Palace and Belvedere Palace. As for the food and art geek inside you, treat yourself to the markets at Karlsplatz and you'll be thrilled.
#11: Røros, Norway
Røros is a UNESCO World Heritage Site, and spending your Christmas here will fill you with that nostalgia feeling. Unlike other parts of Europe, the markets in this Norwegian town only last for a few days and close a few weeks before Christmas. So, try to visit Røros first if you are planning a Eurotrip.
This town offers one of the best Christmas markets under the snow. It looks and feels magical, while you visit the outdoors with your hot chocolate and pastries. Take a stroll past the brightly lit, wooden buildings that Røros is known for. They are all painted with different colours and will look phenomenal on your Instagram.
Besides beautiful buildings, Røros is also known for sledge rides, Christmas carolling and individual stalls selling remarkable souvenirs during this festive season. 
#12: London, England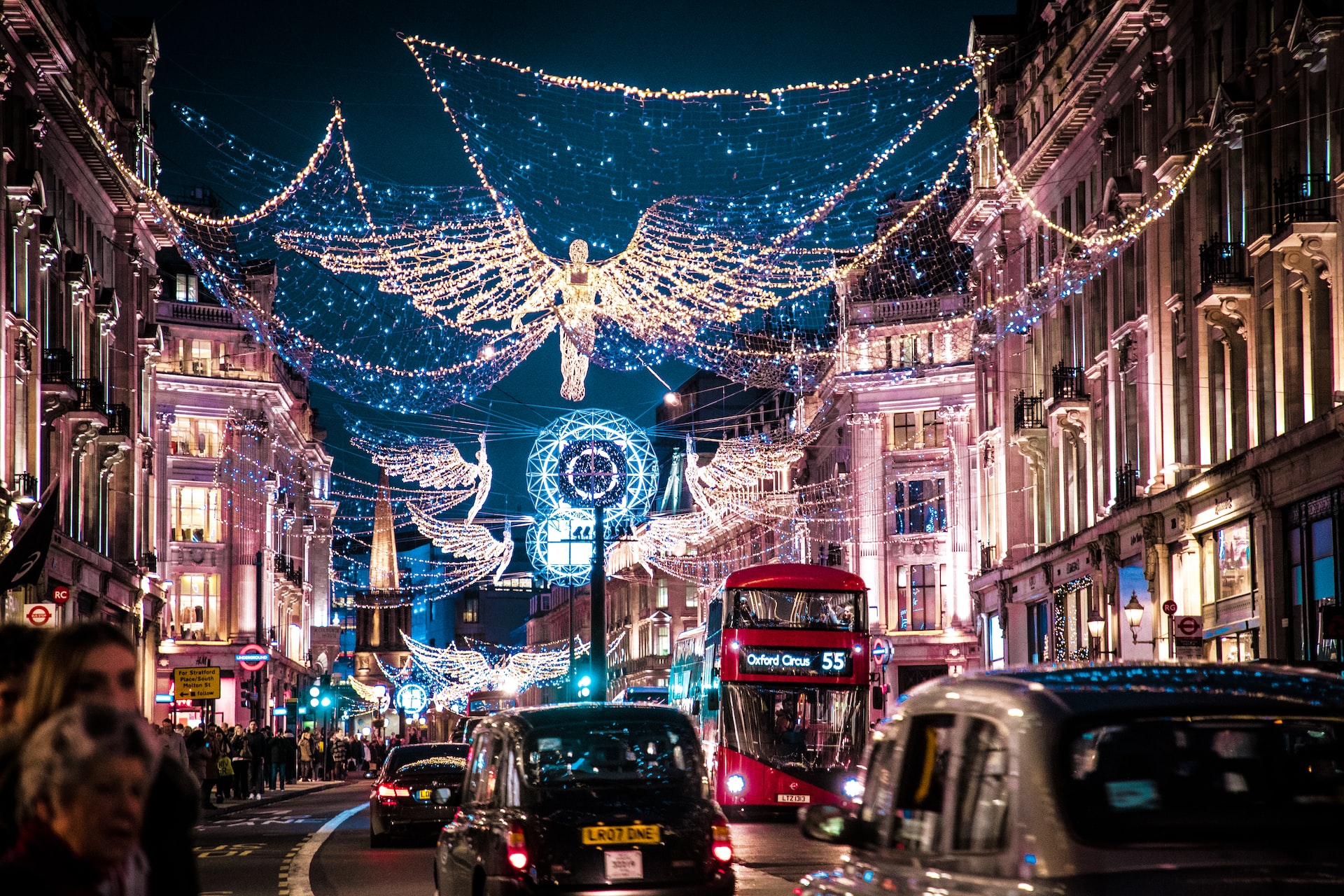 No, we did not forget London but would like for you to experience Christmas all over Europe before ending it with a bang in this city. London is probably the best country to visit in December. On Oxford street, you'll get to soak in the beautiful decorations and lights while sipping on mulled wine which you can find almost anywhere in the city. 
Mayfair, Sloan Square, Regent Street and other shopping districts will offer you a more modern take on Christmas, as compared to other parts of Europe. Instead of bazaars, you can see exceptional displays on department store windows like Santa, Rudolph and elves covered in the latest fashion.
Every year, Harrod's, Selfridges, Liberty and other major department stores will surprise the city with their phenomenal Christmas designs.
On the other side of the city, the city council will turn Hyde Park into a winter wonderland. You will see trees covered in bright, twinkling lights, and the pavement decorated with gnomes. Furthermore, you'll spot skating rinks everywhere.
Of course, there will be Christmas markets in the city too. You can catch some wonderful lighting displays at Kew Gardens while shopping at the bazaars there, or at Docklands where you'll find special Japanese music, performances food and crafts. Plus, The Tower of London will have a display of the 1284 scenes from the court of Edward I. Also, the St Paul's Cathedral, as well as other churches, will throw performances, musical events and concerts.
Nighttime Christmas aside, do experience the sunrise at Stonehenge during the Winter Solstice. It's worth a trip down to Stonehenge during this festive season.
DISCOVER CHRISTMAS IN EUROPE WITH THE BEST DEALS!
You may also be interested in: