Australia beaches and natural wonders will leave you spellbound. It is a land where Mother Nature flaunts her most magnificent masterpieces that span across beaches, islands, mountains and enchanting forests. Here are the top destinations you should not miss when visiting.
Adventure tours in Australia bring you closer and personal with the people, lands, and history. They're best catered for thrill-seeking travellers that are happy to rough it out. These experiences are also suitable for beginners and offer sights that aren't easily found worldwide.
Pack your sunscreen and comfortable clothing because our first experience is in the countryside of Mudgee.
1. Australia Beaches
Whitehaven Beach, Whitsunday Islands, Queensland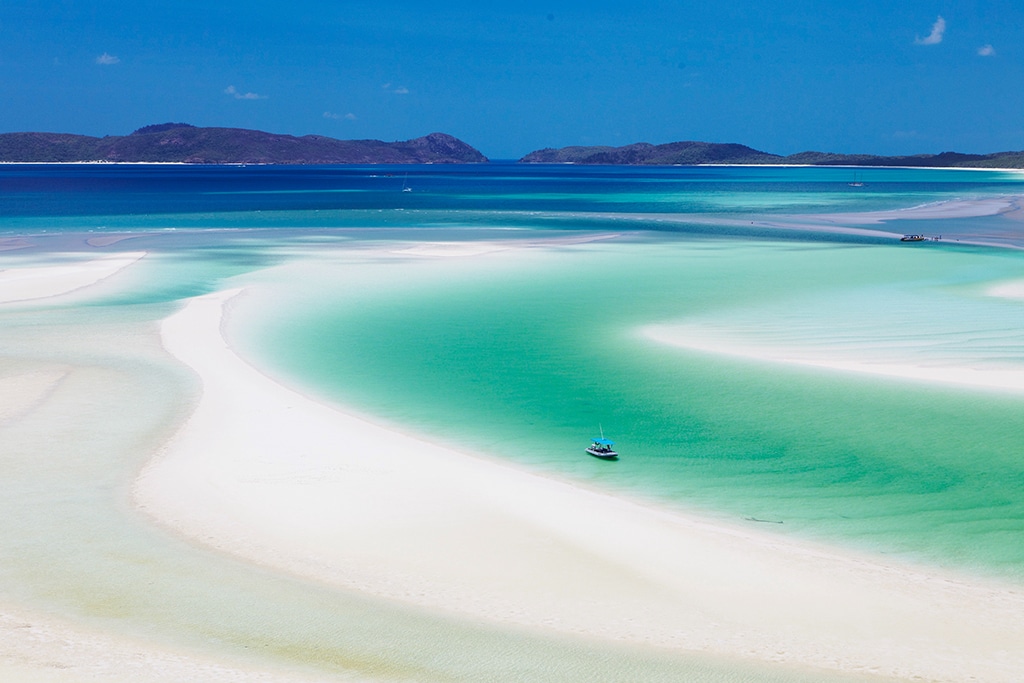 Whitehaven Beach is the largest beach of the 74 islands in the breathtaking Whitsunday Islands. Many times, this natural wonder has been voted by global travel authorities as the most beautiful beach in the world.
Stretching over 7 km (4.3 miles), Whitehaven Beach is known for its crystal-clear waters, fine powdery white silica sand, and spectacular views when they mingle and swirl into Hill Inlet.
This beautiful beach is part of the protected World Heritage Great Barrier Reef National Marine Park. Tours here are eco-certified and aim to protect the natural environment. Visit this slice of Australia beach paradise on a variety of Whitsunday cruises. You can also stay on Hamilton Island and take the 30-minute boat ride to Whitehaven Beach.
Hyams Beach, Jervis Bay, New South Wales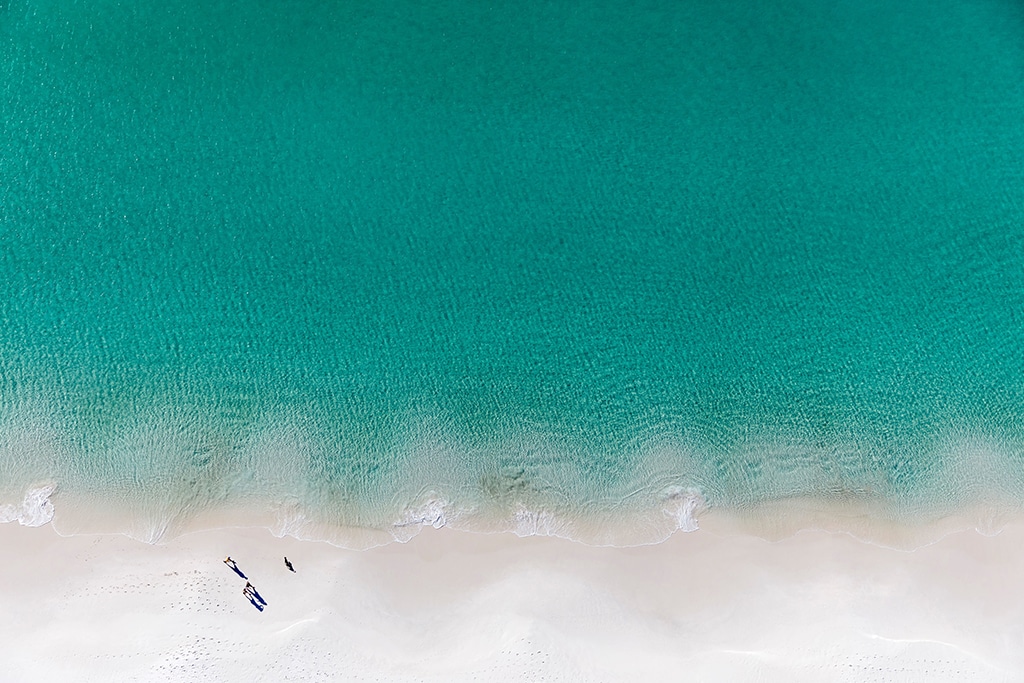 The iconic Hyams Beach at Jervis Bay, New South Wales, is a 3-hour drive from Sydney.
Immerse in its beauty via the White Sands Walk, an easy walk of about an hour that weaves through the picturesque Jervis Bay National Park. Take time to stop for a swim, dive or snorkel in its turquoise waters. You may also spot dolphins near the shoreline and kangaroos and echidnas in the forest.
Jervis Bay is also a haven for seals, penguins and whales during their annual migration. Consider joining a dolphin- or whale-watching cruise at nearby Huskisson.
Cottesloe Beach, Perth, Western Australia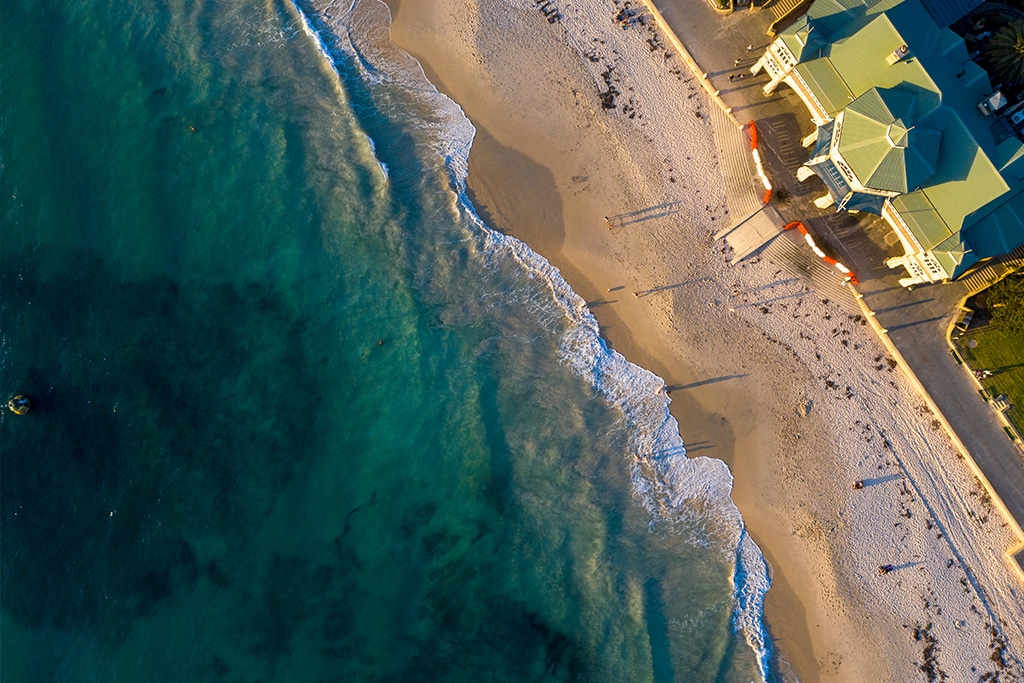 One of Western Australia's most iconic locations, Perth's picture-perfect Cottesloe Beach is simply charming. Its 1.5-km (0.9-mile) stretch of soft white sand, shady Norfolk Pines and smooth terraced lawns offer the ideal setting for picnics, lazy afternoons and fun family days.
Just a 30-minute drive from the city centre, Cott is a hotspot for swimming, snorkelling, and surfing, as this beach is affectionately called. Or you could enjoy an ocean sunset over drinks and dinner at one of the many restaurants, cafes and bars on the boulevard.
Cott is also the birthplace of Surf Life Saving in Western Australia. The consistent swells and crystal-clear waters draw surfers and bodyboarders alike. In March, the annual Sculpture by the Sea event transforms the foreshore into an incredible outdoor natural art gallery.
Wineglass Bay, Tasmania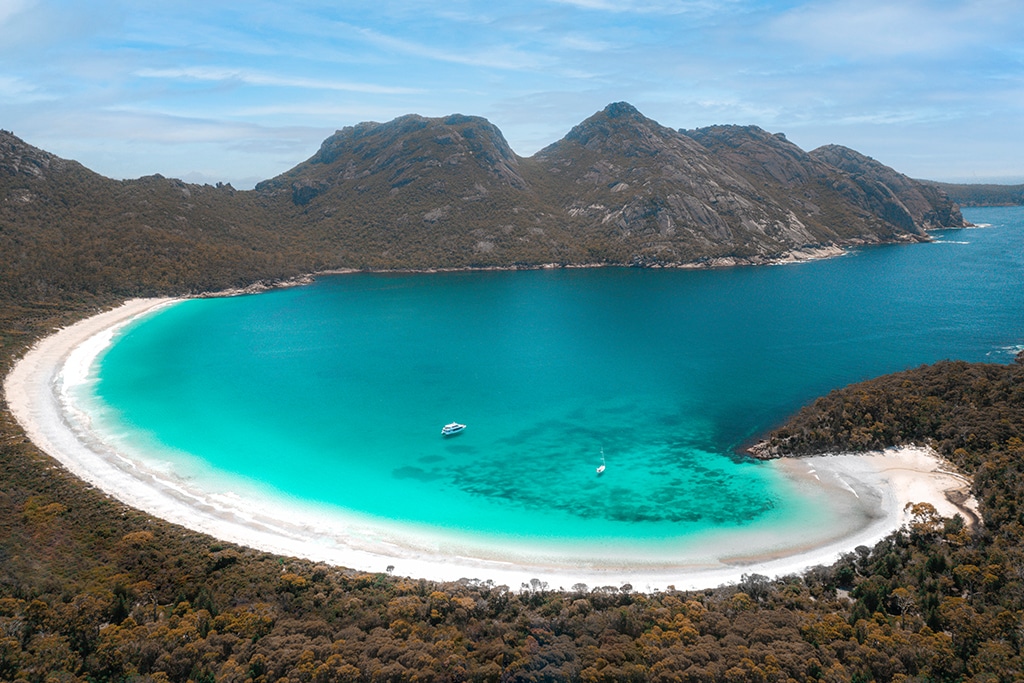 Billed as one of the most beautiful beaches in the world, Wineglass Bay is located on Tasmania's east coast within the Freycinet National Park. The red-pink granite mountain range known as the Hazards tower over this beach, and at their foot sits the white sands and calm blue waters of Wineglass Bay.
Located 195 km (121 miles) or a 3-hour drive from Hobart, the remote location of the beach means it is only accessible by boat or on foot.
An uphill hike takes you to the Wineglass Bay lookout, where you can enjoy a superb view of the white beach, green forested isthmus and blue waters. You can choose to walk back from here or complete a four-to five-hour circuit, which goes past Hazards Beach, another lovely natural wonder.
2. Australia Islands
Rottnest Island, Western Australia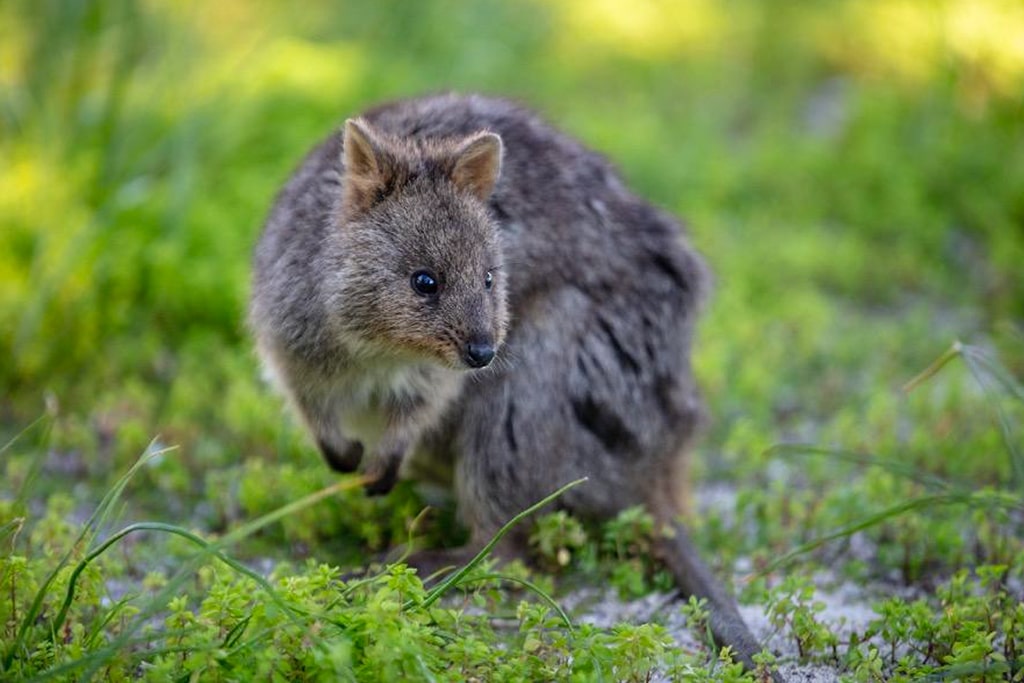 Just 19 km (11.8 miles) offshore or a 40-minute boat ride from Perth, Rottnest Island is home to the playful quokka. Tourists and locals come here to snap selfies with the curious marsupial, which was the inspiration for the island's name—they were mistaken for rats, hence "Rat's nest" in Dutch.
Rottnest Island is famed for its laid-back atmosphere and idyllic white-sand beaches. As it is a car-free zone, consider hiring a bicycle to explore. The surrounding coral reefs and shipwrecks make for exceptional diving and snorkelling for adventures in the sea.
The island has a fascinating history as a former Aboriginal prison and a military defence system during the Second World War—a storied past that unfurls as you visit its underground tunnels, lighthouses and colonial buildings.
Phillip Island, Victoria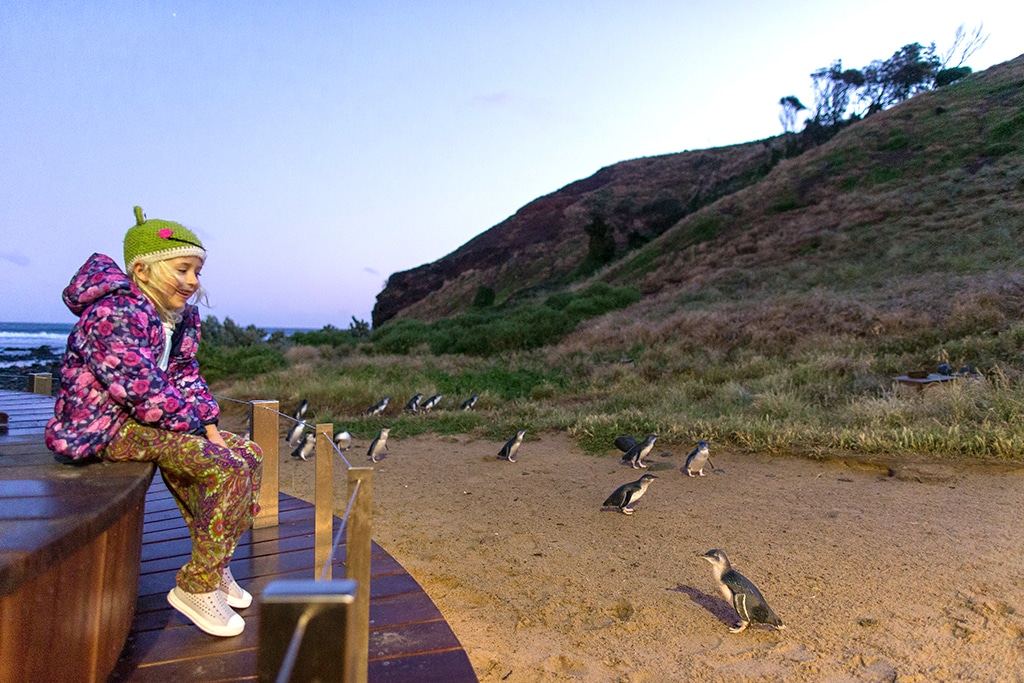 Located just off the southern coast and approximately a 2-hour drive away from Melbourne, Phillip Island is a perfect day or weekend trip from the city.
This is a wildlife haven, and you should experience Phillip Island's world-famous Penguin Parade, where little penguins waddle from the beach back to their burrows. Then, head to the Koala Conservation Centre to see koalas in their natural habitat, or join Wildlife Coast Cruises to see seals, dolphins, whales and a range of birdlife.
The island is also home to some of Victoria's best surf spots. You can take lessons or head to Cape Woolamai or Cat Bay if you're an experienced surfer. For adrenaline junkies, the Phillip Island Circuit is a well-known motorcycle and car racing track.
K'gari (Fraser Island), Queensland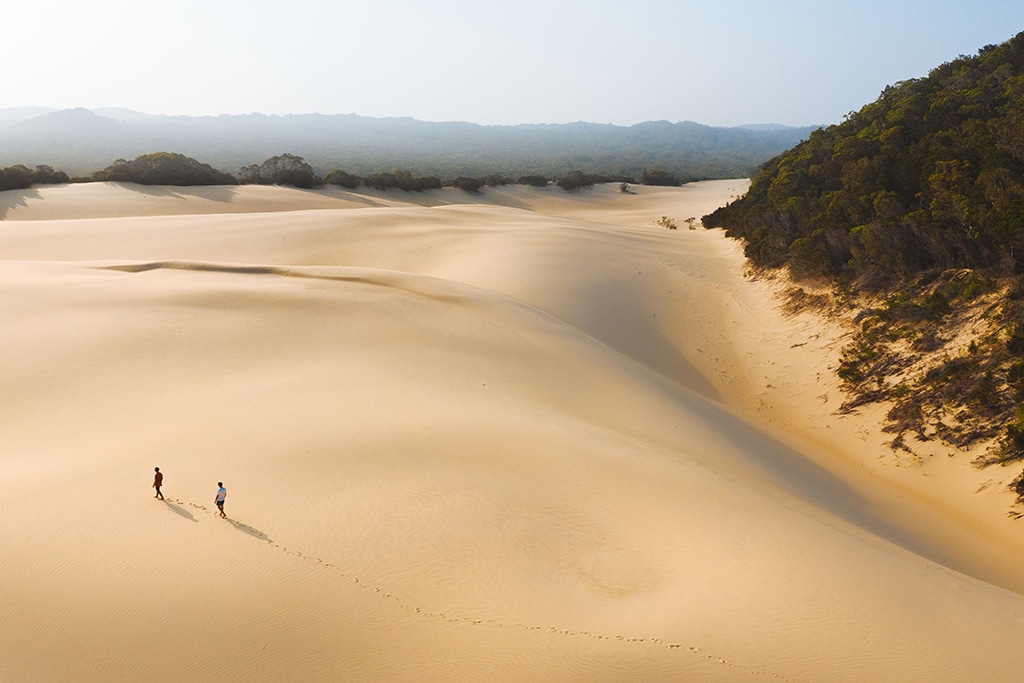 UNESCO World Heritage-listed K'gari (Fraser Island) is the world's largest sand island. This is the only place on earth where rainforests magically grow out of sand dunes at elevations of more than 200 metres.
K'gari is known as a thrill-seekers' destination of all Australia's islands. You can drive along the beaches in 4WDs, swim in freshwater lakes, explore rainforests, spot dingoes, and watch for whales. For more relaxing pastimes, there's always fishing and visiting the Maheno shipwreck.
The 90-km (56-mile) K'gari Great Walk is the pinnacle of the island's hikes. Intrepid hikers will enjoy a week-long wander on this walk where there are campsites to stay along the way.
Kangaroo Island, South Australia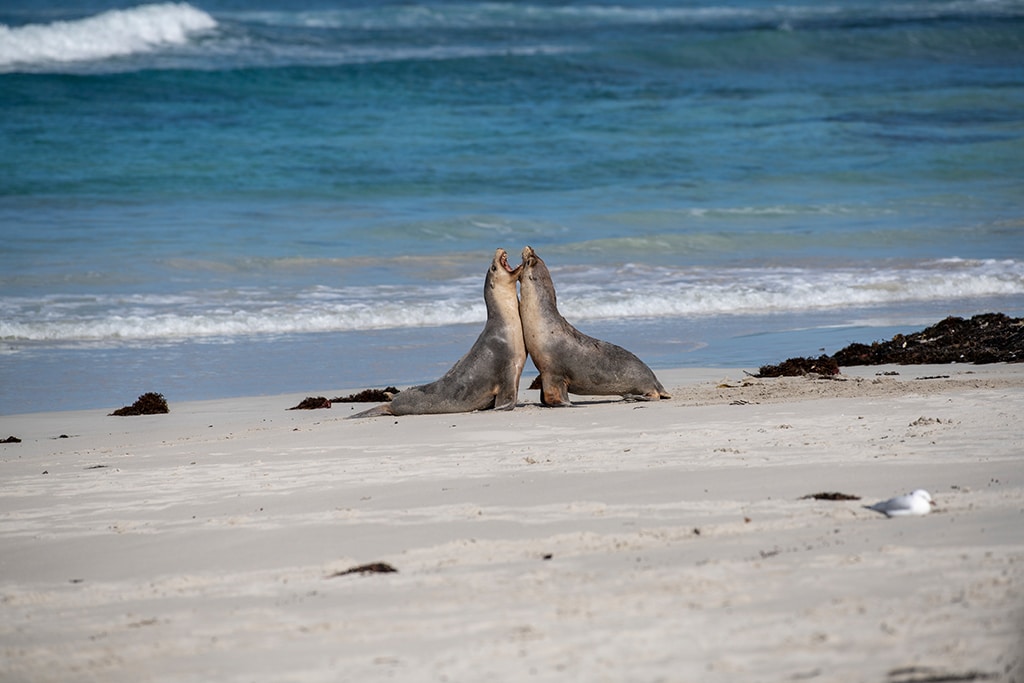 Kangaroo Island is 13 km (8 miles) off the coast of South Australia and 30 minutes by plane from Adelaide. The island is one of the best places in the country to see wild native animals such as koalas, kangaroos, wallabies, echidnas, wedge-tailed eagles, and more.
Visit Seal Bay to see the world's third-largest colony of sea lions. At Little Sahara, you can enjoy the thrills and spills of bikes, buggies and tobogganing on the sand dunes. Or head to Flinders Chase National Park, and see why the Remarkable Rocks lives up to its name.
3. Australia Nature Attractions
Horse Head Rock, Bermagui, New South Wales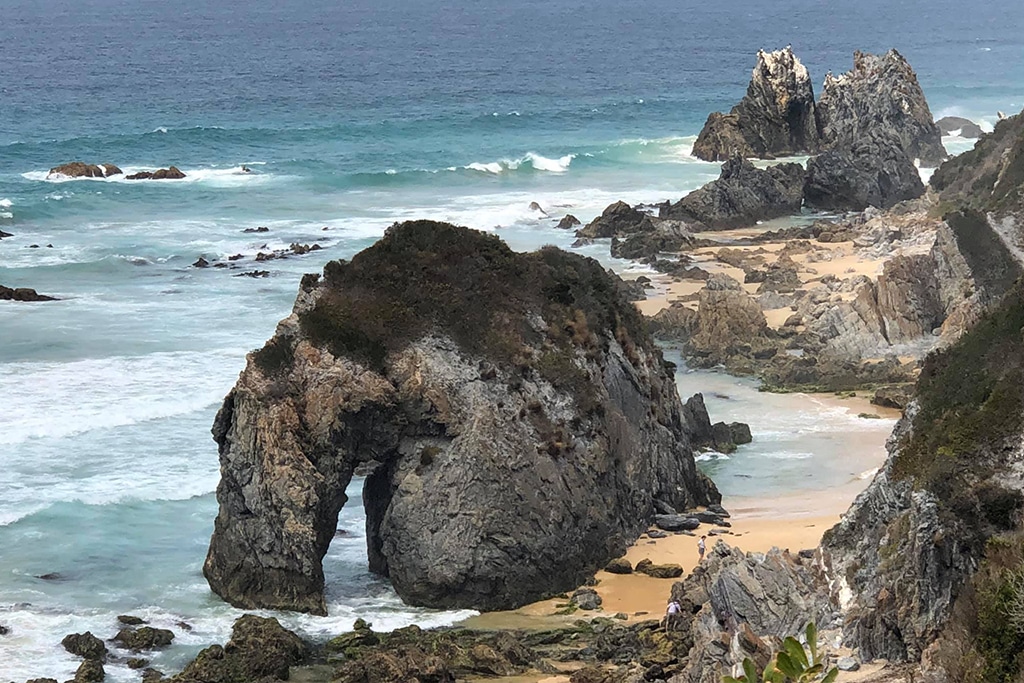 A 5-hour drive from Sydney, the coastal town of Bermagui is home to Horse Head Rock, an astounding natural formation. At approximately 500 million years old, it is a must-visit for photographers and nature lovers, as the immense size of this rock and the surrounding unspoilt location is simply breathtaking.
We recommend looking at Horse Head Rock from above. Head to a viewing platform along the 1.5-km (0.9-mile) one-way elevated walking track between Camel Rock and Murunna Point. This track is an easy scenic 40-minute walk.
300 metres away, you'll find Camel Rock, another incredible natural sculpture. It's just a 5-minute walk along the beach, but be aware of the tides as this walk is only accessible during low tide and calm seas.
Curracurrong Falls and Eagle Rock, Royal National Park, New South Wales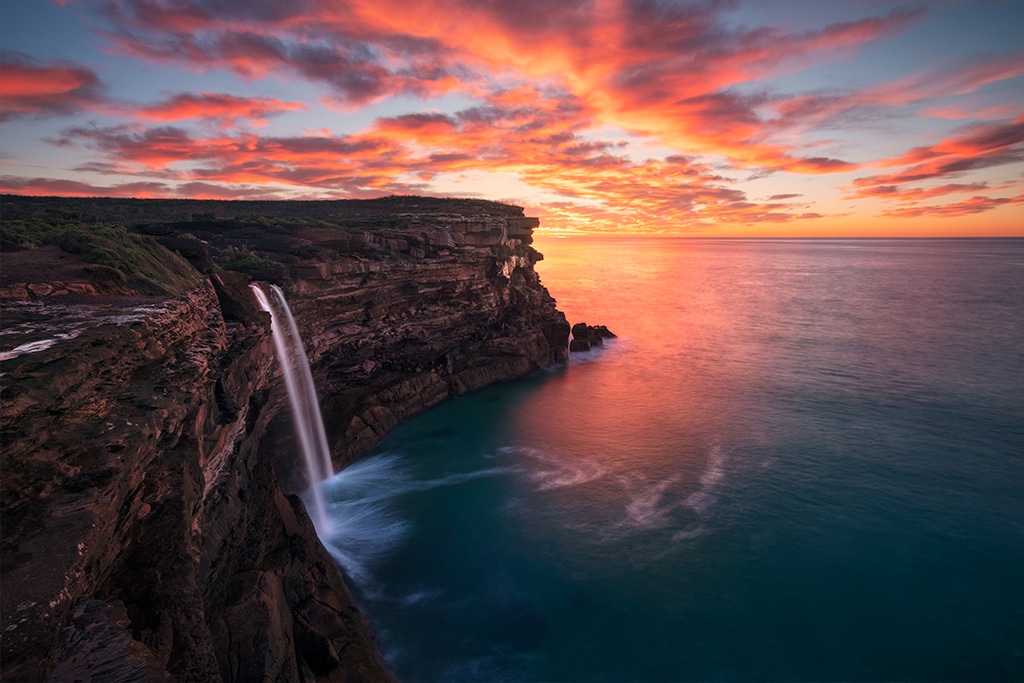 Pay a visit to Curracurrong Falls and Eagle Rock at the Royal National Park for an unforgettable hiking trip in the great Aussie outdoors. This park is only an hour's drive south of Sydney.
To visit these two natural attractions, prepare your walking shoes and drinking water. It's a 3-hour hike from either Garie Beach or Wattamolla Beach. The more challenging track is the Garie Beach hike, an 8-km (5-mile) return trip which involves a steep ascent. The Wattamolla Beach track is a 7 km (4.3-mile) return trip, which is easier as the ascent covers a larger area.
Hikers will enjoy incredible Australian coastline and the Pacific Ocean views before coming to Eagle Rock. Here, the unmistakable overhang resembles an eagle's beak and is one of the best vantage points to marvel at Curracurrong Falls.
The Pinnacles Desert, Nambung National Park, Western Australia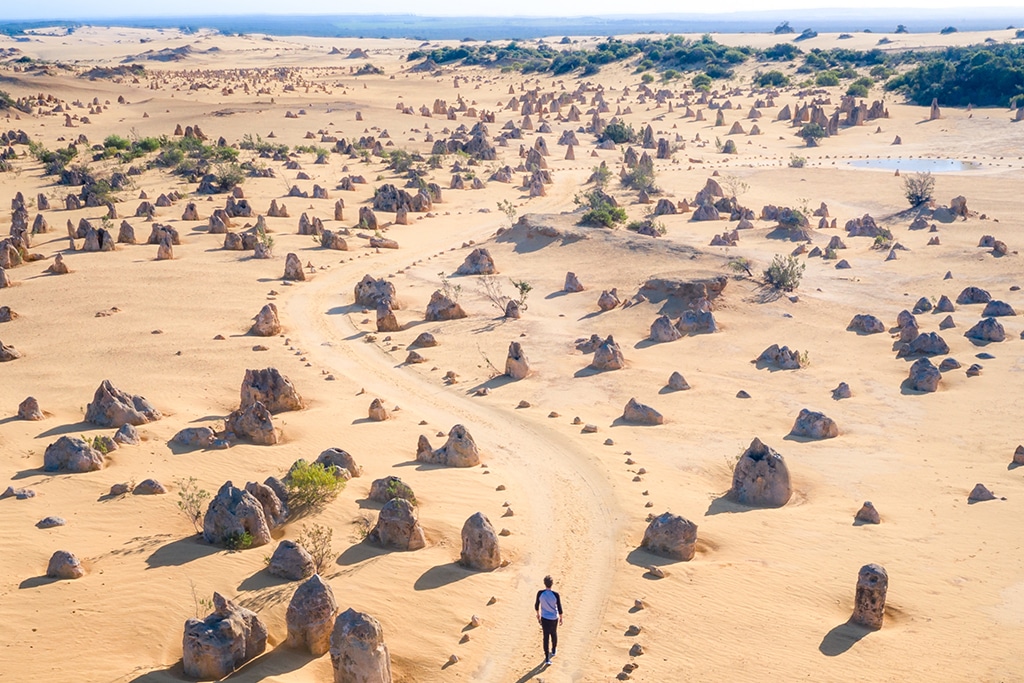 For an otherworldly experience found nowhere else, visit The Pinnacles Desert in Nambung National Park, easily accessible as a day trip from Perth.
Here, you'll find an eerie lunar-like landscape amidst thousands of limestone formations, some as high as 3.5 metres, believed to be formed 25,000 to 30,000 years ago. Drive or wander through the desert, and don't forget to look out for Aussie wildlife such as kangaroos and emus, especially in the early mornings and late afternoons.
We highly recommend a sunset tour for the surreal experience of being in the desert at night. This is when you can soak up the view of an endless Milky Way sprawling across the heavens above.
The Twelve Apostles, Great Ocean Road, Victoria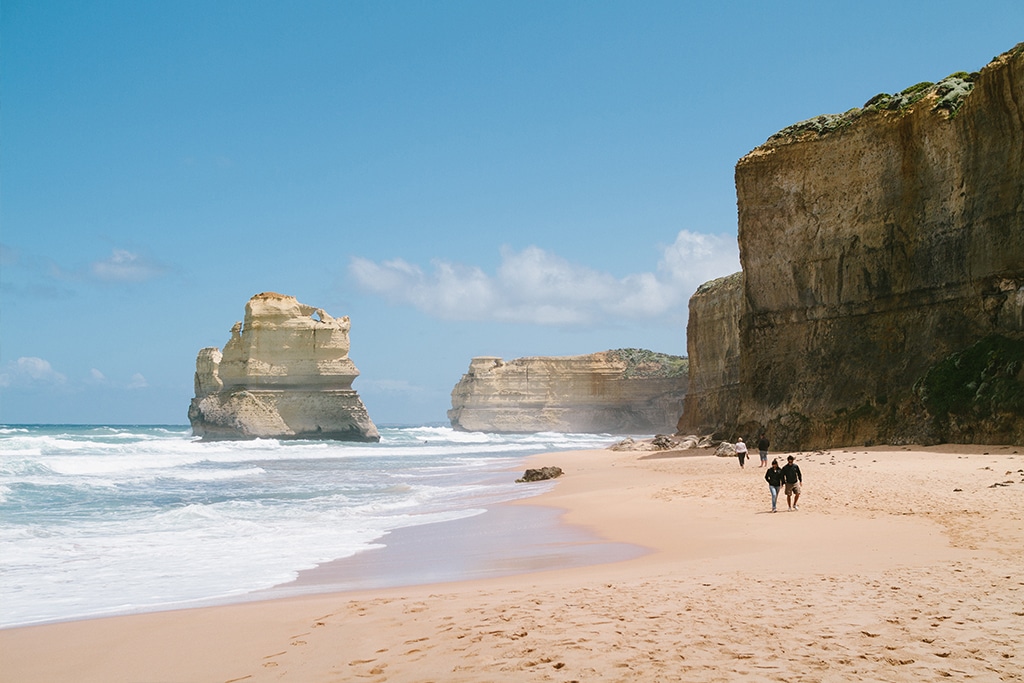 One of the finest road trips in the world is the Great Ocean Road on the Victorian coast. And along the way, the Twelve Apostles are the defining highlight of this trip. The Twelve Apostles are gigantic 45-metre (150-feet) limestone pillars once part of the mainland cliffs.
A fun fact is that the name is a misnomer. There were never twelve pillars, to begin with. With constant erosion, no one knows when the existing pillars will fall into the sea. Now, there are seven pillars to greet you as you coast down the Great Ocean Road.
Stay till sunset to view the rock stacks in their best light. You may see little penguins coming ashore on the beach at dusk if you are lucky.
4. Australia National Parks
Kakadu National Park, Northern Territory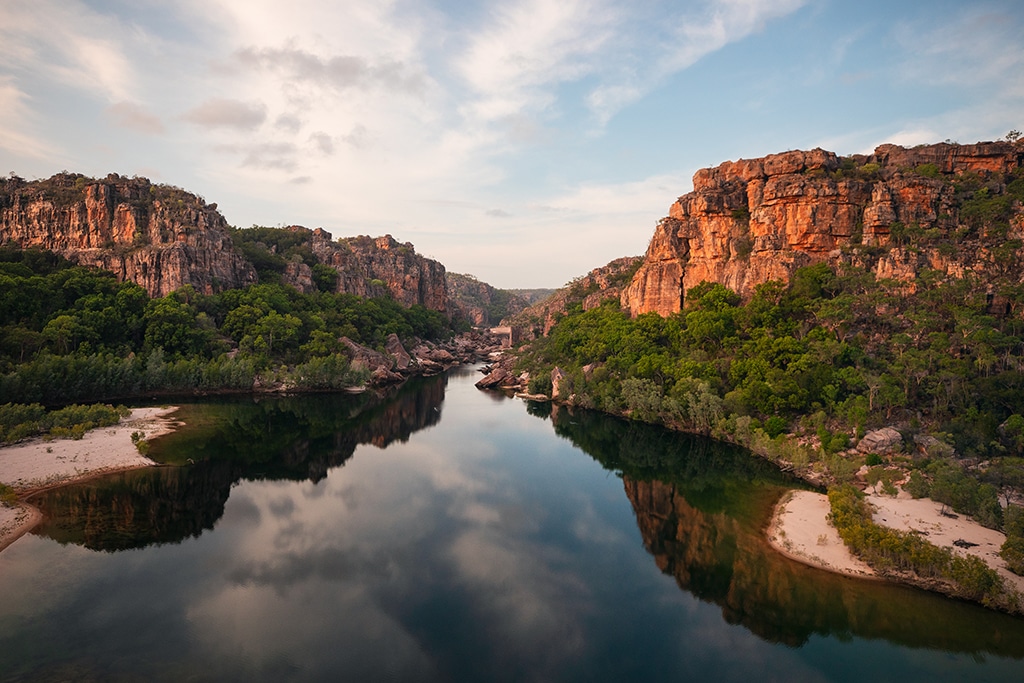 UNESCO World Heritage-listed Kakadu National Park should be on your bucket list. Here you will find majestic natural sights such as waterfalls in wild and timeless terrain, all steeped in ancient Aboriginal culture.
This park is a 3-hour drive east of Darwin. You can join one of Kakadu's river cruises to meet wildlife predators like the saltwater crocodiles and see Aussie animals such as wallabies, dingoes, bandicoots, and more.
View incredible ancient rock art, brave the rough and rugged 4WD track to see the famous Jim Jim Falls and Twin Falls. If you're visiting during the wet season (November to May), the only way to see the thundering falls is from a scenic flight.
Uluru-Kata Tjuta National Park, Red Centre, Northern Territory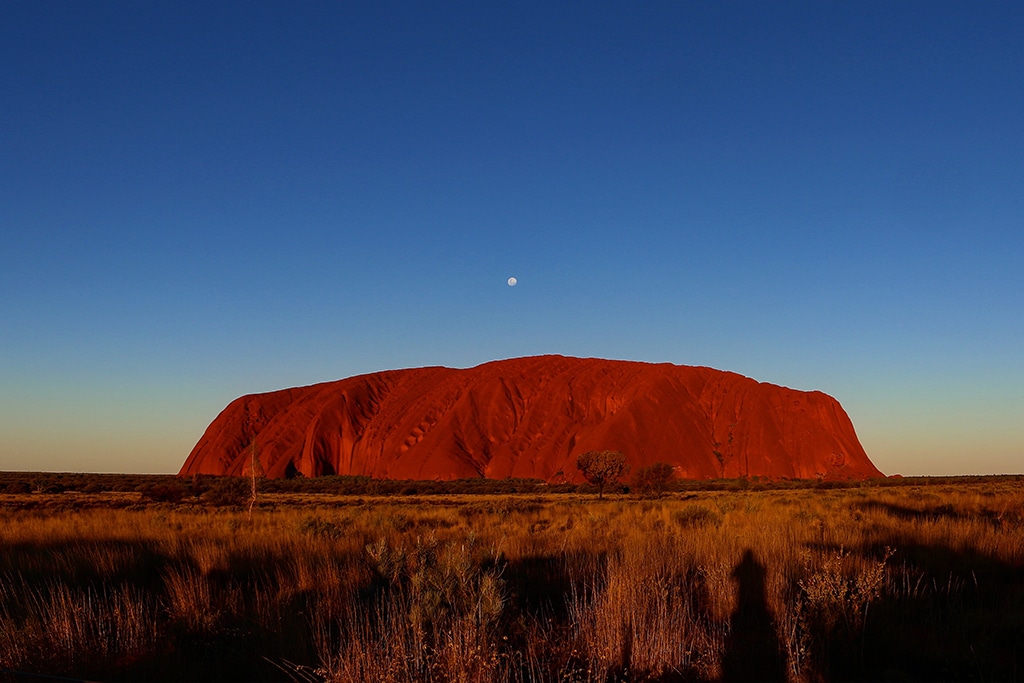 Uluru-Kata Tjuta National Park in Australia's Red Centre is both striking and sacred. Visit Uluru, the giant majestic monolith often considered the spiritual centre of Australia.
Sunrise and sunset are the best times to view Uluru when the hues of the rock appear to change colour. Don't miss Kata Tjuta, another unforgettable formation just a 20-minute drive down the road.
The local Aboriginal Anangu people who have lived here for more than 20,000 years consider these sites sacred. Learn about the cultural significance of these natural formations and join wondrous hikes amid the spectacular scenery.
Daintree National Park, Queensland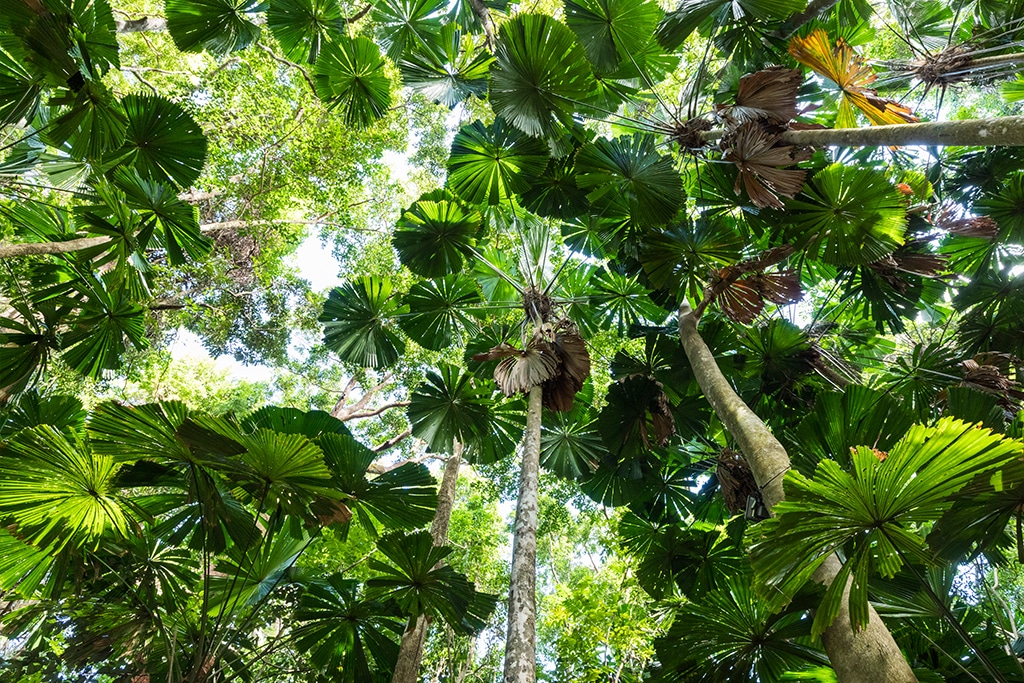 Immerse yourself in the lush ancient greenery of the Daintree Rainforest, the world's oldest tropical rainforest. Estimated at over 180 million years old, this rainforest is located about two hours drive north of Cairns.
The Daintree National Park is home to an abundance of life. These include incredible plants such as some of the world's tallest trees, glow-in-the-dark moss, saltwater crocodiles, and rare and endangered wildlife.
The rainforest offers many special experiences. You can learn generations-old bushcraft from the area's traditional custodians, the Kuku Yalanji, or go river rafting, spearfishing, and crocodile spotting. Besides, indulge in the rainforest's healing properties at a luxury spa.
Cradle Mountain, Lake St Clair National Park, Tasmania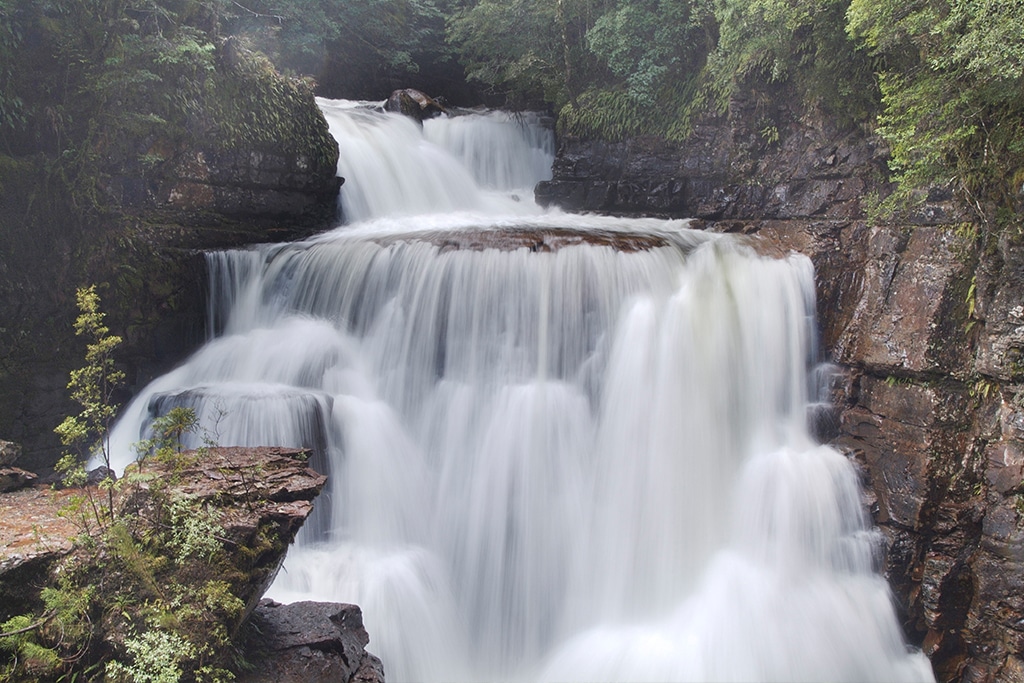 Pictures of Tasmania speak a thousand words. If natural beauty, great food and wine, and abundant wildlife is for you, then visit Cradle Mountain in the Lake St Clair National Park, which is part of the Tasmanian Wilderness World Heritage Area.
The world-famous Overland Track is a magnificent 65-km (40-mile) 6-day hike that passes through some of the world's finest mountain terrain to Lake St Clair, Australia's deepest lake. But don't fret if that sounds too much—there are plenty of shorter hikes with no less awe-inspiring views to keep you happy.
5. Australia Glamping
Sierra Escape, Mudgee, New South Wales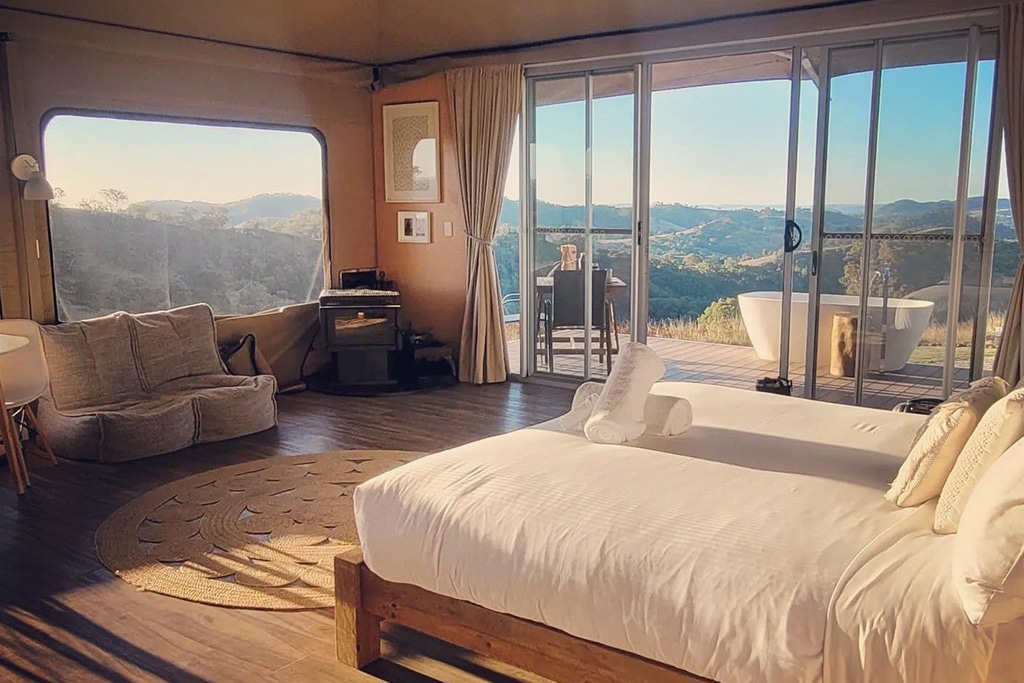 Nestled in the picturesque Cudgegong River Valley, 270 km (168 miles) west of Sydney, is a historical and charming Mudgee, one of New South Wales's best food and wine destinations.
Here, you can stay at Sierra Escape, an award-winning luxe eco-glamping resort only 20 minutes from Mudgee town. After a day of wine tasting at Mudgee's famous wineries, you can put your feet up and relax in an outdoor bath.
Lounge on the deck and immerse yourself in the stellar countryside views; you might be lucky enough to spot some of the native wildlife. You can also take a sunset walk up to the top of Sierra's lookout for panoramic vistas of the landscape.
Paperbark Camp, Jervis Bay, New South Wales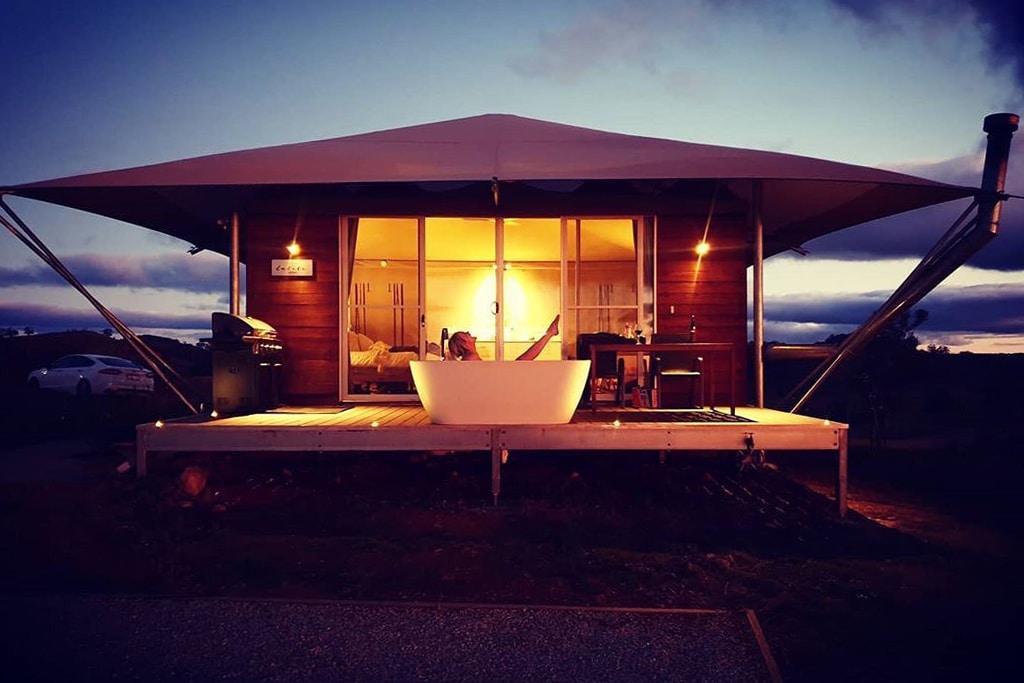 Reinvigorate yourself with nature and switch off technology without forgoing comfort at Paperbark Camp. This is a unique luxury glamping accommodation just a short drive away from the wildlife paradise Jervis Bay.
The luxe African-style canvas tents are thoughtfully placed using the surrounding dense bushland as natural screens to maximise privacy. The heart of the camp, The Gunyah restaurant, serves up delectable meals from hearty breakfasts and candlelit dinners to packed gourmet picnics for bushwalking trips.
Go canoeing or kayaking in nearby Currambene Creek, take a bike ride along the white sand beaches, and then taste locally brewed beers from two award-winning microbreweries. You can also get a massage on the deck of your tent as you listen to the soothing sounds of the bush.
Sal Salis, Ningaloo Reef, Western Australia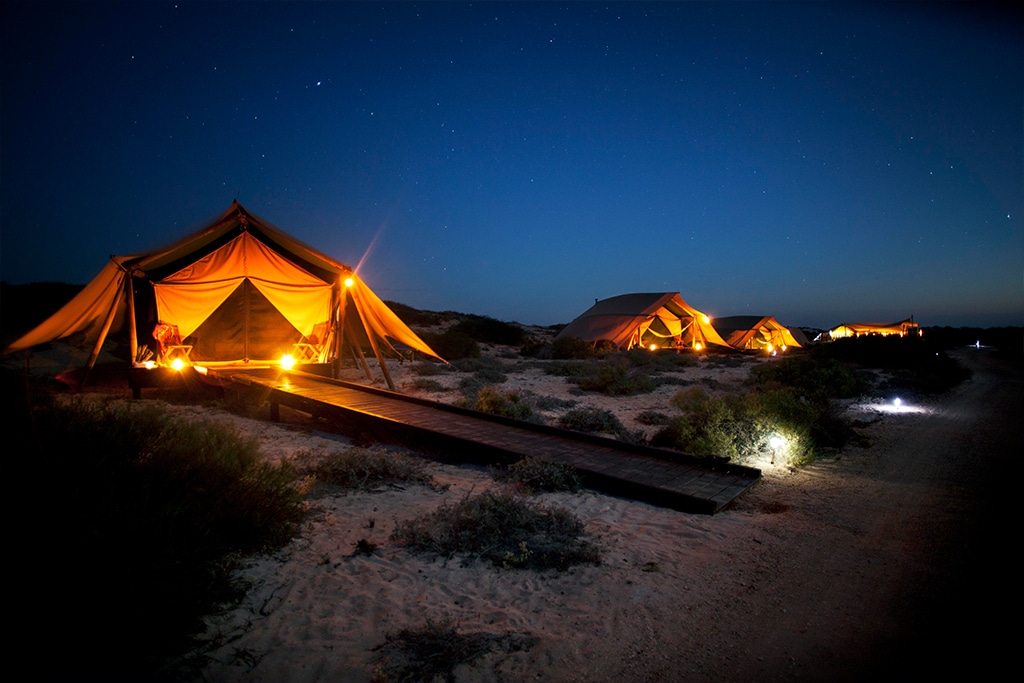 Ningaloo Reef is where you can swim with whale sharks and migrating humpback whales. And located on the shores of this natural wonder is Sal Salis, a luxury camping safari-style resort.
To get to this beautiful remote part of Australia, take a short flight to Exmouth, or if you have time, go on a 13-hour road trip north from Perth along the Coral Coast.
At Sal Salis, you can snorkel in turquoise waters teeming with incredible marine life. Come back for a break in your eco-luxe wilderness tent, complete with an en-suite bathroom, then head for a fantastic three-course chef-prepared meal at night.
Cooinda Lodge, Kakadu National Park, Northern Territory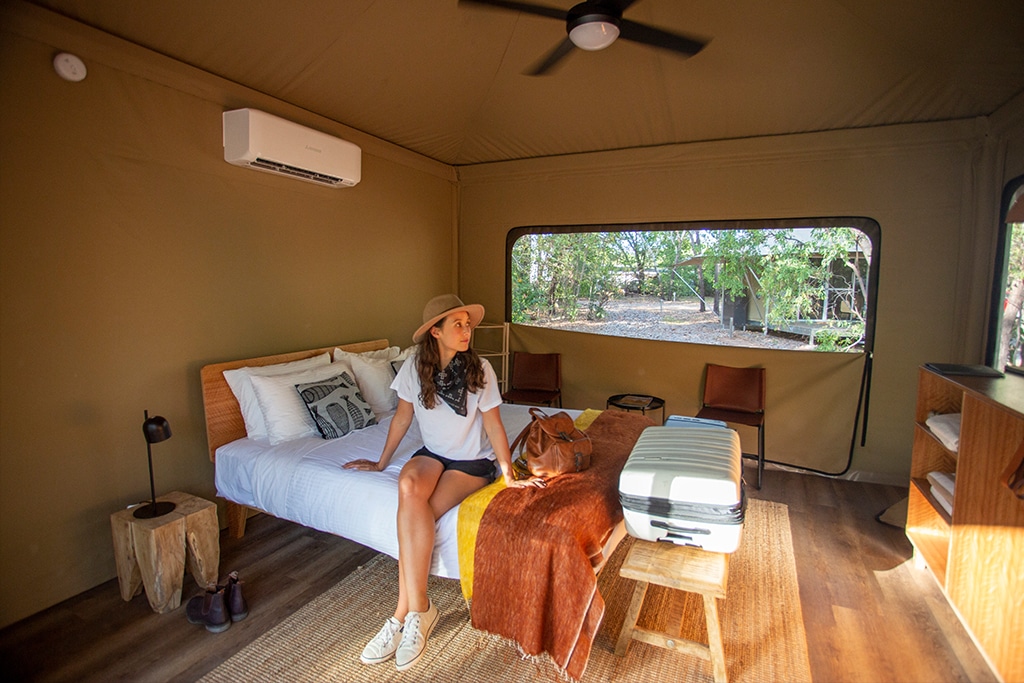 Kakadu National Park, a 3-hour drive east of Darwin, is an epic adventure and nature getaway. Whilst you're there, stay at Cooinda Lodge, a glamping retreat with spacious outdoor decks and a shaded pool.
Cooinda Lodge is next to Yellow Water Billabong. This means you'll have great access to Kakadu's best waterfalls, ancient rock art and river cruises—all the makings of a memorable visit to one of Australia's great natural wonders.
So much to see, so little time! Make the most of your holiday by letting a tour manager plan your itinerary. With professional insight and timing, you may cover a few of these natural wonders in one trip. (And save the rest for your next visit!)
INSPIRED TO VISIT AUSTRALIA?

 You may also be interested in these articles: